Update: Mumbai's Rajabai Clock Tower is India's tallest clock tower (280 ft), not Hussainabad Clock Tower (221 ft).
Are you aware of one of the tallest clock towers in Lucknow, India?
Although there are many historical buildings in the capital of Uttar Pradesh and the city of Nawabs, Lucknow, there is also a building that has the distinction of being one of India's tallest clock tower.
Yes. We are talking about the Hussainabad Clock Tower located in the Hussainabad area of ​​Lucknow. So if you have come to India and did not mix yourself in the Nawabi colors of Lucknow, you are missing a lot. This fantastic heritage of Lucknow will mesmerize you with its architectural beauty indeed.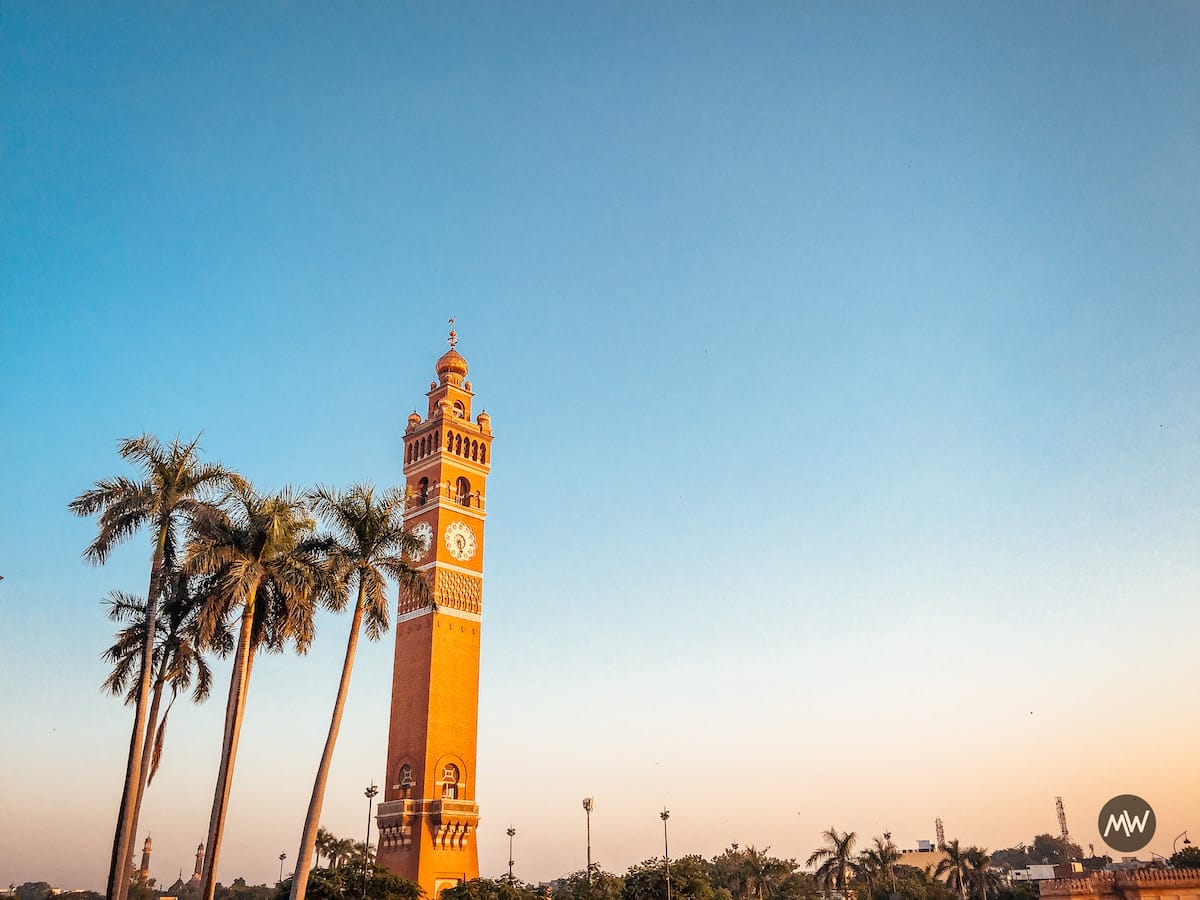 Lucknow, the city of Nawabs, holds a glorious heritage and much architectural beauty, such as Husainabad Clock Tower, which will leave you spellbound.
Today, let's explore how the Hussainabad Clock Tower.
---
---
The History Behind Hussainabad Clock Tower
The city of Lucknow attracts many tourists due to its heritage and historic architecture. Hussainabad Clock Tower is one of them a masterpiece.
This skyscraper was built in 1881 by the Hussainabad Trust. It was built to welcome the first Lieutenant Governor of Awadh, George Cooper. Mr. R.R. Bayne of Calcutta designed the entire building. Its construction started during the period of Mohammad Ali Shah, the third king of Awadh.
This building was also affected by the flood of September 1893. Due to the flood, some part of it was submerged. Since then, this building has remained an identity of the city, defeating every weather and disaster.
Where in Lucknow?
Entitled as the 'One of the Tallest Clock Tower of India,' Husainabad Clock Tower is worth a visit. It is situated approximately 4.8 km away from the city center (Hazratganj) in the old Lucknow.
It is an accurate replica of Big Ben Clock Tower of London and Ghanta Ghar in the local language. The famous Rumi Gate (Turkish Gate) is adjacent to this clock tower.
Recommended: More About Rumi Gate
Importing Watch from London
It was built based on London-based Big Ben. It has a length of 221 feet and a width of 20 feet below and is square. It is a fine specimen of Victorian and Gothic styles. At that time, its construction cost was about 1.75 lakhs. The clocks in it were sourced from London's Ludgate, built by the then-renowned company JW Benson Watches.
The needle in this clock tower is made of gunmetal. Its pendulum is 14 feet long and one and a half inches thick. There are bells in the shape of flower petals which rings every hour.
Bad Times for the Clock
In 1984, the watch stopped working. From then until 2010, the clock remained closed. The local administration proposed to replace it with an electric watch.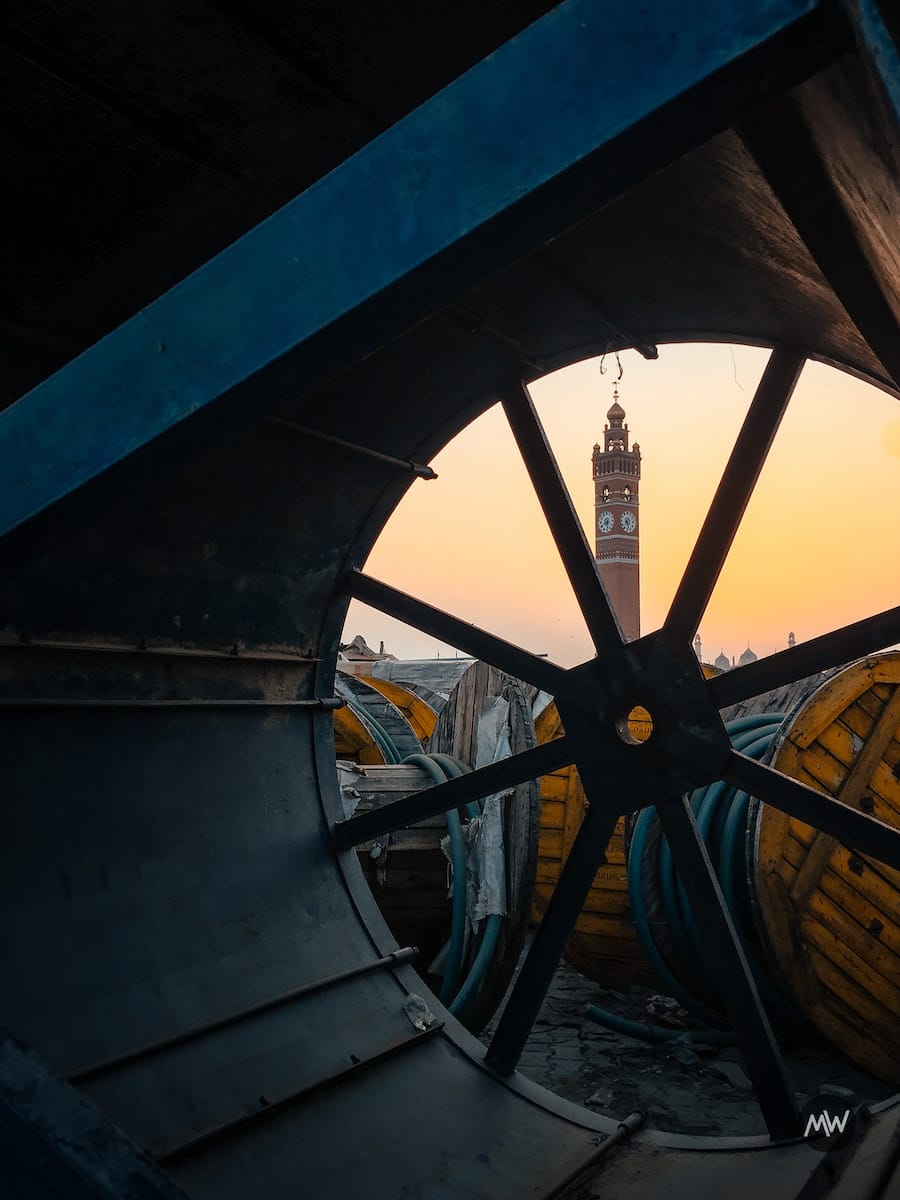 But then two of Lucknow, Paritosh Chauhan and Akhilesh Aggarwal, obtained permission from the Hussainabad Trust and started the clock repair of the clock tower.
They believed that it was necessary to uphold the old glory and grandeur of the Clock Tower. After two years of hard work, both of them were able to revive the clock. This bell has seen many legacies and generations.
How To Reach Hussainabad Clock Tower?
To reach the Hussainabad Clock Tower, first, let us tell you how you can reach Lucknow.
By Rail
The main stations of Lucknow are Lucknow Junction, Badshahnagar, Gomtinagar. All the stations are connected to all parts of the country. You can reach here easily from any corner of the country. From the station, you can take taxis (Ola, Uber, Rapido) and auto, local buses. Metro trains are also available on some routes.
By Air
Chaudhary Charan Singh International Airport (Amausi Airport) is the only airport in Lucknow, connected to all parts of the country. From the airport, you can reach here easily with the help of the metro train, bus, auto, taxi, etc.
By Road
The distance of Lucknow is 500 km from the country's capital Delhi. The city is well connected to other cities by a national highway.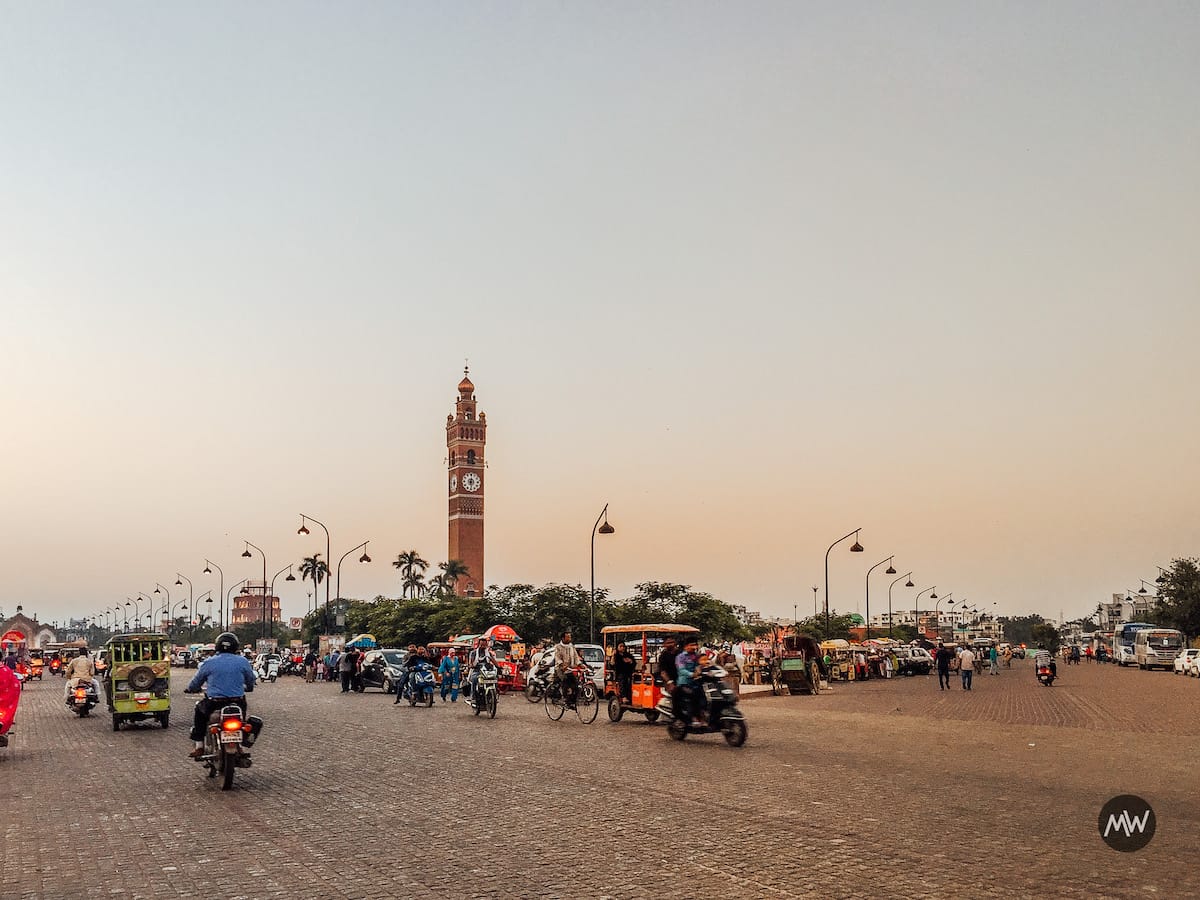 Once you're in the city, you can easily reach the clock tower. Here are some well known and best ways for getting here:
| | |
| --- | --- |
| From Railway Station (Charbagh) | Take an auto to Aminabad. Then take an auto/tempo to Chowk. From Chowk, walk by yourself (approximately 1.5 km) or take an e-rickshaw/auto as per the availability. |
| From Airport | Take an auto/cab or board the airport metro station. Reach the Charbagh Metro station. Rest as above. |
| From City Center (Hazratganj) | Direct auto is available till Chowk. |
| Other ways | Uber and Ola operate in the whole city. Private taxi/cabs can be hired too but can cost you much more. |
Things to Note Before Going
It is very nice in the evening around here, you can go for a walk with family and children or solo.
There are lots of street food, shops, etc are located nearby, where you can enjoy the local flavors.
Parking is also available at the back near Picture Gallery.
Take special care of your things, beware of pickpockets.
This is a legacy, so you are requested to help keep it clean.
Children can enjoy camel safaris and toys.
Sit on benches lying nearby, enjoy the beautiful evening and admire your heritage.
There is an option to walk around. The fresh breeze of the evening will erase all your fatigue.
Nearby, there is Satkhanda (seven-storey historic building) and Picture Gallery which can be visited too.
It would be a memorable moment to see the sun sinking here in the evening. The blush of the setting sun will fascinate you.
500 meters away is Kudia Ghat, where you can also enjoy boating.
There is no entry fee or ticket to roam here.
Our Experience: Tourist in My Own City
We went by our scooter. Packing essentials in our sturdy Quechua backpack, passing through the Chowk of Lucknow, we reached the tower in the evening. There was a general 'Lucknawi' rush in the area. Horse carts, camel safaris, street food vendors, and the setting sun had made a perfect moment for us.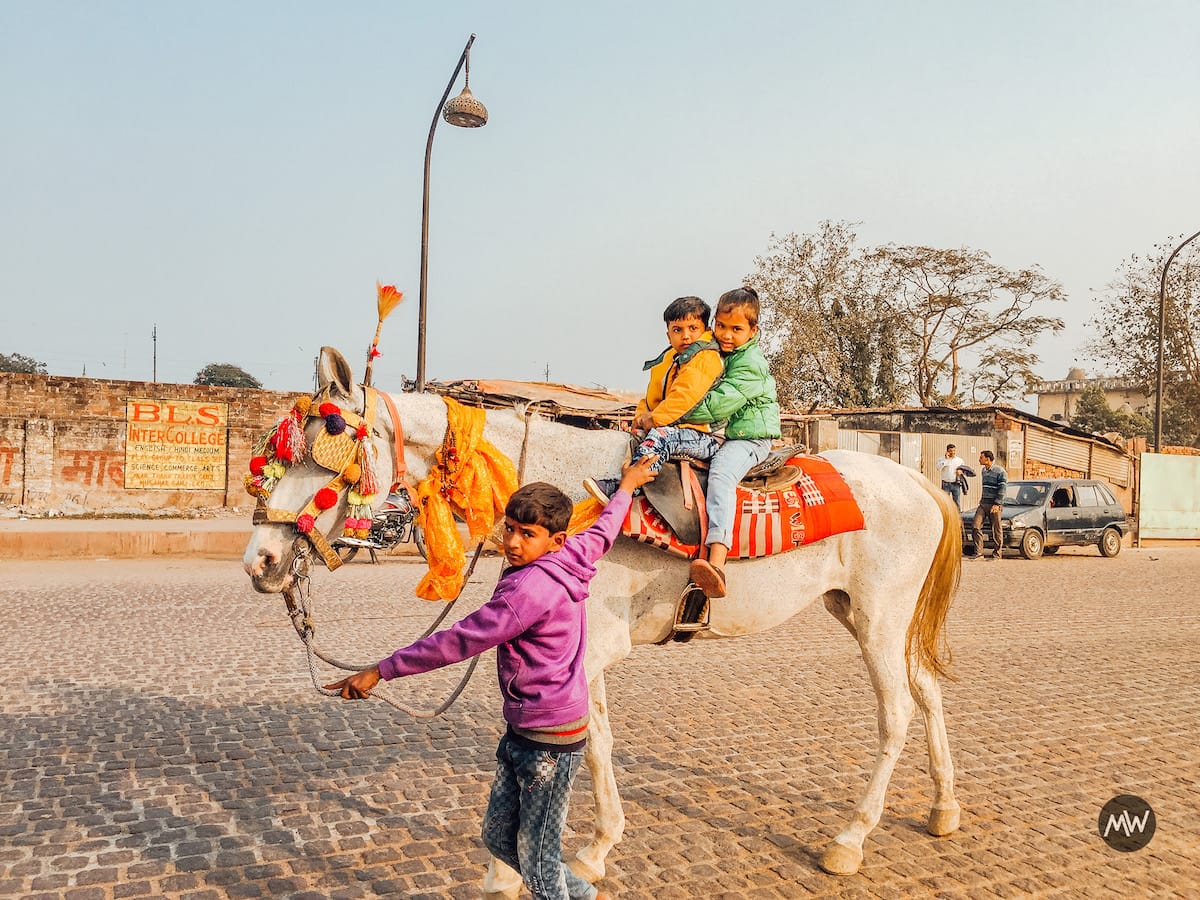 We had to park our scooter at the backside of the tower near a food truck. We moved ahead, but the buzz of people hanging out with their friends can still be heard.
Kids were playing sports, and parents can be seen guarding them. We noticed some kids relishing the Gol Gappa. One must never forget to try out the enticing taste of street foods here.
As we moved forward, there stood one of India's tallest clock towers, in its all glory. The ending sun had spilled the orangish tint all over the sky on the left side of it. Consequently, the clock tower perfectly blended into the sight along with the sunset.
Upon reaching here, one can feel the history ongoing around. The tower, as if, tells a story of the men who built it. If you hear more fervently, the neighs of horses can be heard from the road. You can sit and admire the historical architecture for hours if you are really into it.
Why we are not aware?
There is an artificial pond near Hussainabad Clock Tower. Cleanliness was a negative point when we got here. Litter can be seen floating in the pond and seeing it disappointed me.
We should understand a government can not do much if we do not incorporate and help achieve clean India's mission.
An appeal: Please do not throw litter here and there. Use dustbins and if you can't find one, take the garbage with you and throw it when you see a dustbin around. Doing your little bit can make India clean and green.
Things to Do Nearby Hussainabad Clock Tower
Most noteworthy, adjacent to the clock tower, sits the Picture Gallery, which features portraits of regional leaders (Nawabs and Kings) in traditional dresses. One can take a look if they are into visual arts and paintings.
About 100 meters in front of the clock tower, a watchtower popularly known as 'Satkhanda' (aka Naukhanda). You can go here if you want to take more comprehensive photographs of the Husainabad Clock Tower.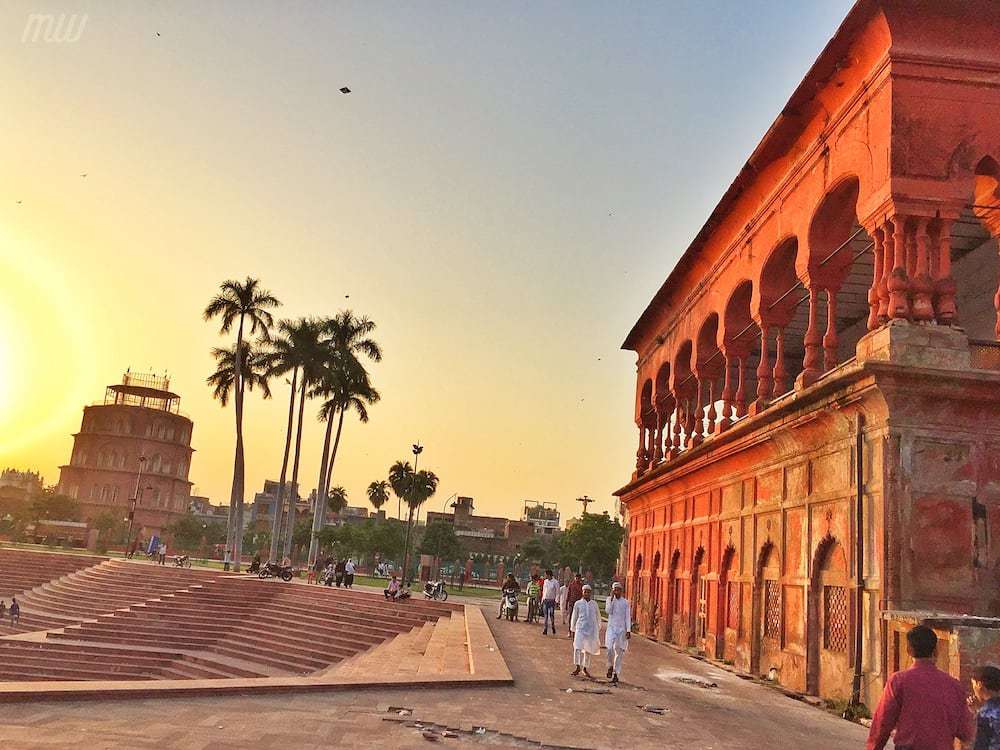 Related Common Questions
Where is India's tallest clock tower located?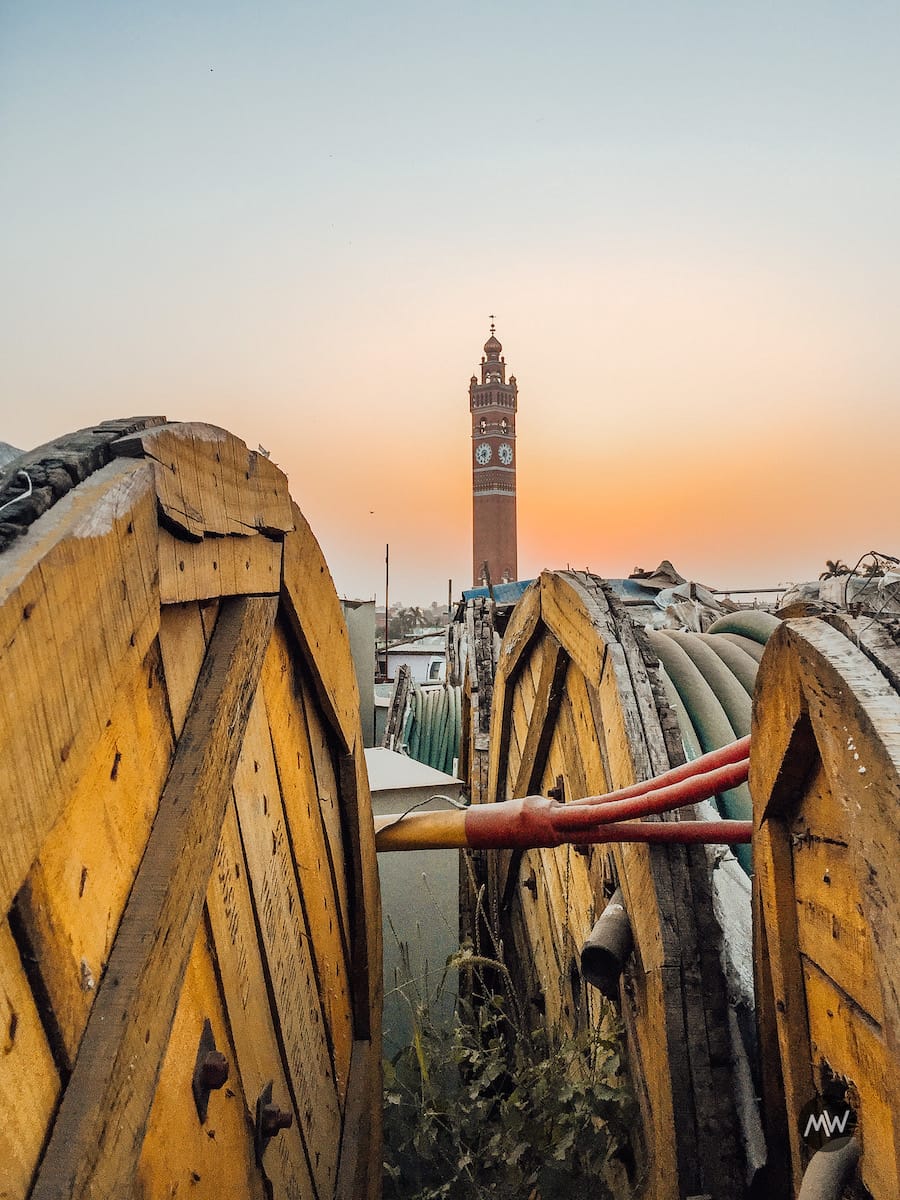 Mumbai's Rajabai Clock Tower is India's tallest clock tower with a height of 280 ft while Hussainabad Clock Tower of Lucknow is probably the second-tallest clock tower in the country with a height of 221 ft.
What is the entry fee of Hussainabad Clock Tower?
There is no ticket to visit the Clock Tower. You can roam here for 24 hours for free.
Is there any hotel or restaurant near Hussainabad Clock Tower?
Yes, there are many hotels and restaurants within the 5 km area of ​​Clock Tower.
What else can I visit around?
Rumi Darwaja, Bada Imambara, Chota Imambara, Bhool Bhulaiya (Labyrinth), etc., are located within one kilometer from Clock Tower.
---
Final Words
If you are into history, architecture and generally pleased to see symmetric buildings, you must visit this. From my personal experience, I'd say this is an excellent spot to click some great photographs and have a good evening. If you are Lucknowite, you can hang out with your friends and family.
If you are a traveler to Lucknow and want us to show you our beautiful city, you can request us to do so.
---
STOP. Wait for a second, why aren't you write your thoughts in the comment box below? I'd love to hear them all.