Chand Baori – what comes in mind when you hear this word? Does this sound familiar to you?
Every small town in India has its own distinct identity. We are the citizens of a nation where history and culture reside in abundance. One such village is "Abhaneri", which is located in the Dausa district of Rajasthan. And one such wonder it posses is Chand Baoli, also known as Chand Baori.
To say, this is just like a common village, but located here is one of the ancient and deepest Baori of the world built in the 8-9th century.
One evening while sitting on the roof of our hostel in Jaipur, we were discussing what to do the next day. Although we had to go to Bhangarh Fort (Asia's most dreaded place), we were not so keen. We had already visited some forts in Jaipur. My partner Vipin showed me a picture of Chand Baoli. Seeing its design, I became quite curious and was ready to go there quickly.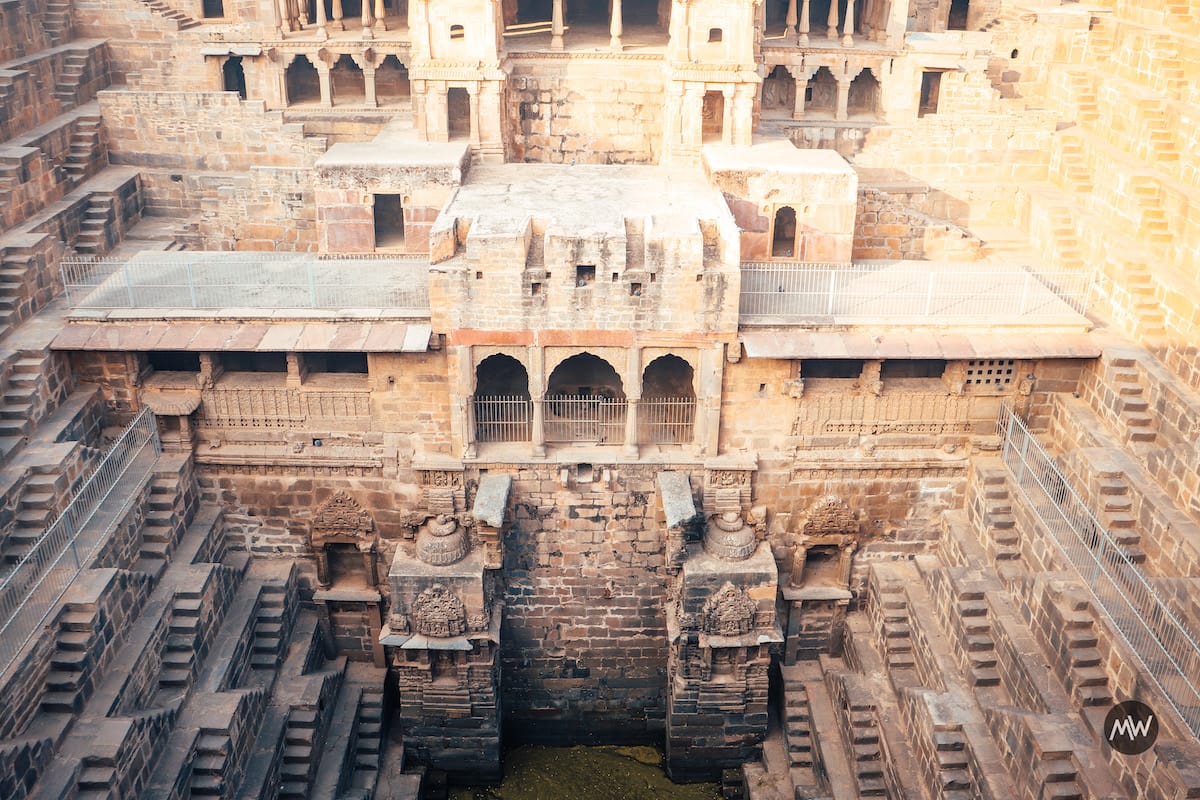 ---
---
The Simple History of Chand Baori
Baori can be seen in many parts of the world. In order to get rid of the water-related problems, Baoli was used to build in those days.
Chand Baoli is undoubtedly one of the oldest and safest Baoli of Rajasthan. It was built by Chaand (or Chand), the ruler of the Nikumbha Empire, who was ruling Abhaneri at that time. And as you can guess, it was named Chand Baoli or Chand Baori after the name of King Chand. Its history will take you around the 8-9th century.
Follow us on Instagram to know real India.
Building such a mysterious and marvelous structure at that time must have been a big achievement in itself. For information, let me tell you that its construction is even older than the Taj Mahal.
It is also claimed that Lord Rama's younger brother Laxman was an ancestor of King Chand. But no firm evidence has been received of this fact.
Marvelous Architecture of Chand Baori
The plan for this stepwell is square. The entrance of this 20 meters deep Baoli is towards the north. For getting down, it has a double staircase on three sides, while in its northern part there is a small gallery of pillars, where the statues of Mahishasuramardini and Ganesha are installed. Going down is prohibited for the public.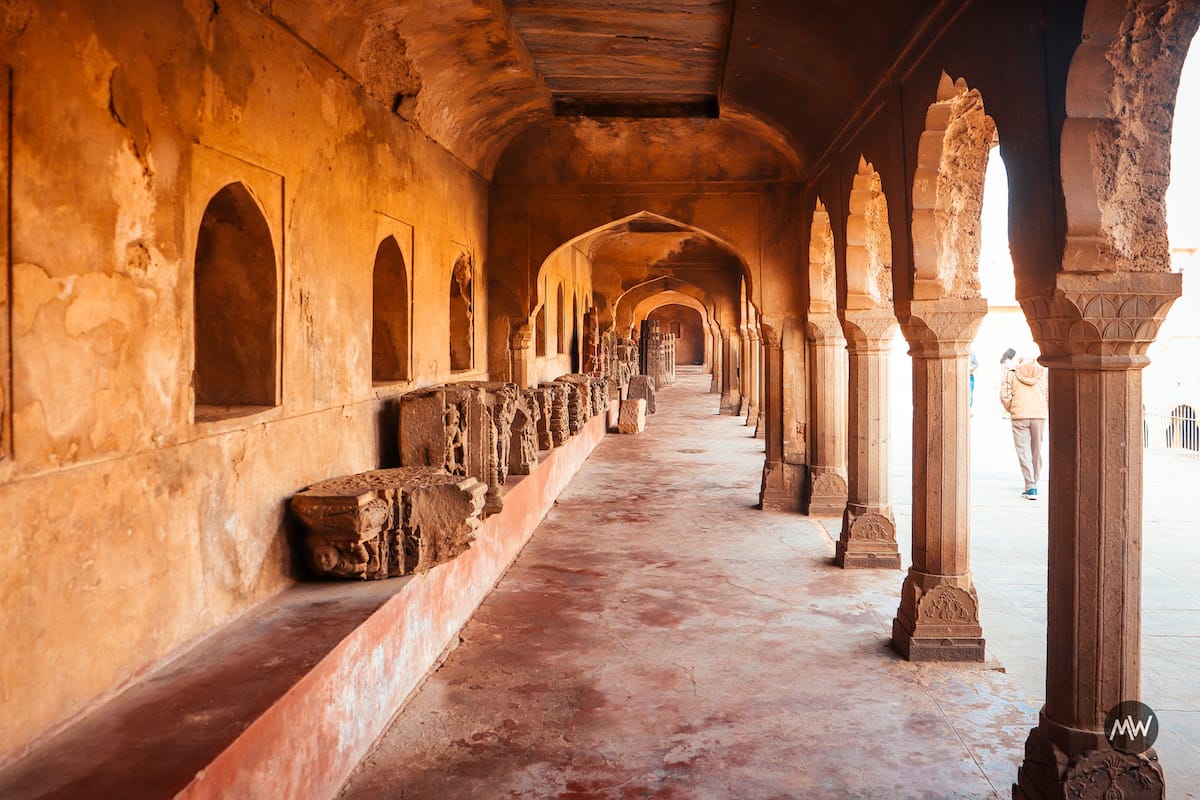 It has a verandah on sides and the entrance hall, which were not part of the original plan and was built later. In those days people of Abhaneri used to come here to get rid of the scorching summer of Rajasthan. The temperature downside the stepwell remains 4-5 degrees lower than the surface.
The Pattern of 3500 Steps
Are you surprised? I too was surprised, like you, when I came to know that Chand Baori has 3500 steps. These stairs are arranged in such a way that it gives a very different look. Photographers show their creativity here as it's such a photogenic delight.
I looked down, holding the nearby railing. The green mosses over the water and fluttering of pigeons, and its serene atmosphere, will all try to give you an abstract glimpse of ancient times.
It has a total of 13 floors and narrows down from top to bottom. It is symmetrical in appearance, which makes it even more attractive.
Harshat Mata Temple
At a distance of 70-80 meters from Baoli, you will see a domed temple situated at a height. This temple is dedicated to Harshat Mata. Harshat Mata is considered to be the goddess of happiness and joy as Harshat word is derived from Hindi word Harsh meaning happiness.
This village also got its name after this temple. It is believed that Harshat Mata spreads her aura (Abha) in this village, hence its name Abhaneri.
History of the Temple
No actual date of construction of the temple is known. According to historians, it was built around the construction of Chand Baoli. It was also built by King Chand of the Nikumbha Empire in the 8-9th century. The attack by the Islamic ruler Mahmud Ghaznavi destroyed the actual structure of this temple.
Temple Architecture
This east facing temple of the Mahameru style is situated on the dohri jagti. The temple plan has the Pancharatha Garbhgrah. It has a pillared mandapa in the front. Only the main shrine and an open pavilion are in a living state.
The top part of it was once magnificent, but after the attack, it was made dome. Statues of Hindu deities are engraved in the Bhadra Takhas on the outer wall.
The statue of Harshat Mata sits in the Garbhgrah. The beautiful sculptures placed in the ceiling around the Jagti above depict the religious and temporal scenes, which is the main feature of this temple.
Local Festivals and Fairs
Talking to the priest of the temple revealed that 10 days before Dussehra, when the Puja Archana starts on Navratri, an Abhaneri fair is held here for 3 days. The priest also informed us that a fair is also held in the month of April.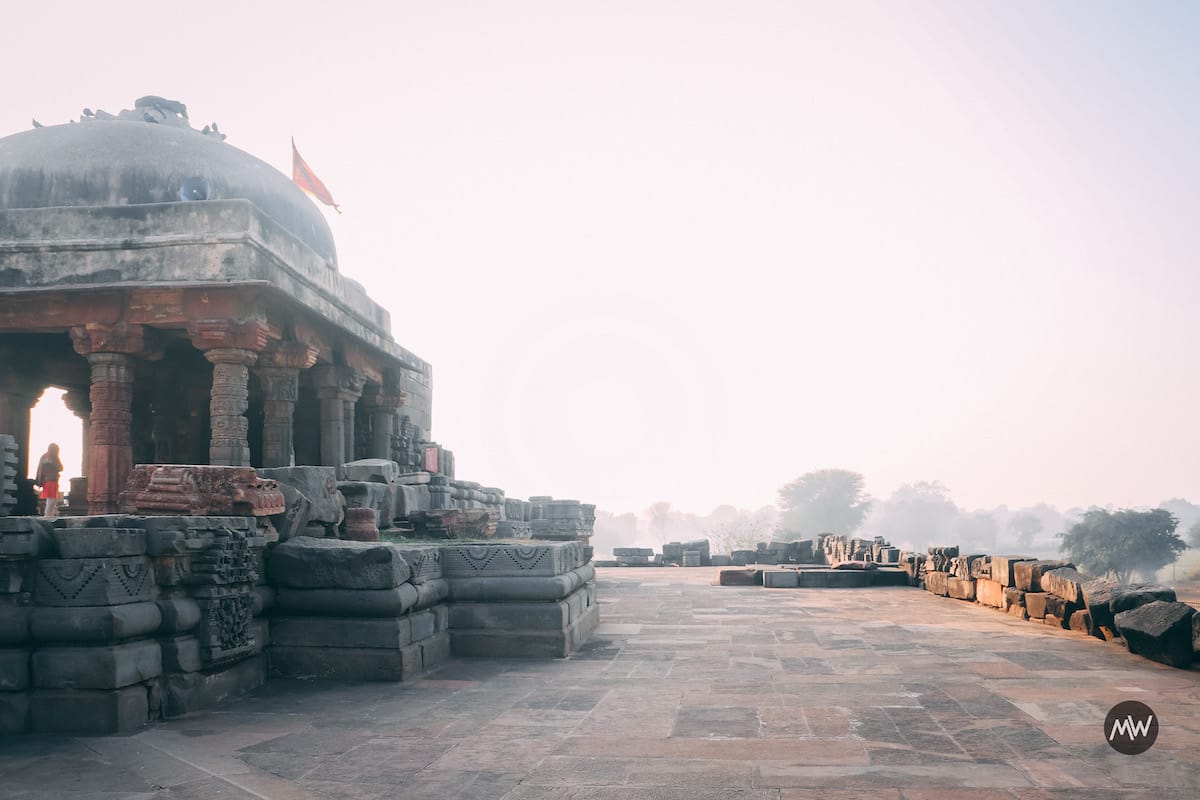 Aarti is performed every morning and evening in the temple. The Baori is open for those 3 days as well wherein there is also a jumping competition (in Baori) among the local people happens.
Points to Remember
Both places (Chand Baori and Harshat Mata Temple) can be visited within one and a half hours.
Chand Baori can be visited while coming from Agra and going towards Jaipur and vice-versa as it sits en route Agra-Jaipur on the Golden Triangle of India.
Indians will have to pay ₹25 for the Baori ticket.
You can do photography and videography.
Local tour guides are also available.
There are no hotels nearby, so visit during the daytime.
From Bandikui you can go to Bhangarh and Mehandipur Balaji temple.
How to reach Chand Baori in Abhaneri
Abhaneri is in Dausa district of Rajasthan. The distance from Jaipur to Abhaneri is 90 km. The following are the routes to reach here.
By Rail
The easiest route is by rail. You will have to take a train from Jaipur to Bandikui. All the trains to Bandikui are at regular intervals throughout the day. Then from Bandikui railway station, you can take an auto-rickshaw which will charge you around 200-300 INR for the round trip.
By Air
Jaipur International Airport is connected by air from all places abroad. You can book a taxi from the airport, or even take a bus.
By Road
You can reach Jaipur by bus from any part of the country. You will not get any direct means from Jaipur bus stop. Two methods can be adopted from Jaipur.
First – first take a local bus from Jaipur to Sikandra and then reach Abhaneri by taxi.
Second – Take a bus from Jaipur to Gooler, then trek for an hour to reach Abhaneri.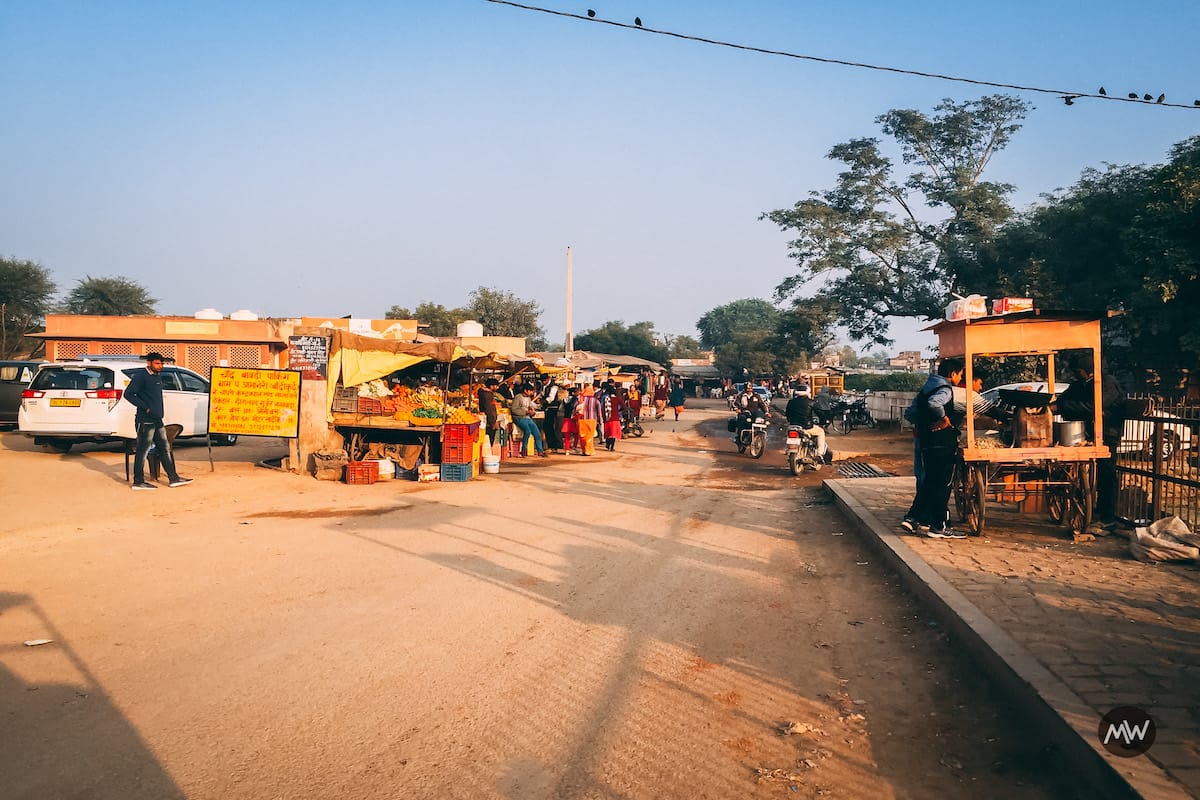 You can take a taxi from Jaipur directly to Abhaneri if you're ready to spend a few extra bucks.
Some Commonly Asked Questions Related to Chand Baori
When does Chand Baoli open?
Chand Baoli is open from 10 am to 5 pm on all days of the week.
How much is the ticket for Chand Baoli?
Its ticket is only ₹ 25 for Indian.
What is Baori/Baoli?
In order to get rid of the water problem, wells of slightly larger size were made, which have stairs to go down. Basically it acts like a water reservoir.
Where is Chand Baoli located?
There are Chand Baoli and Harshat Mata Temple in Abhaneri, a small village in Dausa district, 90 km from Jaipur.
Who built Chand Baoli?
This huge figure was built by King Chand of the Nikumbha Empire.
How deep is the Chand Baori or Chand Baoli?
The depth of Chand Baoli is about 20 meters. It has a total of 13 floors. It is one of the ancient and largest Baolis of the country and the deepest in the world.
Our Experience
We thought it to be appropriate to take the rail route. We took the train from Jaipur at 12 noon which landed us in Bandikui in an hour and a half. From there we took an auto-rickshaw which took us through narrow streets and bumpy roads to our destination – Chand Baori in Abhaneri Village.
You cannot guess its grandeur upon entering Abhaneri but only after seeing Chand Baori. As soon as I entered and reached close to Baori, I was awestruck. I have seen a couple of Baori but seeing such huge and grand Baori for the first time made me amused. Even in my city Lucknow, the Shahi Baoli is way smaller than this.
After taking some pictures, my eyes fell on the idols in the row which seemed to be quite ancient. A guide was introducing people from Japan to the history and geography of Baoli. And I sent one of my ears to attend their convo.
Departing from there we headed to the temple. Since the temple is at a little height, we had to climb a few steps. With joy in mind, I saw Harshat Mata. The priest gave us the prasad and talked with us a bit.
I was roaming around the temple complex when I saw a small squirrel who was staring at me, I said softly to Vipin that brother should take a picture of them too. Khichikk!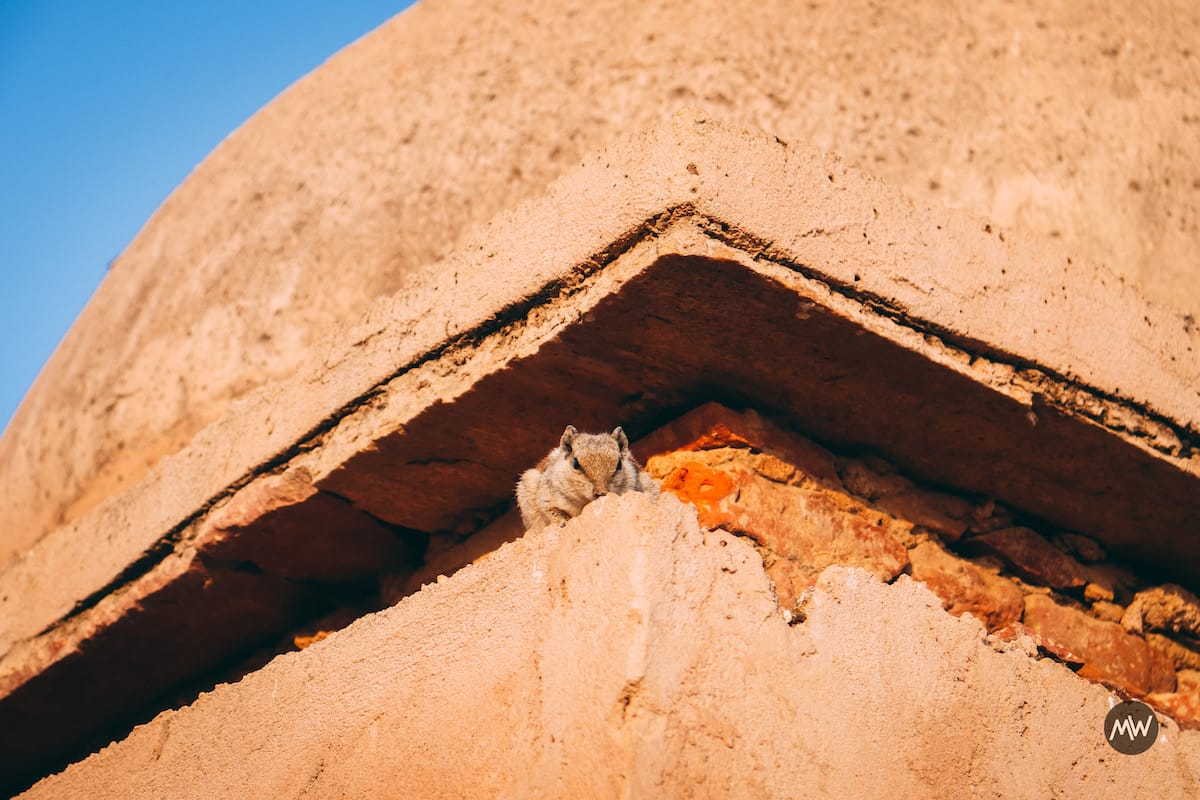 Finally, we headed back to the railway station from where we had to take a train to Jaipur. We spent almost 2 hours and were quite overwhelmed after visiting Abhaneri.
---
I hope that I have been able to give you complete information about such a beautiful place. Many such hidden places are located in every corner of India. You can even find it in your own city or state.
Do you know any such place around your locality? Please share your experiences in the comment box.
---