So have you ever thought of staying for free while you travel? Heck, what am I even talking about…
Who doesn't want that? Right! I'm a person who always dreamt of traveling as far as I can without digging a hole into my pocket.
Well certainly to travel for free is a myth (yet to me) but however, there's a thing I brought you today which will cut your accommodation charges to zero (pretty close to travel free system, isn't it?).
Yeah, I'm right…
Couchsurfing is a term that has been into existence for a long time now. Some thought it'll change the way we stay during our travels (and in some ways it did) but mostly it failed to attract the number of people it deserves probably.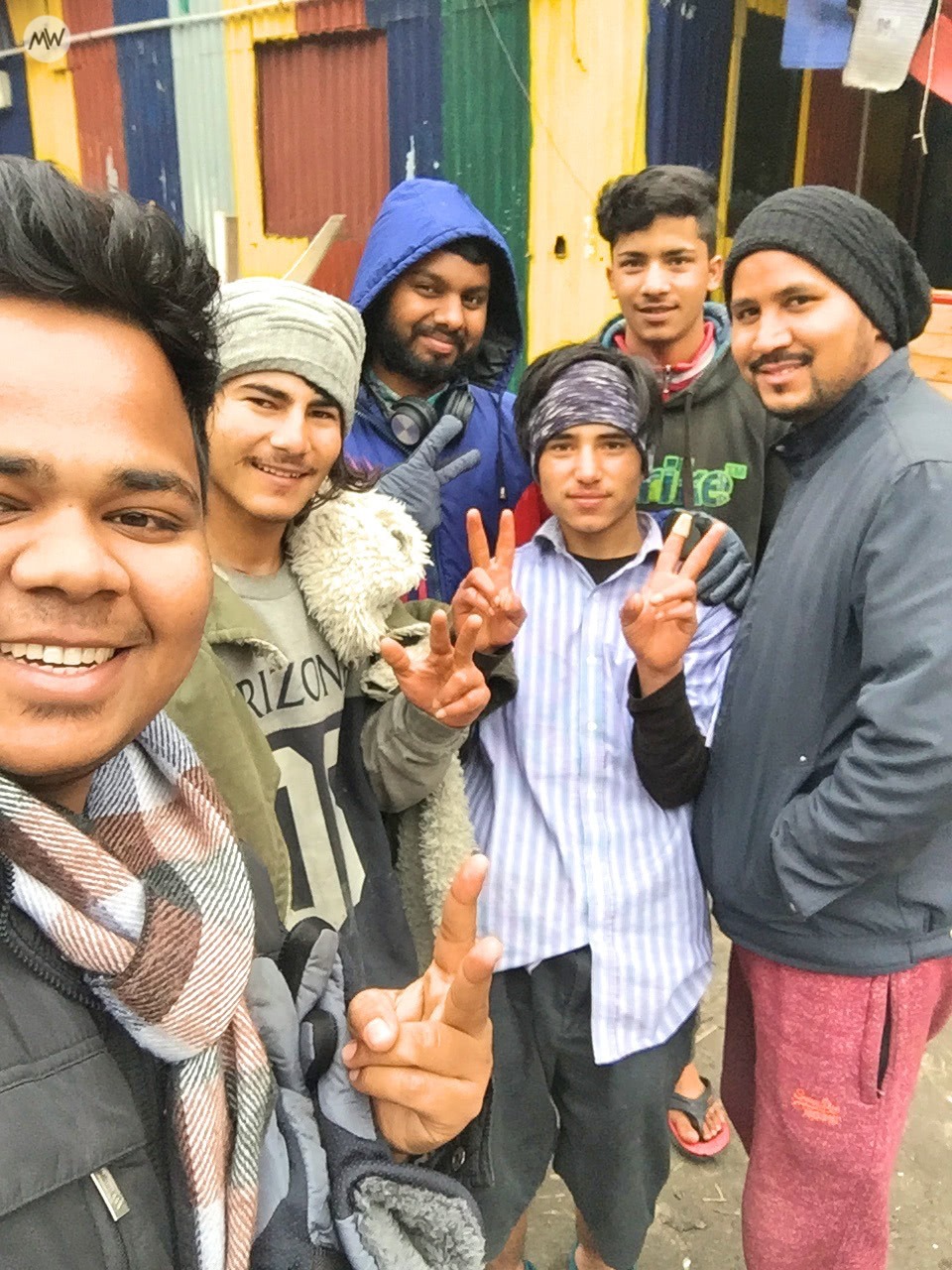 In India, Couchsurfing is yet to gain that drive among travelers.
I'll talk about my first experience with Couchsurfing in India and what precautions you should take before you confirm your stay in a stranger's abode.
But let's first define Couchsurfing for the sake of formality…
What is Couchsurfing?
Couchsurfing is literally surfing on other's couch but the only catch is that sometimes you get a bed. Unlike Airbnb, here you don't pay your hosts. Consider it as Airbnb but the only perk is it's free.
Listen to this video very carefully…
In a nutshell, you register yourself with Couchsurfing as a Couchsurfer or a host and the game starts. Couchsurfers browse the location they want accommodation for, hosts list their accommodations on Couchsurfing (yeah darn close to Airbnb).
Furthermore, the Couchsurfer sends a request to the host, and it's up to the host to accept or decline the Couchsurfer's proposal.
Normally when you make an account and stay with the free account (there's a verification process which costs you a few bucks) there are a few restrictions.
The single most advantage of being a verified member is the ability to send an unlimited number of requests to hosts.
And free members can only send up to 10 requests within 7 days.
And as you can guess, higher the number of requests, higher chances of getting accepted by hosts.
Here's more between them…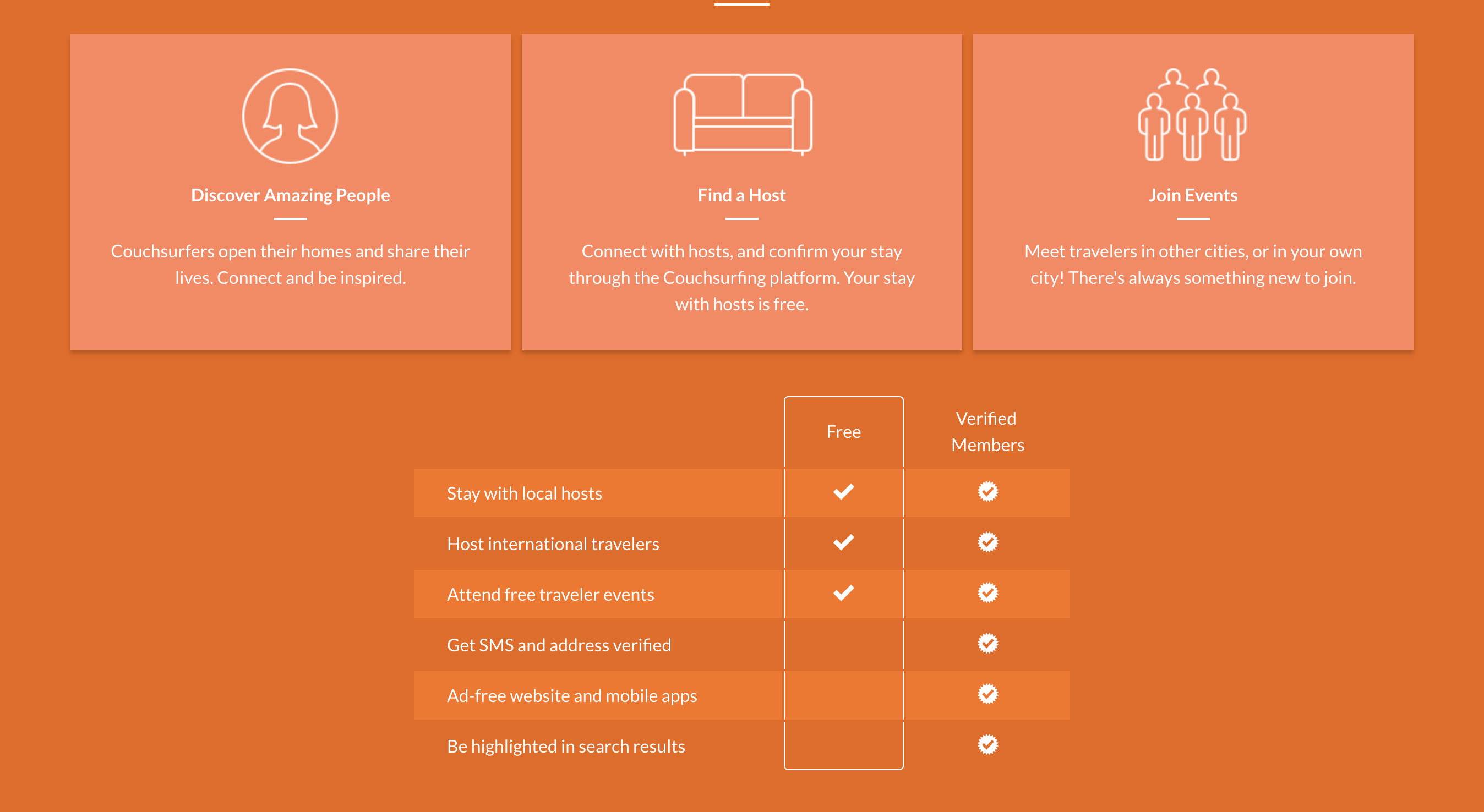 How to Couchsurf?
I'd not lie to you but I was new to Couchsurfing. I wasn't able to believe the idea on which it was built. But anyhow, to calm that itch, I took the leap of faith and decided to try Couchsurfing for my visit to Kasol (mini Israel of India).
So what's next, I began the hunt for the right host on Couchsurfing's app and later my bid was accepted by Mr. Prakul Verma. Exchanged numbers and confirmed the stay.
One day before reaching Prakul's accommodation in Kasol (Parvati Woods Camps), I clarified the directions on how to get there. He described it very generously.
It was all set and I was really excited to try out this. But there was something in my mind…
And it was a legit thought.
How safe is Couchsurfing in India?
There have been a number of cases I read on Quora, Reddit and a few other forums about the misconducts on Couchsurfing. People were assaulted, sometimes the guest drank a tank of alcohol or other times hosts made a move on the Couchsurfer.
Among all this, the only relief I felt was that I'd not found any case of misconduct in India. That may be because Couchsurfing isn't that bloomy here and people of India are yet suspecting on it.
Couchsurfing has to say something regarding safety…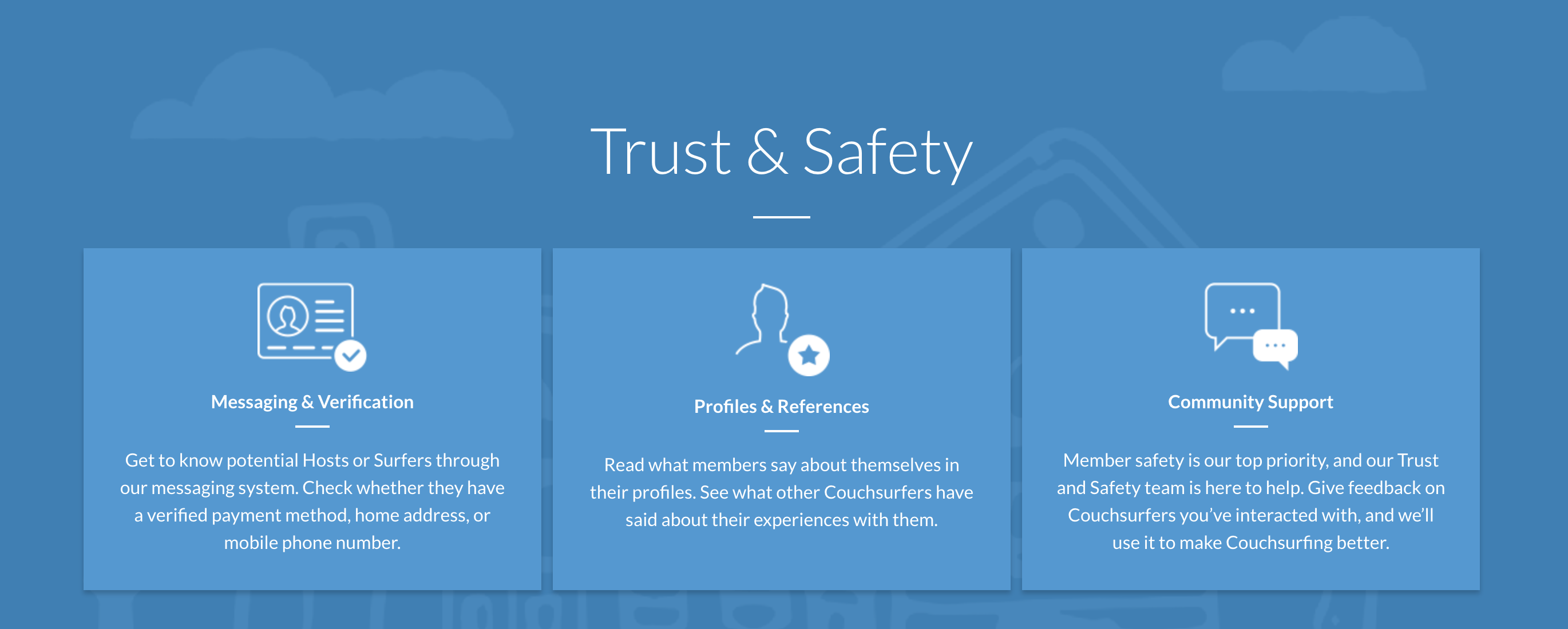 Read more about safety.
Pretty clear, you can read reviews and references to get the idea of your host/guest.
Couchsurfing is safe when you're aware, conscious and have a backup plan, always. And experience varies from person to person.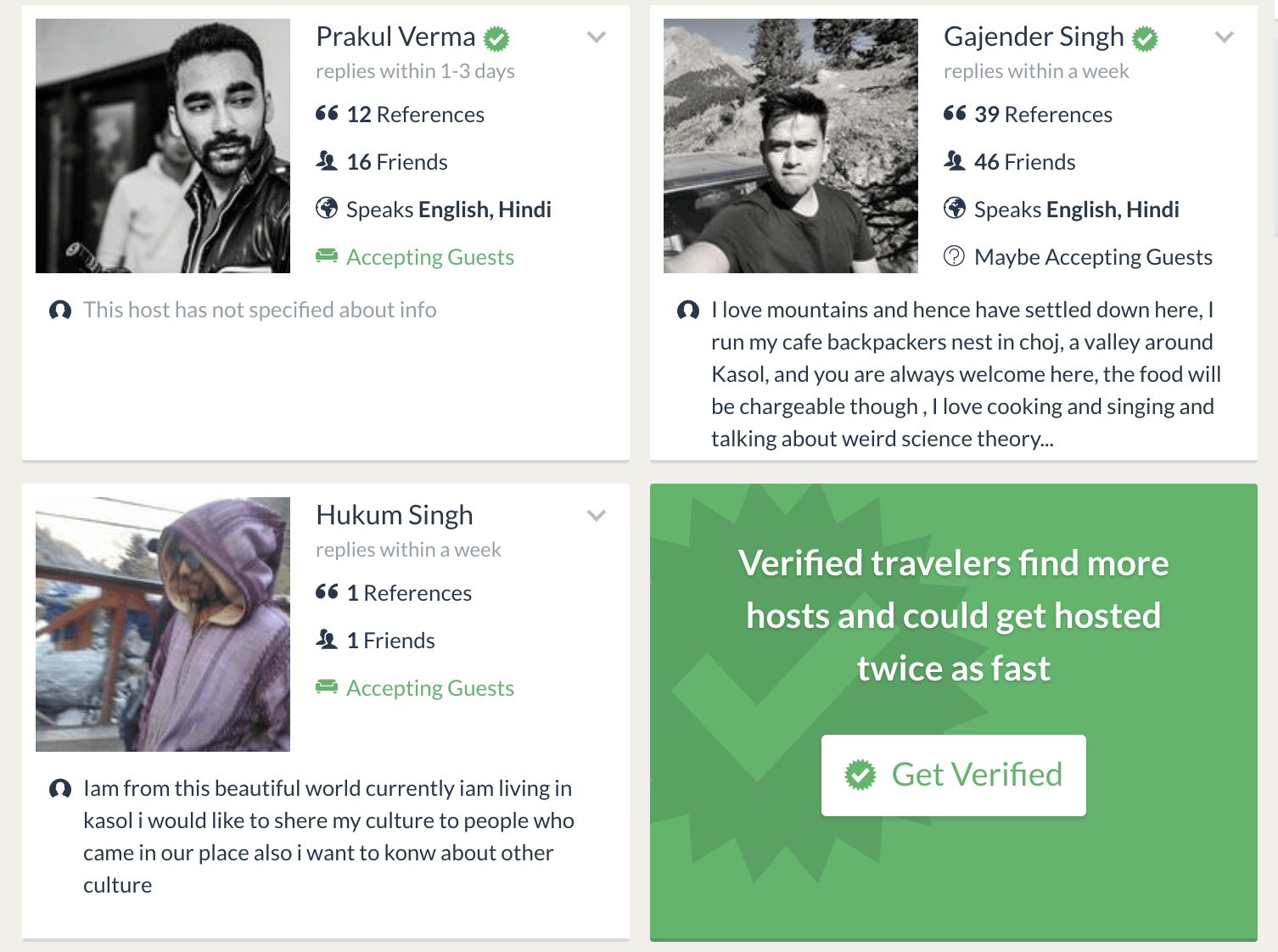 Considering how my stay went, safety at the accommodation and various other factors I would rate Couchsurfing safe. Not Z+ security, but safe.
Here's what I focused more while rating-
– the behavior of the staff/host
– location of the accommodation
– reviews, ratings, and references
– comfortability during stay
– interaction with the like-minded
Is it really a free option?
Yes. Completely. After my stay, I didn't pay a single penny for accommodation but only for the food I ordered. Moreover, my host hosted me in one of the camps he owned, nearby Parvati river at Kasol in a village setting. It was bright and inexplicable feeling for me.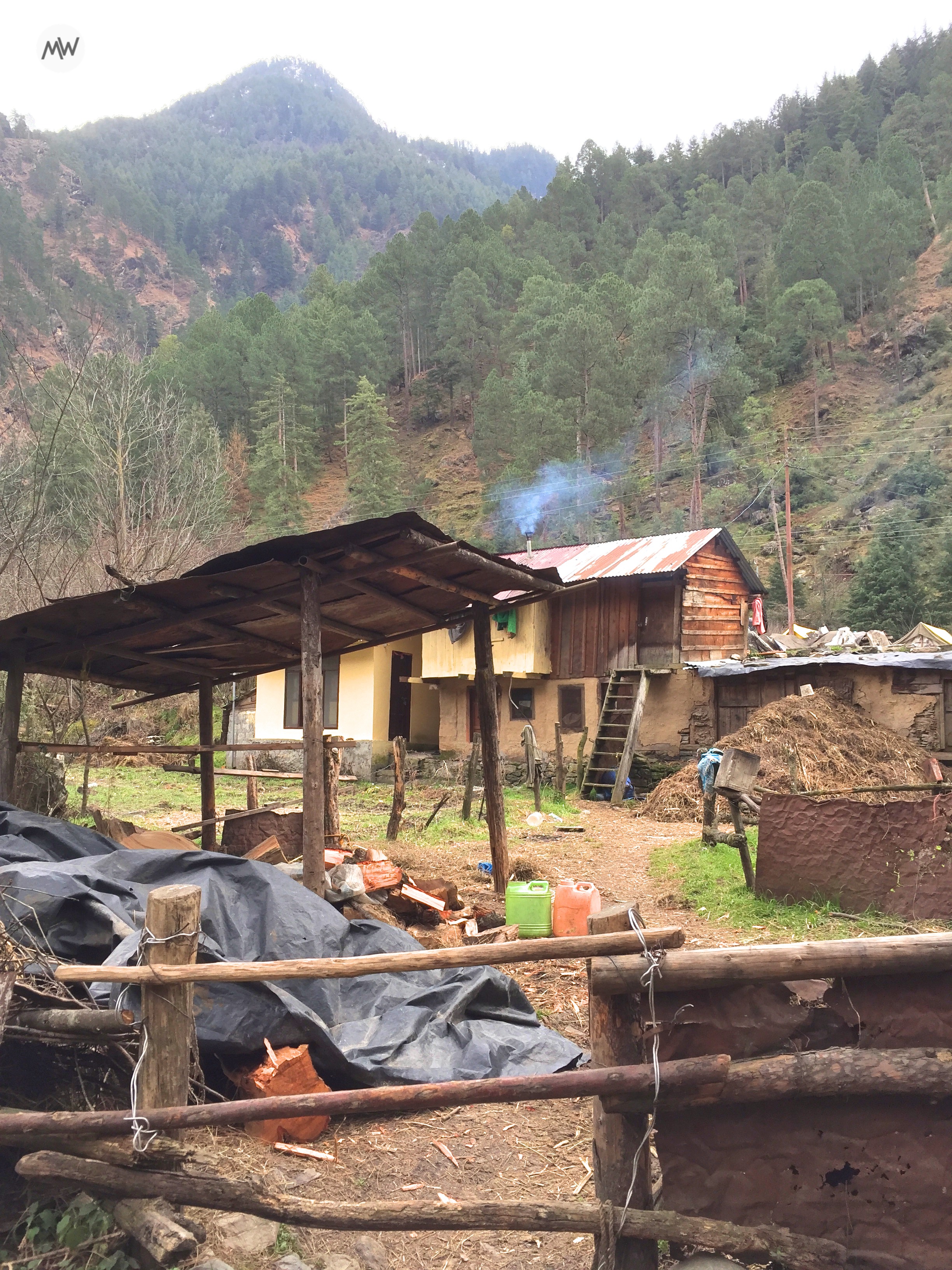 Although I didn't get the chance to meet my host due to some reason, his staff members there were extremely welcoming.
So yeah, it was free and it opened up new horizons of my mind too.
Good points about Couchsurfing.
Although you would have guessed them, but let me list down a few 🙂
– Get to meet travelers and travel enthusiasts,
– Get to know the place from a local's perspective,
– Build new friendships with like-minded peeps,
– Discover new cultures and foods,
– Stay for free,
– Get to explore hidden gems, known to locals, not to Google,
– Reviews and ratings from people all around the world.
Few things to keep in mind.
It's always safe when you understand possible scenarios that can happen. Couchsurfing in India is new and so it's better to keep the rules of safety intact.
Always inform your parents/guardian/loved ones about your accommodation.
Get them a quote of your travels.
Have a plan B (even plan C).
Contact Couchsurfing's team support if something falls apart.
Get enough information about your host, couch or the guest too.
Ask for ID proof from the host and/or guest.
Be a good host/surfer, offer them help (for example cook them a meal, or bring a souvenir).
Always make sure you leave genuine ratings and reviews about your host.
Last thing…
Safety might become the biggest concern for Indians when it comes to Couchsurfing. But as I told earlier, it can be tackled easily with few rules.
Yet I'd not force you to go for it if your gut feeling is standing on the way. But don't doubt it's awesomeness.
FAQs related to Couchsurfing India.
Is Couchsurfing in India safe?
Yes. It is safe for anybody if some points are kept in mind before hosting or surfing like always asking your host/surfer ID proof, declaring house rule afore hosting, informing your travel whereabouts to your family and friends and so on.
Is Couchsurfing legal in India?
Yes, it's completely legal and safe unless until you get caught into some malpractices.
Is Couchsurfing free?
Yes. It's free. However, moving forward with this mentality is not recommended as you'd not able to connect with the travel community Couchsurfing serves.
Is Couchsurfing safe for female?
Female safety is a big concern in India. Couchsurfing is pretty safe in India but not completely. There'll always be people who would try their move on you and may get involved in trash activities. It is therefore recommended to take solid action when in trouble, fight with courage and not to doubt for asking help.
Is Couchsurfing really work in India?
Yes, it does. I've had many memorable experiences with Couchsurfing.
---
There might be more experiences coming about Couchsurfing in our upcoming blog posts, make sure you are subscribed.
Processing…
Success! You're on the list.
Whoops! There was an error and we couldn't process your subscription. Please reload the page and try again.