"What is your religion?", My fellow traveler asked while I was leaving from Udaipur to Ajmer to visit Dargah Ajmer Sharif.
"Wanderer", I responded with great eagerness.
His eyes were wide open and there was a question mark on his face. Then when I explained everything to him in detail, he understood the reasoning behind my answer.
We have such a belief that one gets the privilege of visiting religious places located in remote areas only when a call has come from there or it is written to go there. Something similar happened to me. On 2 January 2020, our return train to Lucknow was from Ajmer.
Since I had an eagerness to see Khwaja Garib Nawaz, I proceeded straight from the Ajmer Junction to the dargah without wasting time.
---
---
Hazrat Muinuddin Chishti and his lifetime
Hazrat Muinuddin Chishti was born in 1142 AD in Sistan, a small village in Iran. Some scholars tell their births differently. There are many tales about his birth. He became Hafiz-A-Quran at the age of only 9. He was rich in versatility since childhood.
He became famous for the restoration of his Chishti Order in India. He is also known by the names of Khwaja Garib Nawaz, Khwaja Saheb, Hazrat Muinuddin Chishti Ajmeri.
What was the Chishti Order?
Chishti is a sect of Sunni Sufism. It began around 930 in Chishti, a village in Afghanistan. This sect is famous for its emphasis on love, tolerance, and openness.
This method spread to the neighboring provinces of Afghanistan but Indian division could not be reached. Khwaja Muinuddin Chishti himself took the responsibility of delivering this method in India. It was introduced in Ajmer in the mid 12th century by him.
Khwaja saheb to come to India.
Khwaja Muinuddin Chishti had dedicated himself to the service of Allah. He used to go everywhere and tell people about Sufism and Chishti order.
After propagating Sufism in Iran and Iraq, he moved towards India and entered India via Lahore in 1192 AD and stayed in Ajmer.
Popular Stories
When Khwaja saheb came to Ajmer, Ajmer was ruled by Prithviraj Chauhan. When he reached Ajmer, he sat in a place to stay with his disciples, but after some time, the king's soldiers came and said that this is the seat of the king's camels. On this, Khwaja saheb said that if this the place for the camels to sit, let them sit and moved away. And after getting up from there, he settled near a hill near the lake Anna Sagar in Ajmer.
The king's camels came and sat – sat in a way that they did not get up even after millions of attempts. Gradually this story spread everywhere. When Prithviraj Chauhan came to know about this, he sent troops soon and asked to apologize to that fakir. The soldiers obeyed the king and went for apologizing to him. Khwaja saheb said amusingly that the camels have stood up. This is exactly what happened.
He did many examples of such miracles during his lifetime. It is difficult to get each one of that compiled here.
Mughal emperor Akbar was also a follower.
Historians say that Mughal emperor Akbar also had a special faith in this dargah. Akbar came to Ajmer from Agra barefoot for blessings to birth a son and sought the son's wish. It took him 15 days to do this journey. After returning from here, he birthed Salim as a son.
Pleased with this, he used to visit here almost every year. This dargah remained his favorite destination for years.
Architecture and History of the Dargah Ajmer Sharif.
The main site of the dargah was built by the Mughal ruler Humayun. Later Sultan Mahmud Khilji, Akbar, Shahjahan and the Nizam of Hyderabad also contributed to the construction of many buildings. I'll describe in detail the buildings built by them below.
Nizam Gate
To reach in, you have to cross three gates, the first one is the main gate which is known as 'Nizam Gate'.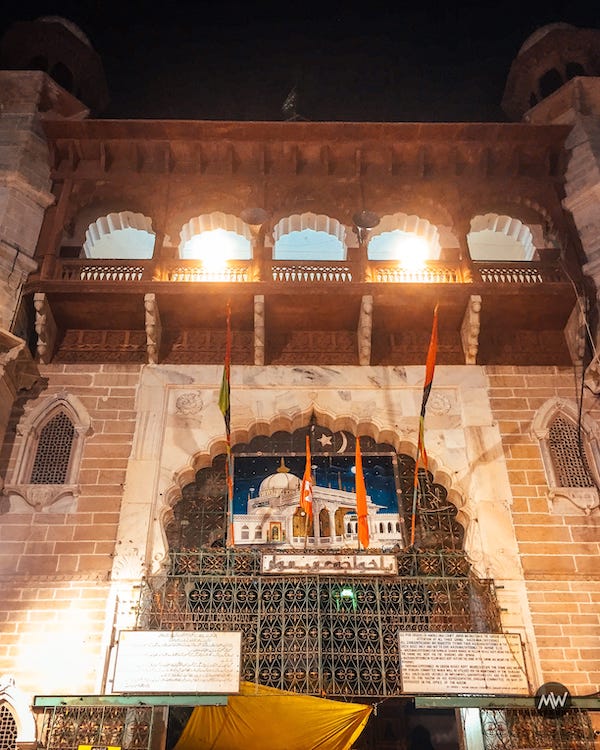 This gate was built by Mir Osman Ali Khan, the 7th Nizam of Hyderabad. It is indeed a very large gate.
Shahjahani Darwaza
As soon as you enter Nizam Gate and move a little, another door, which is called Shahjahani Darwaza, get ready to welcome you. This door was built by Shah Jahan. It also has carpentry.
Buland Darwaza
This is the third and last door that will take you to the main campus. It was built by Sultan Mahmud Khilji in 1455 AD. Its height is 85 feet.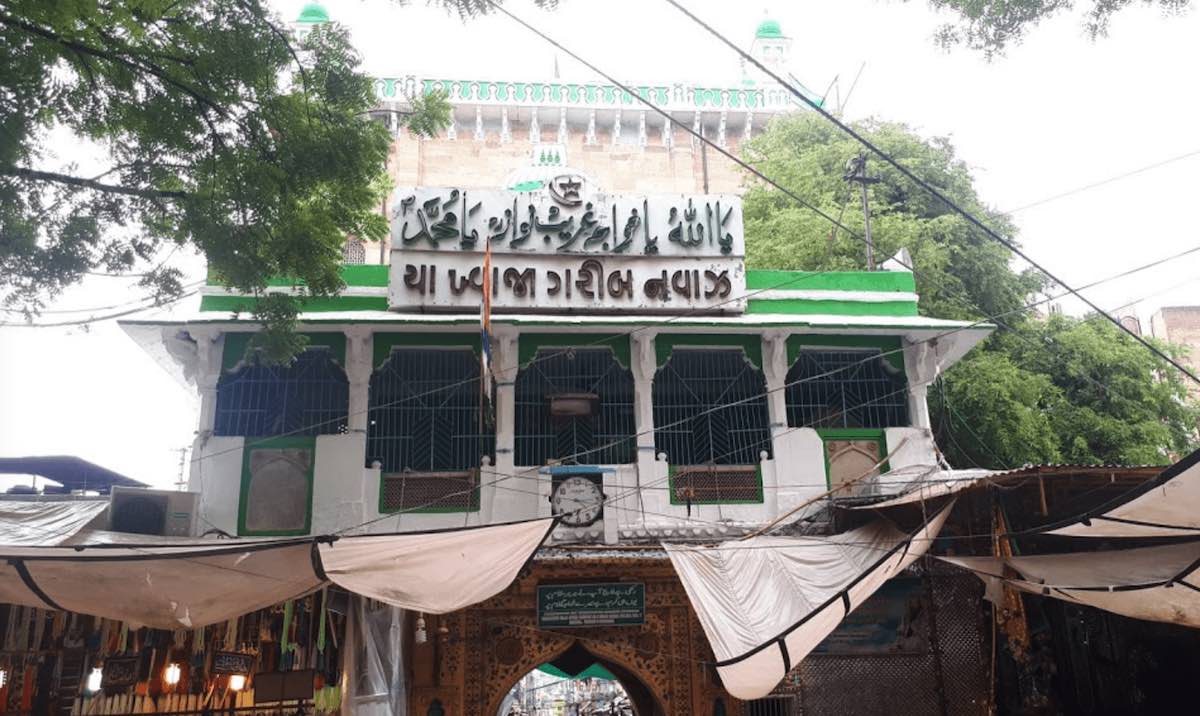 Large and Small Deg (utensils)
As soon as you enter through the elevated door, you will see a small Deg in the east and a large Deg in the west. Deg is a kind of large pot-shaped utensil, which is made of metal.
Akbar donated Badi Deg (large Deg) in 1569. In this, 4800 kg of food can be cooked at one time. In this, saffron sweet rice is cooked as prasad every morning which is completely vegetarian.
Jehangir presented Chhoti Deg (small Deg) in 1615. About 2500 kg of food can be cooked at one time.
Main Dargah: Ajmer Sharif
The main dargah located in the center is the point of attraction. Its dome is made of marble and the shape on all four sides gives a very beautiful presentation. Located in the middle of it, is the holy tomb of Khwaja Moinuddin Chishti.
Akbari Mosque
Pleased with the attainment of a son, Emperor Akbar built a beautiful red stone mosque in 1570, which is known as Akbari Masjid. He built the mosque the same year that he had a son.
Shahjahani Jama Masjid
We all know how much Mughal ruler Shah Jahan loved architecture. The answer is given by how many buildings he built during his lifetime. This mosque was also built by Shah Jahan in 1640. It is really beautiful and attractive. The walls of the mosque have 33 verses (verses) of the Holy Quran engraved on it with 99 names of Allah.
My experience
I reached the dargah at 5:30 in the morning. After crossing the three grand gates, I came to the main verandah. At that time morning prayers were being performed. I stood in line to see. I do not know why I love that rose and perfume smell in Dargahs. And the other thing that affects me the most is the calm atmosphere there.
As soon as the crowd passed through the gate, the silver gate passed which was the gate to enter at the rate of Khwaja Saheb. After getting blessings from the Dargah, I visited Akbari Mosque and arrived near Deg.
I found that there is a lot of crowds near Deg. Curiously, I also moved forward and found that people are donating offerings as per their wish.
Entrance time of the Ajmer Sharif Dargah
Admission – Free
In summers – 4 AM to 10 PM
In winters – 5 AM to 9 PM
Some Important Facts About Khwaja Garib Nawaz Dargah:
Every day around 10 thousand people visit here.
Every day there is qawwali after the namaz, which you must see.
Humayun was once saved by a boy named Nizam Sikka, Humayun had made him king for a day. He built a tomb for that boy in this complex too.
The ruler of Delhi, Muhammad bin Tughluq, first came to Dargah Sharif in 1332.
People of all religions come here and tie the thread of vow. It is believed that everyone's wishes are fulfilled by Khwaja Saheb.
When Khwaja Moinuddin Chishti was alive, the main source of water in the dargah was "Jalahara", which still exists today. Even today all the sacred work is done with the same water.
Famous actors and politicians of the country have also visited Ajmer Sharif.
33 verses (verses) of Quran and 99 holy names of Allah are inscribed on Jama Masjid inside the complex.
Prasad is cooked daily in the morning, which is called "Tabarruk" and is distributed after the morning prayer.
His followers include Hazrat Nizamuddin Auliya, Baba Farid, Amir Khusro, Akbar, Humayun, Shah Jahan, Muhammad bin Tughluq, Naseeruddin Chirag Delhvi, etc.
Some related and commonly asked questions:
What is special about Ajmer Sharif?
Ajmer Sharif is the Dargah of Khwaja Muinuddin Chishti, who spent his lifetime helping the poor and the needy. Millions of people visit his dargah every year.
What clothes to wear when entering Ajmer Sharif?
Like every dargah here you have to cover your entire body and head.
Who can enter inside the dargah?
Ajmer Sharif is the largest dargah in India. People of every religion and sect can visit here.
Can I take a camera and bag inside Dargah Ajmer Sharif?
Of course not. You can not take a camera and bag inside. You can deposit the bag at the counter next to the Nizam Gate.
Where else I can visit near Dargah Ajmer Sharif?
'Dhai Din Ka Jhopra' is at walking distance from Dargah, which you can roam on foot. You can also visit Anna Sagar lake about 3.4 km from the Dargah. Another religious place is Pushkar situated at a distance of 15.7 km from Ajmer. Pushkar is the place where the only temple of Lord Brahma Ji exists.
What is Urs in Islam?
Urs is the death anniversary of a Sufi saint. Followers consider their saints to be the Prophet of Allah. They believe that death means the Saint's meeting with Allah. That is why Urs is celebrated.
When did Khwaja Garib Nawaz Saheb die?
He died on March 15, 1236 AD.
How to reach Dargah Ajmer Sharif?
By road – Ajmer is connected to all parts of the country by road. From Delhi, you can first reach Jaipur, and from Jaipur, Ajmer. The State Transport Corporation buses run at frequent intervals. You can also take a taxi.
By Rail – Ajmer Junction is connected to all the states of the country. Many special trains also run during Urs. The distance from the railway station to the Dargah is just 1.3 km.
By Air – The nearest airport is Jaipur, which is about 140 km away. From there you can take the help of a bus, train or taxi.
---
Final Words.
"All beings come from a mother's womb. We should have a clear realization of the oneness of all humanity."

Dalai Lama
There is another religion above religions, that is humanity. We should serve good deeds, people and follow the path of goodness. There is a narrator here of all religions.
If you are also planning to visit Dargah Ajmer Sharif, then I hope that this article will help you a lot. If you have any questions or suggestions related to the Dargah, then do share it with us via the comment box below.
---
Originally posted at our Hindi Blog by Abhishek Singh.