Darjeeling. The name of the hill station reminds us of the very popular song in which late veteran actor Rajesh Khanna was trying to woo Sharmila Tagore while driving an open jeep and chasing the toy train driven by a steam engine.
I could easily relate to the famous lines of the song "Sapno Ki Rani Kab Ayegi Tu" because as I reached Darjeeling I forgot about any dreamy queen but eventually found the place of my dreams or more dramatically "Sapno Ki Jagah."
The very first impression Darjeeling makes on us is the location of the hill station. It is located around 85 km from the plain city of Siliguri in West Bengal. As I reached Darjeeling by road from Siliguri, it was almost evening and the landscapes were trying to wrap up their presence in the dark making it clear for the viewers that the show is over for today but it will again start early in the morning with the sunrise. I was actually exhausted from my journey and settled for rest in a hotel near Darjeeling Railway Station.
But I knew that I have to make the most out of my stay in Darjeeling so I had already planned my itinerary and it started with sunrise at viewpoint Tiger Hill, the very next morning. I booked my cab in advance and trust me Gorkha people will never disappoint you with the timings. My driver rang me up at sharp 3 AM and we were on our way to Tiger Hill.
Tiger Hill is approximately 10 km from Darjeeling main town…
And the road to the viewpoint is steep with an upward gradient. It was dark in the morning so all I could see were pine trees along the road which were woken up by the headlights of the cars passing by. Everyone was trying to reach Tiger Hill soon to grab the perfect spot for viewing the sunrise.
As I reached Tiger Hill, I was surprised to see the crowd gathered at this odd morning hour. Of course, everyone wants to see the glorious sunrise. I grabbed a spot for myself and waited for sunrise while sipping many cups of tea and coffee for warmth and pass time.
Finally, after waiting for nearly 2 hours, the sun decided to show up. Everyone was ready with their cameras and Go-Pros to capture nature's most beautiful phenomenon. I was literally awestruck as I saw the most natural blending of colors.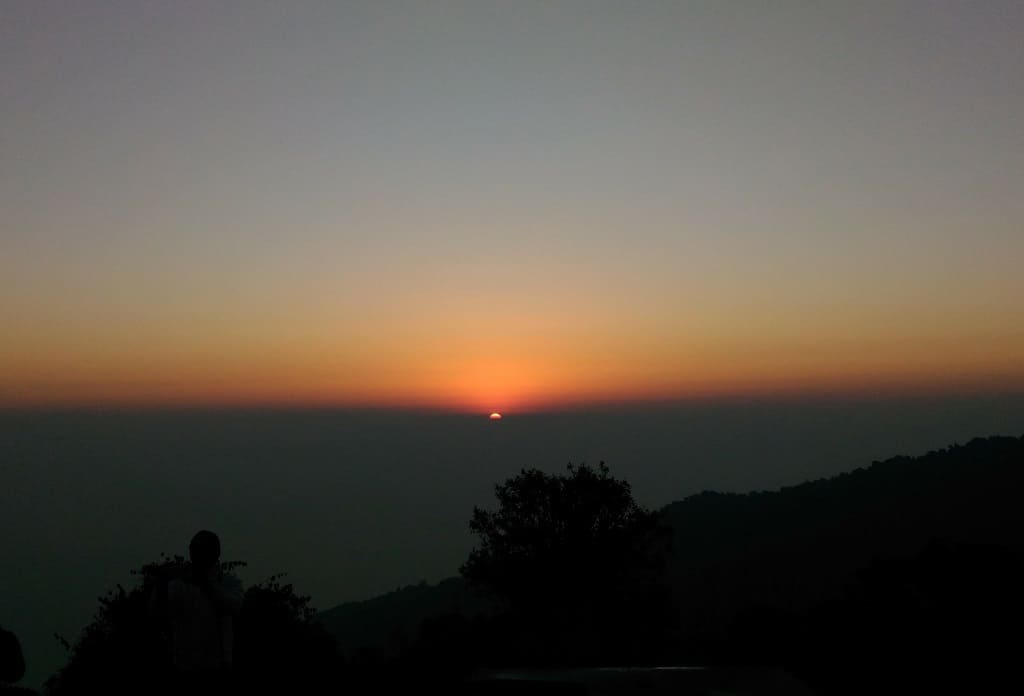 The sun slowly rose up and suddenly I realized that there is more at this place than the sunrise.
The mighty Kanchenjunga is right behind us which has just started to show its glory without a word.
As soon as the sun becomes more prominent on the horizon, the Kunchenjungha becomes more visible. It is all golden in color as if the sun is rising only to wake up this great mountain and make it ready for the day's show.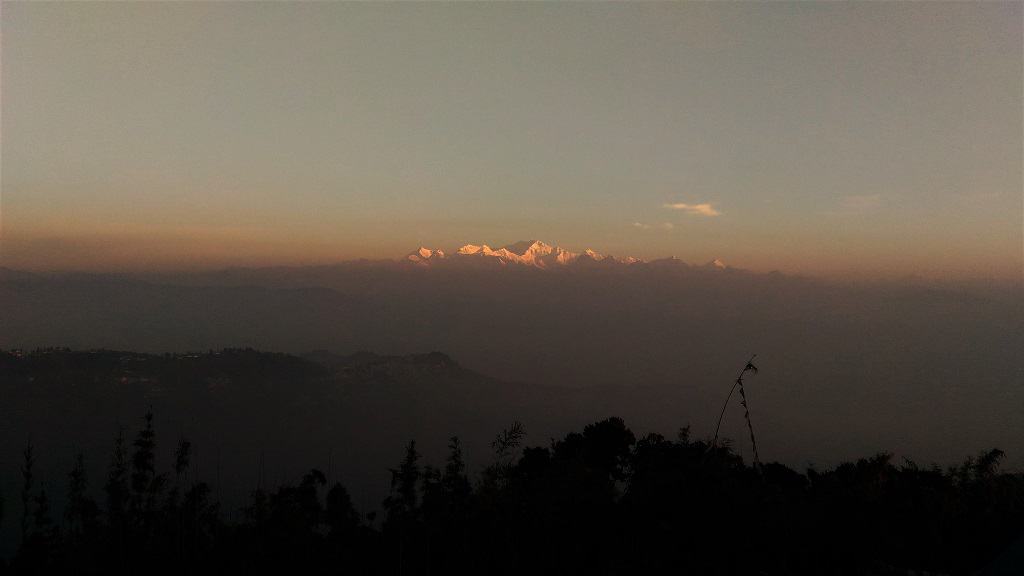 After filling my brain with such mesmerizing mutual relationship between the sun and Kunchenjungha, I left Tiger Hill for my next stop. It was a small garden carved out from a hilltop.
The main attraction of the garden is that the Darjeeling Toy Train which is very small in size but huge in recognition as it encircles and forms a loop.
Thus, this garden is named as Batasiya Loop. I took a walk around the garden, tried the forgotten childhood game of walking and balancing over railroads and stared over and over again at the huge Mount Kunchenjungha in the background. One can also take a binocular view of the snow-capped ranges by spending a nominal amount of money.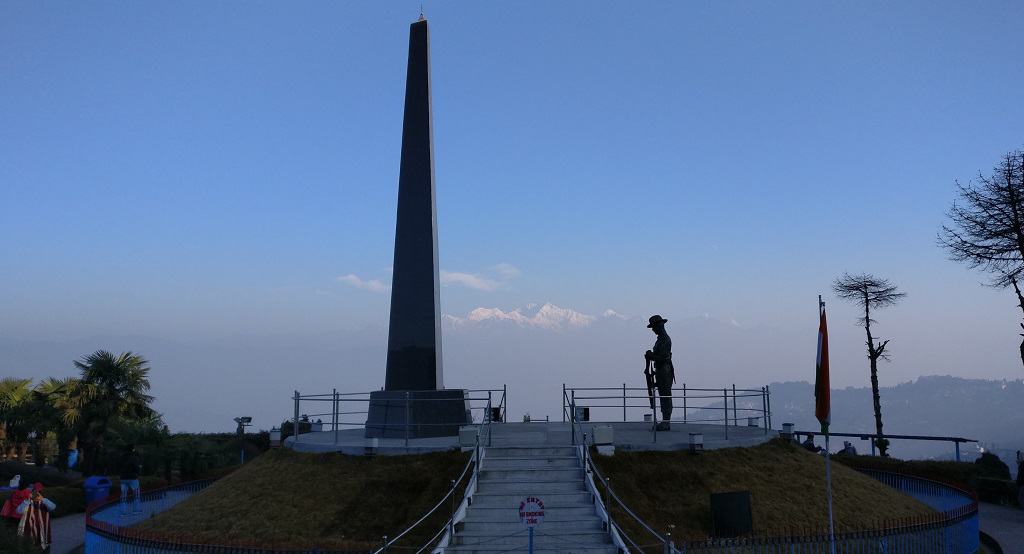 After Batasiya Loop, I was excited to see the toy train which has a world heritage reputation and is one of the oldest tracks in India.
I reached the Darjeeling Railway station and found a very tiny steam engine in its very active mode. No wonder it's a toy. The engine was through the tracks and arranging tiny bogies at the station for its first departure. I was completely surprised to see how these old steam engines are still well maintained and are kept operational.
The chugging of the engine and its hoot stole the attention of every person passing by. I sat there for like 1.5 hours just absorbing all the on-going activities at this tiny railway station with its toy elements.
The heat from the smoke of burnt coal and the crisp cool mountainous winds were trying to prove their dominance over my observational skills.
But I knew that I was being observed by someone mightier and stubborn and that was Mount Kanchenjunga itself. It was at this moment, my questions regarding the location of this hill station were cleared.
Why did English choose this particular place for their summer holiday spot? The answer was very clear and convincing. Mount Kanchenjunga can be viewed from every nook and corner of Darjeeling. It was just like a backdrop for a beautiful stage. I had other opinions. It was the mountain who was keeping an eye on us as the protector of the valley. We are not the audience of the stage.
We are mere artists of the whole setup while the great mountain is watching us all from every corner.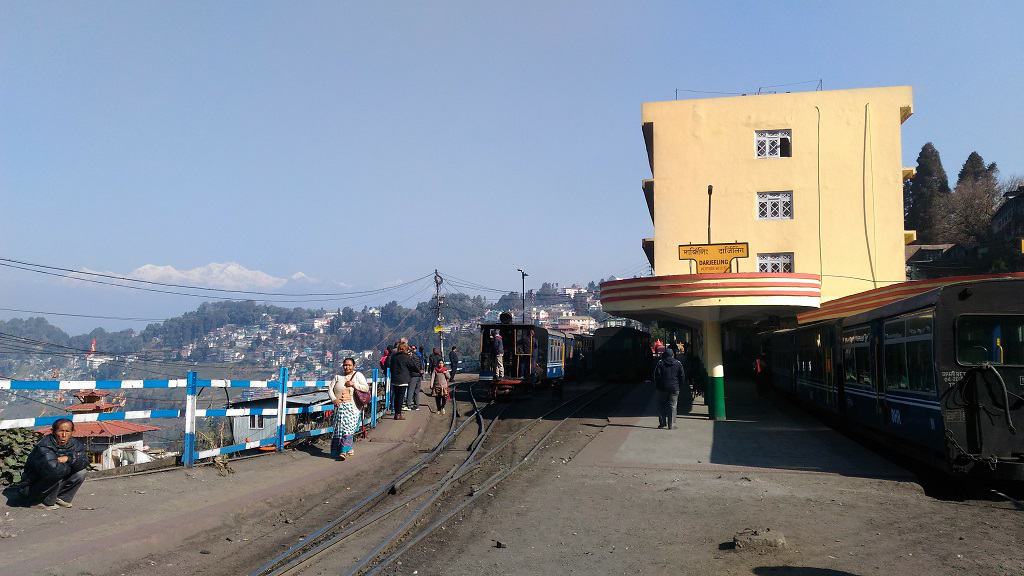 After soaking up all the happenings around this small railway station, I moved back to my hotel. I took rest for a few hours and then again set out to explore more. It was time to visit the signature ingredient of the valley, the tea gardens.
Darjeeling has one of the most popular tea flavors in the world.
And the British tried to utilize the perfect location of the hill station at its fullest. Hence, there are many big tea gardens and factories producing green tea which is exported all over the world. I decided to visit one of the popular tea garden located near the town named Happy Valley Tea Estates.
It was around 5km down the hill but I decided to take a walk through villages and explore the place in its true essence. On my way, I met many villagers who looked happy and exchanged smiles with everyone who passed by. As I reached the tea estate, I got to know that the tea factory is not operational as it was an off-season for tea production. So I decided to just take a walk around the tea gardens and find some serenity for myself.
After talking to a few locals, I made up my mind to go straight to the ropeway. Opened in 1968, it's the oldest cable car system in India. The ropeway offers breath-taking panoramic views of the valley laden with tea plantations. It's a 45 minutes ride which connects Darjeeling's Singawar to Tukvar which is an 8km stretch. I was very excited throughout the ride and as I reached my stop at Tukvar, I got down, took a hot cup of tea at a local shop and gently lost myself in the immense attractive power of nature.
I just lied down on the grass, took a small nap in the sunlight while the Kanchenjunga still kept noting my each and every action calmly. Around one hour later, with a deeply relaxed mind and rejuvenated body, I came back to ropeway station and headed back to Darjeeling town.
It was almost midday and I had one more destination to cover.
That was Darjeeling Zoo.
It is on a walking distance from the Ropeway station. The zoo shares its premises with Himalayan Mountaineering Institute. The Institute has very informative museums and there are many types of equipment and details on public display. Besides all these mountaineering-related information gatherings, my main motto to visit the zoo was to spot red pandas.
Yes, the zoo which is the largest high altitude zoo in the country has preserved many endangered Himalayan species and plantations including Red Pandas, Tibetan Wolf, Snow Leopard, Siberian Tigers, and many rare bird species and vegetation. It is worth a visit and I was actually amazed to see all these rare animals in real life and especially those cute red pandas.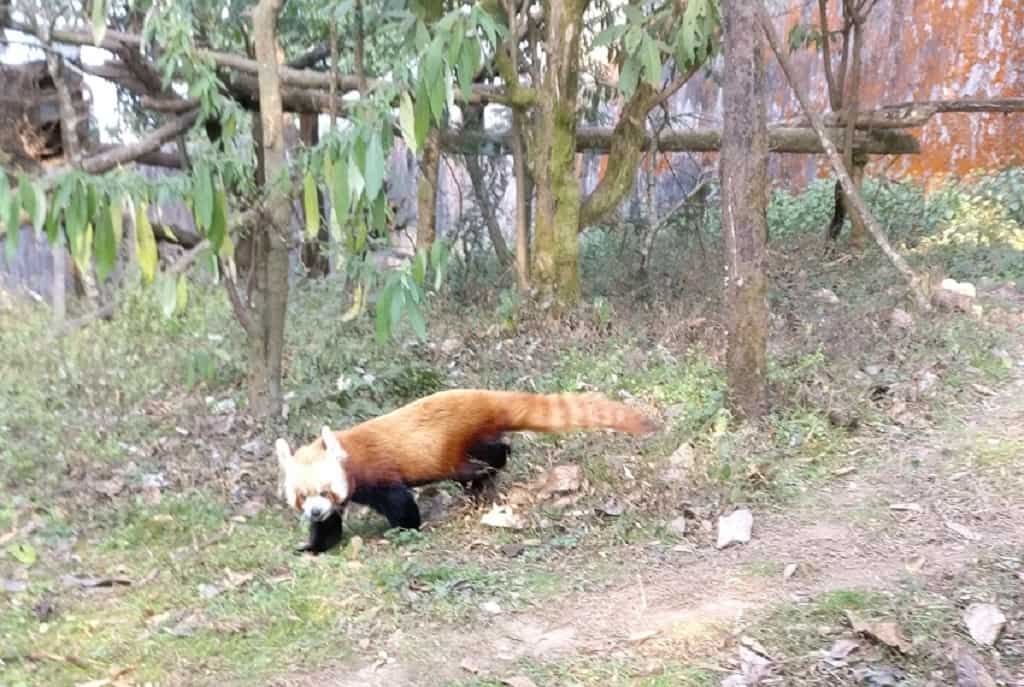 It was almost late in the evening when I reached my hotel. I was tired with all the walking throughout the day but curiosity overtook me and after some rest, I decided to have my dinner at the ridge of the town which is Chowrasta. It is also a shopping hub for tourists and has many restaurants and cafes. Some of these cafes still display English cultural influence while many of them had our desi style.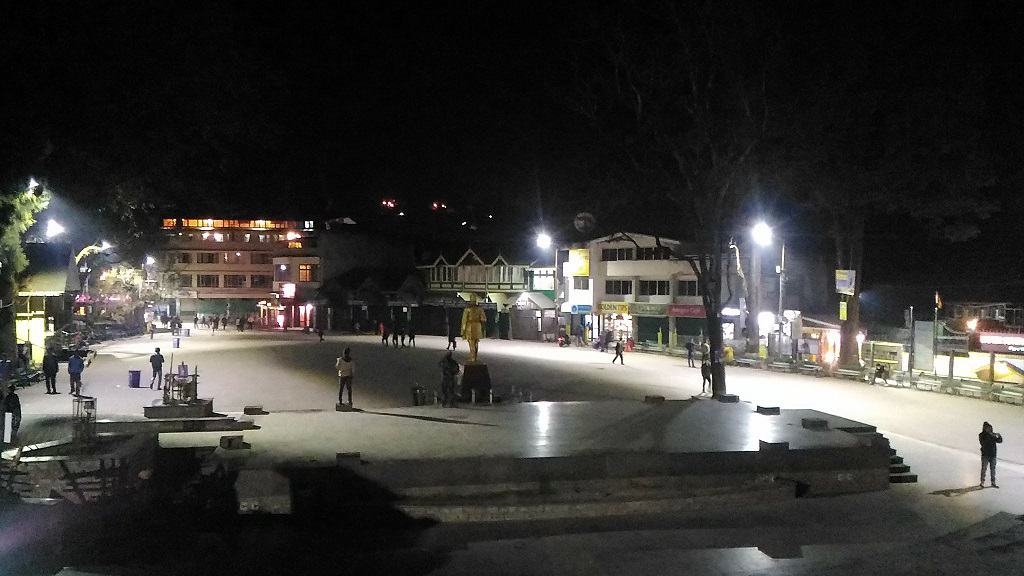 The shops were full of tea vendors and it was actually a tough task for an amateur to select the right flavor for the right price. I finally decided not to buy any tea tonight and will leave it for the next day as I would be leaving tomorrow and probably in a rush which makes things easier to decide for me. Next, I had my dinner in a local restaurant. I did not try any of the hilly delicacies and settled for North Indian food.
Well, I am not much of a food experimenter.
Finally, took a walk back to my hotel and slept soundly.
The next morning, I woke up early and tried my luck at the toy train reservations for that day but could not get any. Disappointed by that, I sat down idle at the railway station and tried my best to soak up everything going on at that place. The hoot, the chugging, the smoke, the narrow railroads, I loved everything about that place. It made me feel that I would come to visit this majestic place again in my lifetime.
But wait, was this my first time in Darjeeling?
The rivalry between cold wind and warmth from the steam engine, the conflict between the scent of the incense sticks from the monastery nearby and the smell of the burnt coal and the contest between the sounds of hymns from the temple and the hoot and chugging of the toy train, these all create a dramatic presence all together which have such an intense joyful effect on the mind that you decide to come here again and again. Maybe, I had the same experience 14 years back when I visited Darjeeling with my family. I came back here again after 14 years and realized why I was there again, this time alone but not lonely.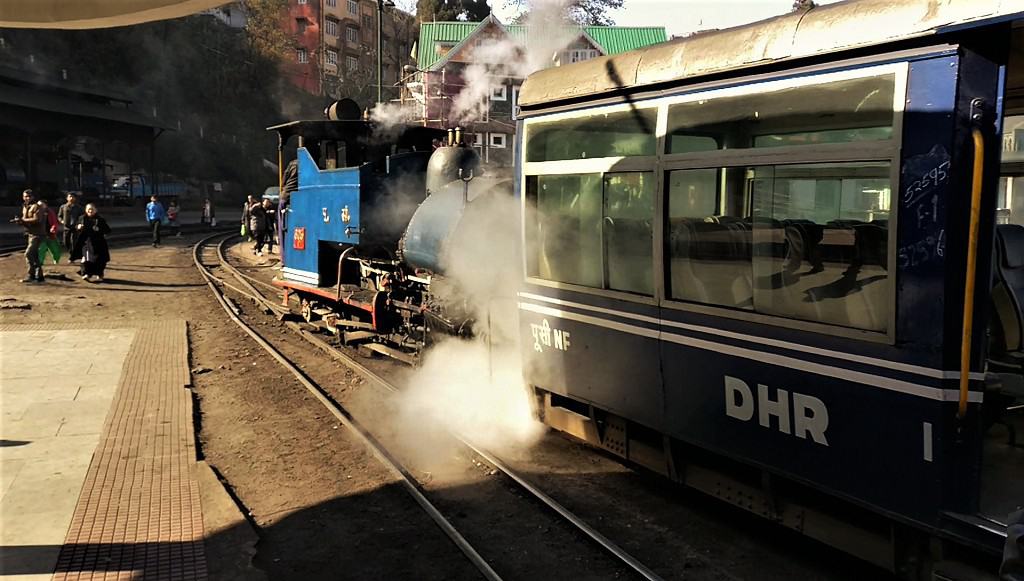 It was time bid adieu to the place. I decided to visit a local tea vendor to collect some gifts for my human assets. I met an old man selling green tea leaves. He just asked me to check out some samples. I told him that I was in a rush and do not have any idea about how to distinguish between good or bad tea leaves.
I don't know why but I think he was waiting for someone like me.
He told me to come and sit near him and then he started talking. Then told every detail about Darjeeling tea including historical facts and geographical factors. He told me the correct procedure to check the quality of the tea leaves. We had talked for like a whole one hour when I realized that I had to go back and leave for Siliguri. I bought some tea packets from the nice old man and thanked him for enlightening me with his knowledge. I then went to Chowrasta to buy some postcards for my friends from an old book store and later rushed towards the taxi stand.
Finally, with all new experiences and fresh memories of the place, I took a cab from the taxi stand to Siliguri. I was passing the Batasiya loop where I saw the toy train on its return journey to Darjeeling. The train made its way through the narrow roads and in its own language of chugging mixed with hoots told me that it knows I will be back again.
---