Our country India is full of divine and spiritual places, that not only give us the feeling of contentment and joy but also cleanses our mind in many ways. One such place is Dewa Sharif, the tomb of Hazrat Waris Ali Shah. And today we are going to take you on a trip to this holy Dargah.
Dewa Sharif is a small town falling in the district of Barabanki, Uttar Pradesh. It sits approximately 22 kilometers from the state capital, Lucknow. The tomb situated here, and the tranquility of this place gets on the soul once you're here.
So, without further ado, let's dive in deep. Stop, stop, stop. Just in case you're a video person, the following travel video will help you.
Travel Vlog of Dewa Sharif (Hindi)
---
---
How to Reach Dewa Sharif Dargah?
We had nothing but our GoNoise Play Vlog camera, a Hero motorcycle and a destination in mind – Dewa Sharif.
We went through Barabanki which is the neighboring city of Uttar Pradesh's capital Lucknow. But this is not the only option available to reach, rather there are more.
From both Lucknow and Barabanki, you can easily get the state transport buses of Uttar Pradesh going to Dewa. Moreover, few city buses of Lucknow are extended to this place too. The availability is good, all throughout the day.
Furthermore, there are private taxis available from Barabanki and few local transport options are present too. Dewa is just 13 kilometers from Barabanki and approximately 22 kilometers from Lucknow (there's a diverged route from Lucknow to Dewa).
Hazrat Waris Ali Shah…
Waris Ali Shah was a Sufi saint who showed a keen interest in religion since his boyhood. He founded the Warsi order in Sufism and admitted people gracefully in the spiritual order.
It is said that he traveled to Mecca and Medina barefoot. People say there was a magical thing, his foot never caught mud when he used to walk.
He also had an audience with Queen Victoria of England, met Sultan of Turkey and Bismarck of Berlin.
Since his early boyhood, he always loved people from all religions and was a true image of integrity. Perhaps that's why he has followers from almost all the religions, and his tomb in Dewa marks the place of unity.
The Dewa Sharif Dargah / Shrine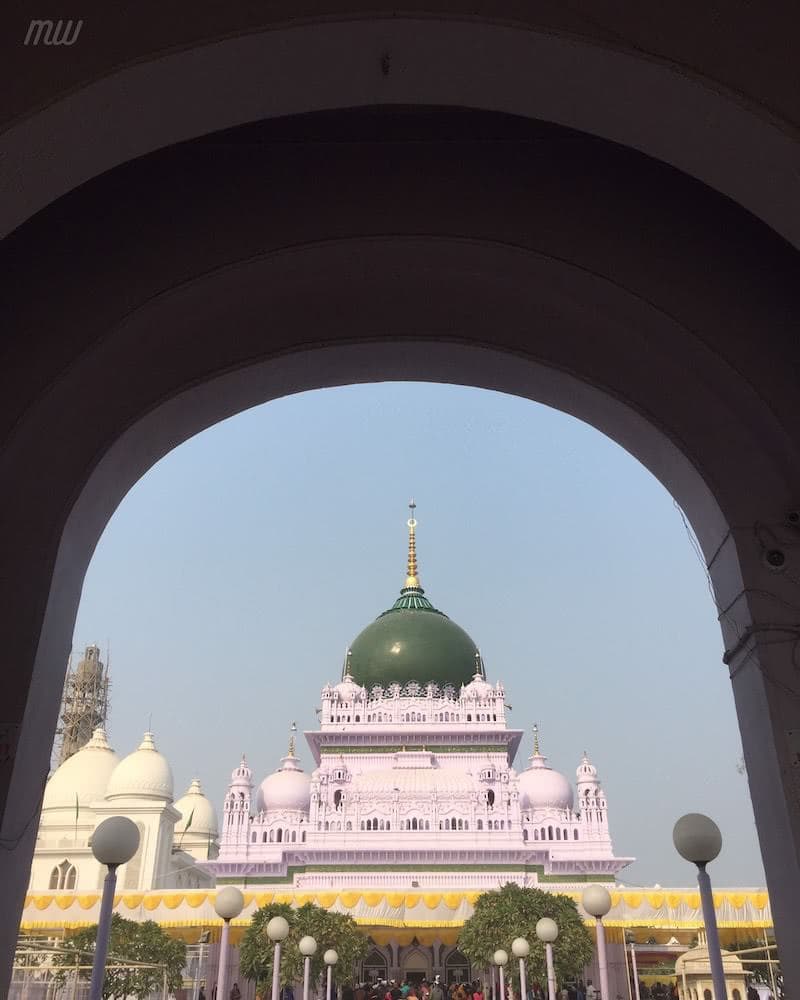 The shrine is a beautiful tomb of white and green color. There are Imambara, mosque, and Khankah lying surrounding the tomb, managed by the committee/trust of Dargah. It is the only dargah in the world, as of now, where Holi is celebrated with a full congregation of followers.
People say that if a person genuinely wishes for something here his wishes are fulfilled.
Dewa Sharif's Special Dish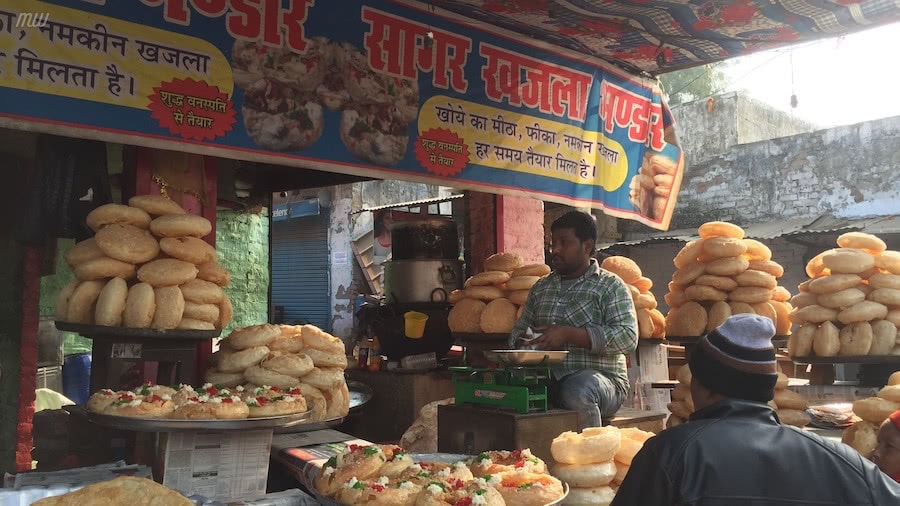 This is a special dish available both in sweet and 'namkeen' (salted) flavors. It approximately costs 80 – 150 INR to buy this. This mouthwatering dish is recommended, sweet Khajla is never to be missed.
The Local Dewa Mela Fair during Urs
Also known as death anniversary Urs, and locally Dewa Mela(fair), is held between October-November each year. It is said that saint Waris Ali Shah started this fair in the memory of his father, Qurban Ali Shah. Matter of fact, his father's tomb lies here in Dewa too!
Every year Dewa Mela attracts thousands of people from all around the world, various cultural programs are held and people from all religions and fields come here to witness the mighty celebration.
---
In the end, I must say this was a very soulful experience of being here. We were totally lost in the serenity when we were shooting videos here!
One little piece of advice, there are pushy salesmen around here, so if you get verbally forced by someone don't bother to stop or pay any attention.
---
An appeal: Please do not throw garbage around. Use dustbin and if you can't find a dustbin, take the trash with you and throw it where the trash appears. Your small initiative can make India clean and green.