The wait is finally over. The most awaited, by the people of Lucknow, the Lucknow metro has arrived and is fiercely running in the North-South Corridor (Red Line Metro) of Lucknow.
In the year 2019, March 8, on the occasion of International Women's Day, Lucknow Metro Rail Corporation had launched the commercial run of the metro on the full stretch of the red line in the city Lucknow.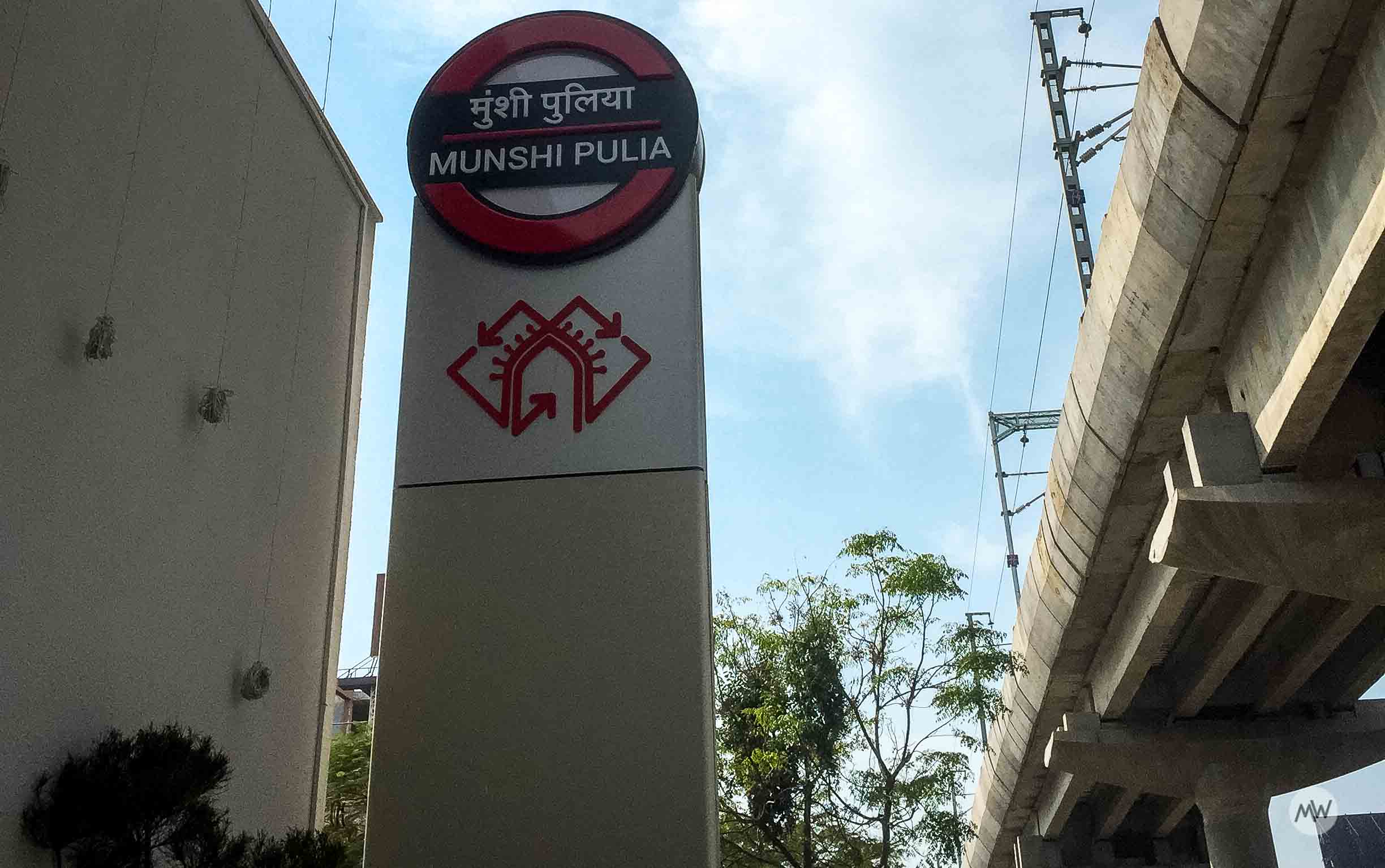 Although, the metro was already running on a part of the red line from Charbagh to Transport Nagar.
In this short yet useful post, I'll walk you through every aspect you should know about Lucknow metro and how you can take its benefits as a traveler in Lucknow.
---
---
Before moving further, you can watch a quick metro tour here.
So one question that is popping in your curious head must be…
Why should you use the metro?
Well, my dear and responsible friend, here are some reasons that will answer your why.
Less traveling time,
Pollution-free, air-conditioned travel,
Prevention from road accidents and tedious traffic jams,
Ease of traveling – tokens and GoSmart cards.
If these didn't convince you, keep reading on…
Fare and Route Map of Lucknow metro.
Here's the map of the city's pride – Lucknow metro.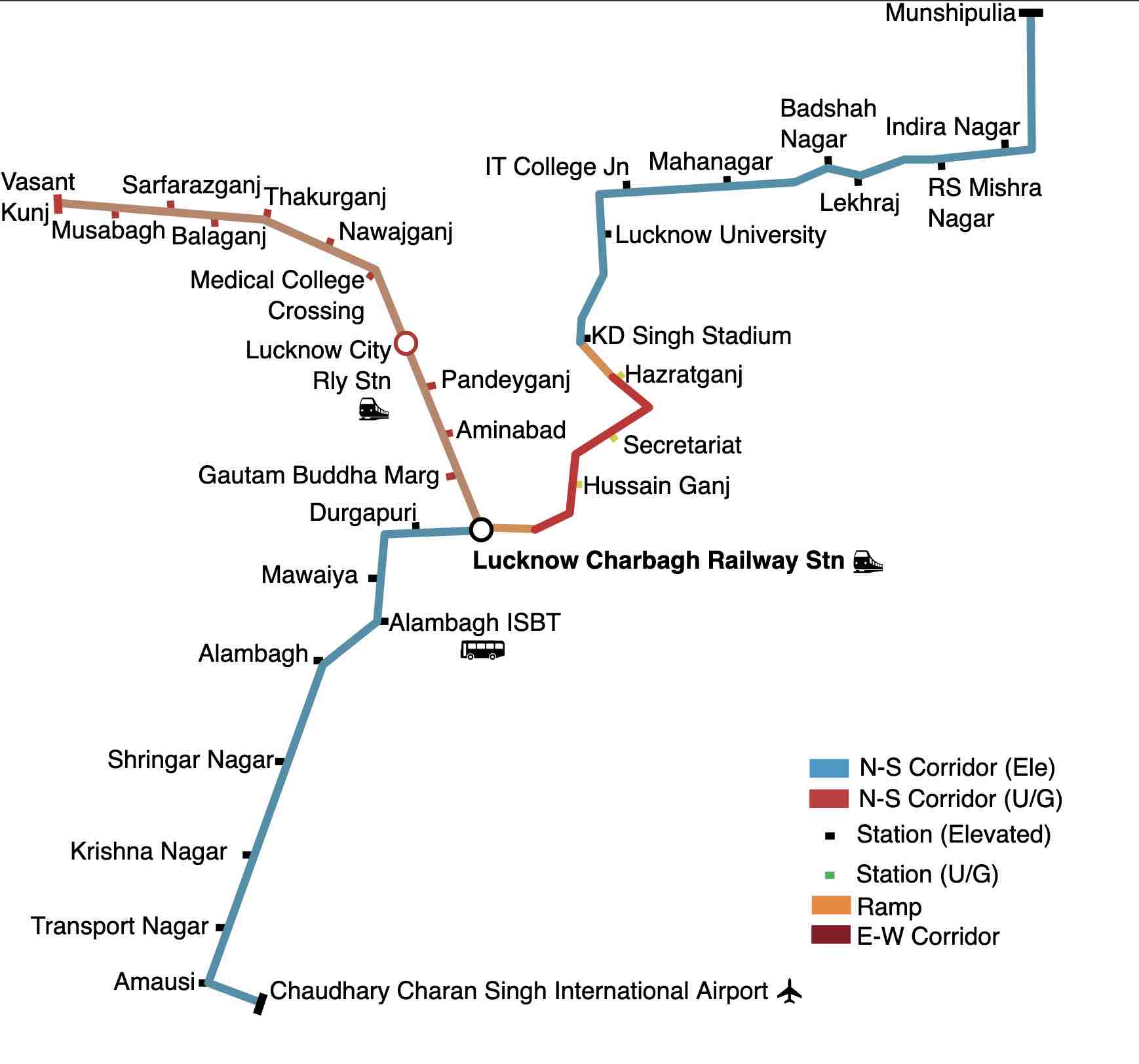 Lucknow metro is running from Chaudhary Charan Singh International Airport to Munshipulia in North-South corridor.
So, at present, there are total 21 stations which are operational out of which 18 are elevated and 3 stations are underground. One can understand very well from the pic above!
Furthermore, here's how fare is divided by a number of stations you travel.
Lucknow Metro Fare Chart
| | | |
| --- | --- | --- |
| Zone | Number of Stations | Fare (INR) |
| 1 | Upto 1 | 10 |
| 2 | Upto 2 | 15 |
| 3 | 3 to 6 | 20 |
| 4 | 7 to 9 | 30 |
| 5 | 10 to 13 | 40 |
| 6 | 14 to 17 | 50 |
| 7 | 18 or more | 60 |
GoSmart Card, Tourist Card and Token.
Equipped with advanced technology, Lucknow metro is rewarded by several rewards even before it was launched. The AFC enabled gates makes travel hassle-free.
Therefore, Lucknow metro has 3 options of tickets to choose from – GoSmart Card, Tourist Card and Token.
Here's how and what cards you can purchase depending on the type of travel—
A token can be purchased from the ticketing window and is for travelers who are traveling just for once and are non-frequent travelers.
GoSmart cards can be purchased from the same window or customer care at the station, valued at 200 INR. It is valid for 10 years and gives up to 10% discount on each travel. People who are frequent travelers should choose this.
Tourist Cards, similar to GoSmart Cards, valued at 200 INR for one-day validity and at 350 INR for three days validity is for travelers and tourists.
In tourist card and GoSmart card, 100 INR will be for security and LMRC claims to fully refund it upon returning the card in safe working condition.
Suggested read: Top 15 Places to Visit in Lucknow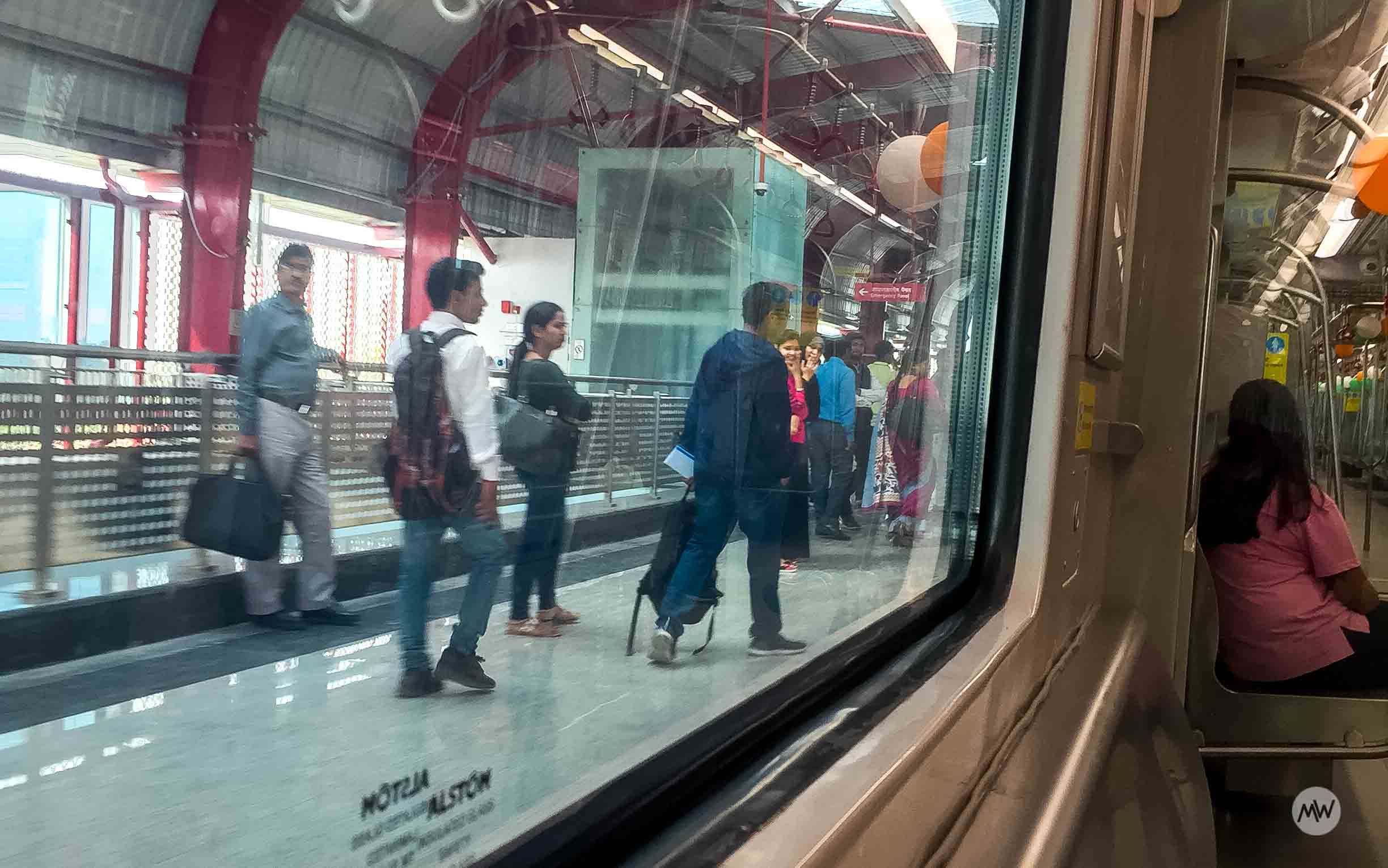 Important things to know before boarding.
Lucknow metro doesn't allow you boarding with certain items and doing anyway might result in the acquisition of those items by proper authorities.
So it is our best advice to know about the items which you shouldn't keep on while boarding. Almost all day-to-day, daily usage items are allowed in metro except these:
Any flammable items such as petrol, crackers, etc is not allowed on the premises.
Tobacco, alcohol and 'gutka/pan masala' should not be carried or be in use of when boarding the metro.
Any sharp or pointy object such as knives, pointy iron rod, etc should not be carried.
Items that can be listed as hazardous or offensive should not be carried.
How to board Lucknow metro?
If you've traveled to any other metro before in India, you have almost everything you need to know. However, if this is your first time in a metro, these points will benefit you.
So, follow these:
Buy token/card and get through security checkup.
Reach your station. Sign and information boards will help you.
The digital time clock at the metro station shows about how much time is left (in minutes) before the next metro arrives at the station.
Wait for the train and be behind the yellow line.
As train stops, let passengers de-board first.
After that, the board on the train and sit at a suitable seat. Give preference to senior citizens, pregnant females and disabled persons. Don't sit on the seats solely designated for these.
Aid for the person with disabilities.
Lucknow metro is equipped with accessories and signs for guiding the differently-abled. At the station premises, you'll find tracks built especially for blind people and proper audio engagement for the deaf.
Moreover, the wheelchair is accessible throughout the premises and can be used in Lucknow metro travel. A dedicated coach is present for them on either side of the metro.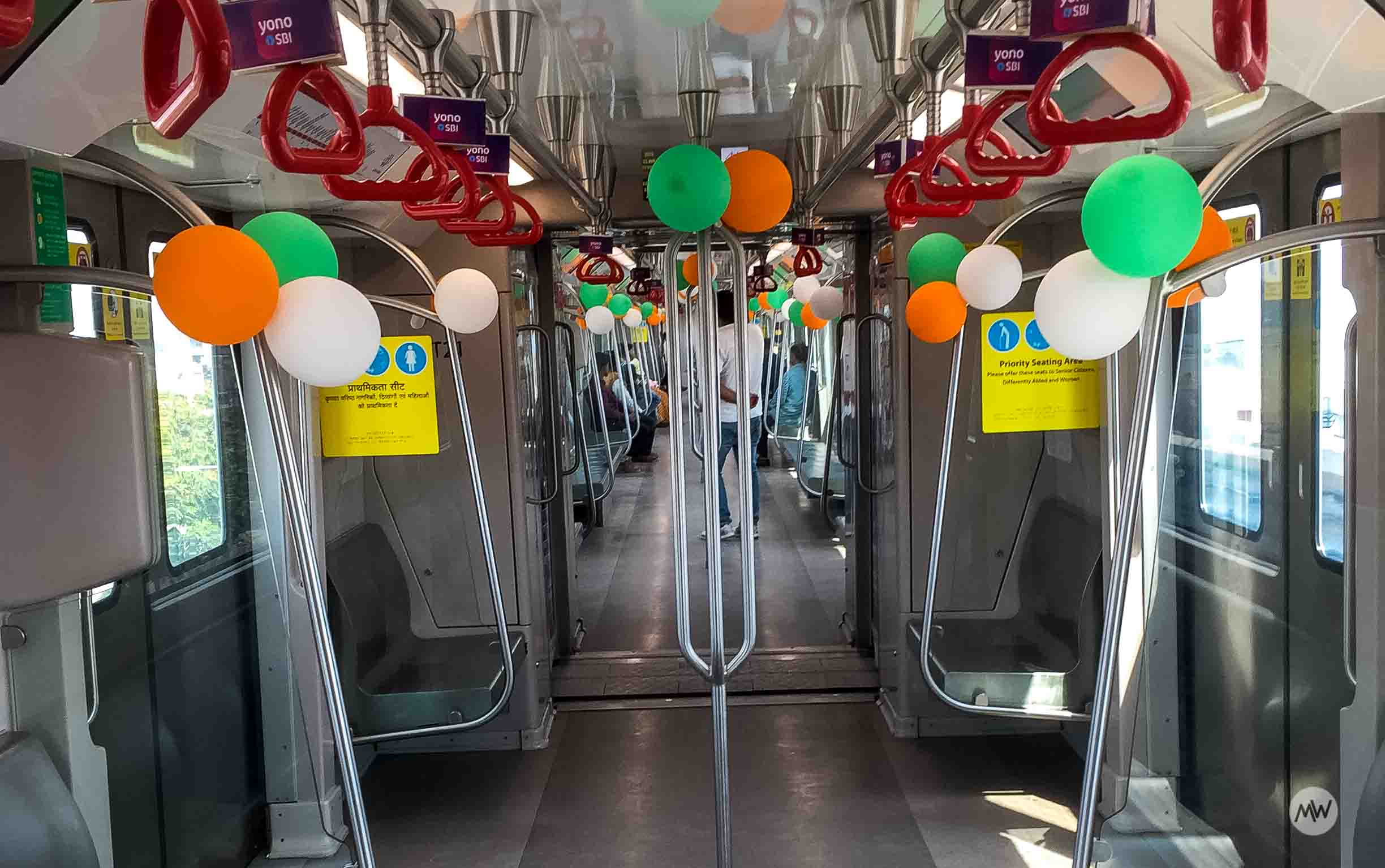 Some do's and don'ts to avoid for a hassle-free commute.
Board with a valid ticket.
Always give priority to senior citizens, pregnant ladies or disabled.
Don't spit at the metro premises.
Boarding metro in an alcoholic state is a punishable offense.
Stand in a queue, behind the yellow line while at the metro station.
Support security personals.
Keep an eye on the announcements.
Don't carry luggage over 15 kg and 60 cm x 45 cm x 25 cm in dimension.
Use the emergency button while in metro to directly talk to the driver in case of any emergency.
Inform the LMRC staff in case of any unusual activity or thing.
I hope this article has been helpful to you. In any case of emergency or immediate help dial 100 or call 0522-2288869 at LMRC helpline.
Furthermore, please note that the information provided above is gathered from the Internet and through personal explorations and is very much subject to change at any time without notice. Please be sure to install the Lucknow metro app (Android and iOS) or visit their website for more accurate information at any time.
---
So, before I go, just wanna ask a quick question – have you traveled in Lucknow metro yet? Share your experiences below.