Blessings from Maa Kalyaneshwari, running through the alluring beauty of Maithon Dam, Panchet Dam, and exploring the ruins of Garpanchkot in West Bengal, this is my first travel story of THE NEW NORMAL.
Staying at home for more than 4-5 months at a stretch is becoming a tough job now since we all are done with binge-watching Netflix and desperately want to return to our normal lives or maybe start living our #thenewnormal lives.
It is no different for me either.
The tourist departments, border areas, and resorts at several places are slowly reopening and people are getting back to their regular lives.
---
---
Before You Travel
For everyone who is stuck at home, this is just a detailed blog on my experience while traveling to the above-mentioned places so that you can have a rough idea about these places before planning for your own trip.
I've certain privileges that made this road trip less risky for me like having a personal car, living with my parents, and most importantly living in the green zone (wood-touch!).
For those who would be reading this blog, I beg you to be a responsible person and not to go on a tour without proper knowledge of the place you're going to and without taking proper precautions.
I've researched for almost 2 weeks and made a list of a few places within West Bengal that are open for tourists now and are still COVID free zones (or very few COVID cases recorded). Most importantly these places are easily accessible by road and close to Kolkata i.e. you don't need to avail of any public transport and you don't need to stay there as well. Come back home after a whole day of fun and exploring.
These are a few things I kept in my mind while traveling – wear a mask, keep using sanitizer, avoid eating from roadside food stalls (try to carry some packed food from your home), try to wear full sleeve clothes and gloves.
Wash your hands, feet, hair, shoes, and clothes immediately after returning home (mask and gloves as well if they are washable/reusable).
Traveling After 5 Months
Even though I've shifted to Kolkata for my studies, my hometown is Santiniketan, and thank God during these COVID times I'm staying at my home in Santiniketan.
I'll be explaining my journey from my home and also give the details of how you can do the same from Kolkata as well.
The alarm was set at 4 am but the sheer excitement of being able to travel after 5 months kept me awake all night. I got up as soon as the alarm went off and got ready. Trust me I was in such a hurry that I almost forgot my phone, earphone, and camera as well.
It was dark outside when we started (at around 5 am) and we stopped near a small village to witness an amazing sunrise while crossing the Illambazar forest.
After 10-15 minutes we resumed our journey for Maa Kalyaneshwari Mandir (our first stop) which is 115 km away from Santiniketan (2hrs 30mins) and 230 km (4hrs 30mins) from Kolkata via Durgapur (Delhi-Kolkata national highway).
Maa Kalyaneshwari Mandir
Situated in Asansol, this temple is 500-year-old and it is said that human sacrifices were offered at Kalyaneshwari temple in the remote past. The present temple, however, is not very old and was constructed by the Panchkot Raj.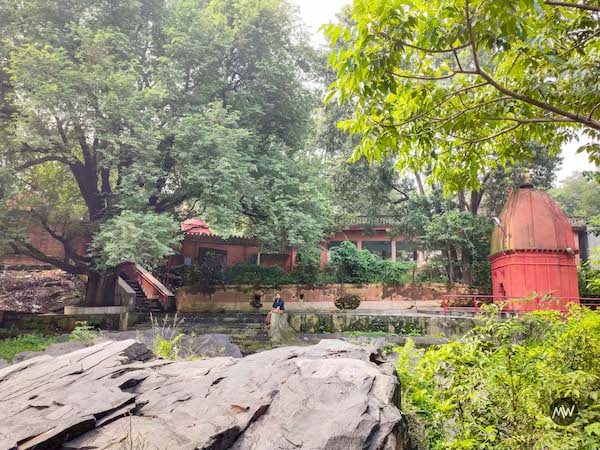 The main attraction of this temple (for me) is its backyard.
The temple was absolutely empty when we reached (at around 7:45 am) and offered our prayers. After spending some time inside the temple I literally dragged my parents to the backside of the main temple building.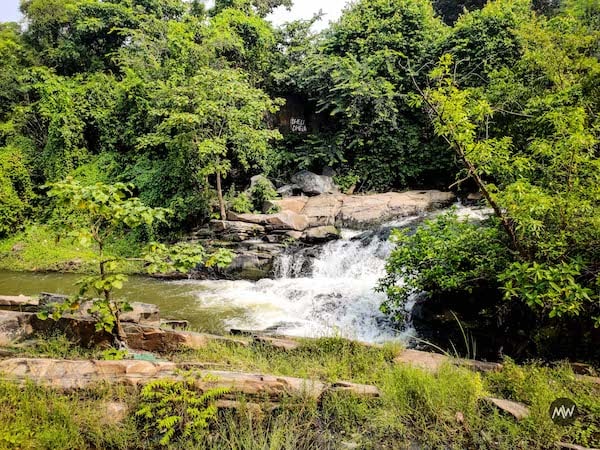 There is another small separate temple(the one that you can see in the picture) having the Goddess's feet ("Maa'er choron" as we call it) and just in front of that was "a right tick in my bucket list" for me. A waterfall! Small but headstrong. The sound of the flowing water was the most astonishing thing to hear since it was for the first time I saw a Waterfall.
Another 30 minutes went by as we sat and enjoyed the beauty and the significance of the whole place. The temple, the prayers, the bells, chanting of the mantras, the sound of water, the birds singing. Ahh! It felt like heaven after being stuck at home for so long. But with the clock ticking we had to leave as there were still a lot we planned to see that day.
We eat the prasad and then some packed food that we were carrying with us and kicked off again for the next stop of the day – the 15,712 ft long and 165 ft. high, the dam that was specially designed for flood control and generates 60,000 kW of electric power. – Maithon Dam.
Maithon Dam
Another 4-5 km uphill driver from Kalyaneshwari Temple will take you to this huge water reservoir, Maithon Dam. We parked the car on one side of the road before the Maithon Dam Bridge and walked to the bridge. We could see a large island named Sobuj deep in the middle of the dam and numerous small island-like structures as well.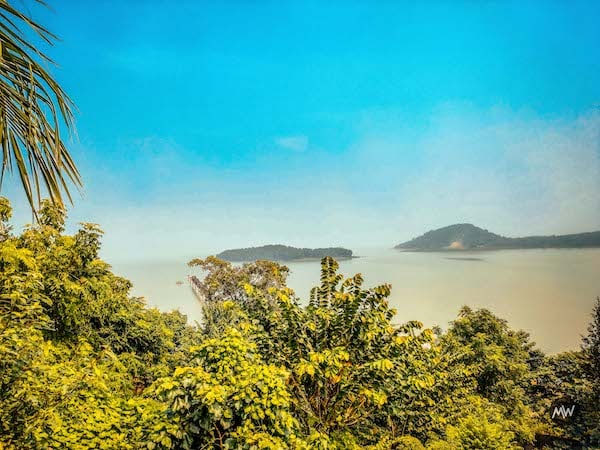 We couldn't spend much time at Maithon Dam since we had some formalities to take care of at the Jharkhand-West Bengal border but for those who wants to spend some time there you can opt for boat rides (they take you to Sobuj Deep and you can see the island), see the Maithon Dam deer park and Millennium park as well. There are a lot of food stalls nearby as well if you want to have something. Honestly, for me, this place is ideal for a day out during the months of winter.
For those who would like to do a road trip just like we were doing you need an e-pass to cross the border to head towards Panchet Dam and Garpanchkot. You can simply get it online from the government portal of Jharkhand Travel (if you don't want to go till Panchet Dam or Garpanchkot you don't need to cross the border and thus you don't need the pass). This is a new rule made because of the COVID – 19 restrictions.
I had it beforehand and we headed towards Panchet Dam (approx.18 km away from Maithon Dam).
Panchet Dam
It was almost 1 pm when we reached the Panchet dam. It was beautiful. You can see the Panchet hill on one side of the dam and the hydropower plants on the other. Because of security reasons we couldn't park our car on the bridge that day. If you want to stop and enjoy the view park your vehicle before the bridge starts or in front of the food stalls that are present near the dam. You can walk to the bridge and spend as much time as you want there.
Enjoying the mesmerizing views we drove towards Purulia district. You get a check post just after crossing Panchet Dam. All you need to do there is to give your name and the vehicle number. No need for any passes for re-entering West Bengal.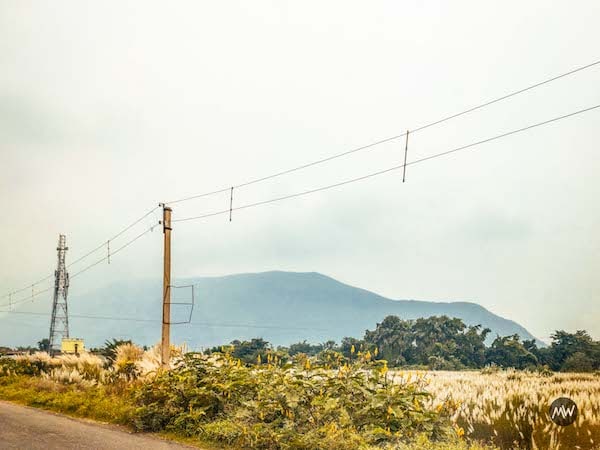 I don't think I can justify the beauty of the entire trip in words. You get to see small hills and water dams and rivers flowing the entire way. And trust me when I say to you that you would want to stop at every single point just to appreciate the scenic beauty.
Garpanchkot
The last stop for the day was Garpanchkot (15 km from Panchet Dam). It took us 45 minutes and this is where we stopped and wandered around for quite some time thinking about all the historic events that took place there 200-250 years ago.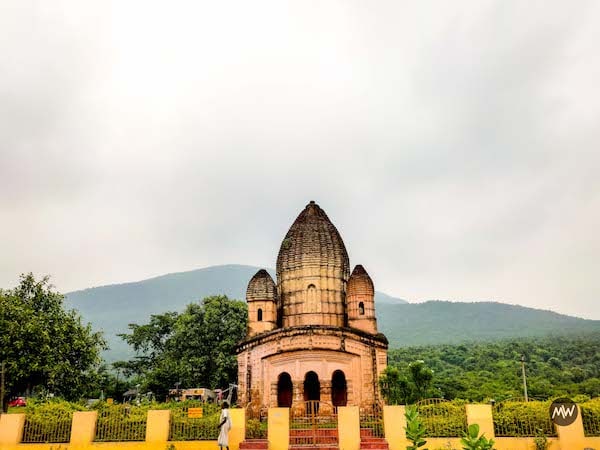 Garh Panchkot is a ruined fort located in the eastern part of India at the foothills of Panchet Hill in the district of Purulia, West Bengal. The ruins of the Panchkot Palace are a silent testimony to the Bargi attack during the 18th century.
A significant part of Garpanchkot's history says that Garh Panckot was attacked by the "Bargi" and, having defeated the King's guards, they destroyed it after looting and plundering the palace. It is believed that all the 17 wives of the king committed suicide in a nearby well during the attack.
Since then the ruins of this place have been stated as a UNESCO world heritage site.
The King's palace is situated on the top of Panchet hill and you need to trek 45 minutes uphill to see the palace. Just go and ask the street side food shops for a trekking guide and they'll guide you to the palace.
A new West Bengal Government Tourist Lodge is being constructed just in the foothills of Panchet Hill where you can easily book your stay (they even have tents) and enjoy the chilling vibes.
You can also do another trek of 7.5 km that takes you through the forest and you can enjoy the rich flora and fauna of the Panchet Hill region. (Panchet is famous for its snake park and the Python that they have there – hope you don't meet one on your way to the forest).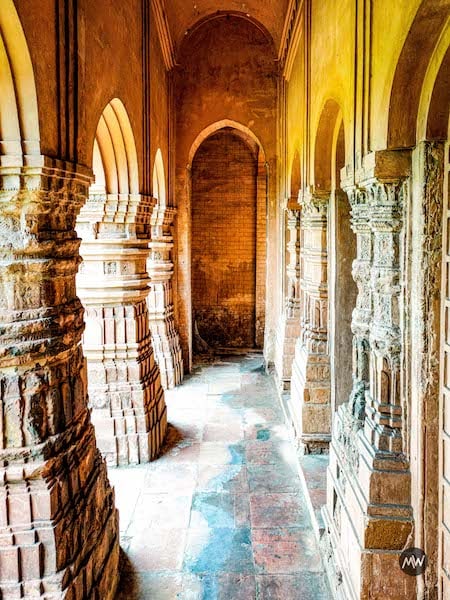 After roaming around for some more time we headed towards home and on our way back almost planned our next trip to Garpanchkot after this whole COVID situation stabilizes a little bit because if you really want to feel the essence of this place you need to stay here and do the treks, watch the sunrise and the sunset, experience the wild surrounding while living in a tent. The entire day trip was 340 km and took us around 9 hours to complete.
Frequently Asked Questions
How to reach Maithon dam?
Maithon Dam is located at a distance of approx 250 km from Kolkata, 25 km from Asansol and almost 45 km from Dhanbad. It is easily accessible by road and railways. Kumardhubi is the nearest railway station located at 10 km from Maithon dam.
What are the ways to reach Maithon?
One can reach Maithon through road, railways and airways. Nearest airport is Ranchi airport (190 km) and Kolkata Airport (230 Km). You can also reach Howrah and Dhanbad by train then take a bus or cab from there to reach this amazing place.
Where is Panchet Dam located?
Panchet dam is located at a distance of 54 km from Dhanbad and 240 km from Kolkata and can be reached by Airways, railways as well as roadways. Kumardhubi is is the nearest railway station from Panchet.
How to reach Panchet Dam from Asansol?
The distance between Panchet dam and Asansol is about 20 km and can be covered by road.
What is Garh Panchkot?
Garh Panchkot is a ruined fort which is located at Panchet Hills. It can be easily accessible by road. The distance between Panchet and Garh Panchkot is 15 km.
---
Bidding Adieu
It was a perfect day out after so many days of isolation. The road is perfectly maintained and it was simply a smooth 340 km drive from Santiniketan to Durgapur – Asansol to Jharkhand and Purulia and then back home.
The whole trip that we did in one day should actually be a 3-nights 4-days tour. A day and a night at Maithon Dam. And 3days and 2nights at Garpanchkot.
You will be able to enjoy the sunset at Panchet dam, go and see Baranti Dam, and trek to Joychandi Pahar for a 360-degree view of Purulia.
Plan your trip wisely and follow the COVID rules so that your enjoyment does not cost you the lives of your loved ones and do not litter waste here and there after eating.
Enjoy and stay safe.
---