Mandarmani Beach – just a long 4 hours drive from Kolkata on the NH16 i.e. 170 km drive from Kolkata will take you to the beautiful and calm village of Mandarmani situated in the East Medinipur district of West Bengal. Adjacent to this village is the virgin sea beach of Mandarmani.
This pristine beach is a popular weekend destination for many. With a lot of budget-friendly resorts and numerous watersports, the sea beach experiences a huge rush of tourists on the weekends.
---
---
Mandarmani Beach: My Escape from the Chaos
Since I wanted to avoid this crazy crowd of tourists, after a little browsing I finally found a resort facing the Mandarmani beach which had good reviews but due to its an offbeat location not many people knew about it. Not wasting any time I booked a room for myself for 2 days.
I started on Friday at 7 am from Kolkata and reached Mandarmani at around 11 am by car. It took me 30 minutes to reach the resort and I was proud of myself. I was given the last room of the resort and it faced the endless sea beach. Being my first visit to a beach I was very excited to see Mandarmani beach and that I would be hearing the sound of the waves, watching the sunrise and the sunset, just sitting inside my room.
I never really knew what was waiting for me there!
Dumping my luggage on the bed I went for a bath. The plan for the afternoon was to take a power nap, eat good seafood and watch the sunset sitting inside my room with a cup of hot coffee and in the evening when I'll be reading an Agatha Christie's thriller.
All in vain!
Those Red Things Crawling At the Mandarmani Beach
After the bath, I went outside to order my lunch before going for a nap. I ordered the food and was returning to my room when I noticed some fishing boats on the beachside. And some kind of red thing crawling beneath the boat. I went to the beach to take a closer look and I saw thousands and thousands of them on the beach – painted ghost red crabs!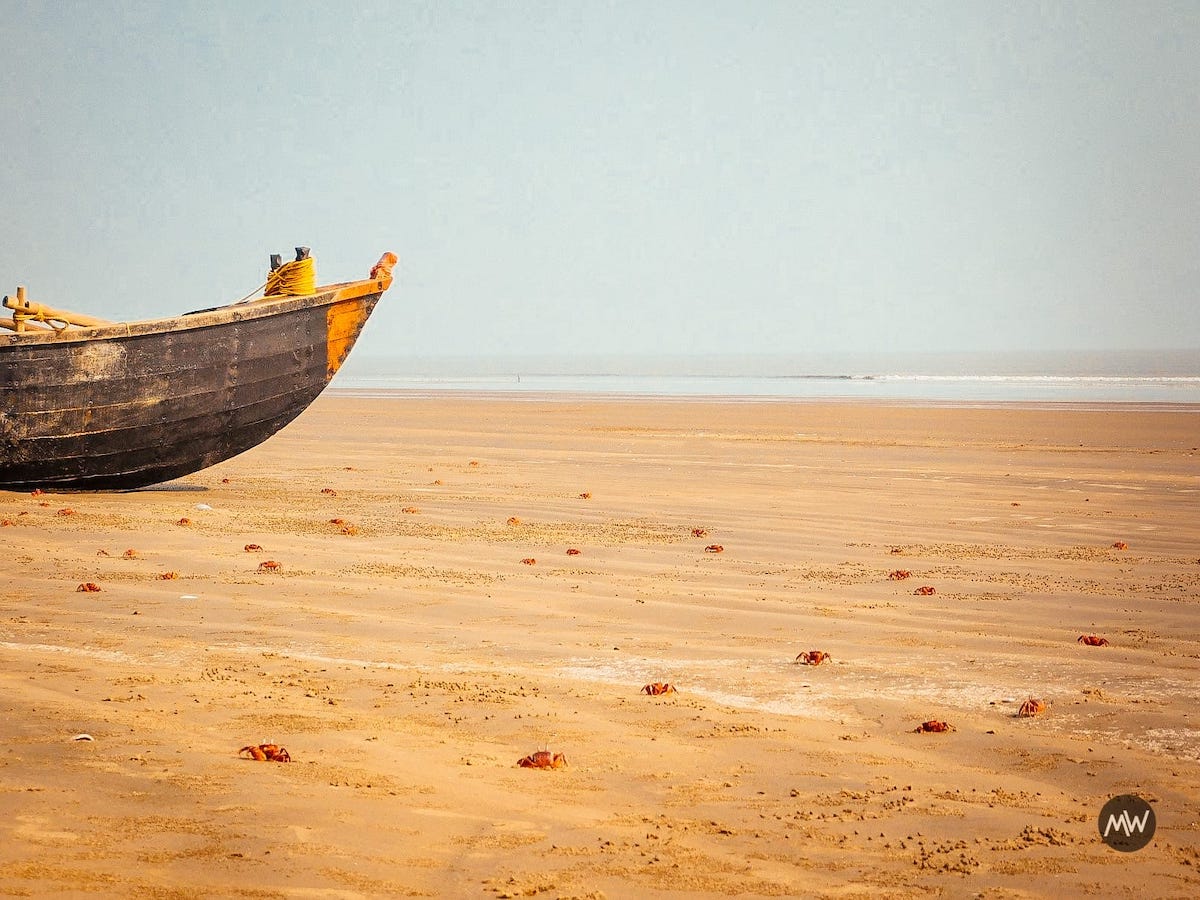 Even though I was scared but I approached them and watched them get inside their holes as they saw me coming. It was the fun play of hiding and seek with them.
Stepping on the sand I felt very free and my exhaustion was gone. Leaving the crabs behind I walked towards the sea. It was vast and endless, calm and peaceful, sounds of the waves crashing on the shore filled my heart with joy.
Sitting down by the sea beach I saw people enjoying jet skiing, parasailing, speed boat, banana boat side, and even horse ride at a distance. Later some locals told me that they don't allow cars and ATVs on the beach nowadays because it was destroying the beach.
Nature's Retreat
I was very happy to see the villagers taking initiative towards keeping the beach clean and free from plastics. As I returned to my resort I saw the sunset in front of me and the fishermen returning home. I felt alive and I was waiting eagerly for the next day.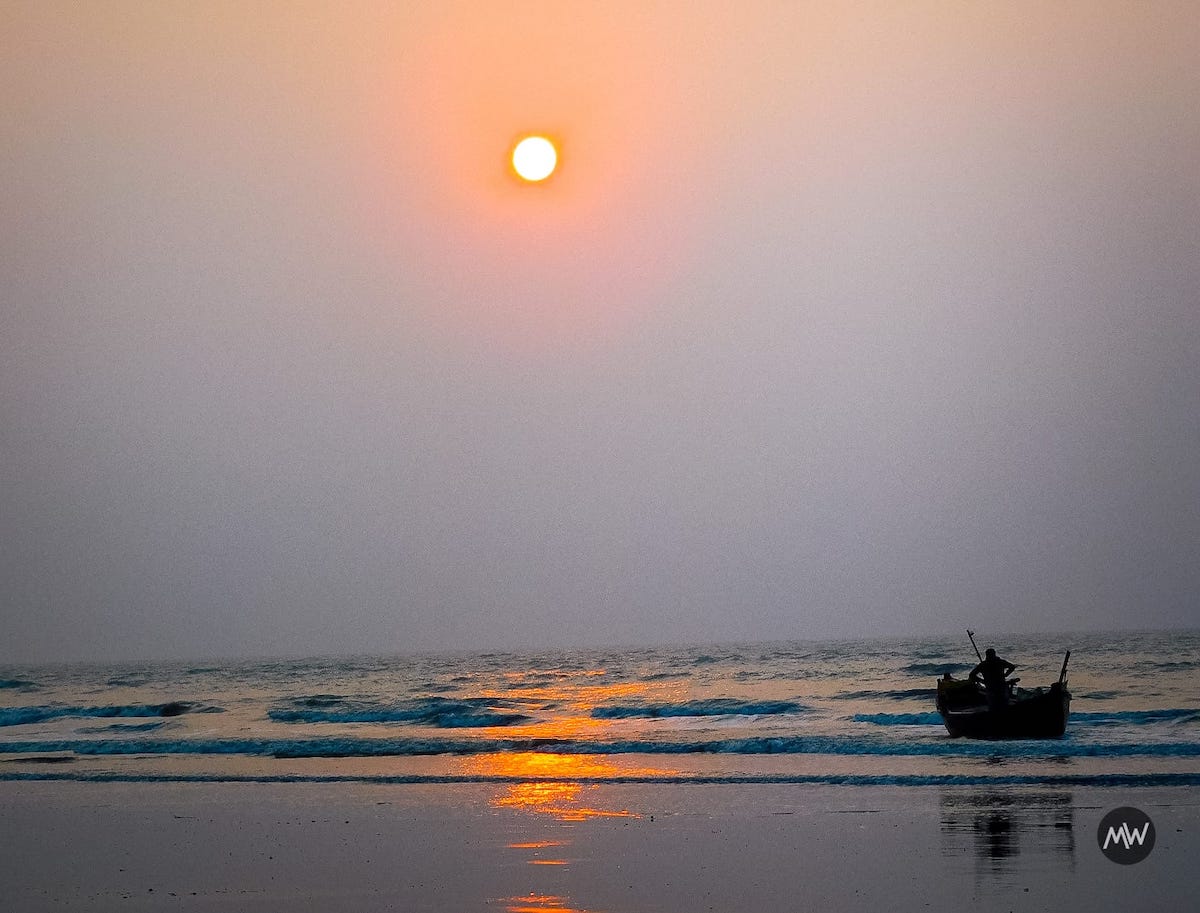 But it wasn't over! Nature was just not giving me any chance to rest.
When Mandarmani Beach Was No More There
As the time for dinner approached I watched the waves approaching. It came closer with time. Maybe it's obvious for everyone but as I said, it was my first time on a beach and I was freaking scared. At around 11 pm the waves were crashing by the boundary rocks of the resort. The beach I was roaming (Mandarmani Beach) around in the morning was no more there. I could feel the water drops as the waves crashing on the rocks.
Keeping aside all my shame and hesitation I asked the manager if this was normal and he said 'Yes!' This was happening due to the high tide and low tide and it'll be gone by 1 am or 2 am.
Yes! Geography! I should have been more attentive in geography classes.
Even though a little fear was still there but I enjoyed the rest of the night. As the manager said the waves started to move away as the clocked ticked 1:15. But before I went to sleep I saw the fishermen's boat start again in the middle of the night. They would return in the morning after staying in the sea for the whole night.
Watersports at Mandarmani Beach
The next morning I saw the sunrise, watched the fishermen return, went there, talked to them, and went for a walk alongside the sea beach. A 30 minutes walk from my resort took me to the busy shops selling seashells, small jewelry made of Jhinuk (seashells), and small handmade gifts. I bought a lot of small gifts for my friends and family and sat at a food stall to drink coconut water.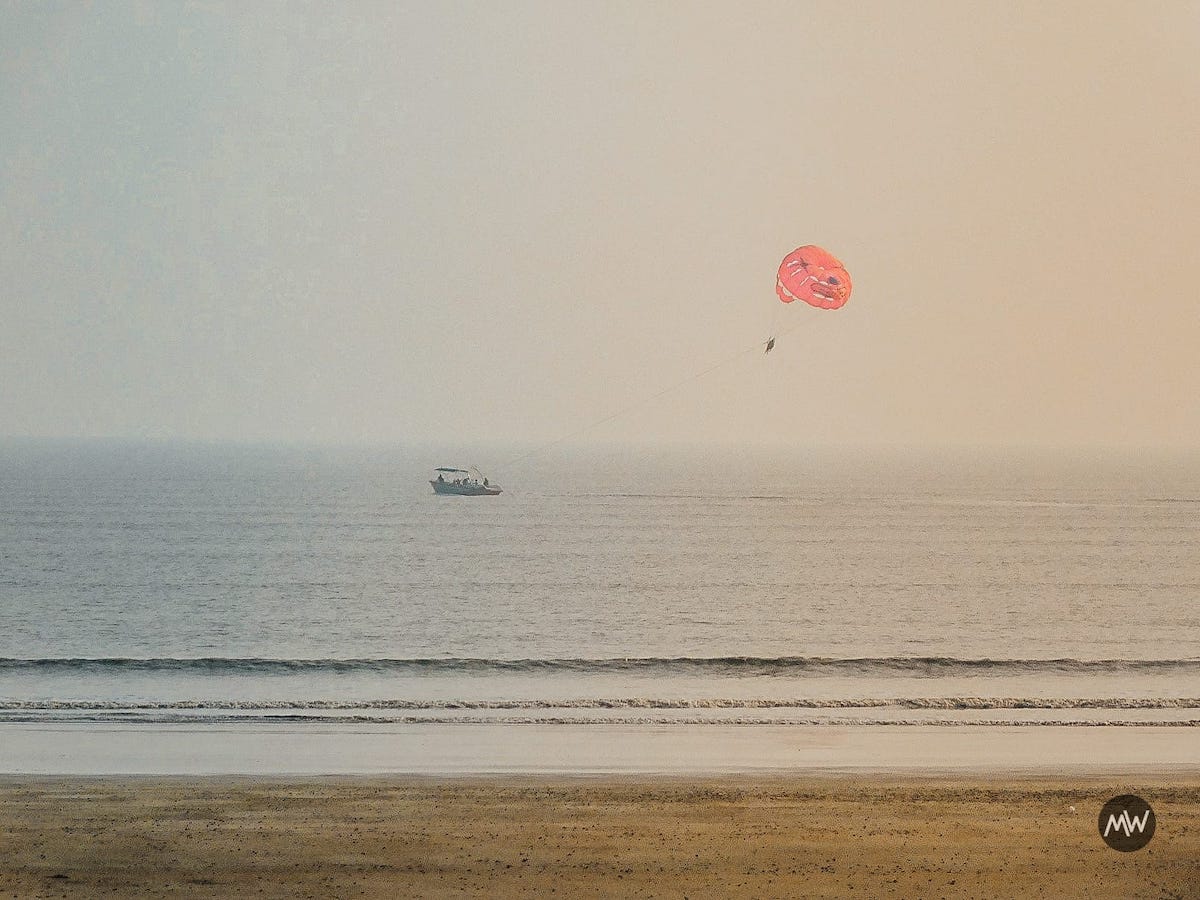 The previous day I talked to a local who has a food stall beside the beach about watersports and how to book them. They gave me the information in details and I won't say it wasn't a bit more expensive than what I expected at Mandarmani Sea beach but since I planned this for a long time I opted for spending a few bucks on them.
The prices for jet skiing was 800 bucks for one person, speed boat was 1200 bucks per head, parasailing was around 1500 bucks per head. These prices are totally negotiable and I bargained a lot with them.
The time slot I choose was in the evening. You can also go and enjoy these in the morning before the high tide.
So I came back to my resort and went for jet skiing, enjoyed a speed boat ride and came back in the afternoon to enjoy my lunch.
Food and Final Call
For non-vegetarians (and especially a Bengali) and seafood lovers, Mandarmani is simply a food paradise. You get a lot of fish, fresh local fish options along with crabs and shrimps. You can go and buy them fresh from the fishermen and ask your hotel staff to cook them for you as well as the local shops offer tea, coffee, Maggi and also dishes like fish fry, prawn or shrimp curry, crab curry, etc.
The evening was spent collecting seashells and playing with the waves.
It was my last night at the beach and I finally read the book, enjoyed 4 cups of coffee, listened to songs, had dinner, repacked my bags and went to sleep.
Travel is Not Only About Picture-Perfect Destinations
We all go through a lot of stress and workload throughout the week. Though I'm a student it's no different for me. Morning college, whole day tuitions, the busy city life doesn't really leave me with much time for myself. The weekends are usually for watching movies, long drives or gossiping with friends in a new cafe.
This time I tried something new and I was really happy at the end.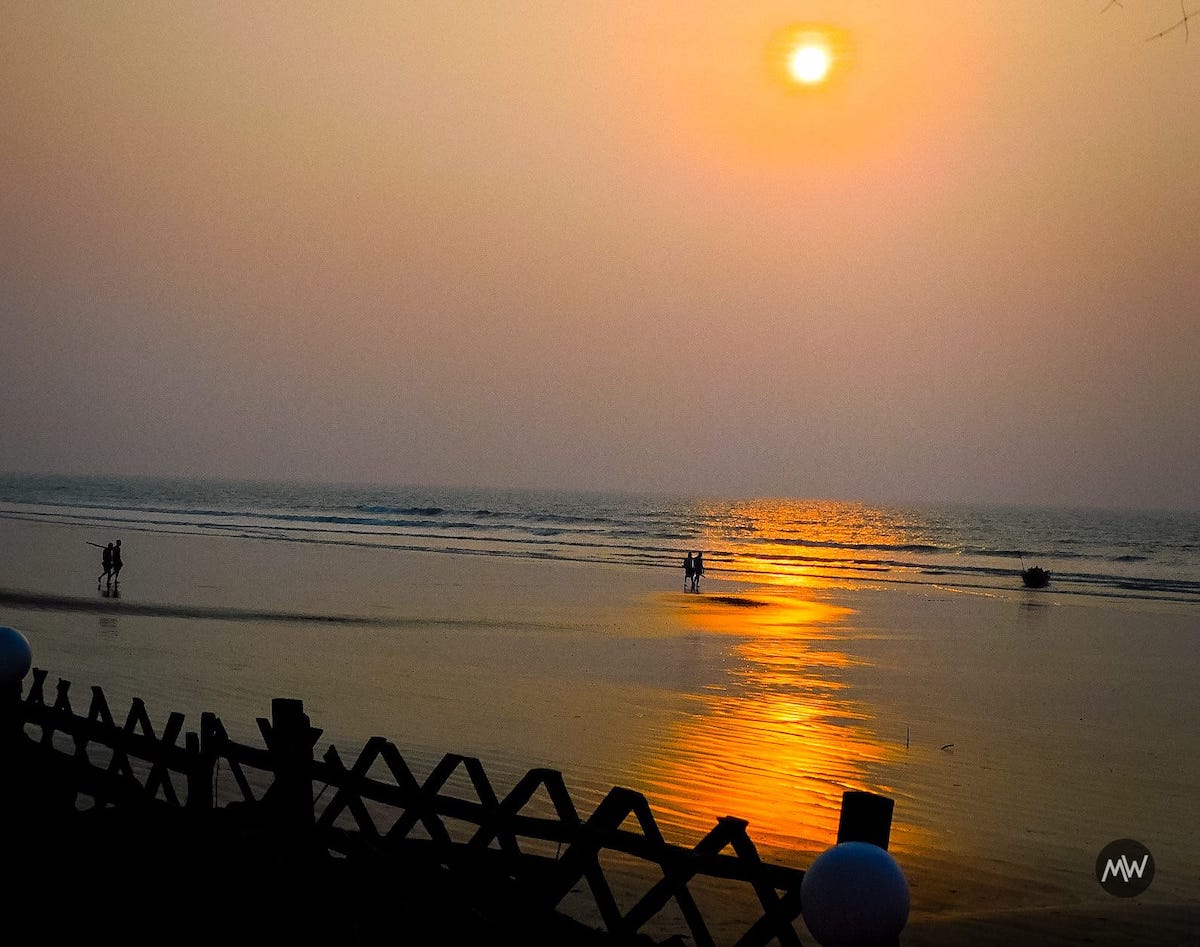 I would miss this breeze, the sound of the waves, the peacefulness of the sea beach, the naughty red crabs, the speed boat ride. Yet I wasn't sad. I knew I've found another place I love and I'll be coming back very soon and maybe this time with a lot of friends who would encourage me for parasailing.
Bidding goodbye to the sea beach I started for Kolkata with a smile on my face.
When you travel you don't think about the comfort or the picture-perfect destinations. All you think about is the experience and the new things you get to learn and feel there. You enjoy yourself, you get to learn about your abilities, likes, and dislikes. And that is what makes your holiday special for you.
---
Some Common Questions Related to Mandarmani
Is Mandarmani safe at night?
Madarmani is fully safe at night but avoid wandering after suset as beach gets dangerous at high tides.
Which is better – Mandarmani or Digha?
Both beaches are beautiful but the difference is that Digha is a little bit crowded. On the other hand, Mandarmani is a peaceful one.
How do I get to Mandarmani by bus?
Both state and private transport bus is availabe till Digha and Chawalkhola. You can take bus from Howrah, Kolkata, Gariahat and Isplanade.
What is the best time to visit Mandarmani?
Though it can be visited throughout the year but October to February is considered to be the best time.
How to reach Mandarmani Village?
You can reach Digha (30 km from Madarmani) by bus or train. From there you can get private bus or taxi from Digha or Contai (20km). Nearest airport is Kolkata airport which is approximately 300 km from Mandarmani.
---
Subscribe & get regular travel stories in your inbox.