Situated in about 90km from the city of Nawabs, Lucknow, Neemsar or Naimisharanya is an important Hindu pilgrimage. Neemsar is a dedicated temple of Lord Vishnu residing along with other many important temples which all encircles the famous Chakra Kund (or Chakra Tirth). On October 8, 2018, we went to Neemsar with one of the top travel bloggers from India ⎯ Anuradha Goyal.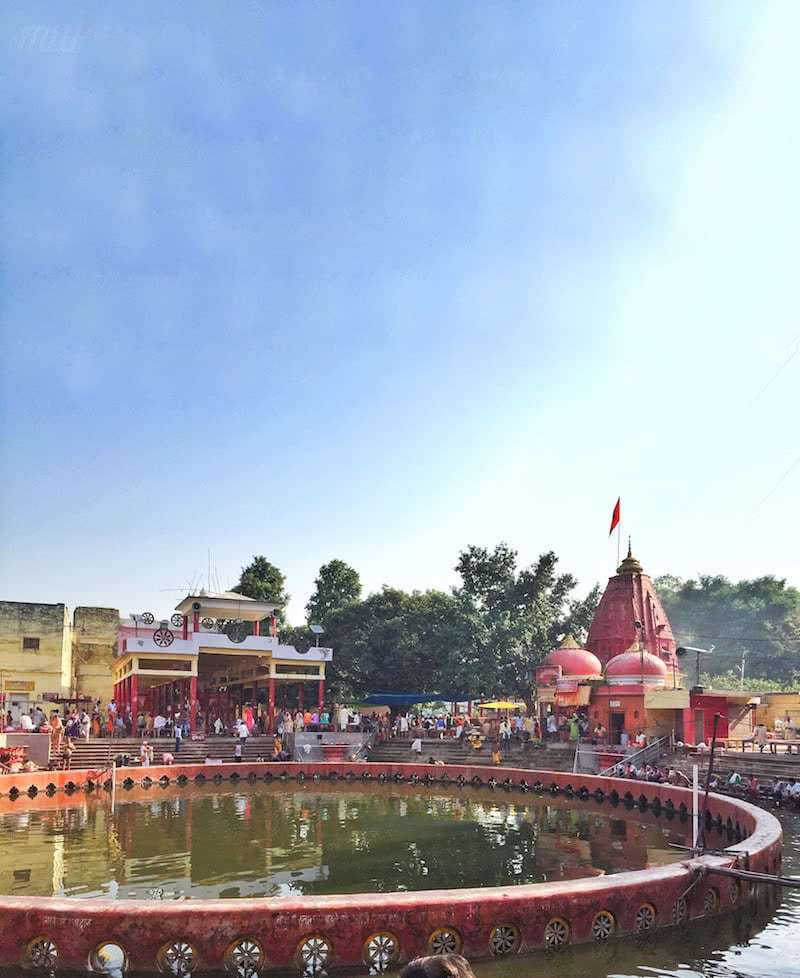 All covered in mystic pure vibes, nurturing the soul, Chakra Kund (kund means pond) is said to be the place where Chakra (weapon) of Lord Vishnu fell. Henceforth it has manifested itself in a huge well or pond like structure into which devotees take the holy dip. It is said that many have tried to measure the depth of the well but none has succeeded.
Reaching Neemsar or Naimisharanya…
We were so lucky to be accompanied by Anuradha Goyal. She took a private taxi as provided by hotel Clarks Awadh in which she stayed. She offered us a ride, too, insisting we park our vehicle at the hotel itself. We left at 6 am from Lucknow and reached around 7:30 am at Naimisharanya.
→ UPSRTC runs bus in every 10-30 minutes to Sitapur and Sidhauli. Hop in a bus from Lucknow's Kaiserbagh bus station.
→ From Sitapur as well as Sidhauli, you can take private taxi/cab/auto-rickshaws.
→ Neemsar is around 50km from Sitapur and around 37 km from Sidhauli.
Options for staying at Neemsar…
On one hand, Neemsar can be covered in one day (from Lucknow) if you are going to look for God's embrace. On the other hand, if you are going to perform religious duties or want to lose yourself longer into the ambiance, the options are varying.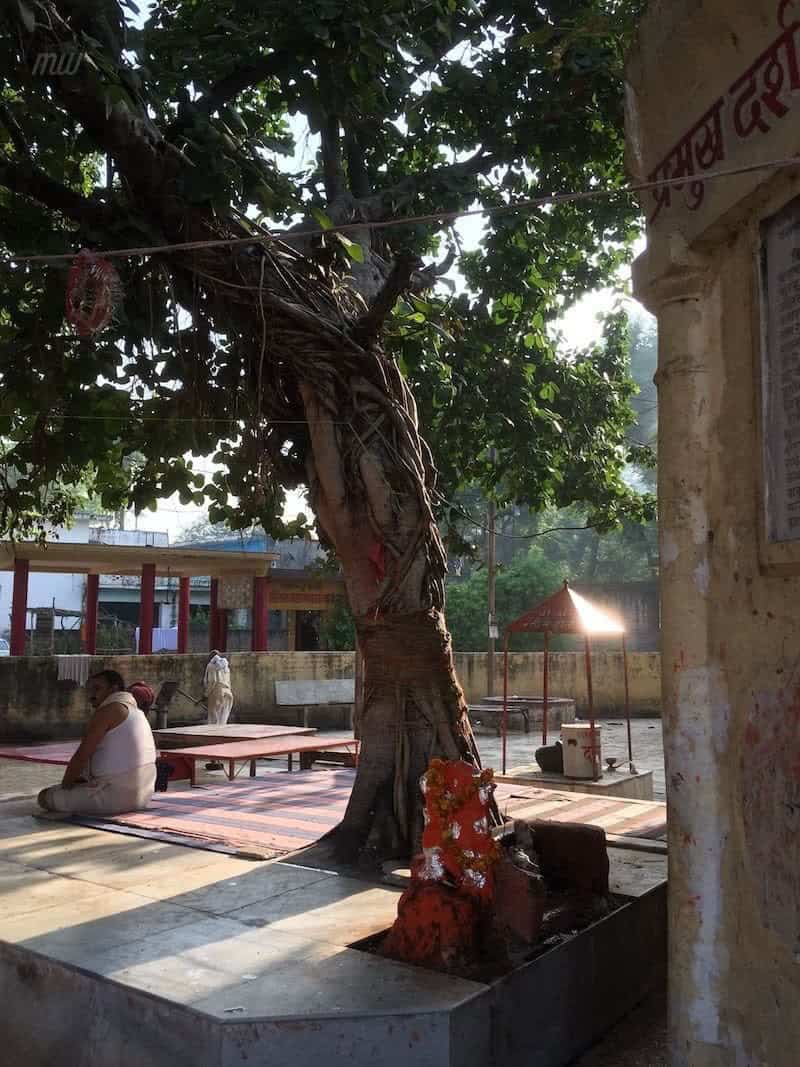 From cheap 'dharamshalas' to quality rated hotels, can be found here. Noteworthy, the options are still less if you're choosy. Still, the true faith in God doesn't stop worshippers to get lured away with that.
Upon reaching here one can visit 'dharamshalas' itself. And the hotels might be open for online bookings too. We didn't book any hotel, so can't say much about it. We went in the early morning and came back to Lucknow in the evening around 4:30 pm.
What else to do in Neemsar?
Apart from the centric Lord Vishnu temple and 'kund,' there are so many important temples nearby. They also hold a great importance in the Hinduism. Read more here at IndiTales.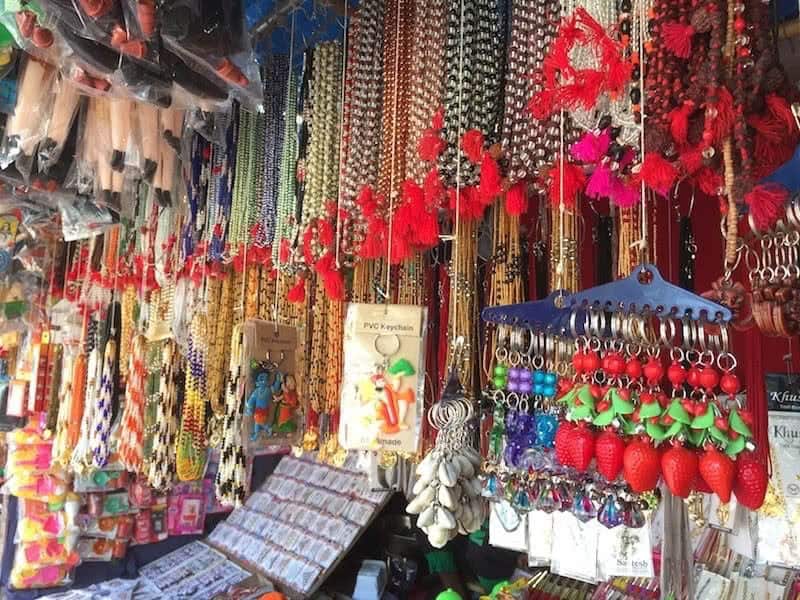 You can visit Dadhichi Kund, Lalita Devi Temple, Vyas Gaddi, Hanuman Gadhi etc. They all lie within a few km of range from each other.
Apart from that, the streets of Neemsar is full of souvenirs shops. There are shops featuring local eateries. Although we didn't see any fine-dining options here. For the first time in our life, we'd witnessed the making of Gol Gappas (Pani Puris — a famous spicy dish from India) and were so amazed to see that.
Why Neemsar is important?
Neemsar is mentioned in so many Hindu scriptures and hence its importance couldn't be underestimated. Anuradha Goyal mam in her blog IndiTales describes briefly the history and importance of Neemsar, read it here.
Our Experience!
Honestly, we are much of an atheist and less of a believer. We went to Neemsar, not any out of curiosity but to spend a day, take photographs and learn something meaningful and new. And this all went so well, not only we knew the hidden stories of Hindu mythology but also spent a good time.
This place is so important yet still, it is quite unmanaged. Cleanliness is a big look over by the government and people. 'Pandits' and other God servants may loot you if you don't act clever here. So watch out carefully!
---
We hope you'd enjoyed reading this article. Comment your thoughts below! Share the article with your friends and family.