I was going back to Lucknow from Mumbai when it struck my mind to have a little twist in my boring 24-hour train journey straight to Lucknow. I called up my friend in Bhopal and told him to meet me at Habibganj Railway station at 5 O' clock in the morning. As expected, he reluctantly denied the process of waking up so early. I assured him that he won't regret it at all and to the very obvious question regarding the destination, I denied answering.
What can be done now?
As planned, I left my train which was on its routine journey to Lucknow and alighted at Habibganj Railway station. I always have this last moment of anxiety whenever I travel. Is it really necessary? Do I need it that badly? Why not just rest in the house watching a movie or YouTube and in this case should I have not left my reserved seat and moved straight to Lucknow?
This all was cooking up in my head when the train started moving and I felt relieved that nothing can be done now. The train was gone and so was the idea of getting back on to it. I confidently smiled at the train, feeling superior to it as I was not part of its routine work anymore. I met my friend at the station and welcomed him to the club of superior people who break the routines.
I revealed destination…
As he insisted on knowing the destination, I finally told him we were going to Pachmarhi (aka Panchmadi). We took two tickets to Pipariya and boarded the other train which was right on time. It was a weekend and early morning trains are in their best moods as they are least crowded and free from any pressure from the constant cribbing of daily commuters to reach their workplaces on time or even sooner.
That four-hour journey to Pipariya was smooth and we slowly slipped into our sleeping postures and took many sound naps while enjoying the morning scenic journey. The train reached on time and we straight went out of the railway station to find a ride to Pachmarhi. There were many taxi services and those drivers can easily distinguish between tourists and locals which definitely has an impact on the fare negotiations.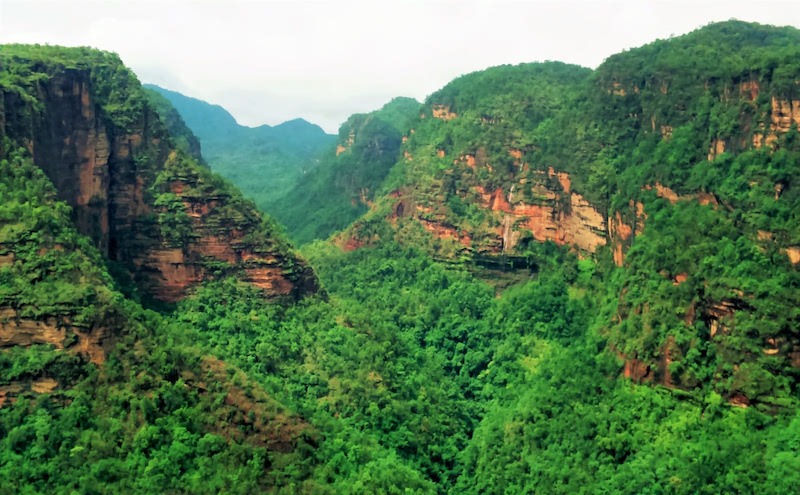 We finally got two seats in a well-maintained cab and looked forward to being ready for the instant changes in the demographics. It took a while when I realized that we have finally started to move uphill. The Satpura ranges are a lot different from the mighty Himalayan hills. You first realize that you are moving on a plateau area and then slowly you get to know that you have moved up on a significant height level.
These ranges are rockier with big patches of thick forests. As we landed in Pachmarhi, my whole idea of a hill station began to change. There were no steep gradients, no congested streets, and moreover no one to force you to make a hotel choice as it is in conventional hill stations in the Himalayas.
An easy going spot, Panchmarhi…
Pachmarhi, aka Panchmadi, is an easy going spot. People are not in any hurry to lure tourists into their hotels or restaurant. We took a walk around the main market area which was surprisingly less crowded as I expected. Then we reached our hotel, took some rest and after some time, I proudly took out my itinerary list which covered things to do and spots to visit at Pachmarhi.
Next, we moved to the local taxi station and were relieved as we came to know there were no negotiation skills required to book a taxi to move you around Pachmarhi. The rates are regulated by the government and there is no private cab service allowed. I was impressed at the system as it provides ample employment to the locals. We booked a cab and our driver with his old yet maintained Maruti Gypsy, knew all the routes already.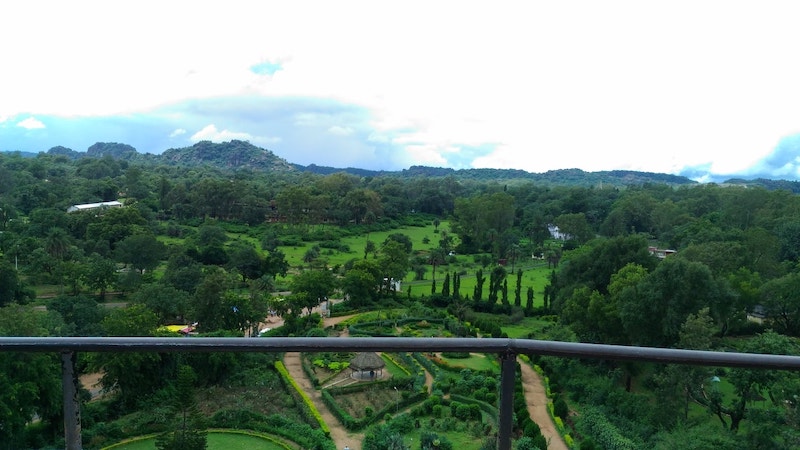 We went to Pandava Cave garden first. As the name suggests, this spot also states that Pandavas took shelter here during their exile period. I was intrigued by the fact that why Pandavas traveled all around India making their stories prominent in every part of the country. The garden area was well maintained though.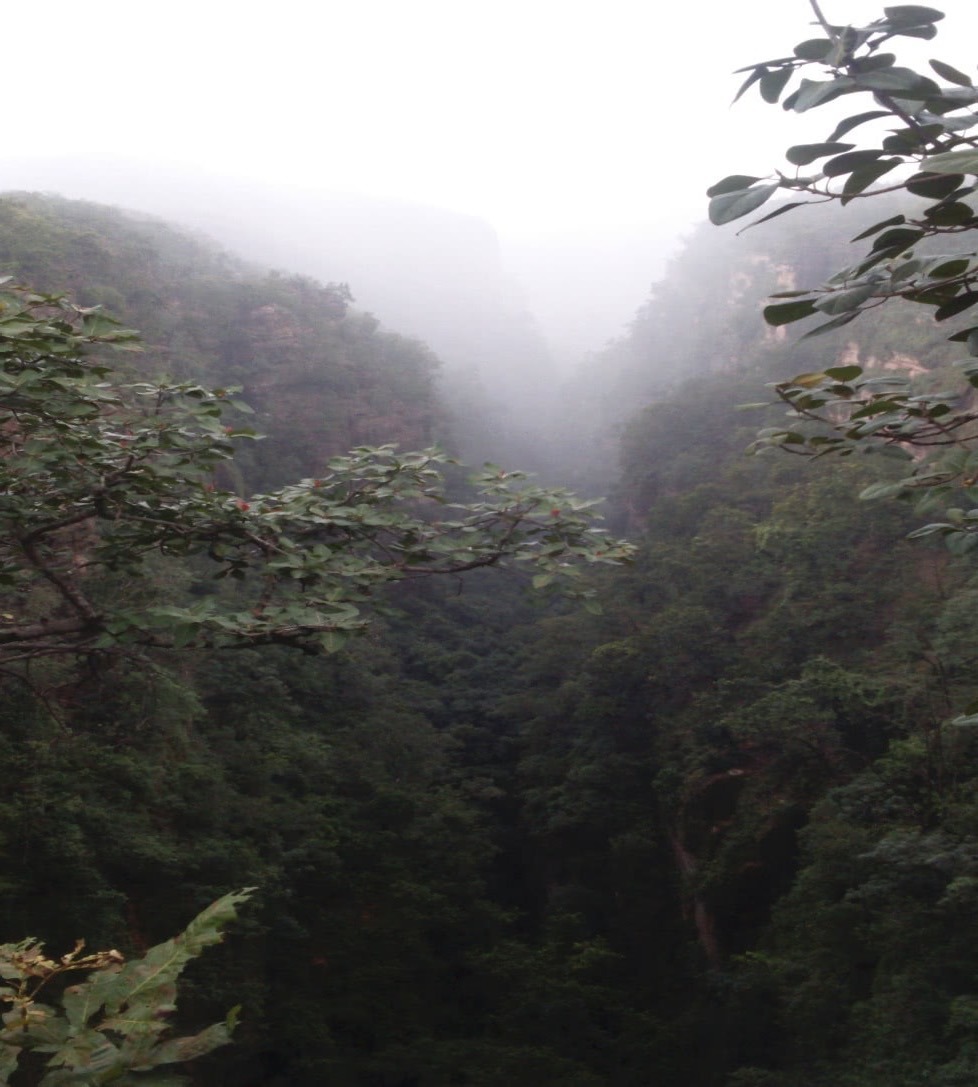 Next, we moved towards Handi Khoh. It's a 300m deep V-shaped ravine and is famously known as suicide point. It also has a famous belief related to Lord Shiva. But trust me, one will believe more on the suicide tale after peeping into this steep gorge. There are many big waterfalls around this area. You can spot them on your way through the jungles and valleys.
Sticking on with my itinerary…
As per my planned itinerary list, we decided to move to Reechgarh caves. Reechgarh is famous for its stories of a giant bear (Reech) living in this picturesque rock formation at the step of two giant hills. You may not be welcomed by any bear living there but you will definitely get awestruck by the ways nature tries to exhibit itself.
It was a big cave and suddenly I found a few rock paintings on the cave walls. I was surprised to see cavemen artwork here to which my driver cum guide told me it's a hoax painting done by the filmmakers during the shooting of SRK starring Asoka. I felt a bit stupid at that time but then I realized if there were bears residing here in old times, cavemen must have a hard time painting those giant rocks.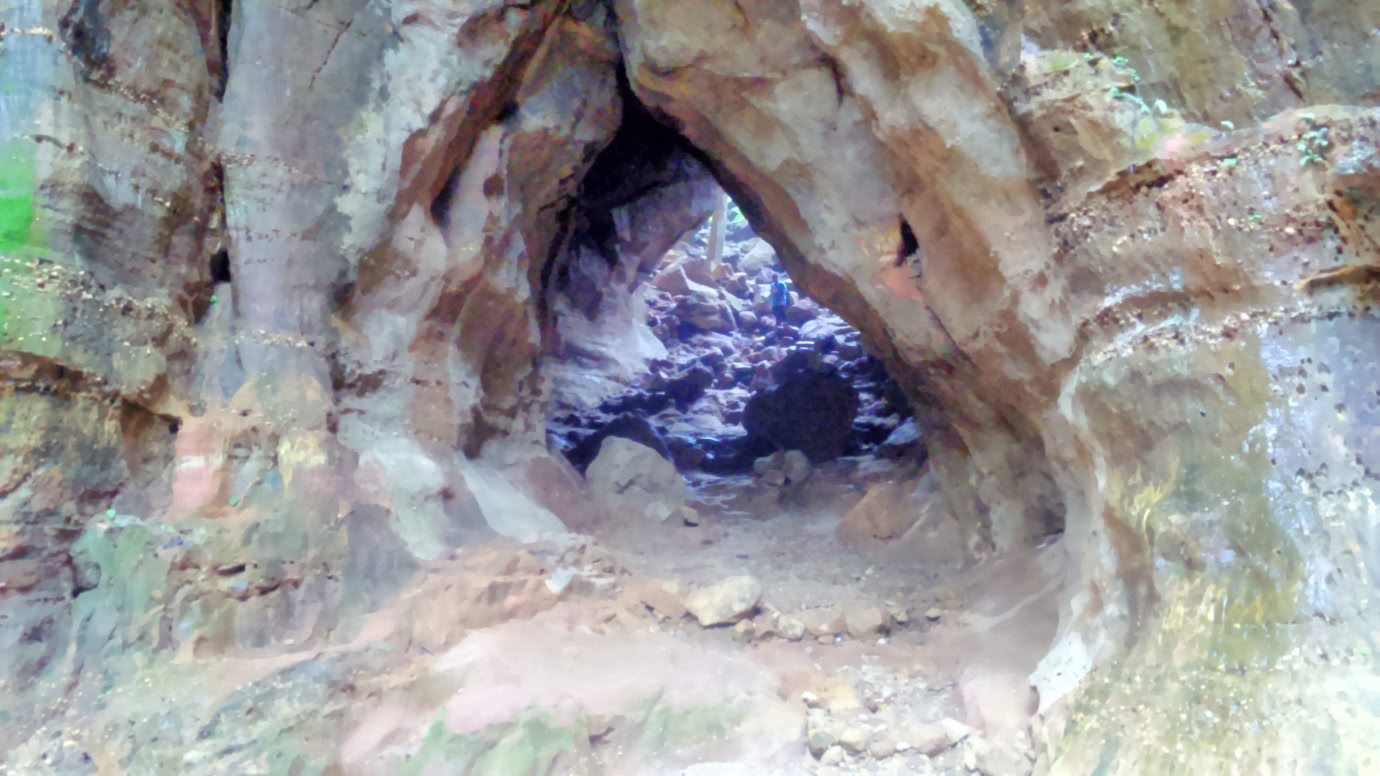 We left Reechgarh after clicking some pictures and it started raining. Our guide asked us if we want to go back to our hotel as it may rain for a while and may eventually get darker till it stops. I answered him with sheer negligence that we will finish our day's tour. He smiled and told us that although we were not in peak time in Pachmarhi, it is the best time to visit the place.
The Satpuras are in their best colors in the rainy season with healthy waterfalls and the mild crowd. Motivated people like us can make the best of our stay if we don't mind getting wet in the rain. I don't know whether he was giving just a travel tip but it struck deep in my mind that this philosophy can be used in real life circumstances too. I decided to tip him well for his nice tip.
---
Next, we visited the Gupt Mahadev cave temple. It is near to a waterfall. We went deep down in the valley between the jungle and found a very narrow cave temple. The entry inside the cave temple is restricted to one at a time. Forget the praying inside the temple, I was more concerned about the Pandit Ji sitting inside the cave and guiding the worshippers on how to reach the main sanctorum. We went inside the cave and were more relieved after coming back. To those who are claustrophobic, this place offers quite a challenge.
No Sunset at Sunset Point…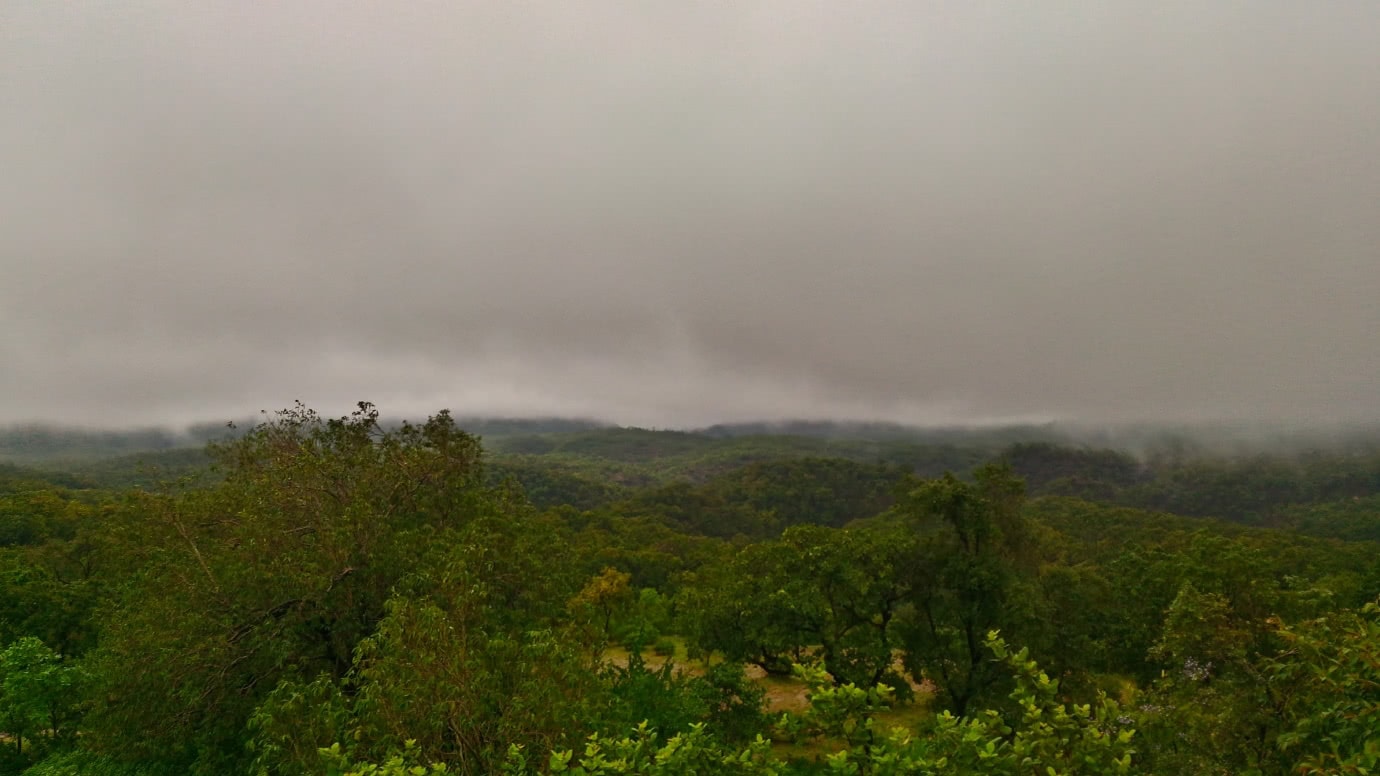 We moved up again and reached Rajendragiri Sunset Point. It was monsoon season and of course, no sun was gonna show up for the sunset. We took a break there for a while, had some tea at a local tea shop and were enjoying the view that was bestowed upon us by the clouds and the valley. Clouds came to us, greeted us well and went to some unknown place. We enjoyed this cycle for a while and decided to go back to our hotel.
Day 2 of Accidental Journey…
The very next morning, I called our driver to take us through Satpura Wildlife Reserve. There are many waterfalls and we decided to go through each of them. We had to take a ticket from the Bison building which has a museum displaying the rich biodiversity this Satpura ecosystem holds. A guide is compulsory when you enter inside the bio-reserve. These guides are locals, trained by the government to increase employment in the area. We should co-operate with this system as it helps them as well as the tourists.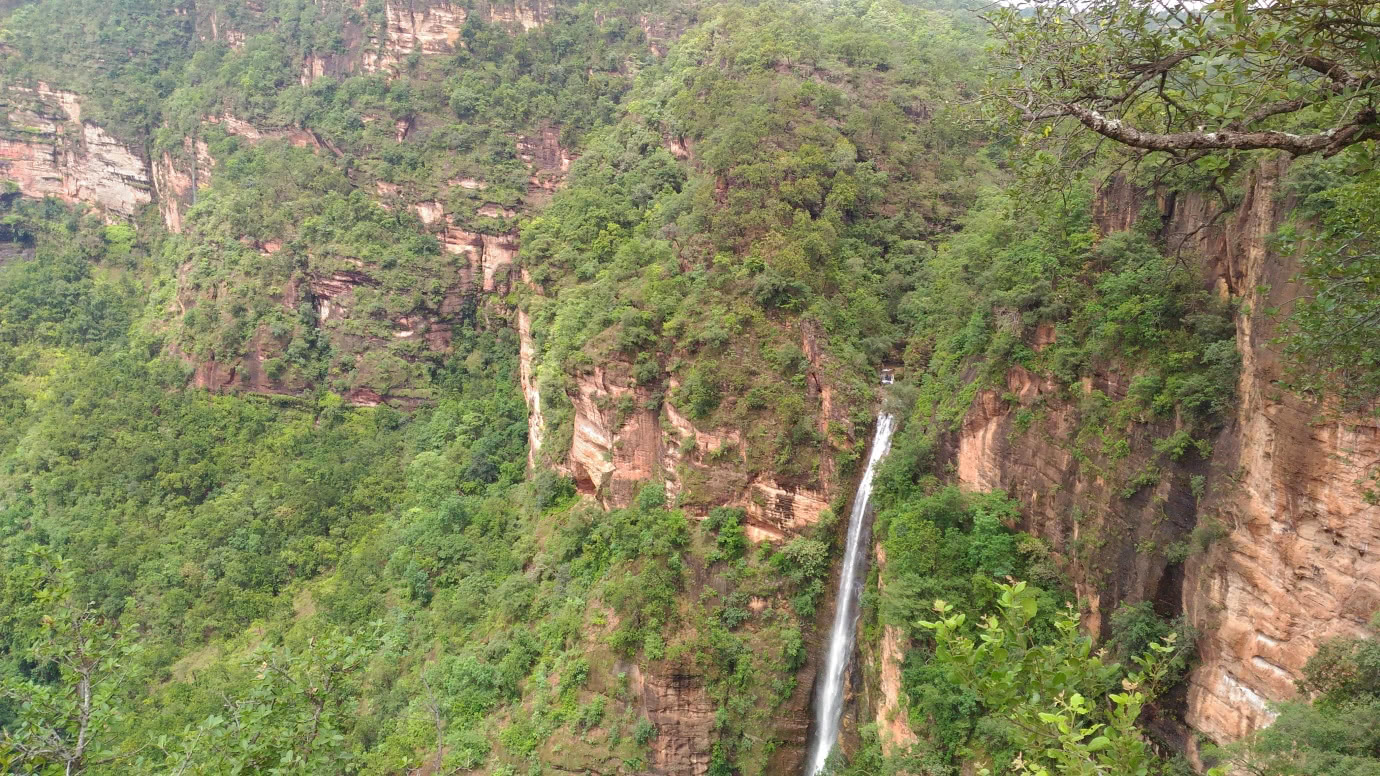 We went straight to the Apsara fall viewpoint. Again, the film Asoka was shot here for one of the songs and in the British time, English ladies used to bathe in this pool during the British rule in India. As the English ladies wore white clothes while bathing, locals thought them to be fairies and hence named the pool as Apsara Vihar or Fairy Pool. So generic! The view of the Satpura ranges and Rajat Prapat is outstanding and it makes us realize how timid we are in front of nature and its artwork.
Bee Falls is Not Made up of Bees…
We moved to Bee falls from Apsara Vihar. Now, we could easily guess why it was named Bee falls. Eventually, our guess came out wrong and there were no beehives all around the place. The water falling from such great height on you, once you stand below the waterfall gives you a sensation of the tranquilizing sounds of bee humming near your ears. Hence, the name Bee falls. This waterfall is easily accessible and you can take a bath under it and observe the peace and serenity.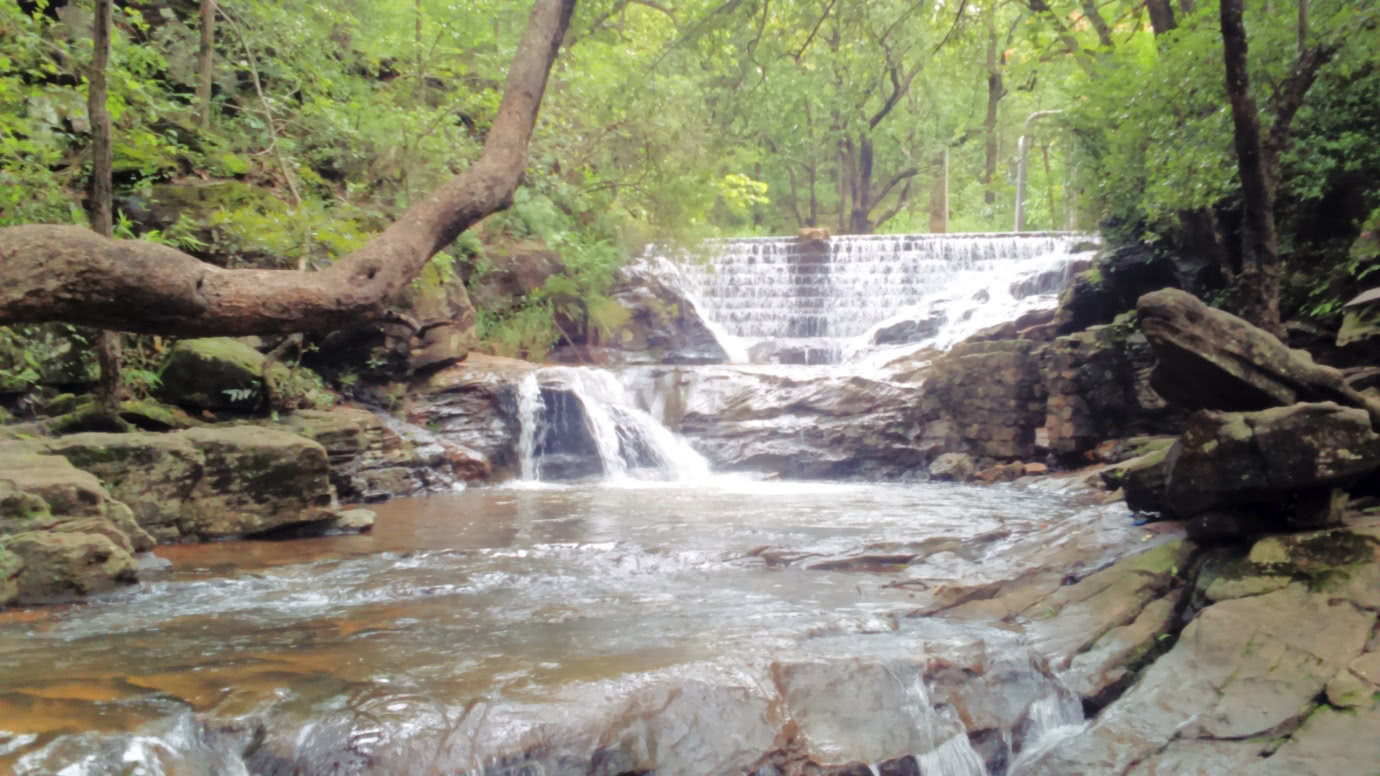 We had to trek down the valley for like two kilometers to get to the foot of the waterfall but it is totally worth it. We spent plenty of time there and when we trekked up to our car, we were completely exhausted. There is also one silent waterfall on the way to Bee falls which is popularly known as Dutch falls. I decided to not to find the reason for the name this time. We enjoyed freshly sliced and salted cucumbers sold by a local woman and were rejuvenated again.
Love for Zip-Lining, undying…
Our driver took us to some lake which is a sort of water reservoir for the city. There were some adventure sports going on there like Zip-lining and a motorboat tour. It's a peaceful place with minimal commercialization. I did not lose my chance of zip-lining and went for it. It was an enthralling experience in the starting but once I was over the lake, tied on my harness to the rope, all I could feel was the peace and there was nobody to take me out of it.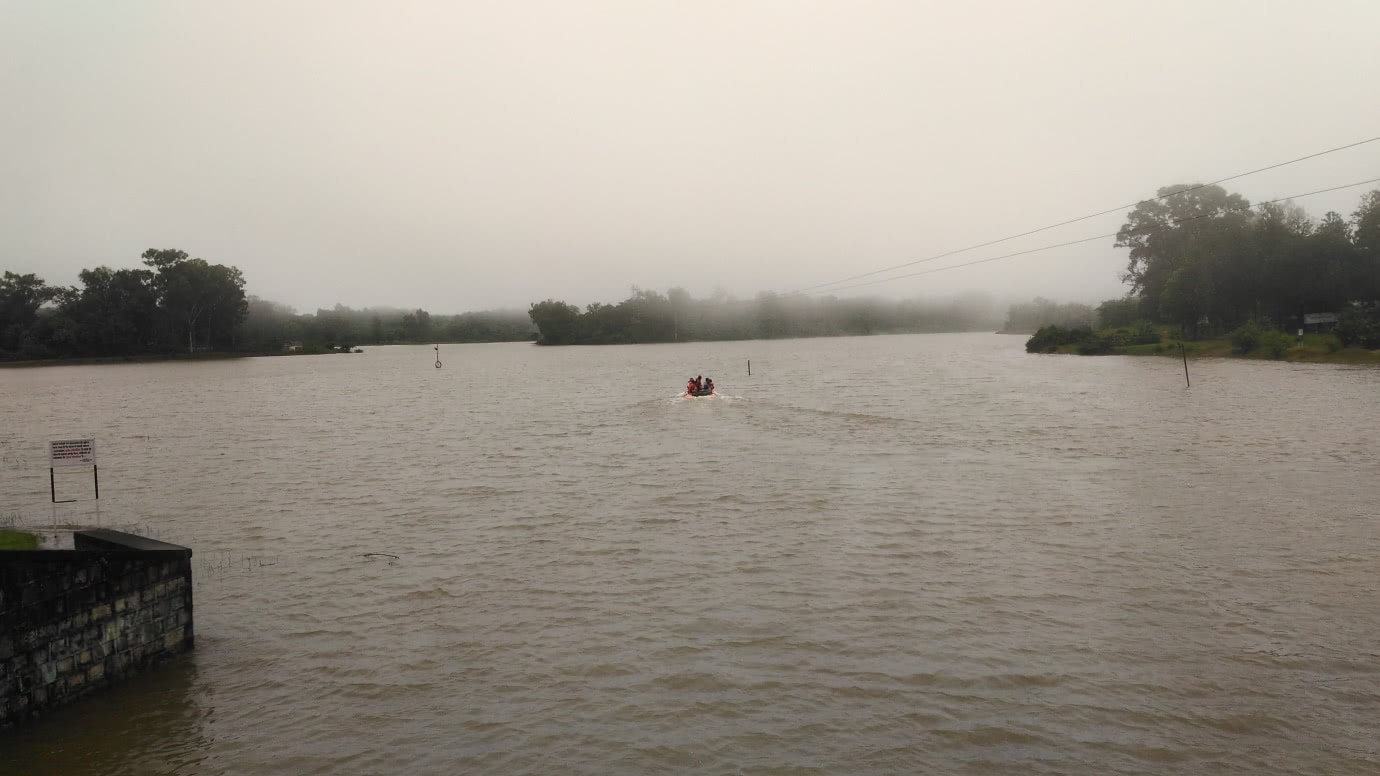 Getting Back to Same Life *sad feels*
We went straight to our hotel after that as it went dark. Went through the local market and enjoyed our dinner. The very next morning we have to come back to our routine life. But as I was back on my train to Lucknow, I thought that just breaking the routine is not the only important thing to be superior. The most important thing is how we are making the most of the time once we are off the routine.
Pachmarhi is such a place where you perceive your closeness to nature and realize how far we had gone from the utmost important thing in our life – ourselves.
---