What comes to mind when you hear the word Darjeeling? Lush green and wide tea plantation? The aesthetic Darjeeling Himalayan Railway? Or is it the song "Mere sapno ki raani kab aaygi tu?"
Darjeeling has something that pulls tourists and travelers from all around the world. It has several places with cultural and heritage importance. And in this travel guide, we'll tell you about the best places to visit in Darjeeling.
You'll also get a rough estimate for ticket pricing and locality in which these places exist. The accommodation options, food, souvenirs, and some practical travel tips — everything is there in this Darjeeling travel guide.
And in between lines here and there, we'll also insert our personal experience so that you can set right expectations before arriving in Darjeeling.
Are you ready to make your Darjeeling trip memorable? Read on!
Notice:This post may contain a few links that might earn us financial support when you buy or make any reservations. They in no way affect our opinion or the information presented here.
---
Article Outline
---
In Case You Want It In A Video
10 Best Places To Visit In Darjeeling
1. Batasia Loop
If you want to see 360-degree views of Kanchenjunga and the Darjeeling city while the toy train does a merry-go-round, come to Batasia Loop.
Batasia Loop is a spiral railway line in Darjeeling that eases the climb of the Himalayan Railway (toy train). This railway line is around a war memorial dedicated to the Gurkha soldiers of the Indian Army, established in 1995.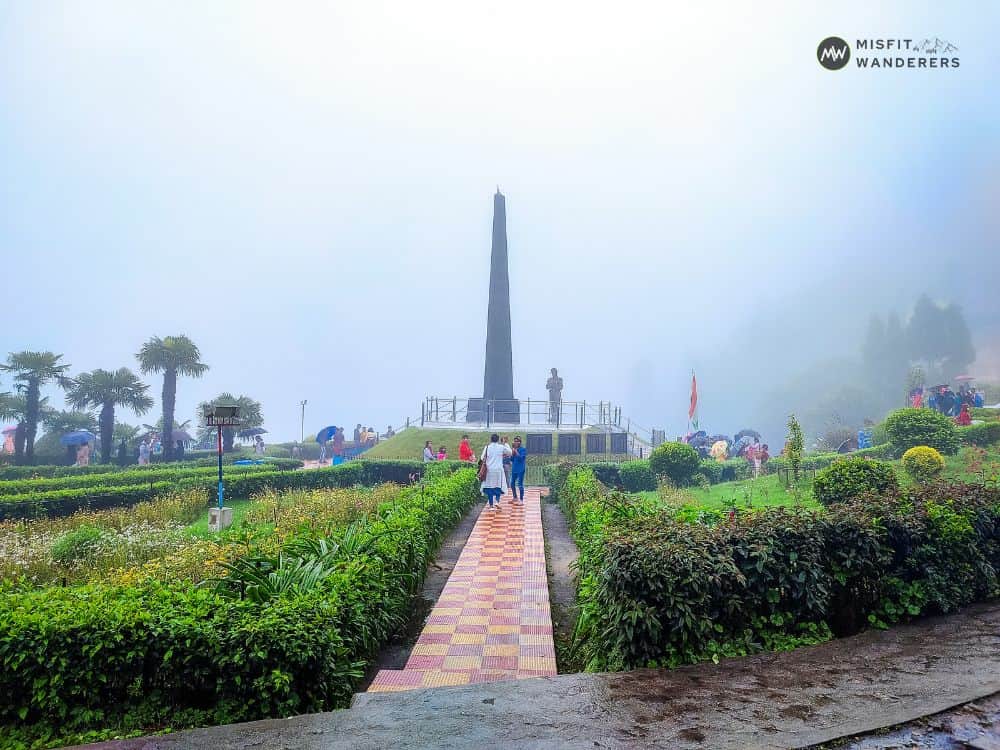 Batasia loop has beautiful gardens and flower plantations all around. And it makes a perfect place to enjoy your time with your friends and family.
Remember, the train doesn't stop here but passes through it, which is in itself a sight to see.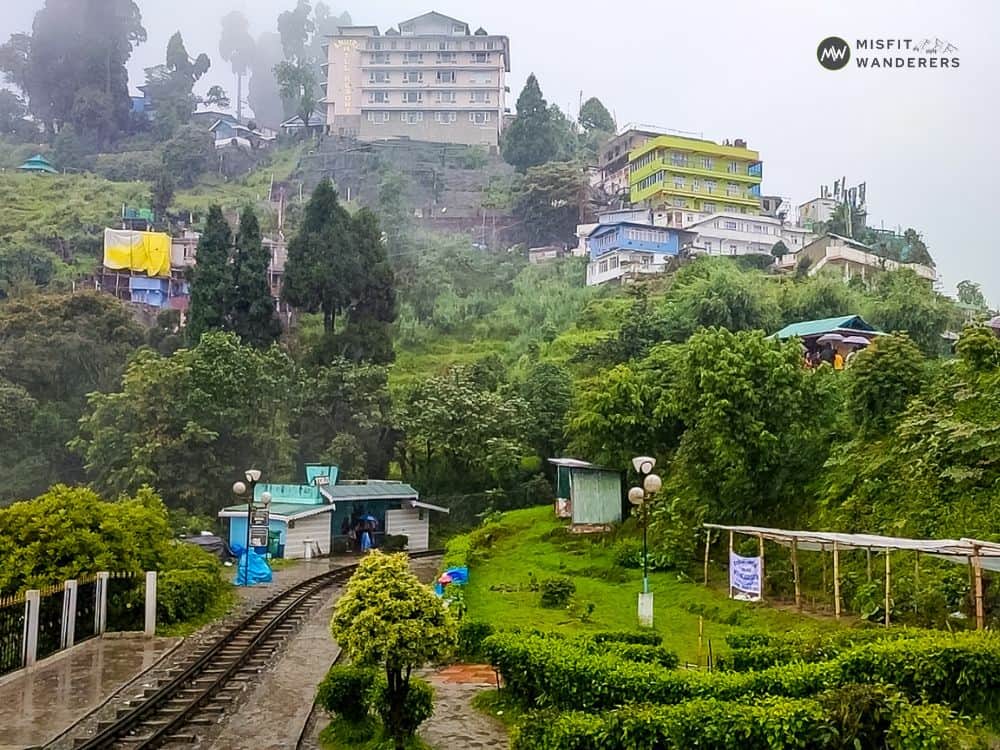 Ticket: INR 30 per person
Opening hours: 5 am to 8 pm.
2. Tiger Hill
How about watching the sunrise with panoramic views of Mt. Everest, Eastern Himalayas, tea plantations and the Kanchenjunga? At Tiger Hill, you get all these — for FREE (technically).
Tiger Hill is a popular mountain peak about 12 km from Darjeeling, at an altitude of 2,590 meters (8,500 ft).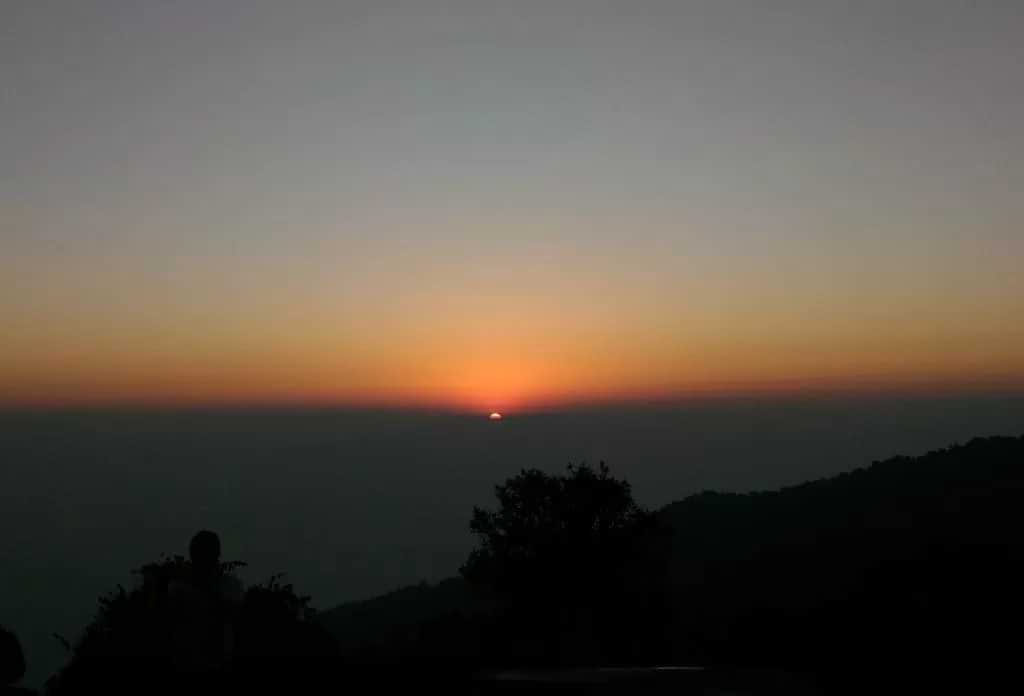 Travel Tip: Book a taxi or rent a bike one day before. See the time of sunrise on the weather app on your smartphone. Reaching prior to the sunrise is a requirement if you want to fully enjoy this experience.
Tiger Hill Ticket Pricing:
INR 20 per person for the ground level,
INR 30 per person for the first floor,
INR 40 per person for the top floor which has comfortable seating with better views.
Opening hours: 4 am to 6 pm.
3. Darjeeling Himalayan Railways (DHR)
Your trip to Darjeeling is incomplete without getting a ride on the DHR.
DHR is a narrow-gauge railway (toy train) that runs between New Jalpaiguri and Darjeeling.
Britisher built this railway in 1881 with the chief aim of transporting tea and other goods.
It covers a distance of 88 km (55 mi) with a total of 87 stations. You will enjoy breathtaking views while covering this distance when you hop on it.
The Darjeeling Himalayan Railway has been a UNESCO World Heritage Site since 1999. At first, steam locomotives were used for many years. But, diesel locomotives took the place in the 1960s.
Tip: You can book tickets for the toy train journey on the official website of the Indian Railways (IRCTC). But be mindful, tickets are hard to get because of the rush. So, please book in advance for a confirmed seat.
4. Rock Garden
One of the best places to visit in Darjeeling is the Rock Garden.
You can visit it on a hillock near Chunnu Summer Falls, at a distance of 10 km from the main city. This garden got its formation by cutting mountains and rocks.
Also, if nature is your thing, you should not miss visiting Rock Garden.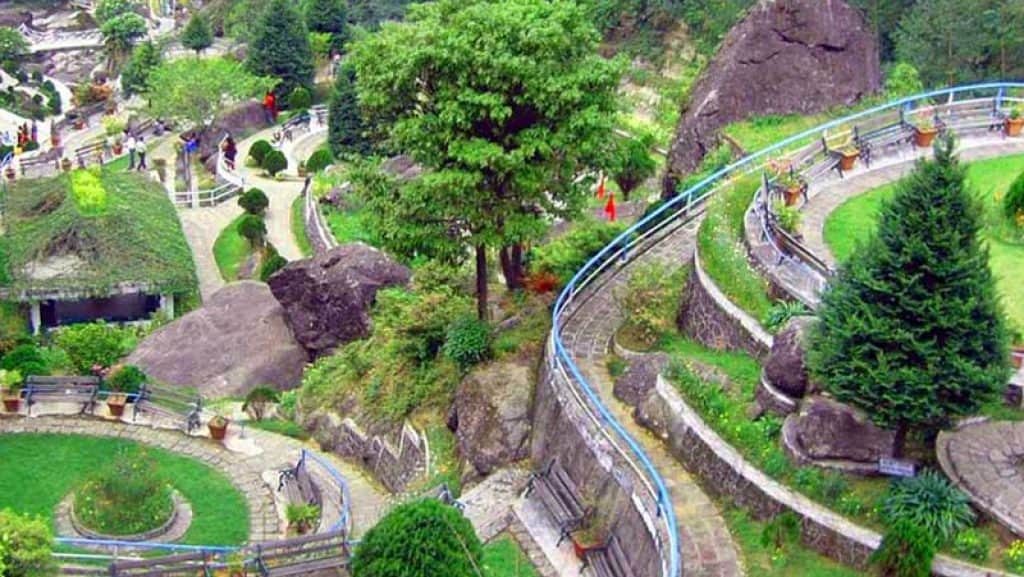 You'll love the beautiful views of the surrounding hills and valleys from the garden. There is also a lake inside the Rock Garden, adding to its charm.
About 3 km from the Rock Garden is the Ganga Maya Park which has a small lake where boating facilities are available. Gorkha folk dances are organized here for the entertainment of the tourists.
Ticket Cost for Rock Garden: INR 20 per person.
Opening hours: 8 am to 6 pm.
5. Happy Valley Tea Estate
Darjeeling is full of tea estates. And, Happy Valley Tea Estate is one of the most famous and oldest tea gardens among them. This estate was established in 1854 by a Scottish planter named George Williamson and covers an area of approximately 170 hectares.
Happy Valley Tea Estate is known for producing high quality tea.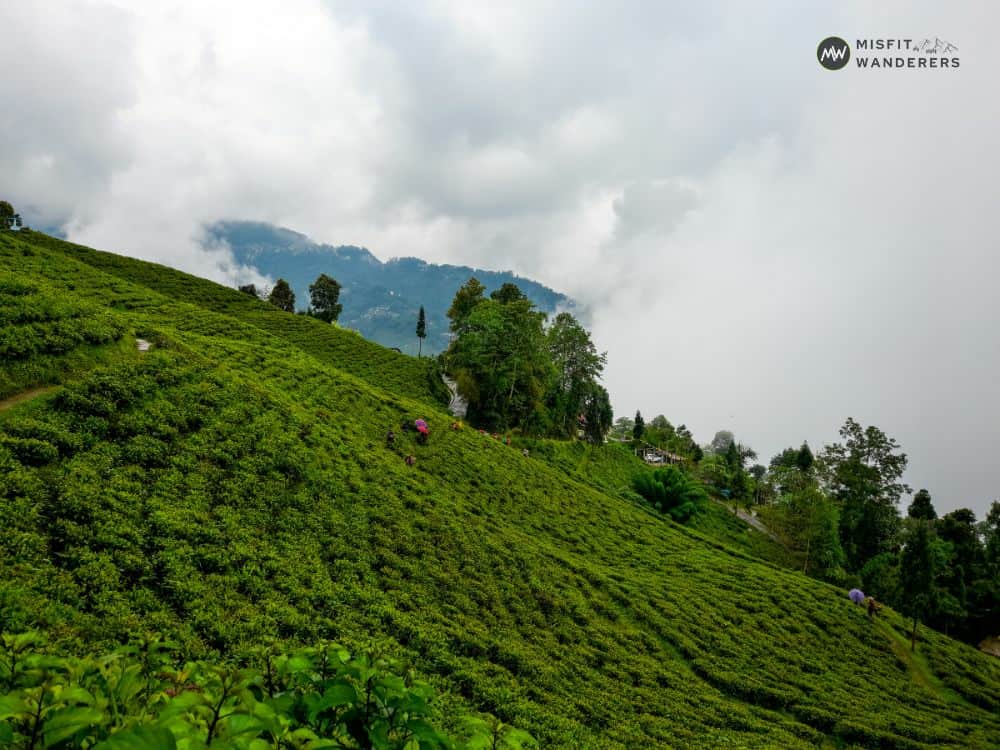 You can learn about the tea cultivation process here. From plucking the leaves to the final stages of packing. There is also a small museum inside where you can learn about the history of tea cultivation.
Unfortunately, we could not visit this tea estate. But we did visit the Ging Tea Estate, which is at a distance from Happy Valley Tea Estate and offers a similar experience.
6. Darjeeling Ropeway
Do you want to fly over the majestic tea plantations of Darjeeling? If yes, try out the Darjeeling Ropeway.
The Darjeeling Ropeway (aka Darjeeling Himalayan Railway Ropeway) is a cable car service that connects Darjeeling town to Singla Bazaar.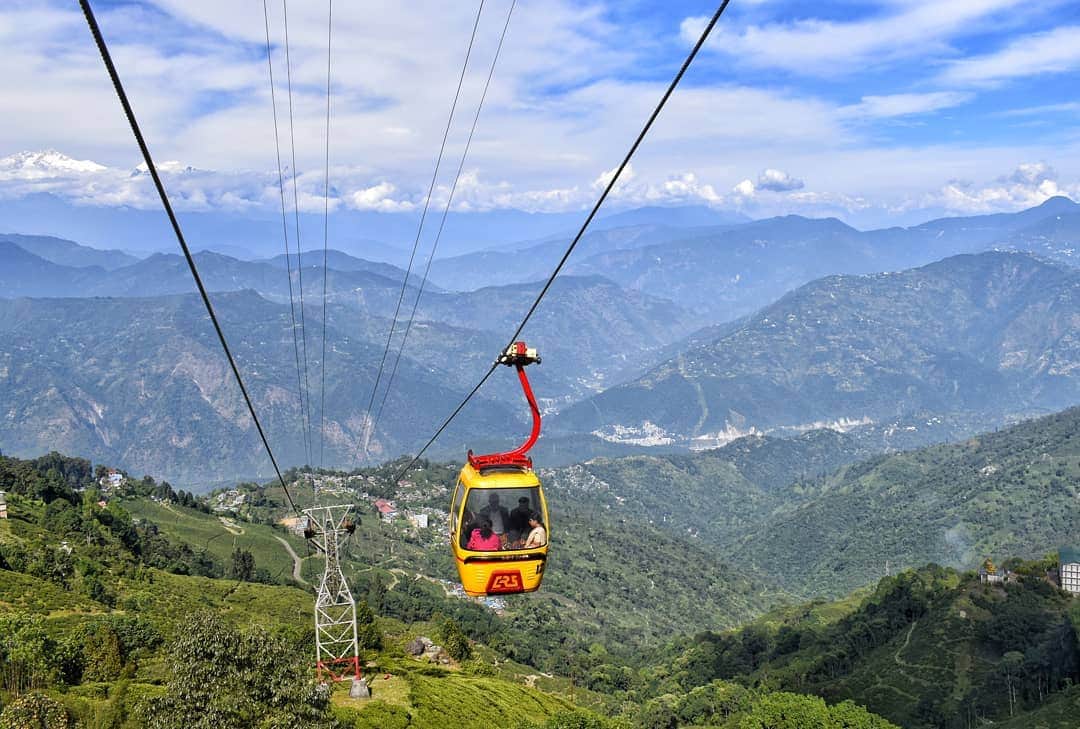 Here's an interesting fact: It is India's first and longest ropeway which covers a distance of about 3 km in the valley. You can ride it and enjoy the beautiful views of the surrounding hills and valleys.
Note: The ropeways get closed during monsoon season due to heavy rains and landslides.
Tickets: INR 200 for adults and INR 100 for children.
Opening time:
In Winter and Monsoon: 10:00 am to 4:00 pm.
In Summer: 10:00 am to 2:00 pm.
7. Ghoom Monastery
If you want a calm and serene place to spend some time in solitude, Ghoom monastery is your place. The beautiful artistry on the building, enriched with Buddhist culture, will surely attract you.
Ghoom Monastery, also known as Yiga Choiling Monastery, is a small Tibetan Buddhist monastery. It was built in 1875 and is one of the oldest and most important Tibetan Buddhist monasteries in the region.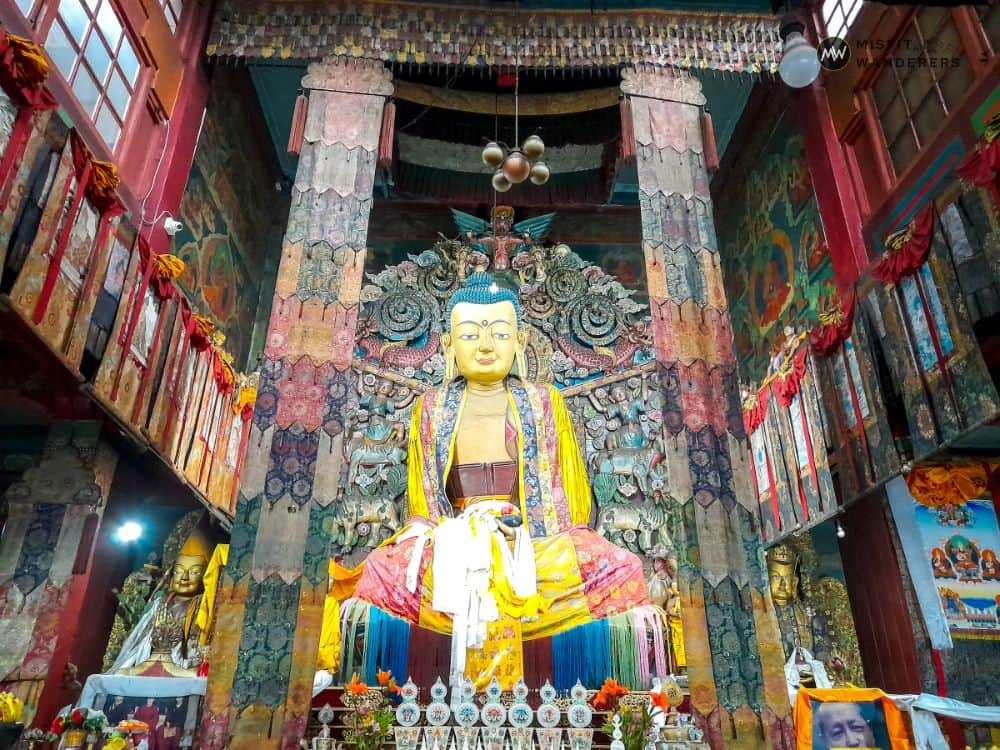 You can easily access it as the monastery is situated on the main road. However, you can skip it if you're short on time or on a mission to explore the places to visit in Darjeeling in 1 day.
Don't forget to touch the prayer wheels!
8. Dali Monastery
Another beautiful monastery to visit in Darjeeling is Dali monastery (Druk Sangag Choling monastery). You can easily visit this place as it's situated on the way to Batasia Loop, and on the main road. You may have to climb some stairs to reach this building.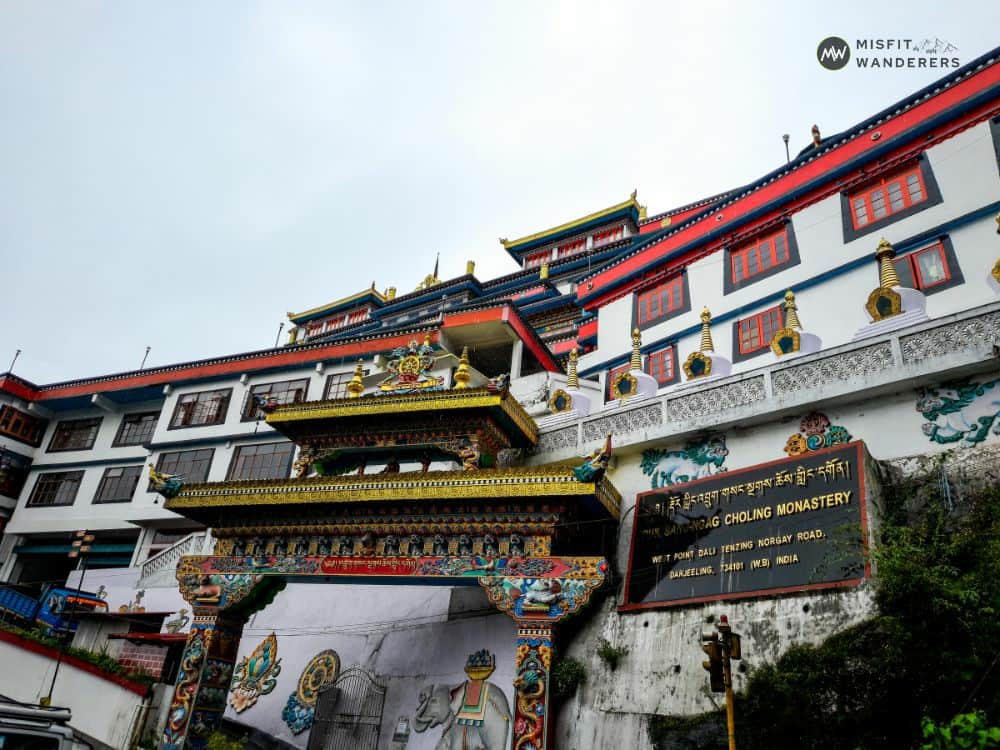 The best time to visit Dali Monastery is either in the morning or in the evening when there is prayer and chanting. Other times, you may find the main hall closed.
210 Tibetan Buddhists of the Drukchen sect live in Dali Gompa of this monastery. The hall of 6 feet high golden Tibetan prayer wheels located here draws huge crowds.
9. Padmaja Naidu Himalayan Zoological Park
Fancy seeing super cute red pandas? Then come to Padmaja Naidu Himalayan Zoological Park.
You can find a wide variety of animals including the snow leopard, red panda, Tibetan wolf, royal Bengal tiger and Himalayan black bear. The park also houses a breeding and research center for the endangered snow leopard and red panda.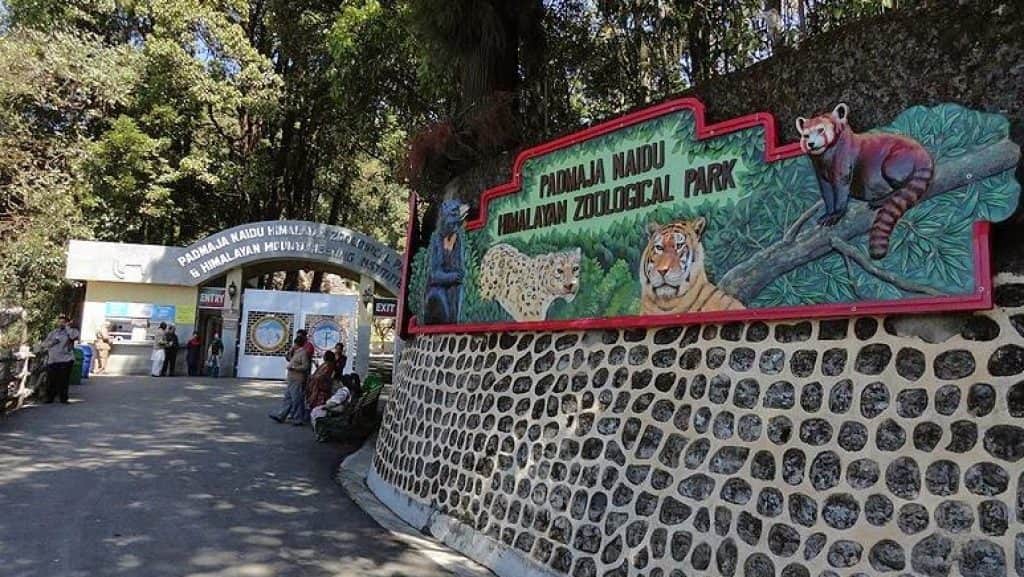 This zoo spans over a 67.56-acre land and is one of the well-maintained zoos of India. So, you may have to walk a lot. Also, it is the first zoo in India to join the World Association of Zoos and Aquariums (WAZA).
Padmaja Naidu Himalayan Zoological Park sits at an altitude of 7,000 feet. It follows the design as if it were the natural habitat of animals.
Further, it got its name after Padmaja Naidu, daughter of freedom fighter and poet Sarojini Naidu.
10. Japanese Temple and Peace Pagoda
The Japanese Temple or Nipponzan Myohoji Buddhist Temple is one of the best places to visit in Darjeeling. It sits at an altitude of 2,050 m (6,726 ft) above sea level.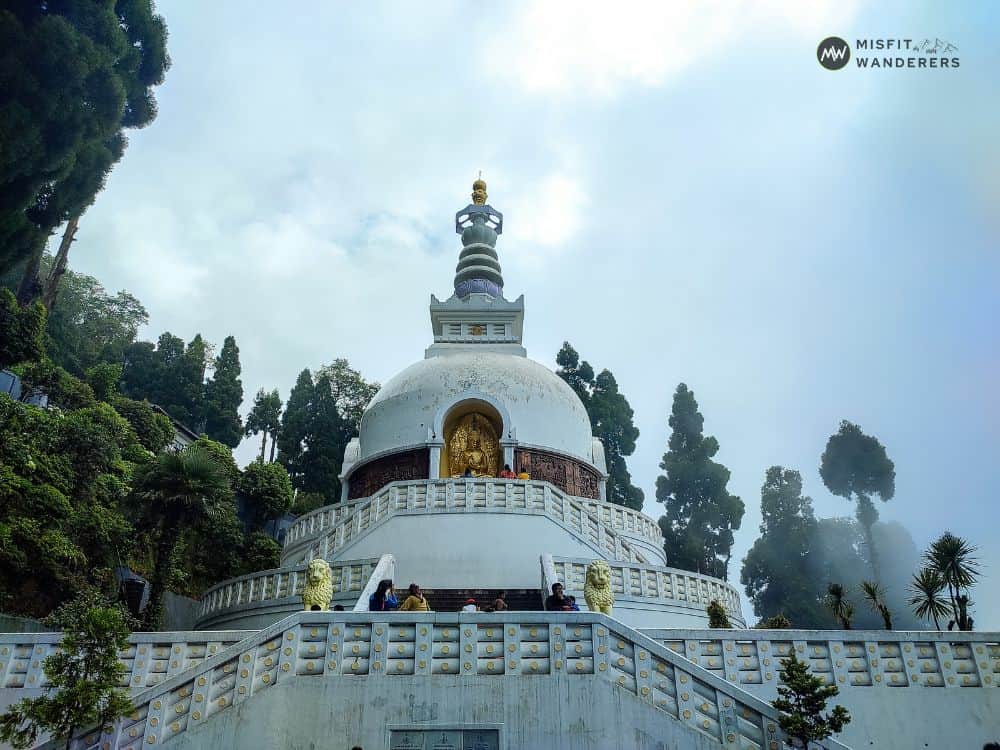 You can reach here via a cab or private taxi or hike down through the streets. We asked some locals and hiked our way to this place.
The temple has a scenic beauty. And you can click some great photos keeping it in the backdrop while admiring the calmness in the environment.
Local Cuisine of Darjeeling That You Should Try
Where there's travel, there's food. How can you skip the mouth watering delicacies of Darjeeling? Besides tea and momos, Darjeeling has some local cuisines that you should definitely try out.
Here are some popular local food:
Momos: These steamed or fried dumplings filled with meat or vegetables are a popular street food that you can find in most local restaurants.
Thukpa: This traditional Tibetan soup made of noodles, vegetables and meat is a popular dish in Darjeeling.
Aloo Dum: This dish is made from boiled potatoes cooked in a spicy tomato gravy, which can be enjoyed with rice or roti.
Kinema: This traditional dish made from fermented soybeans is very popular in Darjeeling and Sikkim.
Phagshapa: Traditionally, this food item is prepared with pork, radish and some chilies. If you want less spicy food which is perfect for cool Darjeeling evenings.
Darjeeling Tea: If you come to Darjeeling and don't drink the tea here then why should you come to Darjeeling. The tea here is known for its unique musk flavor and aroma. You can try different types of Darjeeling tea at local tea shops.
Nepalese and Tibetan Food: You will find a lot of traditional Nepalese and Tibetan dishes in Darjeeling, such as dal bhat, momos and steamed buns.
Street Food: You can find street food at various places in Darjeeling like Chowrasta where you can taste different types of street food like Chaat, Gol Gappa and Tikki.
What You Can Do In Darjeeling? (Activities)
Go On A Tea Garden Tour
Darjeeling is famous for its tea, and there are several tea estates in the region that you can tour. Learn about the history of tea cultivation in Darjeeling, and taste different varieties of tea.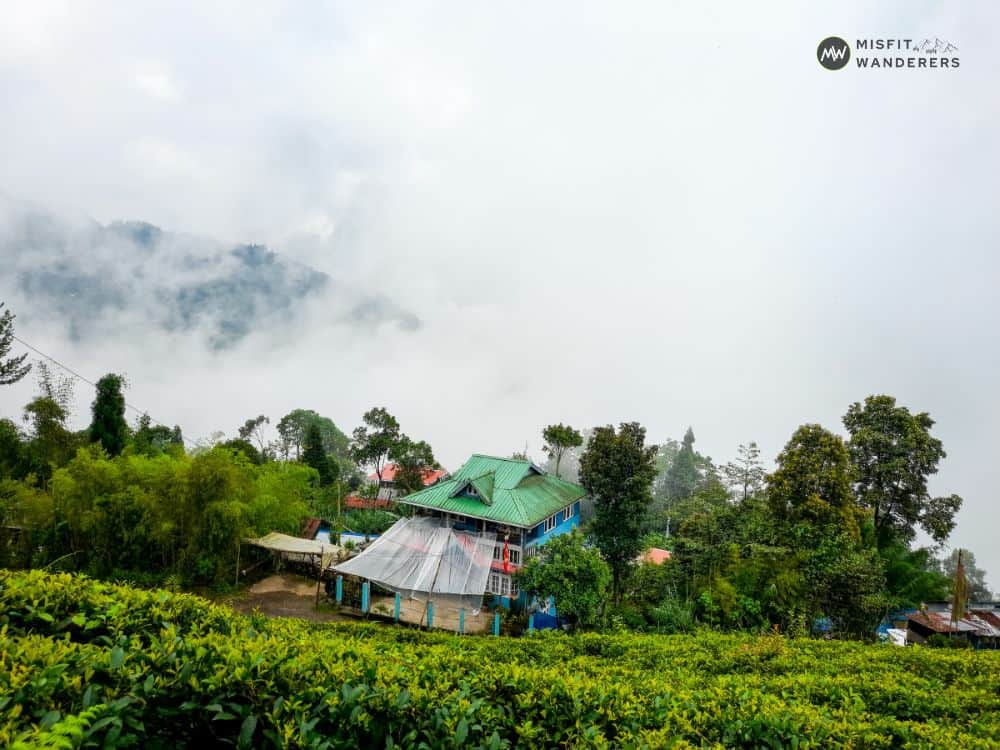 Take A Ride On The Darjeeling Himalayan Railway
The Darjeeling Himalayan Railway, aka "Toy Train", is a UNESCO World Heritage Site and offers a memorable ride through the hills. This should top your list of activities to do in Darjeeling.
Go Trekking
Darjeeling has many trails that offer breathtaking views of the Himalayas and the surrounding hills. Among these, Tonglu Trek, Sandakphu and Singalila Trek, Phalut Trek are some of the places that are safe for trekking.
Stroll the Darjeeling Mall Road
This popular place in Darjeeling is famous for shopping and fine dining. There are many local shops and restaurants selling traditional food. You can enjoy them and shop for your loved ones.
Enjoy the Sunrise at Tiger Hill
Capturing the sunrise at Tiger Hill can be a lifetime memory. Keep in mind that there is a lot of crowd here, so go with full preparation.
Souvenirs You Can Buy in Darjeeling
The Mall Road and Chowrasta Bazaar are good places to shop and pick up souvenirs. Here are some popular souvenirs to buy in Darjeeling:
Darjeeling Tea: Darjeeling tea is one of the most famous tea varieties in the world and can be found in local tea shops. You can buy different types of tea like black, green, oolong and white tea.
Hand-Knitted Woolen Goods: Darjeeling is known for its hand-knitted woolen goods, such as sweaters, shawls and socks. These accessories are made of high quality wool and are great for keeping warm in the chilly mountain air.
Handicrafts: Darjeeling is home to many skilled artisans who create beautiful handicrafts such as wood carvings, metal crafts and traditional Tibetan and Nepali items.
Tibetan and Nepalese items: You can find traditional Tibetan and Nepalese items such as prayer flags, singing bowls and thangka paintings in local shops and markets.
Jewelry: You can find traditional and modern jewelry in Darjeeling. You can also find traditional Tibetan jewelry made of turquoise, coral, and other precious stones.
Bamboo and cane items: You will find bamboo and cane items such as baskets, mats and furniture in local shops and markets.
Postcards and Souvenirs: You can find postcards and other souvenirs like keychains and magnets with pictures of famous Darjeeling tourist places.
Spices: You can buy traditional spices like cardamom, clove and cinnamon, which are grown in the region and used in the local cuisine.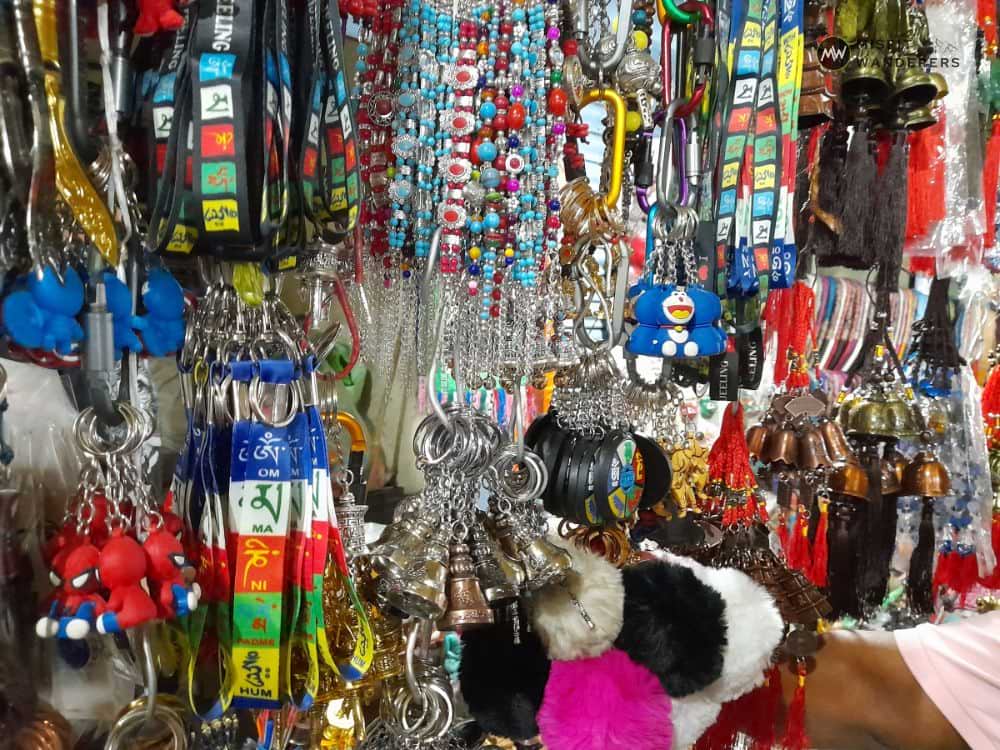 Darjeeling Public Toilet & Sanitation
Public toilets and cleanliness in Darjeeling can vary from place to place. In general, many public places, including tourist areas, have public restrooms available for use.
However, especially in more rural or less touristy areas, the availability of public restrooms may not be up to the standards of some travelers.
Distance Between Attractions And Transportation Options In Darjeeling
Public transport can be limited in Darjeeling, especially when it comes to traveling to popular tourist spots.
You can use Darjeeling Himalayan Railway as a mode of transport to visit tourist spots. However, it is limited in its route and can be crowded during peak tourist season.
Taxis and buses are also available for transportation, but they are unreliable. Private taxis can be expensive, so it's important to negotiate the fare in advance.
You can also take the bus which is a more economical option. Apart from this, you can also hire private bikes, cars and jeeps, but ensure that the vehicle is in good condition.
Here's the kicker: We visited almost all the best places to visit in Darjeeling on foot because the distance between them is not much. If you are used to walking, this can be your way of exploring too.
Best Time To Visit Darjeeling For You
The best time to visit Darjeeling depends on what you want to do during your visit.
The months from April to June are the best time to visit for those who want to escape the heat and enjoy the cool mountain air. The temperature during this time ranges between 25-28 degree celsius, which is perfect for exploring the city and its surroundings. The tea gardens are in full bloom at this time.
Monsoon season heavy rains can disrupt travel and outdoor activities. There is also a danger of landslides in the city during this season.
October to March is the best time to visit for those who seek cold and snow. This is also the best time to view the Himalayas, as clear skies provide the best visibility. Temperatures can drop significantly during this time, ranging from 3-10°C, so it's important that you pack warm clothes.
Number of Days and Budget
It's a subjective matter. What you want to see and do in Darjeeling will decide how long you want to stay in Darjeeling.
If you just want to visit the main attractions and enjoy the beautiful views of the Himalayas, then 2-3 days would be enough.
It is a good idea to plan your stay for 3-5 days if you want to participate in more activities like trekking, visiting tea gardens and experiencing the local culture.
Darjeeling is also surrounded by many beautiful hill stations and places of interest like Mirik, Kurseong etc. Ultimately, it all depends on your personal preferences and availability.
Talking of budget, Darjeeling is not an expensive city. From food to accommodation, we did find it fairly cheap being budget travelers. For instance, we found bunk beds for approximately INR 400 per day.
How You Can Reach Darjeeling
You can reach Darjeeling in three ways:
By Airplane
The nearest airport is the Bagdogra Airport (IXB), located approximately 90 km from Darjeeling. From there you can take a taxi or bus to reach Darjeeling.
By Train
The nearest railway station is New Jalpaiguri Railway Station, located about 90 km from Darjeeling. The station code of New Jalpaiguri station is NJP.
You get frequent trains to NJP from all major stations in India. From New Jalpaiguri you will get a direct bus or taxi to Darjeeling.
By Bus
Many buses ply between Darjeeling and major cities of West Bengal and neighboring states. Alternatively, you can also drive to Darjeeling, but be aware that the roads can be curvy and narrow at some places.
Where You Can Stay In Darjeeling? (Accommodation Options)
There are many hotels in Darjeeling ranging from budget friendly options to luxury resorts. Apart from this, you can also stay in homestays and guesthouses. There are also several camping options available for those who want a more adventurous and unique experience.
We recommend booking your hotel well in advance, as the city is packed with tourists, especially during peak season.
Apart from this, it is better to stay near the Mall Road in the central part of the city. This will give you easy access to the city's main attractions and a variety of dining and shopping options.
FAQs: Places To Visit in Darjeeling
Which is the best time to visit Darjeeling?
The best time to visit Darjeeling is from October to June when the weather is pleasant and the views of the Himalayas are clear. The temperature ranges between 25–28 °C in summer and 3–10 °C in winter.
What is the famous thing about Darjeeling?
Some of the places of interest in Darjeeling include Tiger Hill, Batasia Loop, Darjeeling Himalayan Railway, Happy Valley, Rock Garden, Padmaja Naidu Himalayan Zoological Park and Ghoom Monastery.
What are the famous activities in Darjeeling?
Famous activities in Darjeeling include visiting tea gardens, trekking, paragliding and taking a ride on the Darjeeling Himalayan Railway.
How is the local cuisine in Darjeeling?
The local cuisine of Darjeeling is a mix of Nepalese, Tibetan and Bengali cuisine, with popular dishes including momos, thukpa and dal bhat.
Is any permit required to visit Darjeeling?
Permits are not required to visit Darjeeling but if you are planning to visit some restricted areas like Singalila National Park, you will need to obtain a permit from the concerned authorities.
---
Final Words: Places To Visit in Darjeeling
Darjeeling is an ideal destination for nature lovers, adventure seekers and those looking to experience the culture and tradition of the region.
The Queen of Hills is our travel guide to Darjeeling. Hope we have been able to share every little bit of information related to Darjeeling in this.
Still, if you have any suggestions or questions, feel free to share your thoughts in the comment box below. We will try to improve ourselves with your suggestions.
---
---
An appeal: Please do not throw litter around. Use a dustbin. If you can't find one, take the trash with you and throw it when you find one. Your small steps like this one can make the world clean and green.