God flows in every corner of the world. In India, you can get an idea of ​​the spirituality, reverence, and faith of the people from the temples being present in every little place of the country. During my visit to Karnataka, I had the privilege of visiting one such temple – Ranganathaswamy Temple Srirangapatna, Karnataka.
This was my first solo trip but I did meet some awesome who became friends and traveled with me for some time.
This temple dedicated to Ranganathswamy, an incarnation of Shri Hari Vishnu, the follower of this creation, falls in Panchranga Kshetrams, which is described below.
Since I had only one day and I had just returned from my visit to Chamundeshwari temple. After a little chit-chat with fellow travelers, we took a bus to Srirangapatna being in a mode of amazement.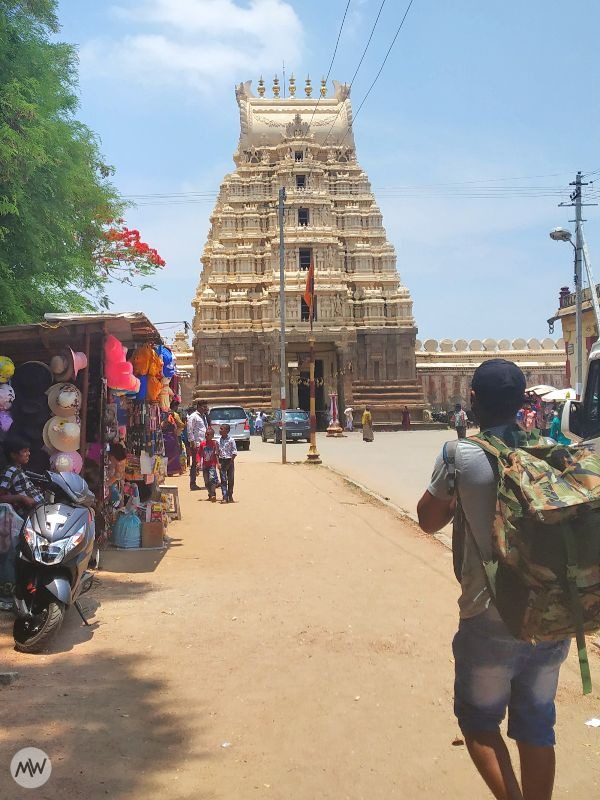 One important thing, if you want, you can get a one-day bus pass using which you can travel to all tourist places. Any conductor of the government bus can make it for you.
---
Ranganathaswamy Temple, Srirangapatna – An Introduction
The temple is located on an island formed by the Kaveri River at a distance of 16 km from Mysore. This town was named Srirangapatna after the name of the Sriranganathaswamy temple. It falls in the Mandya district of Karnataka. Earlier it was known as Srirangpuri.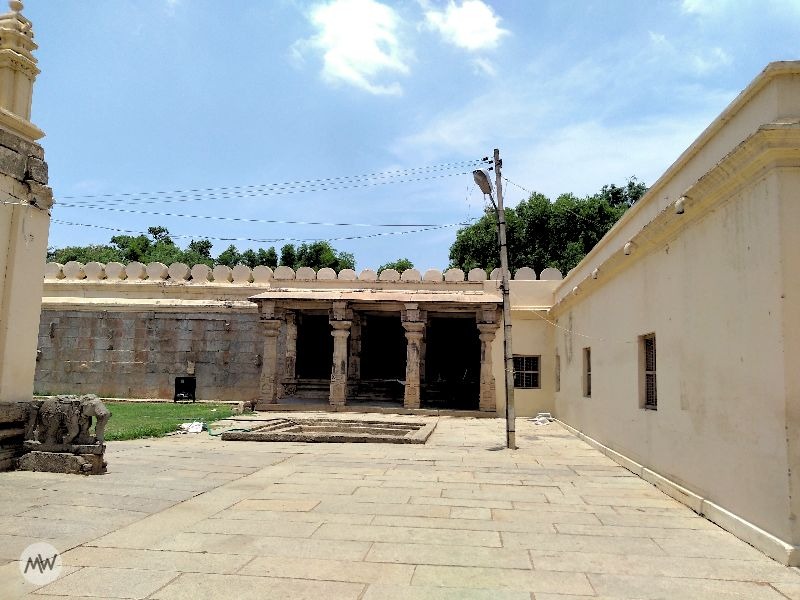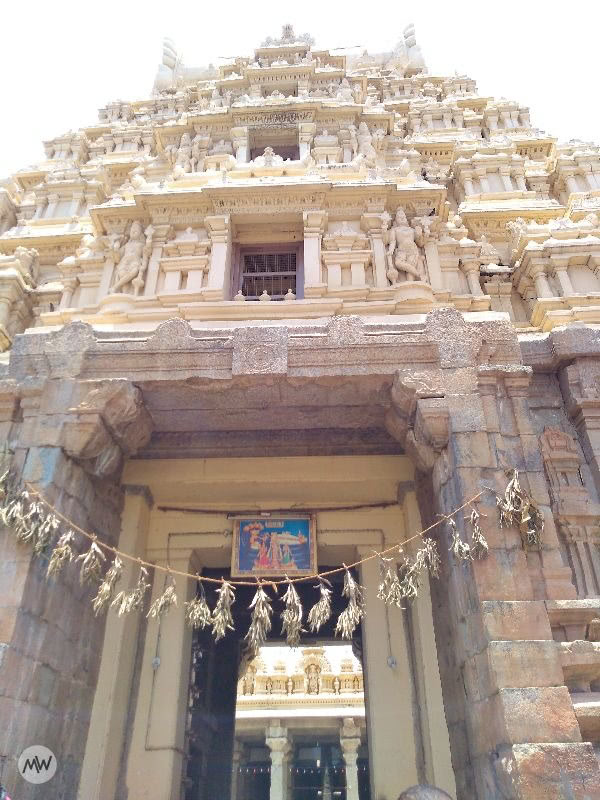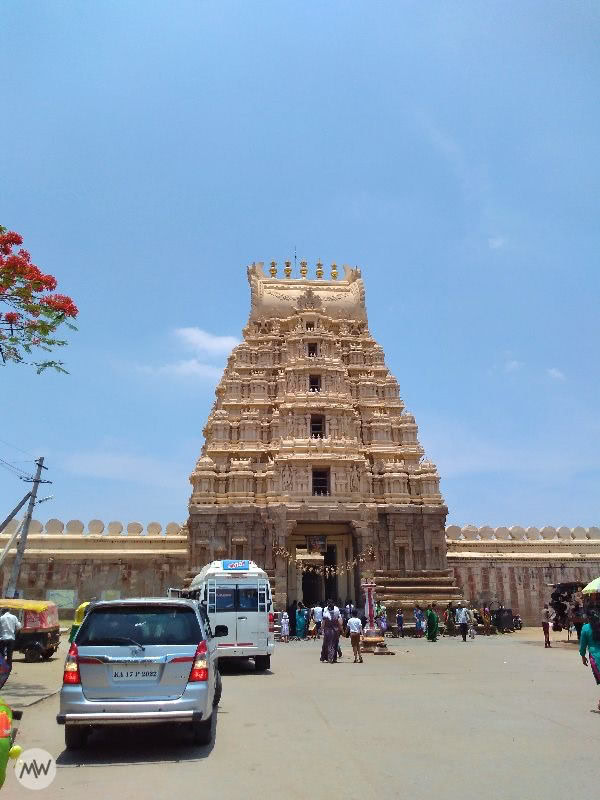 We reached here 35 minutes from our place of stay in Mysore.
Ancient History of the Temple
The sanctum sanctorum (Garbhgriha) of this temple was built by a dancer Hambi in 817 AD. During the rule of the Gang dynasty in 894 AD, King Thirumalaira Ji assisted in its construction. When Sri Ramanujacharya came here in 1117 AD, there was a Jain ruler named Bittadeva in the Hoysala Empire. He was defeated by Sri Ramanujacharya in a debate. Bitiraiya accepted Sri Vaishnavism and was honored with the name Vishnuvardhana. He was a great devotee of God.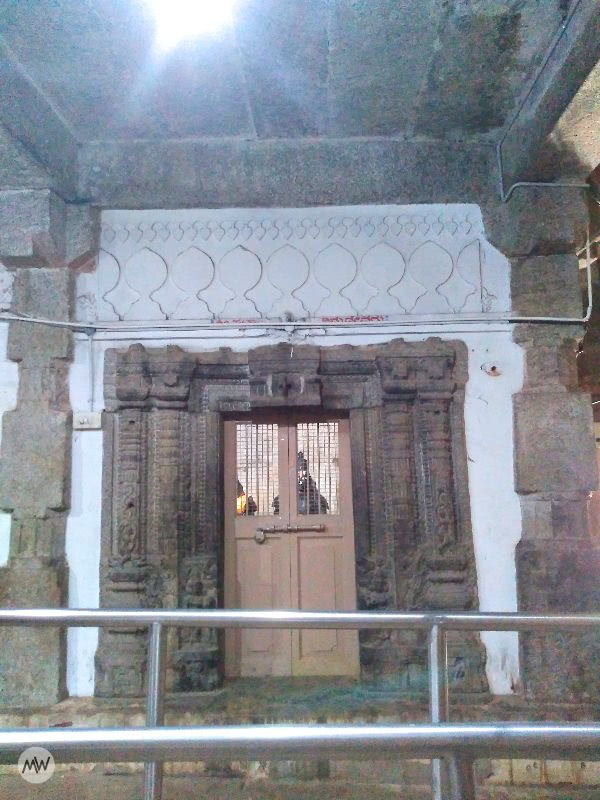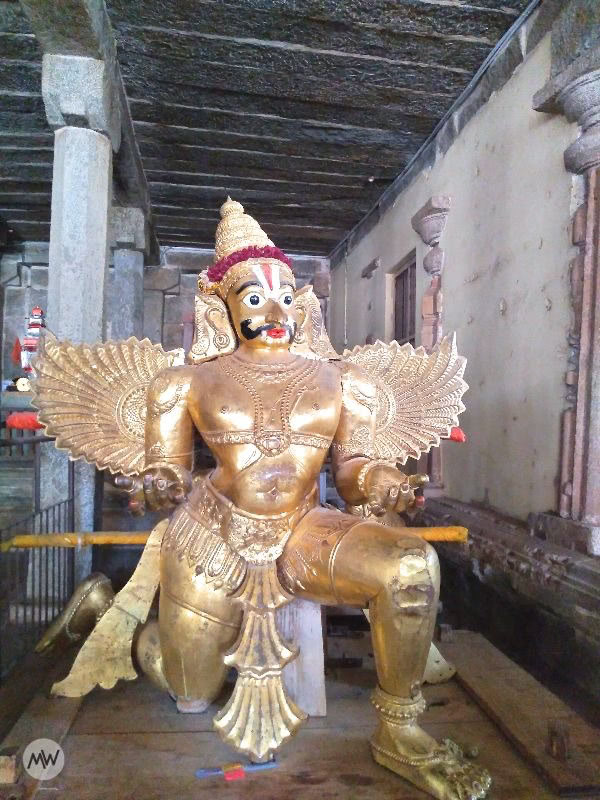 King Vishnuvardhan donated money and land of eight villages to Sri Ramanujacharya. Ramanujacharya designated some functionaries as Prabhu or Hebbar to conduct the service of the Lord. In 1554 a Hebbar named Thinnanna went to Vijayanagar and became an officer in the court of Vijayanagara. He returned from Vijayanagar and built an outer fort for the city and a large wall for the temple.
Main Temple of Ranganathaswamy
This temple is a major pilgrimage for Vaishnavism. The entrance of the temple is grandeur and inspiring. Its Gopuram means very good workmanship in the upper part. To reach the sanctum sanctorum, we had to go through a narrow path made of steel pipes. In the sanctum sanctorum, Lord Ranganatha Ji is shown lying on a bed made by the seven-faced Sheshnag. He also has Laxmi Ji sitting there.
Along with these, there are other small temples in the complex including Lord Garuna, Bhudevi, Brahma, Narasimha, Sridevi, Gopalakrishna, and Hanuman. A golden layer statue of Garun Dev is also a center of attraction here.
What is Panchranga Kshetrams?
Panchranga Kshetrams is a group of five temples of Ranganatha (a form of Lord Vishnu) located on the banks of river Kaveri. The five temples are as follows:
Sri Ranganatha Swamy Temple, Srirangapatna (Mysore)
Sri Ranganatha Swamy Temple, Srirangam (Trichy)
Sri Rangapani Temple, Kumbakonam
Sri Apakudatham Temple, (Trichy)
Sri Parimala Ranganath Perumal Temple, Mayiladudurai
The Amazing Architectural Style of Ranganathaswamy Temple
Built-in the Dravidian style, this temple is a marvelous specimen of Hoysala and Vijayanagara architecture. The Gorupam of the temple with fort-like walls and intricate carvings impressed me the most. It has 4 pillars with carvings of 24 avatars of Lord Vishnu called Chaturvimashti.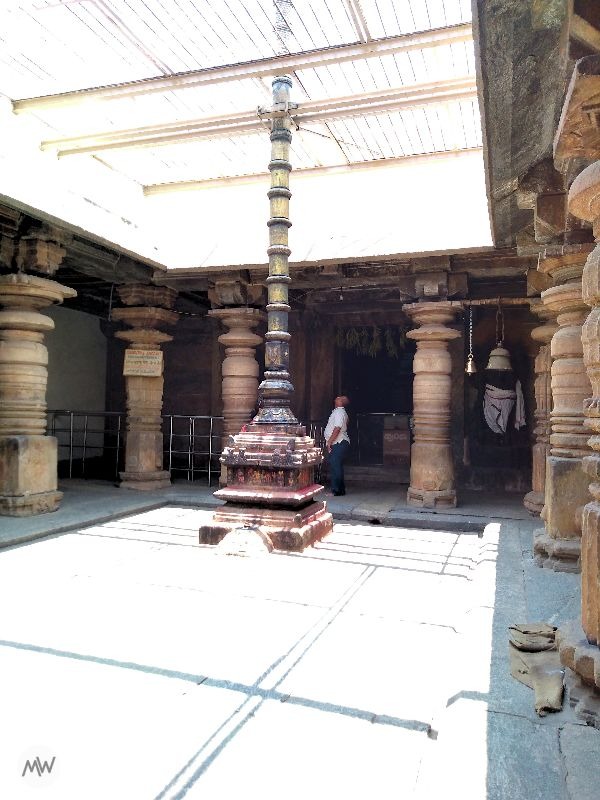 It is believed that the rulers of the Hoysala dynasty were great collectors of the art of carving and supported the craftsmen. There is a very grand sculpture on the inside walls which depicts Hindu mythological stories. Such an exquisite sculpture can surprise anyone.
Popular Legends of Ranganathaswamy Temple Srirangapatna
Many people take a holy dip in the Kaveri River to rid themselves of their sins. Even the Goddess Ganga used to come and get rid of the sins of the people which she absorbed (through river). Kaveri was surrounded by all these sins. The only refuge she had was Lord Vishnu. Kaveri performed austerities at Srirangapatna to please Lord Vishnu. The Lord was pleased with his penance and gave her three boons:
The Kaveri River will have greater purity than the Ganges River.
Srirangapatna will become a pilgrimage.
Lord Vishnu will appear here as Lord Ranganatha to bless the devotees and fulfill their wishes.
After being honored with these boons, Kaveri worshiped God. Prabhu then revealed himself as a very beautiful deity resting on the serpent Aditya. Hearing this, Lakshmi, who is the consort of Lord Vishnu, came with Kaveri to see God. She then bathes in the holy river, and after worshiping the Lord, reveals herself to the southeast of the Lord.
Major Festivals at Ranganathaswamy Temple Srirangapatna
The main festival of this temple is Kotarotsava, which is celebrated with great enthusiasm. In this, Lord Ranganath is adorned well. More and more people come from far and wide to witness this grand event.
Key Points to Keep in Mind
To reach here, you can take help of rail, road and air routes.
There are some small shops nearby where you can buy statues and a memento as a remembrance. Be careful not to negotiate.
Visitation time at the temple from 8 am to 1 pm and 4 pm to 8 pm.
There is a lack of places to eat and drink around, so take some food and water.
My Experience Visiting Ranganathaswamy Temple Srirangapatna
I do not know why I feel a wonderful peace and relaxation in the temple and in such quiet places. At every such place, I am forced to sit for some time and meditate. Something similar happened here too at the auspicious Ranganathaswamy Temple Srirangapatna. It was a really nice and memorable experience.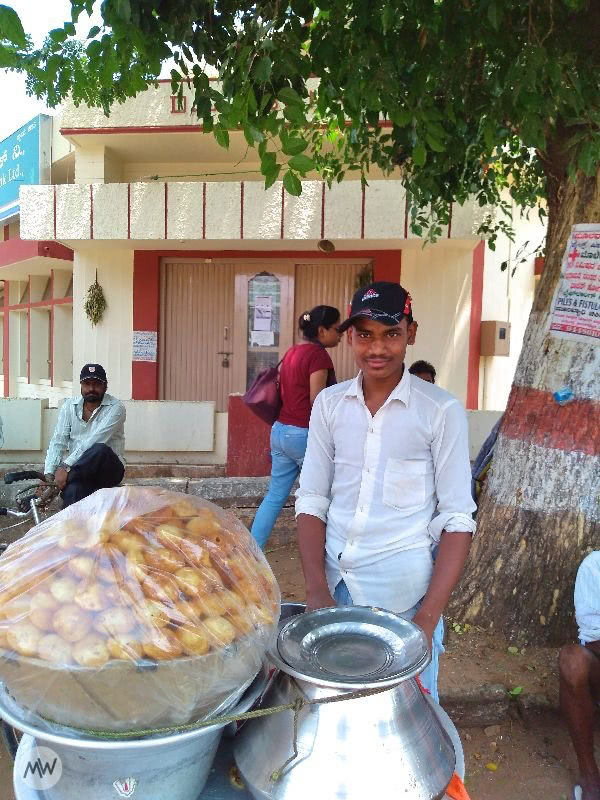 After darshan, when we were waiting for the bus, we saw a boy selling Pani Puri or Gol Gappa. When I talked to him, he told me his name was Rajkumar. On being asked, it was found that he was from Allahabad – ah, neighbor. I hugged him for no reason, he sent us off with a lovely smile.
Have you been to Ranganathaswamy Temple Srirangapatna? How was your experience? Tell us in the comments section.