The Residency in Lucknow was a residential complex during the Nawabi era of Lucknow. This colony was attacked in the mutiny of 1857 and suffered greatly. Today it lies in ruins but is a major tourist attraction and a rejoice for history lovers.
Many cities have played an important role in the Indian Independence struggle whose spark started in 1857. One of these cities is the present-day capital city of Uttar Pradesh, Lucknow, where ancient buildings still echo the noise of revolt.
Among these buildings, the Residency Lucknow or British Residency Lucknow is one that holds a special place. Most of the walls inside this residential complex still have signs of bullets and bombarding that happened during the revolt of 1857.
---
Table of Contents:
---
In Video
If you prefer watching video rather than reading, here's your chance:
When the epidemic was at its peak and travel had ceased to happen, a new buzzword "backyard travel" hit the highlights. The term was new, but our naive minds could not remain but touched by it. Backyard travel essentially meant to travel in and around one's own city. And there we went…to do so.
We had already visited the Residency many times, but this time our goal was different – it was for this blog as we wanted to show you these ASI protected ruins.
So grab a packet of popcorn, specs, settle in and read.
The Residency Lucknow's Historical Angle
These were the times when the Nawabs ruled Awadh and the British government was strengthening its hold in India. Nawab Asaf-ud-Daula ( reigned 26 January 1775 to 21 September 1797) shifted his capital from Faizabad to Lucknow, the British colony settled there also shifted along and Nawab Saheb gave his approval for the construction of British housing in Lucknow. That's how British Residency came into existence in Lucknow.
The Residency complex is spread over an area of 33 acres and it was the largest inhabited British colony in the Awadh region. It used to be the residence of the British commissioners (Resident ministers) and other royal British officials.
More than 50 years passed, Britishers were gaining their hold but Indians wanted their land free. The event, because of which this building became famous, was the attack on this building during the First War of Independence in 1857. This place got inked in the golden pages of history, forever.
Buildings of The Residency, Lucknow
The are many buildings inside the residency complex, most of them lie in ruins while some are in good condition to read the chapters of history on their walls. You can say that the Residency was a full-fledged smaller version of a city that had every facility of those times.
We explored most of the buildings and are going to tell you one by one.
Baillie Guard Gate
This gate still serves its purpose to this day. You'll have to pass through it to enter the complex. This grand entrance is named the Baillie Guard Gate, which was constructed by Nawab Saadat Ali Khan to give Captain John Baillie a special honor and salute who was a Resident minister during his reign.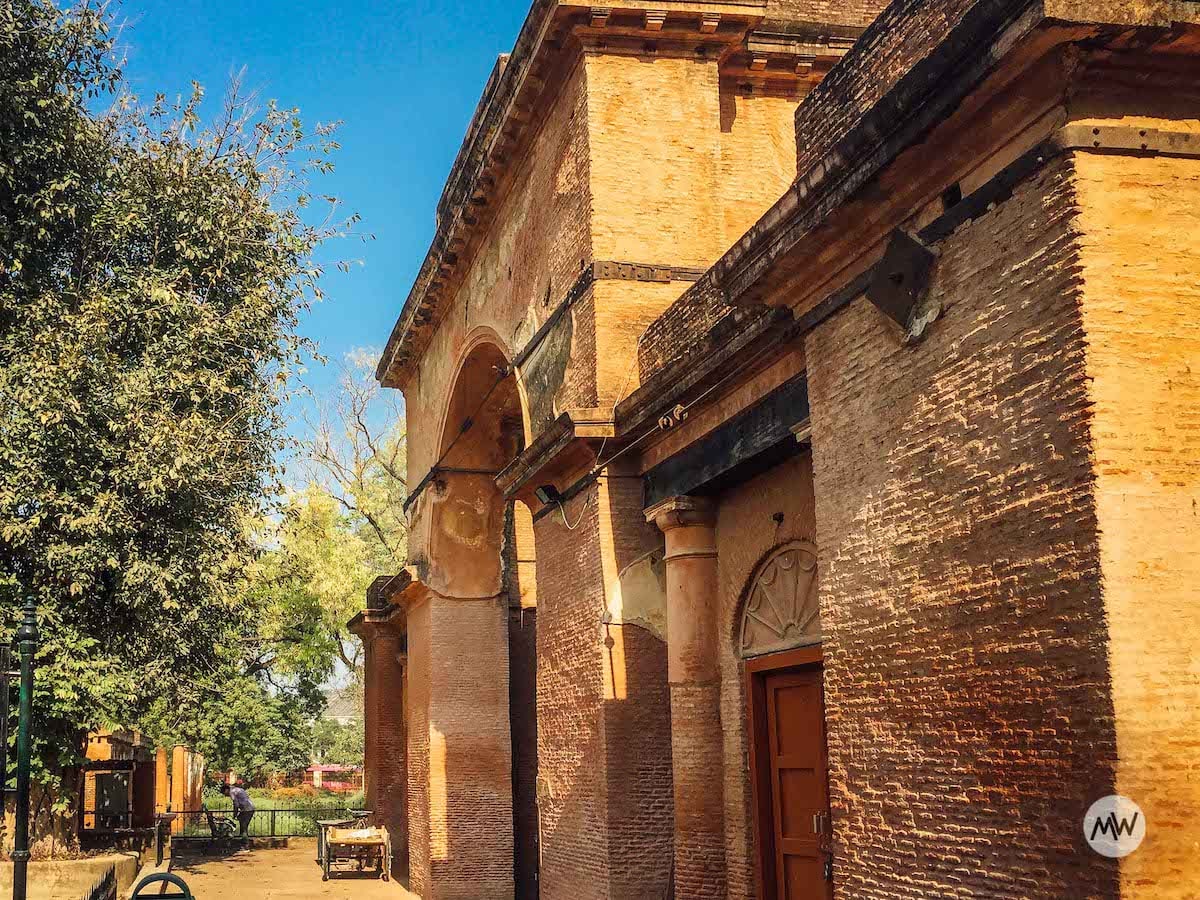 The watergate and Naubatkhana built along with this gate have now been destroyed completely but you can see them in form of few blocks.
Treasury House
As soon as you enter through Ballie Gate, you will first see the building on the right side, struck with marks of guns and cannons. Itkin's post (a pole) situated in front of it, will try its best to pull you. This double-storeyed building was completed in 1851 and used as a treasury house.
During the 1857 revolt, its central part was used as a factory for making Enfield cartridges. However, being the outermost building, it became the victim of the attack first and got damaged severely.
Bhojshala (Banquet Hall)
The building of Bhojshala or Banquet Hall mesmerized me the most. It was as if the walls are bleeding the stories and I could hear the voices of events that happened within the enclosure of these walls.
Despite being completely destroyed, its grandeur can still be felt. It was built by Nawab Saadat Ali Khan to welcome British expatriates and distinguished guests.
An ancient fountain with a floor of marble was installed and can be seen still in its perished form. Theaters are built on both sides of the fountain where, perhaps, various functions used to have happened.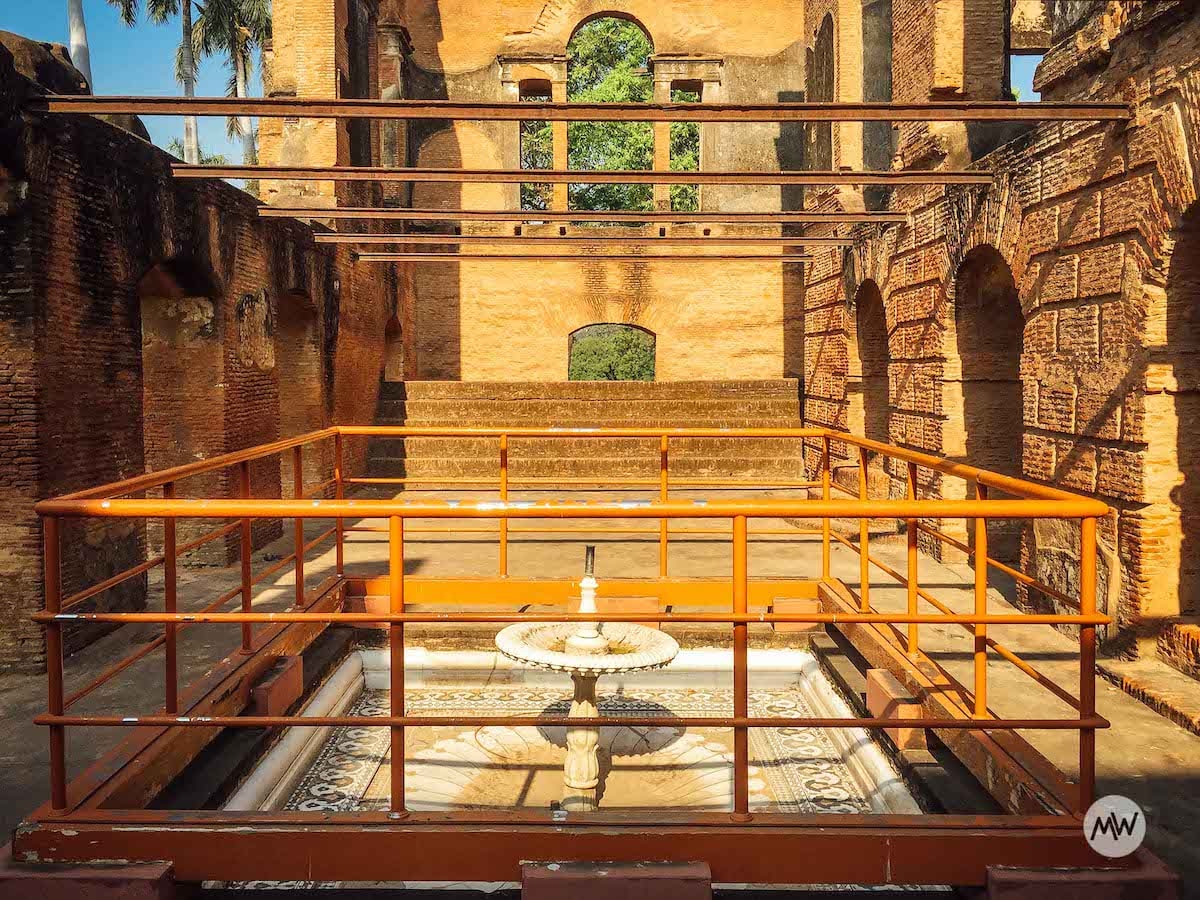 There are stairs on both sides which lead to the upper floor. Note that there's no ceiling in the present-day situation and guards won't let you climb these stairs, neither you should for some sensible reasons.
Feasts and entertainments were organized for the Nawabs as well as the royal people in Bhojshala. It was converted into a hospital during the revolt of 1857.
Doctor Fayrer's House
Coming out of Bhojshala, I saw a building on the opposite site situated at some height. This building was Dr. Fayrer's House and has a huge space around two sides. It is a single-story building with a cellar at the bottom.
I thought for a moment, "Such a luxurious building for a doctor?" We later discovered that Dr. Fayrer was the chief surgeon of the Residency. During the siege & attack of 1857, the injured were treated by Dr. Fayrer.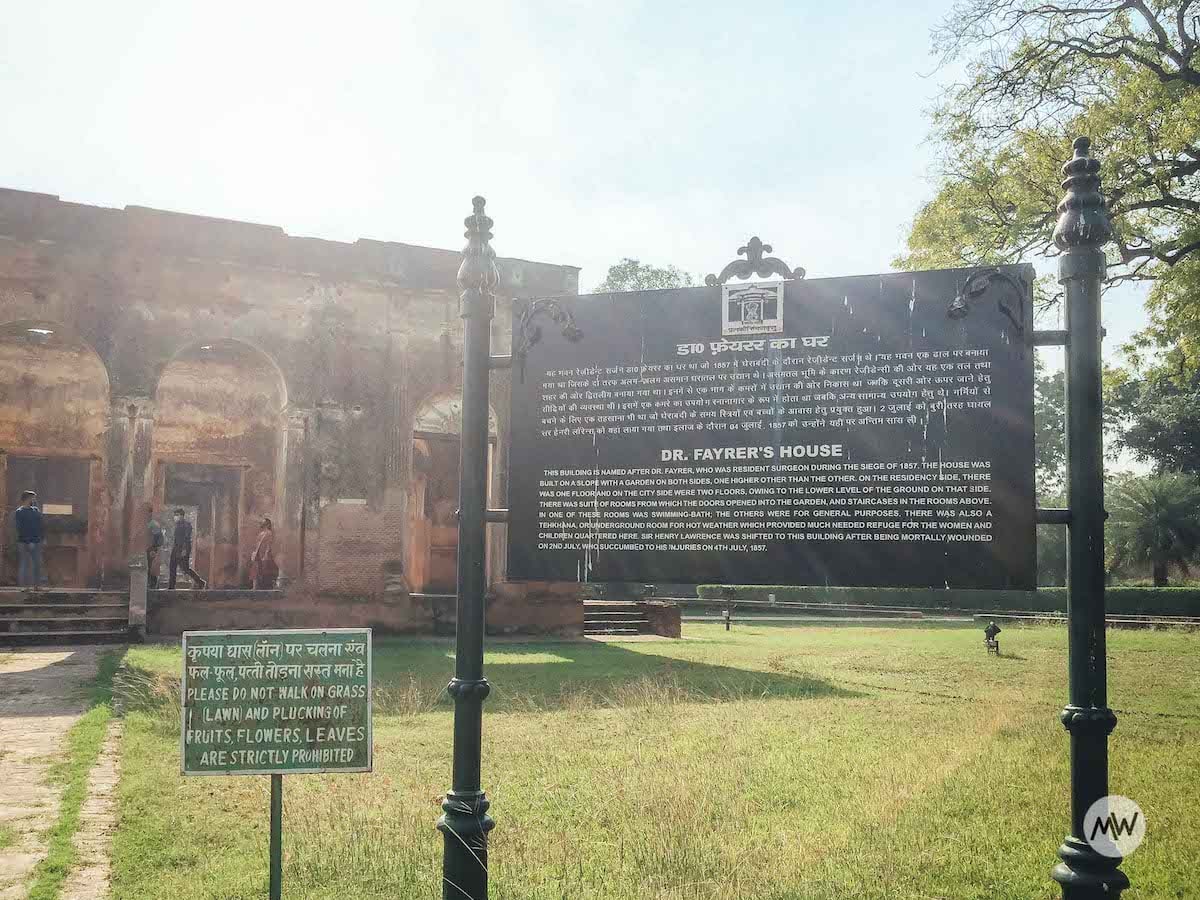 The basement portion of this building was converted into a residence inside which women and children were kept safe during the siege. At that time Dr. Fayrer treated hundreds of people alone. Sir Henry Lawrence died in the same building on 4 July.
1857 Memorial Museum
A few steps ahead, we found another building of great importance – a present-day museum that contains collectives from the 1857 mutiny. This includes inscriptions, old photographs, paintings, papers, guns, swords, cannons, and other items.
Apart from this, the map and model of the Residency, the actual letters, the painting of the Nawabs along some of the British officers are kept.
We even saw a shot-canon mark inside the building. Just imagine the impact, when it'd have penetrated the walls to reach inside the building.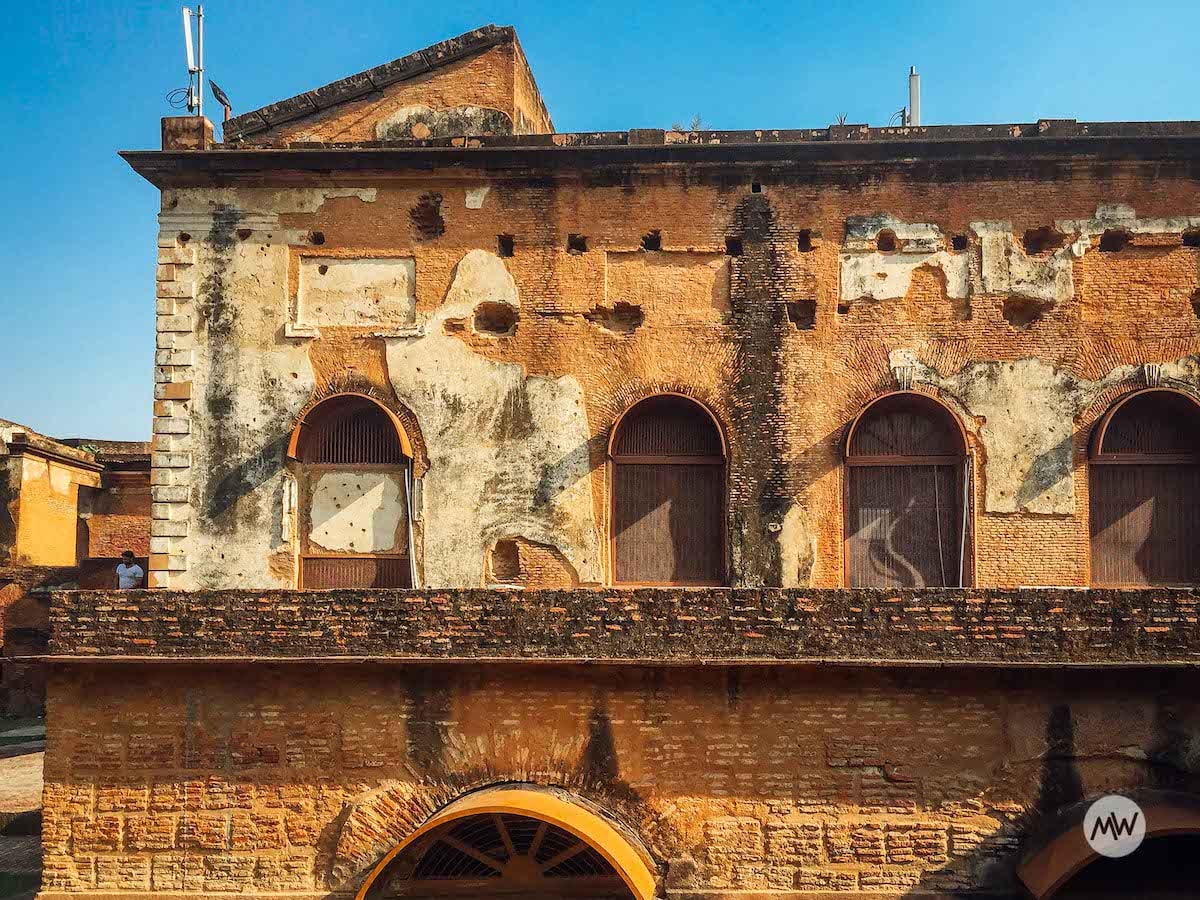 The museum is attached to the main building of The Residency Lucknow. This building served as the residence of Sir Henry Lawrence, who was then considered to be one of the most powerful figures.
Four large cannons are installed nearby – two in front and two in back. There is a clear inscription saying "1857 Memorial Museum" which will help you identify the museum building from the main building.
The Residency Lucknow – Main Building
The main building is a three-storeyed structure just behind the museum. It was built by Saadat Ali Khan and until 1857 it used to be the residence of the Chief Commissioner of Awadh (the Resident?).
It has a total of 2 rooms as well as a cellar, garden, and a verandah. The upper part of what once used to be a billiards room and library is today in a completely collapsed state.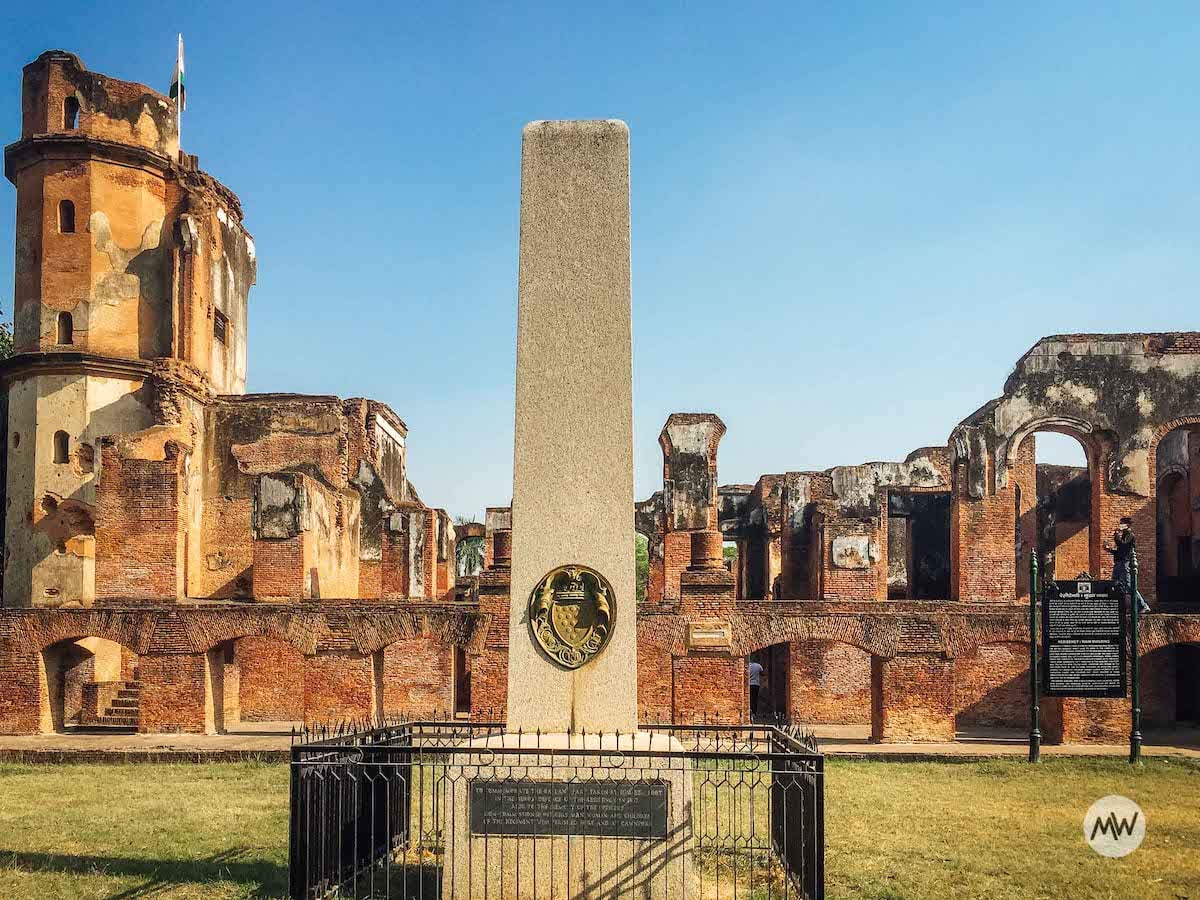 On the ground floor, there is a middle hall with three rooms. Traces of attack on its parts, still exist.
There's a cement pole erected in front of the main building to summon respect for the commemorates, the gallant, and the officers who sacrificed their lives protecting the Residency Lucknow.
As you move past the pole, you see something amazing at the top. Every Indian gets elevated with pride after seeing the tricolor Indian flag. When I saw it, I couldn't stop but hold my gaze.
A light and sound show used to take place on the left side of the main building, which has been closed for some time.
Church and Cemetery
Built-in 1810, this Gothic-styled church was used as a food-storage house for the grains during the siege. At present, only 2-3 feet of its remains can be seen. A large part of it is surrounded by Kabaristan or graveyard.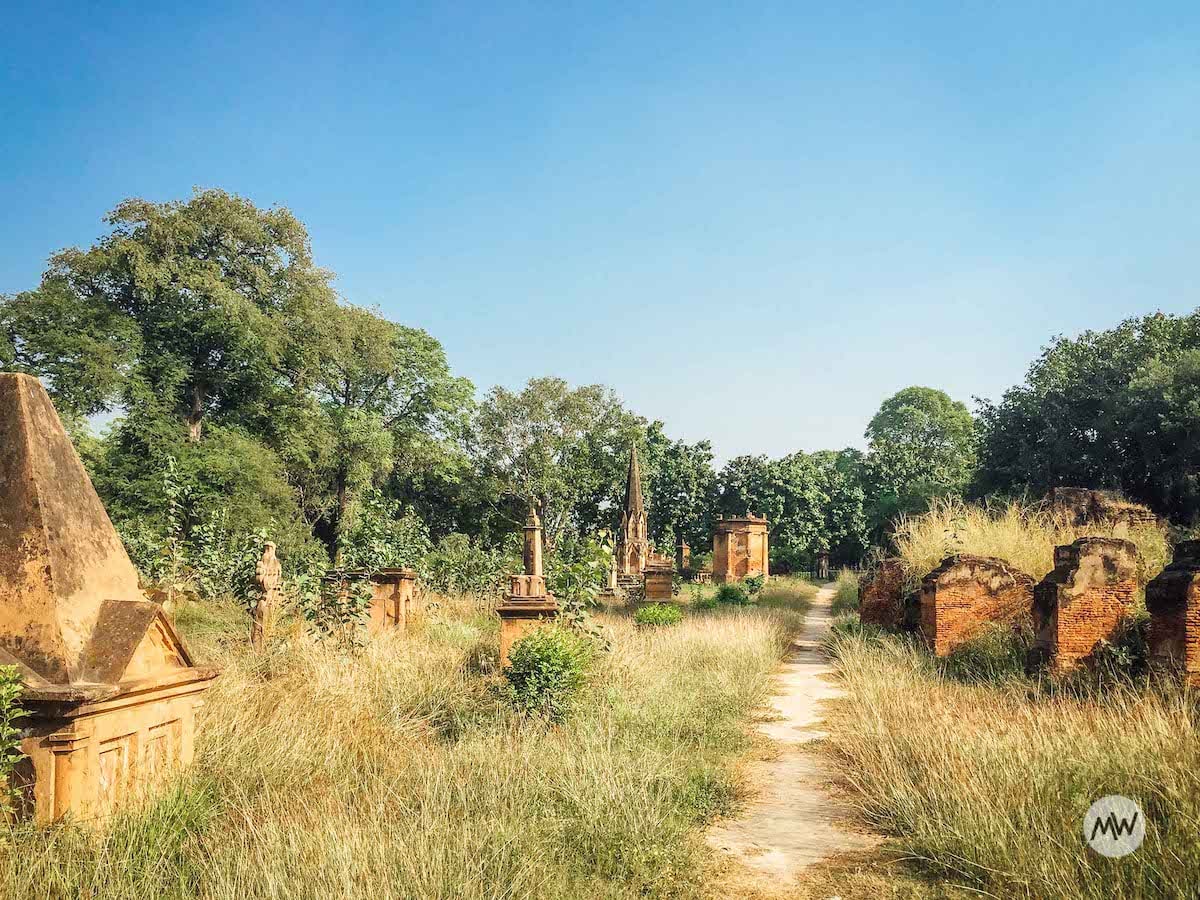 During the siege and attack, a large number of soldiers died in this area which was then converted into their tombs after reciting a short prayer. Even today, countless souls are sleeping on this land.
Apart from this, one thing which amused me is that there was a small piece of land surrounding a large banyan tree. At this very place, I came to know, around 200 British soldiers were buried together.
Think for a second – that's a huge number!
Begum Kothi
The credit for the construction of this building goes to Asaf-ud-Daulah who later sold the building to Sequille Marks Taylor, who again sold it to George Prendergast in 1802.
Prendergast established and traded via a European goods shop here. After some time he too sold the place to John Kailludan. He was also a big businessman.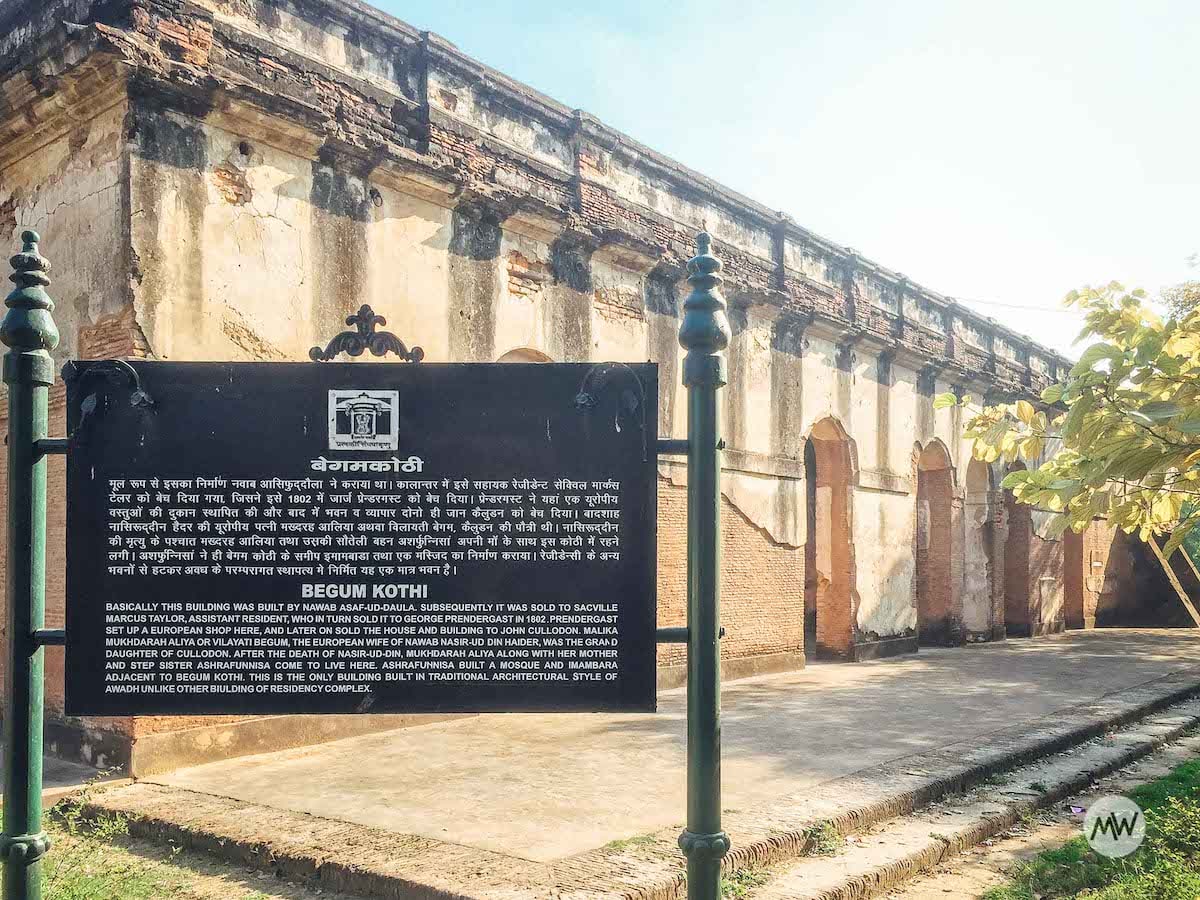 John Kailudan's granddaughter was Mallika Mukhadra Aaliya and was also known as Vilayati Begum. She was married to Naseeruddin Haider and when Naseeruddin Haider died, Mallika Mukhadra Aaliya resided here with her mother and Ashrafunissa, her half-sister.
Mosque and Imambara
At first glance, this building made me think that what was the meaning of a mosque and Imambara in a residency complex where all the buildings were for the English people?
I came to know that when Vilayati Begum died, her half-sister Ashrafunissa built an Imambara and mosque just next to Begum Kothi (perhaps in her memory?).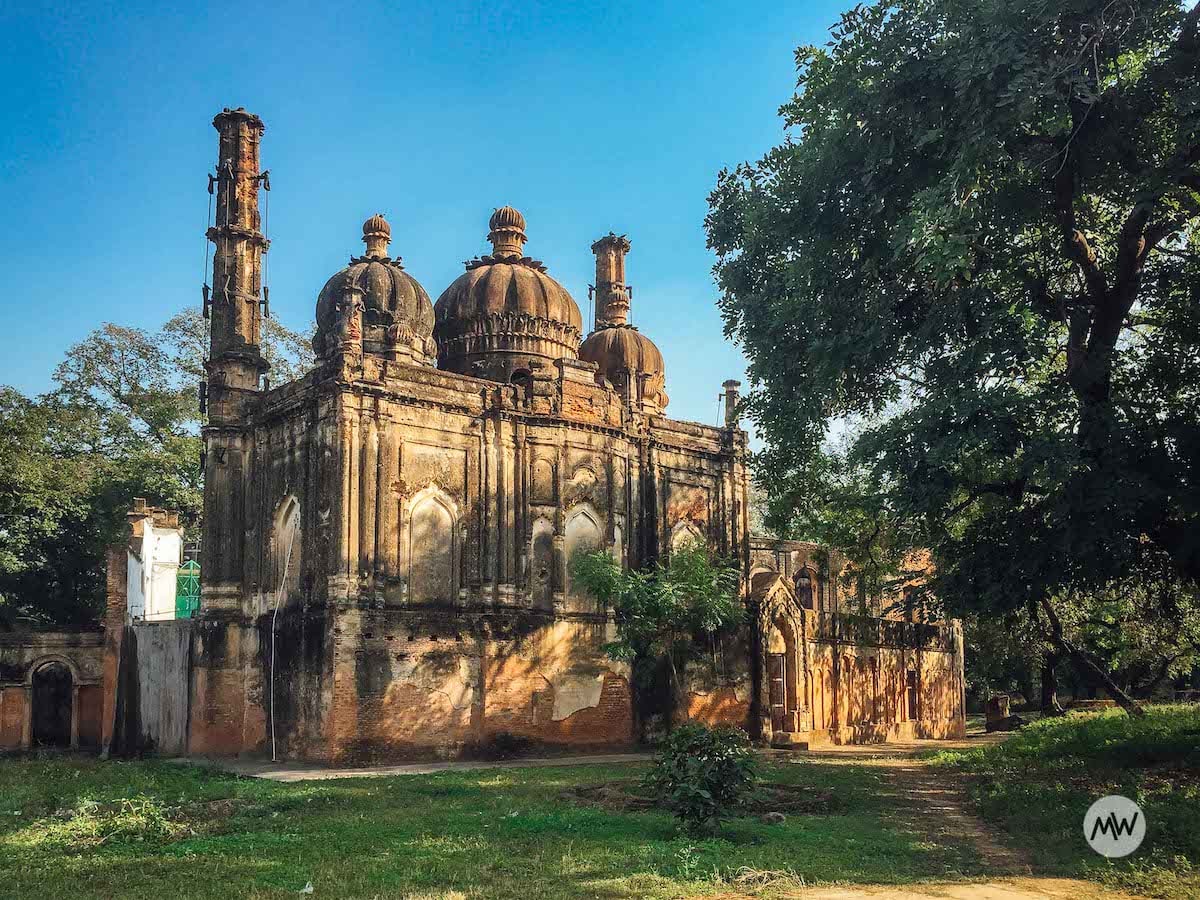 The mosque is the only building in the Residency Lucknow complex whose ceilings are still intact. The Imambara is completely destroyed, but the mosque is still in a living state. The damaged part of the mosque has been kept uptight with iron support.
Severely Destroyed Buildings of The Residency Lucknow
There are several buildings inside the Residency Lucknow complex which are destroyed up to a point where recognition couldn't be done without a deep understanding of history and architecture.
I didn't see any proper marking, information boards, or any such things around these completely destroyed buildings. Perhaps these aren't the most important buildings of The Residency Lucknow but still, they are part of the same history.
Brigade Mess
After visiting the mosque, I noticed some collapsed structures next to it, which increased my eagerness to explore this place. There was a facility of indoor games for food and entertainment for all the soldiers. This building was also targeted and destroyed during the revolution. Now it is just a structure of some bricks.
Sogo's House
Sogo was a school teacher and this place used to be her residence. She was a highly educated woman whose responsibility was to educate all children. Her house also did not survive the attack and was destroyed in an attack on 10th August.
Anderson Post
It was a two-storeyed building situated at a height. A contingent of Captain Anderson's 25th Battalion was guarding the place. On 20 July, freedom fighters attacked the building continuously day and night from a distance of about 70-80 yards, and finally, on 10th August it was also lost to English soldiers.
Omne House
At that time, he was the Judicial Commissioner and was a person of good reach. He was being kept safe during the attack but the building was taken over by the soldiers on July 5th after a cannonball struck hard. Later Brigadier General Inglis made this place his headquarters.
Post Office
This was an important building and also the headquarters of the engineers. At the time of the rebellion, the site was manned by the 32nd Battalion led by Captain Mac Cabe. This place was also used as a workshop during the protection of The Residency Lucknow.
Judicial Post
This two-storeyed building was located in the middle of the post office and Anderson Post. The place was led by Captain German. In a suicide attack by freedom fighters, this place was destroyed and its existence also disappeared completely.
Apart from this, some other demolished buildings that you can try to identify in the Residency Lucknow were Duprat House, Barrack, Gubbin Post, Slaughterhouse, Jail, etc. Remember these buildings are completely destroyed and you can only find the remains on the ground.
The Residency Lucknow Ticket Prices
This information is of November 2020.
Indian Tourist – ₹25 (₹ 20 if you pay online).
Foreign tourists – ₹300
Note that a tripod, monopod, or any type of camera and its accessories isn't allowed. However, mobile photography is allowed. Special permission is required to carry the camera.
The Residency Lucknow Timings
10 am to 5 pm. (Closed every Monday).
Note: When we went in the last week of November 2020, we had to book a ticket by paying through Paytm after scanning a barcode and filling in some general information to get the ticket, then the confirmation was entered by showing it at the counter. This has been done in view of COVID-19.
How to Reach The Residency Lucknow?
By Rail
The main stations of Lucknow are Charbagh, Badshahnagar, and Gomti Nagar. All the stations are connected to all parts of the country. You can reach here easily from any corner of the country. From the station you can book cabs (Ola, Uber, Rapido) as well as local tuk-tuk auto. Metro is available but doesn't fall in the route.
By Air
Chaudhary Charan Singh International Airport (Amausi Airport) is the only airport in Lucknow, which is connected to all parts of the country. From the airport, you can reach here easily with the help of a metro train, bus, auto, taxi, etc.
By Road
The distance of Lucknow is 500 km from the country's capital Delhi. The city is well connected to other cities by a national highway. It can be reached from any corner of the city with the help of interstate buses.
Travel Tips for The Residency Lucknow
The entire Residency campus is spread over 33 acres, so take small breaks in between.
Take a bottle of water and some light food items. Make sure you don't throw litter around.
Some parts of the buildings are in very shabby condition, so do not walk over them.
You will have to do a lot of walking, so carry a cap and umbrella if you're visiting in summer. However, the best time to visit Lucknow is winters.
If you are more interested in stories running around, take the guide along.
Suggested Read: Top 15 Places to Visit in Lucknow
---
Last Words
The siege of the Residency was the result of the beginning of the Indian freedom struggle. Since the complex was a colony inhabited by many British officers, the fighters first targeted it.
After exploring the Residency, I thought of that time and contemplated everything – how it would've happened at that time, the noises, the creeks, the voices, the blood.
This place symbolizes different emotions. For me, it is a symbol of astonishment, sorrow, honor, and pride. Its journey revived memories of the revolution of 1857 and strengthened it by diving into an ocean of thought.
We spent a total of 4 hours here. It was a short trip to an important historical building.
I hope that you liked this article on The Residency Lucknow. If you want any other information or have any suggestions for us, please take some moment to write your views in the comment box below.
An appeal: Please do not throw garbage around. Use a dustbin and if you can't find a dustbin, take the trash with you and throw it when you find one. Your small steps like this one can make the world clean and green.