The other day, me and my friend were talking. "Chal sangam me paap dhul ke aate hai", he said. And I was like "Tu hi mera Kumbh Mele me khoya hua bhai hai LOL." He meant let's get a dip in the confluence of holy rivers i.e., at Sangam in Kumbh Mela and eradicate our bad deeds. While I burst out of laughter thinking that our bad deeds have reached the maximum and so it's necessary for us to get rid of it. And follow the path of good (perhaps).
This talk leads us in planning for the Kumbh Mela 2019 which is at Prayagraj (formerly Allahabad) this year.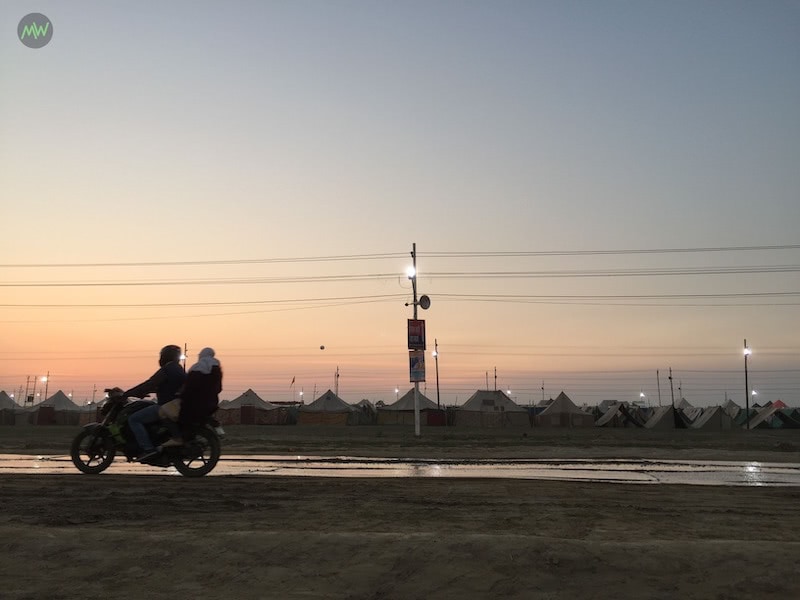 What is Kumbh Mela?
Kumbh Mela or fair is a holy and spiritual fest ever recorded in human history that is so big that an entire city (Kumbh Nagri) is just made for it. It is the largest spiritual human gathering on Earth. It happens in one of the oldest city of India, Prayagraj which is around 180 km from Lucknow.
Kumbh fest occurs every 12 years which circles between 4 cities namely Haridwar, Prayagraj, Ujjain, and Nasik at every 3 years. The ardh (semi or half) Kumbh mela occurs at every 6 years between Haridwar and Prayagraj. So, like Kumbh Mela 2019 is an ardh one, therefore next ardh Kumbh mela will occur in 2025 at Haridwar and after it next one in 2031 at Prayagraj.
When to visit Kumbh mela?
While you can visit anytime in the duration of Kumbh, the 'shahi snan' or holy-dip days are most important in regards to spiritual reasons.
Listed below are the 'shahi snan' dates for Kumbh 2019:
| | |
| --- | --- |
| Makar Sankranti | 13th January |
| Paush Purnima | 21st January |
| Mauni Amavasya | 4th February |
| Basant Panchami | 10th February |
| Magh Purnima | 19th February |
| Maha Shivratri | 4th March |
Please note that these days are most crowded ones where 'naga sadhus', saints and normal people come out in huge gathering to take the holy dip in the confluence. If you have a crowd phobia, plan your visit between two shahi snan dates. I planned my visit this way too.
Why Kumbh occurs?
Kumbh literally means pot or Ghada in Hindi. It dates back to the era of Gods and demons when churning of sea done. In the process of churning, there comes a pot full of 'amrit' or nectar of immortality. It is said that, according to Hinduism, while protecting the 'amrit' from demons the drops fell on the 4 places of Earth, about which we talked above. This made the rivers in these places, a holy river and taking a dip in it supposedly eradicate evils or bad deeds. The fest occurs on particular dates according to the Hindu calendar, celebrating the spiritualism and immortality of itself.
Undoubtedly Kumbh is really a magnificent fest and its true essence can only be felt by experiencing it.
Colors of Kumbh:
The colors of Kumbh will leave you awe-struck once you land here. People from all over the world, saints, sages, Akharas, and several other spiritual organizations come here. It's not only about the gathering but more about a connection every human feels once he or she is here. It is about the thread of belief and faith that connects humanity.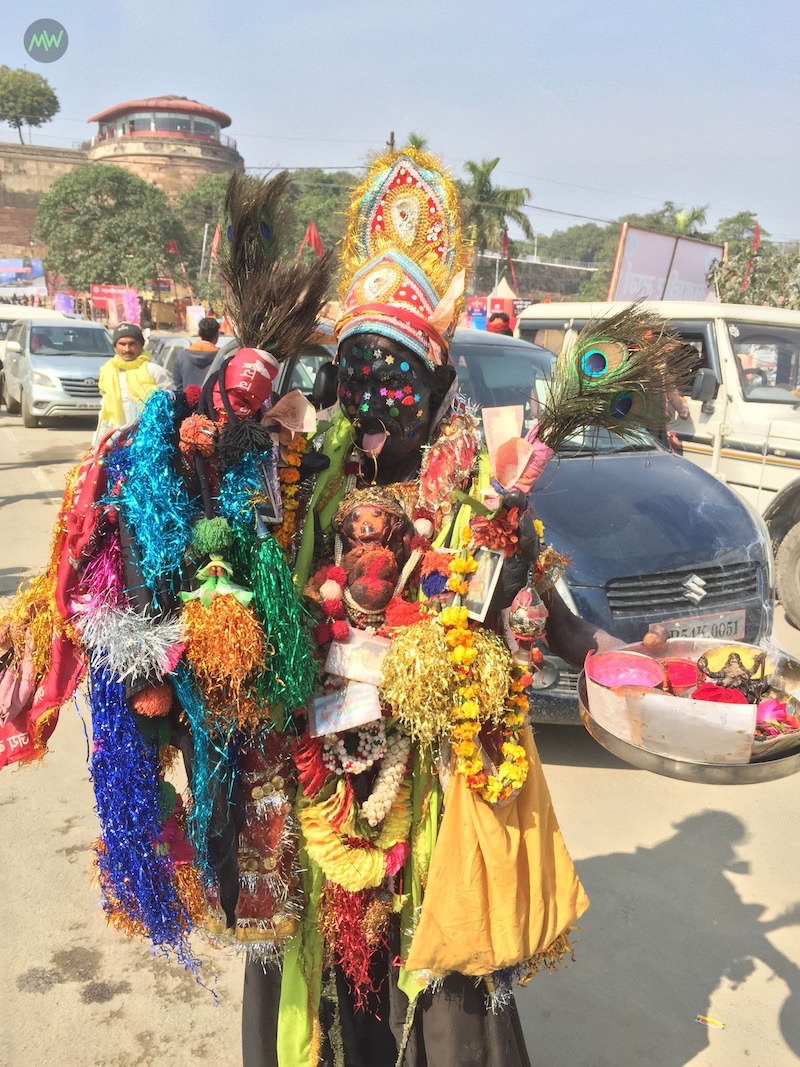 The Kumbh 'nagri' is blessed with its own police force, hospitals, sanitation, shops, land, roads, accommodation etc., every time the fest comes alive.
Staying at Kumbh:
The accommodation option at Kumbh varies according to the type of traveler. There are options from free to as high as 13k INR for travelers and camps available for saints, 'sadhus' and 'kalpvasis'.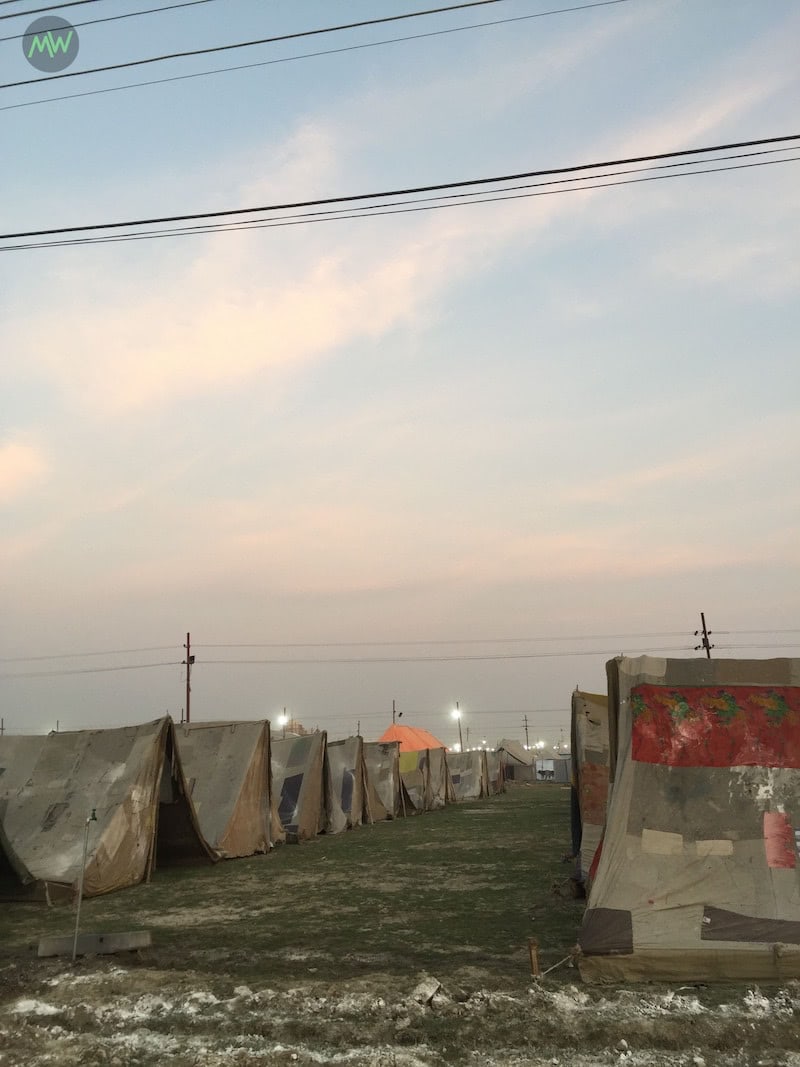 We saw accommodation for 100 INR per bed per night. The beds were provided with bedding and laid in a big hall of 300 or more beds.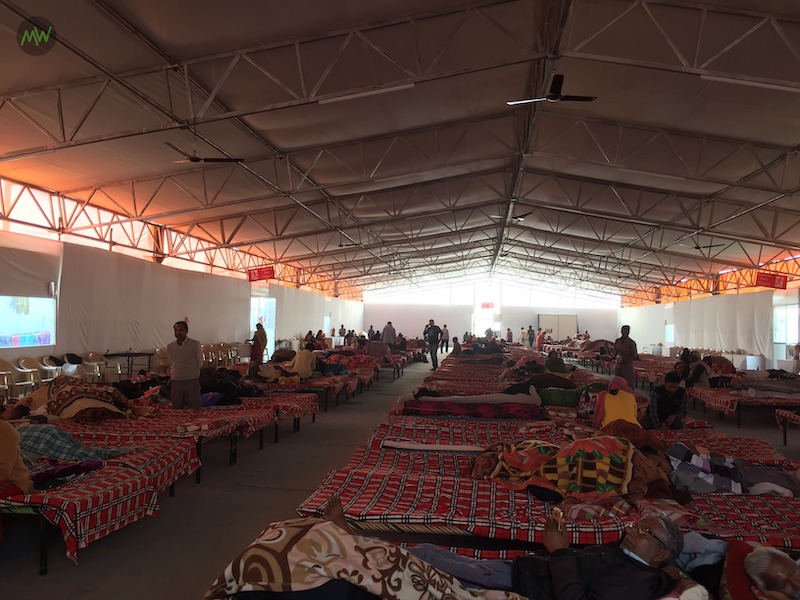 For millennial travelers, there's a tent city in Kumbh nagri where you can find dorms and private rooms as well. The city hotels are also an option but during the occurrence of Kumbh their prices crashes into space out of the sky.
Food in Kumbh Mela:
Literally speaking, you won't starve even if you've no money in your pocket at Kumbh Mela. There are 'bhandaras' organized by several spiritual organizations at different sectors of Kumbh where you can eat absolutely for free.
On the other side, there are small cafes, pushcarts, hawkers and few small restaurant options. The heaven made combination 'chai' (tea) and 'samosa' are 24×7 available in Kumbh. Pushcarts selling local foods such as 'bhelpuri', dried grains – lentils, cereals, peas etc., can be seen almost everywhere in the Kumbh nagri.
Transport options in Kumbh:
There are e-rickshaws available at every nook and you can use your own vehicle to roam in most parts of the Mela. But to feel and observe the intangible vibes of this marvelous fest, walking is the best option.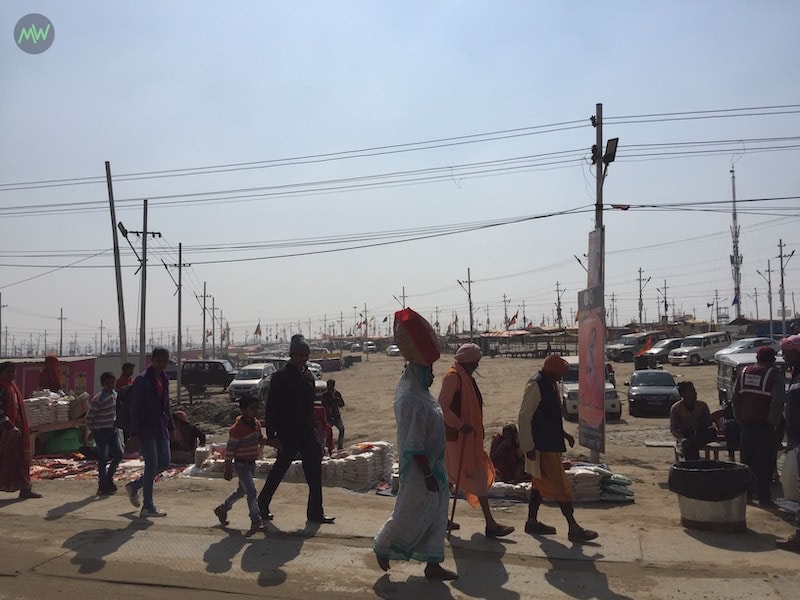 Wait..wait..wait but Kumbh nagri is overspread in about 50+ km area and the walking whole is merely an easy task, especially if you're not used to. So you can use a combination of both i.e., walking + e-rickshaws to save time and feel what you need to feel. Smart isn't it?
I spent about 2 days here, but still, I feel I only covered a section of it. Such is the massiveness of this place is.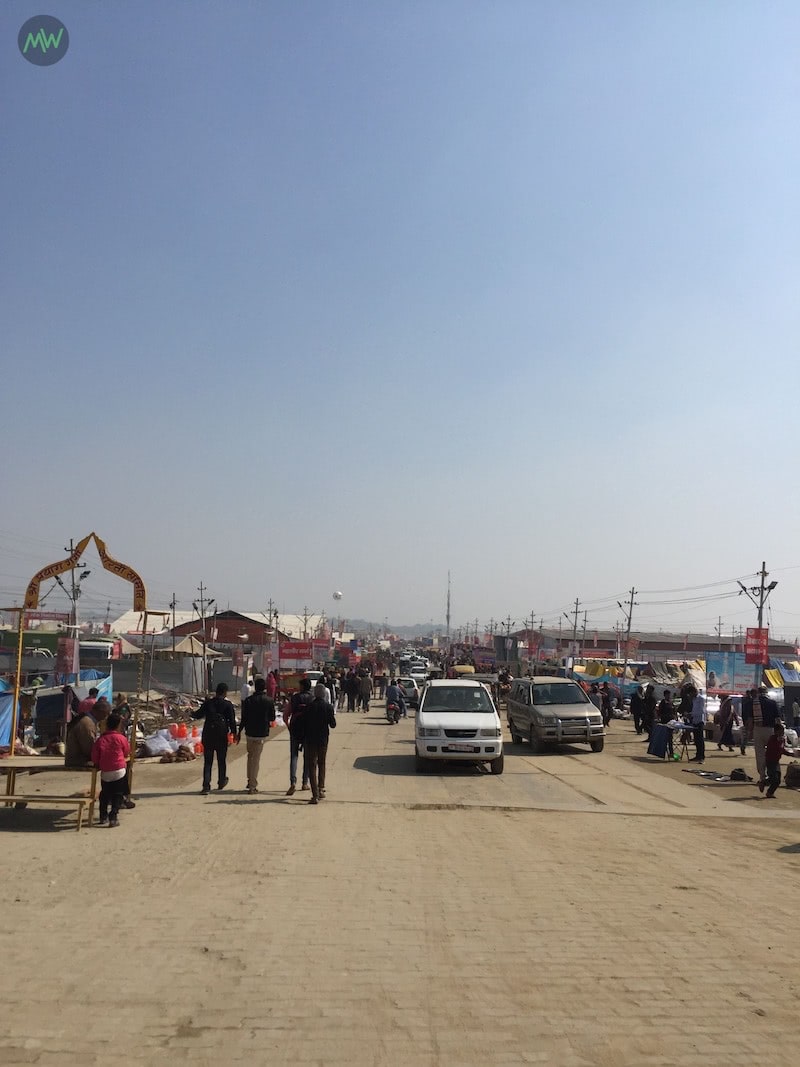 Warning: Google Maps doesn't work well here as it's a temporary city and made only for Kumbh. Therefore, you should give an eye to the signboards and ask the police force or local people or carry a map (available at the Information center in Kumbh Mela and online) if you get lost.
Things to do in Kumbh:
There is a number of things you can do in Kumbh and it can absolutely still feel less. As if there's always a more, an eternity attached in the air Kumbh.
I'll list down some important things to do in Kumbh: (I'm feeling less as I can't weave words till the eternity)
Taking Holy Dip in Triveni Sangam (confluence) [link IndiTales pic here]
Interacting with Naga Sadhus and saints
Evening Arti at Triveni Sangam
Visiting Akharas and attend sermons from different leaders
Wandering in the vast land of Kumbh
Road exhibitions from different spiritualists
Now what?
It is obvious to understand by now that what an impeccable experience Kumbh could be. Almost every person related to Hinduism has experienced this fabulous occurrence at least once in life.
Feeling heavenly and connected are normal feelings here.
---
Don't hesitate to ask if you've any concerns. We're good people 🙂