This article shares every detail about Bada Imambara (labyrinth) and Shahi Baoli and Asifi Masjid in Lucknow – when to visit, what to do, things to keep in mind, and some bizarre facts.
The traveler may be of any class, but when it comes to excursions to Lucknow, the Bada Imambara comes at the top. And it should be so, with its fantastic architecture and mysterious artwork, this building attracts Indians and foreign tourists in huge numbers.
Being a local, I have had the privilege of visiting this magnificent architecture many times, but I never saw the mystery and heritage it held until recently.
---
---
Travel Guide cum Virtual Tour of Bada Imambara
Entry Gates and The Naubat Khana
On the right side of the first entrance to the Bada Imambara, you see a building built in Mughal and Rajput architecture. This building is known as the Naubatkhana.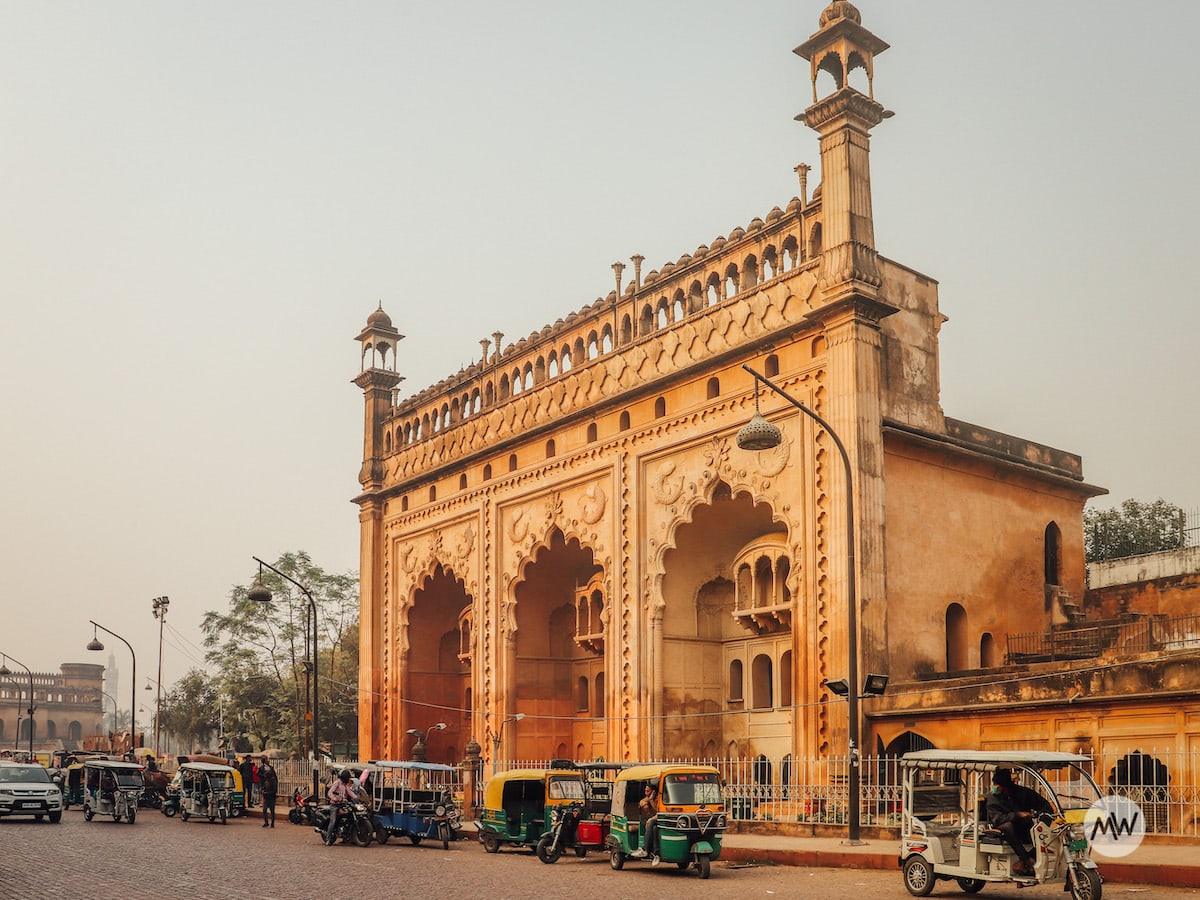 Inside this huge building, there used to be drummers who played when the Nawab Saheb or any special guest enters the Bada Imambara.
There are three entrances to Bada Imambara, but only one is currently functional.
The chhatris on the four corners of the upper part of the entry gate and the small domes arranged in an orderly manner make for a stunning presentation. There are also four small windows made in Rajasthani style, giving you a charming look.
As you step in from the first gate, you see another grand entrance – beautiful enough to leave you in amazement. While you admire the beauty, ask your pal to get tickets here so you can sweep in quickly.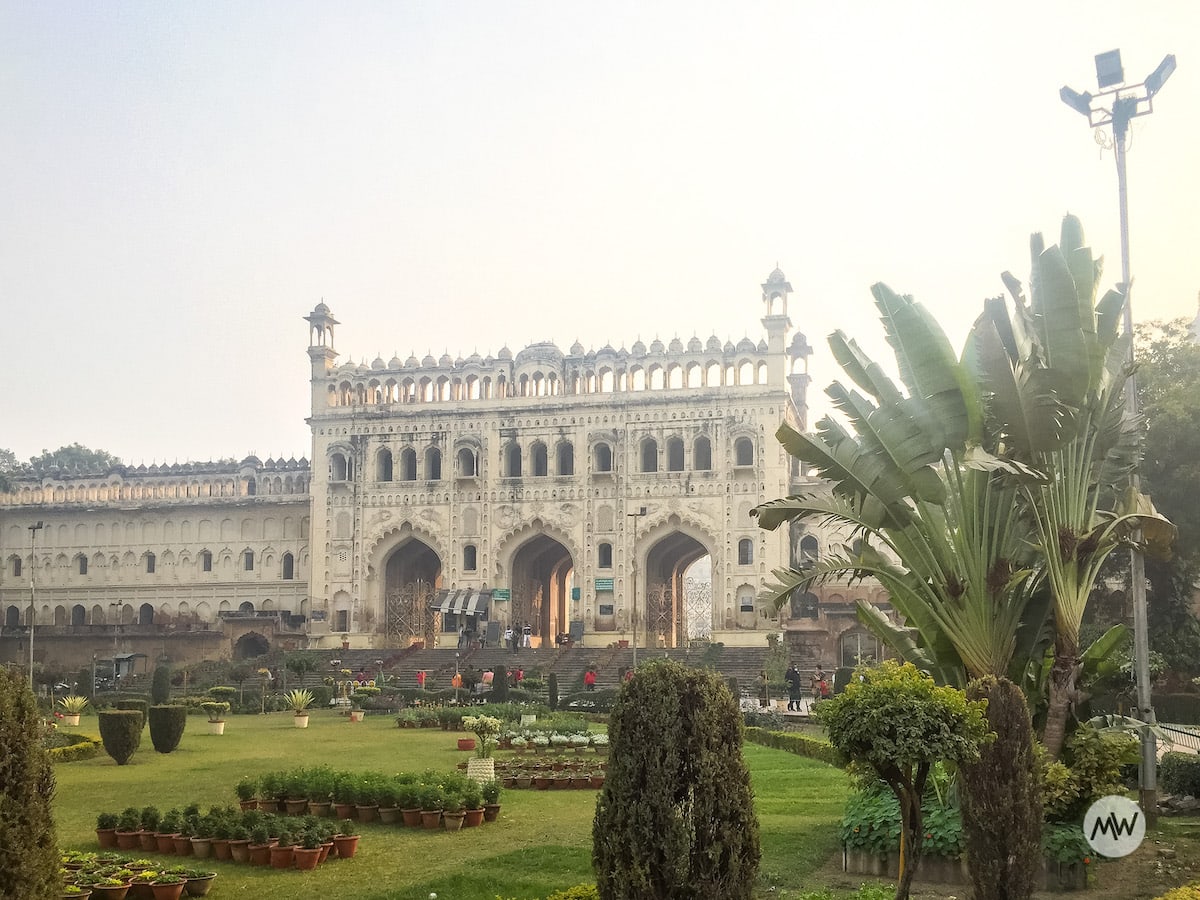 Notice two big fishes etched on the walls of the entry gates. Do you recognize them? Comment if you have seen them somewhere? (Hint: It's related to Uttar Pradesh).
If you are visiting for the first time, you can take an official tour guide, but we'd rather say be an explorer, follow our guide, and you're good to go!
Let's go inside.
Asifi Mosque
As you enter through the second entry gate, you'll see many things – the main building of Bada Imambara and Bhul Bhulaiyya in the straight, the Asifi Mosque on the right, and Shahi Baoli on the left.
Interestingly, Asifi Mosque has received the title of the fifth largest mosque in the world. People offer Namaz every Friday, and for this reason, the Imambara is closed every Friday till noon.
You can get an idea of ​​its grandeur from this pic:
Three Storeyed Building of Bada Imambara & Bhul Bhulaiyya
The entire building, which houses Bada Imambara and Bhul Bhulaiyya, is a three-storeyed complex. Nawab Asaf-Ud-Daula used Bada Imambara as his court.
You have to climb a few steps to enter the complex.
In one of my visits, I heard a guide telling me that the steps you climb from here to enter the Imambara and the mosque are 19 in total, probably the entry of a good place in the Muslim community, beginning of some good work. It is called Bismillah.
Anyways, before entering Bada Imambara – a holy place, take off your shoes and submit on the desk situated in the right direction.
As you enter Bada Imambara, situated on the ground floor, you may experience some force here from tour guides. These guides take you with groups of 6-10 people and might kill the kind of freedom you seek at places like this.
So if you got sharp eyes and ears, remain with us (this time, pun intended).
As soon as you enter, on the left, you see a high throne of Nawab Asaf-Ud-Daula. There are three halls inside the Imambara, in which there is the main hall and two other halls on either side of it.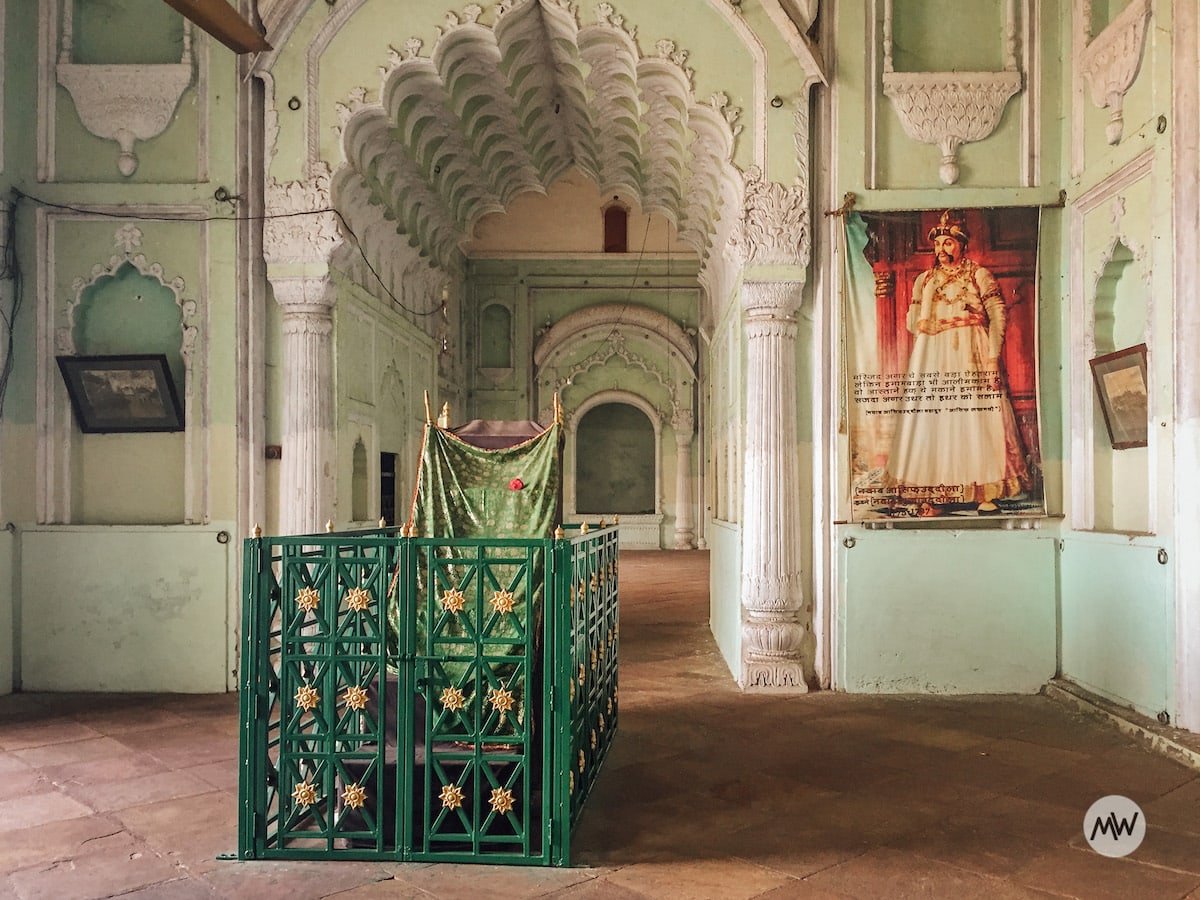 The main hall is called Parsi Hall, the hall on the left is called the Chinese Hall. And the hall on the right is called Kharbooja Hall, named so because its ceiling represents a Kharbooja (Hindi word for melon). Legend has it that at the time of construction, an old lady used to sell melons at this exact place, so on her request, Nawab Asaf-Ud-Daula decided to build the ceiling shaped like a melon.
You can see some tazias in the Chinese hall but not in the Kharbooja Hall.
The Parsi Hall has the looks of a tea tray and is 50 meters long and 14 meters wide. The ceiling of this hall is constructed without any beam and stands still without any pillars to this date. Materials used in making these walls included pulses, limestones, and Lakhori bricks.
All three halls are in a mix of light green and white – gives a heavy feeling of peace and relief. You also see some glass lamps hanging from the ceiling and the protruding jharokhas in Rajput architecture enhancing the beauty. There are two tombs in the center of the Parsi Hall, which belong to Kifayatullah, the complex architect, and the Nawab Asaf-Ud-Daula.
As you stroll inside the Bada Imambara, you see artifacts, tazias, paintings, mirrors, models of religious places, and some other keepsakes.
Bhul Bhulaiyya of Lucknow
The upper two floors of the building complex have a world of amazement popularly known as Bhul Bhulaiyya or Bhool Bhoolaiyya. It's a labyrinth or maze built in the era of Nawabs with thousands of ways to go in but only a few to come back.
The labyrinth is a part and extension of the Bada Imambara. If you are going to the Bhul Bhulaiyya for the first time and want to hear associated legends, you should take a guide with you.
The most thrilling fact about Bhul Bhulaiyya is that it makes you forget your way out once you get in. There are narrow paths, identical doors, and spaces that feel like a prison.
When you reach the terrace of Bhul Bhulaiyya and Bada Imambara complex, fighting all the odds, you'll see mesmerizing views of Lucknow city.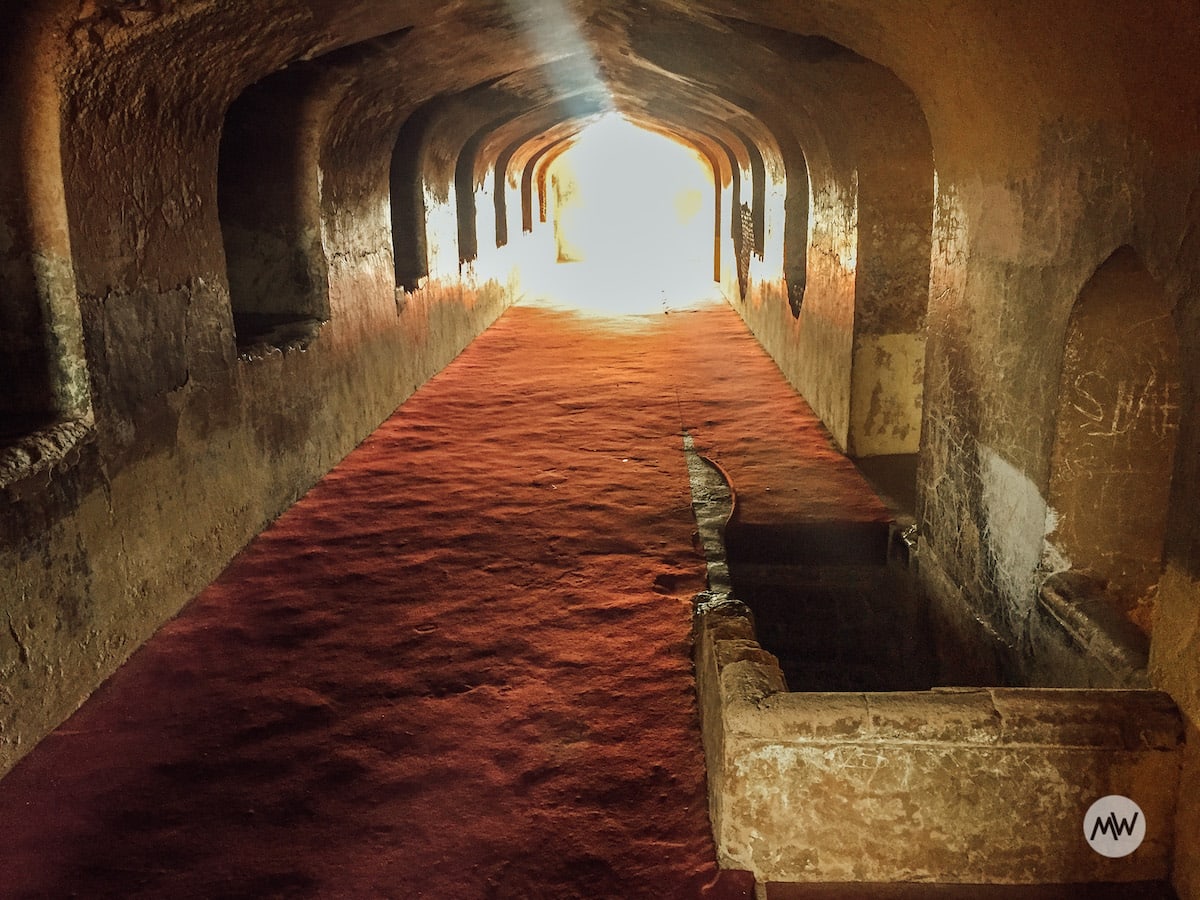 The front-facing windows allow you to overlook both the entrance and the Rumi Gate, the Gomti River, and the Clock Tower.
Legends of Bhul Bhulaiyya
One story that I recall is related to a proverb: "walls have ears too."
Perhaps this is the place where it'd have been born as it fits right in this context. How? It's because some walls of Bhul Bhulaiyya are mysteriously hollow, and hence you can hear voices from meters long distance away if you stick your ears to the walls.
Bhul Bhulaiyya is also said to have several tunnels and claims that they lead to the Red Fort in Delhi, the Taj Mahal in Agra and Faizabad, and other parts of Uttar Pradesh.
In another story, some people say that Nawabs had hidden their treasures in these tunnels. Following the lead, the British government often tried to go inside these tunnels but failed every time. Soldiers who went into these tunnels never returned. After these horrific events, tunnels were closed as per the orders of the government.
I even overheard a tour guide told that there used to be a swamp in those tunnels with crocodiles living in it, devouring those who passed by.
Whether these stories are true or false, we don't know. But the thrill that comes in listening to them, and their feeling, is different.
Shahi Baoli
Shahi Baoli was the first structure to be constructed in the entire Bada Imambara complex. Since it connects to the Gomti river nearby, the intention was to get the water supplies needed for the construction work. At those times, whenever the river's water level rises, its effect was seen in the Baoli too. Now, this stepwell has completely dried up.
Baolis are stepwell whose primary function is to store water.
The Shahi Baoli's architecture is so clever that it gave leverage to the soldiers sitting inside on a watch. They could easily watch who is entering the complex, but the person couldn't even get a hint of them. Perhaps this would have proved helpful for the Nawab's security.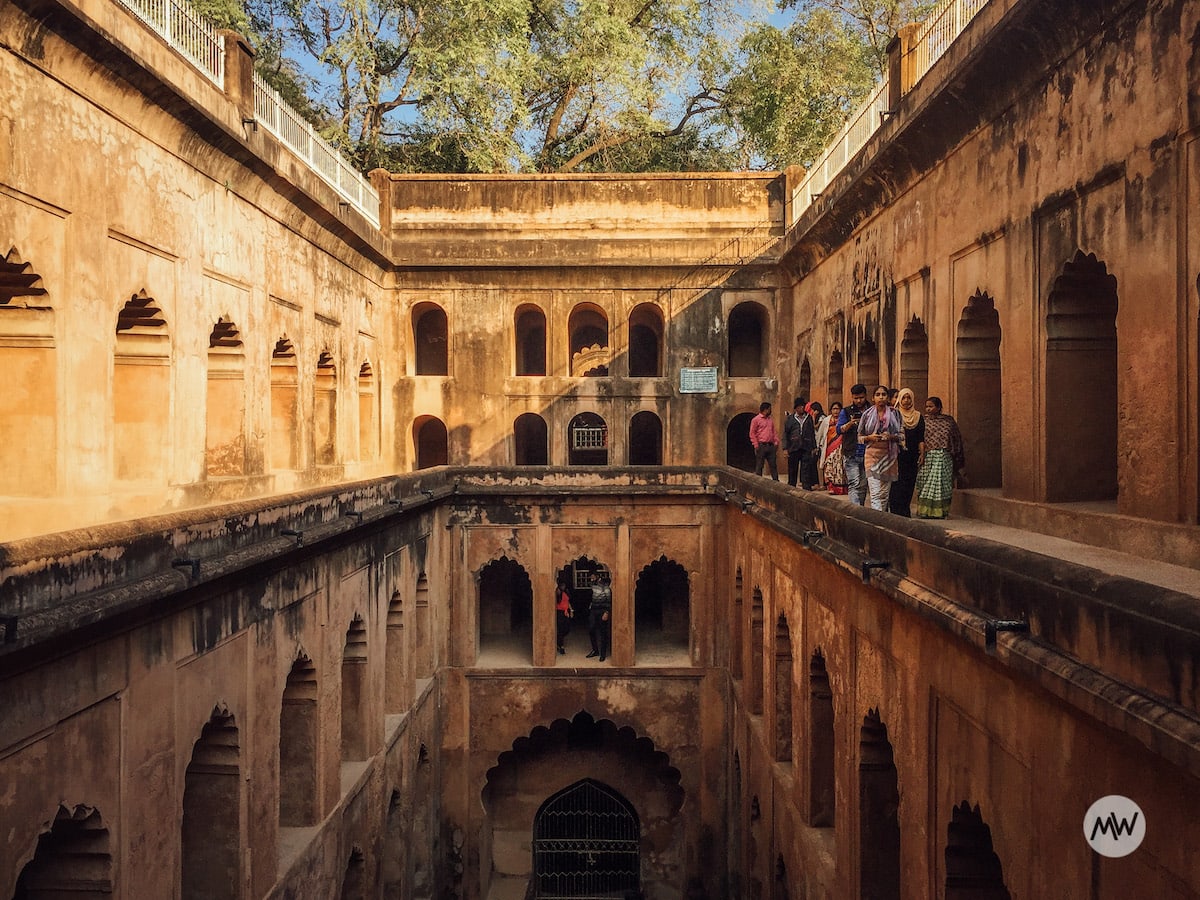 Inside the Baoli, you'll see the stepwell and some rooms and halls built at that time to protect the people from the scorching heat. The temperature inside was lower than the temperature outside.
There's a window which the tour guide refers to as a CCTV camera. From here, you can see clear and colorful pictures of people reflected on the water of the stepwell. I am yet to understand the science behind this; care to explain (if you know)?
Imambara Meaning – What is it?
Imambara means a holy place or building built as a memorial to Hazrat Ali (son-in-law of Hazrat Muhammad) and his sons, Hasan and Hussein. Imambaras hold congregations and other religious ceremonies for Shia Muslims.
'Imam' refers to the religious leader of the Muslims. The Imam has to guide the Muslim masses, lead the congregational prayer in the mosque, read the khutba, solve the problems, explain religious principles in simple language, give orders, etc.
Hazrat Ali, one of the most honorable Imams and his two sons, followed Muhammad of the Shia sect of Islam. They were sacrificed while fighting for their birthright from the opposition party.
In his sacred memory, Shia people organize grieving in Muharram month of each year. They worship their horse 'Duldul,' a particular horse, and remember those leaders. Further, they take out a procession by making tazias (similar to crowns) as their symbol. These crowns are either buried in Karbala or kept in Imambaras – like Bada Imambara in Lucknow.
Read More: Shahnajaf Imambara in Lucknow
Why Was Bada Imambara Complex Built?
Around the year 1784, the Awadh region faced a deadly and long famine. People were dying because of starvation, lack of money, work, and resources.
Asaf-Ud-Daula, the Nawab of that time, felt this deeply. He was hurt seeing the terrible condition of his empire and finally decided to start construction work to provide jobs to people and help them afford meals two times. The noble construction turned out to be Bada Imambara which you see today.
About 20,000 people got employment from the construction of Bada Immanada. People became happy and popularized a slogan: Jisko Na De Maula, Usko De Asaf-Ud-Daula – meaning whoever isn't blessed by God is blessed by Asaf-Ud-Daulah.
From an architect's perspective, Bada Imambara became a mixture of Rajput and Mughal architecture and built Lakhori bricks. These bricks were famous in the Nawabi era and are used to construct most of the heritage buildings of Lucknow.
Bada Imambara Ticket Prices and Timings
| | |
| --- | --- |
| Indian Tourists | INR 40 |
| Indian Tourists (combined ticket) | INR 60 |
| Foreign Tourists (combined ticket) | INR 500 |
| Tour Guide | INR 100 |
| Opening Hours | Sunrise to sunset (~ 6 AM TO ~ 5 PM) |
| Opening Days | Bada Imambara opens all days of the week except Mondays and opens post afternoon on Fridays. |
Note: Ticket prices and timings are subject to change as per administration decisions. Stay flexible, and you got this!
Essential Things to Note Before You Visit Bada Imambara
Parking is available at the first entry gate, just alongside the road.
As soon as you enter through the first entrance, there is a counter on the right side to keep bags and other items safe.
Photography is allowed, and you can obtain permission for the same by paying an additional fee.
If you are interested in visiting the nearby Chhote Imambara and Picture Gallery, you can take a combined ticket from here, valid at both places.
You have to deposit your shoes at Imambara premises by paying some standard charges.
It is advisable (not strictly necessary) to take a tour guide with you if it's your first time. You can see the tour guide's rate list near the ticket counter.
There are restrooms, cafes, and drinking water available inside the premises.
You will have to walk a lot so wear comfortable clothes. Carry a hat with you in summer.
There are also some shops to buy souvenirs after the first entrance gate.
Some Commonly Asked Questions
Why was the Bada Imambara built?
Nawab Asaf-Ud-Daula. Due to the famine in 1784 in the Awadh region, starvation started increasing in the state. Nawab saheb started building the Imambara complex to provide employment and financial aid to the people.
Where is the Bhul Bhulaiyya located?
The world-famous Bhul Bhulaiyya is in Lucknow, the capital of Uttar Pradesh.
What is Imambara?
Imambaras are the buildings where Majlis and other religious ceremonies of Shia Muslims occur. An Imambara is separate from the mosque.
Why was the Bhul Bhulaiyya built?
The Bhul Bhulaiyya is a part of the Bada Imambara complex built by Nawab Asaf-Ud-Daula to help people from the famine in Awadh province.
Who was the king of Imambara?
The Imambara was built for the people of the Muslim community, but Asaf-Ud-Daula used to hold his court here as well. At this time, he used to do the same thing here.
---
Ending Thoughts
There are many Imambaras in Lucknow other than the Bada Imambara – Chhota Imambara, Shahnajaf Imambara, Sibtainabad Imambara, Kala Imambara, etc., to name a few. Still, only the name of Bada Imambara is on people's tongues because it houses Bhul Bhulaiyya.
So, when you come to Lucknow, you shouldn't miss exploring Bada Imambara and the labyrinth. It'd hardly take 2-3 hours for you to cover the whole premises.
Nonetheless, we hope you liked this travel guide to Bada Imambara. If you got any queries or comments, please let us know via the comment box below.
---
An appeal: Please do not throw litter around. Use a dustbin and if you can't find one, take the trash with you and throw it when you find one. Your small steps like this one can make the world clean and green.