Baijnath Temple in Uttarakhand is a temple complex of more than 18 temples, dating back to the 9th-10th century. This experiential guide will talk about everything to know before you plan your visit.
---
Temples are the heart of India — you will find one in every corner of this country. You feel some heavenly vibes when you're in a temple complex.
And today, in this article, we'll take you to one of the oldest temples of India — Baijnath Temple Uttarakhand. We'll tell you how you can reach here, the fascinating history, and what you can expect upon arrival.
The state of Uttarakhand is known as Dev Bhoomi, and it is indeed. Baijnath Temple is between the beautiful Himalayas in the Bageshwar district of Uttarakhand.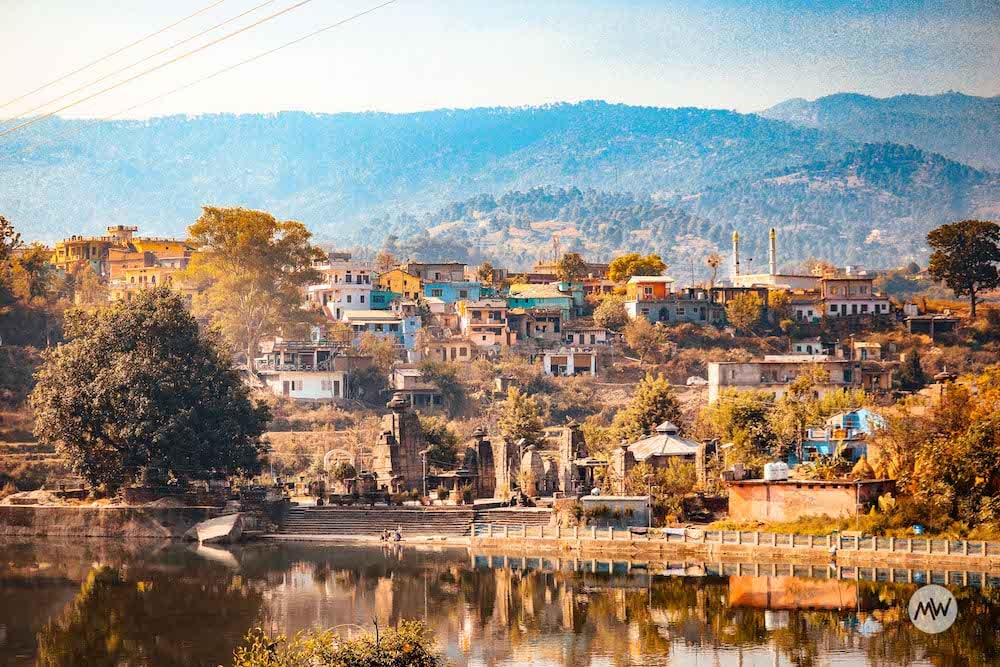 ---
---
Notice: This post may contain a few links which might earn us financial support when you buy or make any reservations through them. They're in no way affect our opinion or the information presented here
Video Journey
Here's it for those who prefer this blog post in video format. Note that the language of the video is Hindi with English subtitles.
Baijnath Temple: Historical Journey
In ancient times this place was known as Kartikeyapur. Its importance expanded when the Katyuri kings shifted their capital from Joshimath to Karthikeypur. Then many Shiva devotees also migrated with the subjects, and the Katyuri kings built the Baijnath temple complex to make their demands and worship. However, the credit for constructing all the temples built in the Himalayan region goes to the Katyuri kings only.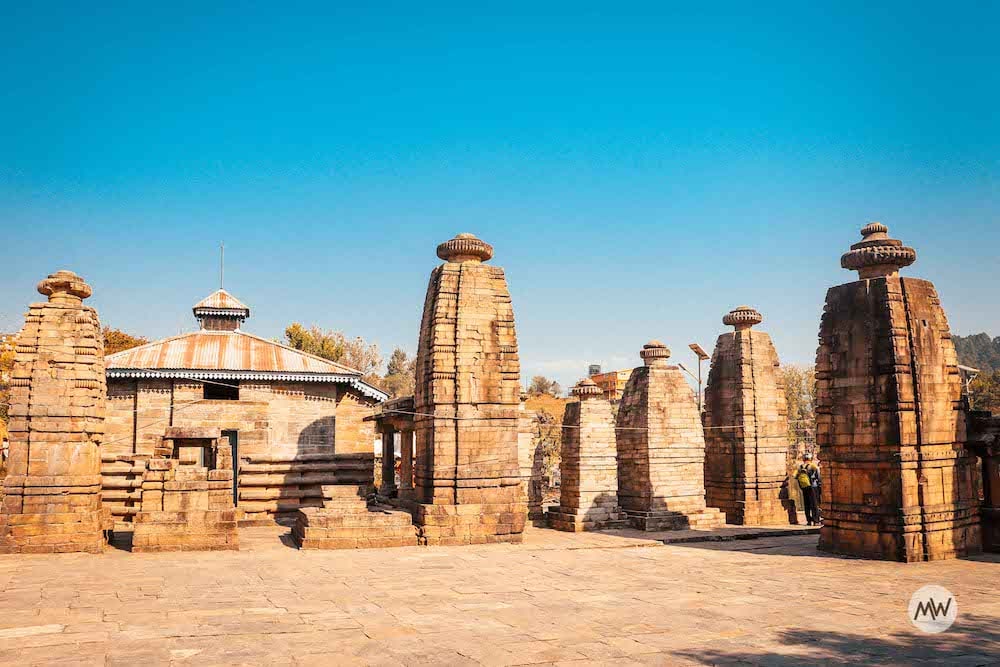 Another critical point is that historians believe that Katyuri rulers (Katyuri Dynasty ruled the area from 7th-13th century AD) were descendants of Suryavanshi rulers of Ayodhya. Sometimes this area was also known as the Katyur Valley.
According to the researchers, it was built in 1150 AD. However, no concrete evidence has been found to prove this. The inscription of the temple also mentions its construction from the 9th-10th century. The Archaeological Department of India has preserved it.
Structure of the Present-Day Temple Complex
This temple built in the Nagara style gives a glimpse of Dravidian architecture. The Baijnath temple complex comprises 18 large and small temples surrounded by mountains from all sides and offers an enchanting view to tourists.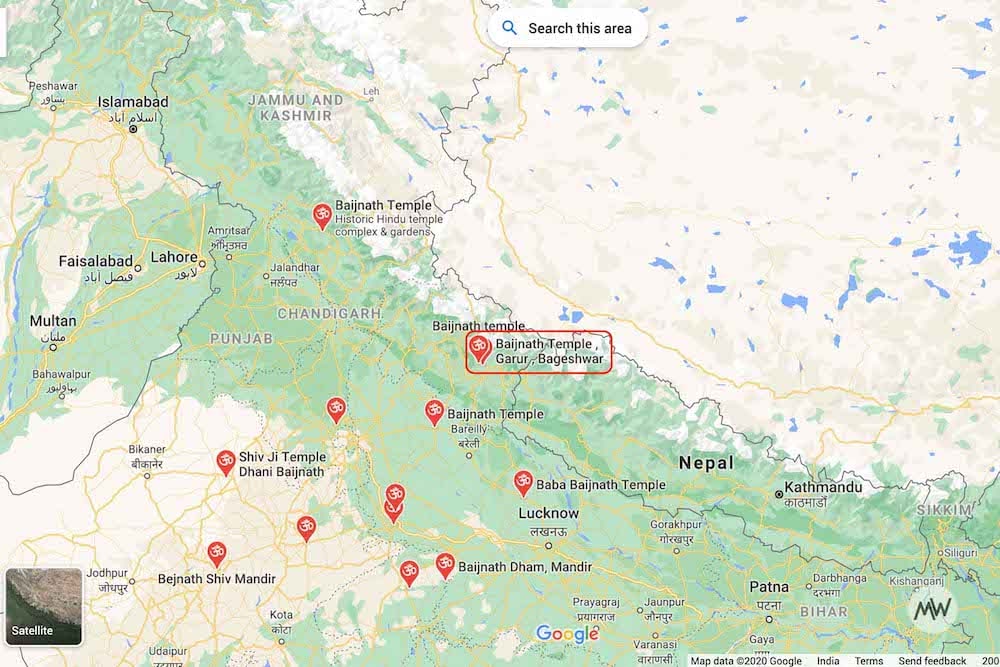 To reach the temple, one has to use a sloping path that will end at the river Gomati. In front of the complex is a pond called "Golden Mahaseer," part of the Gomati River (not the same as the Gomti river flowing through Lucknow). The golden-colored fishes swimming in it are the center of attraction.
On entering, two stone inscriptions appear, which reveal the general information related to the temple. Apart from Shiva temple, other temples include Kedareshwar, Lakshmi Narayana, Brahmani temple, etc. Statues of Surya, Brahma, Shiva, Ganesha, Parvati, Chandika, and Kubera Devas are adorned in the complex. Out of all the temples, only two temples are currently functioning. Among them is the temple of Lord Shiva and Goddess Parvati Ji.
The main deity in the Baijnath Temple is a form of Lord Shiva, "Lord of Vaidya." An ancient Shivling is installed inside this temple, which is worshiped daily.
We saw some movement near the Parvati Devi temple near it. Curiously, when we reached there, we noticed that some local people were performing puja (worshipping), and the priest was chanting mantras. The entire complex was filled with such chants. On seeing this temple, I remembered the Hidimba Devi temple located in Manali as both of them have a similar building.
After asking the old lady standing at the gate, we went inside for Darshan and offered prasad. Inside, there is a statue of Goddess Parvati made of cystine stone adorned with 26 other miniature sculptures.
Popular Legends and Stories
According to Hindu mythological beliefs, Lord Shiva and Parvati were married at the Garuda Ganges and the Gomati River confluence.
Some Mahapanditas also say that Ravana stayed at this place for a few days. Another belief is that it was built by a Brahmin woman and dedicated to Lord Shiva.
Located just 2 km from here is the Kot Bhramari Temple, where it is said that Adi Guru Shankaracharya stayed here during his Badrinath visit.
Major Festivals and Darshan Time
Our hotel was 200 meters in front of the temple complex, and the evening I arrived, I heard the sound of the bells of the temple clearly, which urged me to see it from my balcony, but the view looked a bit bleak. We decided to visit the Baijnath temple first thing in the morning.
The Baijnath temple is open from sunrise to sunset. You can visit Darshan anytime and visit the temple complex.
The right time to visit is throughout the year, but avoid going in the rainy season because the chances of landslides increase in this season.
Aarti Time
The aarti time of Baijnath Temple Uttarakhand is 7 AM and 8 PM.
Shivaratri and Nagpanchami are the major festivals celebrated here. On this occasion, a large crowd mobs, and a fair is also organized.
Where to Stay?
By the way, if you want, you can come here for a day's visit from Kausani or Bageshwar. We stayed here for three days. If you plan to stay for more than a day to explore more, stay at Hotel Baijnath for a comfortable stay.
You can also go to the government guest house (Kumaon Mandal Vikas Nigam).
How to Reach Baijnath Temple?
The harder it looks to get here, the more it is not. We did not have any problem in reaching. The place is 300 km from Dehradun, 17 km from Kausani, 132 km from Nainital, 151 km from Haldwani, and 70 km from Almora. You can reach this temple in the following ways:
By Air
Pantnagar Airport is the nearest airport located to Baijnath Temple at a distance of 185 km. You can use a bus or taxi from there.
By Rail
The nearest railway station is Kathgodam, located at 150 km. Buses and taxis are available from there.
Note: You can also get a bus directly from the Haldwani bus stand, which is more feasible as it is situated at a 5-minutes walk from Haldwani station (Haldwani lies one station before Kathgodam). If you can't get a direct bus, first take a bus to Almora and then take a bus or taxi to Baijnath from there.
By Road
Buses ply at regular intervals from Almora, Nainital, Haldwani, and Kathgodam. You can also take a taxi from these places.
Commonly Asked Questions About Baijnath Temple, Uttarakhand
How to reach Baijnath Temple in Uttarakhand?
The Baijnath Temple in Uttarakhand is 151 km from Kathgodam, the nearest railway station. The easiest way to reach from there is via bus or taxi. The nearest airport is Pantnagar Airport.
How old is the Baijnath temple in Uttarakhand?
The Archaeological Department of India has claimed its construction as sometimes ranging from the 9-10th century.
What are the legends or stories associated with the Baijnath temple in Uttarakhand?
It is said that Lord Shiva and Parvati Ji were married at the confluence of Garuda Ganga and Gomati river, which fall in this region. Another legend is that Adi Guru Shankaracharya stayed near it when he was departing towards Badrinath.
Who built the Baijnath temple in Uttarakhand?
Historians believe that it was built in 1150 AD by the kings of the Katyuri dynasty. Some people say that a Brahmin woman constructed and dedicated it to Lord Shiva.
---
Our Experience
We went on this trip during the harsh times of the COVID-19 pandemic. And it was the perfect place because we found what we were looking for — a peaceful and spiritual place to spend some leisure time. The last time we felt like this was in Kasol.
We sat in the temple for long hours. Just beholding the people coming to the temple, drowning in a holy spirit, watching the panoramic view, and the fish forage in the nearby lake. It was all so captivating that it is difficult to convey that feeling.
If you are also looking for someplace that gives a feeling of peace away from the crowd, then Baijnath may be your next destination.
If you want to share thoughts or more information about this temple, write them in the comment box below.
---
An appeal: Please do not throw the litter around. Use a dustbin and if you can't find a dustbin, take the trash with you and throw it when you find one. Your small initiative can make the whole world clean and green.