A news published in 1968 shook the whole world. People were astonished. In fact, in those days, the famous London rock band "The Beatles" had made a splash worldwide with their music. Their songs were becoming hits, and live shows were becoming houseful.
At the height of their career, the band suddenly decided to move to Beatles Ashram in Rishikesh (aka Chaurasi Kutiya), India, for a few months.
This article is an exploration guide that encompasses why and when you should visit The Beatles Ashram or Chaurasi Kutiya and what things you need to take special care of. It'll also bring out the details about the visit of The Beatles in Rishikesh.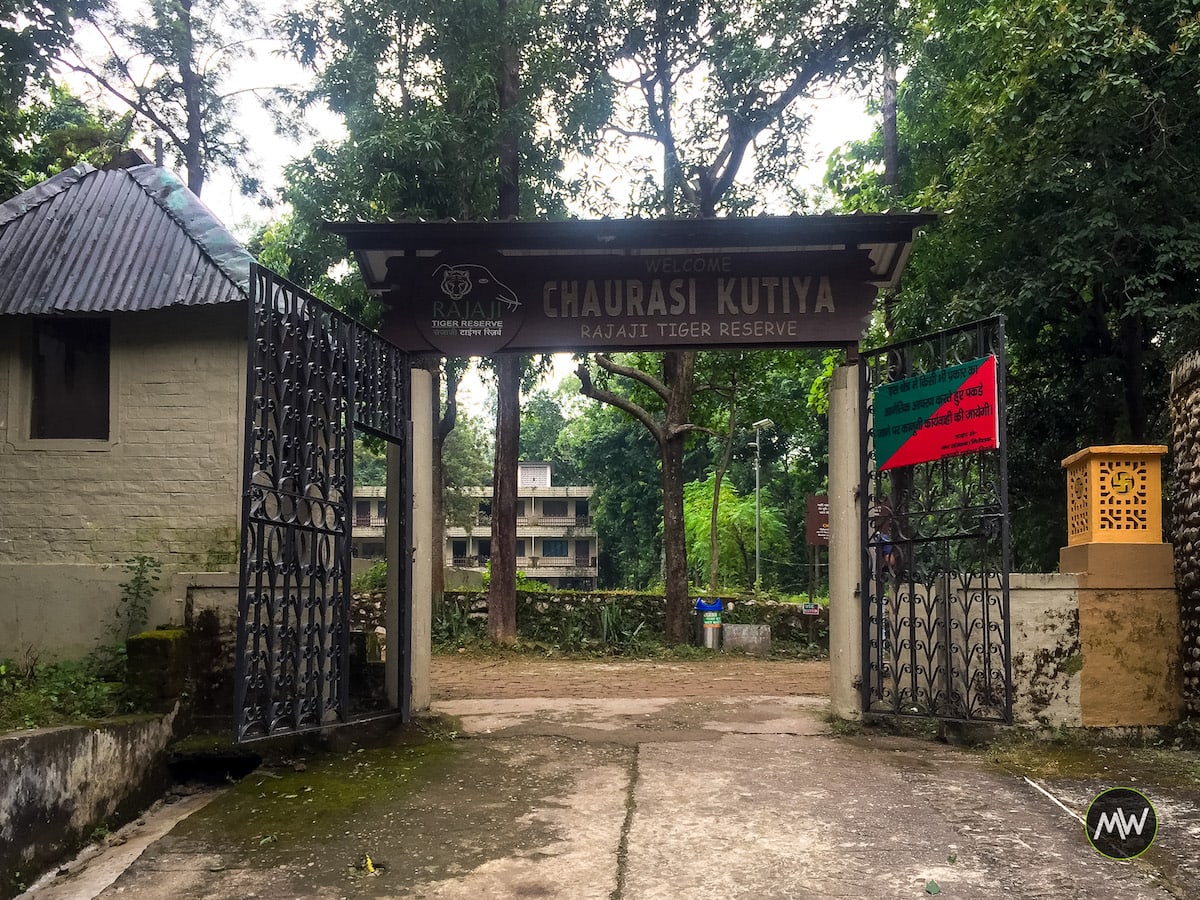 ---
---
The Beatles Ashram in Rishikesh: Inside Tour & Experiential Travel Guide
More than 100 oval caves
After purchasing the ticket, you will see some oval shapes structures on the right. These two-storeyed structures are nothing but meditation caves made of natural stones.
Each cave used to have electricity, water, and a dedicated place to meditate. You can guess that how people would have meditated in those days. You can also see cave numbers written on the top of each cave.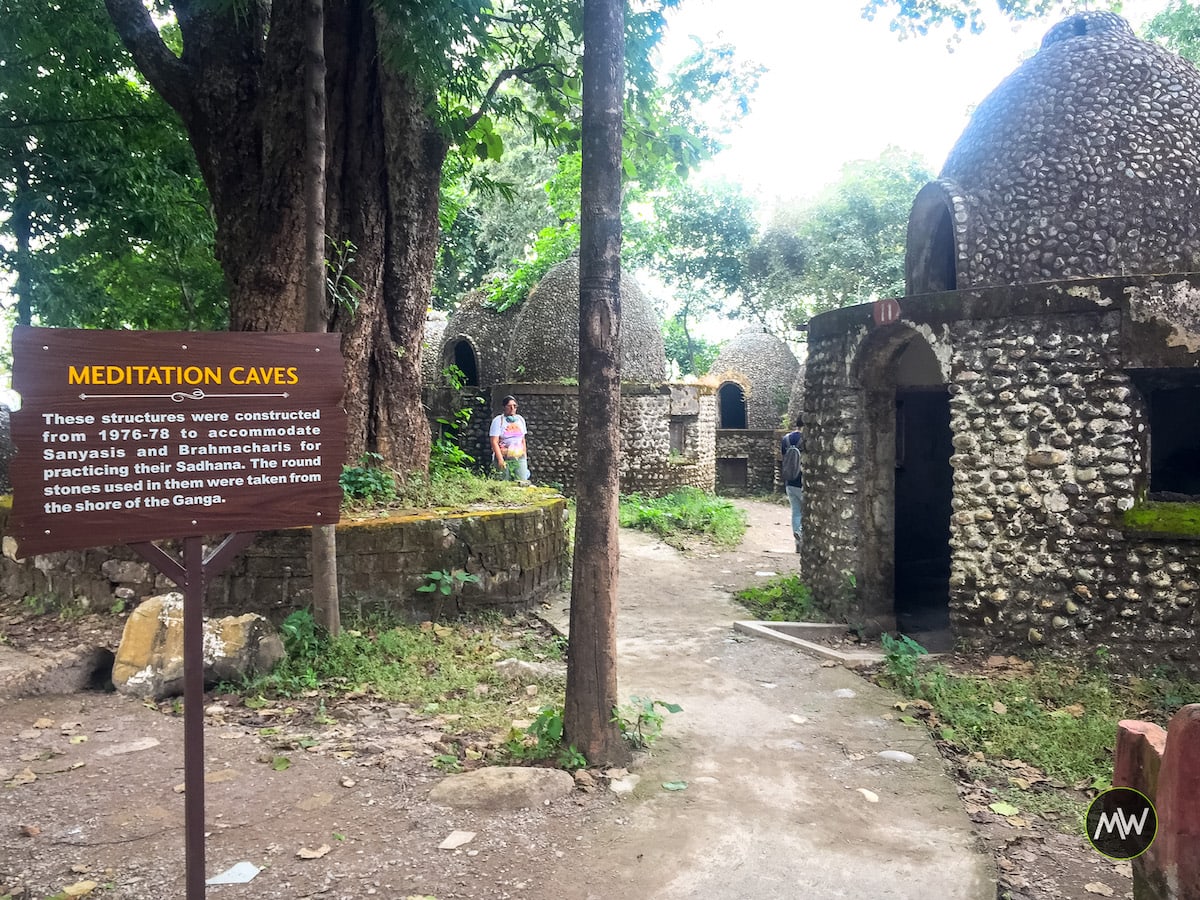 At first, you might think there might be 84 caves, and therefore the place is also known as Chaurasi Kutiya. At least, we thought so. But as you move further, you will find that there are more than 100 such caves in total.
Anand Bhawan and Siddhi Bhawan
Where these caves end, you'll see a one-story building. It appears from the information board outside that it used to be the abode of Maharishi Mahesh Yogi at that time. Inside, you'll find two large rooms, a kitchen, a verandah, and a bathroom. Some paintings have been done on the walls, and in front, you can clearly hear the gushing of the Ganges from here.
You will see two more significant buildings as you move ahead from the left: Anand Bhawan and Siddhi Bhawan. These buildings were built for the people who came here to meditate. There is a long corridor, and there are rooms. All the rooms were the same, equipped with basic necessities.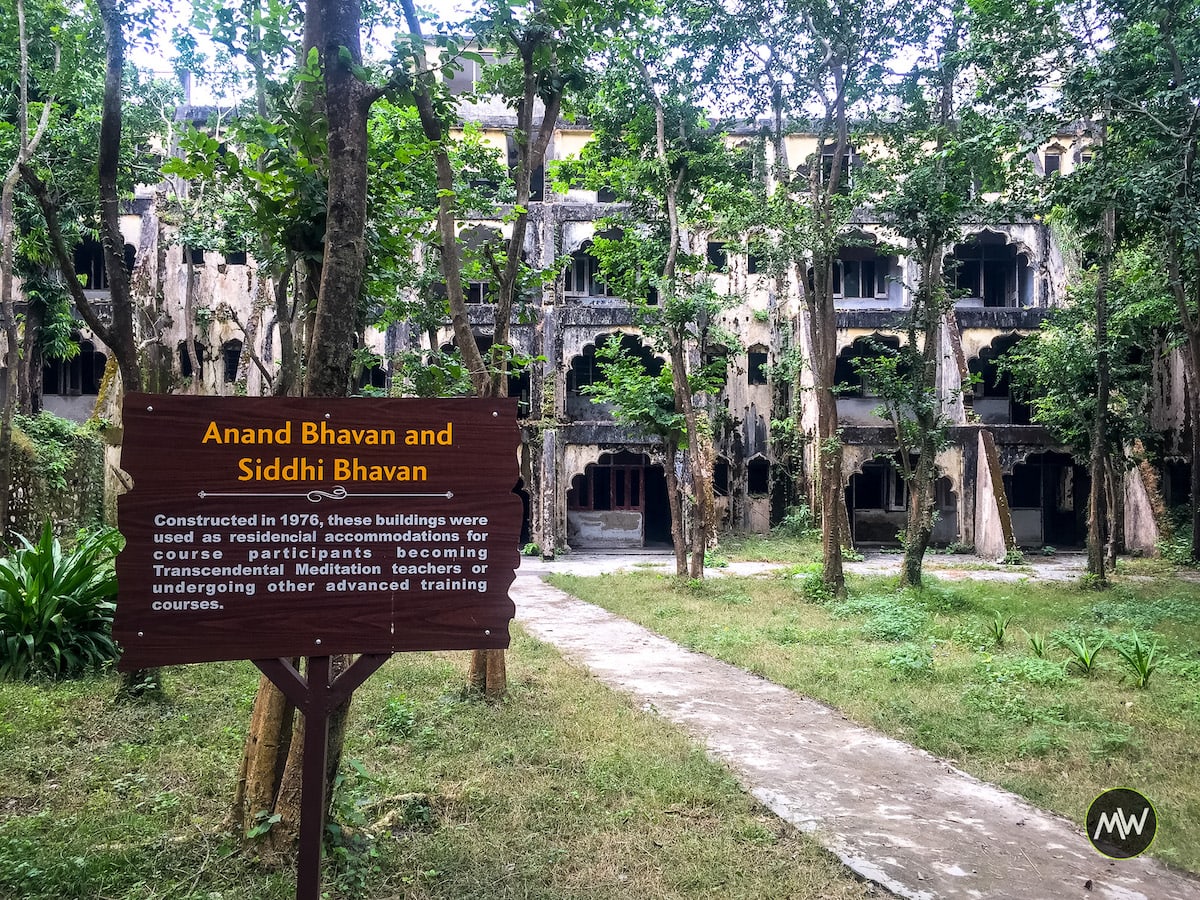 But the real fun is when you go to the terrace. Since these are multi-story buildings, you will have to climb many stairs to get to the top. But once you reach the top, the views will hold your attention.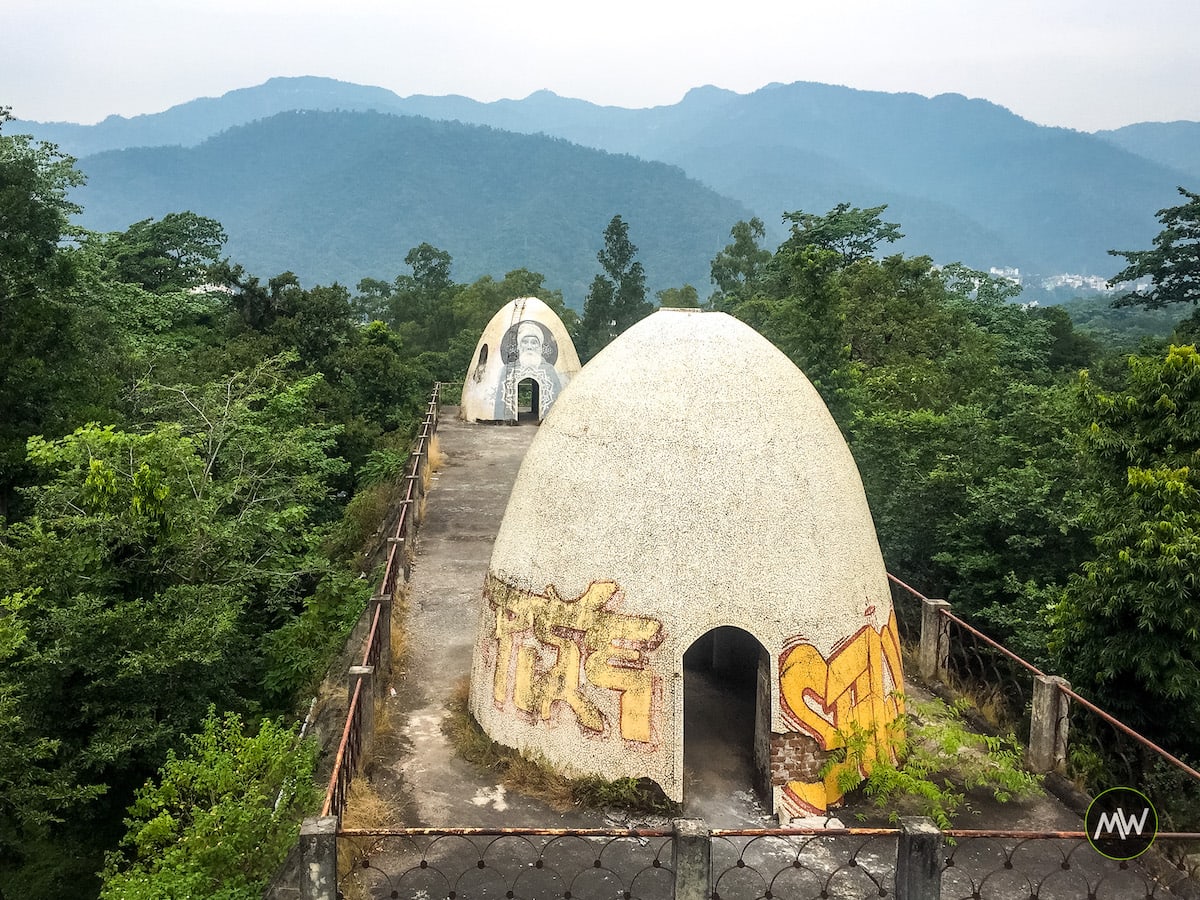 You'll see oval caves again, but this time with colorful wall art on them. You'll find quotes written on walls, the gigantic Himalayas in the background, and a spellbinding view of the entire Rishikesh city.
Needless to say, you gotta click some pics here! #PhotgraphyLover
Veda Bhawan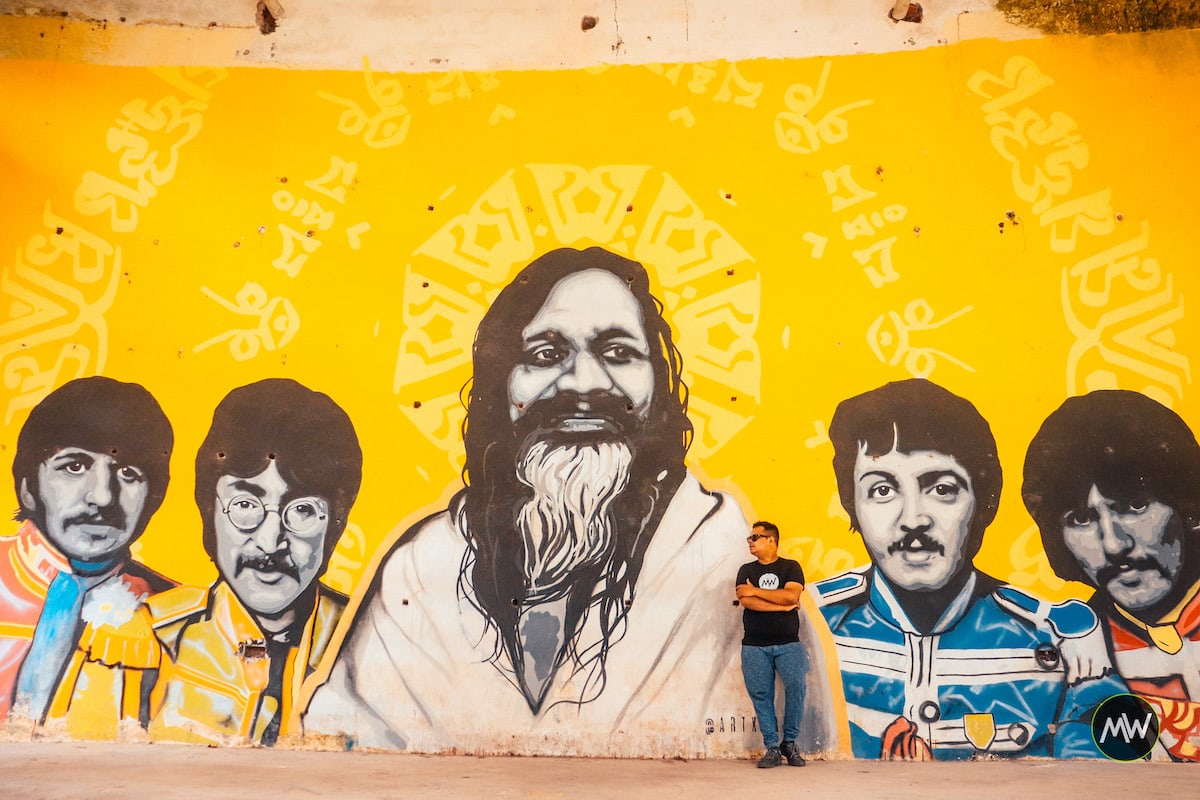 Moving forward, you'll come across Veda Bhawan — the most visited building of the Beatles Ashram in Rishikesh. The walls of this building are almost entirely covered with paintings, arts, and moving quotes.
As you go inside, you'll find some astonishing paintings and art done on the four walls. There's this painting of the Beatles with Maharishi Yogi. Then there's a stage in front, with another portrait of the band members.
If luck is on your side, you'll manage to click a pic with you on the stage center; otherwise, youngsters queue to take a photo in front of this wall.
Suggested Read: 27 Insanely Deep & Best Travel Quotes Ever (+Pics)
Exhibition Room and Cafe
There is an exhibition hall and a cafe adjacent to the Ved Bhawan. Both are related to each other. If you are hungry, have some refreshments in the cafeteria.
The exhibition hall has a total of three rooms. There are paintings and exhibitions related to Transcendental Meditation and Maharishi Mahesh Yogi Ji in the first room. The second room is dedicated to the Beatles band. It contains some pictures and a compilation of their songs from their time here.
The third and last room introduces the documents and animals associated with Rajaji National Park. To the right is a small garden where you can sit and relax for a while.
Kitchen and Printing Press
The next stop was the kitchen and the printing press. The entire kitchen building is dilapidated, and the roof above is missing. You can guess by its enormous size that this place would've prepared food for all students and people in the ashram when it was functional.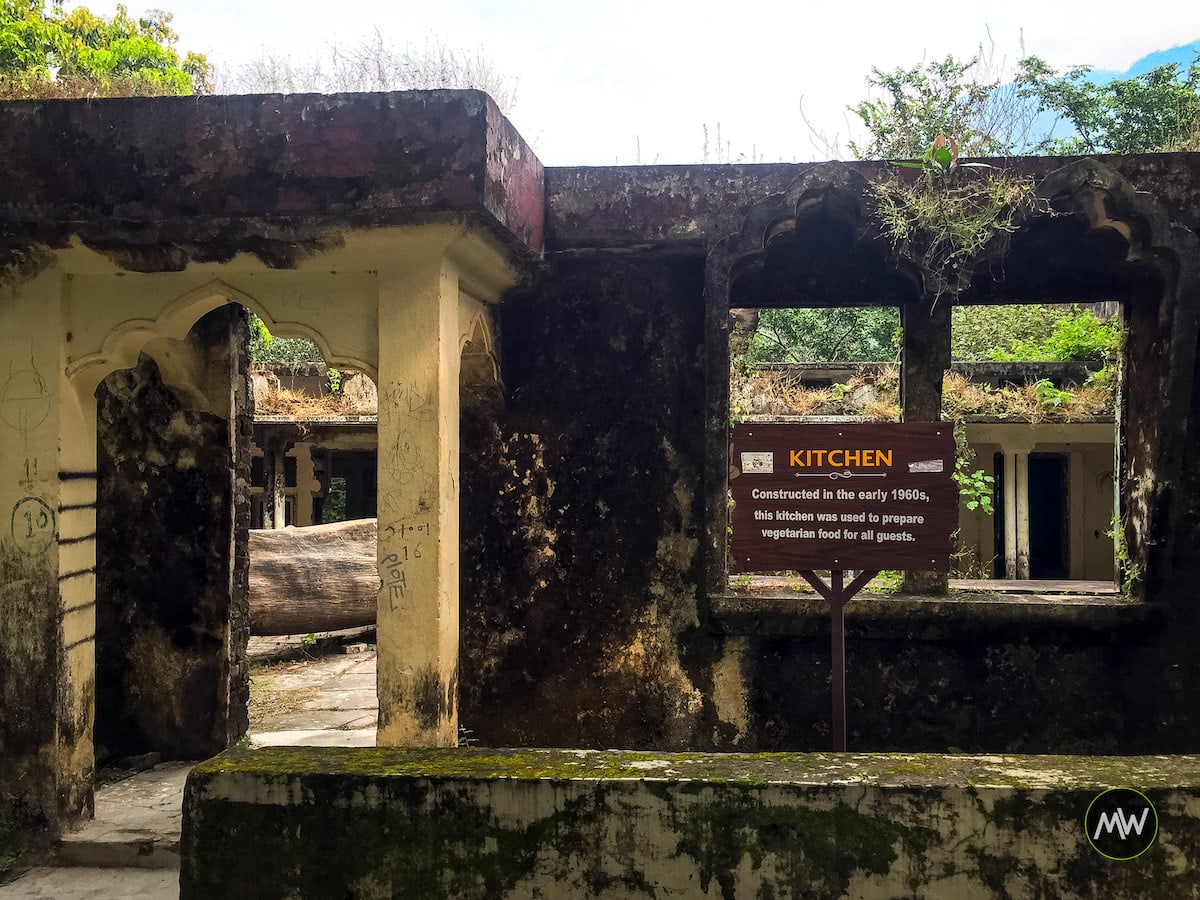 You'll see the printing press a few steps ahead, which is now turned into ruins. Articles related to Transcendental Meditation were published here. Along with this, Yogi's world-famous book "Science of Being and Art of Living: Transcendental Meditation" was published here. Yogi Ji's commentaries on the first 6 chapters of Shrimad Bhagavad Gita were also published here.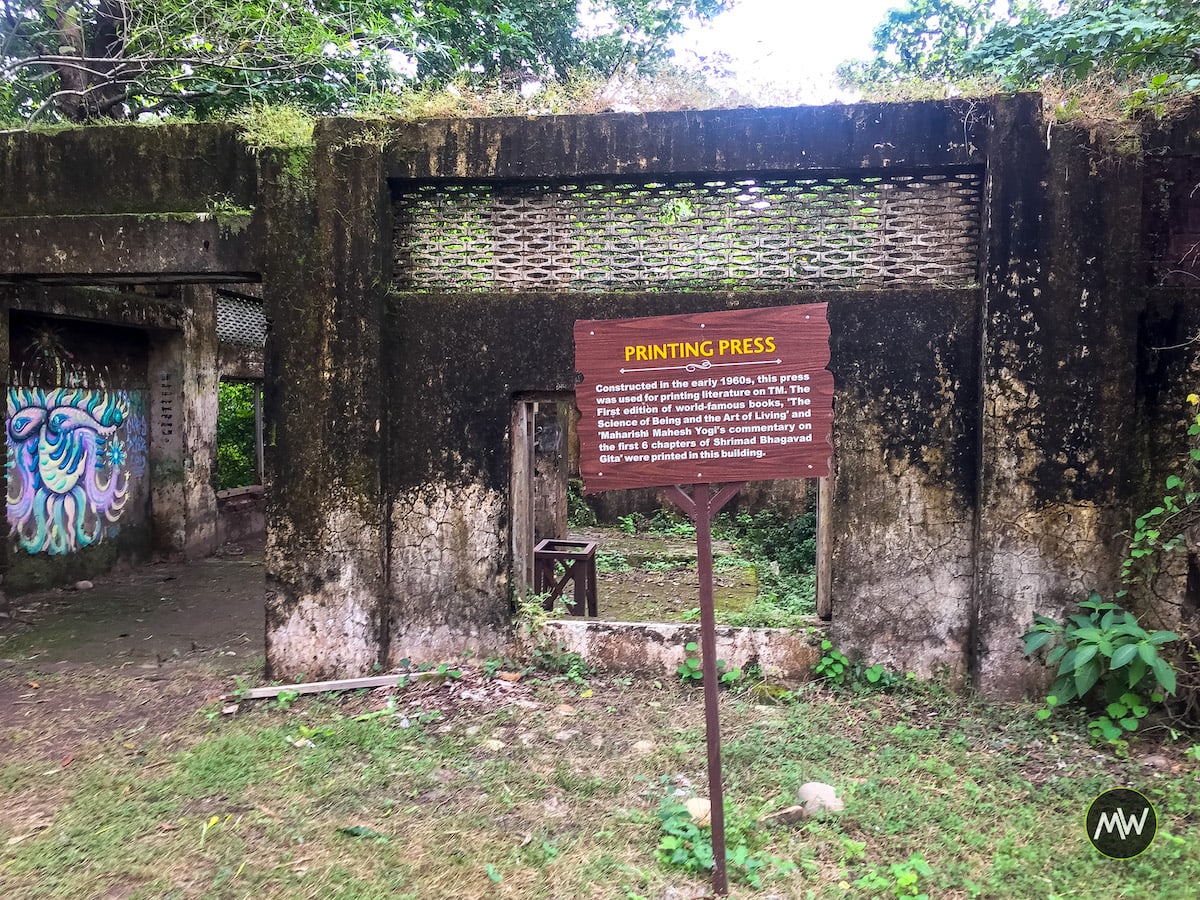 Meditation Hall and Chaurasi Kutiya
The meditation hall and 84 huts are located at the end of the entire complex. It is a building consisting of 84 small rooms in which the seekers used to meditate. In fact, after this hut, this ashram was named Chaurasi Kutiya.
The rooms are tiny but light and airy. These eighty-four huts were built based on the 84 postures of yoga. After crossing it, there is an open courtyard called the meditation hall. Many people can meditate here at the same time.
The Beatles Ashram in Rishikesh: Reasons Why They Came
Chaurasi Kutiya — a place that people were unfamiliar with, nor was this city a known tourist destination on the world stage. Everyone was eager to know that what is it in Rishikesh that made The Beatles move?
Here's how the story goes. The Beatles band consisted of 4 members, namely John Lennon, Paul McCartney, George Harrison, and Ringo Starr. George's wife attended Maharishi Mahesh Yogi's seminar in Wales and told John about it. John's curiosity led the other three band members to reach Yogi Ji's seminar.
They were greatly impressed by the Transcendental Meditation taught by Yogi Ji during the seminar. They decided to go to Rishikesh to learn the art of Transcendental Meditation. In 1968, they came to Rishikesh, India, with their girlfriends and wives.
During their journey, they stayed in the Chaurasi Kutiya ashram. After their arrival, this place gained fame and became The Beatles Ashram. Then, tourists and fans started coming to this place, and the promotion of yoga and Transcendental Meditation got more impetus.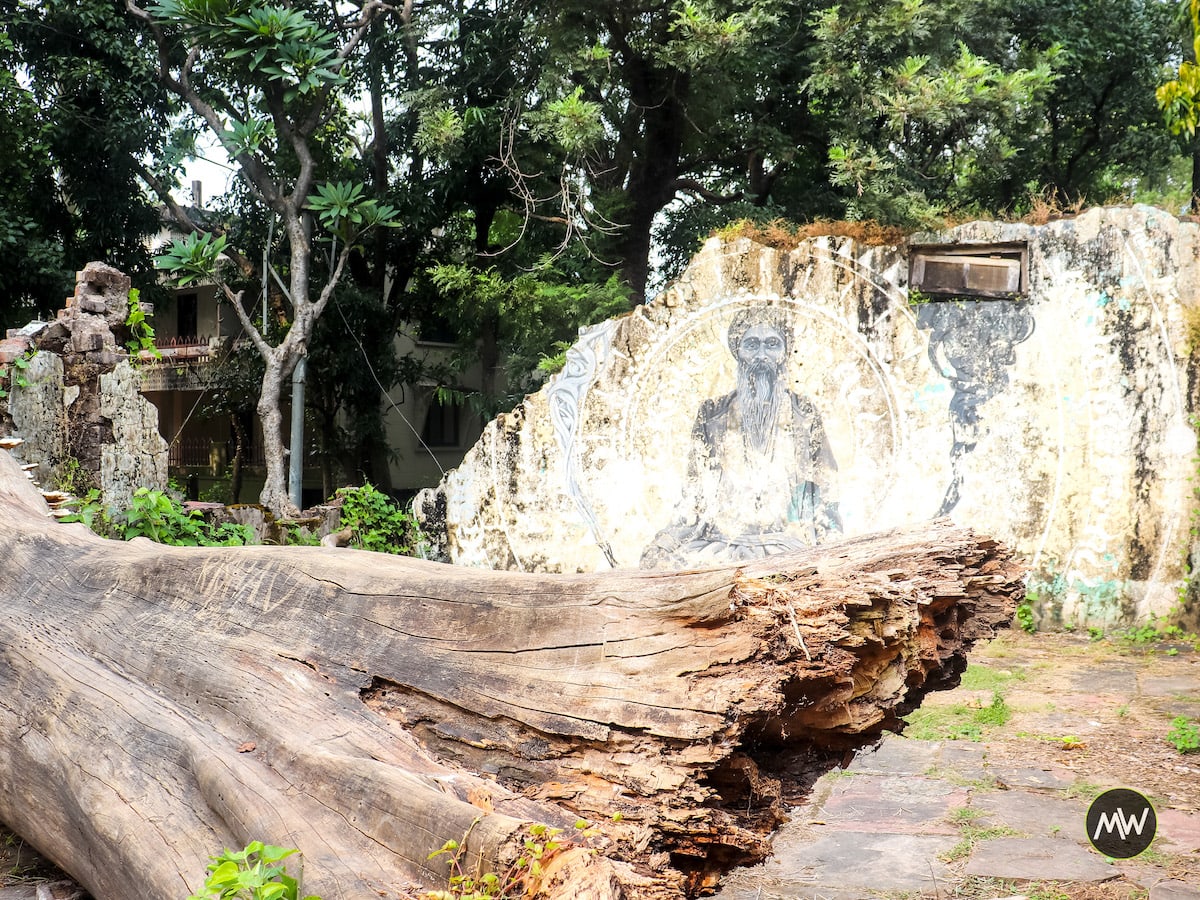 The Beatles Gave Many Hit Songs in Rishikesh
The main aim of the Beatles band was to learn Transcendental Meditation. This yoga and meditation time proved to be a boon for their career. They recorded many popular songs in Rishikesh, including them in The White Album later.
Back in the U.S.S.R., Cry Baby Cry, Dear Prudence, Mother Nature's Son, Ob-La-Di, Ob-La-Da, and Sexy Sadie are some famous songs The Beatles gave in Rishikesh. George Harrison even learned to play sitar from renowned sitarist Pandit Ravi Shankar and became close friends.
The ashram's atmosphere was peaceful, spiritual, and relaxed, conducive to music production. Even today, you can feel the calmness and stillness inside the ashram.
History of Beatles Ashram in Rishikesh aka Chaurasi Kutiya
Maharishi Mahesh Yogi Ji liked this place on the banks of the Ganges during his Rishikesh journey. He urged the Uttar Pradesh Government (Uttarakhand was once a part of Uttar Pradesh) to give this land on lease for 15 years. He got that land from the government for 40 years. Let us tell you that this place is a part of Rajaji National Park itself.
Yogi Ji got the construction work done with the help of one of his foreign followers. At that time, Yogi Ji named it the International Academy of Meditation. After the creation, Yogi Ji went on the run of European countries to propagate the teachings of Transcendental Meditation (TM). Most of his time was spent abroad spreading the spirituality of Yoga and TM to the world.
Meanwhile, the Beatles band and other foreign tourists kept visiting the place. Due to lack of maintenance and operation, gradually, this ashram became deserted. All the buildings started turning into ruins. Around 2000, the administration again took over this land and opened it for tourists. Since then, it has been an important tourist destination in Rishikesh.
The grace with which the band had come to India indicated that their stay would be for a few months. But this did not happen. Two members of the band returned within just a month. Ringo could only stay for 10 days. According to him, he was fed up with mosquitoes, insects, and spiders in the ashram. He also did not like the spicy food served in the ashram.
After this, Paul also went back due to work. The rest, John and George, stayed for a few months, participating in the ashram's regular meditation programs and composing their own music. In fact, the main reason they all visited was to support George.
Important: Beatles Ashram Timings, Ticket Prices, Distance & More
Being situated above sea level and spread over a large area, you will have to walk a lot.
If you are going in summer, keep a water bottle with you and wear light clothes.
It is a part of Rajaji National Park itself, so it is better to be careful of wild animals.
There is a cafe inside, but there are limited options.
At least 2 hours will be required to explore the entire ashram.
Tickets for Indians are ~ INR 150, and for foreign tourists, ~ INR 600.
It opens daily from 9:00 am to 4:00 pm.
The distance from Parmarth Niketan Ashram and Ram Jhule is just 1 kilometer.
You can also spend time meditating in the calm atmosphere of the ashram.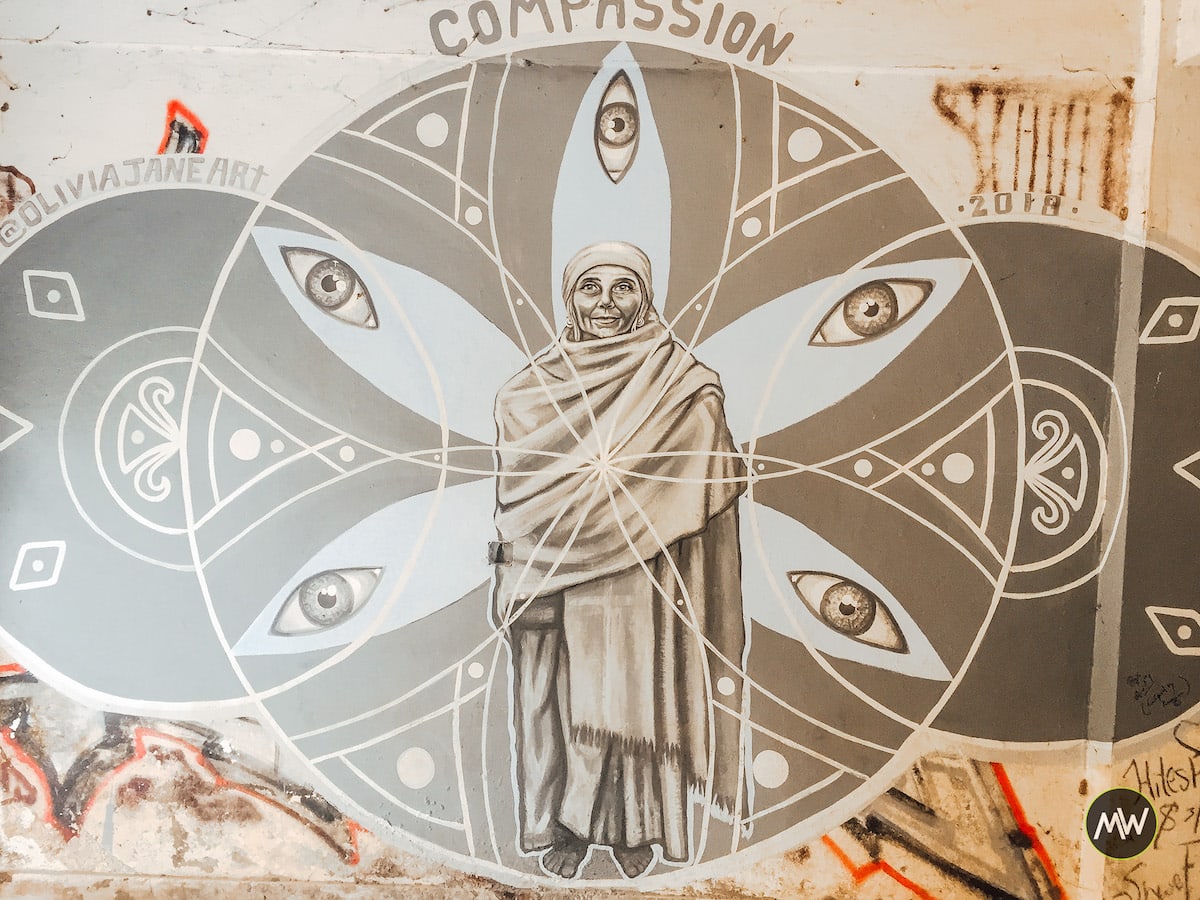 Frequently Asked Questions about The Beatles Ashram
Why is the Beatles Ashram abandoned?
Maharishi Mahesh Yogi Ji took the land of the ashram on lease from the government. After Yogi Ji went to give his sermons abroad, the local government took it under as the lease expired. Since then it's been used as a tourist attraction.
How to reach the Beatles Ashram?
Beatles Ashram in Rishikesh is approximately 1 km from Ram Jhule. No public vehicles go there, so you have to walk or take a private taxi or cab.
The Beatles Ashram entry fee?
As of October 2021, the entry fee for Indians is INR 150, and for a foreigner is INR 600.
Why is the Beatles Ashram famous?
The Beatles Ashram aka Chaurasi Kutiya gained fame after the famous English Rock band, The Beatles came here to learn Transcendental Meditation (TM). Back then, it was one of the most popular meditation centers. Today, you can see beautiful arts, learn about the heritage, and TM.
Conclusion
You will fall in love with the serene ambiance and natural beauty of the ashram. The wall art on the buildings will impress you even more if art is your thing. You might also find some quotes which will genuinely relate to you. The scenic views of the mountains, colorful caves, and gushing Ganges will make your visit worthwhile.
Whether you are interested in meditation or not, whether you have heard of The Beatles or not, visiting Beatles Ashram in Rishikesh is one of the top activities you can do here.
We hope that we have successfully shared all the information related to Beatles Ashram. However, if any question or suggestion is still coming to your mind, tell us in the comment box below. We will try our best to improve ourselves with your tips and ideas.
---
An appeal: Please do not throw litter around. Use a dustbin and if you can't find one, take the trash with you and throw it when you find one. Your small steps like this one can make the world clean and green.