Ever feel like running somewhere far? Somewhere new, where no one knows you? An escape? Maybe? Maybe not? I did discover some truths about the same in the lap of the Himalayas. Let me tell you a travel story and shower a few pieces of advice from our recent travel to an offbeat destination in Uttarakhand.
---
Ever since COVID-19 has hit the world and shattered the global economy, this was by far the most revealing trip for me. I did some backyard travels but this trip was something different and a distant one. After all, being too close makes the vision blurry. So from time to time, a little distance is required from the chaotic life we live daily to see things.
COVID-19 has forced everybody to work from home and since many of us (digital nomads) weren't used to working enclosed by four walls caught between tantrums of home, it caused various mental health issues and took some time to adjust. Needless to say, travelers like you and me had eyes always filled with a hope that soon we will start traveling normally…
But that normal has changed, and the era of new normal has begun – something similar to what top Indian travel bloggers predicted about it.
Few months passed since March (the month which first forced us inside) and as cases decreased after a peak point, governments of many states allowed traveling without needing you to go through the hassle of COVID test and quarantine.
A sigh of relief flowed through me when I used to hear the news, every time.
We planned a leisure do-nothing-kinda trip to an offbeat destination in Uttarakhand. This was our first long-distance trip since the start of corona-days. And today I am gonna take you to the same place. The journey ahead is sweet, revealing, and not for all. Doing nothing also takes some effort.
Where To?
The destination we chose was Kausani. As luck would have it, we didn't get accommodation in Kausani. Ultimately we had to book accommodation in Baijnath – a small town/village situated in the Bageshwar district of Uttarakhand.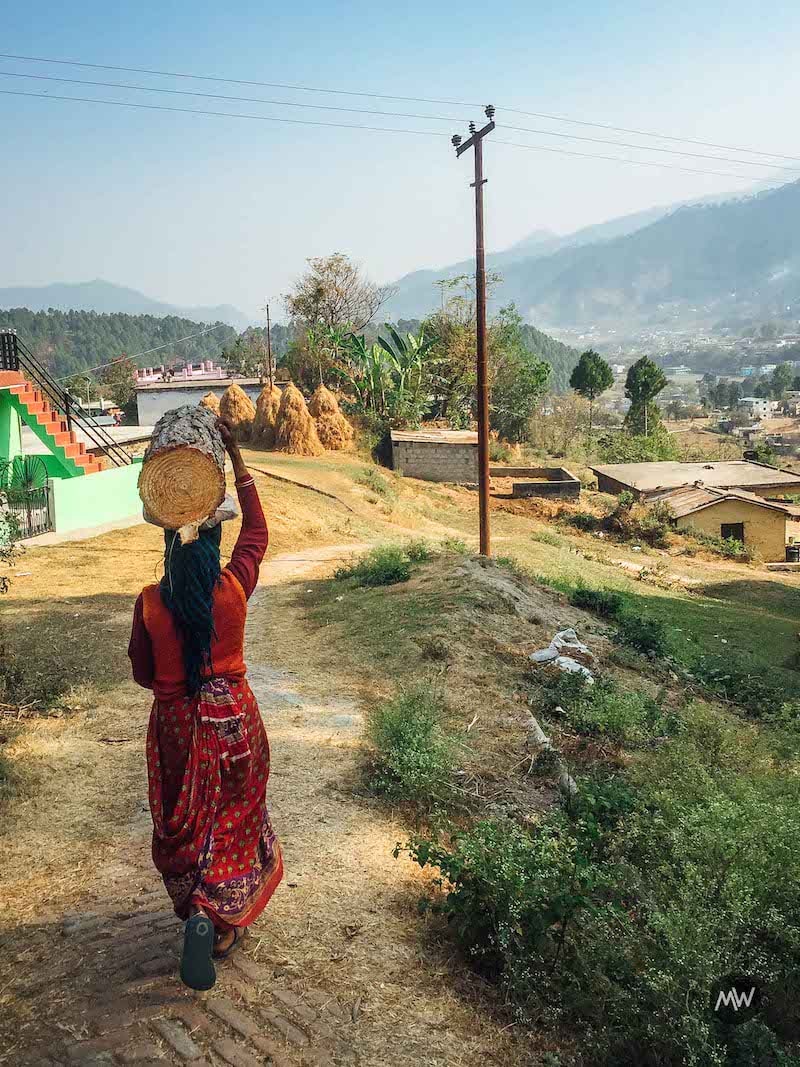 The only problem was that it is 16 km from Kausani and was an unheard place. There was a little skepticism in our hearts…whether we took the right decision or not. Many times, we wanted to use the Free Cancellation service of Booking.com but I am grateful that we didn't.
Making Arrangements
As of now, traveling to/from Uttarakhand requires you to register at their online portal. No COVID test is required. We completed all these formalities beforehand and finally, the day came, November 5, 2020…
I remember the cold chilly night when I drove into an auto to the station, there was a smile behind my normalcy. This time I'd packed absolutely nothing extra and thought I would overcome my fear of lacking clothes. Abhishek was supposed to come from Barabanki, the neighboring city of Lucknow, and I was supposed to meet him on the train which was coming via that route.
Everything happened as planned, we met and talked over. I generally like sleeping, so I went ahead and covered myself in the warmth of my blanket. Oh yeah, forgot to tell you that Indian Railways has stopped providing blankets, pillows, and pantry services considering the outbreak of novel coronavirus. It may change later, but for now, travelers have to make their arrangements.
All was good till here, and we were on cloud nine, anticipating our few days ahead. But as they say, every journey is not a smooth one…
Thankfully, We Are Alive
My heartbeats were fastened…a deep sensation of making sense, a curiosity to understand the tangled path of life, career, and a few left relationships…all, was rushing altogether at the same speed. I was looking from the window, and the cold breeze brushing my hair was all one hella feeling of heaven. I was lost in my contemplation when the train reached our destination.
We took off from the Haldwani station and came to the bus station doing a 5-minute walk. The fog was now diminished by the sun. After much of a hurry and 20 rupees loss, we finally got a bus directly going to Garur/Baijnath whose conductor affirmed us to leave in front of our booked hotel. What a lottery! Haldwani to Almora to Kausani to Garur/Baijnath.
I got some snacks to eat. The total distance was approximately 160 km, and that too on wavy mountain roads. From night to morning to probably night again, ah a long journey ahead, I thought.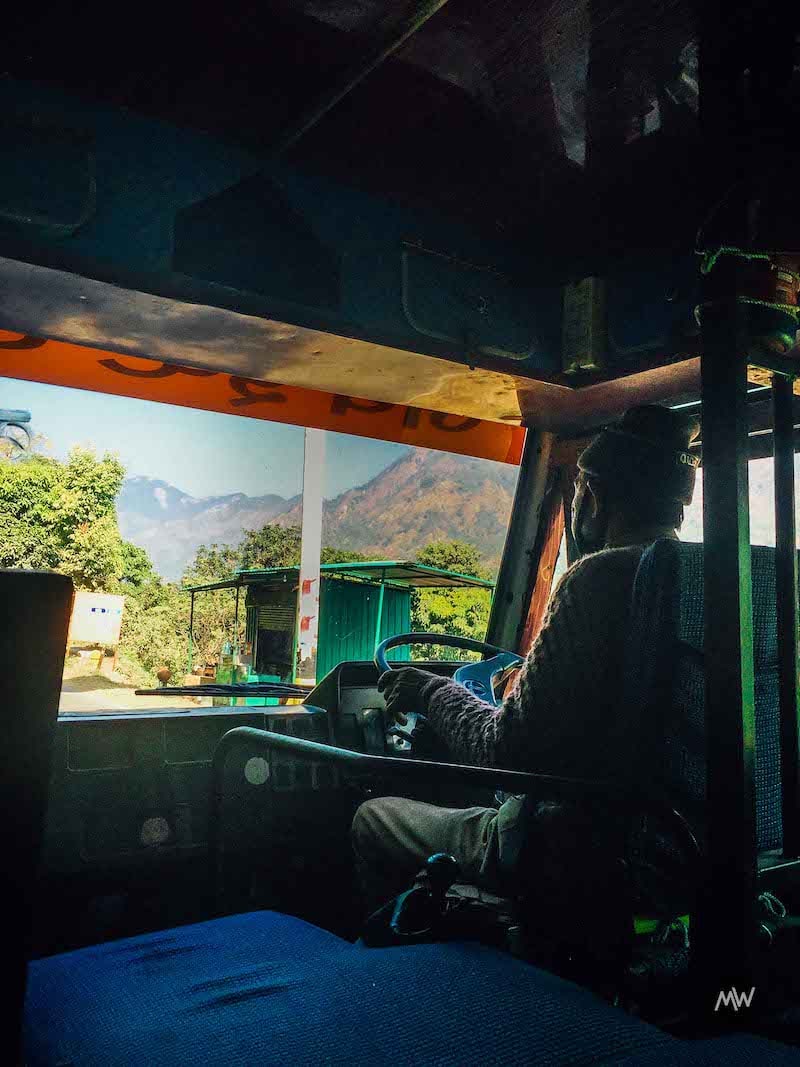 Luckily our bus driver was kinda an adrenaline junkie and did not bore us throughout the journey. Ups and downs are a part of life, but these ups and downs caused us to jump up and down, no I mean literally!
When it was about 30 km left, a rough sound suddenly began occurring – something was wrong with the bus. After one look, the driver and conductor agreed that they needed to change the rear tire to avoid an accident. No one spoke, but an amalgamation of 'Damn' spread in the air.
It was a beautiful spot where the bus stopped to change the tire, perhaps there was a small village around and except that, nothing but calmness and serenity. Exactly what I was looking for. It took just 15 minutes or so, unexpectedly, and we were on our way again.
This incident made me think about one observation I have been verily making about the world around me. Most of our lives are filled with so-called assumptions. Bus tire broke, and most of us assumed that it'd take at least more than 30 mins. Assumptions and judgments are everywhere, and we've been making them daily. See that?
Reaching Home
Anyway, we reached the Hotel Baijnath, a cozy little place owned by a local family living in the same building. It was 6:30 pm and the first thing we asked was "Khaana Milega?" (Is there any food?). Yes, we were hungry since morning and have been surviving on tea and snacks.
All settled, checked in.
The gushing of the Gomati river was loud enough to reach our ears. We saw Baijnath lake from our balcony and the tan-tan-tan sound of prayer bells from a nearby temple soothed us even more.
Exploring Around & Doing Nothing
The tranquility of any place can never be fully felt with only our eyes. This was true for Baijnath, Uttarakhand. An offbeat place, with almost zero foreign tourists, a river crossing the town, crops grown in the terrace-farming pattern, and surrounding you is a 360-degree view of the Himalayas. It was a busy town, not the kind we were looking for, but still, there was a peace imbued in the chaos.
This is how the next morning felt like. I was gazing at this place and suddenly it felt like deja-vu…where have I seen it earlier?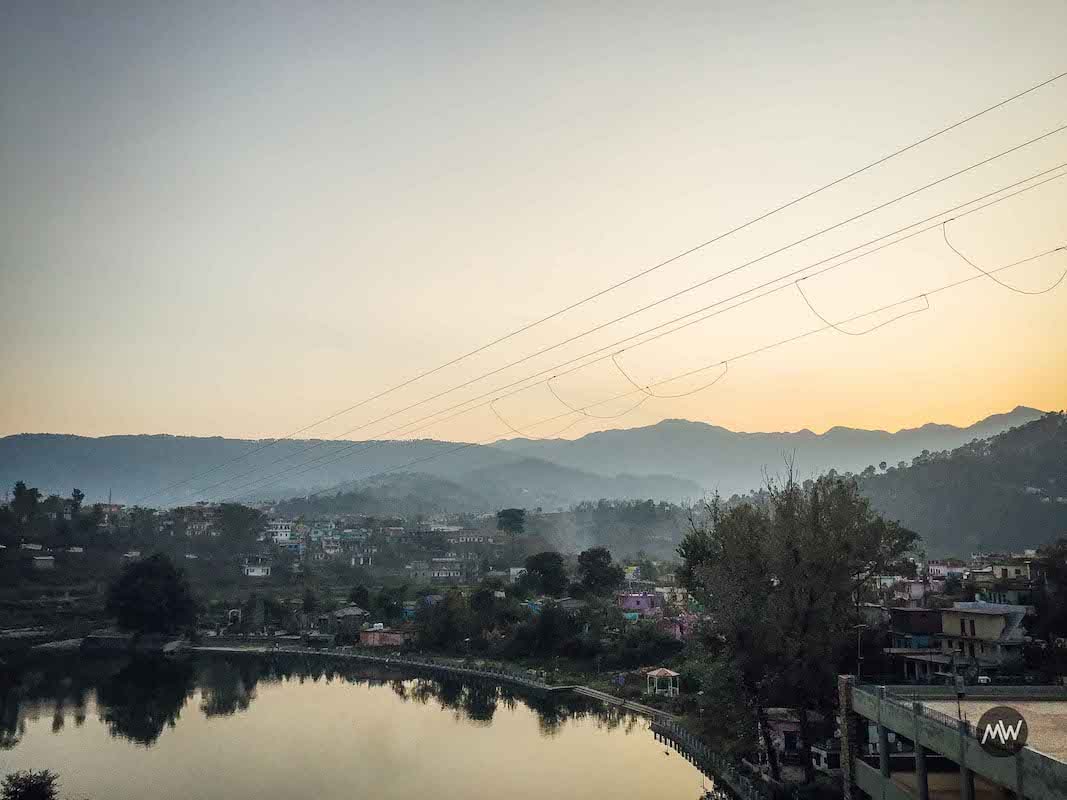 Yeah, Udaipur.
Things To Do Around
First of all, we were in no preparation to explore much around. This time the journey was solely to organize work at Misfit Wanderers and our newly launched tech blog. We have seen a decrease in interaction on social media and a stagnant graph on our blog for the past few months. As bloggers, this was something crucial for us. But…
As you know, life is full of surprises.
Our Internet research had revealed to us that there's no place to see except the 9th-10th century Baijnath temple. Everything else is a natural beauty.
Also Read: Baijnath Temple Uttarakhand: An Experiential Guide to The Ancient Abode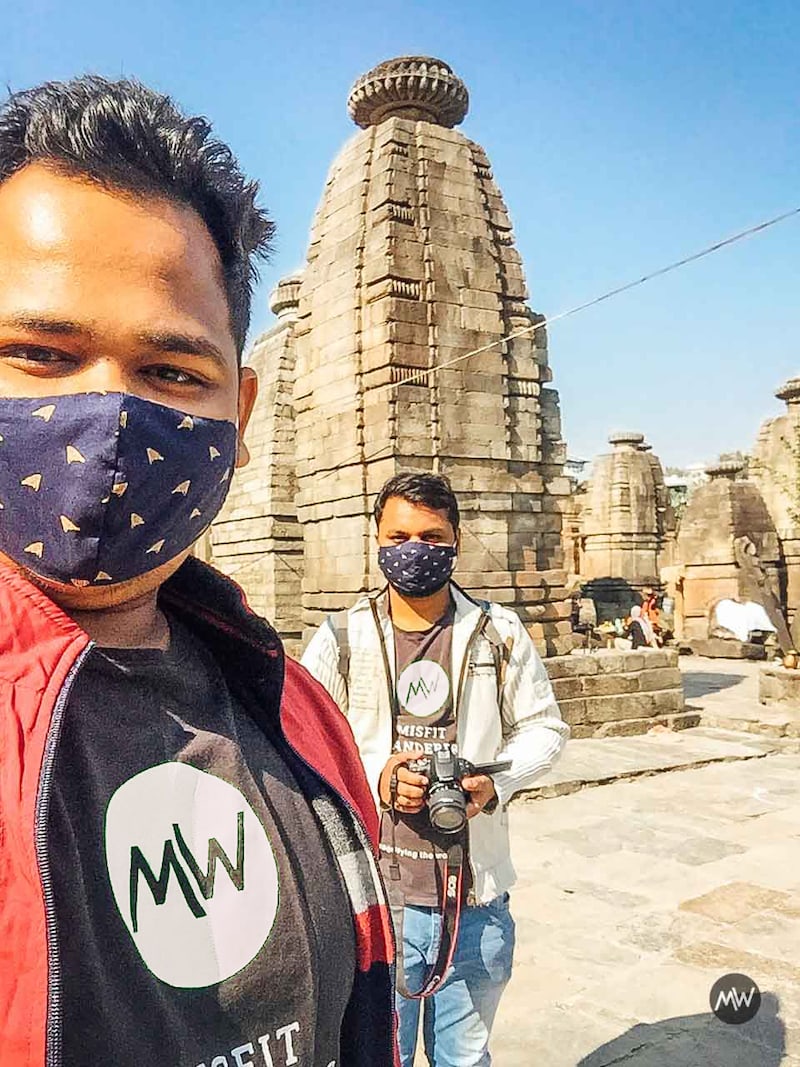 But how can we forget that we're in the land of Gods and Goddesses?
The uncle who owned the hotel told us over breakfast that there's a Kot Bhramari Temple situated at a 4 km hike and is worth visiting. You are going to hear fascinating legends of it soon in our upcoming blog post.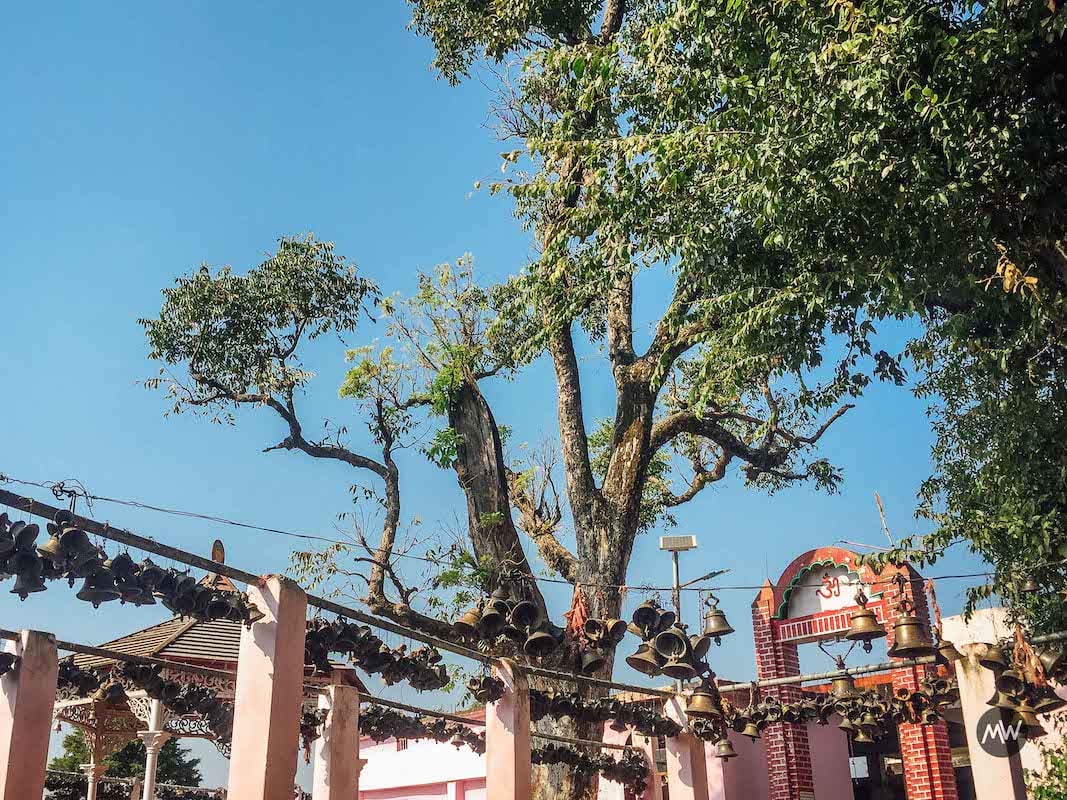 Apart from these two significant temples, you can roam around the village and explore the banks of the river. See the local life, kids playing, cars being washed at the bank of the river, villagers washing clothes and crops. Maybe trek to the pine trees in the upper village, see farmers plowing their land, and sit somewhere to embrace the grandeur of the still yet so moving mountains.
The Plan of Doing Nothing
After we explored and documented the Baijnath temple, we had almost all day for retrospection and planning. Not physically moving may seem like doing nothing, but it's the opposite.
We took our bags, walked through the meadows of villages to reach down to the bank of the river. For the rest of day, we did nothing but sat on a river stream with our legs in the water and healthy arguments to form a better plan.
We spent the next day hiking through a typical Uttarakhand village and visiting Kot Bhramari Temple.
Moral of the Story
On this 2 days trip, I did nothing major yet I felt sufficed. I highly believe that every once in a while, everyone should change their environment and travel. It broadens our perception and challenges our assumptions.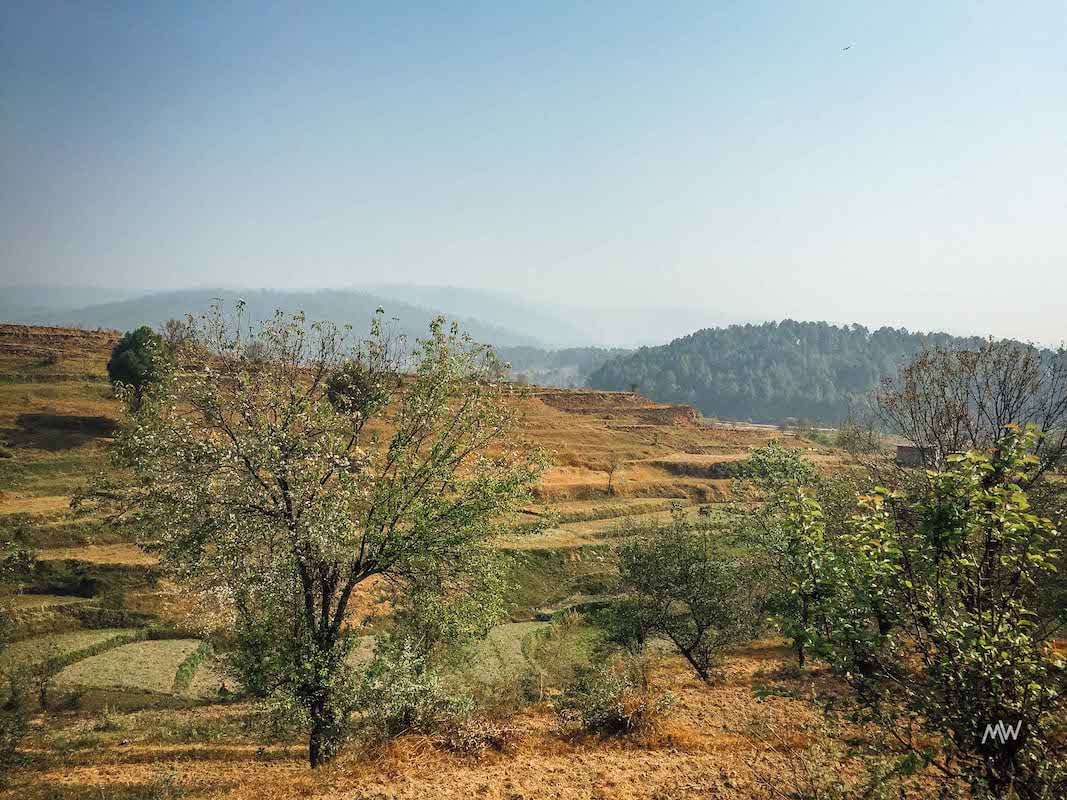 For the first time in my life, I understood the value of being content. There's nothing that happened differently yet I feel so different as if I'm wiser. How astonishing the fact is that the mere act of observing and aligning your thoughts changes the whole course and perception of yours about life.
I looked back on the future, there's a risk in leading the kind of life I'm living right now – as a wanderer. While the traditional path of education routed me to the cliches of job, marriage, child, etc, I did deviate from it. Right now I couldn't say if it's right or wrong, but yeah, why not be a misfit? But even if I'm right, I am no one superior to you for only not following the traditional path.
Moral? We are all made up of the same stuff and share the same destiny – death. Also, sometimes not doing anything can be productive too.
Love, live, wander, and be a misfit.
Curtains Down
Sighs. So, this was a short of my two days travel in an offbeat location in Uttarakhand. More of this trip is coming soon, so make sure you're subscribed.
---
---
That's all folks. Hope you liked the post and that I didn't bore you too much. If it's something that you wanna share with your friends, why not do it right now? And yes, please comment your thoughts below 🙂