Ever heard of architecture with over 900 Jharokhas (ventilators)? Nay? Let me take you to Hawa Mahal of Jaipur in the Rajasthan state of India.
India is a country of diversities. There are many historical and interesting palaces and forts in this country. Talking about forts and palaces, how can we forget Rajasthan? Rajasthan is considered as the pride of India the Rajputs. The royal palaces of Rajasthan and the hospitality are well known all over the world.
Rajasthan is the only state that has so impressed tourists all over the world that they prefer to go to Rajasthan than to go to any other region of the country. There are many palaces in Rajasthan. One such palace – the Hawa Mahal in Jaipur, which is packed with Indian tourists as well as foreigners throughout the year.
As the construction of the metro station near Hawa Mahal was in progress, I had to face a lot of difficulties to reach there. The afternoon heat, dust, sweat, and traffic jams. Defeating them all, I reached the front of the main campus.
---
In This Guide:
---
What is the history of the Hawa Mahal of Jaipur?
This magnificent palace situated in Jaipur, Rajasthan was built in 1799 by Maharaja Sawai Pratap Singh, grandson of Maharaja Sawai Jai Singh. It is believed that once he went to meet Maharaja Bhupal Singh in Jhunjhunu city of Rajasthan. The Khetri Mahal built by him made a deep impression on Maharaja Sawai Pratap Singh.
On his return, he ordered his chief architect Ustad Lalchand Ji to map the construction work of a similar palace and start construction as soon as possible. He himself closely inspected everything in the construction of the Hawa Mahal. It was built as an extension of the Royal City Palace.
I was astonished to see its size from outside. Then Vipin asked why its entrance is not visible? I laughingly sai – do you always live in the mood for fun? In fact, I too was confused about the entrance. On asking an elderly person, he pointed to a small door – well, you have to go in there.
What was the reason behind the construction of the Hawa Mahal?
The Purdah system was prevalent in those days in provinces ruled by the Rajputs. All women have followed it. It was also well adhered to by the royal Rajput ladies of the state. They were not allowed to see daily movements, festivities, etc. in public. Therefore, this palace was constructed, through whose windows she could easily see the movement outside.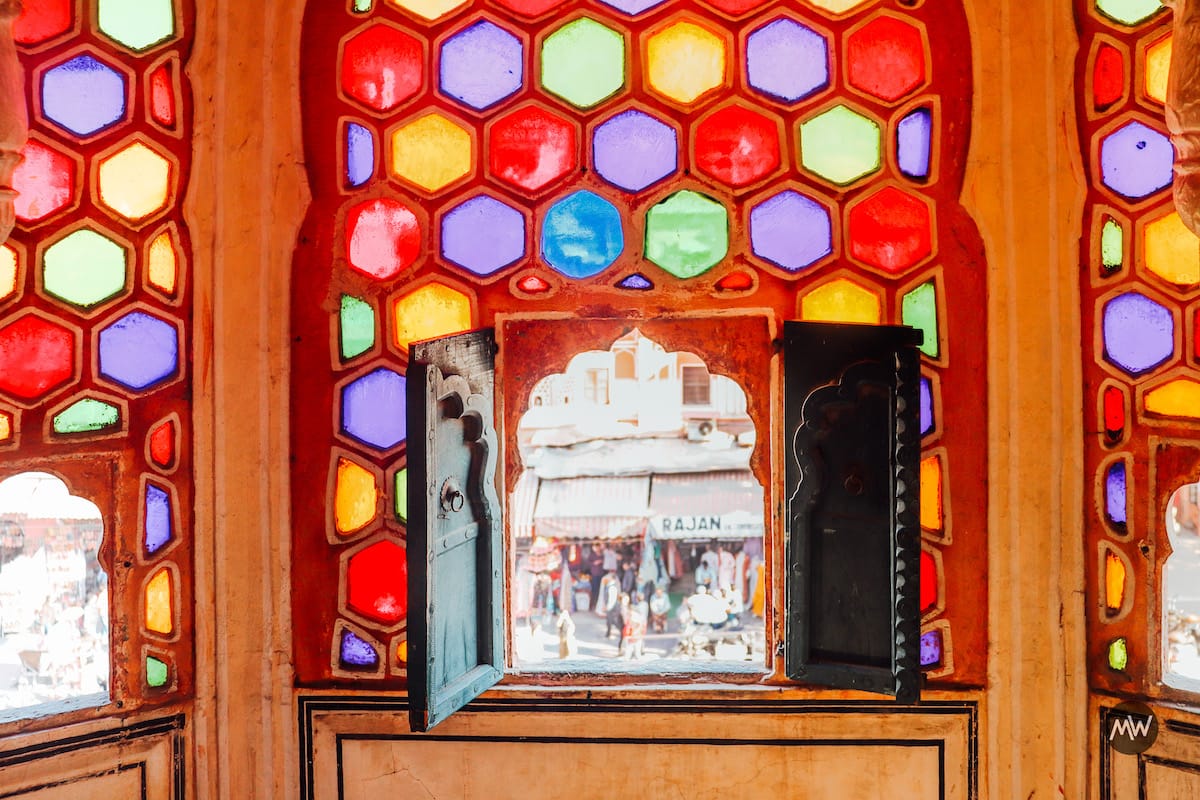 The windows are also called Jharokha. Each of the jharokhas is decorated with fine artwork.
The Intriguing Architecture
For a moment you will feel like it's a honeycomb. To build such a palace so closely and knowing that it has no base is bizarre in itself.
It is a five-story building with a height of 15 meters. This Pyramid-shaped palace offers an exquisite blend of Mughal and Rajput architecture. Red and pink sandstones have been used in their construction.
It looks like the crown of Lord Krishna. It is believed that Maharaja Sawai Pratap Singh Ji was a great devotee of Lord Shri Krishna. Perhaps that is why he had put his devotion in the design of this palace.
As soon as I reached inside, I found that some women were dressed in Rajasthani clothes and stood in a queue to take photographs with Matka (a clay pot) in their hands. I like Rajasthani apparel very much, so I bought a Rajasthani turban as a memory. Outside the entrance to the main complex is an inscription on the palace structure and a little history is engraved on it.
The Mindblowing Internal Architecture
Upon entering the main campus, a fountain welcomed us. I found that a bunch of people on the right side is moving towards a room. We also went ahead and found that the room has a statue of Maharaja Sawai Pratap Singh Ji, which is a major attraction. The same splendor – heard about the idol and saw it in movies. It looked completely alive. A sword in the arm, a crown on the forehead, a mustache and a dazzling glow in the eyes. There were such stories of our Rajput kings which are still told today.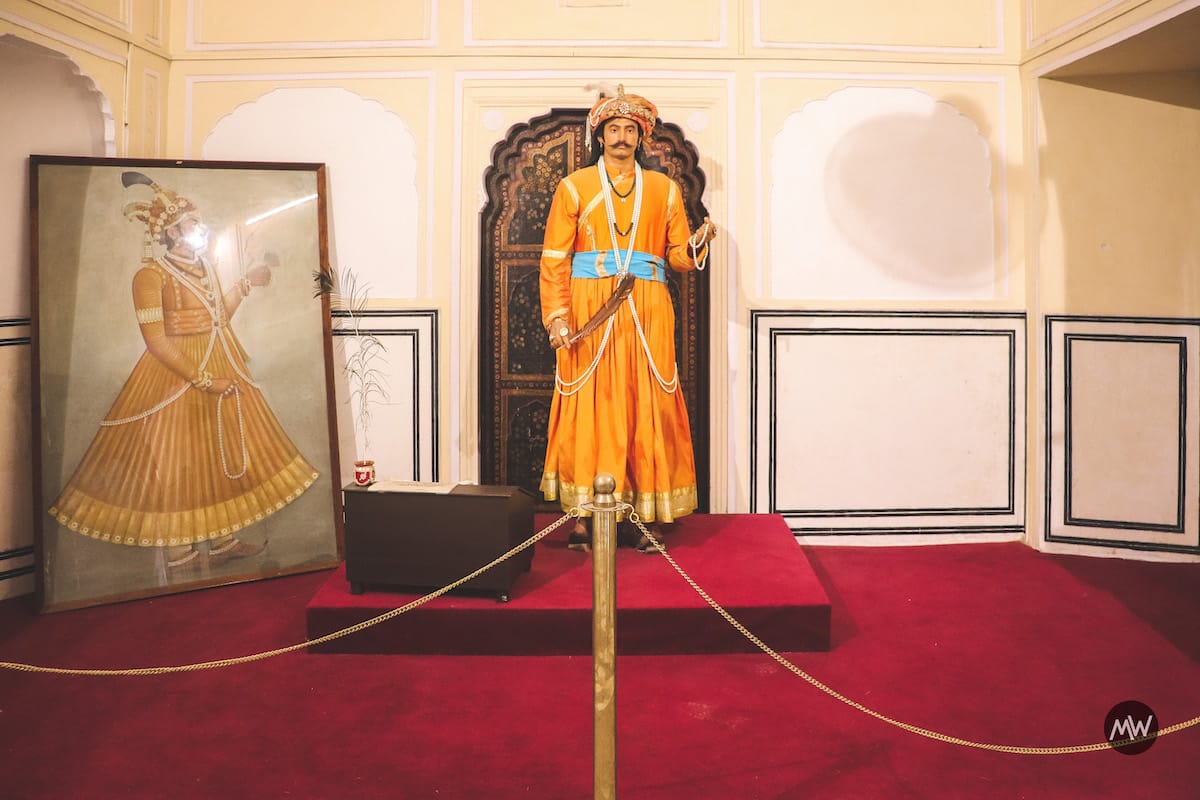 I remember correctly that when Vipin was taking a picture of Maharaja Sawai Pratap Singh's statue, an employee standing nearby said that you did not take a proper picture. See, there is a ray of light on their face, please try again. You can guess from this, how much respect he has for his kings in his heart.
Every Storey Have a Story
On the first floor, there is a Sharad temple, which was used for celebrations. Holi and other cultural events were held here. I could have wondered how the Rangotsav would have been organized. The second floor is named Ratan Mandir, where the walls are decorated with colored glass. When the sunlight changes from colors like red, green, yellow and pink, then a beautiful color image appears. People were competing for taking photos here. On grabbing the opportunity, we also took a couple of photographs.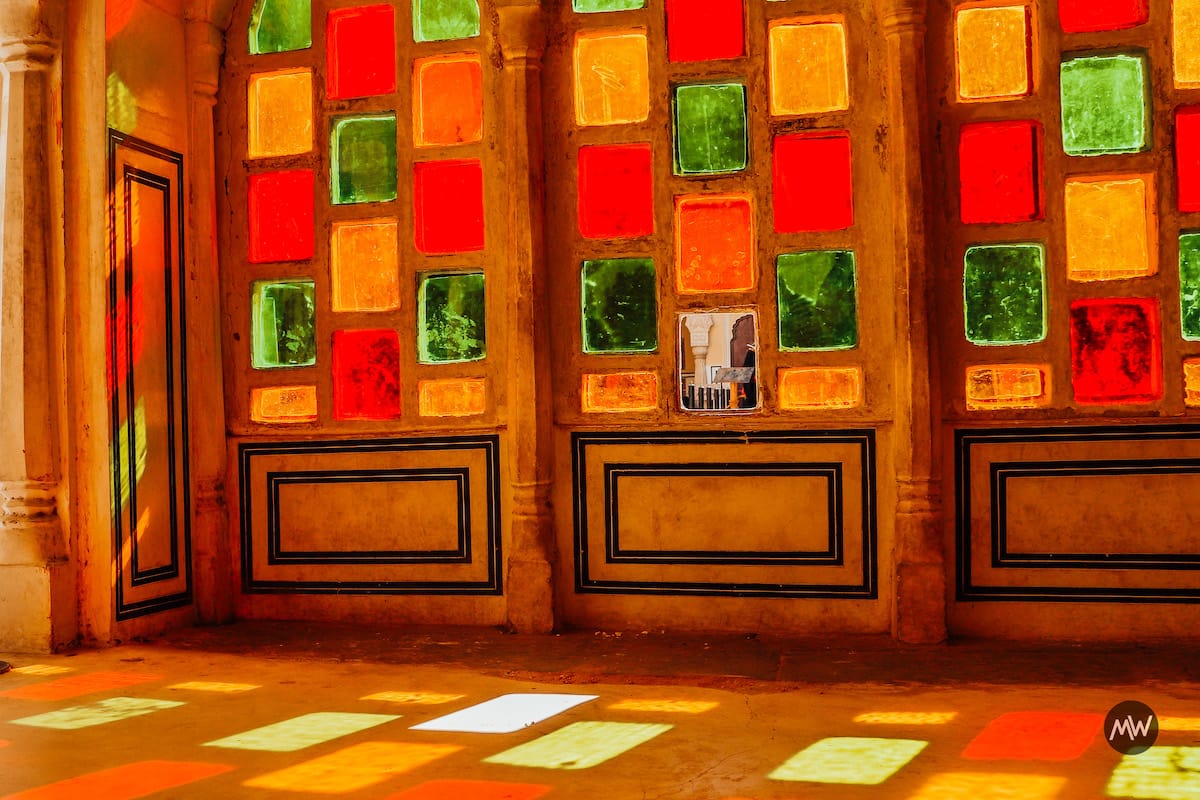 There is a quaint temple located on the third floor of the building. This is the place where not everyone was allowed to go at that time. Maharaja Sawai Pratap Singh used to worship his deity Lord Krishna here.
The fourth floor next to it is called Prakash Mandir. Prakash means light. Perhaps this is why it is called Prakash Mandir.
The fifth floor is known as Hawa Mandir. It is the highest peak in the palace. You may have to face a lot of problems on a normal day to reach here because of the crowd.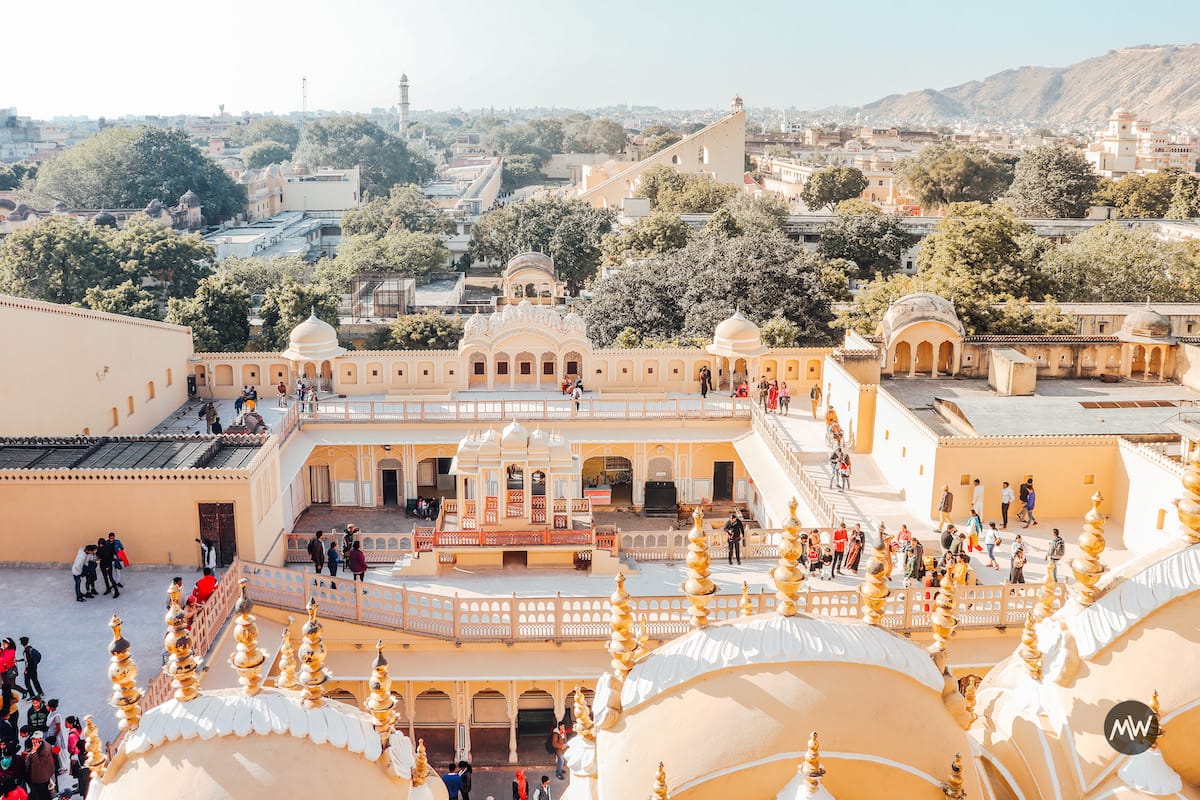 Upon reaching up, I secured a small corner for myself. I could clearly see the City Palace, Jantar Mantar and Nahargarh Fort from above. This gust of wind will wipe away all the fatigue of your face and due to this Hawa Mandir, this palace was named "Hawa Mahal".
Hawa Mahal of Jaipur have 953 Windows
Surprising, isn't it? I was also surprised to know that there are 953 windows in this palace. You will not believe, some windows are so small and cute that your heart will jump upon seeing. There is a small latch in each window. There are jharokhas of every size, small, big, reticulated, antelope, colorful, etc.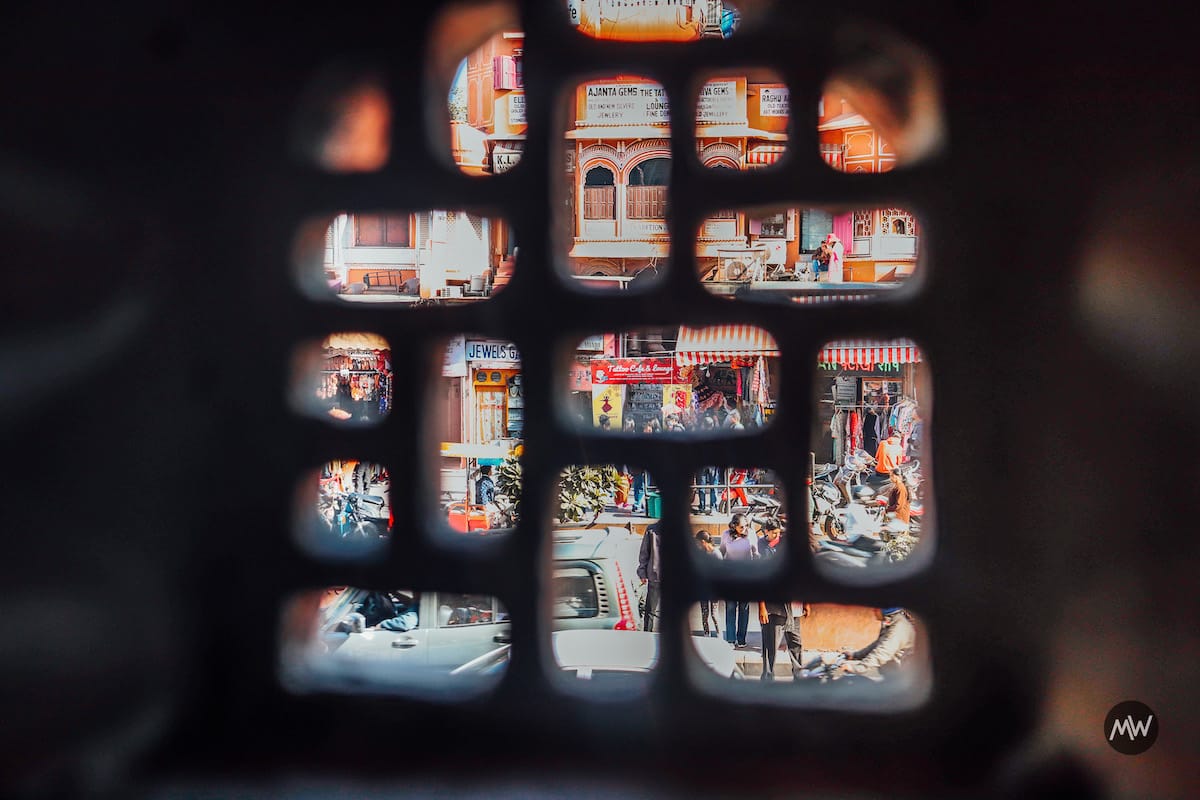 I looked out of many windows. The road outside, shops, cafes, etc were clearly visible. They were made so that the women of the royal palaces could see the movement completely outside without any hindrances. These windows were also used to bring cold air continuously during scorching summer.
The Main Entrance and the Museum
The entrance to Hawa Mahal is through the city palace through a royal door on the backside. This door opens into a huge courtyard. There is a two-story building on all three sides and is connected to the eastern part of the Hawa Mahal. There is also an Archaeological Museum in the courtyard of the palace. There are some food shops nearby and good options to buy Rajasthani apparel and some gifts as a souvenir.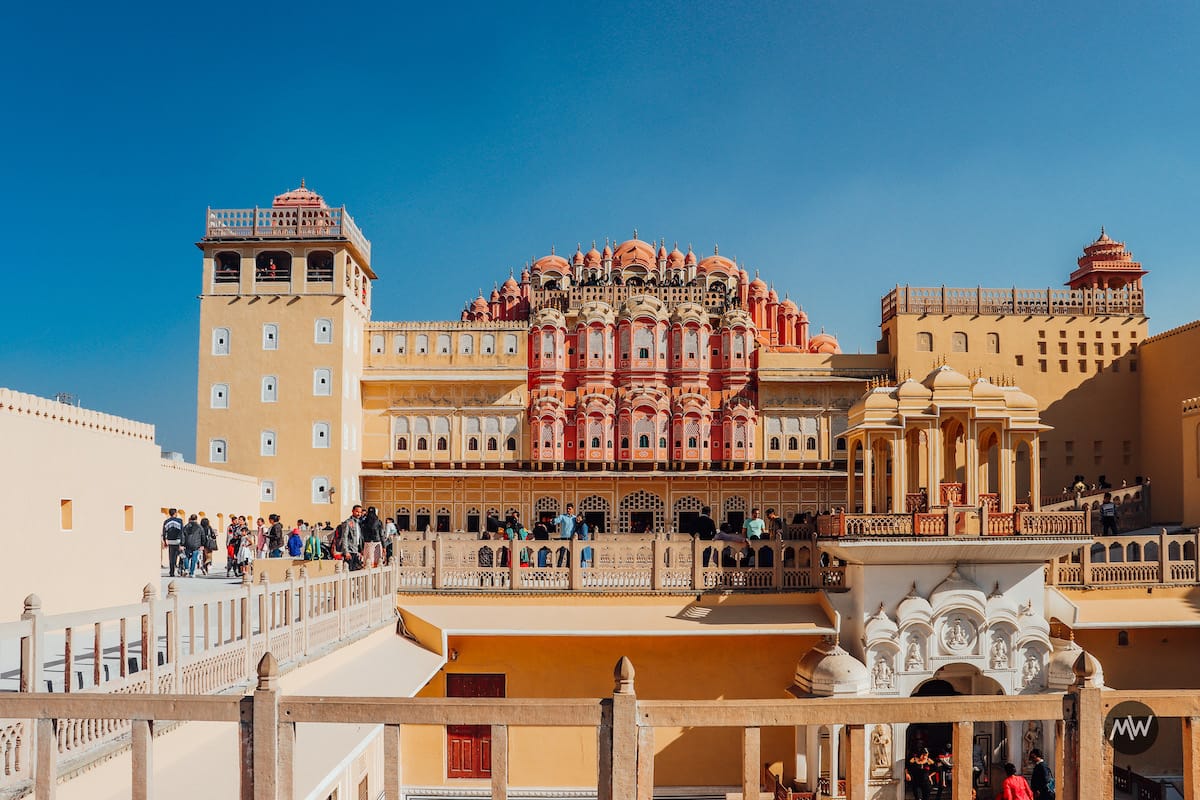 The culture and architecture heritage of the Hawa Mahal of Jaipur is a true reflection of Hindu Rajput architecture and Islamic Mughal architecture. The Rajput architecture consists of domed chhatris pillar-shaped lotus floral statue. Whereas Mughal architecture involves the addition of stones and arches by the fine work of workmanship.
Timings and Ticket Rate of Hawa Mahal
It opens from 9 am to 5 pm all day of the week. (as of Dec 2019). And the prices are as follows:
| | |
| --- | --- |
| Indian Tourists | 50 INR |
| Foreign Tourists | 200 INR |
| Indian Students | 5 INR |
| Foreign students | 25 INR |
Facts Worth Knowing
This palace does not have stairs to go up, but there are slopes. So wear comfortable footwear.
Do not forget to carry water because it is natural to feel thirsty in the middle of so much climbing.
It was named Hawa Mahal after the fifth floor.
From the outside, it looks like the crown of Lord Krishna and an inverted honeycomb.
It is brightened at night, adding to its beauty.
Its streets are active, so climb carefully and follow the rules.
The City Palace and Jantar Mantar are within walking distance from here, you can also go there.
This building is built without any foundation. Which is a wonder on its own? It is considered to be the largest non-foundation building in the world.
Due to the five-story in Hawamahal, it is built in an 87-degree angle. Which is a surprise?
It has an advanced wall with small jagged vents only 8 inches wide. On which the whole five floors stand is a specialty of construction art.
It is also known as "Palace of Winds" or "Wind Palace".
Photography is allowed inside.
How many windows are there in Hawa Mahal of Jaipur?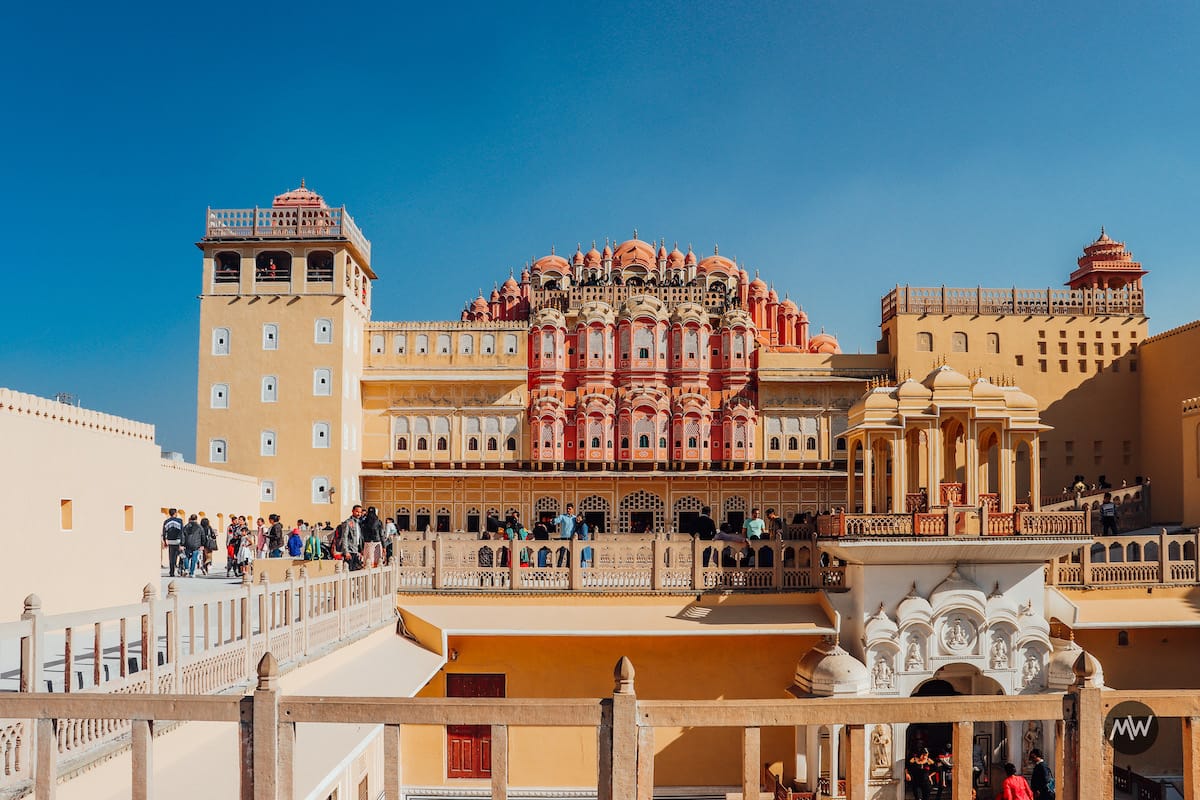 There are 953 windows in the Hawa Mahal of Jaipur and they are also known as Jharokhas.
Why Hawa Mahal is said so?
As Hawa Mahal has 953 jharokhas or windows, the constant cold air through which makes the atmosphere inside the palace pleasant. Its upper storey is called Hawa Mandir. These are the reasons that why it was named as Hawa Mahal.
Who built the Hawa Mahal?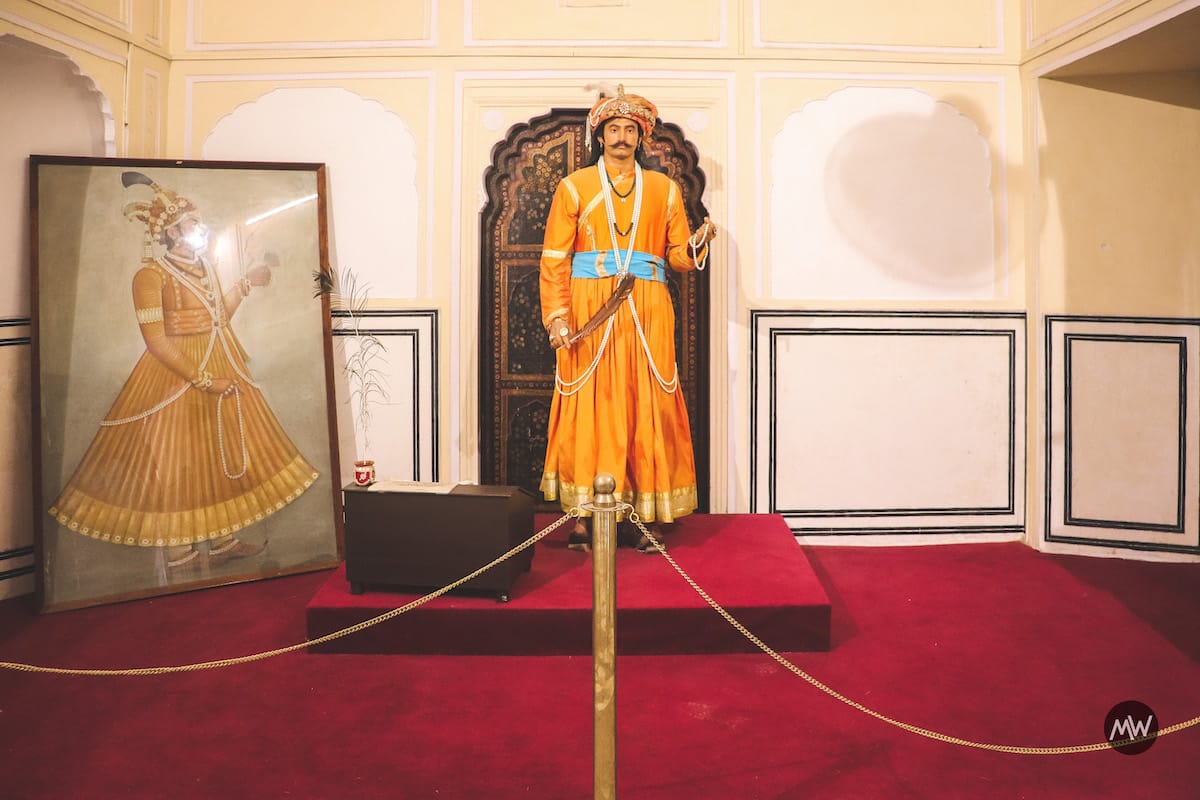 Hawa Mahal was built in 1799 by Maharaja Sawai Pratap Singh, grandson of Maharaja Sawai Jai Singh.
Why Hawa Mahal was built?
Hawa Mahal was constructed to observe the movement of daily life by the women of the royal palaces.
Why Jaipur is called as Pink City?
In 1876, Prince of Wales and Queen Victoria traveled to Jaipur. For his hospitality, Maharaja Ramsingh painted the entire city in pink. At that time, Lord Albert called it Pink City. Since then, the city is known by this name.
Can you enter inside the Hawa Mahal?
Yes, you can enter inside the Hawa Mahal.
What is the speciality of Hawa Mahal?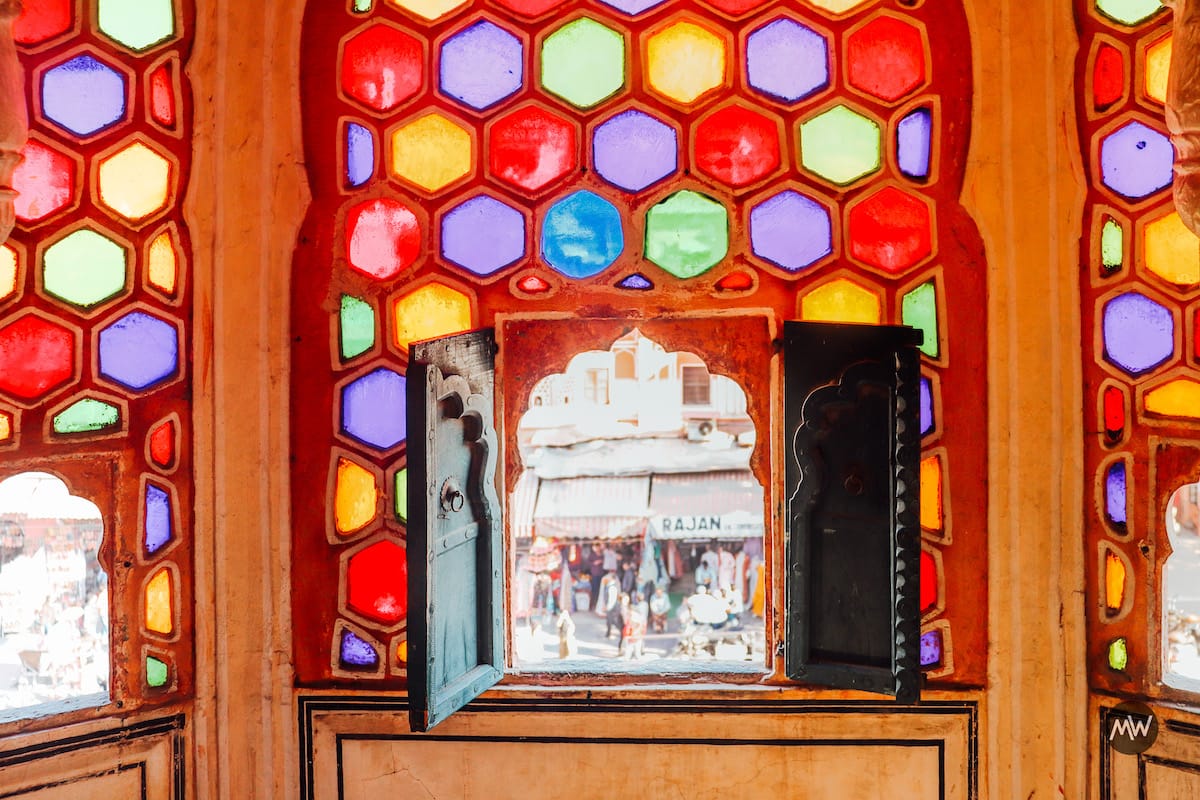 Hawa Mahal is known for its 953 windows or jharokhas along with the amazing architecture. Also its a large building without any foundation or base (neev).
Reaching the Hawa Mahal of Jaipur
When is the right time to go to Rajasthan/Hawa Mahal?
Rajasthan is a hot state, so I would recommend going in the winter season. Well, it can be visited throughout the year if you can bear the summer season. Hawa Mahal is in the Badi Chaupar region of Jaipur and can be reached via taxi, cabs (Ola/Uber) or metro nearby.
By Road
Distance from the country's capital Delhi to Jaipur is 270 km and distance from Agra is 237 km. Apart from private buses, State Transport Corporation buses also operate at frequent intervals.
By Rail
Being a famous tourist center, Jaipur is connected by rail to all corners of the country. Jaipur has three main stations – Gandhinagar, Durgapura and Jaipur Junction.
A royal train named "Palace on Wheels" also runs from Delhi, which takes a week to visit the main places of Rajasthan. The train connects cities like Jaipur, Sawai Madhopur, Chittorgarh, Udaipur, Jaisalmer, Jodhpur, Bharatpur, and Agra.
By Air
Jaipur's Sanganer Airport is 8 km from the main city from where national and international flights take place. This country is well connected to all the cities abroad.
---
Final Words
The legacy is seated in every bit of Rajasthan. Every palace and the fort has a unique story. You will certainly be familiar with the rest of Rajasthani hospitality. They also have the tagline – "Padharo Mharo Desh" meaning – please come to my country. Such a sweet message.
So, go to Rajasthan sometime, and as Rajasthan Tourism says – You Never Know What You Will See (Jane kab kya dikh jaye!)
For me, this journey has been really a lot of learning. I have experienced many things which I had put in a book of memories. Rajasthan has preserved its culture and history in such a way that whoever travels there blends into it.
---