The one question in your mind would be, is it really enough to spend 4 days in Dubai?
After all, the glitzy metropolis of Dubai is a powerhouse of some of the most impressive attractions. Blending the old with the new, Dubai has many experiences to suit any traveler's preferences.
Dubai has much to offer, be it culture, architecture, adventure, or unadulterated fun. While four days may not be enough to see and experience all of Dubai, it is enough to experience the essence of the place.
Although you can plan your itinerary and choose to do what you want, these four days in Dubai itinerary will guide you through planning a Dubai holiday. It also lets you immerse yourself in the finest experiences and make the most of your holiday in the city.
Disclosure:This article is sponsored, and the information provided below may or may not be based on personal experience. If you have any concerns, please contact Misfit Wanderers. Additionally, this article may include some links that could provide us with financial support if you make a purchase or reservation. These links do not influence author's opinion or the information presented.
---
In This Travel Guide
---
How To Spend 4 Days In Dubai
Day 1: Paint the Town Red In Downtown Dubai
Get ready to explore and experience the modern wonders the place offers. Begin your day by visiting the Dubai Frame, which interestingly shows the city's past, present, and future.
This huge, rectangular frame has a glass-bottomed Sky Deck with sweeping views of the historic city on one side and the contemporary cityscape on the other.
Inside, interactive multimedia exhibitions provide insights into the city's past and future ambitions.
Then visit The Dubai Mall, a shopper's paradise. The mall has over 1,200 stores with an amazing selection of international brands and premium boutiques.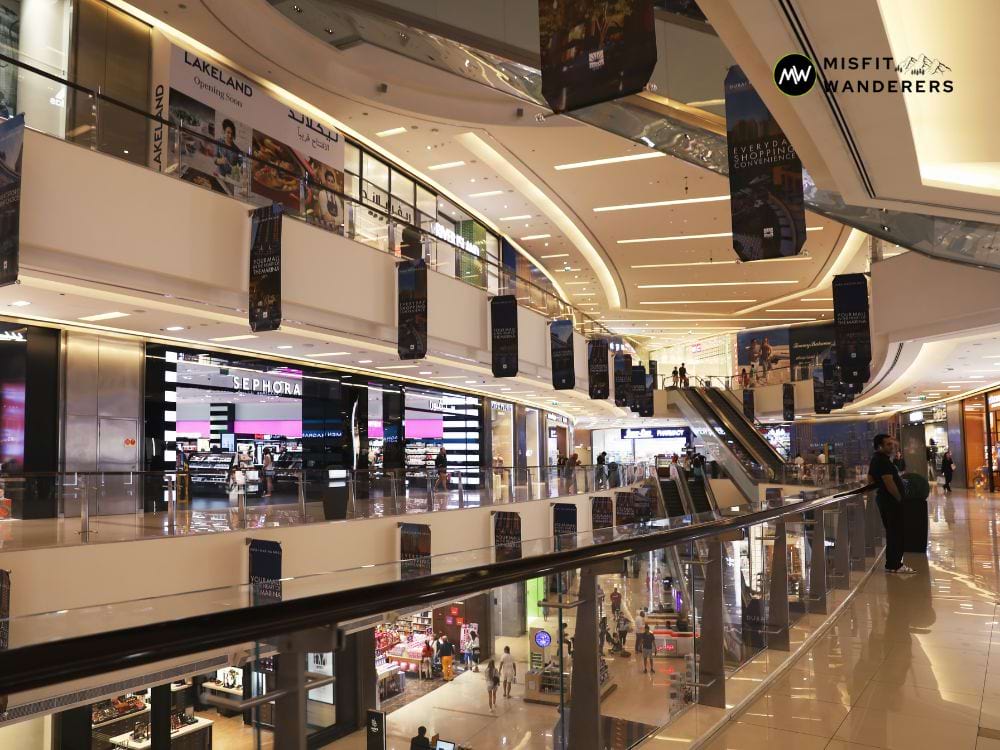 Spend the day touring the Aquarium and Underwater Zoo, KidZania, Dubai Ice Rink, Play DXB (a virtual reality park), a go-kart track, and a cinema theater.
Visit the magnificent Burj Khalifa, the world's tallest structure. Take the high-speed lift to the observation deck on the 124th and 125th floors for spectacular sunset panoramic cityscape views illuminated by shimmering lights.
If you are feeling adventurous, consider booking a ticket for the At the Top Sky experience, which offers access to the highest outdoor observatory in the world.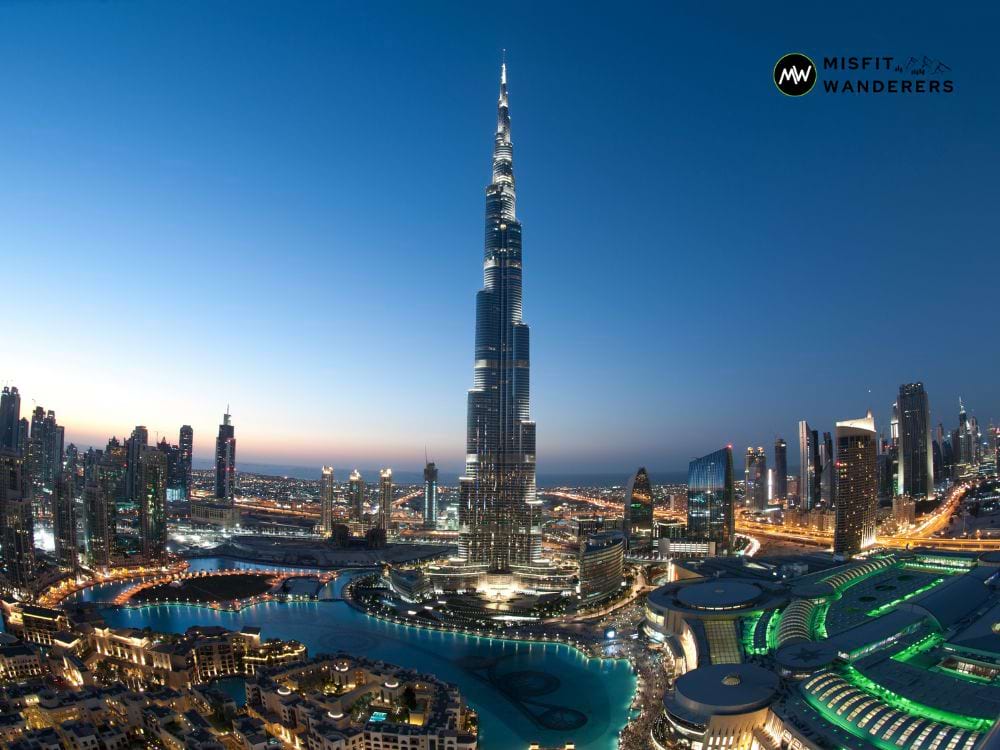 The Dubai Fountain Show, a coordinated water and light extravaganza that occurs every evening on Burj Khalifa Lake, is not to be missed.
As the show happens every 30 minutes from 6 pm to 11 pm, you can enjoy the spectacle while enjoying an abra boat ride on the lake. You can also watch the show for free while standing along the boardwalk.
End your day by exploring Dubai's cultural scene by watching a show at the Dubai Opera. The place hosts several events, including well-known ballet, opera, drama, and music concerts. While the shows at Dubai Opera are interesting, the architecture of the place is equally mesmerizing.
Day 2: Catch A Glimpse Of Dubai's Past
Sink into the rich culture and heritage of the city on the second day of your holiday. Head to Jumeirah Mosque, the only mosque open to non-Muslims, to join the free tour.
The tour lets you see the mosque's beautiful architecture and learn about Islam and its culture and traditions.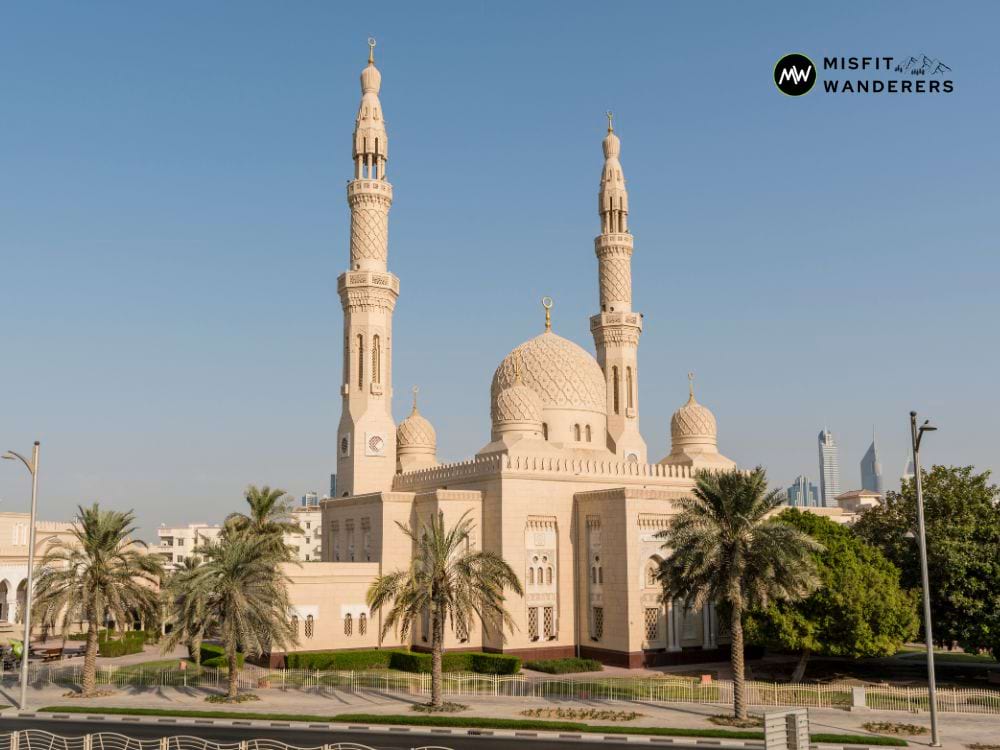 A traditional abra (water taxi) ride across Dubai Creek to Deira is the perfect way to continue exploring. Stop at Gold Souk to check out more than 300 stores selling various gold jewelry and rare jewels.
The Spice Souk should be your next stop to shop for herbs, spices, and dry fruits. Do not miss visiting the Perfume Souk to update your perfume collection.
If all the shopping makes you hungry, head to Al Seef's charming seaside promenade, where you can enjoy a meal at one of the waterfront restaurants while soaking in its cultural atmosphere.
As the evening sun cools down the atmosphere, gear up to explore the Bastakiya Quarter, also called the Al Fahidi Historic Neighborhood. The place will take you back to when Dubai was a modest village.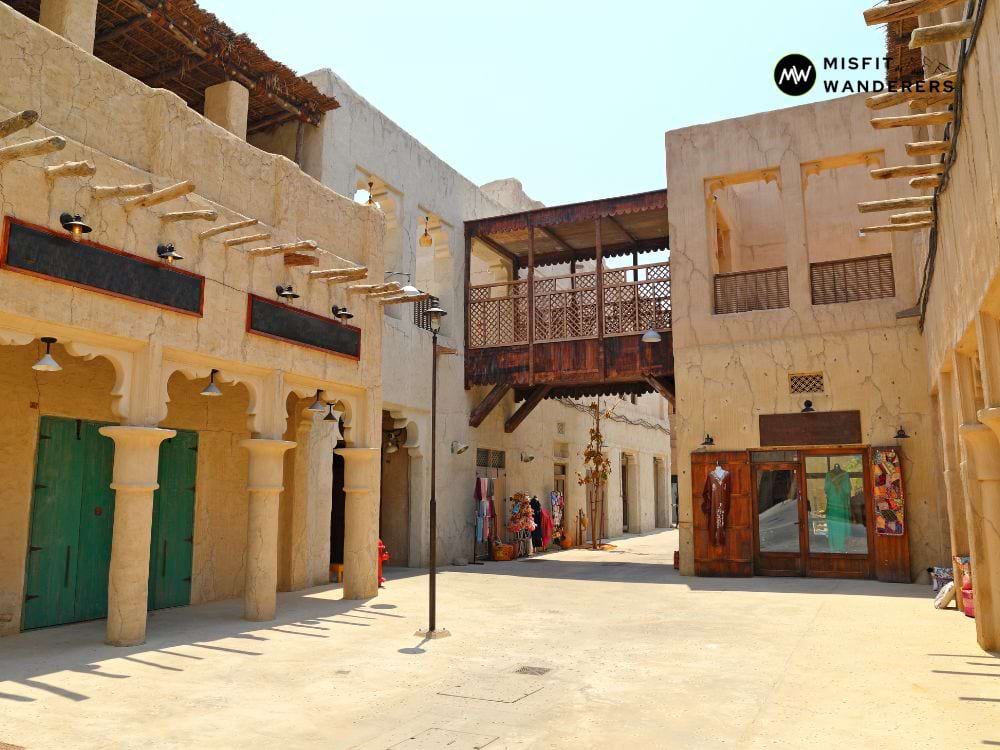 Walking along the narrow lanes, you see traditional homes built by Persian merchants settled in Dubai. These old buildings have become art galleries, cafes, and boutique stores.
Visit the Sheikh Mohammed Centre for Cultural Understanding to learn about the local culture, traditions, and customs via interesting interactive programs. Do not forget to check out the Dubai Museum in the city's oldest building, Al Fahidi Fort.
The museum opens the door to the city's past through an exciting array of exhibitions and artifacts depicting traditional Emirati life.
Read More: 11 Museums In Italy To Visit in 2023
Day 3: Experience The Modern Attractions In Dubai
Begin day three of your Dubai holiday with a trip to the palm-shaped island, Palm Jumeirah. A marvelous artificial island, it is home to Atlantis The Palm, the luxury hotel that houses the thrilling Aquaventure Waterpark.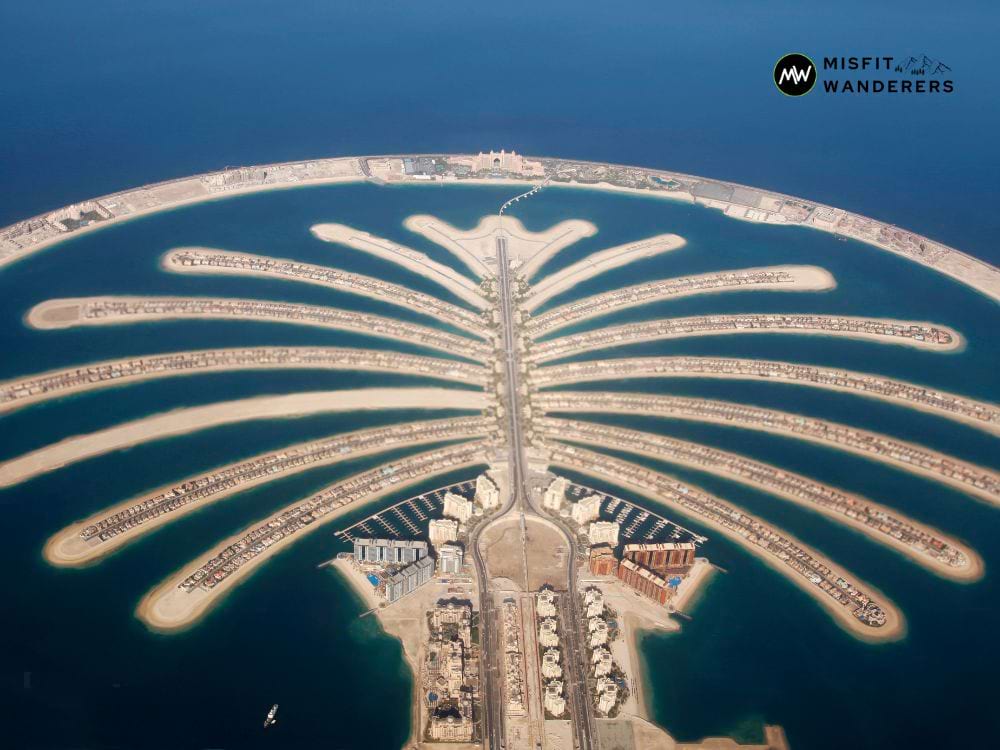 The park is equipped with adventurous water slides and a lazy river. Thrill seekers will have the time of their lives sliding down a shark lagoon. You can also explore a magnanimous aquarium and play with dolphins here.
Alternatively, you can escape the city's heat with a visit to Mall of the Emirates, home to Ski Dubai, the world's largest indoor ski resort. The place is a winter wonderland where you can enjoy skiing, snowboarding, and other snow activities like tobogganing and zorbing.
Kids will love riding on the snow bullet and watching the antics of the penguins. Wind up your trip to Ski Dubai with a cup of hot chocolate at the indoor cafe.
If you want to escape the real world for some time, the AYA Universe Dubai is just what you need. AYA Universe is an architectural and technological marvel that reflects the city's commitment to innovation and sustainability.
It is divided into several zones, and each zone transports into a universe filled with vibrant colors, shapes, designs, and sounds.
End a magical day with a dhow cruise dinner at Dubai Marina. As you tuck into a delicious 3-course meal, you also get to admire the beautiful shoreline with amazing views of the Arabian Gulf.
Also, there is no need to wind up after your dinner cruise. You can choose to stroll along the Dubai Marina promenade while enjoying the city's gentle breeze and sights.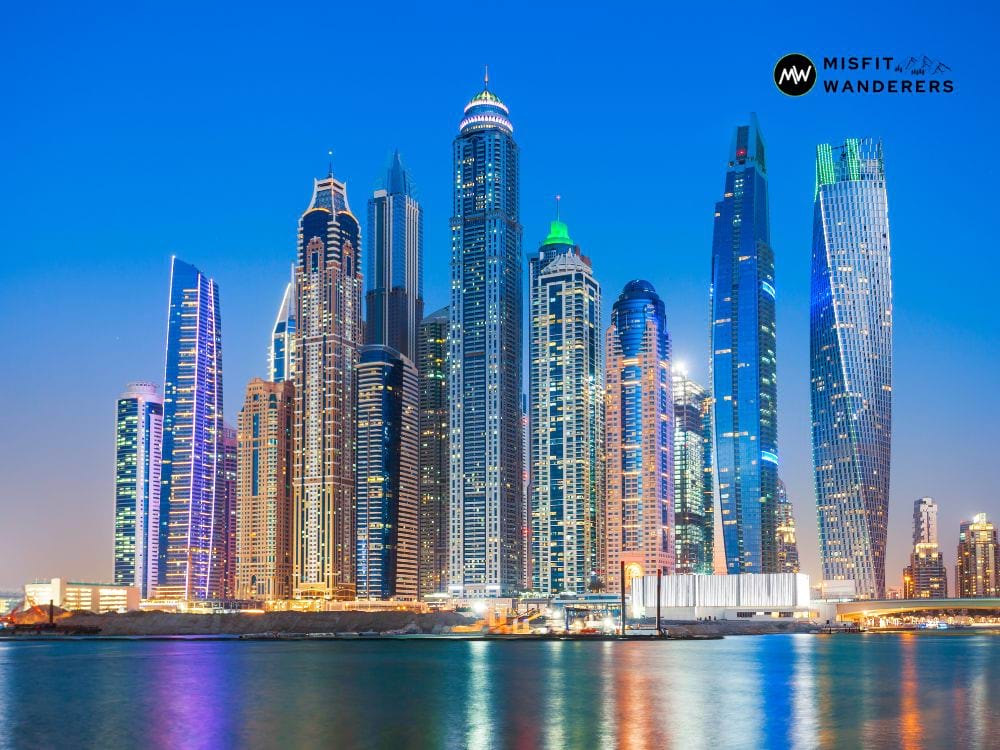 Alternatively, you can explore the nightlife of Jumeirah Beach Residence (JBR), featuring many bars, nightclubs, cafes, and restaurants.
Day 4: Spend Time Enjoying the Natural Beauty and Adventurous Side of Dubai
On your last day, go on an excursion and discover Dubai's natural splendor. Begin your day by escaping the city and entering a beautiful tropical jungle at The Green Planet.
This bio-dome mimics a whole ecosystem with exotic plant and animal species. Explore the canopy walkways, meet amazing wildlife, and learn about the importance of biodiversity conservation in our world.
Plan your next stop at Dubai Miracle Garden, a true marvel as it is the world's largest natural flower garden in the desert city. Dotted with astonishing floral structures, strolling in this garden is nothing less than delightful. You get to take pictures with some record-breaking floral structures and installations here.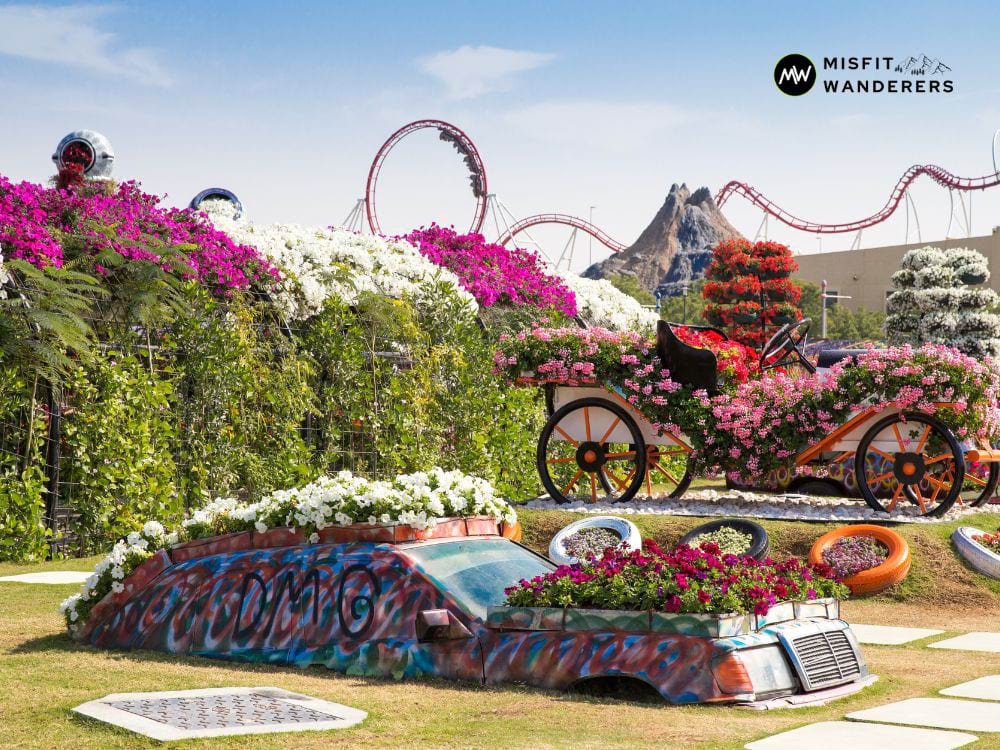 A trip to Dubai Parks and Resorts is necessary to plan a fun day for your kids. While older kids and adults will love Motiongate Dubai (a Hollywood-based theme park), children under 12 years will have the time of their lives at Legoland Dubai and Legoland Water Park.
Jam-packed with thrilling rides, roller coasters, live entertainment, eateries, and retail stores, Dubai Parks and Resorts promises a memorable day.
End your Dubai holiday with a bang with the ultimate desert safari Dubai tour. The desert safari takes you to the vast desert on the city's outskirts, where you can indulge in amazing adventurous activities.
There is dune bashing in a 4×4 vehicle, followed by camel riding, sandboarding, and quad biking. Marvel at the performances of Tanoura and belly dancers at the desert camp.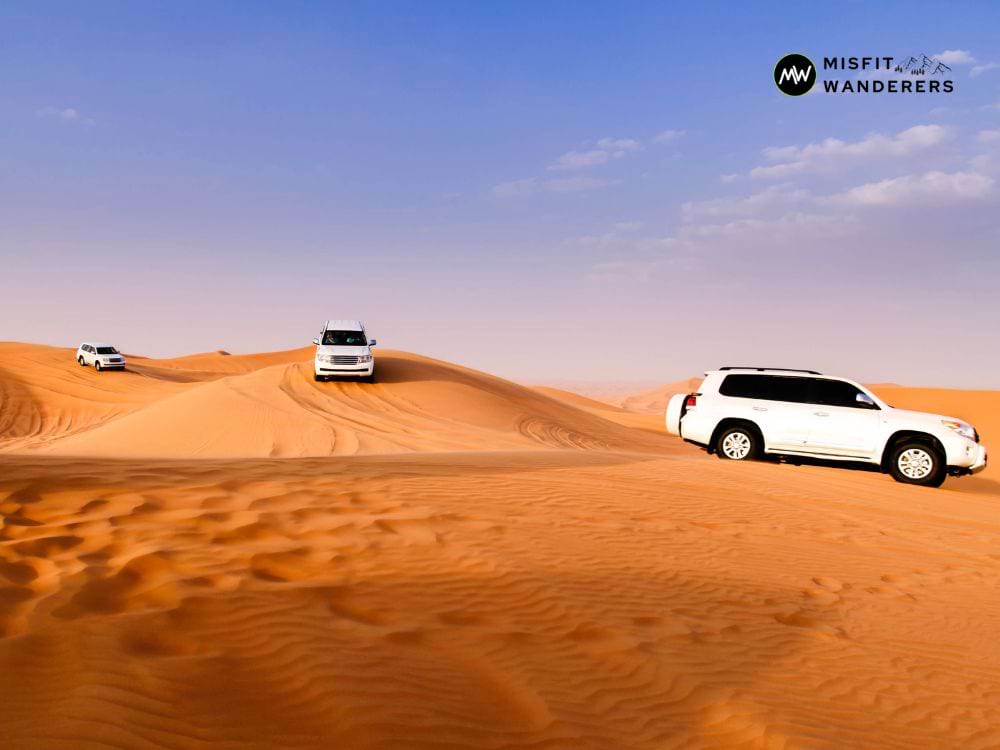 You also get to savor some of the most delicious Emirati cuisine during the BBQ dinner at the end of the desert safari.
Best Time To Visit Dubai
Between November and March, the weather in Dubai is cooler, with average temperatures ranging from 20°C to 25°C (68°F to 77°F). It is the peak season for tourists, so anticipate bigger crowds and higher hotel costs.
Consider going during the shoulder seasons of spring (April and May) and fall (September and October) to avoid crowds.
Where To Stay In Dubai
Dubai provides various hotel options to suit all budgets and interests. Some popular spots to consider for your visit are as follows:
Downtown Dubai: Want to wake up to the sight of the Burj Khalifa towering over the city? Or want to visit the Dubai Mall anytime you want, without getting stuck in traffic? Staying in Downtown Dubai will offer you all this and lots more. This area is home to premium hotels in the city.
Dubai Marina: If you like to be in the middle of a hustle-bustle, Dubai Marina is for you. Dotted with plenty of luxury hotels, fine dining restaurants, and numerous entertainment options, Dubai Marina is perfect for the young and the young at heart.
Jumeirah Beach Residence (JBR): Enjoy the sparkling Dubai coastline by staying at one of the stylish hotels on Jumeirah Beach Residence. Most hotels here provide guests access to a private beach to enjoy the city's sun, sand, and surf.
Palm Jumeirah: If opulence and luxury are what you are looking for, head straight to Palm Jumeirah. While the artificial island is full of grand hotels, check out Atlantis, The Palm, to experience ultimate luxury.
Where To Eat In Dubai
As most of Dubai's population comprises ex-pats, you will find cuisines from around the world here. Food lovers can experience an array of flavors here. Some of the places that can put you in a food coma in Dubai are:
Al Fahidi Historic District: If you want to try authentic Emirati food, it does not get better than this place. Old Dubai has several restaurants serving delicious local food.
Jumeirah Beach Road: Jumeirah Beach Road, or JBR, offers you the chance to savor a variety of international cuisines in a leisurely way. The place is swamped with restaurants and cafes serving Middle Eastern, Asian, Italian, and American cuisines.
Dubai Marina Walk: Enjoy a delicious meal and stunning waterfront views at Dubai Marina. The place has some of the swankiest fine-dining restaurants in Dubai.
Downtown Dubai: Downtown Dubai is another place that gives you options to dine in style. An array of restaurants owned by Michelin-star chefs await you here.
How To Travel In Dubai
Traveling in Dubai is extremely convenient as the city boasts an extensive transportation network.
Metro: Offering great connectivity, this is the most convenient and reliable way of traveling in Dubai. You will find a metro station near most of the popular attractions in the city.
Taxis: Flagging a taxi is never a problem in Dubai. They are not just readily available but also easy on the pockets.
Public Buses: Another affordable option to travel in Dubai is the bus network. They offer good connectivity throughout the city.
Buying a Dubai Explorer Pass (valid for 30 days) will save you money and time. It gives you access to several activities; skip-the-line tickets for your suitable time slot to visit the attractions.
Buying Tickets Online
Many Dubai attractions and activities provide online tickets. Check the official websites of the tourist attractions you intend to visit to see whether they offer online ticket purchasing.
Third-party companies and travel platforms frequently provide cheap tickets and package offers for main attractions.
Clothing Recommendations
Because Dubai has a conservative culture, it is vital to dress modestly, particularly in public. While Western-style clothes are typically appropriate, visitors must avoid wearing anything too exposing or provocative.
The dress code is not restricted to women, especially visiting mosques or other religious institutions. All guests should cover their knees and shoulders at such places.
What is Illegal in Dubai?
Although quite liberal compared to other Arab cities, certain things are illegal and frowned upon in Dubai. You must refrain from doing certain things to avoid trouble:
Do not indulge in public displays of affection
Do not drink alcohol in public, except in pubs and restaurants
Do not indulge in public nudity or indecent behavior
Avoid swearing, offensive gestures, and disrespectful behavior toward the local culture or religion
As a tourist, being acquainted with the local culture, laws, and traditions is important to ensure a safe and problem-free holiday in Dubai.
Additional Information About 4 Days In Dubai
Currency: The official currency of Dubai is the UAE dirham (AED). You can exchange currency at banks or authorized exchange offices.
Language: Although Arabic is the official language of Dubai, English is widely spoken in tourist areas.
Drinking Water: While tap water is safe, many people prefer bottled water in Dubai.
Shopping: Shopping is bliss in Dubai, as it is home to numerous shopping malls and traditional souks. Right from local goods to international brands, there is nothing you cannot buy in Dubai.
Etiquette: Knowing the local customs can save you from embarrassment. The chance of offending someone becomes less. For instance, although not illegal, it is best to ask for permission before clicking pictures of Arabs.
Safety: Dubai is one of the safest cities in the world, as the crime rate is almost nil. Still, it is essential to be careful while traveling. You must always be aware of your surroundings and keep your belongings safe.
Conclusion: How To Spend 4 Days In Dubai
The four days in Dubai trip will give you a glimpse of Dubai and the need to visit again. The best part about revisiting Dubai is seeing something new as the city introduces new attractions every year.
So, when are you planning your Dubai holiday? Do share your experiences in Dubai with us in the comments section.
---
An appeal: Please do not throw litter around. Use a dustbin and if you can't find one, take the trash with you and throw it when you find one. Your small steps like this one can make the world clean and green.
---