A trip to India, for any traveler, is completely incomplete without visiting Jaipur. If you have not enjoyed the glory and unique hospitability of Rajasthan, then your visit to India is certainly incomplete. Jaipur, the capital of Rajasthan and popularly known as Pink City in the world, attracts tourists from not only from India but from all over the world.
In this article, I will mention 9 best and absolutely stunning places to visit in Jaipur, which every traveler must include in their list while coming to Jaipur. Believe me, these are the places that awed me to the core. And I firmly believe that you too will feel something unique in such places.
Perhaps, Rajasthan state is the most Instagrammed place all over the world from India. So if you are someone who loves to drool over clicking amazing pics for Instagram or personal uses, this is your call.
---
---
Hawa Mahal
This palace is revealing its identity by name. This palace, with no foundation and more than 950 ventilators, is the hallmark of Jaipur. Due to the prevalence of the Purdah system, royal Rajput women could not see the daily commotion outside. It was built in 1799 by Maharaja Sawai Pratap Singh for the purpose that the royal women could observe the outer movement along with the practice.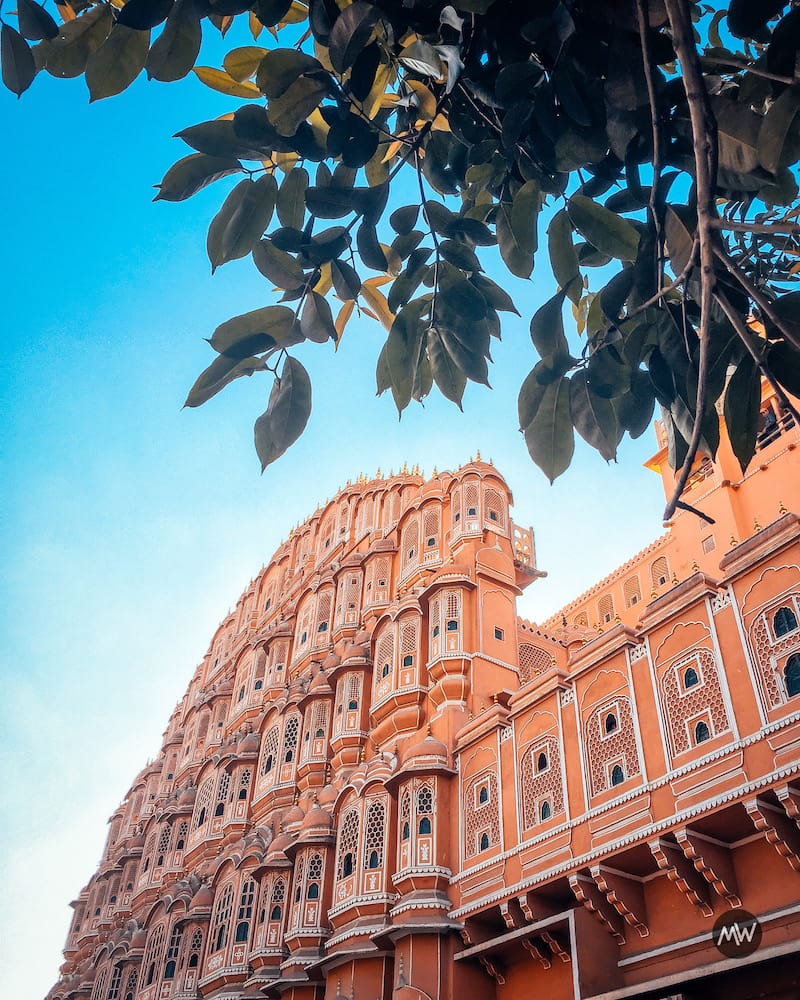 When viewed from outside, it looks like the crown of Hindu God Lord Krishna and the beehive. It is also referred by names Wind Palace or Breeze Palace other than the local name, Hawa Mahal.
Ticket
Indian Tourist – INR 50
Foreign tourists – INR 200
Opening hours – 9 am to 5 pm
What to do?
Visit the Archaeological Museum.
Shop at the nearby market.
Experience the luminous Wind Palace at night.
Address – Hawa Mahal Road, Badi Chaupar, Near JDA Bazar, Jaipur.
City Palace
The City Palace located near Hawa Mahal has its own status. Built in Rajput and Mughal style architecture, this building left me speechless. The systematic combination of the smallest artistry and the variety of colors attracts everyone. The credit for this palace, mainly built to welcome special guests, goes to Maharaja Sawai Jai Singh II.
Currently, it has been converted into a museum where ivory swords, chain weapons, guns, pistols, cannons, poison tip blades, and gun powder pouches are also placed for display.
Ticket
Indian Tourist – INR 300
Foreign tourists – INR 700
Opening time – 10 am to 5 pm and 5 pm to 10 pm
What to do?
Gaze at the amazing architecture.
Visit the historical exhibits displayed in the museum.
Click Instagrammable pictures.
Shop at the nearby local market.
Address – Jaleb Chowk, Near Hawa Mahal, Tripolia Market, Kanwar Nagar, Jaipur.
Albert Hall Museum
The Albert Hall Museum, built in the Indo gothic style, is the oldest and largest museum in Rajasthan, which was built by Maharaja Ramsingh to welcome Prince Albert Hall of Wales. It was later converted into a museum in 1887 following the king's orders.
Inside it is a collection of metal art, pottery, weapons, armor, marble art, miniature paintings, jewelry, antique silver, and copper coins.
Apart from this, ivory, precious stones, colorful Rajasthani costumes, sculptures, musical instruments, etc. are also present. You can see and feel the glimpses and traditions of the Rajasthani culture here.
Ticket
Indian Tourist – INR 40
Foreign tourists – INR 300
Opening time – 9 am to 5 pm
What to do?
Look at the mummy of Egypt, which has been preserved for centuries.
Look at the greatness of Rajasthani culture.
Address – Ram Niwas Bagh, Ashoknagar, Jaipur.
Amber Fort
Located at a distance of 11 km from the main city, Amer Fort or Amber Fort is a major attraction of Jaipur included in the list of World Heritage. Made of red sandstone and marble, this fort has four floors. There are separate courtyards on each floor. This fort is known for its artistic Hindu Rajput architecture.
This fort includes Diwan-i-Aam, Diwan-i-Khas, Sheesh Mahal (Darpan Mahal), Jai Mandir and Sukh Niwas where the air through the water in the fort becomes artificially cooled when it enters. It was once the capital of Rajputs. A tunnel is connected to the Jaigad Fort near it.
Ticket
Indian Tourist – INR 100
Foreign tourists – INR 500
Opening time – 9 am to 5 pm
What to do?
Be sure to witness light and sound shows.
Know the places located in the fort and admire the Aravalli ranges.
Light and Sound Show of Amer Fort is one of the things that you shouldn't miss. It is available in both English and Hindi language for approximately 300 rupees.
| Months | Timings for English | Timings for Hindi |
| --- | --- | --- |
| October to February | 06:30 pm | 07:00 pm |
| March to April | 07:00 pm | 07:30 pm |
| May to September | 07:30 pm | 08:30 pm |
Note that these things are subject to change without prior notice, most often. It is therefore recommended to call government authorities or visit the official site if you're too much conscious.
Address – Devisingh Pura, Amer, Rajasthan.
Jaigarh Fort
You will be surprised to know that the world's largest cannon on wheels is inside this fort. This cannon, known as Javon Cannon, is the main attraction here. With a diameter of 10 meters and a barrel of 20 feet, this cannon weighs 50 tons.
It is also said that Jaigarh Fort is the strongest fort in Jaipur. Since it could not be conquered by any king, it is called an invincible fort. The place where this fort is located is known as the hummock of the eagle.
Ticket
Indian Tourist – INR 35
Foreign tourists – INR 85
Opening time – 9 am to 4:30 pm
What to do?
The city of Jaipur, Maota Lake and the Aravalli Range can be seen clearly from above.
Experience the largest canon on wheels.
There are some temples too, you can go there.
Address – Devisingh Pura, Amber, Rajasthan near Amber Fort.
Nahargarh Fort
There is another huge fort near Jaigarh, which is known as Nahargarh. It was also constructed to provide security. The fort is called the "abode of lions" as it was common to find lions on its hills at those times.
The Nahargarh Fort is at an altitude of 700 feet, from where one can get a beautiful and wide view of the city which also gives you an opportunity to click some mind-bending shots. This fort was also never attacked. It was built in 1734 by Maharaja Sawai Jai Singh II.
Ticket
Indian Tourist – INR 50
Foreign tourists – INR 200
Opening time – 10 am to 5 pm
What to do?
Visit the organic park inside the fort.
Look at historical and adorable sculptures.
There is also an option for trekking and cycling.
Address – Krishnanagar, Brahmapuri, Jaipur, Rajasthan.
Jal Mahal
I watched the Jal Mahal (Palace in Waters) in movies many times in my childhood and wondered how it is possible to have an underwater palace. But when I saw it, then the eyes convinced me. This palace situated on the way to Amer is a form of natural beauty. At those times it was used to be some summer resort of Maharajas, where kings used to come to spend some good time.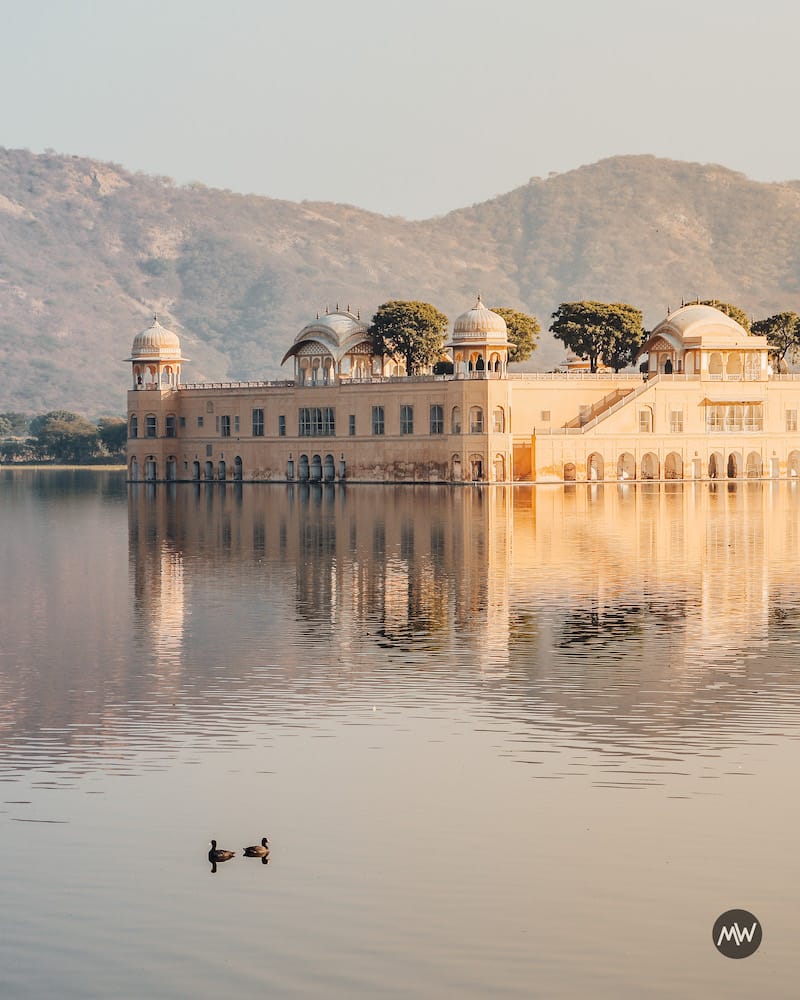 It's an ideal place to spend an evening with the family. The hills behind it and the small market on the roadside in front of it, give it a more beautiful appearance. If you are a bird lover then this is a perfect place for photography.
Ticket
There is no ticket.
Opening time – 6 am to 6 pm
What to do?
Sitting on the shore, cold air and admire its beauty.
You can shop for some local items in the nearby market.
Listen to the cacophony of birds and see.
Do photography
Address – Jal Mahal, Amer Road, Jaipur, Rajasthan.
Sisodia Rani's Garden
At around 5 in the evening, I reached Sisodia Gardens, situated in the lap of the hills. Surrounded by mountains from every side, lush with greenery and its pleasant and cool atmosphere made my day-long fatigue disappear. I remember when I was seated on a chair in the middle of the garden and the sound of sweet Rajasthani songs was soothing my ears. It was a really sweet evening.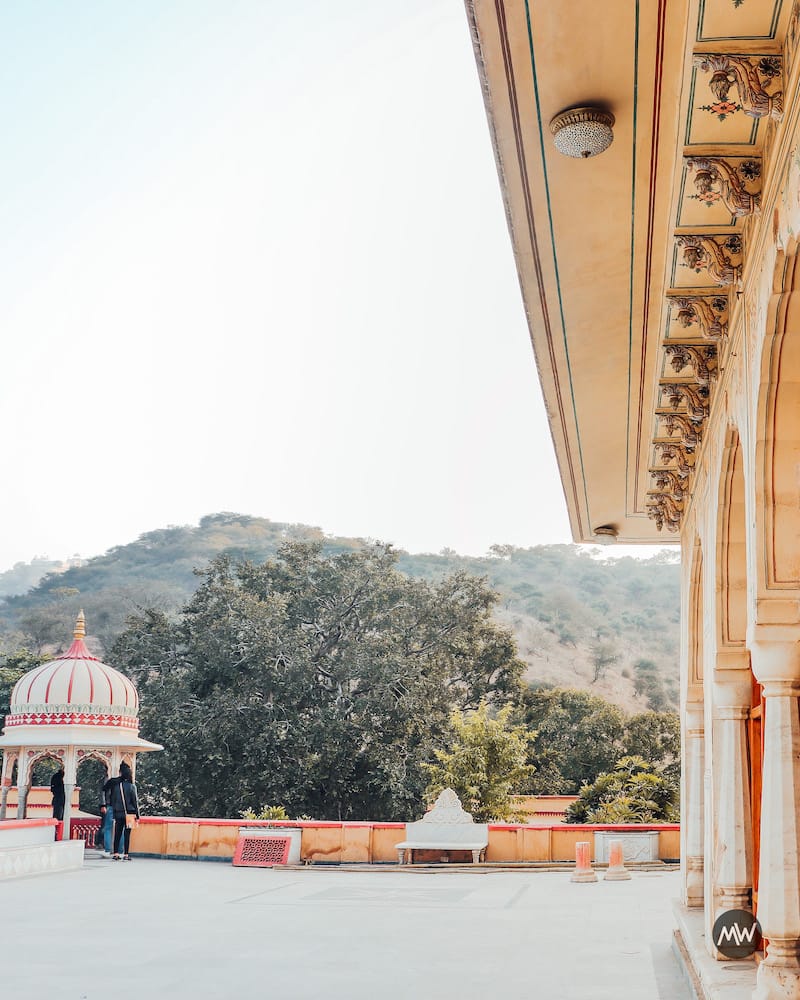 Located 10 km from the city, near the Agra Jaipur Highway, this garden was built by Maharaja Sawai Jai Singh Ji for his queen. It is said that the queen used to spend some precious moments with her friends here.
Ticket
Indian Tourist – INR 50
Foreign tourists – INR 200
Opening time – 8 am to 6 pm
What to do?
Take a stroll in the garden.
The cool breeze and music will end all your fatigue.
An ideal place for photography.
Address – 11, Lal Dungri, Jaipur, Rajasthan.
Birla Mandir (Laxmi Narayan Temple)
Our day ended with a vision of God. While returning from Sisodia Rani Bagh, we visited this temple. It is built of white marble in the Pink City, which fascinated me. The Birla Temple is also known as the Lakshmi Narayan Temple because the temple is dedicated to Lord Vishnu (Narayana) his wife Lakshmi, the goddess of wealth.
Today the place where the Birla temple is located in Jaipur was given to Birla by the Maharaj in Jaipur as a token amount of rupees one. The Birla Temple of Jaipur is quite famous for its intricate carvings and fine work. Tourists coming here are fascinated by the beauty of this temple.
Ticket
No fee.
Opening time – 6 am to 12 pm and 3 pm to 9 pm
What to do?
Look at the carvings of the temple.
Join the Darshan of God and Vishal Aarti.
It is pleasant to see its brightness in the light of the moon.
Note that cameras, wallets, mobile phones aren't allowed inside. They have a proper facility to submit them at the gate.
Address – Tilak Nagar, Jaipur, Rajasthan.
---
Other Places to Visit
Galta Ji Temple
Surrounded by the Aravalli hills, this temple is made of pink stones. It is said that Saint Galav did meditate (tapasya) here for 100 years, due to which he got a boon that this place would be revered. The water of its pool is considered sacred.
Chokhi Dhani
This luxury heritage resort spread over 10 acres gives you a feel of the Rajasthani village culture. The food, clothing, lifestyle, artifacts, crafts, paintings, sculptures, folklore, various dances, singing, and many other traditional aspects make Chokhi Dhani extremely special.
Major Markets
If you want to take some local artifacts & souvenirs, then definitely go to Tripolia, Johri and Bapu Bazaar.
When and How to Reach?
Rajasthan is a hot state, so I would recommend going in the winter season (November – February). Although, it can be visited throughout the year if you love challenges.
By road
Distance from the country's capital Delhi to Jaipur is 270 km and distance from Agra is 237 km. Apart from private buses, State Transport Corporation buses also operate at frequent intervals.
By rail
Being a famous tourist center, Jaipur is connected by rail to all corners of the country. Jaipur has three main stations – Gandhinagar, Durgapura and Jaipur Junction.
A royal train called "Palace on Wheels" also runs from Delhi, which takes a week to visit the main places of Rajasthan. The train connects cities like Jaipur, Sawai Madhopur, Chittorgarh, Udaipur, Jaisalmer, Jodhpur, Bharatpur, and Agra.
By air
Sanganer Airport of Jaipur from where national and international flights take place is 8 km from the main city. This city is well connected to some of the cities abroad.
Where to stay?
Accommodation is never a problem in Jaipur city. You can find the most affordable yet best options here. However, do note that in peak seasons, like in New Year, Diwali, etc prices get a spike in its prices. So it's recommended to book ahead of your arrival.
If you're a solo traveler and/or backpacker you might love hostels over hotels. Jaipur also has some of the country's best hostel chains operating here. Above all, we recommend booking Zostel Jaipur as Zostel never disappointed us in our career of travel.
This time I tried something different. As Zostel was already sold out, I took it as an excuse to try out another hostel in Jaipur. To my surprise, the hostel I booked had exceeded my expectations. Look at these pics:
We stayed in Chillout Hostel in Jaipur and above all pics are of this hostel. We opted for shared rooms and in that they gave us huge Rajasthani styled 'khats' – khats are four legged furniture like bed made with ropes and wood.
---
My Experience
It is difficult to describe in words what I felt myself while visiting Jaipur city. I have kept many memories and experiences. You must visit Rajasthan once in your lifetime. Believe it, the culture, hospitality, splendor and cherished heritage here will make you come here again.
I too could not experience many places in the journey. Culture is sitting here in every particle and I'd surely come back again to relish my memories.
An appeal – please do not throw garbage around. Use dustbin and if you can't find a dustbin, take the trash with you and throw it where the trash appears. Your small initiative can make India clean and green.
---
So, tell me have you been to Jaipur? Share your Instagram photos links.