If the thrill of visiting Kuldhara (the haunted village) hasn't convinced you to visit Jaisalmer, the architectural marvels and beautiful desert sunset surely will.
You have enjoyed the mountains and the seashores. And now it's time to spend a night in the lap of twinkling stars in the Thar desert or your days exploring the fine architecture. Imagine how that'd be? Wholesome!
Your Jaisalmer places to visit list might be small, but it can give you a lifetime of experience.
In this travel guide, you will go on a virtual journey to Jaisalmer. Further, you'll also learn the best ways to reach Jaisalmer, where to stay, when to go, what to eat, what to buy, and more.
Notice:This post may contain a few links that might earn us financial support when you buy or make any reservations. They in no way affect our opinion or the information presented here.
---
In This Article
---
How to Reach Jaisalmer?
Distance from Jaipur to Jaisalmer: ~560 km or ~348 miles
Jaisalmer is well connected to major cities in India, making it easy for you to reach here. Here's how you reach Jaisalmer via different modes:
By Air
Jaisalmer has its own airport, Jaisalmer Civil Airport (JSA). However, the connectivity of this airport is limited, and only a few domestic flights operate here. You can board these if you come to Jaisalmer from big cities like Delhi, Jaipur, and Mumbai.
Note: These flights are operational only during the tourist season (October to March).
There are two other nearby airports, Jodhpur (280 km) and Jaipur (550 km), from where you can reach Jaisalmer.
Smart Tip: Check Flights from Jodhpur or Jaipur on Skyscanner
By Train
Jaisalmer is well-connected by rail. You can easily reach Jaisalmer by train from any city in India. The nearest railway station is Jaisalmer Railway Station (JSM).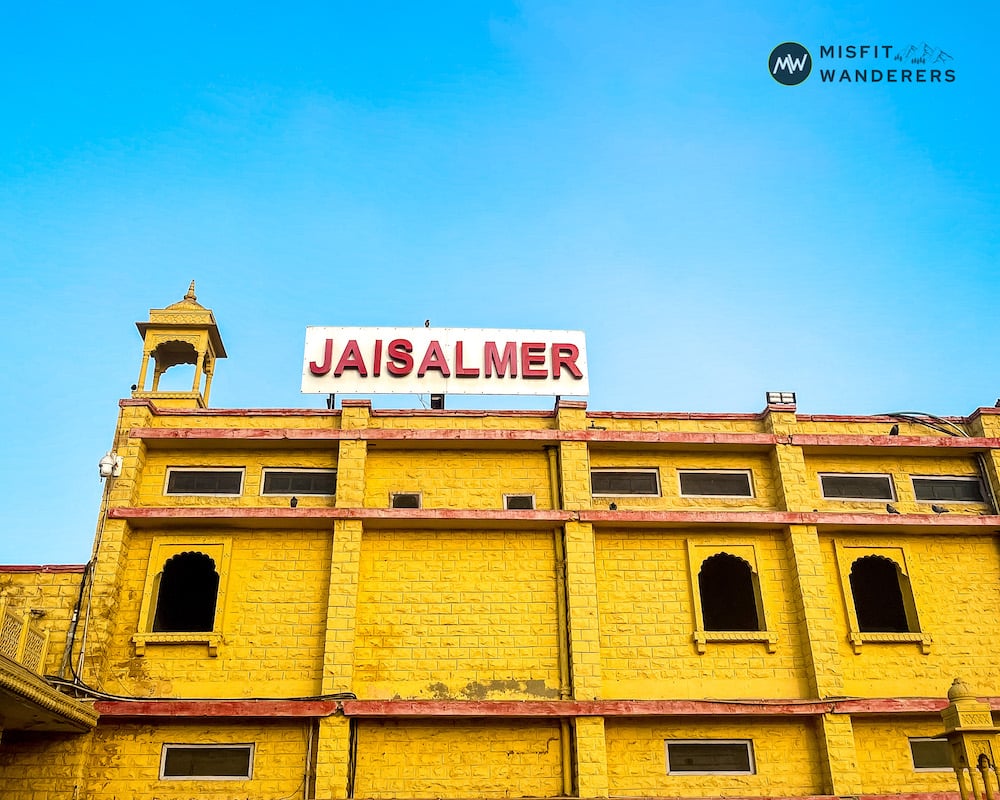 By Road
You can reach Jaisalmer via state and national highways if you prefer road travel. You can take the NH62 route from Jaipur, which passes through cities like Ajmer and Jodhpur. You can also drive from Delhi but remember that the journey can be extended.
Top 5 Places to Visit in Jaisalmer
Jaisalmer Fort
Jaisalmer Fort is the only living fort in India. What do we mean by that? This fort still houses people and shops who permanently reside here.
You'll find this fort amidst the golden sands of the Thar Desert, also known as the Golden Fort or, locally, the Sonar Quila. You might need some extra time if admiring architecture and beauty is your thing. Further, for its heritage, UNESCO has recognized this site as one of the world's heritage.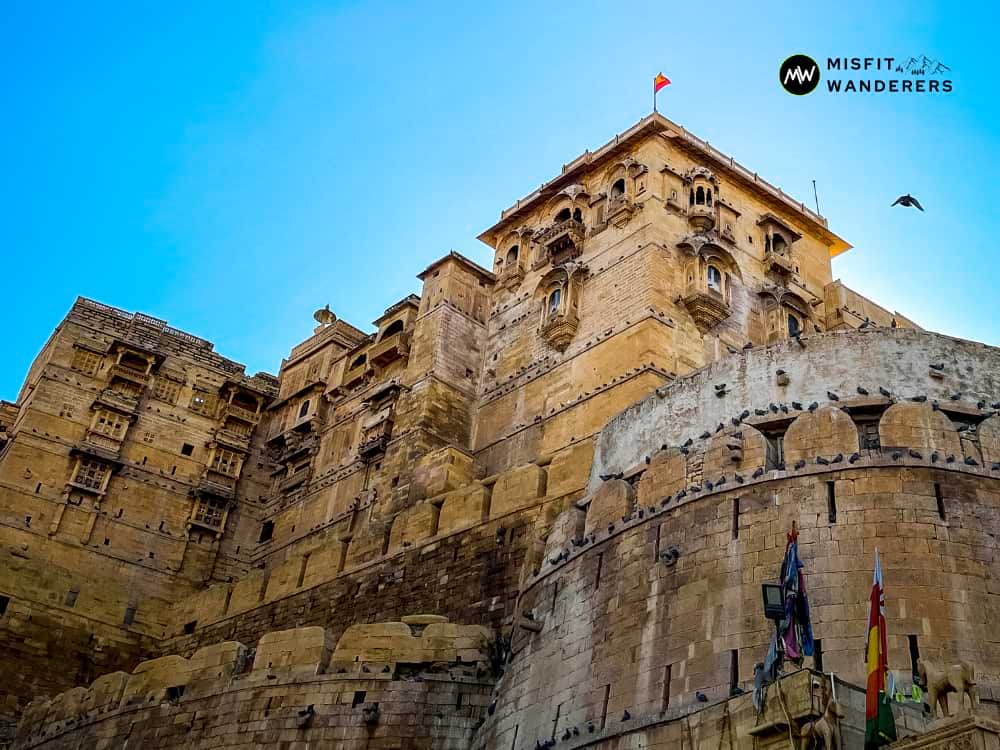 We explored the entire fort on foot. Clicked some Instagram-worthy photos and dwelled on this architectural beauty.
Here are some of the things we learned that you should know:
Royal Palace: Visit here to see the grandeur and splendor of a royal palace.
Jain Temples: Intricately carved temples dedicated to Jain Tirthankaras; don't miss out on these.
Laxminath Temple: It is an ancient temple dedicated to Lord Vishnu and Goddess Lakshmi. Take blessings and keep exploring.
Fort Walls and Bastions: You can also explore the fort walls for picturesque views amidst the narrow alleys.
Fort Museum: History people — this is your heaven. The museum houses artworks, royal artifacts, and ancient coins, giving you an insight into the city's history.
Witness the Sunset: Sunset from a fort is an entirely different experience. Also, we advise you to reach a good point before sunset as it gets crowded with time.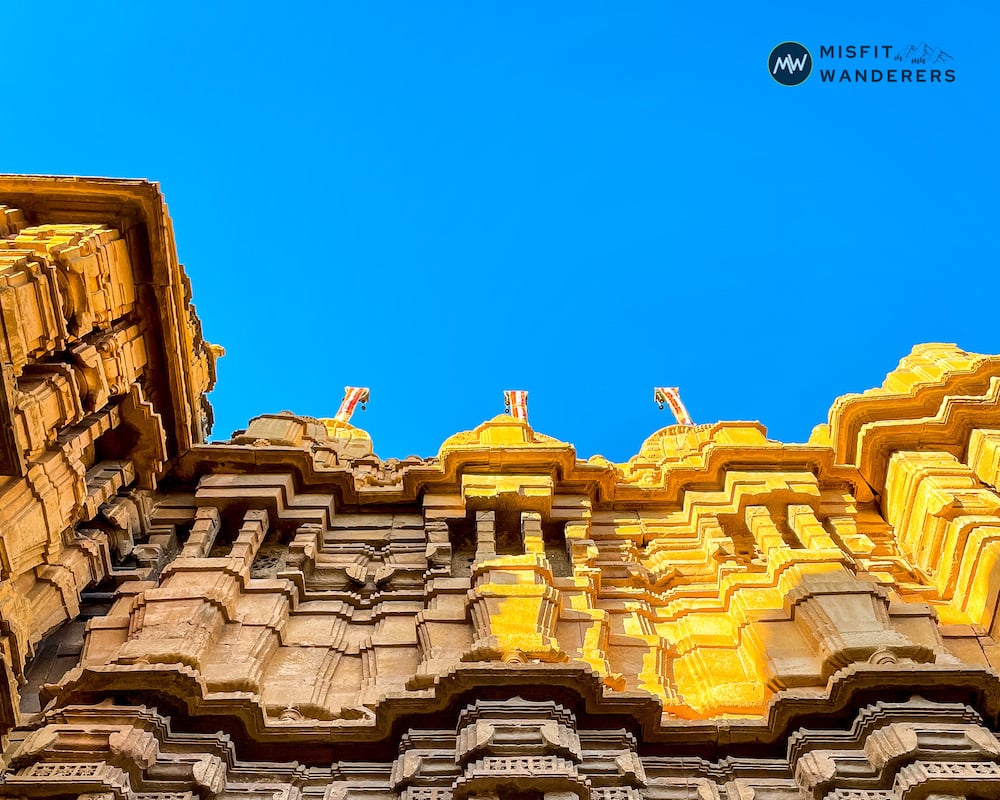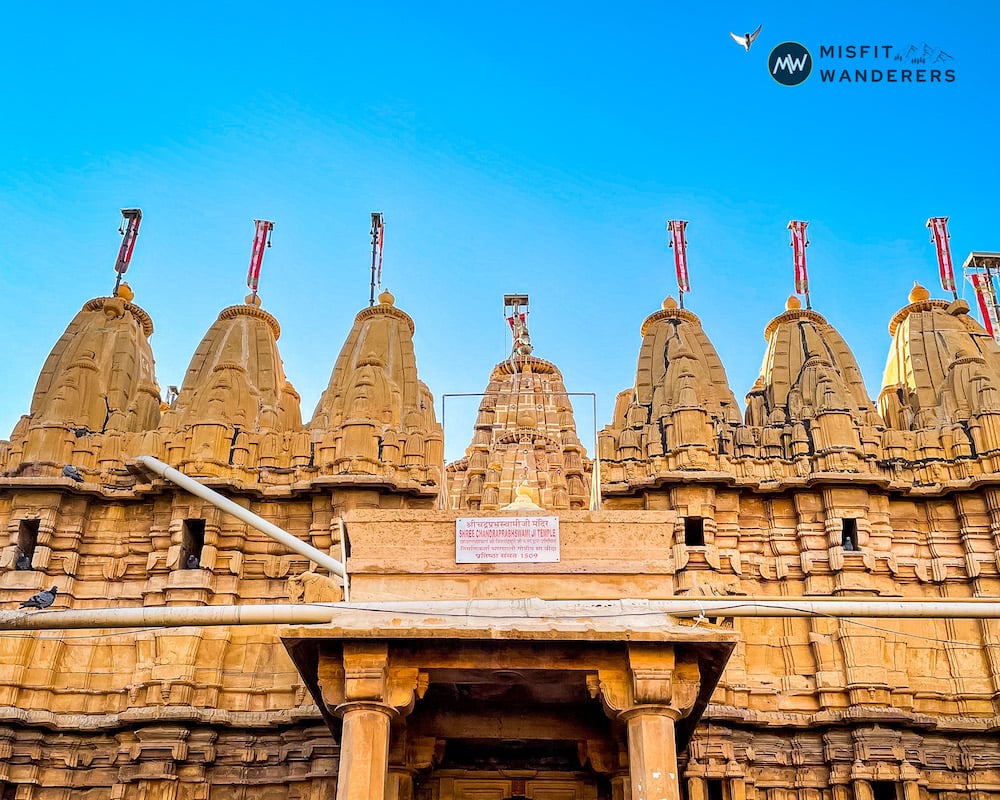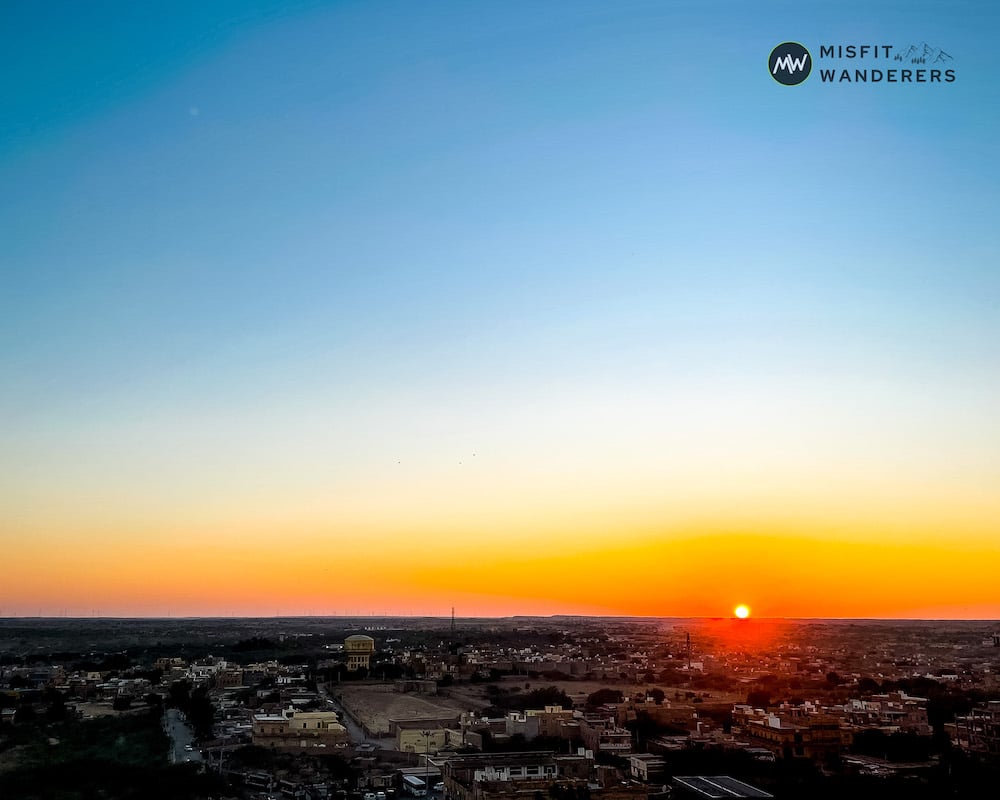 Read more: Places to Visit in Udaipur.
Sam Sand Dunes (Thar Desert)
Your journey to Jaisalmer is incomplete without experiencing the thrill of Sam Sand Dunes — a must in Jaisalmer places to visit list.
These golden sand dunes are around 40 kilometers away from the city and offer an authentic desert experience.
We remember the thrill, the ups and downs of Jeep Safari, the endless sand, and the sun rays reflecting, giving the sand a golden texture.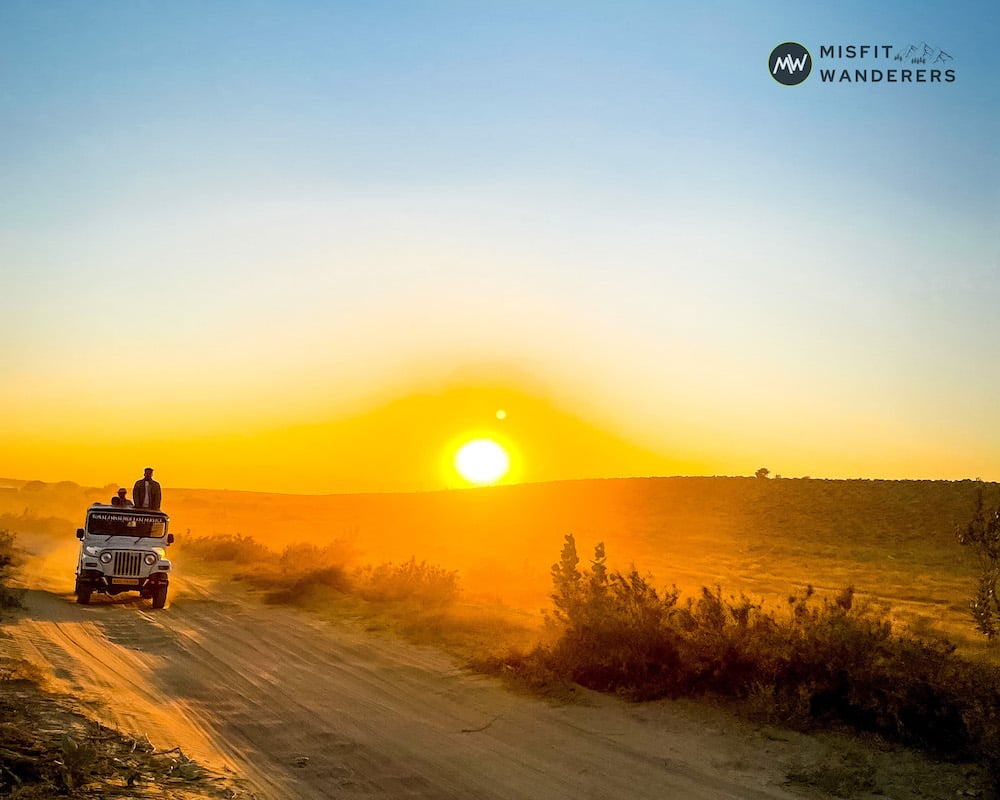 You can take full advantage of Sam Sand Dunes with the following experiences:
Camel Safari: Ride on a camel to see the golden desert while enjoying the tranquility.
Jaisalmer Jeep Safari: This is for the misfits and adventurers. Feel the adrenaline rush as you ride on a 4×4 vehicle, exploring the sand dunes.
Sunrise and Sunset Views: You see this out-of-the-world beauty of the sun going down and up with its aura of golden and orange rays in the desert. Definitely, a soothing experience you can't miss.
Desert Camping: There's a provision to spend the night under the starry sky. Either contact a local operator, or you can set your camp in the desert. Sam offers several well-equipped campsites with basic amenities, providing comfortable tents for a relaxing stay.
Stargazing: I always looked at stars with awe. It evokes many emotions, a feeling of how small and irrelevant we are. A feeling that says there's nothing in life worth living but love. So yes, you like stargazing — here's a fantastic opportunity.
Folk Performances: In Sam Sand Dunes, several camps organize cultural programs featuring live music performances and traditional folk dances like Kalbelia and Ghoomar.
Quad Biking and Hot Air Balloon Ride: Calm your adventurous spirit with quad biking and a hot air balloon ride. Ask your hotel or tour operator for this experience — they can connect you with the right person.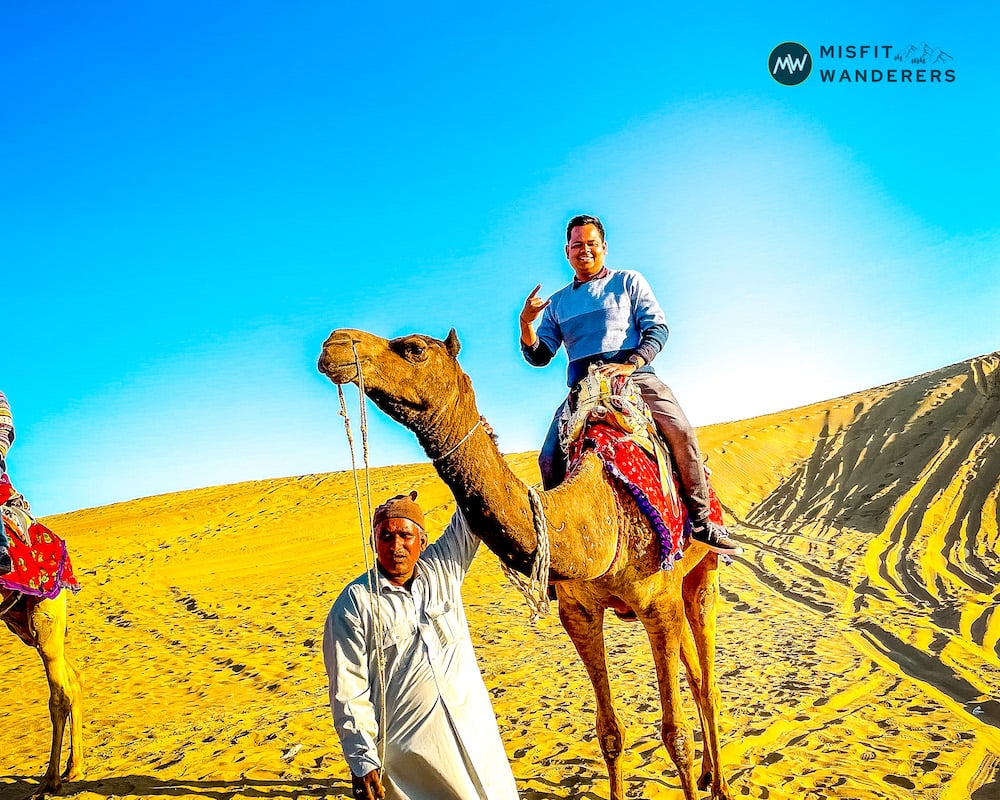 Patwon Ki Haveli
One of the most well-maintained and attractive havelis (mansion) in Jaipur is Patwon Ki Haveli. Include this in your Jaisalmer places to visit list, and you won't regret it.
Patwon Ki Haveli is a collection of five havelis that symbolize the grandeur and luxury of bygone eras.
It is said that a wealthy merchant from the 18th and 19th centuries constructed it using yellow sandstone.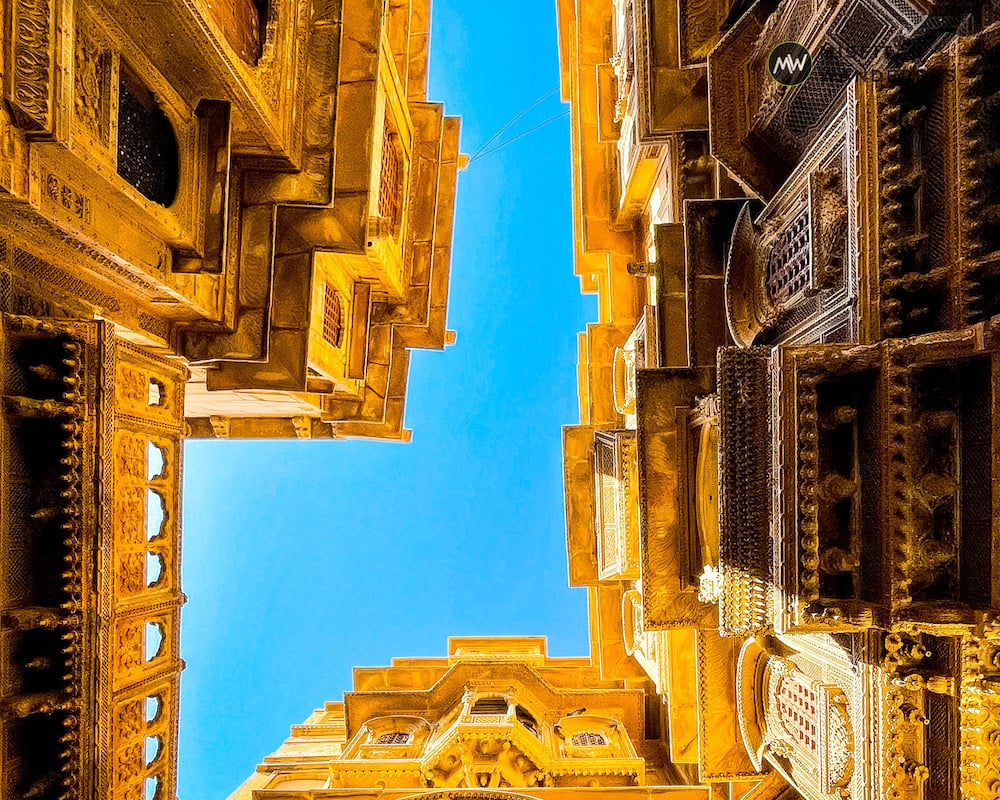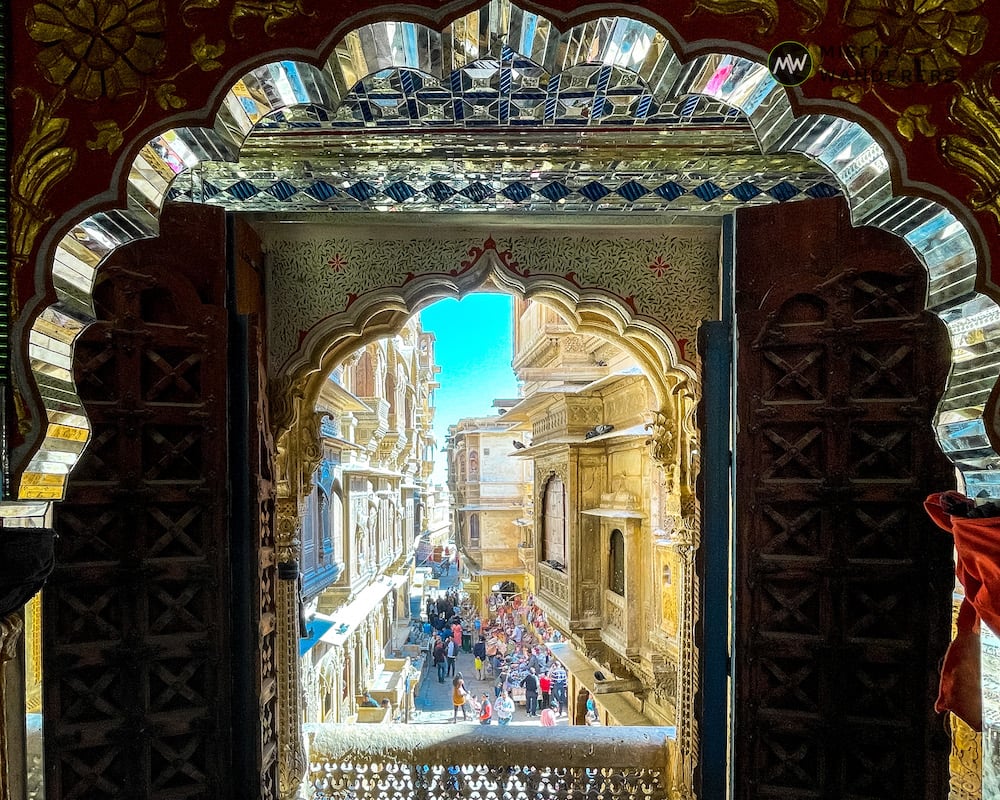 These intricately carved havelis take you back in time. It leaves you in amazement and makes you appreciate Jaisalmer's architectural marvel and cultural heritage.
The fronts of these havelis have balconies, jharokhas (projecting windows), ornate pillars, and extensive ornamentation. Yellow sandstone in their construction gives the Havelis a distinct golden hue.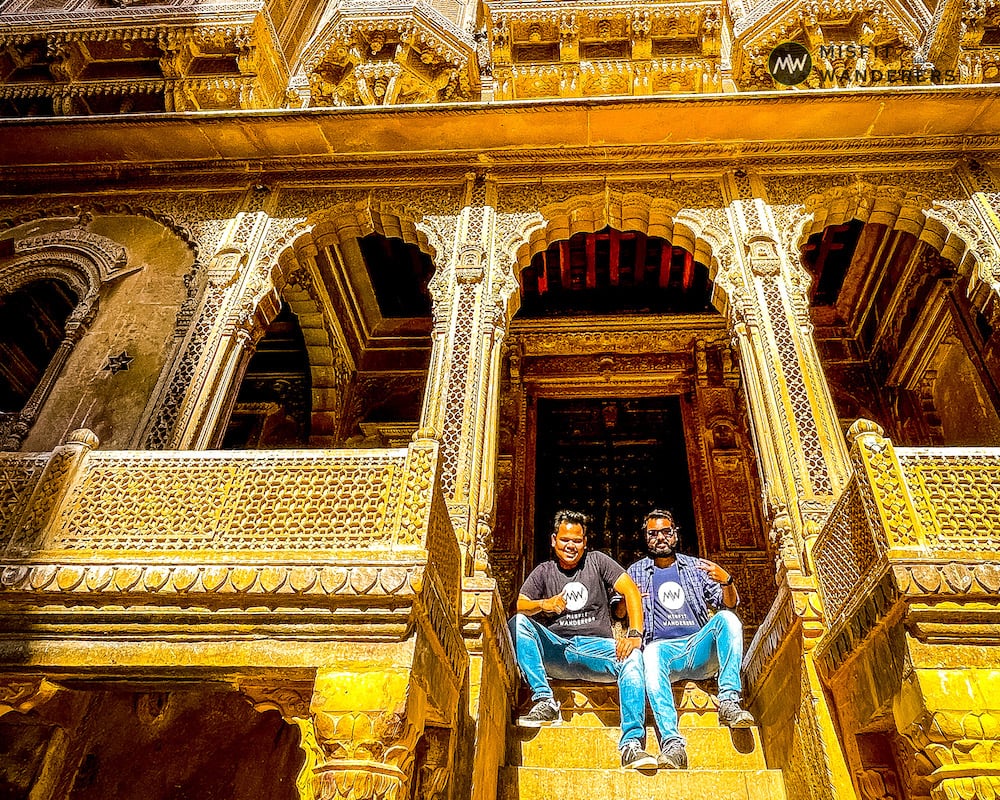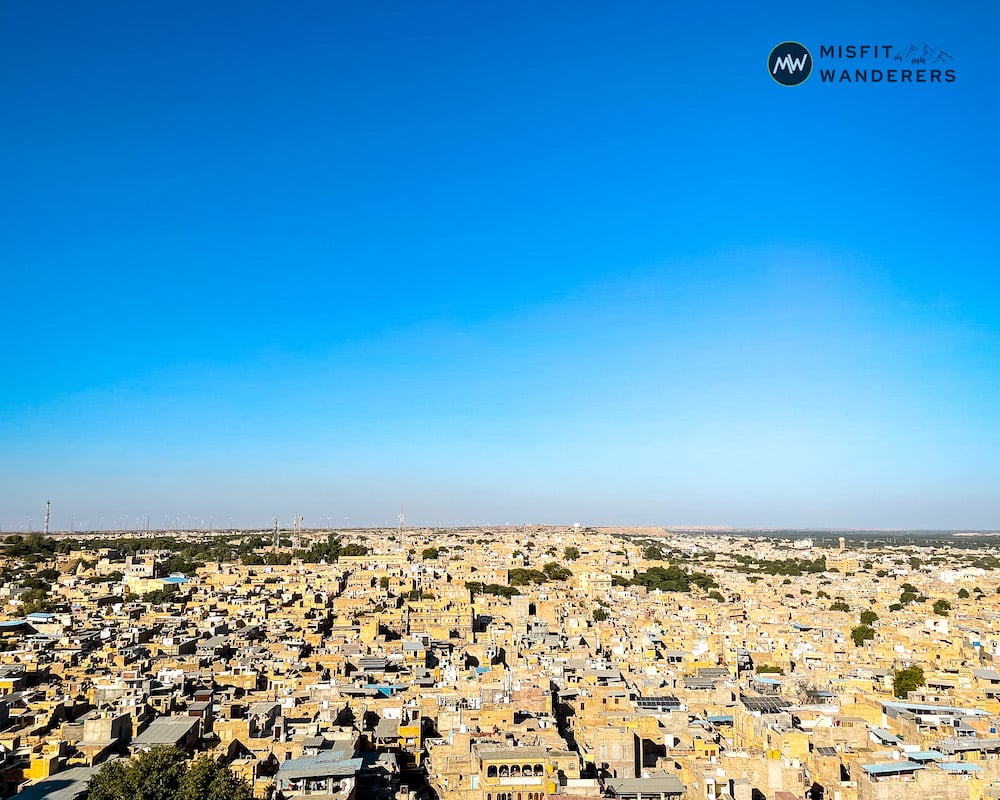 With their complex designs, historical significance, and unique ambiance, these havelis are among the best places to visit in Jaisalmer.
Ticket Price: INR 50 for Indians, additional charges for cameras.
Opening Hours: 8:00 AM to 6:00 PM.
Gadisar Lake
You might be wondering how a lake originates in the desert.
Gadisar Lake is an artificial lake and has served as an essential water source for the city since it was built in the 14th century.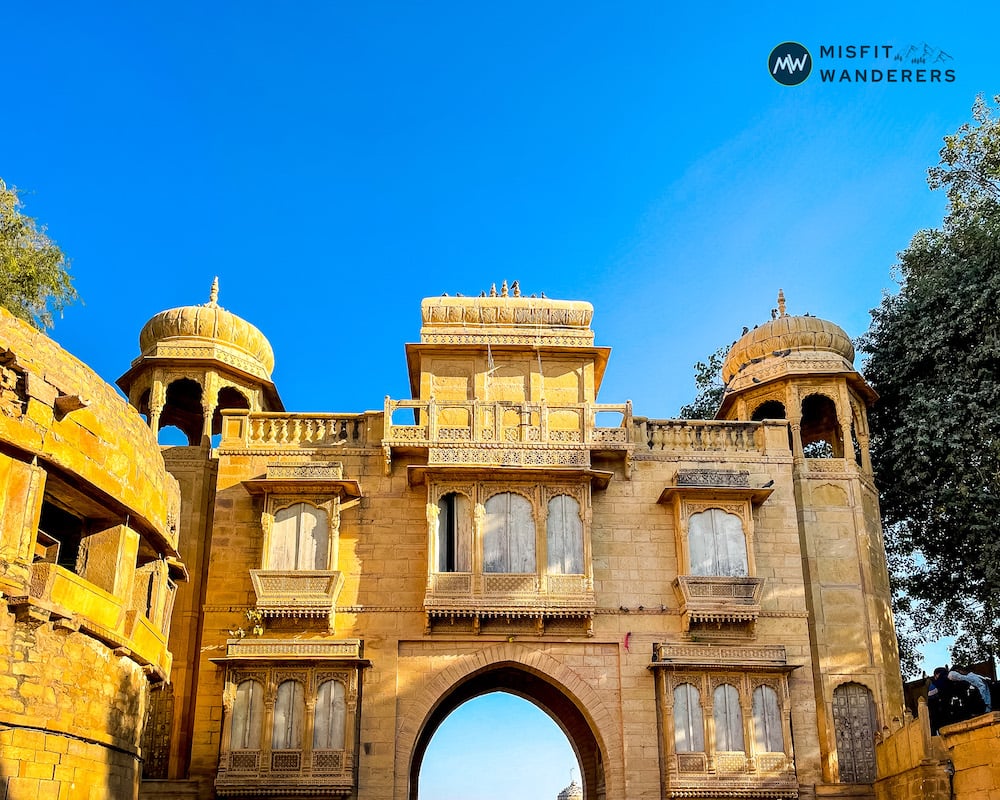 Temples, ghats, and monuments surround this lake, providing a serene environment for photogenic. Also, you can enjoy boating the lake too. It gets even more beautiful during sunset.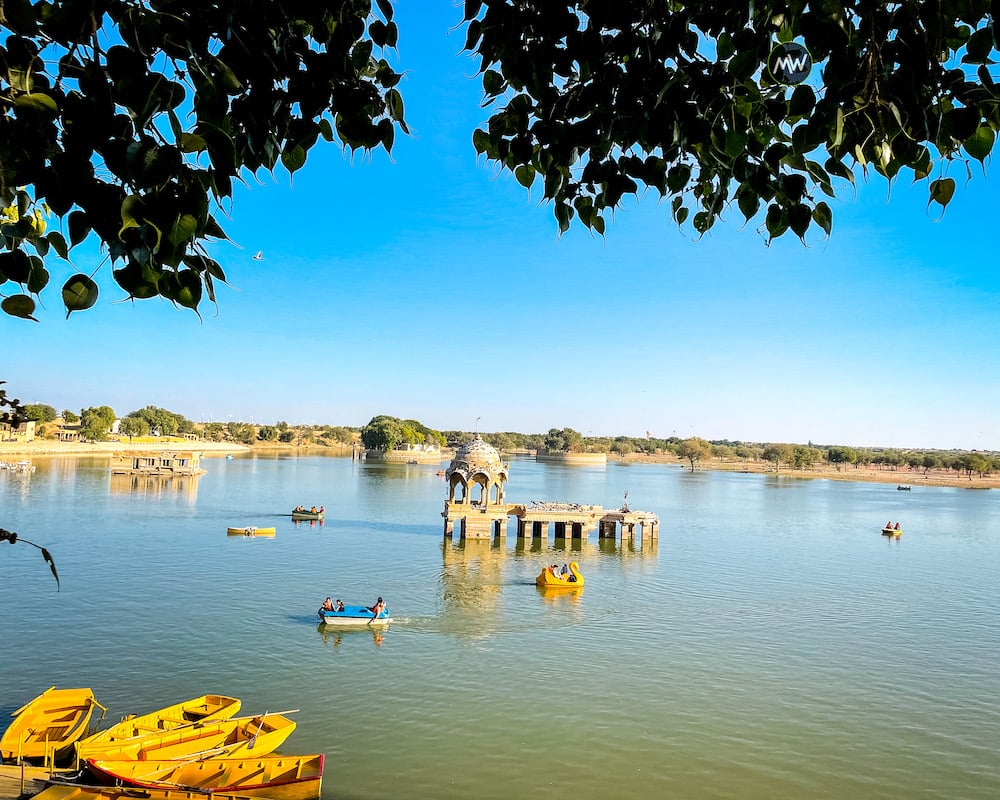 Stroll through the chhatris (cenotaphs) along the lake, dedicated to the city's former rulers and great families. And if you get hungry, you'll find several options for fast food and snacks surrounding the entrance to the lake.
Oh, and don't forget to take a photo in front of the "I ♥︎ Jaisalmer" sculpture.
Salim Singh Ki Haveli
Salim Singh Ki Haveli is the last on the list of Jaisalmer places to visit. You can walk here from the Patwon Ki Haveli as it's nearby.
Built at the end of the 18th century by the Prime Minister of Jaisalmer, it stands out with its distinct peacock-shaped roof and fine carvings.
There are beautiful mihrabs, balconies, and intricately designed rooms. The haveli also presents picturesque city views, providing a glimpse of its architectural artistry.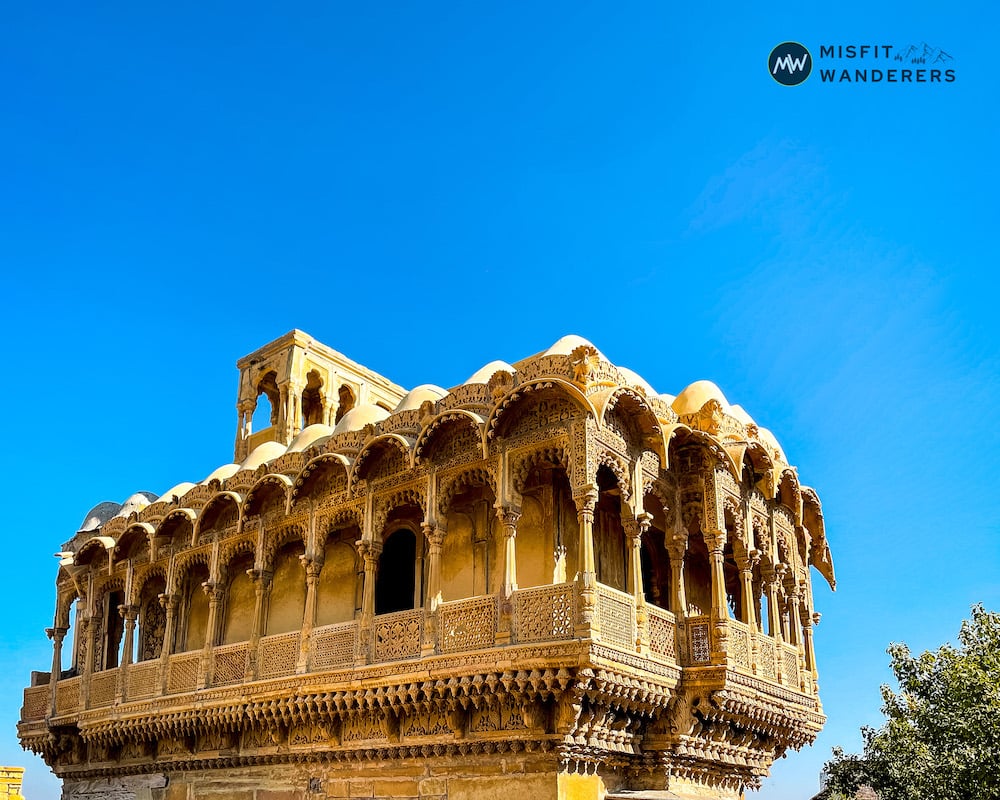 There is a guide available here who can introduce you to the intricacies of the haveli and its ancient history free of charge.
I had the opportunity to meet the present owner of the haveli, who belonged to the lineage of Jaisalmer's Prime Minister. You might also be able to meet, as it seems he lives there.
Ticket Price: INR 25 for Indians.
Opening Hours: From 8:00 AM to 6:00 PM.
Other Places to Explore Near Jaisalmer
Bada Bagh
Bada Bagh sits approximately 6 kilometers north of Jaisalmer city; Bada Bagh is an important historical site. There are huge cenotaphs made of yellow sandstone, commonly known as chhatris. The combination of yellow sandstone tombs against the backdrop of the setting sun creates a mesmerizing view.
Further, it's architectural beauty and serene environment make it a favorite spot for photography enthusiasts.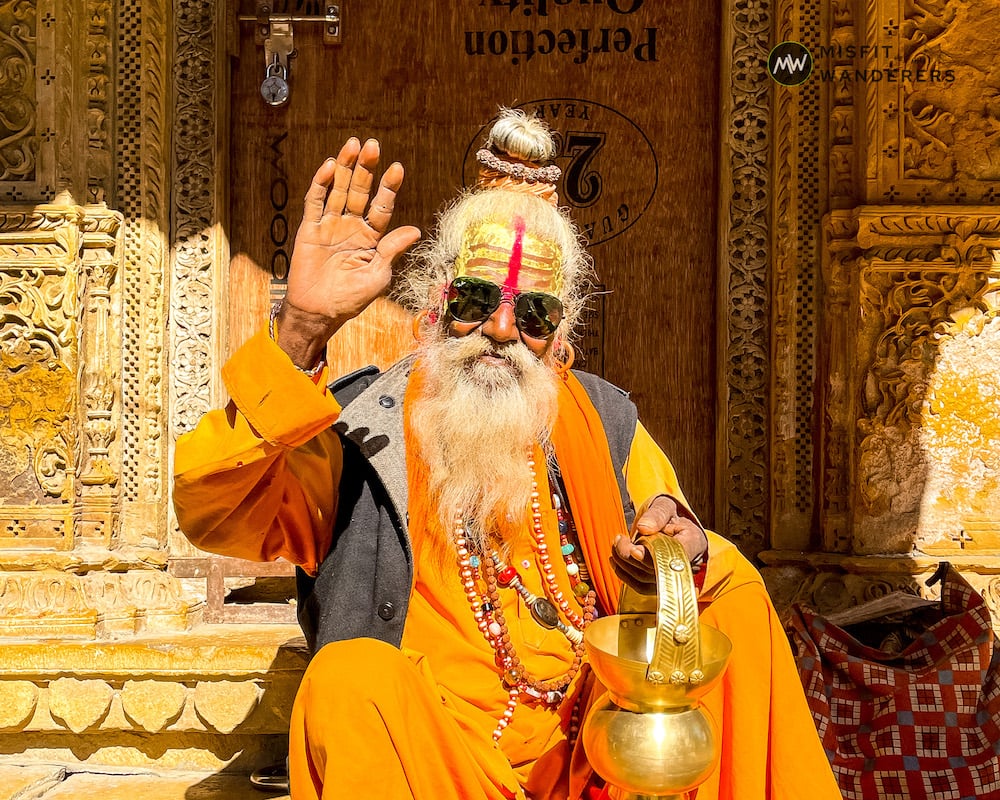 Kuldhara
Kuldhara, often called the "Ghost Village," is lonely. It is situated about 18 kilometers west of the city and is known to be a haunted village.
We didn't visit the village but have collected the information for you.
According to local legends, due to the fear of oppression and exploitation by the ruling authorities in the early 19th century, the villagers cursed the land before leaving so that no one could ever settle here again.
The village has remained abandoned since then, giving birth to stories of haunted and mysterious activities. The remnants of houses, empty streets, and desolation create a terrifying yet captivating destination for visitors.
Risk takers and adventurers would love to add this to their Jaisalmer places to visit list.
Local Foods You Can Try in Jaisalmer
The local cuisine of Jaisalmer is as vibrant as its cultural heritage. You can indulge in the flavors of Rajasthani delicacies known for their richness and aromatic spices.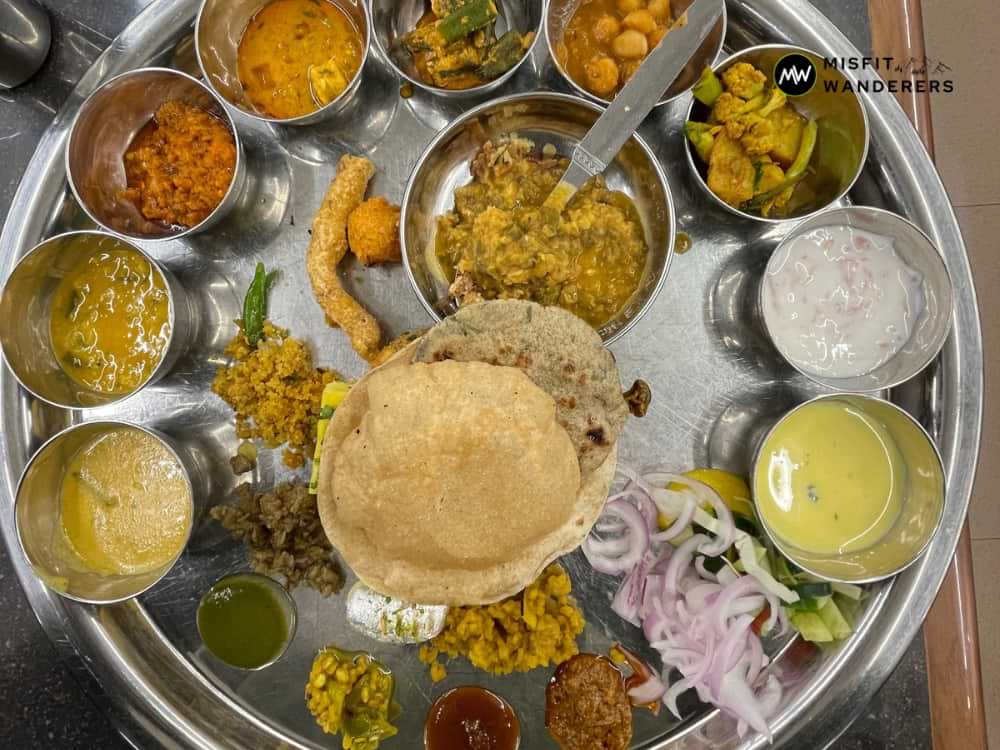 Some of the local foods you can't try here:
Dal Bati Churma: a nutritious combination of lentils, baked wheat dumplings, and sweet wheat flour.
Ker Sangri: a Rajasthani specialty made from dried berries and beans.
Lal Maas: a spicy red meat curry offering the deliciousness of the region.
Ghevar: a Rajasthani sweet made with flour, sugar syrup, and clarified butter.
You can enjoy these delicacies at local restaurants and street food stalls.
What Souvenirs Should You Buy In Jaisalmer?
Jaisalmer is a paradise for shoppers, offering a variety of souvenirs and traditional handicrafts.
Explore bustling markets like Sardar Bazaar and Bhatia Bazaar.
You will find a wide range of textiles, embroidered fabrics, colorful turbans, camel leather products, silver jewelry, and traditional Rajasthani puppets.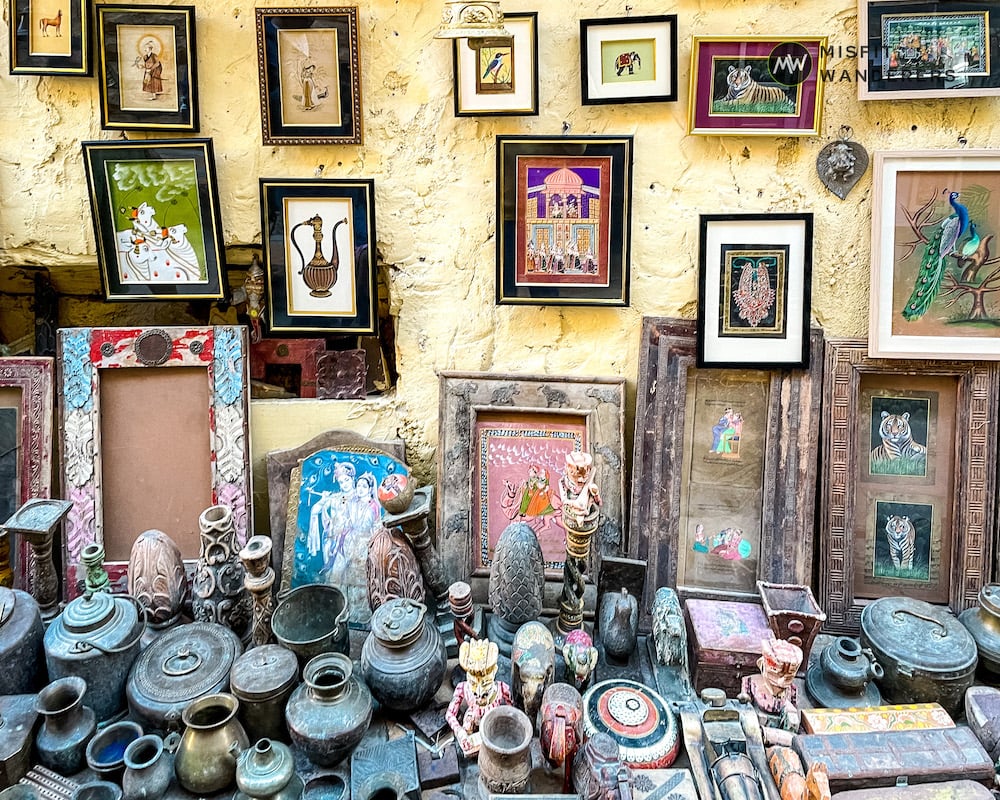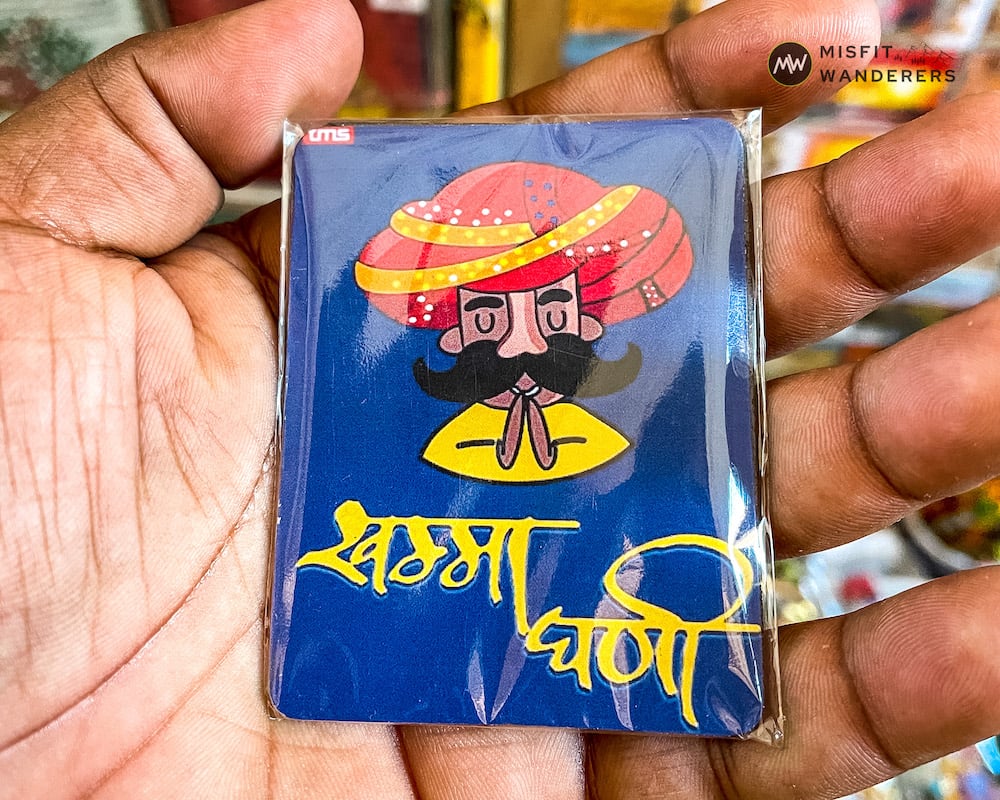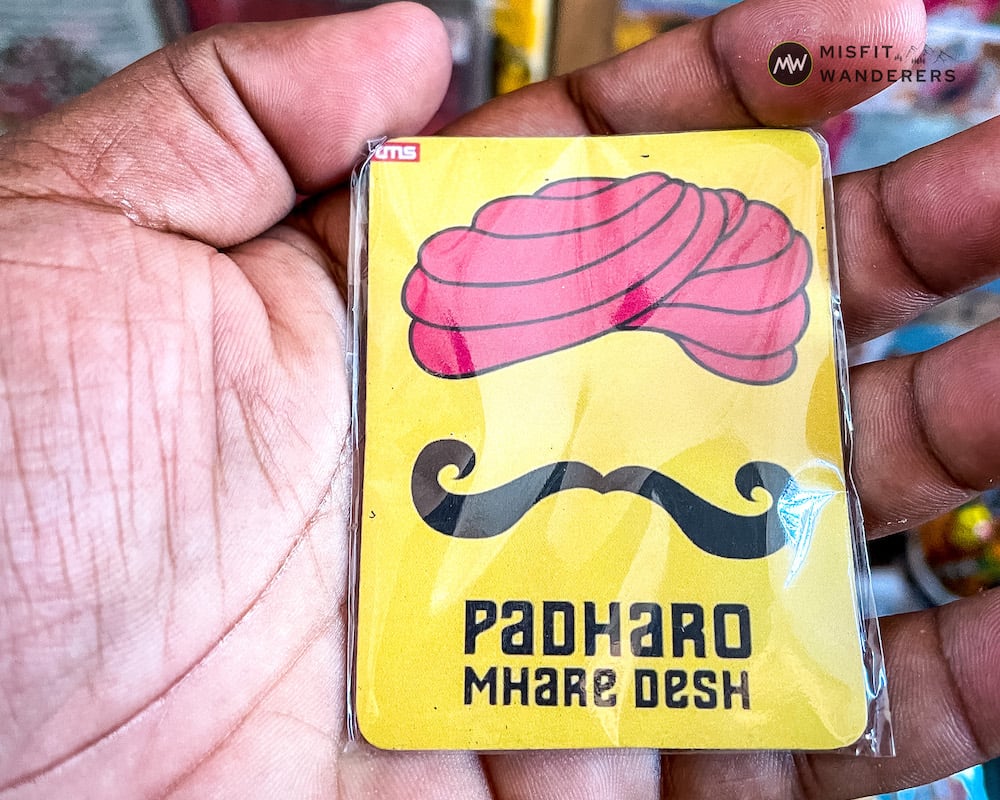 This city is famous for its skilled artisans who create intricate mirror work, embroidery, and block-printed fabrics. Be sure to bargain for the best deal and take a piece of Jaisalmer's vibrant culture back home.
Where Should You Stay In Jaisalmer?
Jaisalmer provides several accommodation options to fulfill the needs and preferences of every traveler.
For a luxurious experience, heritage hotels and resorts converted from old palaces and havelis offer grand rooms, world-class amenities, and a glimpse of royal history.
Mid-range hotels and guesthouses provide comfortable accommodations with modern facilities. Budget travelers can find affordable stays in guesthouses, hostels, and homestays that offer a cozy and welcoming environment.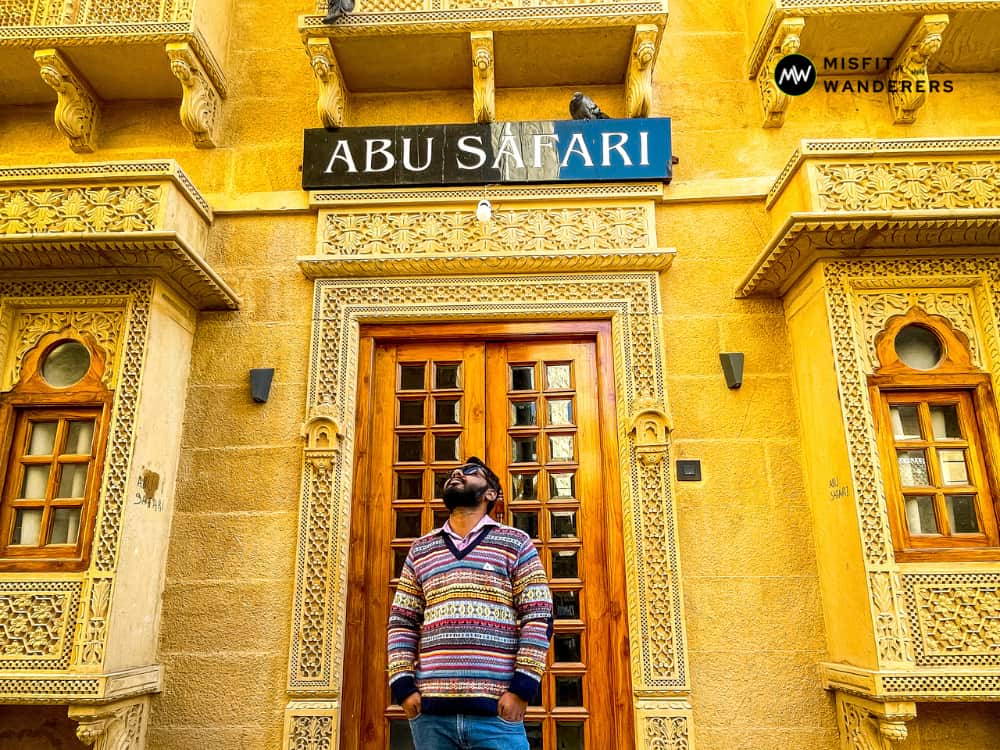 Remember, you can also stay in desert camps to sleep under the starry desert sky and enjoy traditional Rajasthani hospitality.
See Places To Stay in Jaisalmer on Agoda
Practical Travel Tips From Real Experience
Here are some of the travel tips based on our expedition to Jaisalmer:
The best time to visit Jaisalmer is during winter (October to March). The weather is pleasant for exploring the city and going on desert safaris.
Respect the local customs and traditions, especially when visiting religious sites. Dress modestly and respectfully during temple visits.
Stay hydrated and carry sunscreen, as the desert sun can be intense.
Exercise caution against dehydration and sunburn risks when exploring.
Ensure you have appropriate travel insurance and follow safety guidelines during desert safaris.
Note that prices increase two to four-fold during peak seasons, Desert Festival, Christmas, and New Year, hotels, cabs, and desert safaris.
Distance and Transportation Options Between Attractions in Jaisalmer
In Jaisalmer, you can explore the major attractions: on foot or by hiring a taxi/cab.
Assuming Jaisalmer railway station is the center, here are the distance details of these attractions:
| Attraction Name | Distance from Railway Station (JSM) |
| --- | --- |
| Jaisalmer Fort | 1.5 km (0.93 miles) |
| Sam Sand Dunes | ~42 km (26.1 miles) |
| Patwon Ki Haveli | 1.8 km (1.12 miles) |
| Gadisar Lake | 1.4 km (0.87 miles) |
| Salim Singh Ki Haveli | 1.4 km (0.87 miles) |
| Bada Bagh | 14 km (8.7 miles) |
| Kuldhara | 35 km (21.75 miles) |
The Best Time to Visit Jaisalmer
The best time to visit Jaisalmer is during the winter months, from November to February.
During these months, the temperature in Jaisalmer ranges from 10 to 25 degrees Celsius (50 to 77 degrees Fahrenheit) during the day. However, the evenings generally get cool.
Traveling during the winter allows you to enjoy various festivals and events held in Jaisalmer. The Desert Festival, celebrated in February, is a significant attraction with cultural performances, camel races, and other traditional activities.
It's worth noting that Jaisalmer experiences extremely high temperatures during the summer months (March to June). The temperature can rise above 40 degrees Celsius (104 degrees Fahrenheit). Therefore, it's advisable to avoid visiting during the summer.
The monsoon season, from July to September, brings some relief from the heat, but unexpected rainfall can hinder your travel plans.
Cost and Duration of Jaisalmer Trip (Estimation)
The cost and number of days for your Jaisalmer trip depend on what you want to see and do.
Two days are sufficient if you only want to visit the main attractions. If you want to explore all the Jaisalmer places to visit, then you should stay for 3-4 days.
The budget is subjective. It largely depends on the type of hotel you choose, your dining preferences, and your shopping expenses. However, a general budget estimate is as follows:
For one day: INR 2000
For two days: INR 3000
Note: This does not include the cost of a desert safari, ranging from INR 1000 to INR 5000.
Frequently Asked Questions
What are the famous attractions in Jaisalmer?
Famous attractions in Jaisalmer include Jaisalmer Fort (also known as Sonar Quila), Patwon Ki Haveli, Sam Sand Dunes, Gadisar Lake, Thar Desert, Bada Bagh, and Jain Temples.
When is the best time to visit Jaisalmer?
The best time to visit Jaisalmer is during the winter months, from October to March. The weather is pleasant during this time and suitable for exploring the city's attractions.
Is Jaisalmer safe for tourists?
Jaisalmer is a safe city for tourists. However, taking necessary precautions and following general safety guidelines is always advisable. For instance, staying aware of your surroundings, avoiding isolated areas at night, and keeping your belongings secure.
Why is Jaisalmer called the Golden City?
Jaisalmer is often called the Golden City due to its golden sandstone architecture and the surrounding golden desert. All the houses and buildings are made of golden sandstone.
---
Conclusion
Jaisalmer is known worldwide for its architectural marvels, golden landscapes, rich heritage, and hospitality.
Whether you are coming here for the grand forts, an adventure in the desert, to experience cultural heritage, or to savor the Rajasthani cuisine, Jaisalmer will be a lifetime memory.
So pack your bags and embark on this incredible journey.
Lastly, please express your thoughts in the comment box below if you have any suggestions or questions. We will strive to improve ourselves based on your recommendations.
---
An appeal: Please do not throw litter around. Use a dustbin. If you can't find one, take the trash with you and throw it when you find one. Your small steps like this one can make the world clean and green.