Udaipur, India, city of palaces and lakes. Venice of the East and the beauty of the world. If there's a God above and is reading this I wanna personally thank the almighty for creating this beautiful world. A world so immensely beautiful that my heart begins to race and sends chills down my spine by merely thinking to explore it all.
I remember what it was like in December 2019. Situations were not as panicking as they're right now due to novel coronavirus and we were just in a happy world. A sane world. I had already planned it months ago that this year's first day will be in Rajasthan. And I had chosen Udaipur as my place for the new year's celebration. What another good place can you think of?
---
---
Reaching Udaipur from Jaipur
We were returning from Jaipur. Our train reached around 7 am. It was a sunny day and we were feeling a bit tired. As soon as we came outside the station we quickly booked an Uber as we were in no mood to bargain with taxi and auto drivers.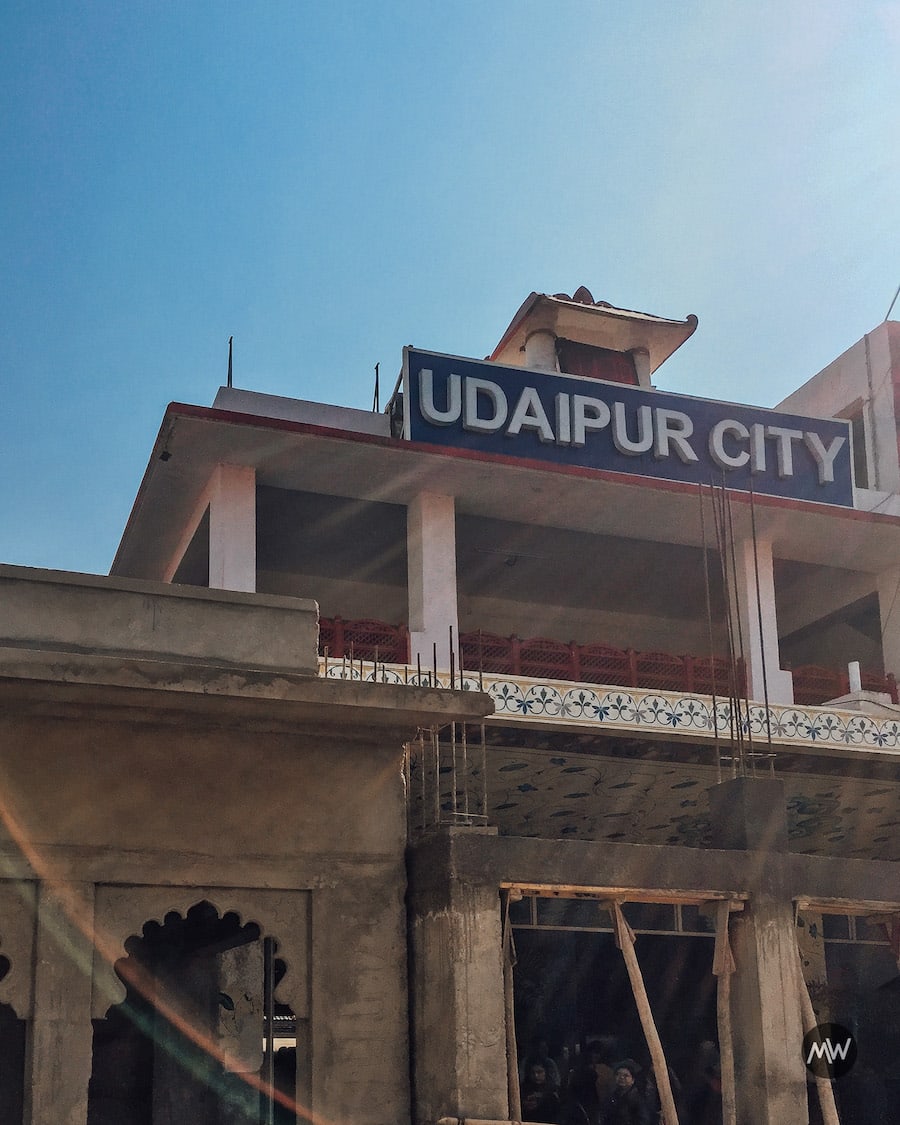 What do I see as we start to move to our hostel Castle Namahstay near Lake Pichola? This is no ordinary town. Like most of the time, like previously about hilly town Almora, I was wrong here. Yet again. I think I should stop being too judgemental. To my surprise, Udaipur was nothing like what I'd imagined or perceived it to be. Instead of how they showed us in movies, Udaipur is far better. But it's a tiny city and full of lakes. The whole city revolves around lakes, and perhaps that is why Westerns also refer to this city as Venice of the East. Hang on, and I'll tell you more about Udaipur in a bit.
To the Hostel and Haveli
Anyway, we reached our hostel in about 45 minutes or so. It was one way and our driver dropped us in front of a steep path ahead going to what seemed like a colony or society. I asked the driver if it is possible to go up to which he denied softly saying that there are narrow lanes and steep roads which are meant only for two-wheelers and pedestrians, not for four-wheelers. Wasted.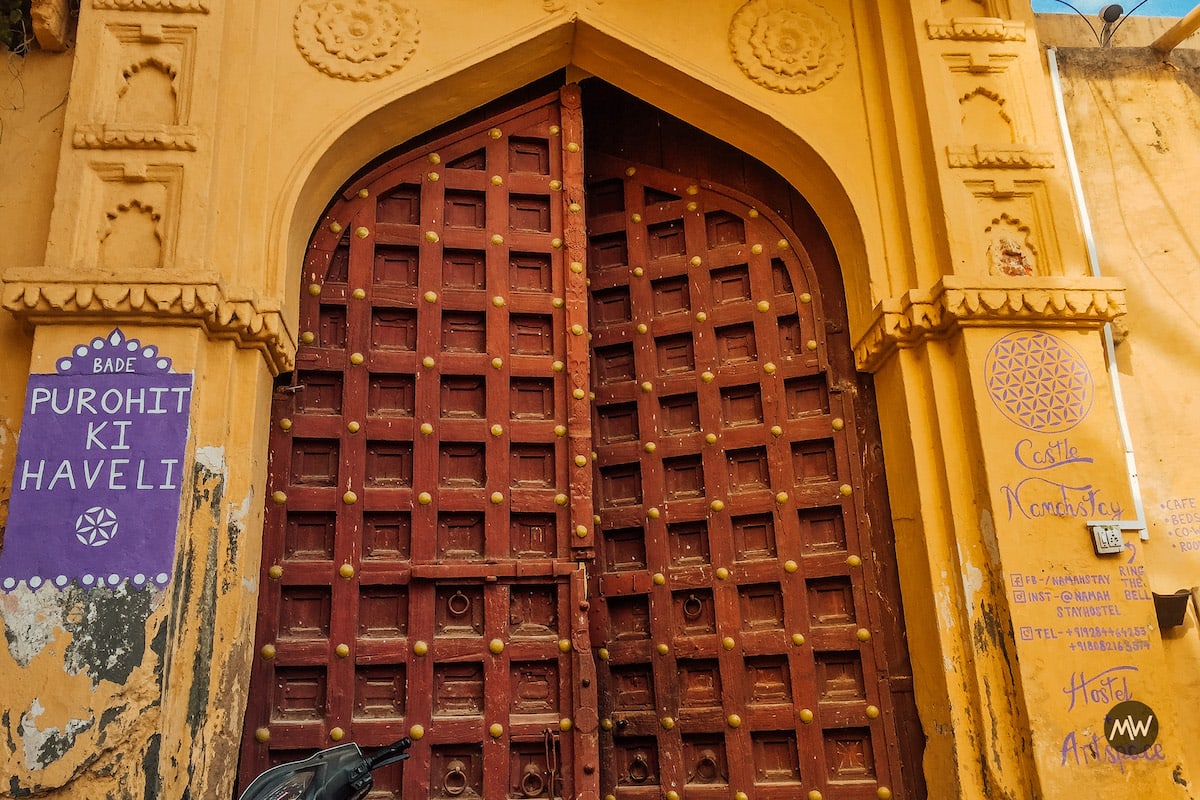 Our hostel respected what it says in its name – it was literally a 'castle.' They named it Castle Namahstay and its locally been called as 'Purohit Ki Haveli,' haveli being the huge mansions in the royal times of Indian kings. They describe themself as 'Hoste + Art Space.' I felt like a prince at some point, yes I did. This youth backpackers hostel had a tinge of Indian history and followed its legacy which really impressed me.
The Lake Surrounding Us
I have an extraordinary place in my heart for terraces and courtyards. They fill me with joy. So, I quickly ran to see the terrace as soon as I made myself at home. And what a spectacular view it was. Udaipur's one of the most famous lakes, Lake Pichola, was right in front of our hostel haveli. If you don't know, I must tell you this is one of the must Udaipur places to visit.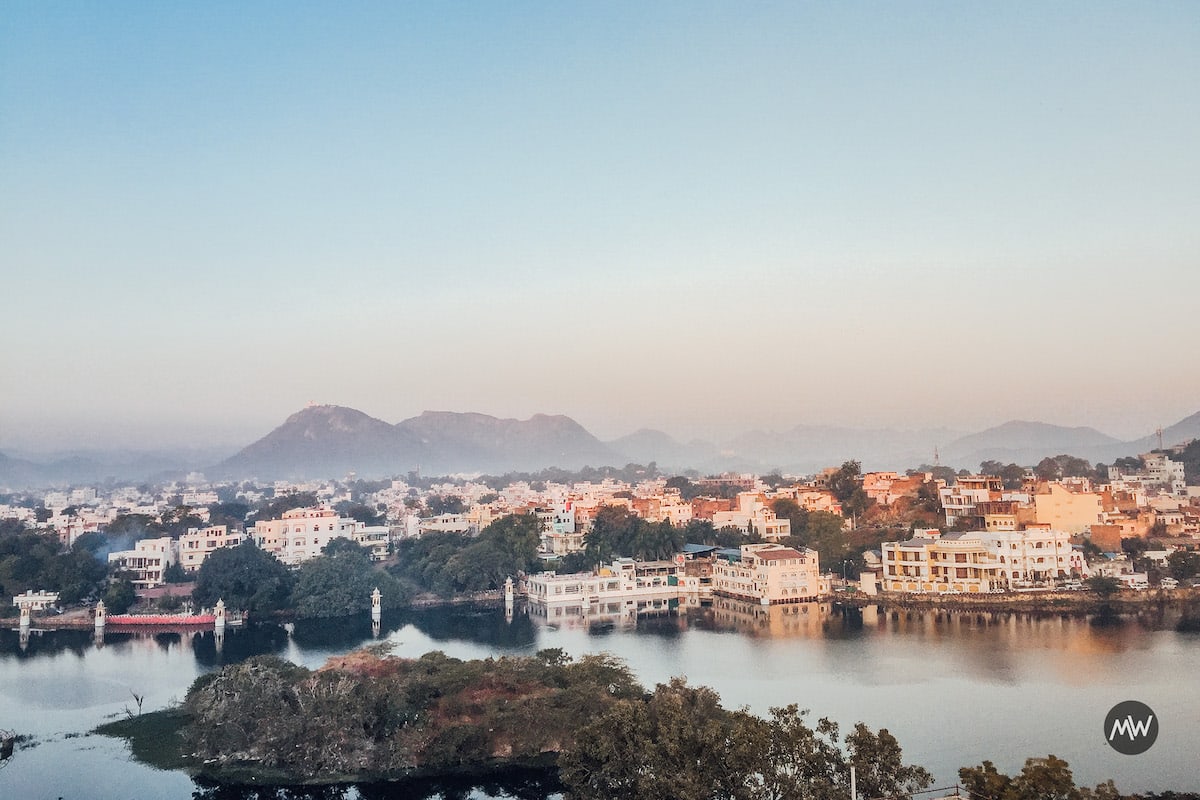 It was 29th December and there were only about two days left to welcome 2020. We spent the evening chit-chatting with hostellers and gazing at the sunset from the terrace. We'd planned to see Udaipur places to visit from 30th i.e., tomorrow.
Renting Scooty: Exploring Udaipur Like a Local
How do you explore Udaipur like a local? Best answer: hire a scooter. After exploring Goa and a bit of Jaipur on scooters, we were fascinated by the joy this method of exploration brings. It kind of gives you more control.
We rented a Honda Activa from ONN Bikes in Udaipur, the same provider which helped us in Jaipur. I recommend you to check out them for an easy, cheap, and hassle-free option of renting a bike or scooter. A bike will make your exploration and tourist places you visit in Udaipur more comfortable. Of course, this ain't suitable if you are traveling in large groups.
Udaipur Places to Visit and Our Exploration
A simple Google search will show you a hefty amount of places to visit in Udaipur and destinations that you can cover around Udaipur. Seriously telling, if you're a slow traveler like me and prefer to 'absorb' the place, there's no way you can cover every single place in Udaipur. Certainly not. Not unless you're on a long vacation. Unfortunately, the long vacation wasn't the case with me and I had to get back to my city Lucknow after I was done with my New Year's Celebrations. Today is the 30th of December, remember?
Anyway, let me show you the places we visited and why you shouldn't miss these places, at least.
1. Jagdish Temple
Built during the ruling of Maharana Jagat Singh in 1651, Jagdish Temple is an architecturally brilliant temple dedicated to Lord Vishnu – one of the Tridev in Hinduism. It is said that Maharaj Jagat Singh had spent over a million rupees in the decoration of this temple. He must have put his heart and soul and that can truly be understood by a visit to this temple of Udaipur.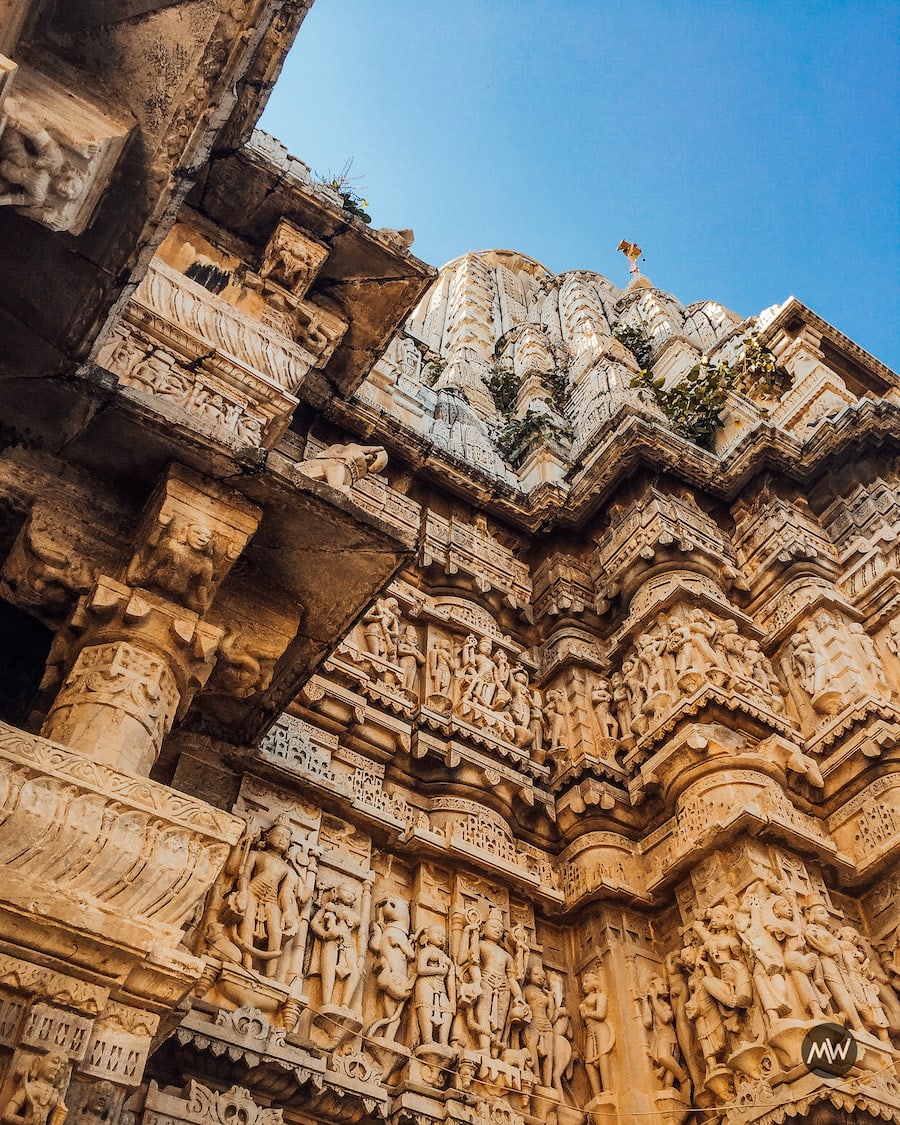 It is said that Mughal rulers had destroyed several carvings and sculptures of the temple as a result of revenge with Rajputs. But the whitish marbles of this temple still shine in their glory. You can understand this by seeing the pictures here. Legends say that just by merely rubbing the hand, knees, or head one can heal their pain by the blessings of the temple.
The Jagdish temple is one of the beautiful temples of India and a must place to visit in Udaipur. It is perched in the middle of the city and busy market and still doesn't fail to imbibe the sense of calmness. The famous City Palace of Udaipur isn't very far from here.
We found a sweet parking spot near the temple as soon as we reached there. Oh, and driving on the steep high-low roads of Udaipur is really fun, you should try it. As I have experience with my Mohini (my lovely Honda Activa Classic) I took the driver's seat while Abhishek, preferred to sit and use Google Maps to direct me.
Timings: 4:30 am to 1 pm and 5 pm to 8 pm
2. City Palace
The iconic City Palace in Udaipur, built by Maharana Udai Singh, is everybody's choice to visit in places of Udaipur. It is differentiated as the largest palace complex in Rajasthan which combines 11 palaces and three main gates (gates are locally called 'Pols' in Rajasthan).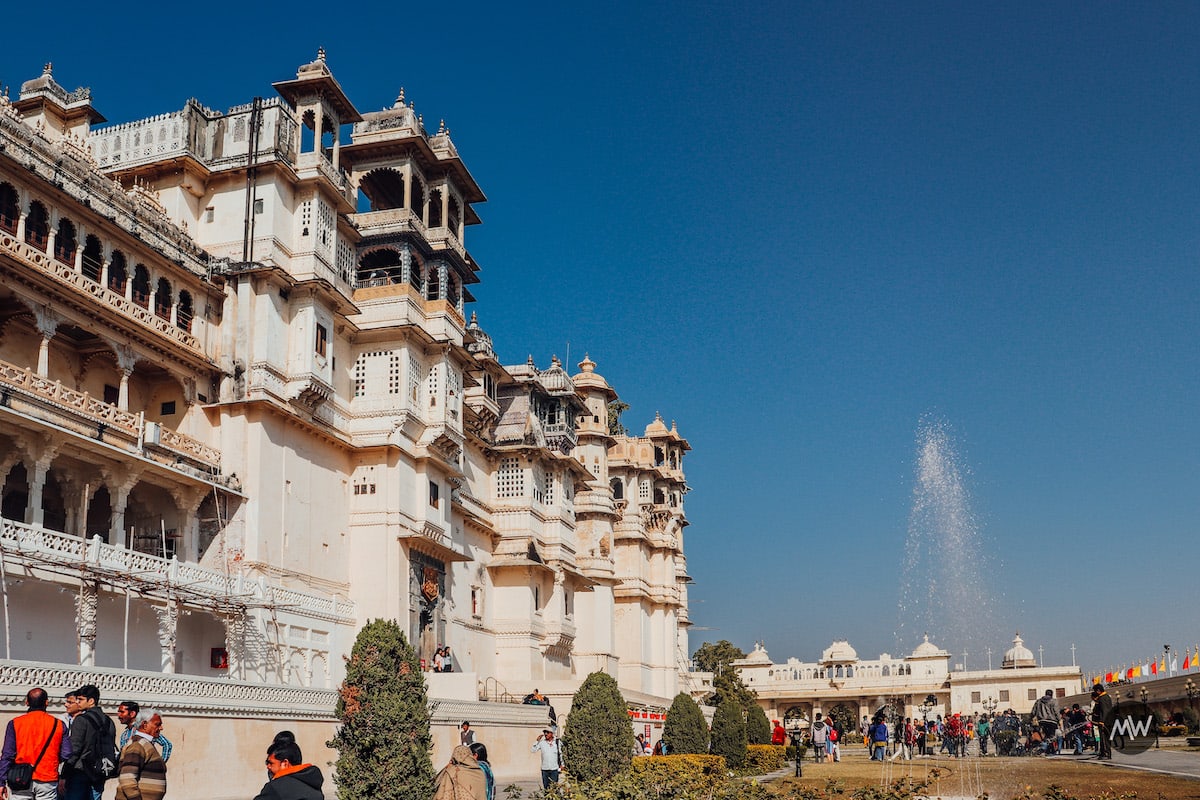 This architecture is the blend of Chinese, Medieval, and European architecture. Its grandeur and beauty can't be captivated by the magic of words and you've to see this palace with the eyes. Beautiful arches, domes, painting, artistry, carvings are few things which will make your eyes wide and lips go 'wow.' Its main architecture was built by Maharana Udai Singh and later his successors made extensions.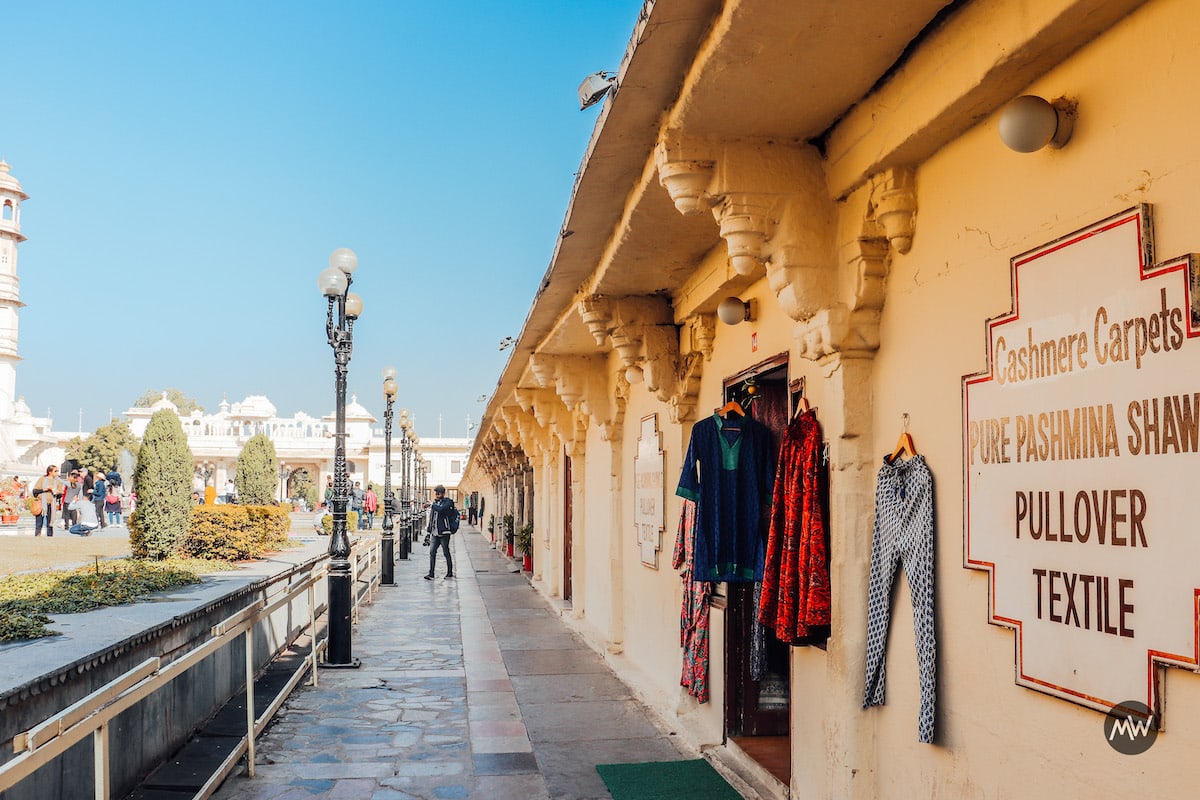 The City Palace complex lies at the banks of Lake Pichola and a 2-minute scooter ride from Jagdish temple. There's a parking lot for every type of vehicle outside its main gate aka the Great Gate or Bara Pol. We spent a long time here, admiring the architecture and artistry all around and of course posing for good Instagram pictures.
Timings to Visit City Palace: 9:30 am to 5:30 pm
3. Lake Pichola at Ambrai Ghat
Ghats reminds us of Varanasi. I don't know if Udaipur is on the list but it too has a great number of ghats. And among those ghats, Ambrai Ghat is one of the most beautiful. Reason being – (1. It has wall art. (2. View of City Palace, Jag Mandir, and the city. (3. I like water, it makes me feel good.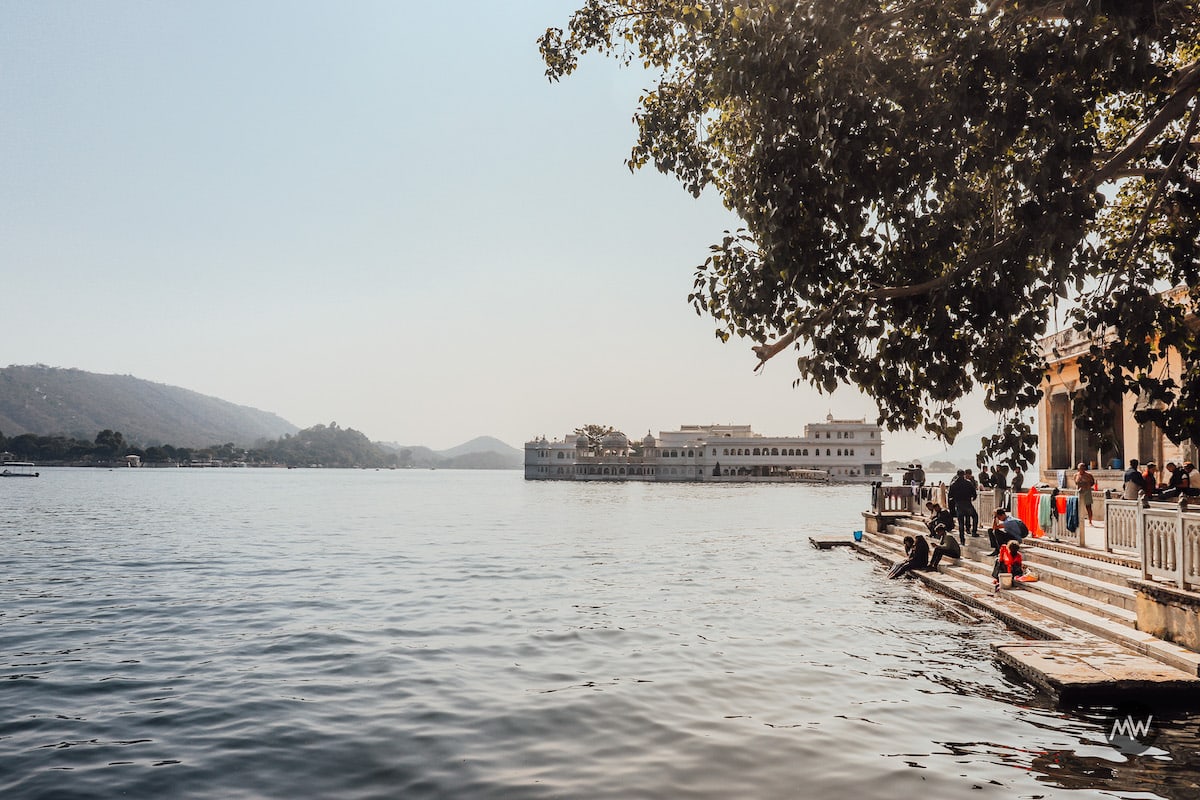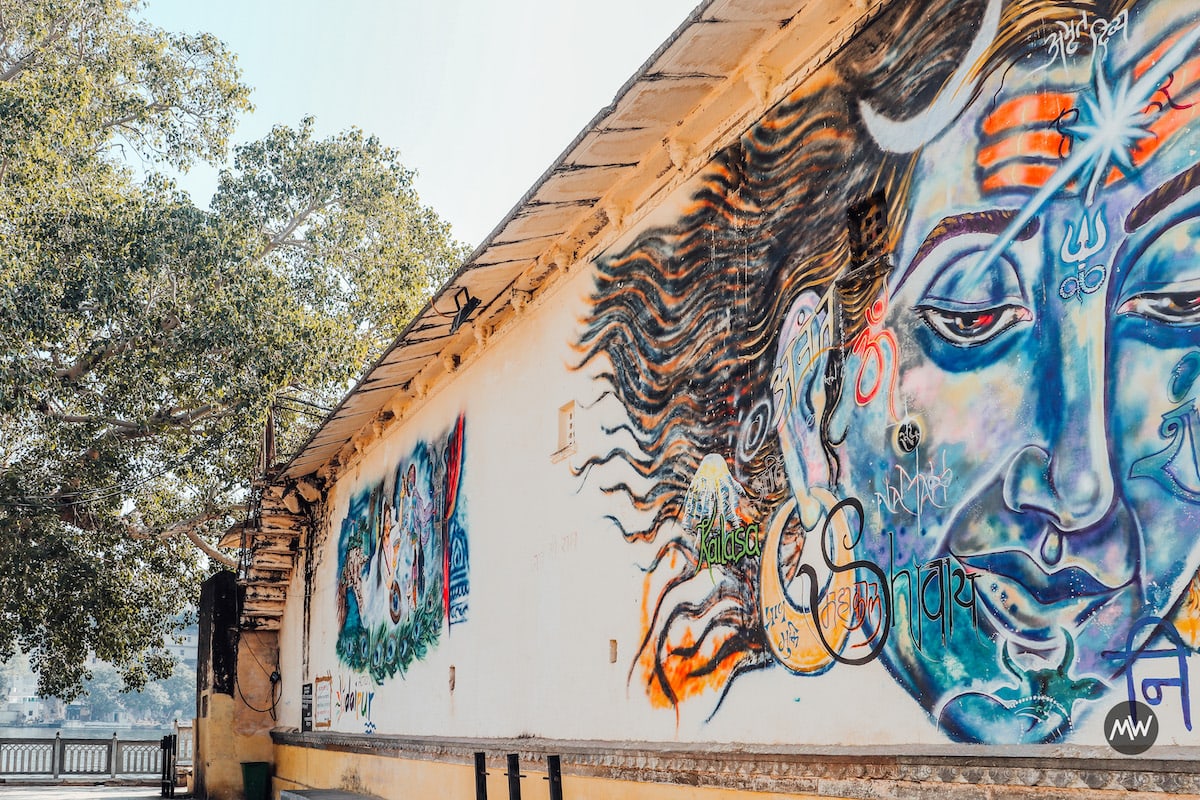 If you're into nature, quietness, and just enjoying the beauty around you, don't hesitate to visit Ambrai Ghat and spend some time. This ghat is in front of another famous ghat of Udaipur, Gangaur Ghat. Look at the pics here.
Timings to Enjoy Ambrai Ghat Calmness: 5 am to 7 pm
The rest of the 30th December went on enjoying Rajasthani Festival at Shilpgram in Udaipur. I'll talk about it in a moment and will let you know how you can enjoy the same.
4. Fateh Sagar Lake: Boating & Solar Observatory
So many lakes and no boating? How can that be? It was now 31st, the last day of the year. We woke up late in the morning, probably 10 am or so. Nothing was planned as we enjoyed the previous night boozing around and chit-chatting with people from different nations.
Anyway, Fateh Sagar is perhaps the largest lake in the city and it is one of the Udaipur places to visit for many reasons – a good time, boating, street food, solar observatory, and sunset at the lake.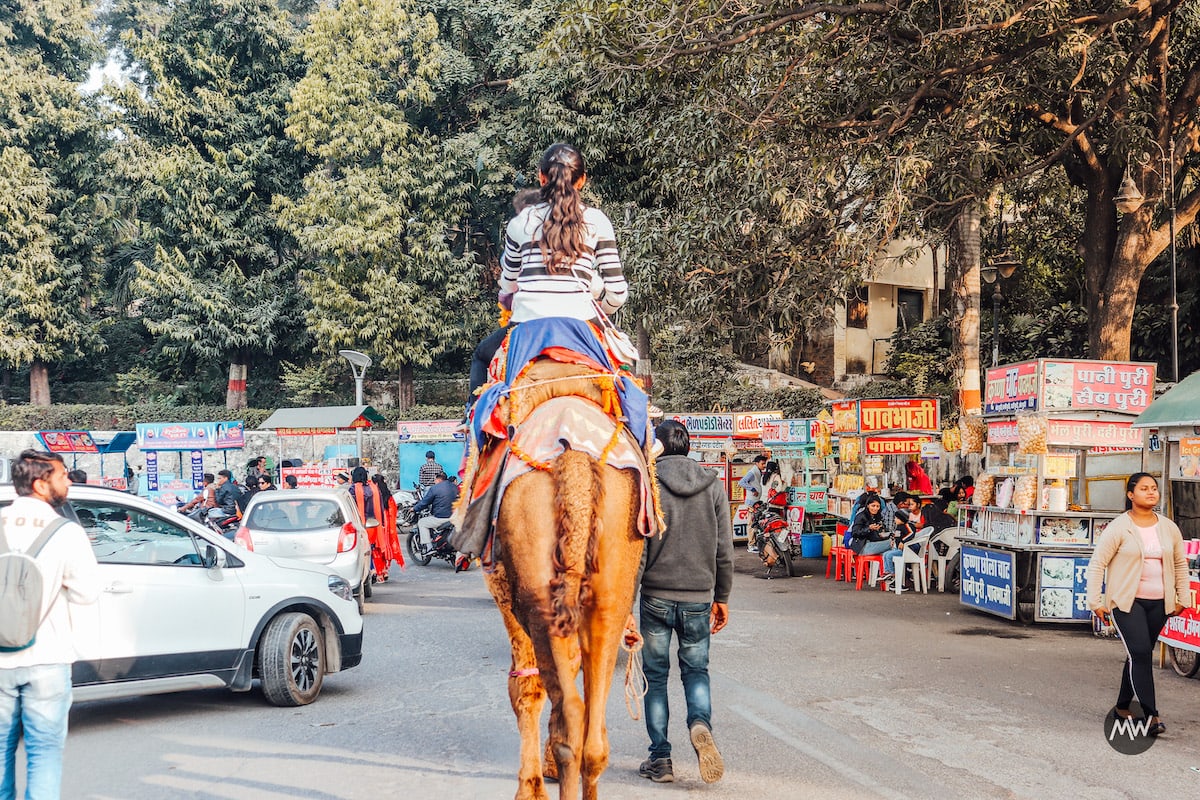 We already bid goodbye to our scooters the previous day. Being the Misfit Wanderers, we did not bother to find any taxi or auto instead trusted our feet to cover 5-6 km distance till Lake Pichola from our hostel haveli. And upon reaching the lake, we found out that there's an option to rent e-bike (electric cycles) at cheaper rates. But we are misfits, we ignore the cliche. And we moved forward.
The lake is vast. You'll see it when you go by yourself. The Solar Observatory lies precisely in the middle of it, and the mountain from one side bound the lake. Solar observatory is used to observe solar activities. This picture should unlock your imagination, see: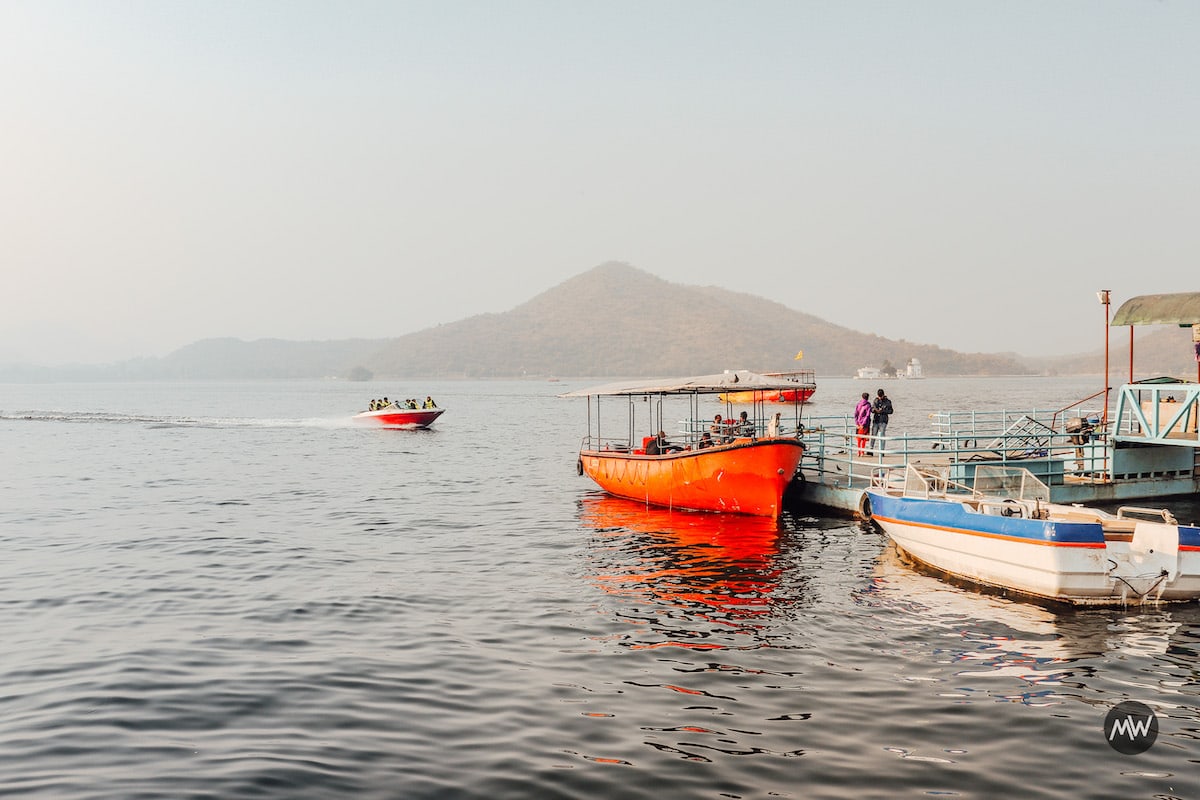 There were camel rides, boating options, street foods, street vendors, and families scattered on the circumference of the lake. At some point, it was pure silence and at some farther points murmurs of the public. You have both options.
It is recommended that you see the sunset here, it's a must-watch at Fateh Sagar Lake. Don't believe us unless you see our shot from the sunset, here:
Timings: It's a public place.
5. Saheliyon Ki Bari (Garden of Maids)
The Saheliyon Ki Bari or Garden of Maids is a royal garden built by Maharana Sangram Singh for his queen's maidens. The king designed this garden for the queen, himself, to give a pleasant time away from a chaotic environment with her 48 maidens. Actually the queen was accompanied by 48 maidens and the king made this garden for his queen and maidens to offer a peaceful time away from the hustle-bustle and between nature.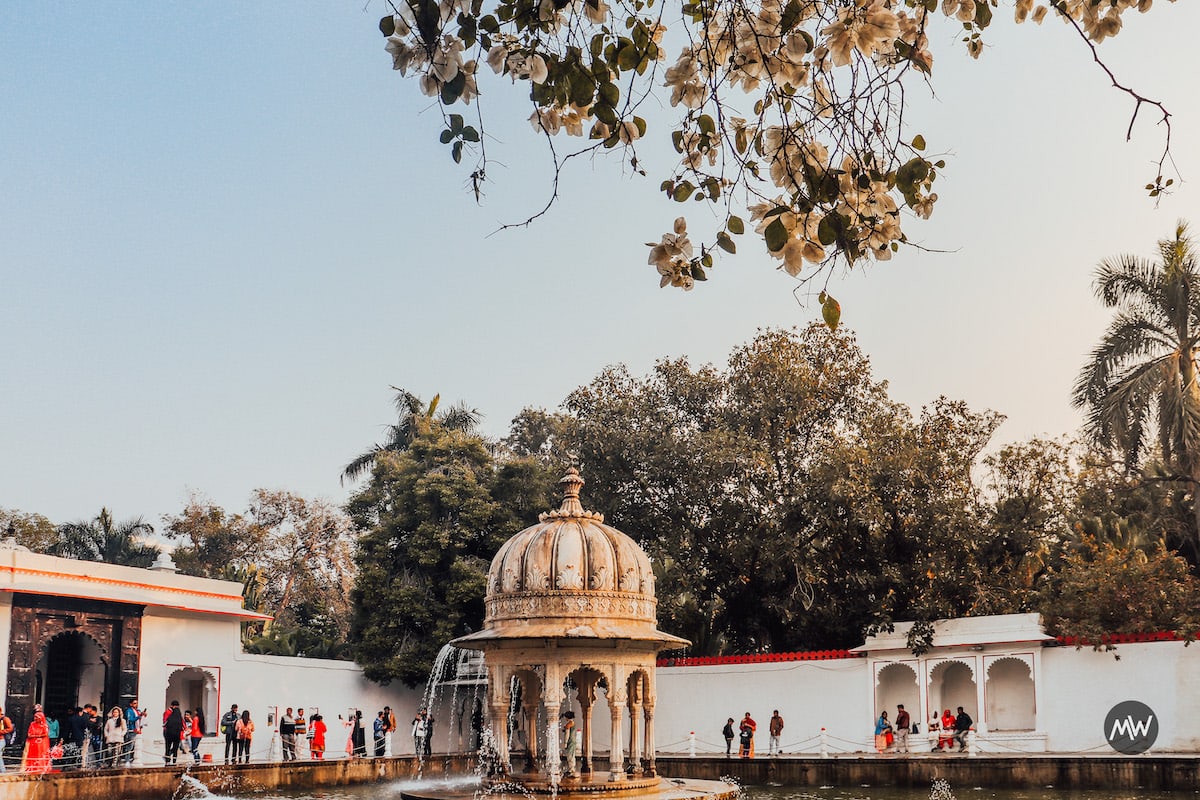 The garden is approximately 2 km distance from Fateh Sagar Lake. Before we could delve ourselves into the sunset at Fateh Sagar Lake, we decided to go to one of the other Udaipur places to visit – Saheliyon Ki Bari. It's my personal opinion that if you're in a hurry and not much into history you can safely avoid visiting this garden.
Timings to Visit Saheliyon Ki Bari: 9 am to 7 pm
6. Shilpgram and the Shilpgram Festival
We went here after visiting Ambrai Ghat. I deliberately put this at last, as it was one of the best places I have been to. Shilpgram literally means the village of artisans. It abides by its name. It is a village made specifically for artisans, craftsmen, and other talent holders to showcase and sell their products or services. The most beautiful thing is how closely it depicts the village culture of Rajasthan. That's what I liked here most.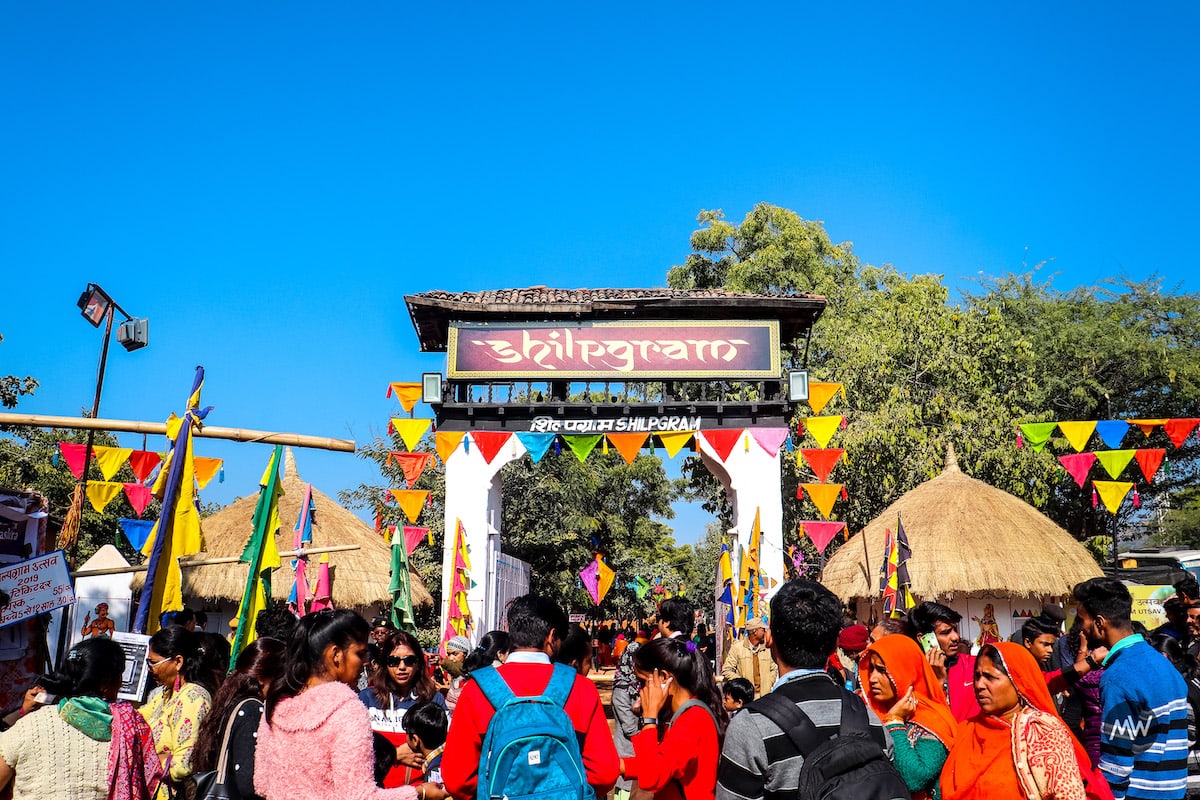 If you've been to villages or lived in it, you'd agree that there's something different in the villages. Nature, peacefulness, struggle, co-operation, love, and all kinds of mixed feelings. Often feelings, which are rarely seen in urban settings. Shilpgram reminded me of all that and my childhood days of roaming villages.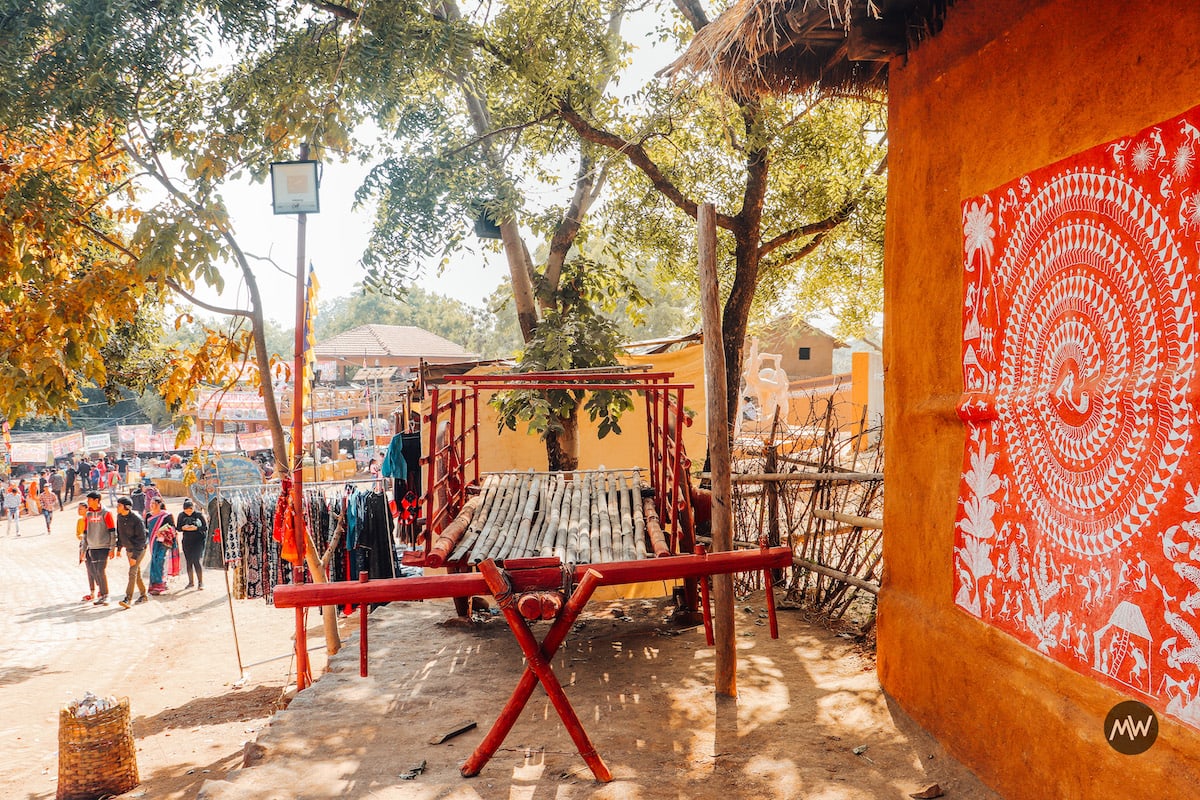 We were lucky that we visited Shilpgram on the last day of its annual festival. We had no idea about this festival but as soon as we reached it didn't feel like we shouldn't go in there. Fairs and festivals attract me, so I hurriedly asked Abhishek to hop in the line to buy two tickets while I bought the sour tamarind from the lady selling by the gate. Mmm.
Local artists, craftsmen, traditional wears, sugarcane juice, everything that we enjoyed when we were a kid. We even saw 'Makkhan Malai' from Lucknow and The Wahid Biryani corners. It seemed like a lost friend was met and we went to say hello to them.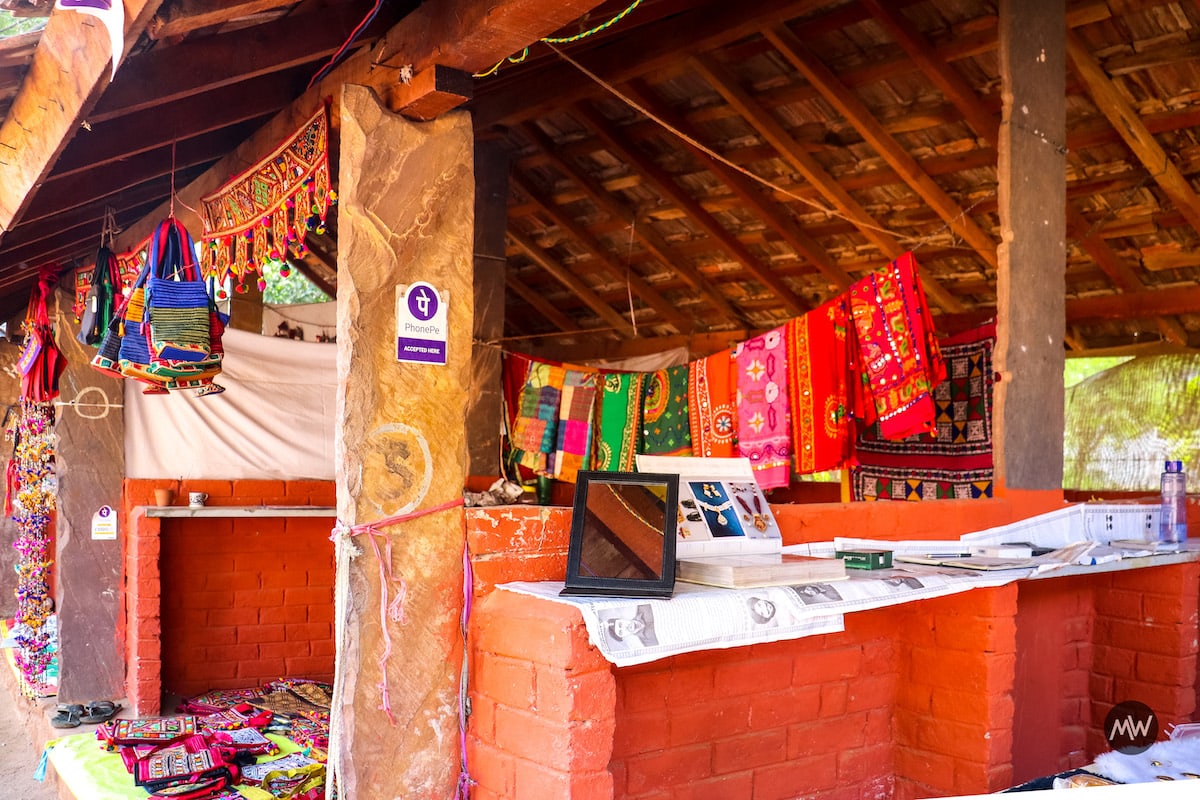 If you're eager to know how you can enjoy the Shilpgram Festival, all you've to do came in the last week of December. Specific dates are 21 December to 31 December, 10 days long. This time it was still the 30th of December, no idea why!
Timings to Visit Shilpgram: 11:00 am to 7 pm
Other Notable Udaipur Places To Visit
I didn't go everywhere due to some unavoidable reasons. But I'm not disappointed as it gives me an opportunity to visit Udaipur again. For your convenience I'm including a list of notable Udaipur places to visit:
Sajjangarh Monsoon Palace
Vintage and Classic Car Museum
Bagore ki Haveli
Swaroop Sagar
Moti Magri
How to Reach Udaipur?
Udaipur is well connected from major cities of India. However, if you happen to be in Jaipur, here's how you can easily reach from Jaipur and few other major cities.
Via Rail
Railways are a feasible option if you're coming directly from Delhi or Jaipur. Udaipur city railway station (UDZ) is connected to both the stations.
| From | Train Number | Train Name |
| --- | --- | --- |
| Delhi & Jaipur | 12981 | Chetak Express |
| Delhi & Agra | 12963 | Mewar SF Express |
| Agra Cantt & Jaipur | 19665 | Khajuraho – Udaipur City Express |
Via Air
The nearest airport to Udaipur is approximately 20 km from the city named Maharana Pratap Airport (UDR). Some airlines that operate are Jet Airways, IndiGo, and Air India.

Via Road
Udaipur is very well connected to Jaipur and the transport option is available almost all the time at a regular interval from the Sindhi Camp bus station in Jaipur. However, you can easily come from Delhi and Agra too. From ISBT Delhi there are regular buses to Jaipur and Udaipur, the same is the case with Agra Bus Station.
Where to Stay in Udaipur?
There are many youth and backpacker's hostels in the city. Not to mention the luxurious hotels and resorts. So whatever is your budget, you'll get every type of accommodation here. Even Zostel is here as well. We couldn't book Zostel as it was already full and funnily enough, it was right in front of our hostel haveli – Castle Namahstay.
I'd recommend you to Castle Namahastay if you are looking for a budget hostel which also provides a huge haveli to live in. Jokes apart, you can't get a better deal of a huge mansion such as Castle Namahstay – Art Space + Hostel. Otherwise, the evergreen option is to go for Zostel.
But if you're looking for hotels and other luxurious options, you can find them here.
Some Common Questions Related to Udaipur
What is the best time to visit Udaipur?
The winter season in India is the best time to visit Udaipur.
How to reach Udaipur from Jaipur?
You can catch buses from Sindhi Camp Bust station or take trains from Jaipur City railway station. 19665 (Khajuraho – Udaipur City Express) and 12981 (Chetak Express) are two Indian Railways trains that run from Jaipur to Udaipur.
What are some must Udaipur places to visit?
City Palace, Shilpgram, Lake Pichola, Fateh Sagar Lake, and Sajjangarh Monsoon Palace are some of the must visit places in Udaipur?
What is best way to travel in Udaipur?
For reaching Udaipur train seems to be the best option. For exploring Udaipur, you should hire a two-wheeler or four wheeler.
---
Conclusion: New Year's Celebration
It's ironic I'm ending this article with the start of a new year. Shilpgram already made my 31st and I was all ready to enjoy the evening, chilling with a bunch of strangers. You see there's one advantage of strangers – you don't know him/her nor do they so you can talk about anything under the universe. And sometimes you find out the stranger is not a stranger at all but very much like you and others – a human with the sort of things that we have.
Everybody was dancing around patches of the bonfire, free coke was being served to all hostellers and it was all decorated with colorful lights. Starlit sky and people can be seen chattering all around. I sit upright in front of Lake Pichola on the terrace. Lost in somewhere, I also made some commitments to myself, took some pledges, and loved seeing the dance and activities.
I was lost in introspection and suddenly I heard…ten..nine..eight..what..what? Five seconds and we were about to get into 2020. I joined everybody and began laughing with all.
This year is certainly not like the previous ones. Novel Coronavirus has crossed all limits and it is we who can defeat this invisible enemy. Sure you can't teach everyone, but at least you can influence the people who listen to you. If you have that power, it is the right time to put it in action. Stay Safe. Stay Home!
---