I'm not kidding but a successful trip to Goa is the proof of friendship here in India. Ask any Indian.
We came to Goa on the 6th of October, 2019 – not a very great time to come to Goa but still, it was worth it.
Our one day in Pune was every bit worth, it was one of the best Couchsurfing stay we'd ever have in our journey. And it filled us with positivities about our next stop – Goa.
A quick tip: Couchsurfing lets you stay for free anywhere in the world. Don't believe us? Hmm
I didn't think I'll write about Goa or a blog article will be published. Reasons? We went to Goa just to chill and have a good time. But, here's the ironical me – *teeth & smile*.
You never know what a place had in it for you and eventually what can make you praise it in different forms. I'd the same thing with Goa – first time on the beach, Goan food, scooter rides, tall palm & coconut trees, beautiful sunsets and a bunch of crazy friends. What else does one need?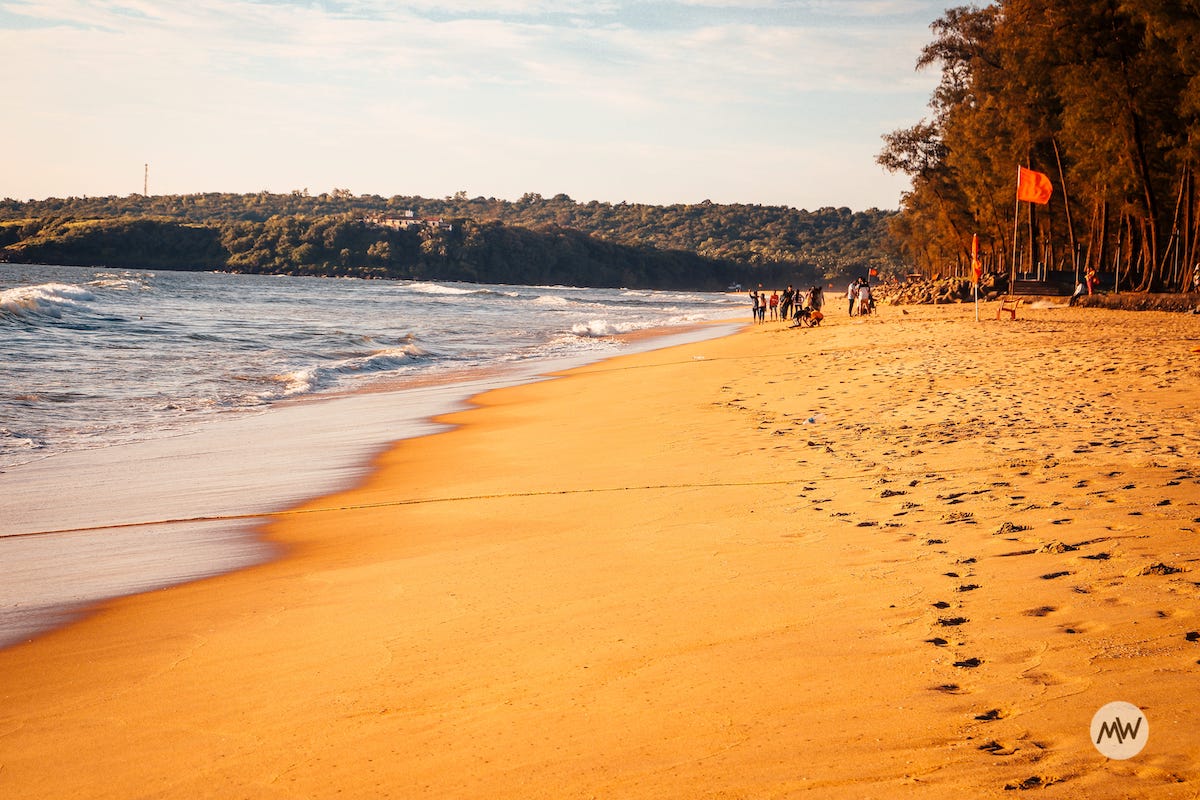 So, without boring you anymore, let me directly take you to the journey of Goa, along with my two crazy friends. Deal? Okay.
And I promise you our journey is going to be super helpful if you're planning to visit Goa anytime soon.
---
Some FAQs related to Goa
How to reach Goa?
Goa can be reached via train, flight, and roadways. It has all three modes of connectivity with almost every city of India.
What is the best time to visit Goa?
Goa has its own beauty in every season, whether it is summer, winter or rainy.
What is Goa beyond beaches?
Goa is more than just beaches. There are many historical monuments in old Goa as well as some temples and churches.
Which part of Goa is best?
Both north Goa and south Goa are scenic. Both part of Goa has beaches. Old churches and historical monuments are in Old Goa.
Is it safe to visit the beaches at night?
Obviously it is safe to visit Goa beaches at night. But be sure to ask a local.
How many days are enough for Goa to explore?
It depends on how you want to explore. Generally, 4 to 5 days are okay.
First time thrashing onto the land of Goa
Well, Goa is easily accessible from the top cities of India and the world. It's one of the most sought after vacation place for many people all around the globe.
We arrived on October 6 morning, from Pune via a private bus service. Yawing and squeezing our eyes, when did Mapusa (a place in Goa) arrive we had no idea!
We threw our backpacks on the side of the road – and started to find out the location of our hostel named 'No Name Hostel.' Soon enough the rays of enlightenment fell and we did find that buses going to Keri (Querim) go directly via the road where our hostel is situated.
No Name Free Hostel and the Keri Beach
From Mapusa bus stand it took us almost an hour to reach our hostel with no name. I like their tagline – a hostel should have a purpose, not a name.
We reached Mapusa around 9 am and now it's almost 11 am. Bells were ringing in our stomachs and nature's call was at the peak. We'd already decided that who'll go first while en route and everyone ticked themselves at first position. Yeah, crazy!
No Name Hostel – Stay for free
About 1 km from Keri beach, in the lush greenery of North Goa, sits a hippie's hostel named 'No Name Hostel.'
They accepted us via Couchsurfing and they let you stay for free in exchange for the different works you can do there – sweeping, dishwashing, cooking, teaching, serving and so on.
But what if you don't want to do all these things but just stay? Yes, you've paid options too.
Travelers, peace seekers, artists and adventurers from all over the world – France, Spain, Russia, the United States of America, come here and live harmoniously with the community of the No Name for as long as they want or need.
Moreover, from daily Yoga classes to occasional massage classes, from cooking a pizza inside a self-made clay oven to living without leaving a carbon footprint, No Name Hostel does a great job for the traveler community of the world.
You should definitely check them out if you ever come to live in North Goa. Here are some pics to tell-all:
Varun, Subbu, Ankit & Elisa are the pillars of No Name.
After a little bit of chit chat, Varun showed us our room in their neighborhood building which they call 'White House.'
Sunset at the Keri Beach
Refreshing up, our first curiosity was to see the sea. Those fantasies about the beach are about to come true.
No Name provided us their bicycles (without any cost) to roam around and explore. We caught the opportunity and hit the Keri (or Querim) beach around 4 pm.
I still remember the route. Filled with utter lush greenery, coconut trees, green farms, and shops at frequent locations – it was just a dream come true.
And then, it was one of those moments where your jaws drop and you're awestruck by the beauty nature had just bestowed on you. It happened to me when I first saw that blue lining – the horizon of the sea, behind those coconut trees and then I'd realized that we'd reached a beach.
Shraddha, Abhishek and me – we all started to shout in excitement. Hooting and shooting, we ran towards the beach after we threw our bicycles towards an old racked boat.
The first touch of the water is still inexplicable to me. It always occurs to me – I go blank when I see something enormously huge or massive. It happens with the stars and now it just happened with this grand sea at the Keri Beach.
Without wasting time, we unpacked our camera gear – DSLR and the action cam and started shooting the grandeur.
See the pic: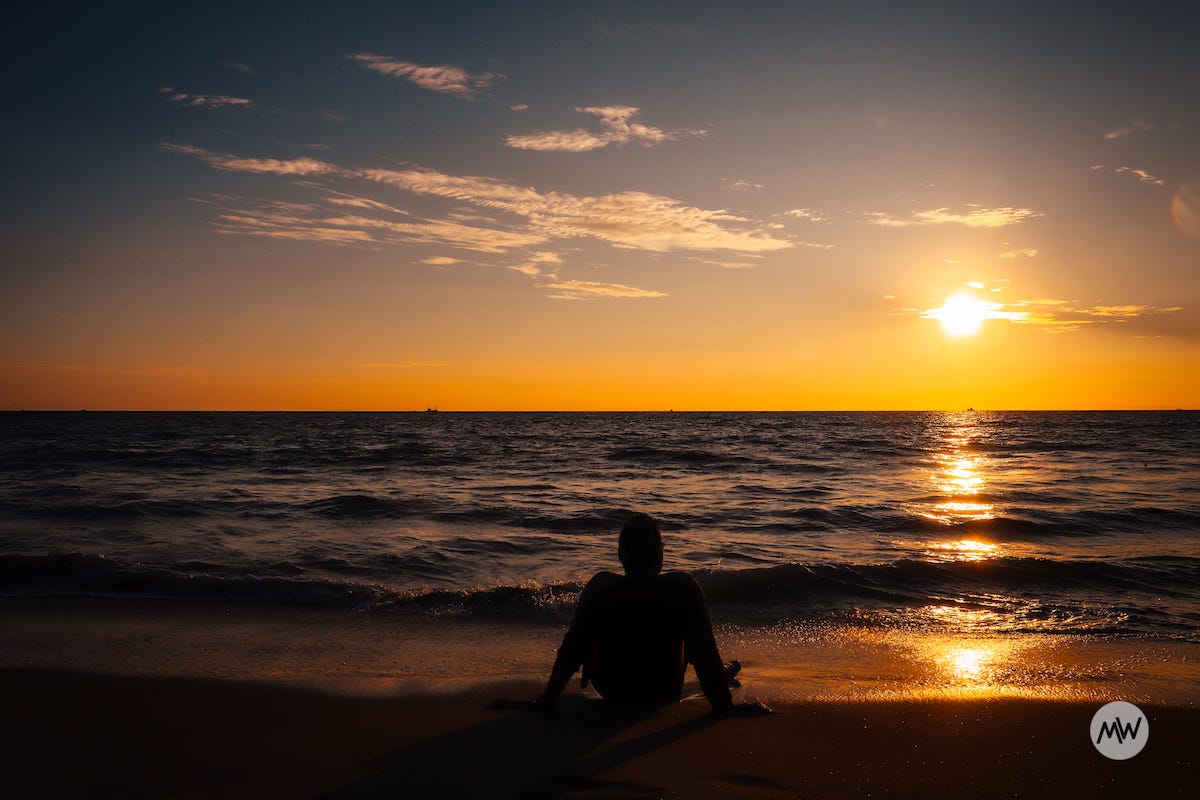 We stayed there until the sun hid behind the earth. Sometimes strolling, sometimes playing with the waves and sometimes getting lost in the beauty.
We came back with sand-filled in our pockets and hair. As night started sweeping in, so did we in our beds. A day well spent? – nope; an evening well spent.
The Keri beach is one of those beaches where you do not find the crowd but fishermen, a few shacks, and some misfit wanderers like us.
Renting a scooter in Goa – Pro Tips
You come to Goa and you don't wander on a scooter is just equal to you didn't come to Goa at all. I know that sounds crazy, but that's it – no eh or but. Don't you believe?
The next day, on 7th October, our task was to rent a scooter and explore the nearby beaches. And yet again, No Name gave a helping hand.
But before I dive into further, let me show some pro tips you should definitely, definitely, definitely keep in mind before you hire a scooter or even any vehicle for that matter.
Pro Tip #1
Have a valid driving license:
It sounds simple but people often forget it. Don't be that guy.
Pro Tip #2
Check ALL DOCUMENTS before you accept the vehicle:
Let me first define the necessary documents required:
Valid Registration Certificate (RC) of the vehicle,
Insurance Certificate of the vehicle,
Pollution under Control Certificate (PUC) of the vehicle.
Have your eyes glued on the expiration dates of all certifications, don't accept if you find any anomaly and ask to replace the vehicle.
Pro Tip #3
A Yellow Number Plate Vehicle:
This tip is coming with the experience. Any vehicle you're renting should and must have a yellow-colored number plate. Otherwise? Well, you're in a problem. The traffic police can fine you or send the challan directly at your home address (mentioned in your driving license).
Pro Tip #4
Ask for the helmet:
A no brainer tip, just in case you forget. Generally, for two-wheelers, they provide a helmet.
Pro Tip #5
Days basis not hourly: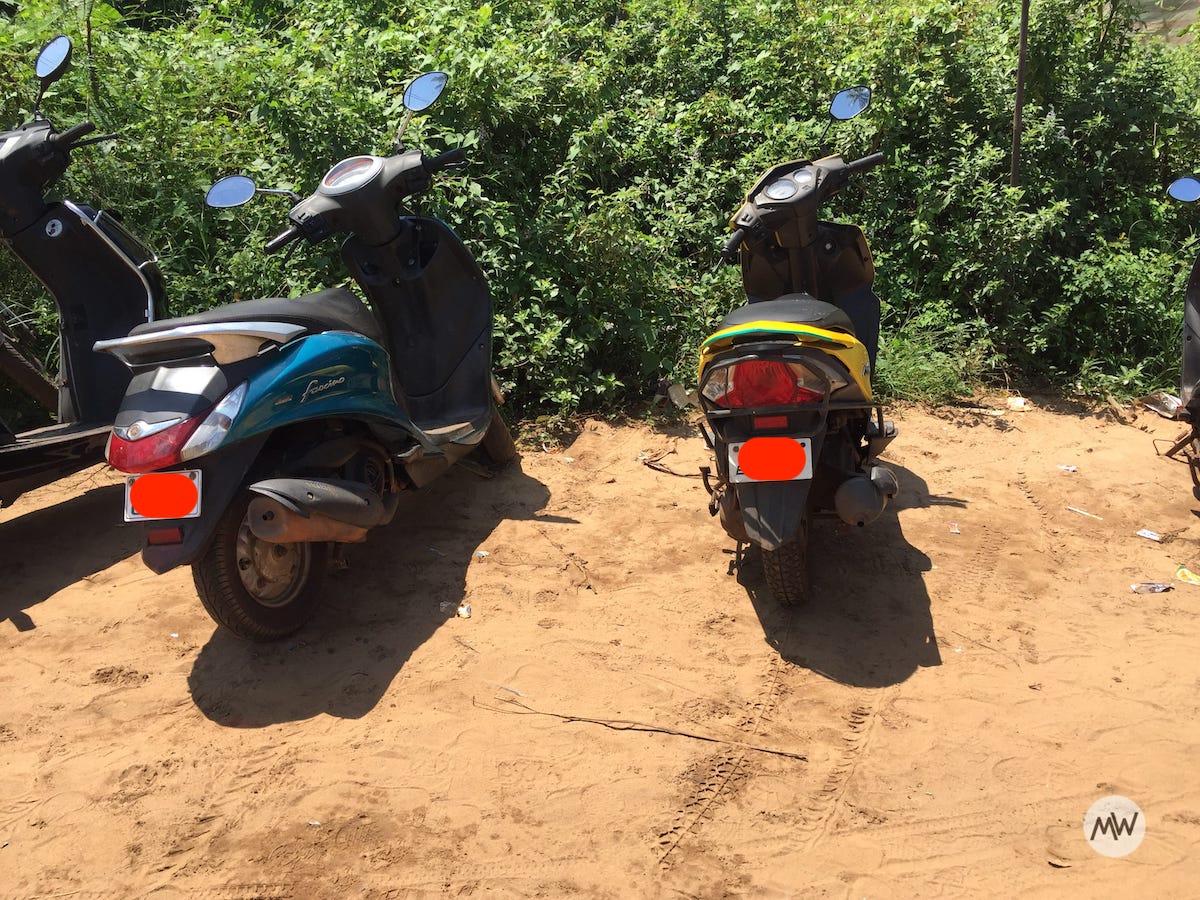 Hardly any service provider will give vehicles on an hourly basis. So keep in my mind, if you cross the one day mark, even if you'd spent only half an hour chunk from the next day, they'll ask you rent for full two days.
Where to rent a scooter in Goa?
Asking this question is pretty much like asking where do I find oxygen? Goa has scooter providers all around the state. With a little deposit for safety, you can easily rent any vehicle.
Chances are your hostel or hotel knows many of the providers situated nearby. Otherwise, a Google search will reveal many of them.
So, coming back to our story. We rented the scooter from No Name. We ticked all checks but we forgot to tick Pro Tip #3 which later did throw us into trouble (you'll see how).
Beach Day of the Trip
As I touched the handle of that Yamaha Fascino scooter, a sensation quickly ran in my mind about my Mohani. Don't we all remember our private vehicles whenever we are parted with them, landed in a foreign land?
Anyway, Abhishek took his favorite yellow-colored scooter, Shraddha hinged with him. And we all accelerated our wheels in synchronization towards the next beach of North Goa – Arambol.
Arambol Beach
Arambol was clearly not one of the best in terms of peace, but certainly, it crosses the mark in terms of beauty. The blueness of Arambol captivated our eyes and mesmerized our souls.
Shraddha lost in her lone thoughts. I and Abhishek started shooting ourselves in our MW tees and doing Instagram live.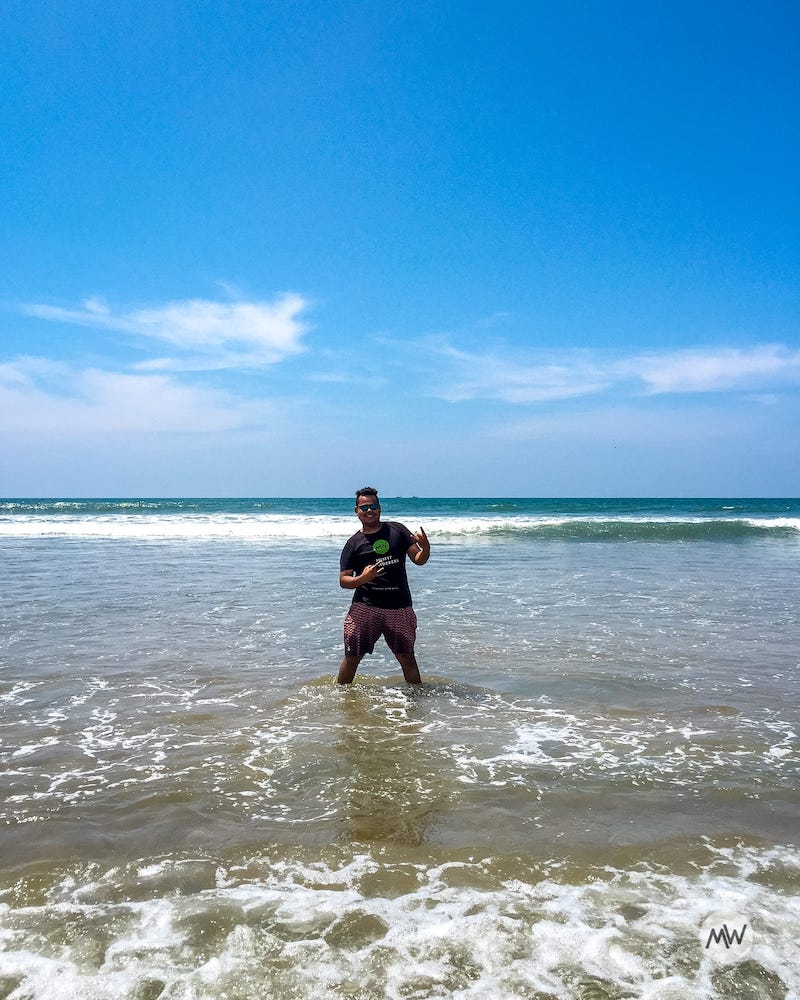 After spending some time, we returned back to our scooters in the parking. An ice-cream seller was standing nearby and seeing us so happy with the beachy vibes, he gave a wider smile. *Ignoring completely* We then went to Manderim beach.
Manderim Beach & the Traffic Police
Manderim is just within 1-2 km range of Arambol beach but has route passing through densely green roads.
And now, when we were en route to Manderim – singing happy songs and anticipating what else we'll do on the beach; suddenly we see a man in white uniforms.
Traffic police. Sitting on a bike, he waved in front of us like a lighthouse to the ship. We stopped near him. Hearts started pumping a little bit faster.
I politely asked that what had happened officer? Jotting down something in his diary, he asked us to show driving licenses – and so we did.
He then saw the white number plate (not yellow number plate) of our scooters and asked that where did we rent it?
Remembering the tip given by No Name, we said that we've not rented it and it belongs to one of our friends in Goa.
Catching our lie, he again asked the same question. We adamantly replied the same. He smiled seeing our pale faces and gave us advice – "I am leaving you but the other policemen won't; return the scooter asap."
We'd no idea about what has just happened – my mind slipped into silence. We asked the way to Manderim and the police officer politely showed us the way.
Driving slowly through the meadows, we reached on the side-road of the beach – Manderim beach. Parked our vehicles and went nearby the stairs to reach the beach. And then…
"Where's my backpack?" I asked Shraddha.
"I don't know, I gave it to Abhi?", she replied jokingly.
"No, seriously, where's it Abhishek?", I asked again in a stern voice.
"I think I gave it to you."
"Me? What the f!" I muttered.
Well, the thing was, I don't know who specifically, but we left the backpack in the parking lot. Remember that ice cream guy? Turned out, he took it and gave a safe place until we arrived at the spot. Thank you, man.
The backpack had the camera, and a few other important stuff – like charger and power bank.
We flew to and fro to Arambol to get the backpack and be back on our way.
Water Sports at Vagator and Flea Market at Anjuna
Vagator and Anjuna beach are neighbors. We first went to Vagator and thought we'd then go Anjuna flea market instead of its beach (which is apparently at the beach).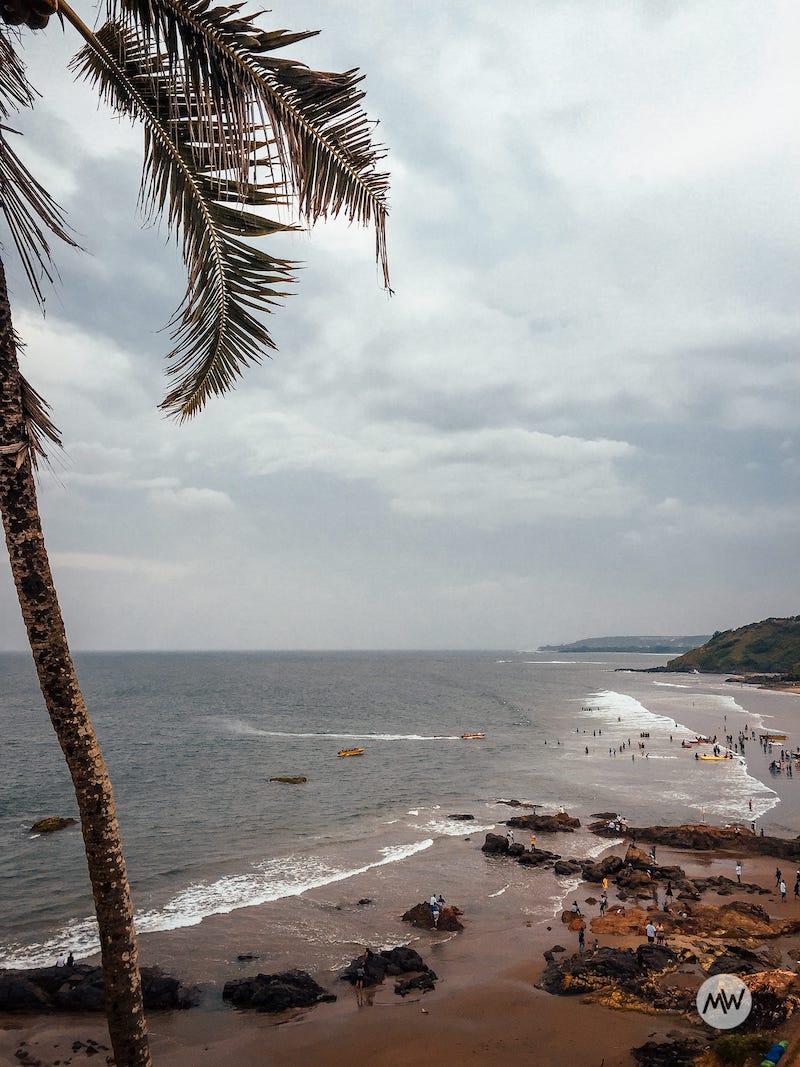 Anyway, the Vagator beach is for adventurers and water lovers. It offers a wide range of water sports & activities like – motorboat, parasailing, surfing and so on.
Also, it's a rocky beach and simultaneously offers a great opportunity to spend some good time either in solitude, with some special someone or with a bunch of friends. The thing is, you'll enjoy the view and the vibes.
So, now, after spending some quality time our scooters got destined for the Anjuna Flea market (heard of it many times in Goa). But then, after reaching Anjuna we came to know that the market is closed for today. We'd no option other than to go to the beach now.
"My God! What a touristy beach it is!", I murmured as we entered the beach.
And indeed it was the busiest and populated beach we'd ever been to yet. Our energies were already depleted, and no one had the zeal to bounce unnecessarily in the sea.
So? Let's take the treat from Shraddha for leaving her job and joining us on the Goa trip.
We all nodded to try seafood. And soon enough we got inside a beach view restaurant.
For your information – we here at North India rarely go beyond fish when asked for seafood (not talking about restaurants).
Blurp. Blurp. The sun had already set up, marking the end of another great day here in Goa.
Moving in slow motion, waving our extended stomachs, we reached at our free hostel – No Name, clicking pictures like this, all along the way: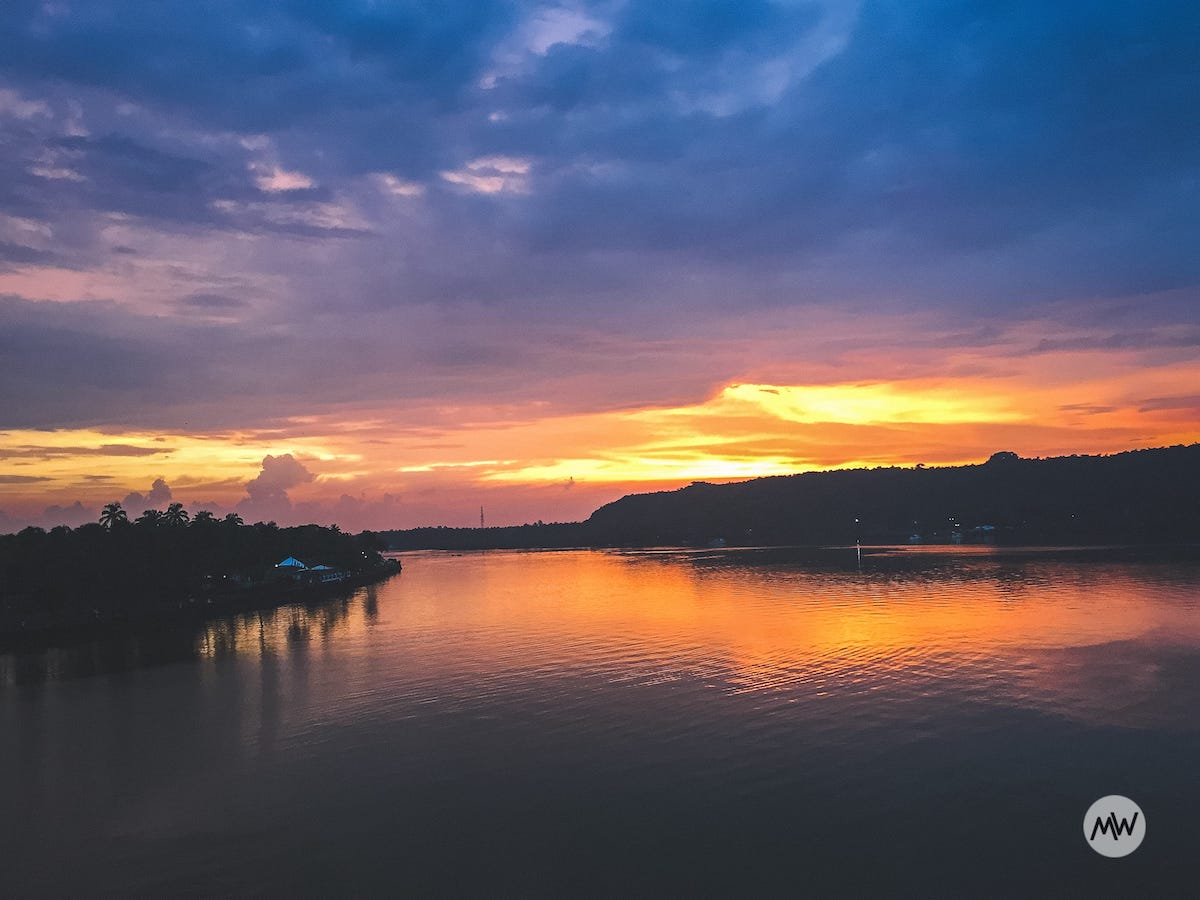 Shops and Hops
The next day, 8th October, we were pretty unclear about what to do.
Beaches again? Let's try something else? Let's just sleep. Let's just do a photoshoot at Keri. Yawns and sneezes.
Hmm. Finally, we decided to return the scooters and go to the Mapusa market (another popular market of the Goa) to shop for some sovereigns.
Lazy us, we were already very late. The clock was ticking 1:30 pm and the bus was still not there. Somehow doing ups and downs, the bus came, and we reached Mapusa in an hour or so.
Behind the bus station, lies the huge market of Mapusa. Shraddha and Abhishek got busy in shopping and I was just strolling through the lanes watching how people are doing their businesses.
They went to buy a Goan saree – which was used by local tribes of Goa. Read what souvenirs you can buy at Goan markets.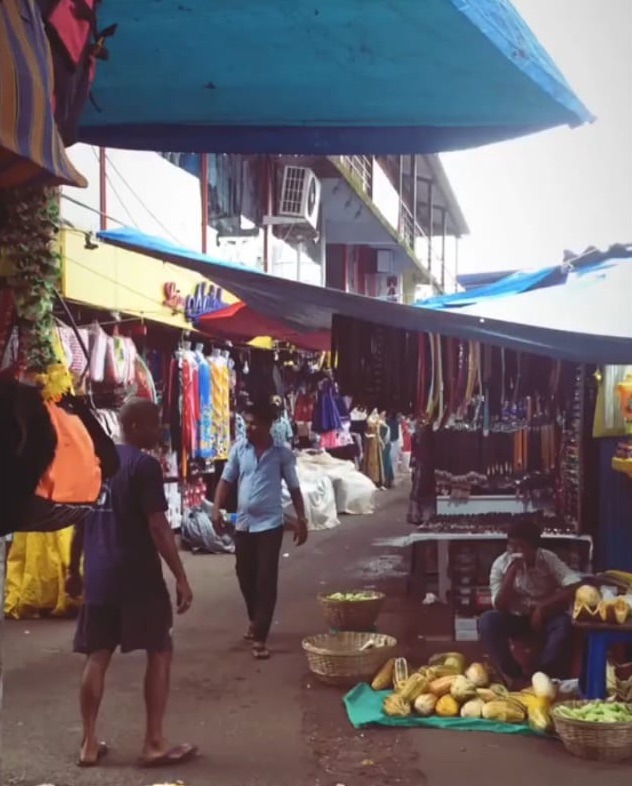 I didn't buy anything as I'm not a very shopping kinda person. Instead, I spent my time to observe the intricacies of the streets, shops and local Goan people struggling for bread and butter.
And this day in Goa, went like this.
Panjim and the Old Goa
Goa is not all beaches – you know that right? It's much more than that.
Panjim, the capital of Goa, situated alongside river Mandvi was our next destination. It's also the residence of one of the bloggers who inspire us – Anuradha Goyal.
We checked out on 9th October from No Name, hugging and bidding adieu to everyone there. I'll definitely come here again, I muttered as we were going out on the road.
En route Panjim – to meet Anuradha ma'am and possibly explore few churches in old Goa. Why not?
As we reached Panjim or Panaji, we again rented two scooters just to make the exploration easy.
It was around 3 pm already after we met and greeted Anuradha Goyal ma'am. And at around 9 pm our train is scheduled to leave for Jhansi from Vasco station at Goa. Meaning? We've to do everything fast.
Without wasting time, we straightaway set the destination to St. Basilica – an old church and world heritage site in Old Goa. I was driving alone behind Abhishek's scooter and Shraddha was the navigation system.
Left, right, then left, then right – we did a whole lot of twisting on the roads of Panaji. There came a moment which baffled me completely.
Never ever in my life, I'd seen such a natural beauty. What, you ask? A straight thin one-way road, with plantation of tall coconut trees on either side at the periphery and both sides, were covered by the river and lush greenery. And no it wasn't a bridge or a flyover – it was a proper road, on the ground and you could see the reflections from the sky very clearly.
I wanted to stop and photograph it for a lifetime. But then again, we were in haste and I did not want to be left behind.
St. Basilica and the ASI building
St. Basilica is an old and massive church in Goa coming from the time when Portugals ruled over Goa. It has a very controversial history – quite a disturbing one. You can read more about it here.
The huge structure of the church gives a treat to the eyes. One could even see the same size building of ASI right in front of it, on another side of the road. Both extremely photogenic.
We were lucky to attend a marriage going inside the church for the first time in our lives. The church walls were full of the sayings of Mother Teressa.
The church also comes under the umbrella of world heritage sites.
Leaving Goa: From Vasco to Jhansi
A great deal of time has been spent. And now it was around 7 pm, high time to reach the station otherwise we'd miss the train. The station sits approximately 40 km from Panaji and so we wanted no risks.
Anyway, this was our short trip to Goa – in fact, North Goa. South Goa – we'll be coming for you, and your readers don't forget to catch us along. Pinky promise? Subscribe now.
Do tell me what was the funniest/horrific thing that happened to you on your Goa trip?
As I told you mine was that incident with the traffic police. I think I'm not brave. Lol.
You say now?