Let's start with a mind-bending fact. Kasar Devi Temple is one of the three places on the planet Earth under the impact of magnetic fields responsible for capturing Van Allen Belts discovered by NASA. Many people believe that due to the presence of these fields, here you get an ultimate peaceful and relaxing experience.
For more than decades, Kasar Devi attracted poets, writers, actors, singers, and artists from almost all genres. Numerous notable people from the world have been here – Harvard psychologist Timothy Leary, Swami Vivekananda, Rabindranath Tagore, Zohra Sehgal and a few many.
I'll tell you about them. Just keep on reading.
Just in case, you want a video walkthrough (video language is Hindi):
For those who want to understand the science behind why this place must have attracted artists from all fields, here's something for you.
---
---
Why Kasar Devi is So Peaceful?
Let me not hook you into complex science terminologies and explain to you in the simplest way I can. Okay?
Okay.
Kasar Devi is just not a village, it's much more than that.
Back in the year 1958, before conducting Apollo's mission, NASA discovered that earth is surrounded by two donut-shaped zones of high energy particles held and captured by powerful magnetism of the earth. These zones contain radiations so harmful that if you cross earth's atmosphere and pass through them – it can kill you within a few minutes. They're known by the name of Van Allen Belts.
Their further study showed that only three places on the earth are under the impact of magnetism that holds Van Allen Belts. One is Machu Pichu, Peru, another is Stonehenge, Wiltshire, England and third being the Kasar Devi Temple / Crank's Ridge itself. More on Crank's Ridge below!
Follow us for more travel inspiration.
I was amazed when I came to know about the importance of this little place in the Kumaon region of Uttarakhand. While I didn't find any claim from NASA, but many people believe the geomagnetic field is responsible for why we feel at peace and mindful on being here.
High energy particles of Van Allen Belts?
Or else, what was the reason that this place attracted a number of mystics, philosophers, peace seekers and artists from all over the world? Energy is a thing. To quote:

When you know science, you don't believe God.

When you understand science, you meet God.

Unknown
The Mythological Shade of Kasar Devi
Kasar Devi temple is dedicated to Goddess Parvati emergence Kaushiki – Durga avatar. The Devi Bhagawat Puran from Hindu literature describes that she slayed the two demons Shumbh and Nishumbh at the hill of Kasar Devi. It is said that imprints of Goddess Durga's lion are still behind the idol on a rock face.
Kasar Devi temple dates back to 2nd-century C.E. and gained popularity after renowned Indian monk, Swami Vivekananda meditated and lived here in the 1890s.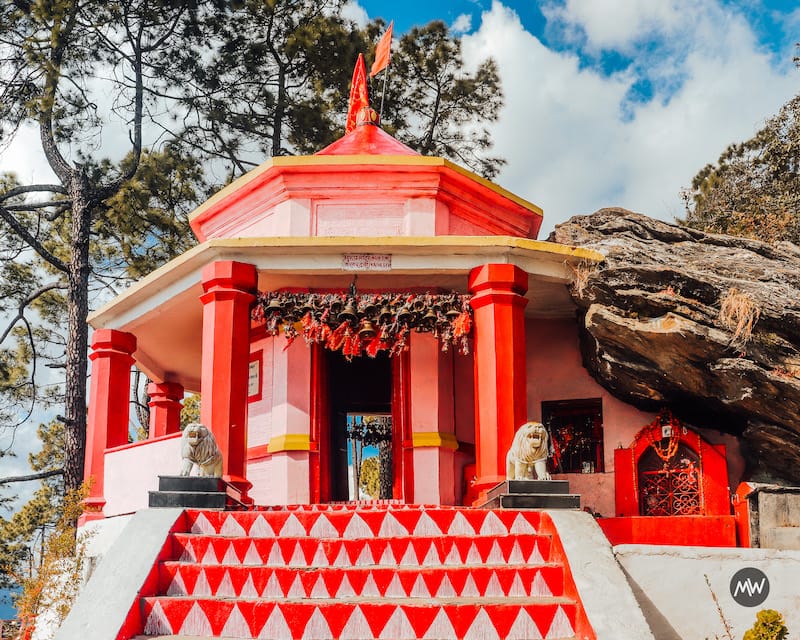 Just 10-20 steps ahead of the Kasar Devi temple, there lies a temple of God Bhairav on the same hill. It was the exact point where Swami Vivekananda meditated and shared the mystic experiences in his diaries.
At the time I was there at Kasar Devi temple, I was unaware of many things. I just sat beside the priest on a rock and hinged my camera to take a time-lapse of the Crank's Ridge, Himalayas. Soaking myself into the peace, chirpings of birds, murmurs of kids and losing eyes on sepia-tinted valleys – it's all that I'd wanted at that time.
Crank's Ridge & the Hippie Movement
Many people refer Kasar Devi village as the Crank's Ridge. But it's a part of Crank's Ridge which is spread over 6 km at the foothills of Himalayas here.
Ridge is basically a long, stretched hilltop and that's what exactly Crank ridge is too. It got its name, most probably, after the famous hippie movement took place and a lot of westerns arrived here. It was the time of the 60s and believe me many people still feel the same Bohemian vibe here.
Follow us for more travel inspiration.
The Hippe Movement started in the western part of the world lead various misfits, wanderers, mystics, artists to travel. And in their travels, Rishikesh, Goa and Kasar Devi (Crank's Ridge) became popular spots in India.
In fact, Crank's Ridge is considered to be a place of great spiritual importance just like Rishikesh.
Notable Visitors to Kasar Devi, Almora
India's respected poet and Nobel prize winner Rabindranath Tagore, Ravi Shankar the sitarist, Uday Shankar and dancer Zohra Sehgal came and lived here around the 1940s.
It is also said that once Neem Karoli Baba also visited this place with his disciples.
Timothy Leary, a renowned psychologist from Harvard lived here for many years and wrote a part of his book "The Psychedelic Experience." Prominent Buddhist scholar Alfred Sorensen also known by the name of Sunyata Baba lived here too. Ernst Hoffman (aka Lama Govinda), the elite authority on Tibetan Buddhism made his presence here too.
Popular English novelist and poet D.H. Lawrence spent two summers. Singer Bob Dylan, George Harrison from the Beatles, and singer-songwriter Cat Stevens came here in the 1970s.
Around the years of the decade of the 1960s, this place became a famous spot for mystics, poets, singers – in fact, artists of all sorts. Still, today, this place's hazy vibe makes you feel like the 1960s with an addition of a single lane tarred road.
Things to Keep in Mind Before Visiting
How to Reach Kasar Devi, Almora?
Kasar Devi is situated on the Binsar Road in Almora, Uttarakhand. Below are the technical details:
| Item | Remarks |
| --- | --- |
| Nearest Railway Station | Kathgodam (90 km) |
| Nearest Airport | Pantnagar (123 km) |
| Road Connectivity | Available |
| Government Buses | Halts at Almora Bus Stop |
Where to stay in Kasar Devi, Almora?
Although there is n number of options to stay only a few that will make you taste that Bohemian Rhapsody once it was visited for. I stayed in a cozy place just like that.
My humble abode wast at HOTs Kasar Devi situated about 2 km ahead of Kasar Devi temple. I was lucky to have no one at the hostel except the staff, perhaps due to the timings I chose. It was the second week of December 2019, and snowfall had just covered itsy-bitsy of Almora and Nainital.
Apart from introspecting myself and the year 2019, I mostly spent my time gazing at the Himalayas in front of HOTs Kasar Devi, reading books, clicking photographs and eating food. Yes, it was a very short trip – 2 days long.
Beyond Kasar Devi in Almora
Like always, a place is much more than what it's known for. Apart from Goddess Durga temple, geomagnetic field influence, Kasar Devi is truly nature's blessing. No matter how bored traveler you're, the splendid Himalayan view far stretched till the eternity will make your face pop and leave you in awe.
You'll want to stay there, for as long as you can, but still, your heart will want more. I wonder if these Himalayas are magicians or something?
Bal Mithai and the Almora Market
Almora is the town you'll have to pass through to reach Kasar Devi. All government buses halt at Almora and beyond this point, shared taxi or private cab are the only options if you don't have a vehicle. I took a shared taxi on one side for 40 INR and a private cab on another side for 300 INR.
There some experiences you can't and shouldn't miss. One of them is tasting a local sweet called 'Baal Mithai.' The oldest shop is Khim Singh Mohan Singh Rautela near the petrol pump where private taxis are parked.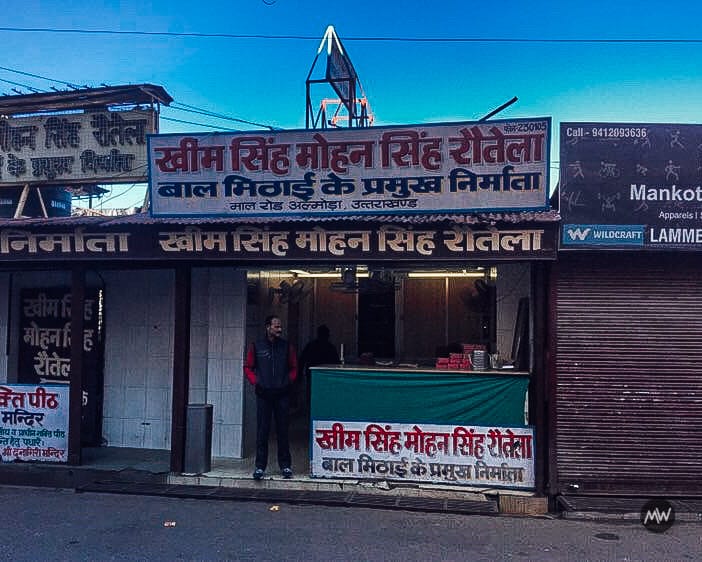 Another worth experience is to explore the Almora market. If you're a person who loves markets and shopping, you should go. It's a bustling market nestled in the tiny town of Almora providing you everything – from basic needs to souvenirs.
One noon I was there too, roaming here and there, hiking the steep streets passing through the bazaar of Almora, observing local shops, those school kids and travelers with their rucksacks on their back.
Some FAQs Related to Kasar Devi
1. How to reach Kasar Devi from Delhi?
Via Road: Catch a bus from Kashmiri Gate ISBT in Delhi to Haldwani or Kathgodam in Uttarakhand. Regular buses are available from Haldwani and Kathgodam for Almora. From Almora hire a private taxi or catch a shared cab. Kasar Devi is just 9 km from Almora.
Via Train: Reach Kathgodam or Haldwani railway station. A Shatabdi runs from Delhi till Kathgodam. The bus stand is nearby the station.
Via Flight: The nearest airport is Pantnagar. Regular buses and taxis are available from Pantnagar to Almora.
2. How to reach Kasar Devi from Almora?
From Almora, you can catch a shared taxi (usually a Tata Sumo) for around 50 INR per person to reach Kasar Devi. You can also hire a private cab (usually an Alto) for 300 INR.
3. Why is Almora famous?
Almora is famous for its rich culture, mystic views of the Himalayas and mesmerizing blend of nature and people there. Bal Mithai is a famous and local sweet in Almora. Crank's Ridge, a popular spot of Hippie's Movement in the 1960s is a few kilometers from Almora, at Kasar Devi village.
4. How to reach Jageshwar Dham from Kasar Devi?
Jageshwar Dham is 37 km from Kasar Devi. Shared taxis go via Kasar Devi from Almora to Jageshwar but are irregular. Hiring a private cab is the better option until Jageshwar if you're non-solo traveling.
5. Is Kasar Devi geomagnetic?
Yes, it is. Kasar Devi is one of the three places on the planet Earth under the impact of magnetic fields responsible for holding Van Allen Belts. Due to these fields, here you get a magical, peaceful and relaxing experience.
---
A Few Words of Conclusion
This was the short story of Kasar Devi and Almora. With many notable personalities being visited here, it's still one of the choices of hippies and peace-seekers in the world. It's for Misfit Wanderers and artists of any sort.
Also to tell you, just 40 km towards Haldwani and Kathgodam from Almora, sits a mystic temple of Neem Karoli Baba. It was visited by Steve Jobs, Mark Zuckerberg and few other tech geniuses of the world. So if Kasar Devi isn't enough for you, cover this temple too.
Moreover, there are many famous Indian temples nearby Kasar Devi – Golu Devta, Jageshwar Nath and also the Binsar Wildlife Sanctuary.
So what do you think? Is Almora a worth place to visit? Kasar Devi is worth it?
If you ask me – yes and yes. BELIEVE me, you won't be disappointed. Moreover, if you travel solo, it's advisable to come here at least once.
---
By the way, do you also think the Himalayas are magicians? Tell me in the comments.