What if I tell you that many tech titans once came to India from the world's best technology and innovation center, i.e. Silicon Valley, only to visit an Indian Guru named Neem Karoli Baba? These people are the founding members of most prestigious companies of today like Apple, Google, and Facebook.
Would that sound crazy?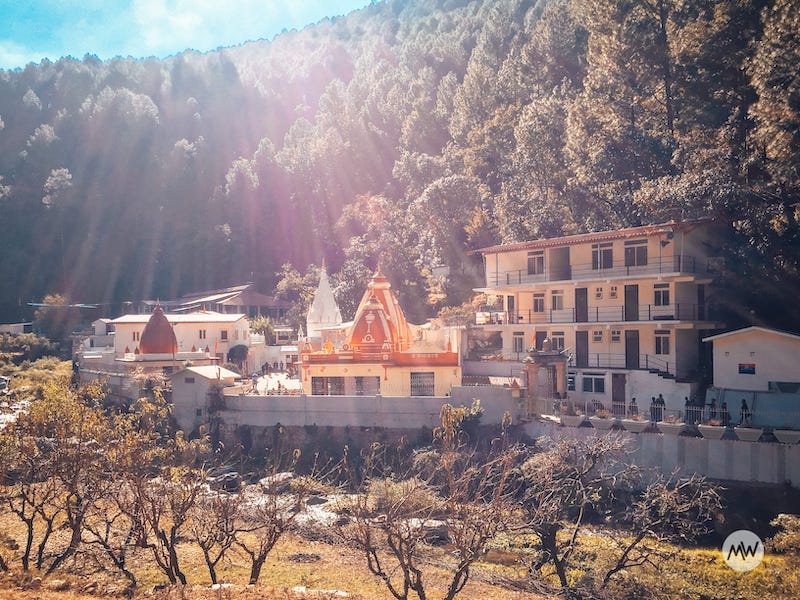 India is the center for spiritual studies – people from all over the world have often described 'India travel' as one of the best things in life. From this same land of India, a temple in Uttarakhand province attracted people like Steve Jobs, Mark Zuckerberg, Dan Kottke, Larry Page, and the Hollywood actress Julia Roberts as well.
It is said that the founding person of this temple – Neem Karoli Baba, was a man of mystic energies. Many even believed him to be the incarnation of Hindu God – Lord Hanuman.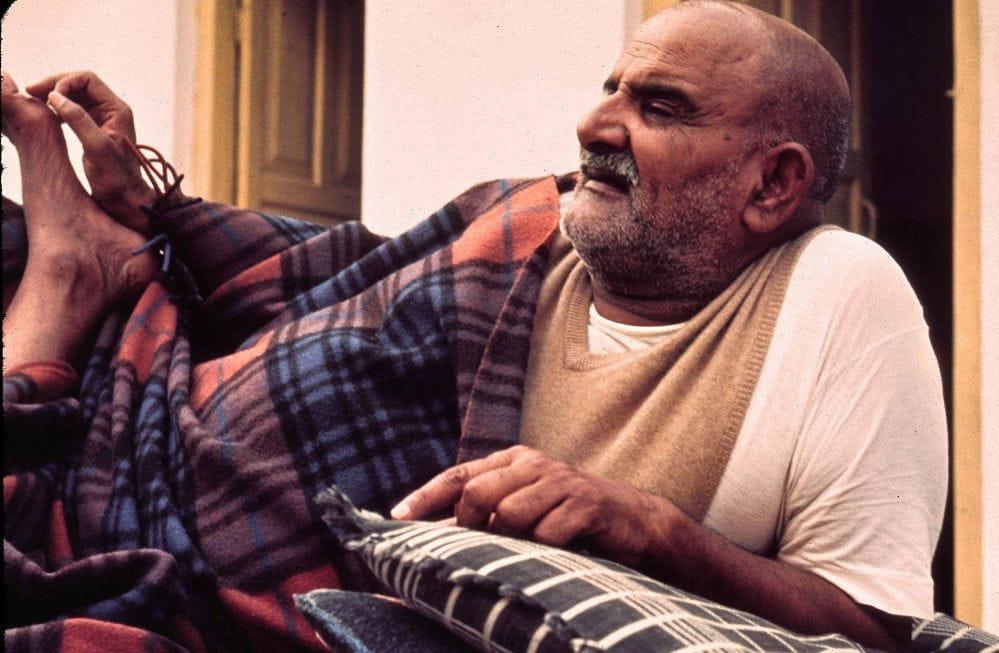 ---
---
Before proceeding any further, if you're not in a mood to read, just plug in your headphones and play the following video:
The Enlightenment Stage
I wasn't aware of this temple which is called Kainchi Dham until one day I saw it on the TV. I remember correctly – there was a news reporter standing outside the temple in a black and white dress speaking about the temple. She said that Steve Jobs once visited to meet Neem Karoli Baba. And I was like – What? Steve Jobs?
Now for those who don't know me – I idealize Steve. A lot. It is one of the reasons that I'm writing this post on a Mac (just kidding).
So, I immediately stopped eating my food. But then my fickle mind proposed to me that this might be their another dirty trick – claiming things which aren't really true or haven't been proven yet.
But when I checked it on the Internet, this what Wikipedia showed me! How can I not believe this?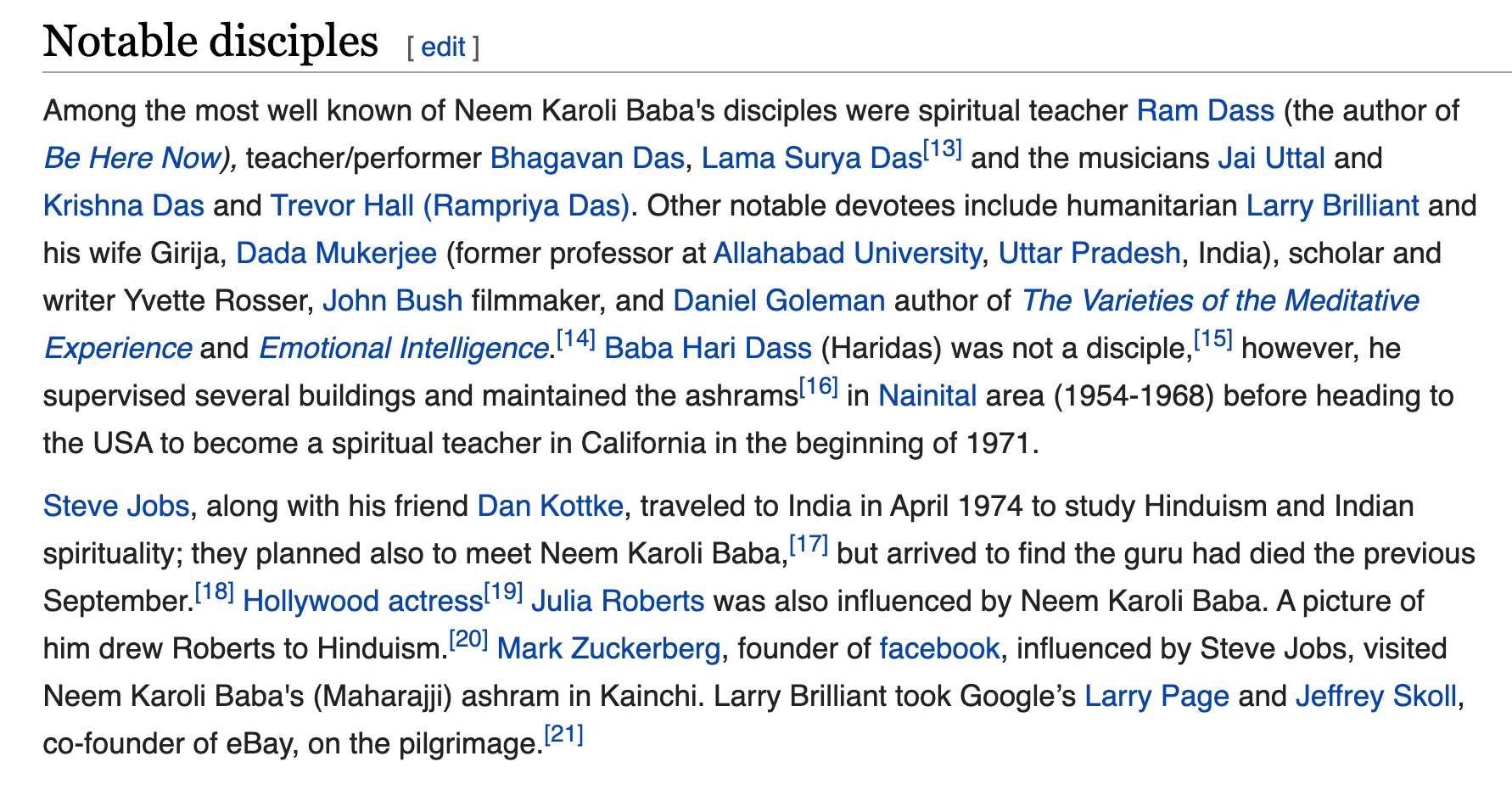 Neem Karoli Baba and His Essence
Born in Akbarpur village of district Firozabad, Uttar Pradesh, India, Neem Karoli Baba established the temple in Kainchi (Near Nainital in Uttarakhand). He's also famous with the names of Maharaj Ji and Neeb Karoli Baba because of the mispronunciation of his American followers.
I've found many videos and articles on the Internet praising Maharaj Ji and how he'd know the problem of a fellow without even touching them. He was humorous, deep, and could often be found scribbling and chanting 'राम' (Name of Hindu God, Lord Ram).
The Temple: When and How 'They' Came?
The Kainchi Dham temple established by Neem Karoli Baba has witnessed people who have achieved mastery in their lives. The temple is merely 42 km from Haldwani Railway Station of India.
Steve Jobs, before founding Apple Inc in 1976, suffering from dysentery came here in the year 1974 but was disappointed after finding that Neem Karoli Baba has passed away last year's September. He along with Dan Kottke lived there for many days – reading the story of a famed Indian sage in the English version 'The Autobiography of a Yogi' and strolling nearby the temple complex.
On a similar day, after a few years – a young boy in his ripped blue jeans and a dark t-shirt came here to seek the blessings. Back then, no one knew at the pilgrimage site that who he was until recently Mark Zuckerberg disclosed this to honorable Prime Minister Narendra Modi of India in a meeting.
Reports show that e-Bay founding person Jeffrey Skoll has also visited Neem Karoli Baba. Hollywood actress, Julia Roberts, influenced by the visit of Mark Zuckerberg also made her presence at this divine temple.
But Why They Came Here?
Sitting on my chair, staring at the wall, somewhere I lost myself into deep thinking of a very curious question – Why the tech geniuses came here? I don't remember exactly how many articles I've read in search of the answer to this question. Answers I got didn't satisfy me completely, and then I made a plan to visit here by myself.
But now I know, after being here, I can claim the answer up to a much greater extent. Even some of the articles I read align with my answer, which is…
Perhaps it was the connection of dots Steve Jobs was searching for himself. And maybe so he traveled to India to find the answers to his questions. Mark Zuckerberg himself revealed that he was advised by his mentor, Steve, to visit Neem Karoli Baba in Kainchi Dham in order to connect with himself.
Famous American spiritual leader and author Ram Dass was also a great devotee of Neem Karoli Baba and has dedicated a lot towards him. He also sang untold stories of Maharaj Ji and many of them are available here on his site.
I am now imagining what a place it'd have been when Neem Karoli Baba was alive. His essence still makes the place to bloom. So what would have been back then? Was he really an incarnation of Lord Hanuman?
My Own Exploration at Kainchi Dham
I clearly remember that sunny day. Someday in December 2019. I saw orange-colored domes of the temple from my taxi window. A plethora of emotions had started to inflow in my veins; as if the emotional side of my brain had just tingled making me numb.
I drew out the door as the taxi stopped and started strolling towards the temple complex. I was on the road, Kosi river was flowing next to it and the temple was at another side of the river.
Strolling further, I stood against the main gate which looked like this: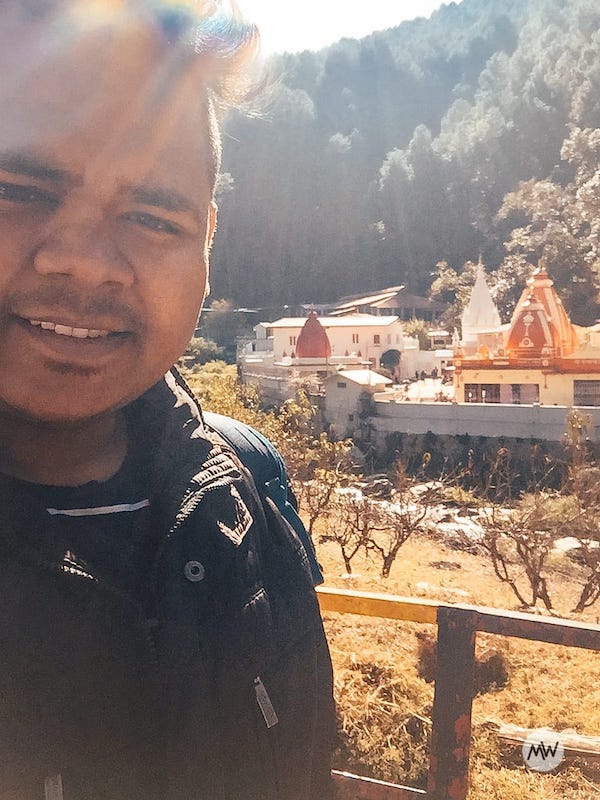 I don't know if this is true for everybody but there's something peaceful at religious places. And standing there – I was feeling no different. There was chaos, but I was as if flying through it like a feather.
I entered the temple and started scanning with my sensors. Here's what I discovered:
The temple complex consists of 3-4 temples including Goddess Vaishno Devi, Lord Hanuman, Neem Karoli Baba, etc.
There's a huge and beautiful statue of Neem Karoli Baba inside his temple.
Photography is strictly prohibited inside.
It is worth to spend time here, perhaps doing retrospection.
You get boiled lentils as 'prasad.'
How to reach and stay at Kainchi Dham?
Reaching Kainchi Dham or abode of Neem Karoli Baba was not very difficult. Well, neither it is now. You can directly reach via road or come in via rail or airways with some hops.
Since I mostly live in Lucknow, which happens to be just 400 km from here, I took a direct train from Lucknow to Haldwani station and then used the Uttarakhand Government state bus to reach.
So, an important point to note here – all the buses leaving for Almora from Haldwani bus stop go through Kainchi Dham as it is situated on the same route.
Here are the technical details:
Nearest Airport – Pantnagar (71 km)
Nearest Railway Stations – Kathgodam (37km) and Haldwani (42km)
Nearest Stay – Airbnb Sampurnanand Stay (2-minute walk from Kainchi Dham Temple)

There's an option to stay at Kainchi Dham ashram itself; for that, you need to contact the temple manager. Devotees can stay a maximum of 3 days only. If you want to stay for more days, it's recommended to either use Airbnb or find a good hotel like this one.
If you are a solo traveler or on a low budget, prefer Haldwani station over Kathgodam as the bus stop is just 5 minutes walk away from the station and you don't have to fall prey to tricky taxi drivers.
Some Related and Important FAQs
How did Neem Karoli Baba die?
He died from a diabetic coma on 11 September 1973 at approximately 1:15 am in Vrindavan, India.
Did Steve Jobs meet Neem Karoli Baba?
No. Steve was disappointed finding Maharaj Ji has passed away a year ago in September.
How can I reach Kainchi Dham?
It is situated on the Nainital-Almora highway. All buses going to Almora pass through Kainchi. The nearest railway station is Kathgodam at 37 km and the nearest airport is Pantnagar at 71 km. Catch any bus going to Almora from there.
Can I stay at Neem Karoli Baba Ashram in Kainchi?
Yes, you can stay for a maximum of 3 days. Just contact the manager from the official website of Ashram.
Why is Neem Karoli Baba famous?
It is claimed that when he was 17 years, old he had visions of Lord Hanuman. He was also a great devotee of Lord Rama. People believed that he was the reincarnation of the Hindu God Lord Hanuman.
---
Conclusion – What did I learn?
Steve Jobs was one of the important reasons for me to visit Kainchi Dham. I planned this visit along with my Almora expedition. So, what did I learn after coming here?
Certainly, this temple is one of its kind – situated on the bank of a river, surrounded by beautiful mountains and all in all possess so much peace.
I don't know exactly what good blessings from this temple will do to my life – whether I'd be more successful in my business and life or not. But I do know this – visiting this temple was definitely one of the best things I did in my life.
That's all for now. I hope it'd help you with your visit to the Neem Karoli Baba temple. But if you had already been here – what was the best part? Share in the comment box.
---