When I was a kid I always feared Kumbh – all because of the stories I'd listened to. Because how grandeur the Kumbh is and what if I really get lost from my mom and dad? Being lost, see that was my fear. Now that I've been officially lost many times in my life, that is no longer a tormenting thought to me. Funny eh!
In early February of 2019, I visited the Kumbh fest for the first time ever. Unlike what I've seen or heard from the media around me, Kumbh came out to be really different.
Was it different? Perhaps, for real. The grandeur festival had amazing management, cleanliness, and sanitation. Seeing this, I realized this quote as very deeply into my heart:
"Better to see something once than hear about it a thousand times"

-(sorry I've no idea who wrote this, but whoever they are I thank 'em)
When I returned from Kumbh a few days later, I had in my mind that I've to write about the experiences that one should not miss in Kumbh. The greatness of it and unparalleled vibes it emits. And probably you should know, you can't really understand Kumbh unless you arrive here and see for yourself.
Also read: The Urban Traveler's Guide to Kumbh 2019
To maximize your experience, I've bundled a few points – roughly suggestions. These are definitely not everything and there's lot more
1. Royal Bath or Holy Dip at Confluence of Indian Holy Rivers:
'Shahi snan' or Royal Bath is the most special and important days of Kumbh. It has their own glory and essence inside Kumbh. Thousands of 'Naga Sadhus' just come out – all covered in Godly manner, and take the holy dip in holy confluence of Ganga, Yamuna, and invisible Saraswati. Millions of people – from different places, come here especially for getting dipped in confluence.
The enthusiasm and happiness of their faces can be easily captured by naked eyes. It is as if it's a fest itself inside the large fest of Kumbh.
Pro tip: If you want to do Naga Sadhus photography, this is unquestionably your moment. Be sure to wake up early in the morning, else you might miss them.
2. Interacting with Naga Sadhus:
This is something I wanted to do since I became aware of Kumbh. Although they might look furious and angry, not all of them are like that. Therefore, it's perfectly cool to have a little chit-chat them and fill the pot of your wisdom. If I'm not wrong, it's near the 13 number bridge, where most Naga Sadhus are residing during Kumbh 2019(please do correct me if I've forgotten the numbers).
Do you know no one informs Nagas about Kumbh and neither anyone knows where they live after Kumbh? They just know with their calculations and appear in mass during the majestic fest.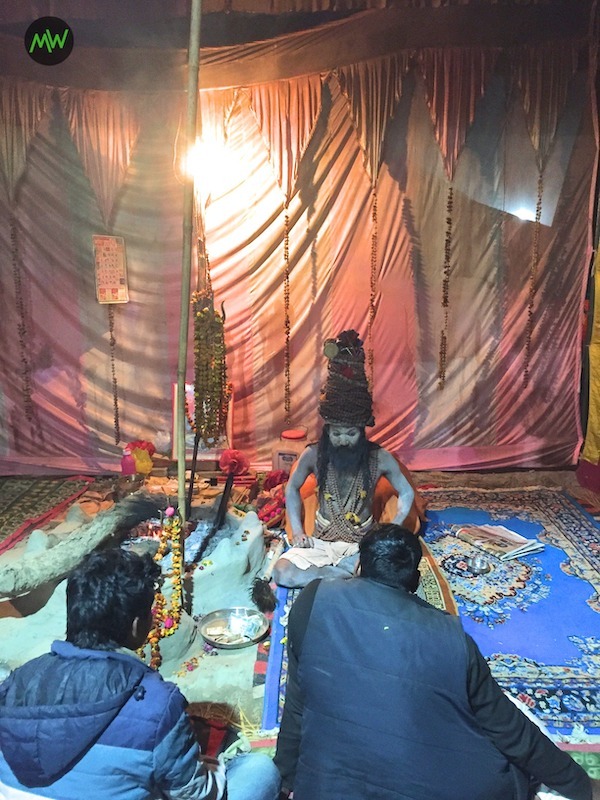 I've listened to the talks of a Naga Sadhu and I was fervently lost in his aura. My interaction with him was unsaid but still, it was best.
3. Talking with Kalpvasis:
I didn't know about Kalpvasis until Anuradha mam from IndiTales told me. I was then amazed by the strong dedication of people towards God. Kalpvasis are the people who leave their daily mundane life and come to Kumbh to live in an ordinary camp. They eat one meal a day and devote their time to religious activities, God's prayer and to dig self-awareness.
This is perhaps the best idea to connect with your higher self. I found this in high resemblance of what youths do – camping in mountains. More or less our purpose remains the same — peace and love.
Although it's fairly tough you'll get to meet any Kalpvasi, but it's worthy of a try. Their tents are simple and decent looking — nothing very eye catchy. The people doing Kalpvas are people like you and me and can be seen in simple attire. Locals, as well as people from outside, come to do Kalpvas.
4. Sermons at Akhadas and from religious leaders:
Let me tell this very frankly, I've literally didn't like sermons until lately in my life. Talks like this never entered into the chamber of my mind. But as soon as life happened and I quested to search for more — my inclination towards life talks, sermons and anything that brings wisdom has increased(sky-rocket high).
Kumbh is precisely all religious leaders at one place – imparting wisdom they've learned in their life and service to God. Akhadas come here, and their gurus preach sermons and perform various religious activities.
You can roam in the aisles of Kumbh and just enter into any sermon going on and have that learning. These are completely free yet priceless.
---
Although there are numerous experiences to have, these are the ones which really drove my heart and made a change in thoughts. It is as if some things could not be understood until unless they happen with you.
So have you had any surreal experience at Kumbh? What was it?