I have to confess something. Maybe you'll also relate.
Buddha's teachings and sayings have highly influenced me. So much so that I started living like a monk for a few days. And then I started being all sorts of crazy…you know — studying about Him, His quotes, sayings, and of course, pertaining stories.
And this quest took me to Kushinagar.
In this travel guide, we'll take you to the ancient city Kushinagar, tell you about the places to visit in Kushinagar, foods you can savor, souvenirs you'd love taking home, and everything with some practical travel tips.
Whether Buddha has an influence on your life or not, you'd love to explore Kushinagar. An ancient city in India where Buddha died after giving his last sermon.
---
---
Notice: This post may contain a few links which might earn us financial support when you buy or make any reservations through them. They're in no way affect our opinion or the information presented here.
8 Places to Visit in Kushinagar
1. Parinirvana Temple and Stupa
A horizontal cylindrical building (Nirvana Temple) has a beautiful reclining statue of Buddha. Parinirvana Stupa, shaped vertically cylindrical with a dome at the top, is just behind it.
Stupas are a holy shrine and a place of meditation in religious beliefs.
Buddha attained Parinirvana (nirvana attainment in their life before death).
Polished in eye-catching golden color, made with red sandstone, and lying on a brick couch, Buddha's 6.1 meters lying image is significant in size. People circumambulate, touching the steel railing around the statue while humming the hymns.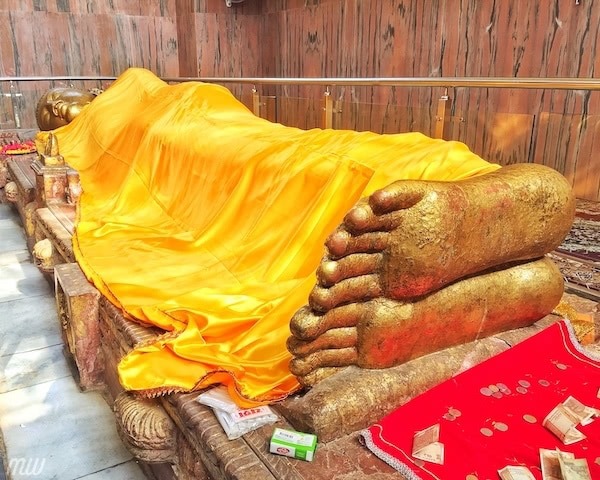 There are ruins from ancient excavations in the outskirts of the temple. The temple complex is located near the famous Meditation park, which marks one of the entry points to Burmese Temple and Golden Stupa. The meditation park is full of lush greenery and soulful ambiance. And as the name suggests, many people practice meditation here!
2. Golden Stupa
We pierced through the back doors of Meditation park. A tall golden, alluring stupa appeared on the right as we marched forward.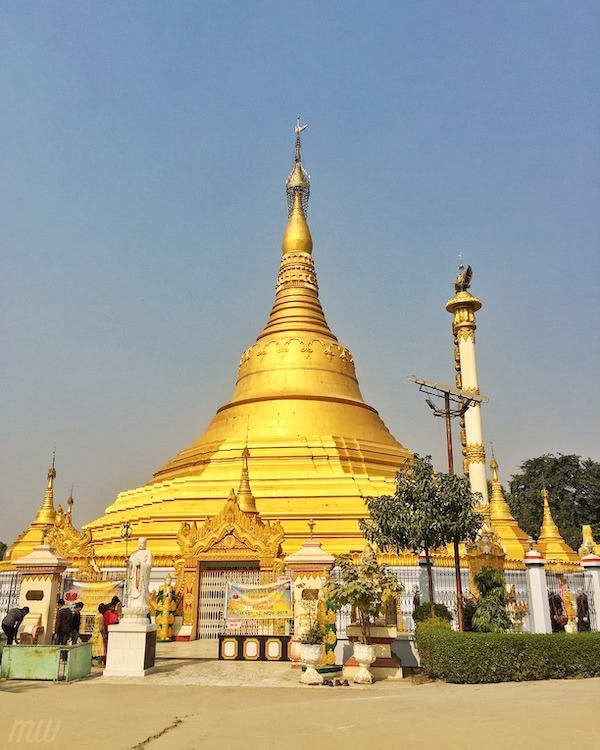 This cone-shaped stupa is an architectural marvel. Inside the stupa complex, there is numerous statue of monks encircling the boundary wall of the stupa, which, at the very end, can be seen being led by a beautiful statue of Buddha himself. This whole scene is inexplicably lovely when you witness through your own eyes.
3. Ramabhar Stupa and Matha Kuar Shrine
Around 1.5 km from the Nirvana temple, Ramabhar Stupa, widely known as Makutabandhana Chaitya, is supposedly the place where the ashes of Buddha are kept.
It is said that ancient Malla people had done all the duties with respect and divinity before cremating Buddha here.
It is a heap-like structure made up of old bricks and was excavated in 1910 A.D.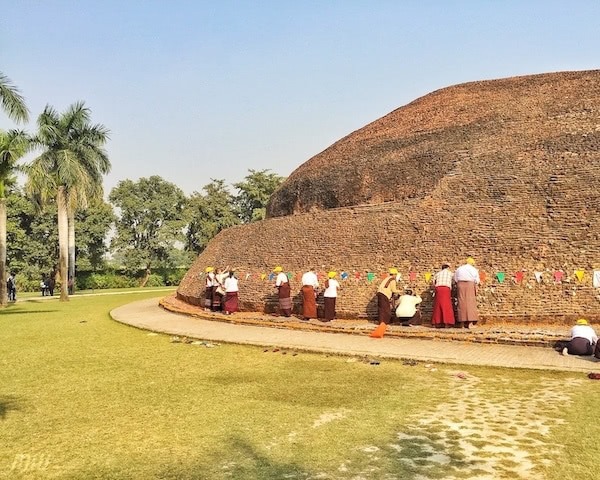 Ramabhar, because it is situated near a pond of the same name. The site is peaceful, green, and blended with nature. You can indeed have a good time with yourself here!
Nearly 400 meters before the Nirvana temple, there's a small yet divine place known as Matha Kuar Shrine.
It holds a bluestone statue of Buddha which was found by Carlleyle in the excavation of 1876. Back then, the figure was broken into two pieces when it was excavated but was later restored and established in this temple in 1972.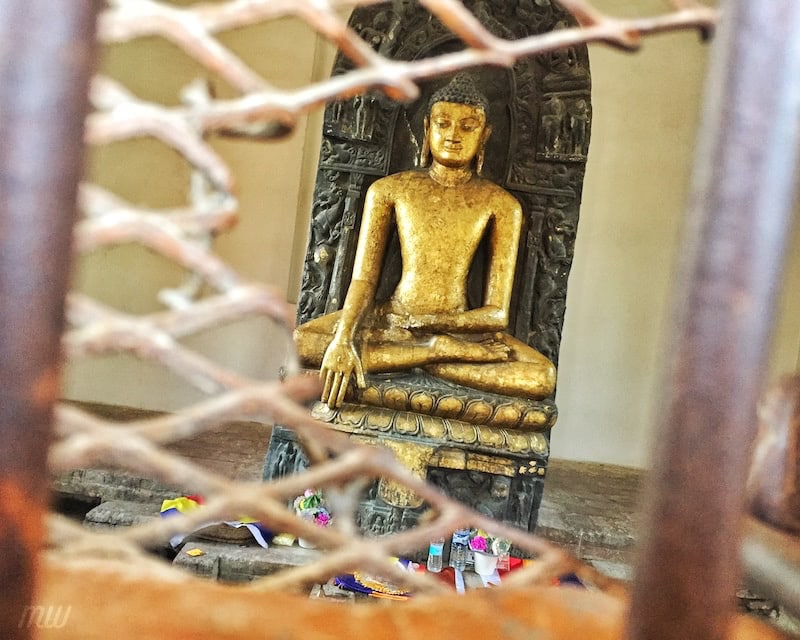 The statue illustrates Buddha sitting in a 'Bhoomisparsh Mudra' under a Bodhi tree! Beliefs say that Buddha gave his last sermon at this place.
Likewise, in the Nirvana temple complex, ancient ruins out of excavations can also be found in the surrounding area of the shrine.
4. Wat Thai Chalermraj Buddhist Temple and Monastery
This place is one of the best places to visit in Kushinagar. It is a temple and monastery situated just a few meters before the Ramabhar Stupa and a little more than a kilometer from Parinirvana Temple.
You can come here between 9 am and 4 pm.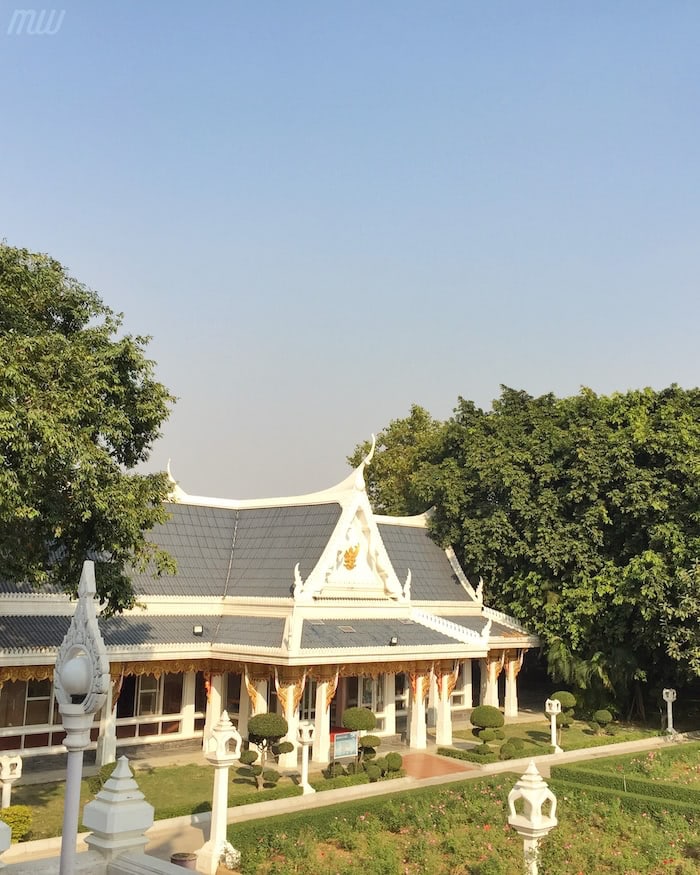 This complex marksthe celebration of the 50th-year accession to the throne of the King Bhumibol Adulyadej of Thailand. It is constructed from thedonations of Thai devotees designated as 'Wat Thai Kushinara Chalermraj.'
What is the most exciting part, you ask? Well, the architecture of this temple and monastery gives the feels of being Japan! The architecture feels so Japanese that you can literally feel Tokyo vibes — at least it did to me.
This Buddhist temple was architecturally the best we have been to among all the others.
5. Kushinagar Museum
Approx 50 meters before Wat Thai temple lies Kushinagar Museum, showcasing Kushinagar and Buddha's history. There are antiquities, items from excavations, different Buddha images, and items from various dynasties such as coins, sculptures, and statues, which existed in the time of Buddha.
The admission charge was just INR 5 for Indians and INR 500 for foreigners (in 2019). However, if you're interested in doing photography inside, you need to pay 120 INR more.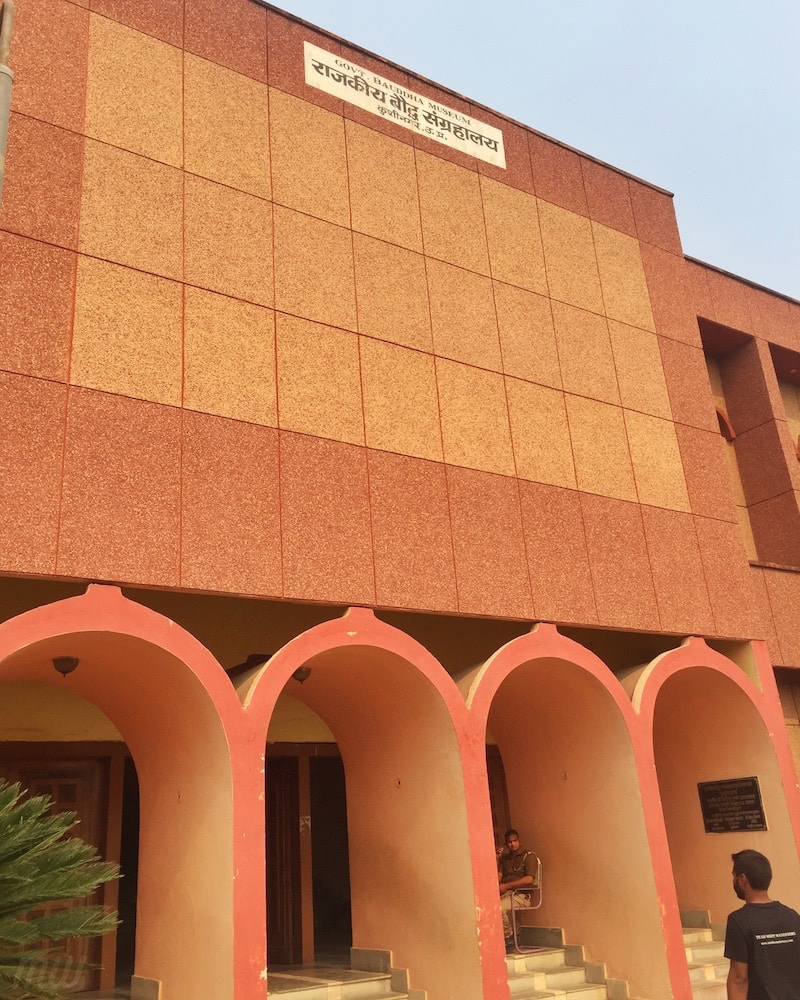 The museum is managed by the state government and is closed on Monday. People interested in archaeology and history should not miss this place.
There's a small garden outside the museum with a Buddha statue for you to take a pause and rest in case you need it.
6. Vietnam-Chinese Buddhist Temple
As the name includes the term 'Chinese,' you must have pictured how traditional Chinese architectures generally are. Dragons reflect a good fortune and are considered a prosperous sign in their tradition, and it was no wonder to see the structures of dragons on the temple.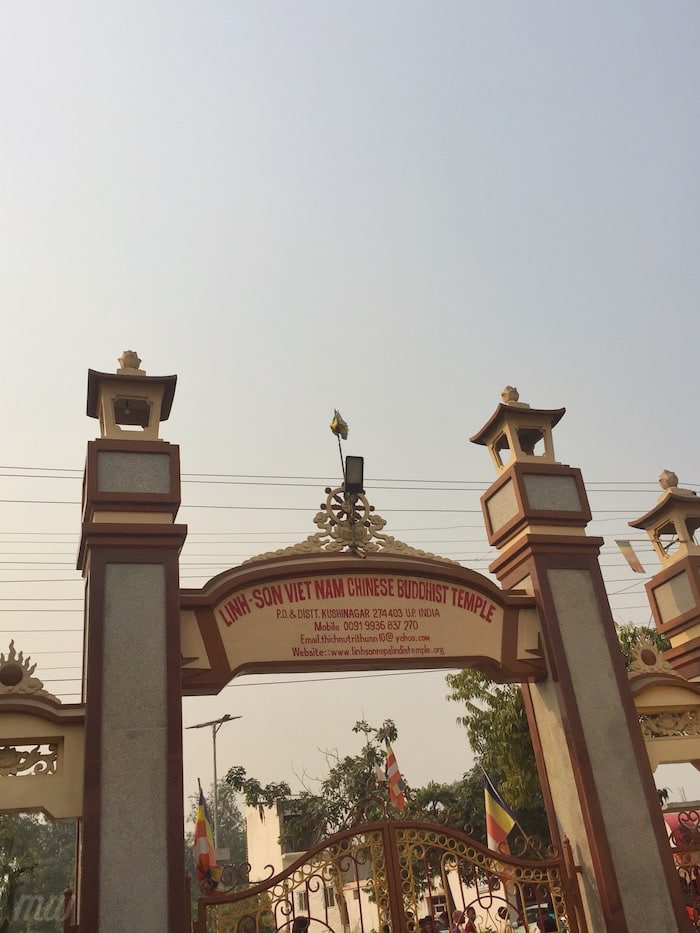 Situated just next to Golden Stupa and in front of the office of the Archaeological Survey of India, this Buddhist temple was yet another place that gave us chills down the spine.
Its marvelous architecture makes you feel that you're in China. The temple is a two-floor building consisting of different images of Lord Buddha!
7. The Miniatures
One of the most amusing things we discovered was the miniatures of 8 important Buddhist places next to the Vietnam-Chinese temple. It was accessible through the Vietnam-Chinese temple only. It is a mini imitation of sites that hold significance in Buddhism.
We asked the gatekeeper (who was from New York, to our surprise), and he told us that some people cannot visit these crucial places altogether, so we made this place to make it easier for them.
Ellora caves imitations, Bodh Gaya, Sarnath, Shravasti, Nirvana temple, and more. And all these miniatures are just next to each other, giving you the ease of visiting them.
Every stage of Buddha's life and the associated sites are depicted well in this area from childhood to adulthood!
8. Sun Temple
At a distance of about 25 km from the Mahaparinirvana temple, there is a Sun Temple called Turkapatti Sun Temple. It is also referred to as Purvanchal's Sun Temple.
The idols of Surya Dev located in the sanctum sanctorum of this temple belong to the 4-5th century. Its building may have been built recently, but the prevailing beliefs are pretty ancient.
There is no public transport to this temple, so you have to go by cab or your own vehicle if you want to go. You can visit the temple from sunrise to sunset on all days of the week.
Local Foods & Earteries
So what are the local food items that you should try?
Since this district is located on the border of Uttar Pradesh and Bihar, you will find the taste of the famous Litti Chokha at every Dhaba. Some Dhabas on the highway near the tourist place are known for their taste. You have to pay special attention to cleanliness at these Dhabas.
Apart from this, some fast food will be available along with samosas, pakoras, pure sweets, jalebi, puri sabzi. Here you can enjoy the taste of vegetarian as well as non-vegetarian food.
| Food Items | Where Can You Eat? |
| --- | --- |
| Breakfast and snacks like Samosa, Pakora, and Jalebi | Local sweet shops and eateries |
| Main courses such as pulses, bread, and cooked veggies | Local Dhabas and restaurants |
| Fast food and other cuisines | Yama Cafe and Pathik Niwas |
| | |
Activities To Do in Kushinagar
1. Learn Values in Prayer Meetings and Sermons
Religious discourses are organized here regularly. In these programs, the teachings of Lord Buddha are imparted to pupils. Its purpose is to reach the teachings of Gautam Buddha to the masses. So you can join in, and establish a good conversation with Buddhist monks.
2. Calm the mind at Vipassana
If you are lost in life and in search of peace and truth, then you can join a course at Vipassana Meditation Center in Kushinagar, situated just 5 km away from here.
3. Go On a Buddha Heritage Walk
Let us tell you that all the tourist places are very close to this place, so taking a heritage walk will make your experience even better. This walk covers just 2 km. There are benches installed from place to place which make your walk easy.
4. Meditate in the Meditation Park
The main attraction is a park in front of the Parinirvana Temple, in which you will see people meditating. And while you're here, meditate for some time and get lost in Buddha's teachings.
Souvenirs to Buy in Kushinagar
Kushinagar is a major tourist destination of Buddha Circuit. That's why you can feel the spirituality of Buddhism in the air here.
Here are the following souvenirs you can buy in Kushinagar:
Idols of Lord Buddha: Small necklace size sculptures of Lord Buddha can be bought.
Prayer Wheel: Buddhist mantras are recited by rotating them. It is also used for meditation.
Tibetan Prayer Flag: It is placed at the entrance of a car, bike, and house for a positive energy effect.
Buddhist Religious Books: All books containing Tibetan culture, teachings of Lord Buddha, and history of Buddhism.
Chinese utensils and jewelry.
Public Restrooms and Sanitation
Special care has been taken for cleanliness here. You will also see dustbins and public toilets near tourist places.
Mode of Travel & Distance Between Attractions
All the Buddhist tourist places of Kushinagar are limited within a radius of just 2 km. You can tour all the places on foot. If you have elderly or children with you, you can easily find autos and e-rickshaws.
Just in case you are willing to visit Sun Temple (25 km) and Vipassana Kendra (5 km), you can book an auto. Please note that Ola and Uber are not available here yet.
How to reach Kushinagar?
Railways
The nearest railway station to Kushinagar is Gorakhpur Junction (55 km). Regular trains are available from every corner of the country.
Roadways
Kushinagar is located on National Highway (NH-28). All attractions are located just 2 km from the highway. There are frequent buses available to this place from Gorakhpur Bus Stand (50 km). The nearest local bus stand is Kasia.
Airways
Recently, Kushinagar International Airport has been inaugurated. At present only flights to New Delhi are available. In the coming months, flights will be available from here to the airports of South Asian countries as well as all the major cities of the country.
For the time being, the nearest international airport is Lucknow (340 km). Some domestic flights are also operated from Gorakhpur Air Base (50 km) established by Indian Air Force to cities such as Lucknow and Delhi.
Best Time to Visit Kushinagar
By the way, all these tourist places can be visited in any month of the year. But since the temperature here is high during the summer, you are advised to go during the winter season (October to March).
Number of Days and Budget
Number of Days
If you want to know and understand all the tourist places of the city in depth then you will need at least two days. This includes visiting places, indulging in Buddhist prayers, and meditating.
And if you are planning only with the intention of visiting the places, then even in a day, you can see all the points of attraction.
Budget
The budget may be different for everyone. It often depends on which hotel you take to, what you eat and drink, and what you shop for. However, a typical budget for a budget traveler would be as follows:
For one day: INR 2500
For two to three days: INR 5000
Accommodation
There are options from cheap hotels and guest houses to expensive 3-star hotels. You can choose the hotel according to your convenience and budget. Most accommodations are located close to the main attractions.
Some Commonly Asked Questions
How to reach Kushinagar from Lucknow?

You can go via air, road, and rail. Gorakhpur's nearest railway station, while Kushinagar has an international airport.

How far is Kushinagar from Gorakhpur?

Kushinagar is around 55 km or 34 miles from Gorakhpur.

What is Kushinagar famous for?

Kushinagar is where Lord Buddha attained nirvana, later died, and is cremated here. It is a sacred place for Buddhism followers.

What to see in Kushinagar?

You can see Buddhist temples and monasteries with beautiful architecture. Ramabhar Stupa, Wat Thai Chalermraj Buddhist Temple, Vietnam-Chinese Buddhist Temple, etc., are some of the top places to visit in Kushinagar.
---
Conclusion
And that was all about our Kushinagar expedition. We hope you've enjoyed the journey, and if you do have any suggestions, do use the comment box. Also, we'd love to hear your experiences and perspectives.
---
An appeal: Please do not throw litter around. Use a dustbin and if you can't find one, take the trash with you and throw it when you find one. Your small steps like this one can make the world clean and green.