Ever since I had heard about Buddha and read his radiant quotes, I have been inclined towards his life. It amazes me, the selfless behavior of the Lord and the heavenly teachings of him! It is no wonder why he is known as Buddha — the enlightened. And to explore more about his life and values, I reached Kushinagar, the place where Buddha died.
An ancient town which served as the capital region of Mallas was famously known as Kusinara in those times. The town sits about 53 km from Gorakhpur district of Uttar Pradesh state of India. It's roughly around 323 km from state capital Lucknow.
In my mind, exploring Kushinagar would've been all about monasteries and temples, but I was astounded when I visited the land.
---
---
Day 1: 17-Nov-2018
Fazil Nagar to Kushinagar
I am very thankful for the hospitality and accommodation provided by the family with which I stayed on my Kushinagar journey. It was in Fazil Nagar, a small town ahead of 20 km of Kushinagar and the family of Abhishek, my friend as well as a member of this wanderers community!
Sathiyaon village near Fazil Nagar is said to be the place where Lord Buddha ate his last meal after which he fell ill in Kushinagar and died. That is why some people see this village as cursed.
We (me and Abhishek) drove on a 'desh ki gaadi' Hero Splendor for reaching back and forth to Kushinagar.
In Kushinagar
Sitting along with fast-paced NH-28, Kushinagar is the city of Buddha's cremation. When we were stepping into the city, we observed many things there. Leaving aside the main temple, there are lots of other temples that get their funding from foreign Buddhism-believing countries. The charm that the city had reflected is still fresh on my soul.
Parinirvana Temple and Stupa
The main temple, Nirvana Temple (or Mahaparinirvana or Parinirvana) is the place where the reclining statue of Buddha is kept. Polished in eye-catching golden color, made with red sandstone, and lying on a brick couch, this 6.1 meters lying image of Buddha is a mesmerizing phenomenon to see in commune with the peaceful vibes there.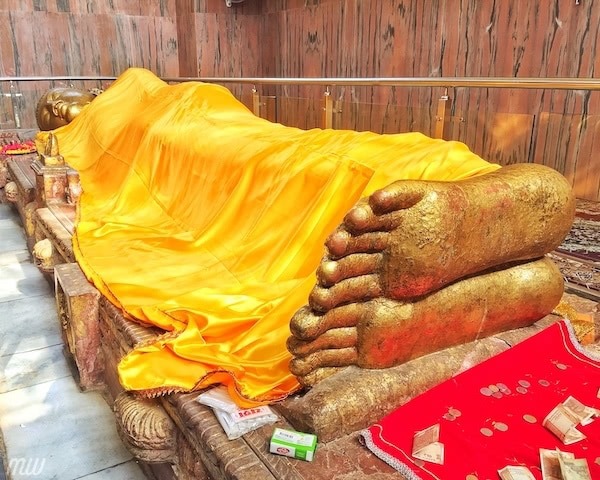 As you take a mild left turn from NH-28 towards Kushinagar, the temple is merely around 500 meters. A horizontal cylindrical building (Nirvana Temple) houses the reclining statue. Parinirvana Stupa, shaped vertically cylindrical with a dome at the top is just behind it.
Stupas are a holy shrine and a place of meditation in religious beliefs.
This is the place where Buddha attained parinirvana (nirvana attainment in his/her life before death) and that is why it holds strong importance in Buddhism.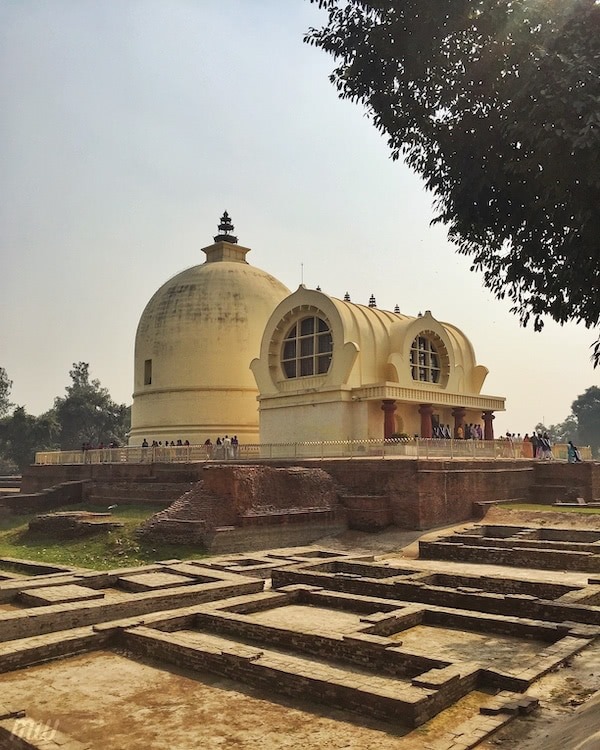 There are ruins from ancient excavations in the outskirts of the temple. The temple complex is located near the famous Meditation park, which also marks one of the entry points to Burmese Temple and Golden Stupa. Meditation park is full of lush greenery and soulful ambiance. And as the name suggests many people practice meditation here!
Burmese Temple and Golden Stupa
We pierced through the back doors of Meditation park. As we were marching forward, a tall golden colored, glamorous stupa appeared on the right. Beside it, was a Burmese temple on whose entry "अंदर जाना मना है" or "entry is prohibited" was written haphazardly. It must only open for Burmese people, we thought, and stepped towards Golden stupa.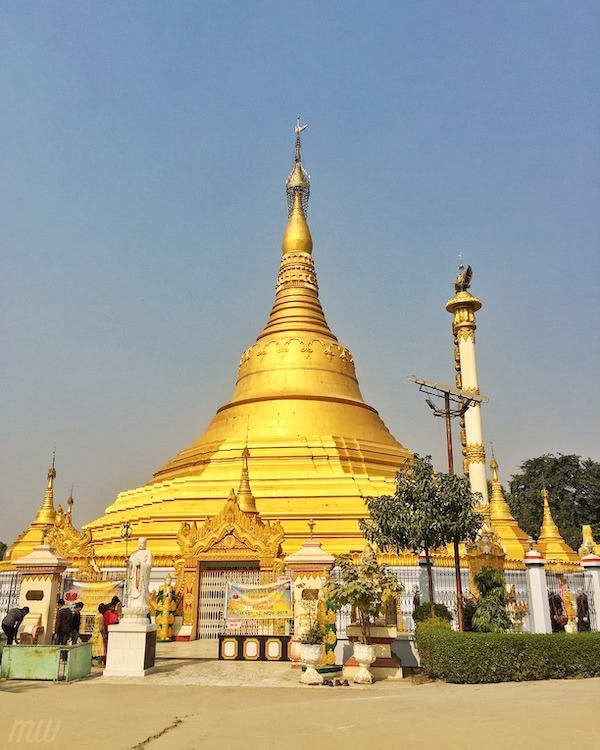 This cone-shaped stupa is architecturally very alluring. Inside the stupa complex, there is numerous statue of monks encircling the boundary wall of the stupa which, at the very end, can be seen being lead by a beautiful statue of Buddha himself. This whole scene is inexplicably very beautiful when witnessed through own eyes.
The Burmese temple and Golden stupa of Kushinagar are constructed and maintained by the fundings of people of Burma (aka Myanmar).
Ramabhar Stupa and Matha Kuar Shrine
Around 1.5 km from the Nirvana temple, Ramabhar Stupa, widely known as Makutabandhana Chaitya, is supposedly the place where the ashes of Buddha are kept. It is said that ancient Malla people had done all the duties with respect and divinity before cremating Buddha here. It is a heap like structure made up of ancient bricks and was excavated in 1910 A.D.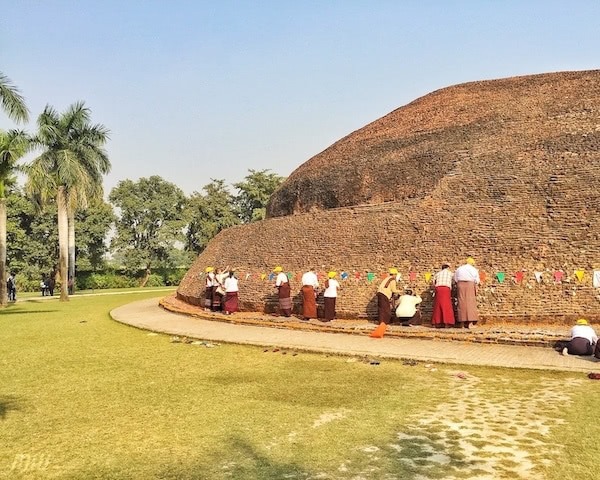 Ramabhar, because it is situated near a pond of the same name. The site is peaceful, green and blended with nature. One can surely spend a good time with himself/herself here!
Nearly 400 meters before the Nirvana temple, there's a small yet divine place known as Matha Kuar Shrine. It holds a blue stone statue of Buddha which was found by Carlleyle in excavations of 1876. Back then, the statue was broken in two pieces when it was excavated but was later restored and established in this temple in the year 1972.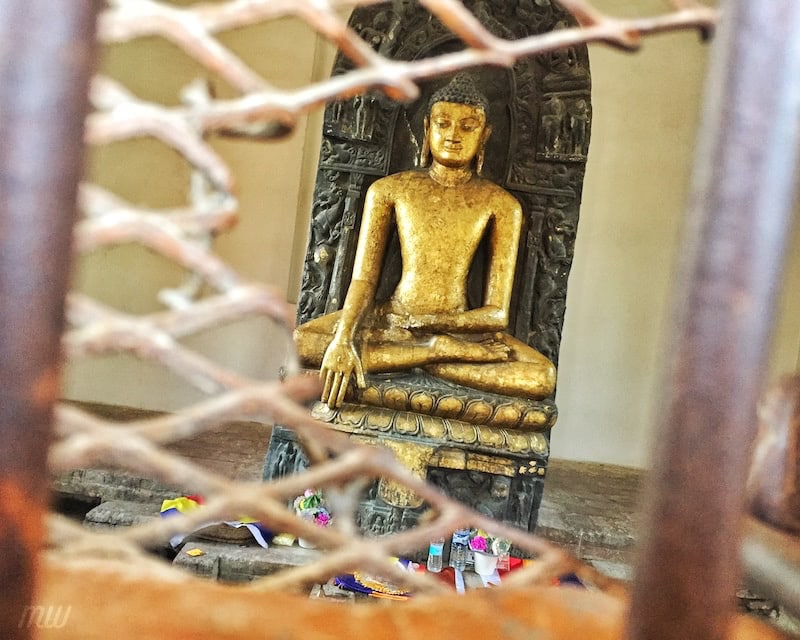 The statue illustrates Buddha sitting in a 'bhoomisparsh mudra' under a Bodhi tree! Beliefs say that Buddha gave his last sermon at this place.
Likewise in the Nirvana temple complex, ancient ruins out of excavations can also be found in the surrounding area of the shrine.
To my surprise, Kushinagar has more than what expected. We'd explored the place to the best we can, and found many interesting places. Let me show you some of them.
Wat Thai Chalermraj Buddhist Temple and Monastery
This is the place which you shouldn't miss when in Kushinagar. It is a temple and monastery situated just a few meters before the Ramabhar Stupa and a little more than a kilometer from Parinirvana Temple. It opens from 9 am to 4 pm.
Constructed by the donations of Thai devotees designated as 'Wat Thai Kushinara Chalermraj' and also marking the celebration of 50th-year accession to the throne of the King Bhumibol Adulyadej of Thailand back then.
What is the most interesting part, you ask? Well, the architecture of this temple and monastery gives the feels of visiting a foreign country, precisely Japan! Yes, the architecture feels so Japanese, that you can literally feel Tokyo vibes.
This Buddhist temple was architecturally the best we have been to among all the others.
The monastery is just situated next to the temple and was inaccessible to us for some reason. It only gets open for the monks and temple staff.
Day 2: 18-Nov-2018
Kushinagar Museum
Approx 50 meters before Wat Thai temple lies Kushinagar Museum showcasing the history of Kushinagar and Buddha. There are antiquities, items from excavations, different Buddha images as well as items from different dynasties such as coins, sculptures, statues, etc., which served in the time of Buddha.
The admission charge was just INR 5 (in 2019 for Indians, and INR 500 for foreigners). However, if you're interested in doing photography inside, you need to pay 120 INR more.
The museum is managed by the state government and is closed on Monday. Outside the museum, a rock garden is constructed under Japanese supervision and is now a place of rest of all the visitors to this museum.
People who have a flair for archaeology and history, should not miss this place.
Vietnam-Chinese Buddhist Temple
As the name includes the term 'Chinese' in it, you must have pictured how traditional Chinese architectures generally are. Dragons reflect a good fortune and considered to be a prosperous sign in their tradition, and it was, therefore, no wonder to see the structures of dragons on the temple.
Situated just next to Golden Stupa, and in front of the office of Archaeological Survey of India, this Buddhist temple was yet another place that gave us chills down the spine. It's a marvelous architecture, as well as give feels of being in China. The temple is a two-floor building consisting of different images of Lord Buddha!
The Miniatures
One of the most amusing things we discovered was the miniatures of 8 important Buddhist places which was situated just next to the Vietnam-Chinese temple. It was accessible through the temple only and was a mini imitation of Buddhist places just like Eiffel Tower in Las Vegas and 7 Wonders in Kota.
We asked the gatekeeper (who was from New York to our surprise) and he told us that some people are unable to visit these important places altogether, so we made this place to make it easier for them.
There are imitations of Ellora caves, Bodh Gaya, Sarnath, Shravasti, Nirvana temple, etc., And all these miniatures are just next to each other giving you the ease of visiting them. From childhood to adulthood, every stage of Buddha's life and the associated sites are depicted well in this area!
---
Some Commonly Asked Questions
How to reach Kushinagar from Lucknow?
You can go via air, road and rail. Nearest railway station and airport is Gorakhpur. Kushinagar airport is being built and is inoperable as of now (Aug 2020).
How far Kushinagar from Gorakhpur?
Kushinagar is around 55 km or 34 miles from Gorakhpur.
What is Kushinagar famous for?
Kushinagar is the place where Lord Buddha attained nirvana, later died and is cremated here. It is a sacred place for Buddhism followers.
What to see in Kushinagar?
Being a sacred place for Buddhists, there are many temples and monasteries to see. Ramabhar Stupa, Wat Thai Chalermraj Buddhist Temple, Vietnam-Chinese Buddhist Temple, etc, are some of the top places to visit in Kushinagar.
---
And that was all about of our Kushinagar expedition. We hope you've enjoyed the journey and if you do have any complaints or suggestions, do use the comment box. We are very responsive to our visitors.