This is La Martiniere. Some say it's a Hogwarts like structure while others say it's a beautiful work of art. Some suggest it's a must-visit in Lucknow, while some shower words of appreciation after seeing its intricate Indo-French artistry.
I agree with all of them, adding our opinion ⏤ history and architecture lovers shouldn't miss this place. A boy's College, one of the most esteemed schools of India situated on the bank of river Gomti in Lucknow, capital of Uttar Pradesh.
---
---
Let me take you a little back while and show you how EXACTLY it must have happened. Ready?
But before that, if you prefer video, here you go:
Video Walkthrough
Constantia and Martin's Last Wish…
La Martiniere Boy's college was the meant to be the summer palace of famous, wealthy Frenchman Claude Martin but he rested in peace before starting to reside here. La Martniere college exists over 350 acres spread Constantia. The central part of which is occupied by this marvelous piece of art, while part of Constantia is used by Lucknow Golf Club.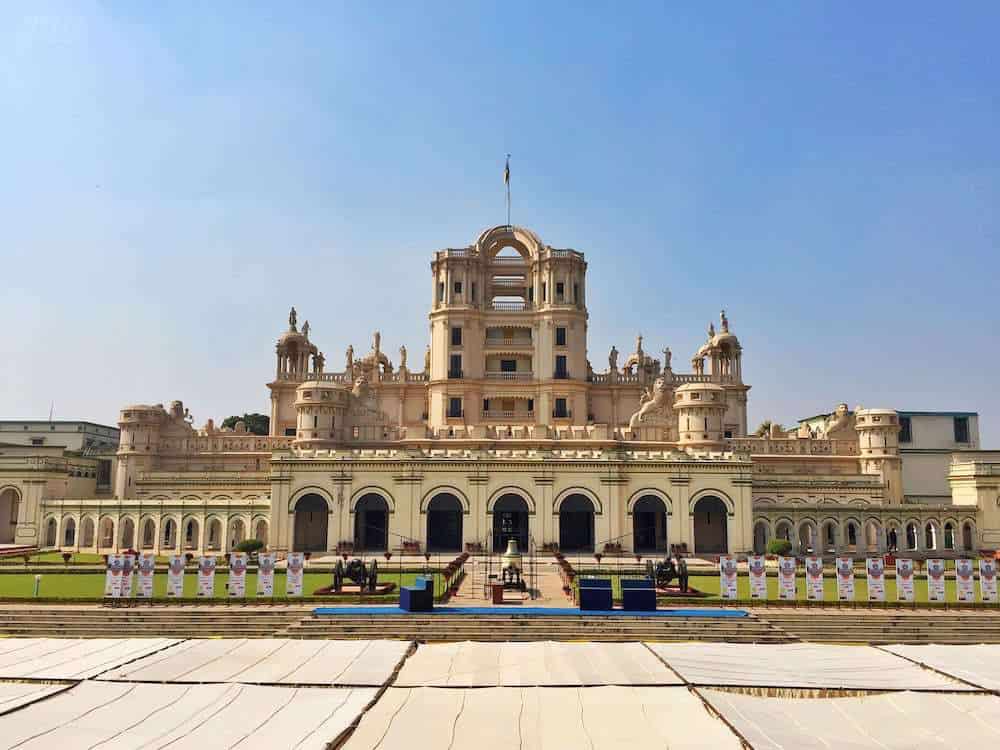 Claude Martine's one of the last wishes was to convert Constantia into an educational institute. Therefore, after 13 September 1800, when Martin died, La Martiniere college came into existence, though established in the year 1845. Today it houses over 3000 boys and has options of day scholar and being a boarder. It also has a separate college meant only for girls (situated in the city center, a few km from Constantia).
Surprising facts about it…
→ La Martiniere group (Lucknow) has produced many famous personalities such as Priyanka Chopra, K. Raghunath, Muzaffar Ali, etc.
→ Following General Claude Martin's wish, La Martiniere is also built-in Kolkata, India and Lyon, France (birthplace of Claude Martin).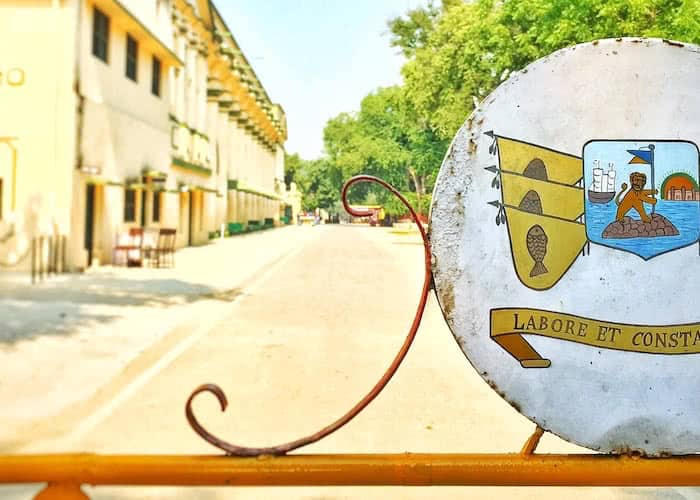 → Constantia, the complex of La Martiniere, was supposed to be named after the first love of Claude Martin named Constance whom he left in France when he arrived in India. Ironically, it is also believed that name was aligned by the school's motto Labore et Constantia (work and constancy, representing Martin's personal philosophy) and hence named after it.
→ La Martiniere boy's college is the only school in the world that has been awarded Royal Battle Honours for its role in the defense of Lucknow during the mutiny of 1857.
→ There's also a village known as Martin Purwa, situated around the setting of La Martiniere boy's college.
How to reach La Martiniere in Lucknow?
It is nestled approximately 3 km from 1090 roundabout if you're coming through Polytechnic roundabout and 1.8 km if you're coming through the city center Hazratganj. Lucknow also has a full presence of private cab services such as Uber and Ola so you can book them through their app to get there. Other than this, local auto-rickshaws are available but will perhaps go on booking the whole auto.
What you can do here?
You can get to see this architecture from inside if you manage to reach here before 4 p.m. The complex enthusiastically exhibits French vibes, seeing France-styled buildings of dormitories on both sides of the college you can very well relate to it open-air cafes of France. If you're a Francophile like me, you'll definitely love spending your time here.
Moreover, the whole area is very picturesque. A wide-angle camera or a panorama shot will capture the whole La Martiniere's breathtaking architecture in one go.
Tomb of Boulone Lise
There's also the tomb of Boulone Lise, at the entrance through Gate No. 4. As you enter, you will first see a small domed building gleaming with a green color. This charming tomb is of Boulene Lise, daughter of Nawab Fazal Khan Bahadur and a good friend of Claude Martin.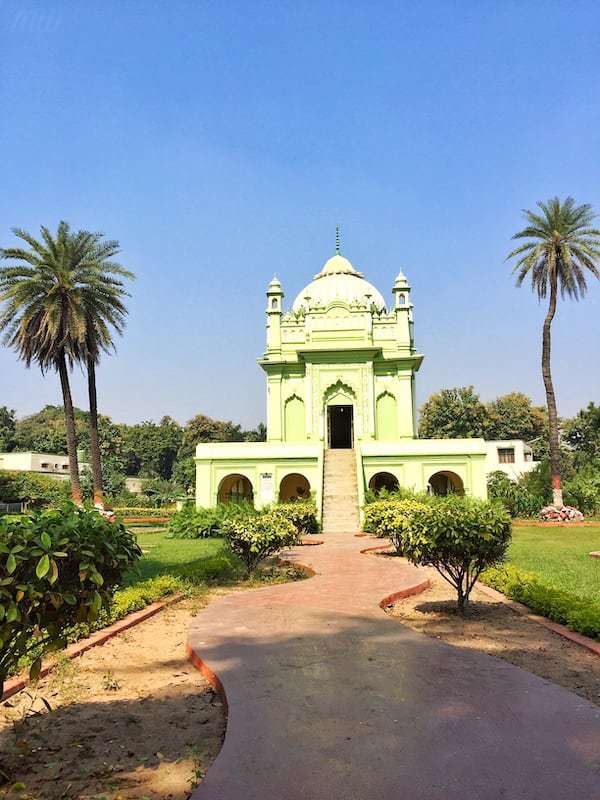 She was the favorite companion of Claude Martin and was also became famous by the name Gori Bibi (the fair mistress), back then. The tomb is generally open and can be visited.
A School Inside a School
This is a French school inside the La Martiniere campus named Stobart Hall. Established in 2016, this is one of the esteemed places to learn foreign language French.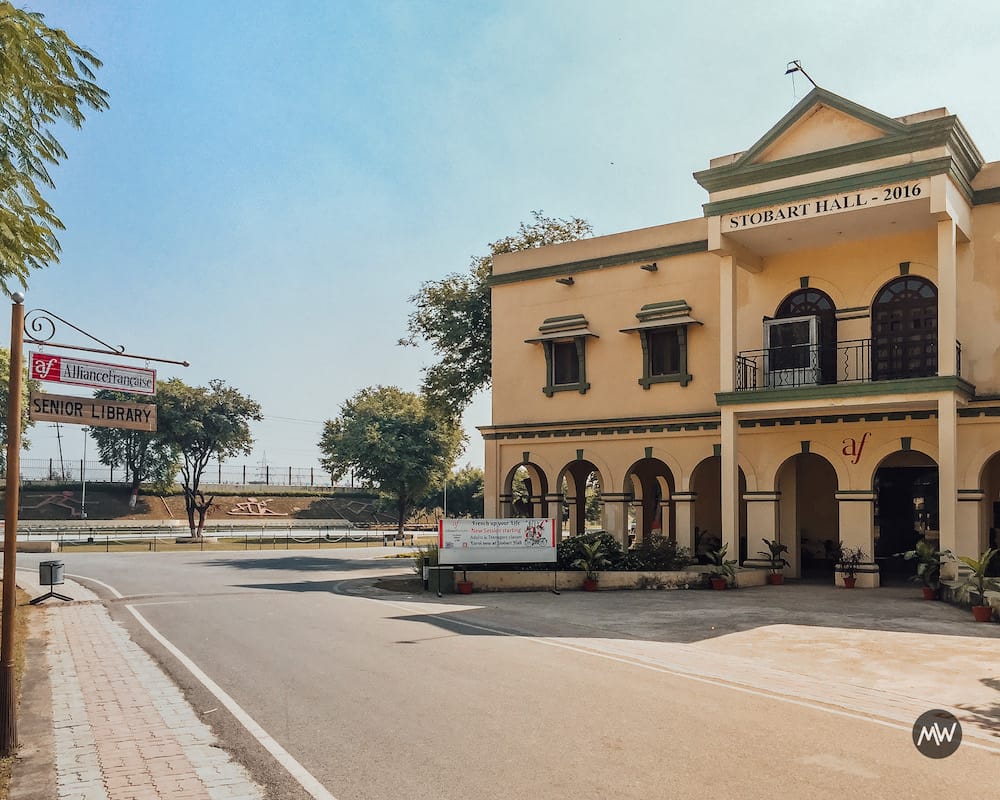 The best part? It's affordable and feasible – part-time and full-time courses are available.
The Tomb of Major General Claude Martin
As you step on the stairs that go directly inside the main building, you will find names engraved on each stair. This is the name of the soldiers, who at this time played their lives and protected the building.
When inside, there is a small height ceiling room, in the middle of which is the effigy of Claude Martin. Around the walls are lists of soldiers who contributed during the revolution.
This is where Claude Martin was buried after his death. A nearby engraved article states that he died in Farhat Baksh Kothi, a building in Lucknow. He wished to be buried here.
The Bright Church of La Martiniere
This part impressed me the most. Although it is like a normal church, the small and intricate figures made on it made me go in awe.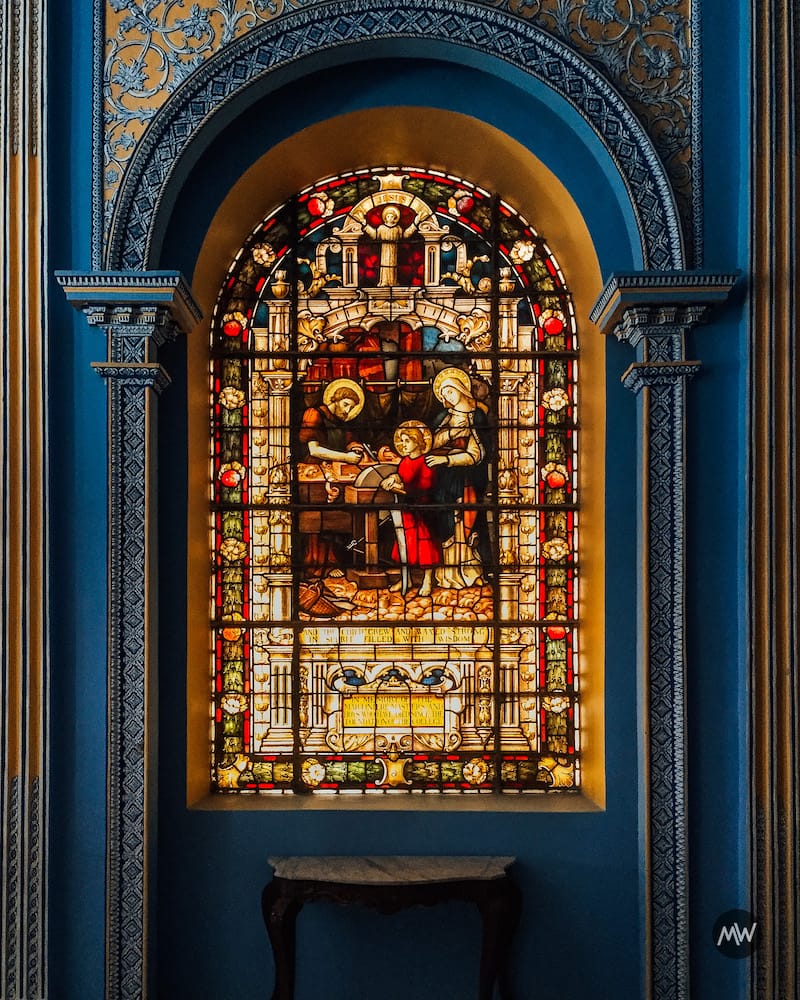 The combination of sky blue and yellow along with the attractive design really adds to its beauty. It is not just limited to the walls, but on raising the head, you will find the same combination on the roof.
The Giant Bell and the Cannons
Two things will catch your attention is one giant bell with the name of Claude Martin engraved on it and a canon placed ahead of the bell.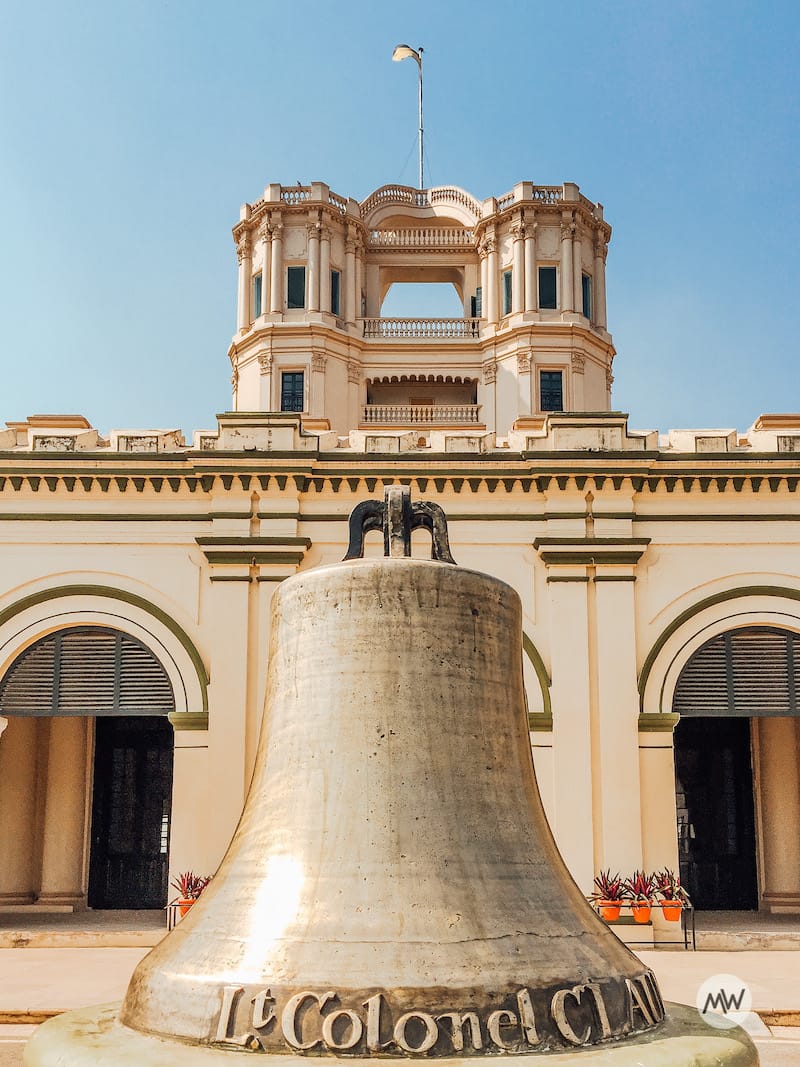 This cannon was used by the British against Tipu Sultan in the battle of Srirangapatna. It was later returned.
Notable Bollywood Films
Many Bollywood films have also been shot on this campus, such as Gadar – Ek Prem Katha, Anwar, Always Occasionally, etc. There are many Bollywood actors and actresses who in the beauty of it.
Some FAQs related to La Martiniere
Is entry free inside La Martiniere?
Yes, the entry is free. You need to go through gate number 4 via La Martniere road.
What is the right timing to visit La Martiniere?
You can come here on any day between 10 am to 5 pm.
Can you visit La Martiniere's tourist spots when school is open?
Yes, you can visit La Martiniere's tourist spots when school is open.
Is the camera allowed for tourists inside La Martiniere?
Yes, you can take cameras with you inside the premises.
Is the guide available for the La Martiniere tour?
There is no guide inside the school premises. If you take a package of a tour company, the guide will explain everything in detail. If you want, you can also contact us for the same.
---
Our Experience
We went to this astounding piece of architecture via our scooter. Being the residents of Lucknow, the roads were very well known to us. Crossing across through 1090 roundabout we reached around 12:00 pm. It was a holiday then, so not much rush of schoolboys was faced. The security guard told us that the only entrance open is through Gate Number 4. We parked our scooter on the pedestrian road attached to the gate as we reached there.
Entering in the Constantia, we were amazed by the cleanliness and lush green setting of the complex. The main building is at 5-10 minutes' walk from the gate. When we reached there, we were left out of words, seeing such a huge and perfectly fitted architecture. It was a feeling of 'France', it's history and architecture.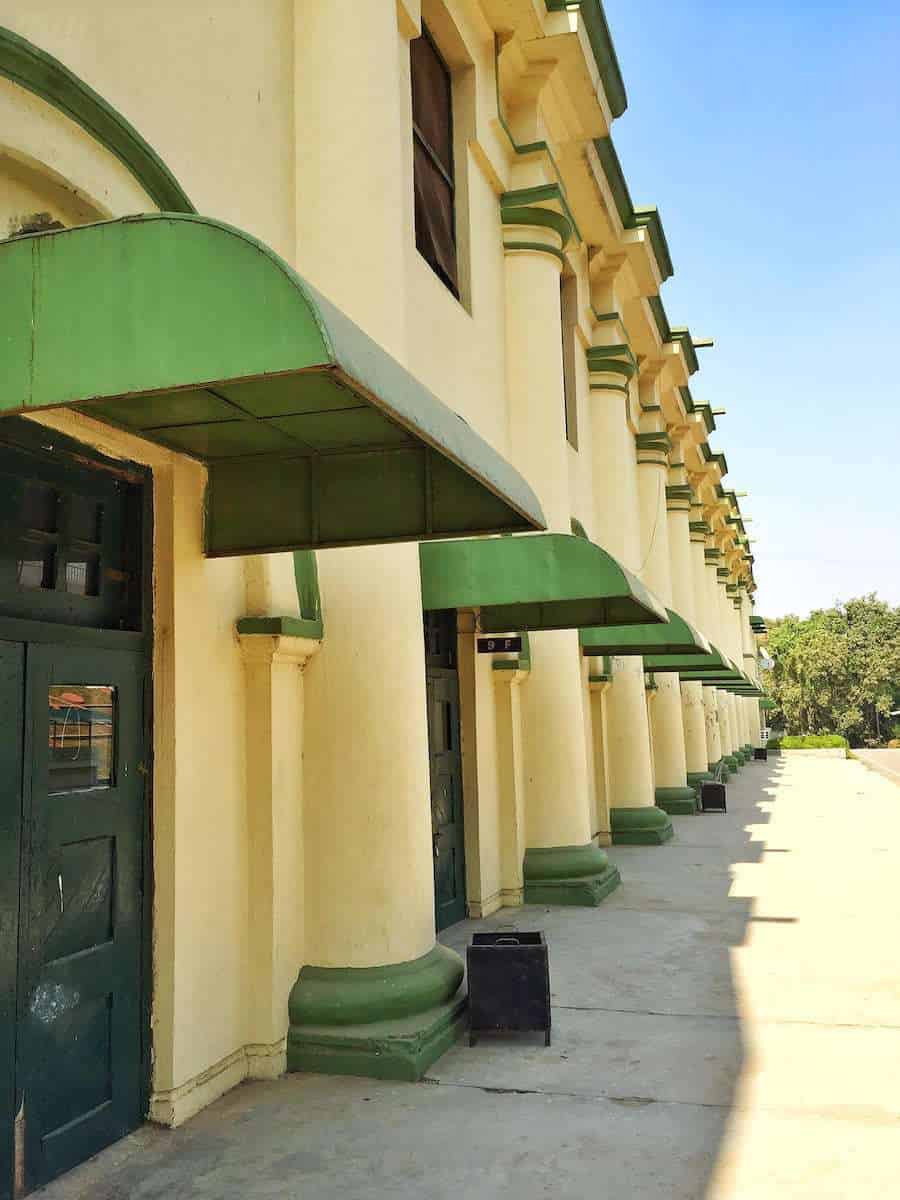 After clicking lots of pictures of our subject, we talked to a boy who was a boarder. He told us he was from Sitapur, Uttar Pradesh and studying at La Martiniere since his first grade.
At around 1.30 pm the lunch bell rang, and all the boys bummed up from all the corners like bees do when a beehive is hit by a stone. We lost the conversation in the middle, and he ran for his food. After all, food is life! And those who live far off their homes, know this very well.
Messing around with more pictures, we left the campus after 2 hours or so as rest was administrative buildings.
---
Have you been here? I'd love to read your experience.