Do you know Vrindavan is to have the world's tallest temple by 2024? Not only that, it'd supposedly be the costliest temple in the world with an expense of approximately ₹300 crores!
That'd be an architectural marvel, a sight to adore when it is ready.
But Mathura and Vrindavan have yet many reasons to visit now. And in this post, we intend to show you those exact reasons and how beautiful and soul-satisfying this place is. We'll list out the places you can visit, how you can plan the trip, the famous local sweet-dish Peda, and more.
The birthplace of Lord Krishna, Mathura, is a pilgrimage that hosts tourists and travelers visiting all year long. You'll see disciples coming from all over the world, not just India.
---
---
Planning The Trip
"Man is made by his belief. As he believes, so he is."

Lord Krishna, Bhagavad Gita
I visited Mathura Vrindavan in January 2021. The COVID effect had somewhat slowed down, and it was a perfect time. Influenced by Krishna's teachings, my heart wanted to connect with the Lord and perhaps to decipher my life's purpose.
We were already exploring Agra and around, and Mathura was next in the lineup. Mathura is roughly a 2-hour bus ride away from Agra and easily accessible.
When we started our research for what places we can see and visit in Mathura, our minds went off. There were simply numerous places, infinite temples, and activities that we started feeling overwhelmed. It was inevitable. We can't cover everything in such a short amount of time.
So we stick to the golden rule of travelers – do what's it famous for, first.
The Miniscule Difference Between Mathura & Vrindavan
"One who sees inaction in action, and action in inaction, is intelligent among men."

Lord Krishna, Bhagavad Gita
Vrindavan is a suburb of Mathura district and is approximately half an hour away from the city center. You can either stay in Mathura or Vrindavan. Both offer a lot of Dharamshalas, hotels, homestays, and hostels.
Transport is not an issue, as each place of religious importance in & around is well-connected by public transport. You can find Tuk-Tuk, city buses, and electric rickshaws crawling all over the city.
When we were there, we tried Ola but had trouble getting rides after so many attempts. Uber wasn't serving at that time.
Places To Visit in Mathura Vrindavan
"Through selfless service, you will always be fruitful and find the fulfillment of your desires"

Lord Krishna, Bhagavad Gita
We barely had four days to explore Mathura. And like I said, it was inevitable that we wouldn't be able to cover everything.
Here are the places we covered. We are listing the places we visited in Mathura first.
1. Vishram Ghat
Legends have it that this is the place where Lord Krishna rested after killing Kansa. It makes sense because Kansa Kila is nearby.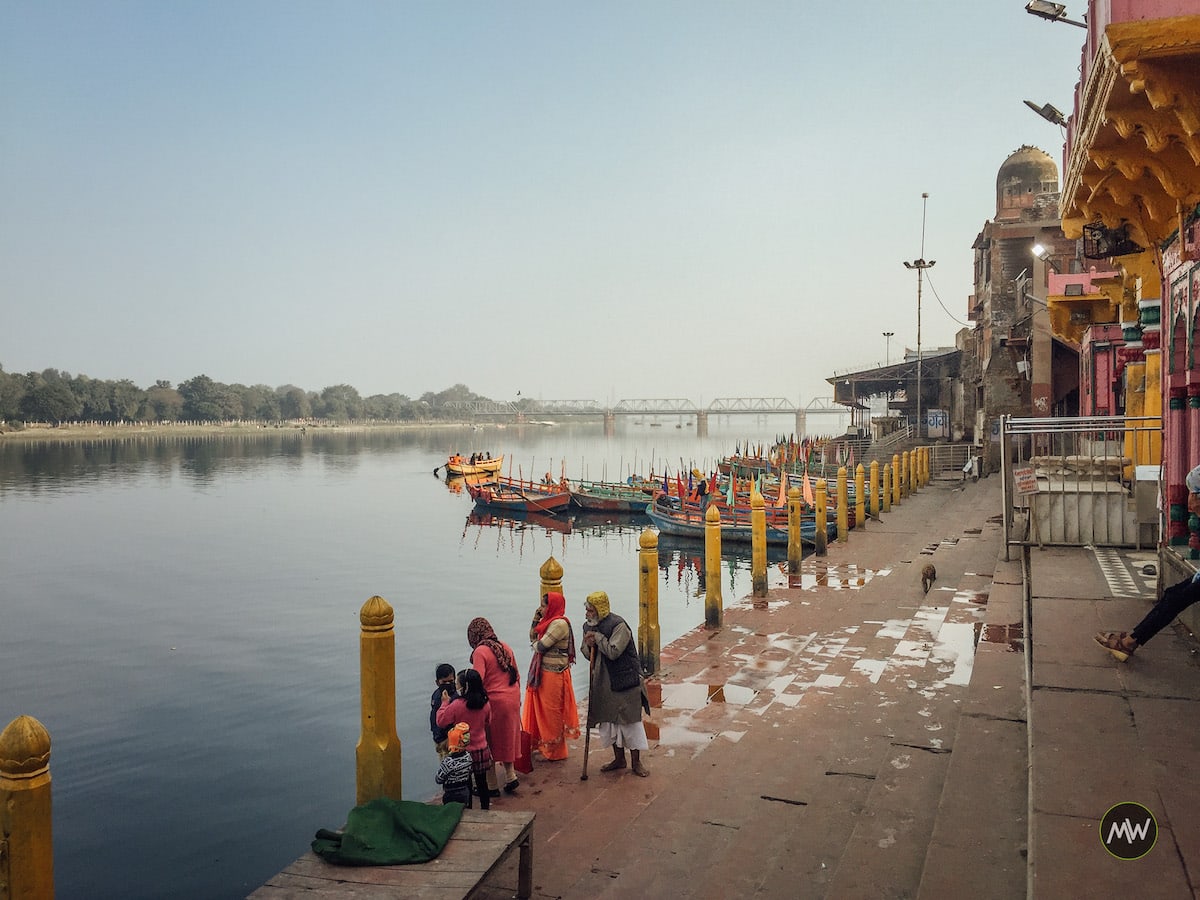 It is the first place we visited after passing through the meshy streets of Mathura. The calming and soothing Yamuna river flows by the Ghat. There are temple bell chimes, hopping monkeys, sages, and devotees coming to perform their religious duties.
You can take a boat ride and immerse yourself in the holy waters of Yamuna. If you want to soak in the peace, we recommend visiting Vishram Ghat early in the morning.
2. Dwarkadheesh Temple
Situated next to Vishram Ghat, Dwarkadheesh Temple is one of the oldest and highly revered temples in Mathura. The Rajasthani-style entrance gate, paintings depicting Krishna's life, and the temple's astonishing architecture are enough for you to get lost in the devotion of Krishna.
The temple's location is in the narrow lanes of Mathura, and it is perhaps the best idea to walk. Do attend morning or evening Aarti!
3. Bhuteshwar Mahadev Temple
Lord Shiva's form, Bhuteshwar Mahadev, is also referred to as Kotwal, aka Chief Police Office/Protector of Mathura, and this temple is devoted to Him. It is a belief that without getting permission from Bhuteshwar Mahadev, one can't do any deeds inside the city.
There's also a Shaktipeeth in the temple complex where a lock of hair of Goddess Sati fell.
The temple is approximately 1.5 km from Mathura Junction railway station and about 500 meters from the bus station. One should visit Bhuteshwar Mahadev as it's one of the temples not devoted to Lord Krishna.
4. Shri Krishna Janm Bhoomi
This temple complex is the most revered, built around the prison where Lord Krishna was born to Devaki and Vasudeva. Devotees visits from all over the world and the number only increases during special occasions.
After getting blessings from Bhuteshwar Mahadev, we walked for another thirty minutes to reach Krishna Janm Sthan/Bhoomi temple.
According to scholars, the original temple was destroyed and looted by Mughal Emperor Aurangzeb. A mosque was built on the plinth, which still stands. The temple architecture you see today is new, completed in 1982.
Inside, you'll find life stories of Krishna, temples, and shows depicting the influence of the Lord. It's a good time to stop, sit for a while, and be lost in the reveredness!
5. Birla Temple
Also known as Gita Mandir, Birla temple sits on Mathura-Vrindavan road. The temple is devoted to the Lakshmi Narayan avatar of Lord Vishnu.
Jugal Kishore Birla of the Birla Family built this temple in the memory of his parents. The temple architecture is modern and is made of red sandstone. The inscriptions on the pillars read the whole Bhagavad Gita.
There's a funny story attached to visiting this temple. We were all tired after returning from the Janm Sthan temple, but we had to visit the Birla temple as per our plan.
The rush and dirt from walking the raw streets of Mathura had taken away our energy. There was no direct bus, and the tuk-tuk was charging way too high (we had a super low budget, to be honest).
We were almost ready to give up, and suddenly a Tempo arrived. The guy was shouting and calling for the places. And as we told Birla Temple, he nodded, and our whole world turned slow. We fitted our backs into the backs of that Tempo and finally achieved what we'd set to do. And took this weird selfie as well: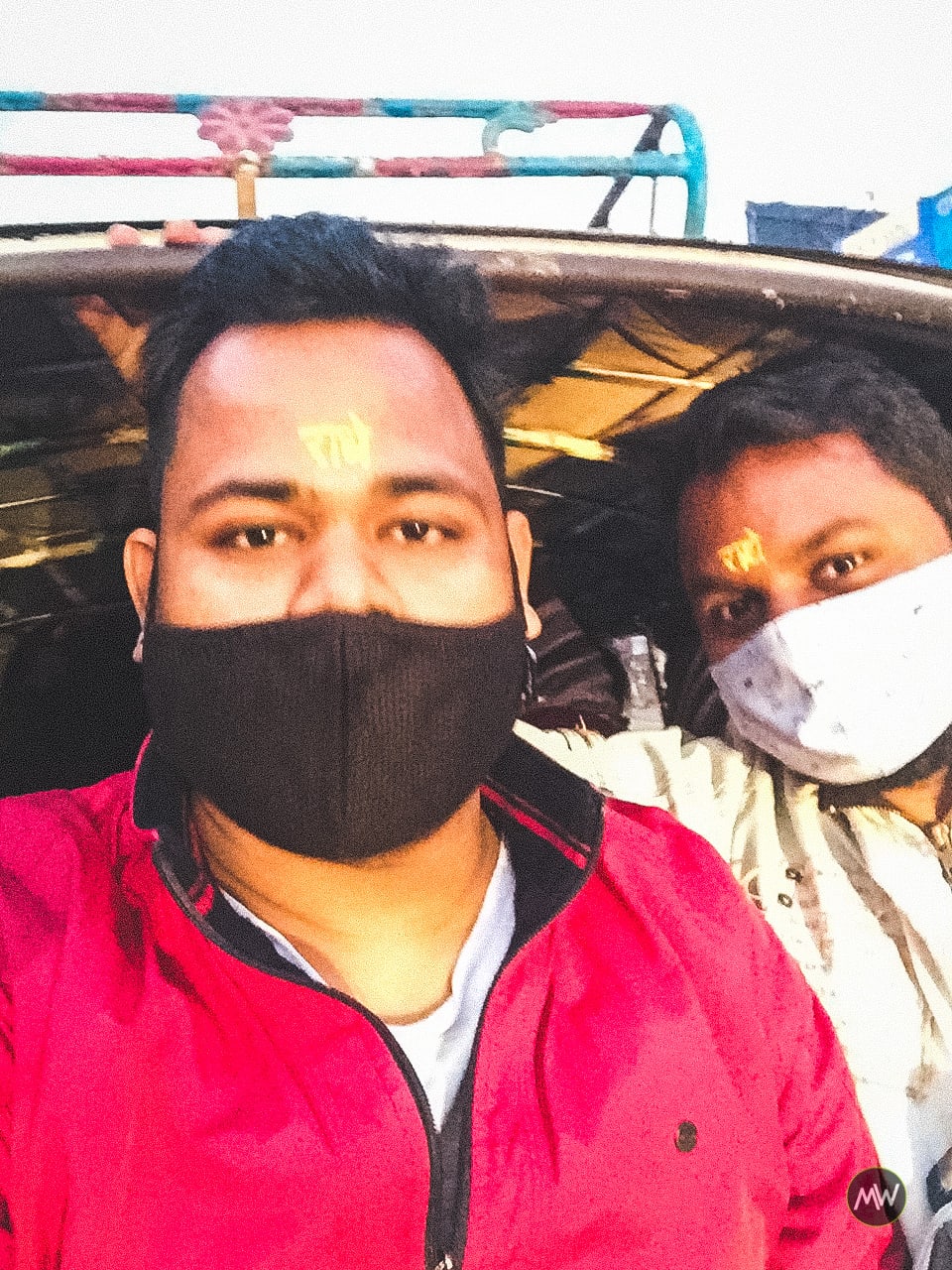 6. Banke Bihari Temple
Okay, so up until now, we were technically in Mathura. Now let's explore some temples of Vrindavan.
The next day, we visited the Banke Bihari Temple. Another highly revered Hindu temple dedicated to Krishna. It was built in 1864 by Swami Haridas, the guru of famous singer Tansen.
The temple resides in a narrow location, and you'll pass through the local streets of Vrindavan to reach here. There are loudspeakers hooked on poles instructing guidelines to follow while visiting the temple. Every street bustles with different items, each giving the expression of Krishna somehow.
7. Radha Vallabh Temple
Situated near Banke Bihari temple, Radha Vallabh temple is dedicated to Radha, a Hindu goddess, and consort of Krishna. There's no deity of Radhaji inside the temple, but a crown is put beside the Lord Radha Vallabh (Krishna), portraying Radha. It was built by the Radha-Vallabh Sect, which emphasizes the worship of Radharani.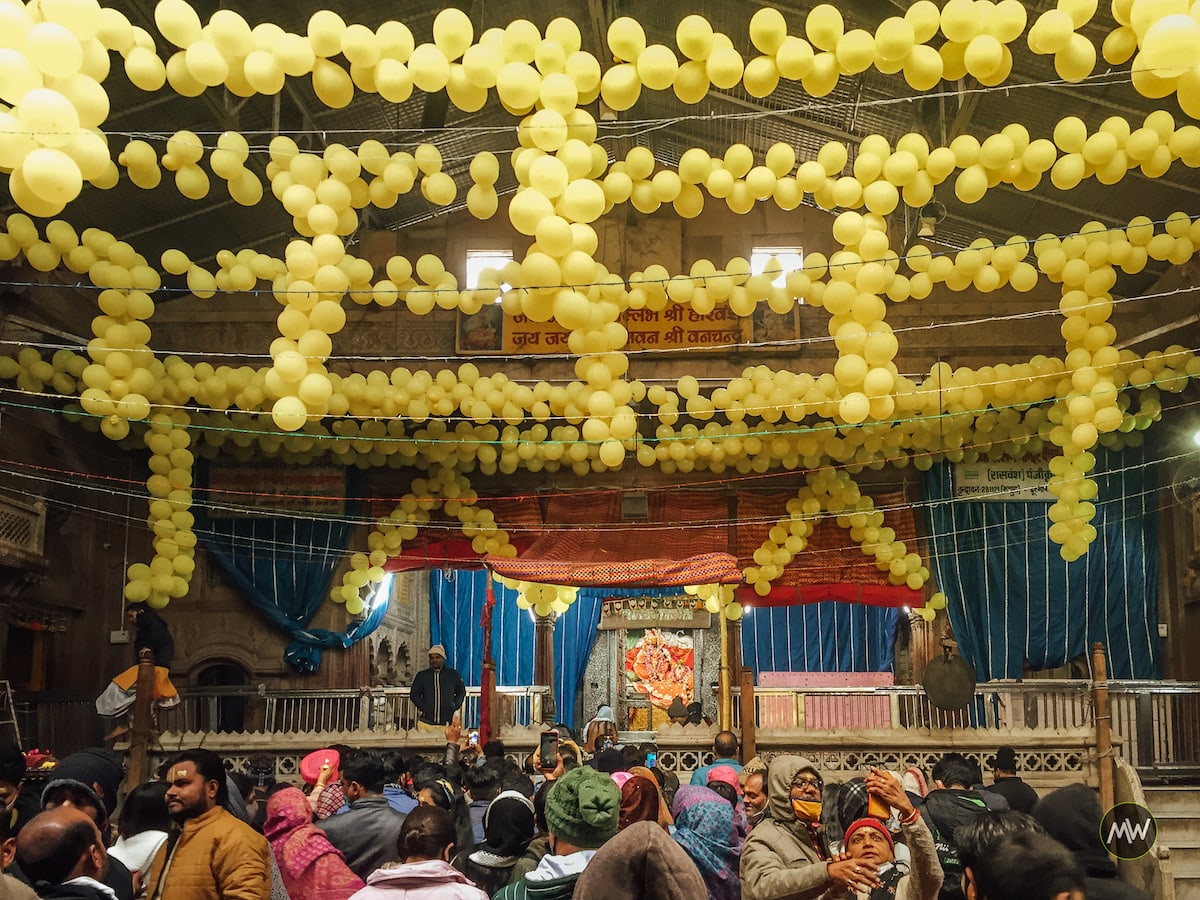 The temple is peaceful in inexplicable ways and is a must-visit. It is also situated between the narrow lanes of Vrindavan.
8. ISKCON Temple
Also known as Sri Krishna Balarama Mandir, this temple was built in 1975 by the International Society for Krishna Consciousness (ISKCON). The beige-colored temple with white marble is architecturally magnificent. It is one of the most peaceful temples, where you can easily spot foreigners and Indians humming the hymns praising Lord Krishna.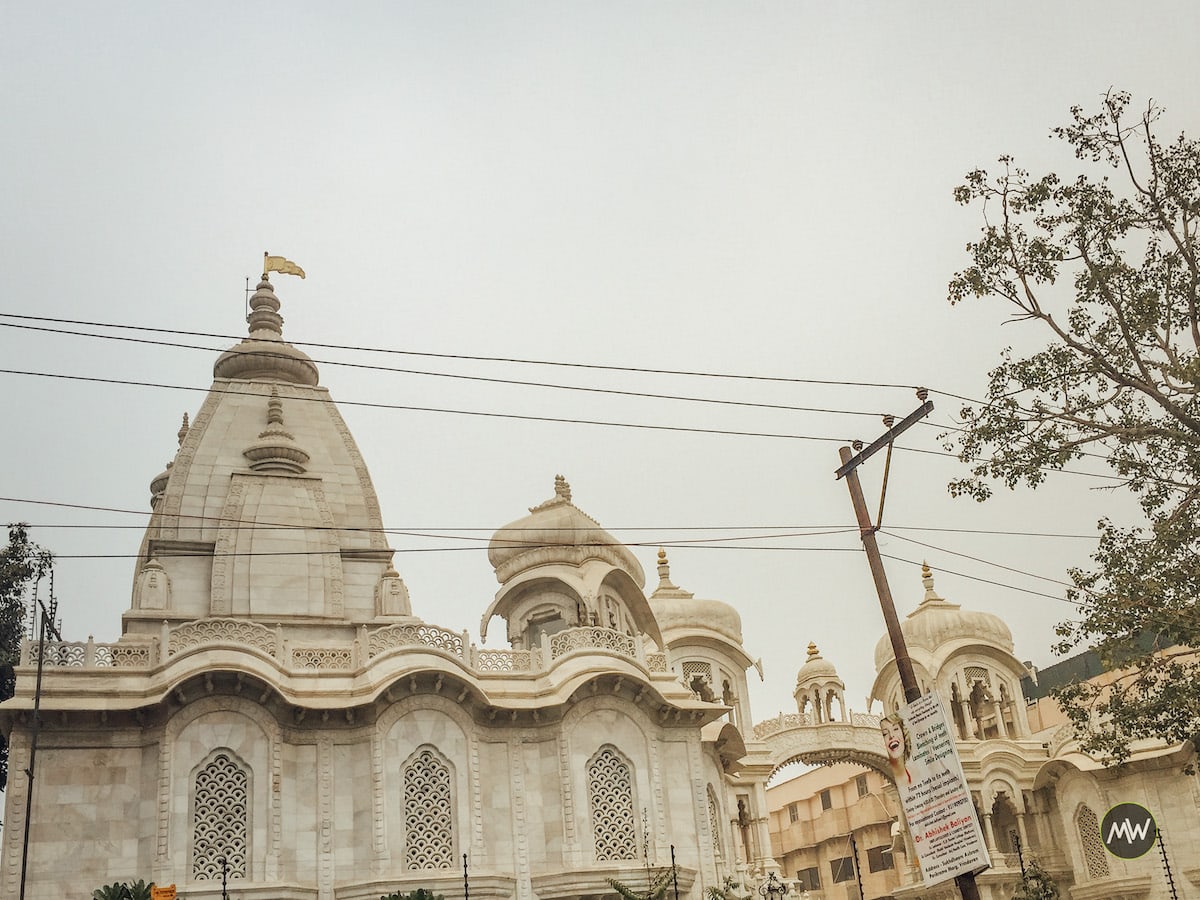 It is situated a 10-minute ride away from the Banke Bihari temple. It sits near the Yamuna river's banks, where Krishna and Balarama used to herd their cows.
9. Prem Mandir
Situated at 5-minutes away from ISKCON Temple, Prem Mandir is a relatively modern-architectured temple that opened in February 2012. The presiding deities are Radha-Krishna on the ground floor and Sita-Ram on the first floor.
The temple architecture is massive, and we liked the life-size sculptures showing different Ras Leelas of Krishna all around the temple's garden. You should visit it at night if you want to see these tableaus in more vivid colors.
If you call yourself photogenic, be sure to get some good clicks with this beautiful temple after taking the blessings.
10. The Mystical Nidhivan
We were waiting for this place to come. It had influenced us so much with its mystical stories that we couldn't afford to miss this place, called Nidhivan. It's not a typical van or forest at present but a group of trees believed to be nothing but forms of Gopis.
It is a widespread belief that Krishna performs Ras Leelas with Radha, and these trees turn into Gopis (humans) in the night, even today. Nobody can see them, and the one who tries to do so either goes blind, or something happens, due to which that person can't express what they saw. Therefore, the complex is emptied by dusk, and no one can stay inside after that.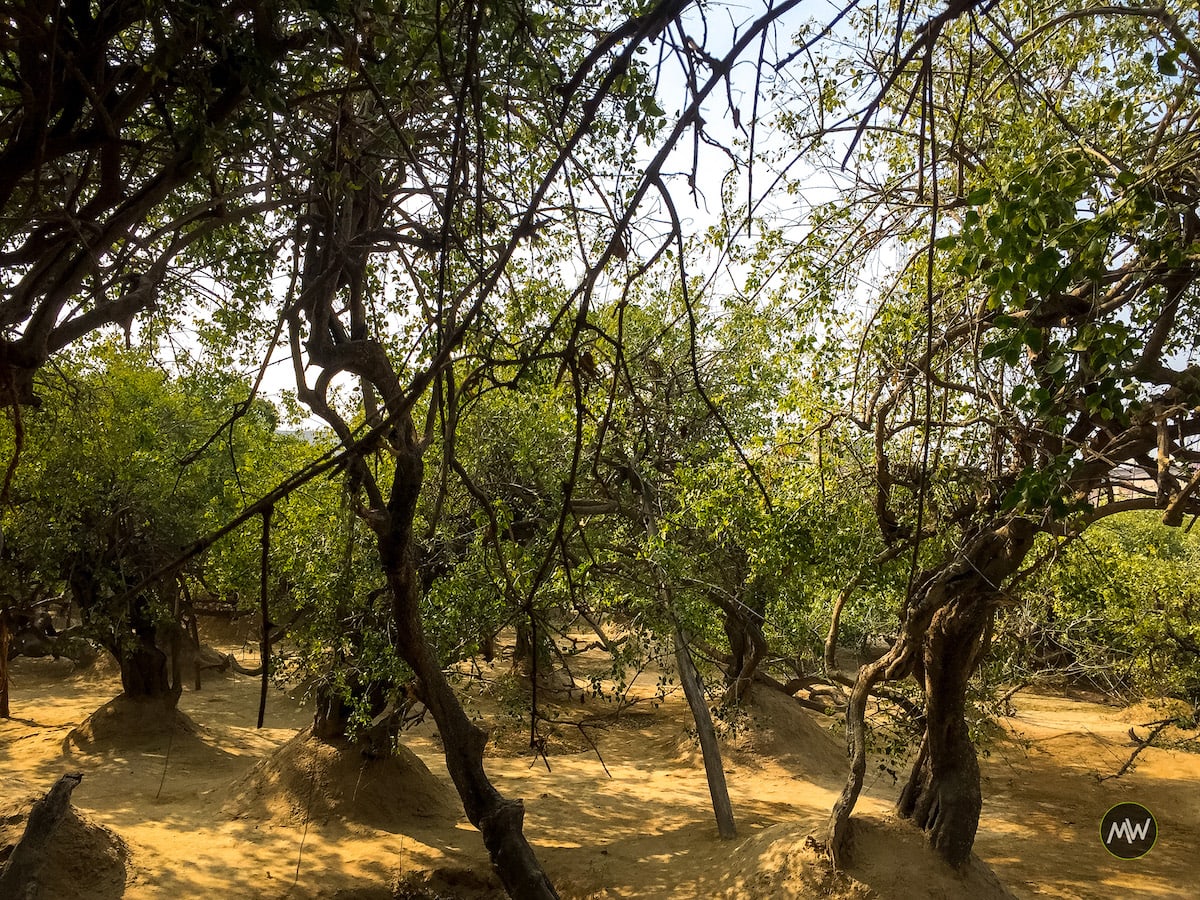 Nidhivan is situated in another set of Mathura's narrow lanes. There's a temple inside the Nidhivan called Rang Mahal.
Mathura's Sweet Dish – Peda
"As the kindled fire consumes the fuel, so in the flame of wisdom, the embers of action are burnt to ashes."

Lord Krishna, Bhagavad Gita
Going to Mathura and not tasting the famous local sweet dish, Peda is similar to sailing through the waters while being thirsty.
Peda is an aromatic, delicious Indian sweet dish made from Khoya (simmered milk), sugar, and cardamom. Though it's available in many parts of India, its origin is Mathura.
The most authentic and old shop selling Peda in Mathura and around is Brijwasi (Centrum). You can buy Peda on Brijwasi online shop or order them on Amazon as well.
Practical Travel Tips
"Strive to still your thoughts. Make your mind one-pointed in meditation."

Lord Krishna, Bhagavad Gita
Before visiting Mathura Vrindavan, be sure to keep these practical travel tips in mind:
Mathura is around 183 km from India's capital Delhi and about 397 km from Uttar Pradesh's capital, Lucknow.
Rail, road, and airways are available. The nearest airport is in Agra, and the railway station is Mathura Junction.
Almost all the temples in Mathura and Vrindavan remain closed between ~12 pm to ~5 pm.
Vrindavan is at ~22 km from Mathura, and you can quickly get tuk-tuk for around INR 30-40.
Most of the temples don't allow cameras inside.
Temples in Mathura and Vrindavan are not very far from each other. If you're a good walker, you can easily cover them via foot.
You need at least 2-3 days to 'scratch' the surface of Mathura Vrindavan, way more if you want to experience further.
Buy Pedas from original Brijwasi Sweets. We bought it from the one situated near the bus station.
FAQs
How to plan a Mathura Vrindavan trip?
First, identify how many days you can give. It requires at least two to four days to visit essential places. For more, read this guide to travel Mathura Vrindavan.
What to eat in Mathura Vrindavan?
You can try local foods such as Kachori, Maal Pua, Bedai Puri, etc. You can get all North Indian dishes promptly. Don't forget to buy the famous Peda from Brijwasi Sweets in Mathura.
What to see in Mathura Vrindavan?
Mathura is a holy city and the birthplace of Lord Krishna. So you will have numerous temples dedicated to the deity. The ones you shouldn't miss seeing are Dwarkadheesh, Shree Krishna Janm Bhoomi/Sthan, ISKCON, Prem Mandir, Birla Mandir, Nidhivan, and more.
What to buy in Mathura Vrindavan?
The whole city gives the expression of Lord Krishna and Radha. You can buy clothes, miniatures, decoratives, toys, and several other items.
---
Ending Note
"Set thy heart upon thy work but never its reward."

Lord Krishna, Bhagavad Gita
There are many other places and temples to visit in Mathura and around, which we deliberately did not cover in this blog post. They're coming soon on the next post(s).
Mathura Vrindavan is also famous for Holi celebrations, and you can see if it aligns with your plans.
The teachings of Krishna had helped me cope with various hardships in life. And I'd no doubt it'd have done the same to you. This short trip was an attempt to get closer to him and look over the life he led.
---
An appeal: Please do not throw litter around. Use a dustbin and if you can't find one, take the trash with you and throw it when you find it. Your small steps like this one can make the world clean and green.