Do you know that Mathura is where Lord Krishna, the 8th avatar of Vishnu, was born? He is the God of protection, compassion, tenderness, and love!
This post is the second part of our Mathura trip, and the first part explores Mathura Vrindavan. This post will share what places to visit in Gokul Govardhan, our journey, and the experience. So come on and take a virtual tour to the holy land of Braj with Misfit Wanderers.
After reading this post, you'll be in a better position to plan your visit to Mathura. Let's jump in.
---
In This Article:
---
But if you wish to see the video (in Hindi) instead of reading it, here it is:
Places to visit in Gokul Govardhan
We're listing places to visit in Gokul Govardhan as per what we've personally seen and from the Internet, starting from Govardhan, then Gokul. Consider the following map to understand the location of Gokul, Govardhan, and Mathura: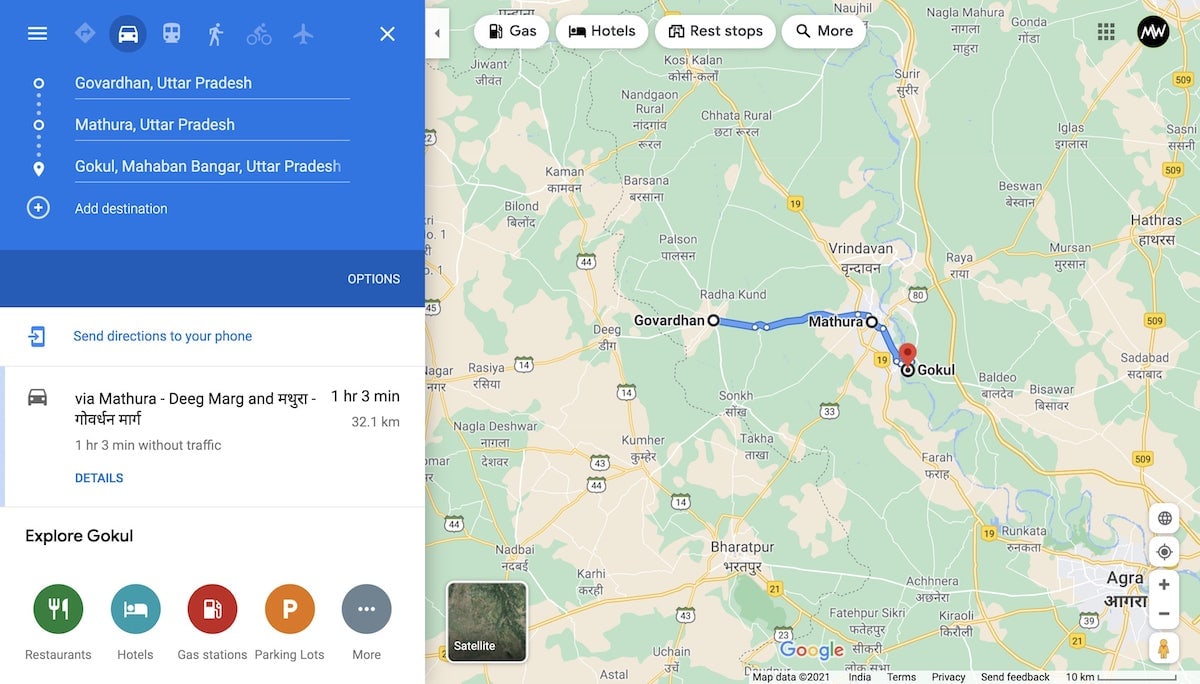 Reaching Govardhan
You can reach Govardhan by covering a distance of 22 km from Mathura or 25 km from Vrindavan. Govardhan Hill was the first stop on our list.
Krishna once lifted the mystical Govardhan hill on his little finger to protect villagers from Lord Indra's wrath, the deity of thunder and storm.
I had seen this incident many times in tableaux and shows, but witnessing it, in reality, would be an enjoyable and pleasing experience.
1. Daan Ghati Temple
While starting to do the Pad Yatra around the hill, you'll come across a temple named Daan Ghati temple. It will mesmerize you at first glance, showing the life-size representation of the scene where Muralidhar has lifted a mountain on his Kani (pinky) finger, protecting villagers and animals.
As you might guess, Lord Shri Krishna is in Giriraj or Girdhari form at this place. Giri in Hindi means Hill or Mountain, Dhari means the bearer!
There are many more small temples in the temple complex, where people worship the stone form of the Lord.
2. Circumambulating Govardhan Hill/Parvat
Next up in the list of places to visit in Gokul Govardhan is Govardhan Hill.
The 21 km-long circumambulation of Govardhan Parvat starts from the right side of the Daan Ghati temple. We didn't intend to but still went a few hundred meters in the circumambulation area.
I sensed a different feeling inside the devotees here; even the young children appeared full of zeal to do the circumambulation. Milk, Dandavat, and Sohni Seva circumambulation are some of the circumambulations that devotees perform here.
To facilitate the parikrama or circumambulation, you will find many carts of fruits, shoes, breakfast water, and shops all along the way.
The unique thing that appeared to me was that shops sold loose coins and Parle-G biscuits in bundles for devotees. You might also see some street vendors selling green grass, perhaps to serve the cows you meet during the circumambulation.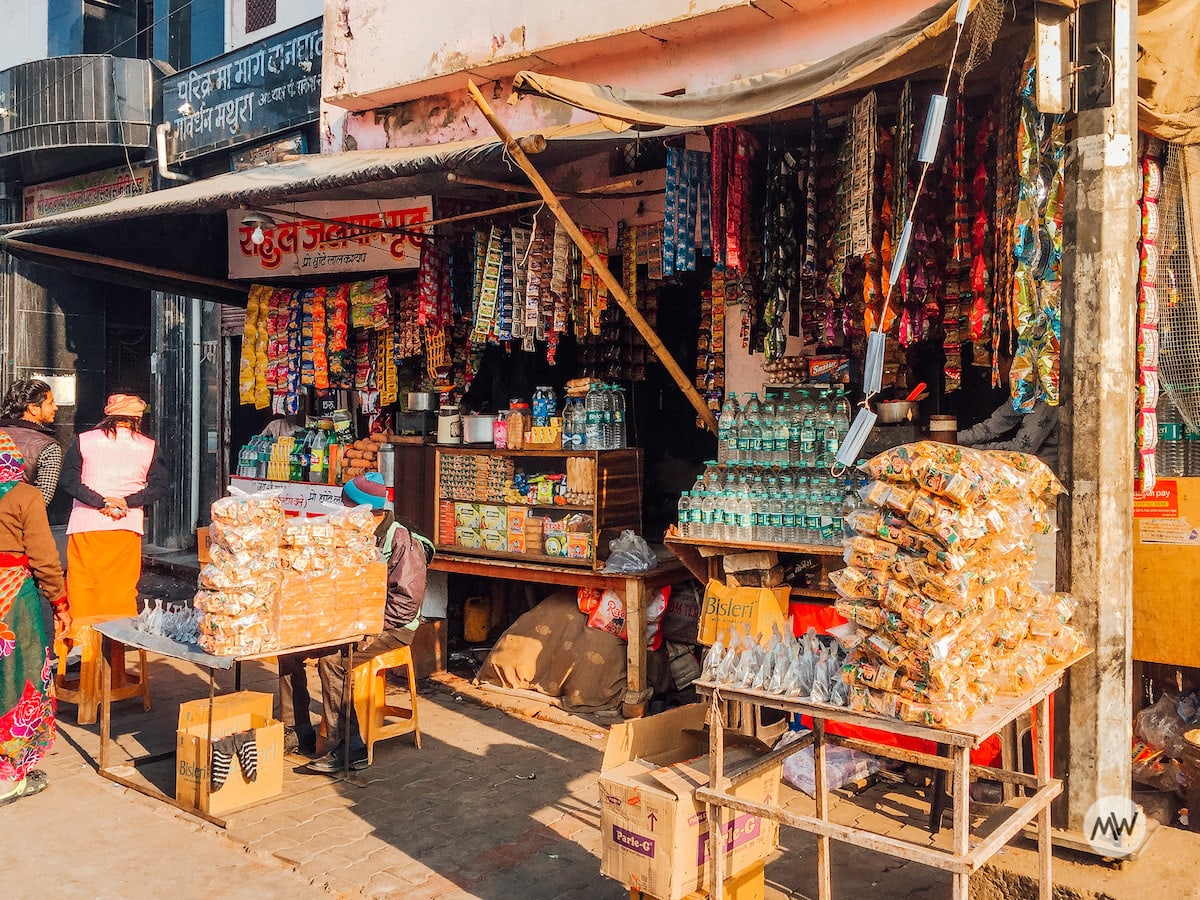 The Govardhan Hill is 21 feet high and has a significant width. You will see devotees worshiping stones from place to place here. Every single stone here is the landscape of Radha-Krishna.
Legends of Govardhan Hill
This legend happened in Dwapara Yuga, which tells that Shri Krishna didn't want the people of Braj to worship Lord Indra for the rain. He believed that Indra must rain as it's His duty. In response, Indra rained heavily for seven consecutive days, and the entire Braj submerged in water.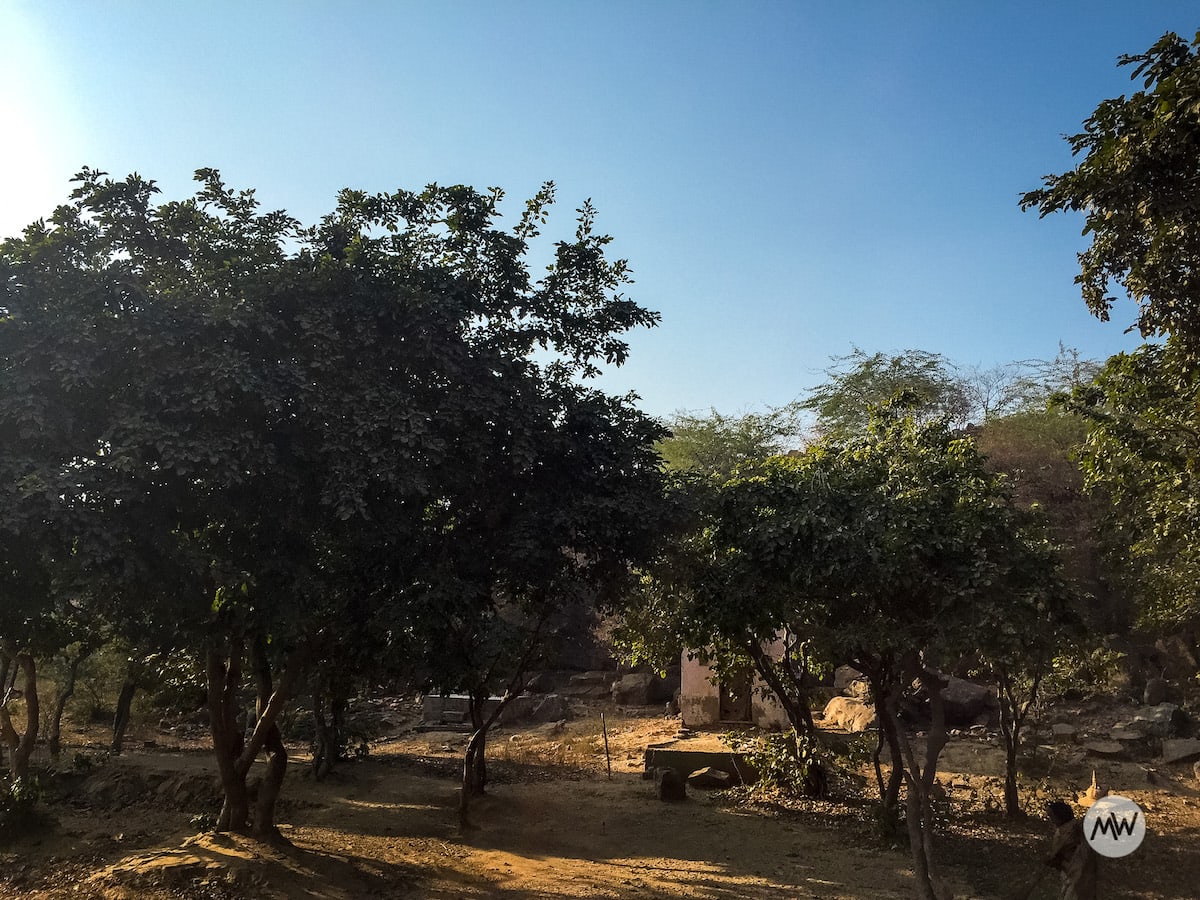 Lord Krishna lifted the Govardhan Hill on his little finger to protect the people from this wrath, and all villagers and animals came under to save their lives. In the end, Krishna broke Indra's pride, and later Indra realized his mistake and did everything in the right state and prayed to Krishna.
Visiting The Old Lanes of Gokul
Reaching Gokul
Up until now, we've seen Govardhan. Next up in the list of places to visit in Gokul Govardhan is Gokul village and around.
To reach, we took a local tuk-tuk from Mathura and arrived at Gokul after a 20-30 minutes ride.
BEWARE! As soon as you reach Gokul, many guides will approach you, ready to give you a tour of Gokul village and around for as low as 50 rupees. But they'll be prepared to upsell you and use your insecurities and faith to juice out 100 times of what you paid to the guide.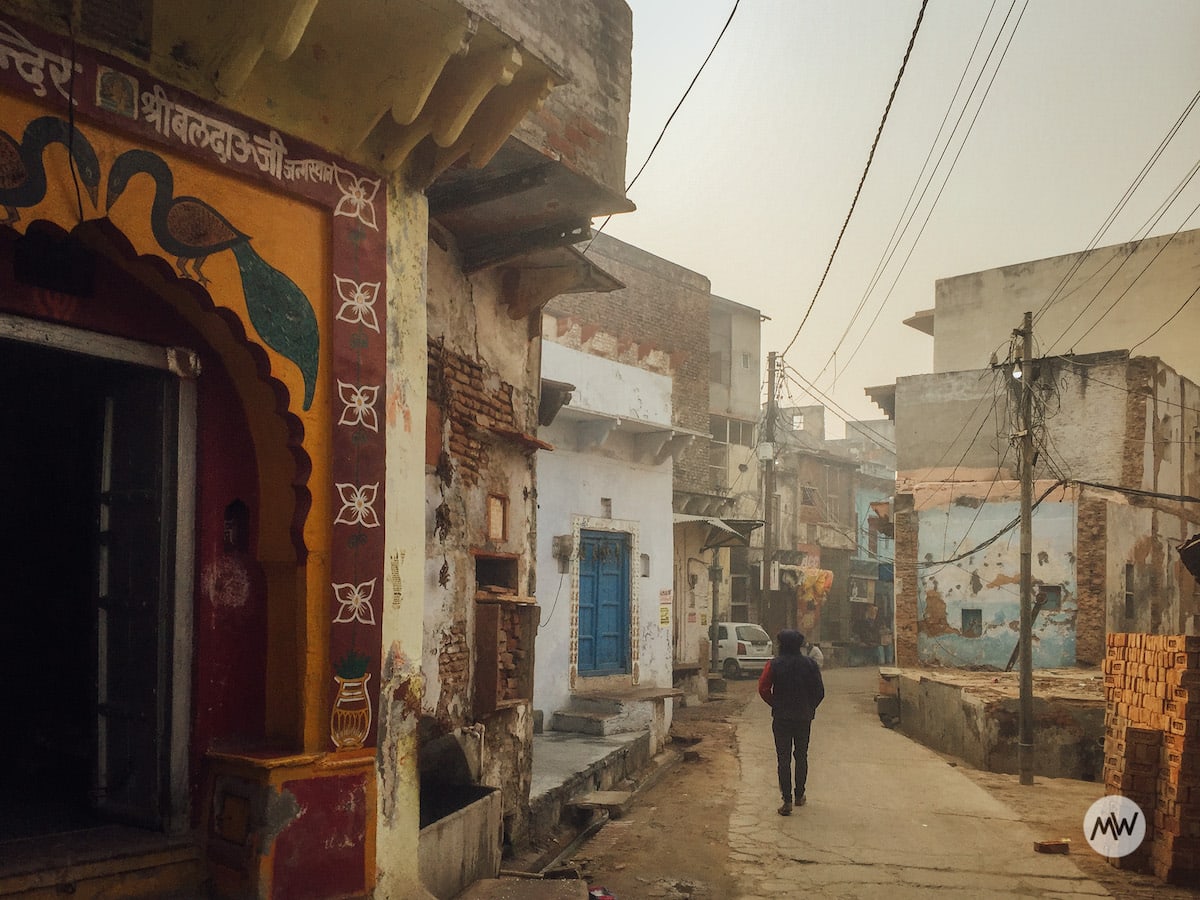 Our advice? Have a thick skin belief in yourself and the God you're visiting. If possible, do your research and play it safe – be your guide.
3. Chaurasi Khamba Temple (Nanda Bhavan)
You would first like to see the place in Gokul where Bal Krishna's squeals once resonated – Nanda Bhavan, also known as Chaurasi Khamba (84 pillared building). Sri Krishna and his Dauji (Balaram Ji) got their name and spent their childhood in this building's courtyard.
Climbing some stairs, you reach the main entrance, which opens towards a verandah. You can see Krishna's childhood pastimes paintings on the walls. Along with the stone carvings, the artwork will fascinate you.
You will also find a vast and religiously significant tree in the courtyard. People tie red threads of wishes on it, believing that Lord Krishna hears all the wishes.
4. The Holy Sand of Raman Reti
Raman Reti, located at a distance of 2-3 km from Gokul, is essentially the sand where Krishna played in his childhood. You'll see devotees playing, running, and lying in this sand.
In the Dwapar Yuga, when Shri Krishna was in a child form, Yashoda Mata sent him to the forest to graze the cows. That forest is today the place of Raman Reti. Lord Shri Krishna used to play here with elder brother Balaram Ji and other Gwalas. The entire credit for its present form goes to Saint Gyanadas Ji, who understood the importance of this place in the 18th century and shaped it to help devotees offer prayers.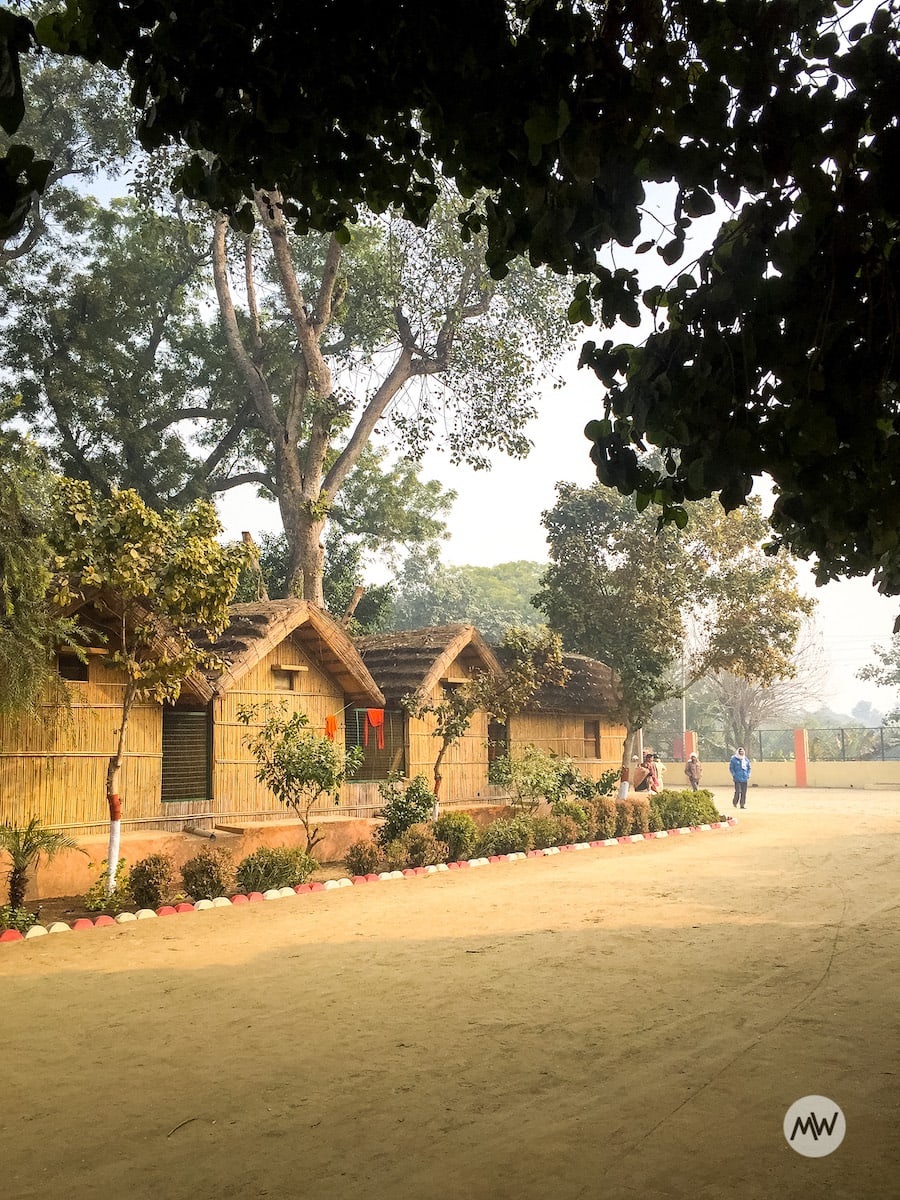 There is a park next to it. You will see deer, spurts, and ducks roaming around. You will see many huts of the same size, homes to sages and saints. In all honesty, Raman Reti is one of the best places to visit in Gokul Govardhan.
Fun Fact: Holi is played here with sand instead of colors!
5. Brahmand Ghat's Legend
Situated near Raman Reti and on the banks of Yamuna, there is an interesting legend associated with Brahmand Ghat.
Once, while playing, the child Krishna ate mud. When this thing reached Yashoda Mata, she came running to her son and asked him to open his mouth to let the soil come out.
But what she saw inside his mouth surprised her – a whole picture of the universe, aka Brahmand in Hindi. This incident convinced Yashoda Maa that her child is not an ordinary kid. And the place where this incident happened is therefore named Brahmand Ghat.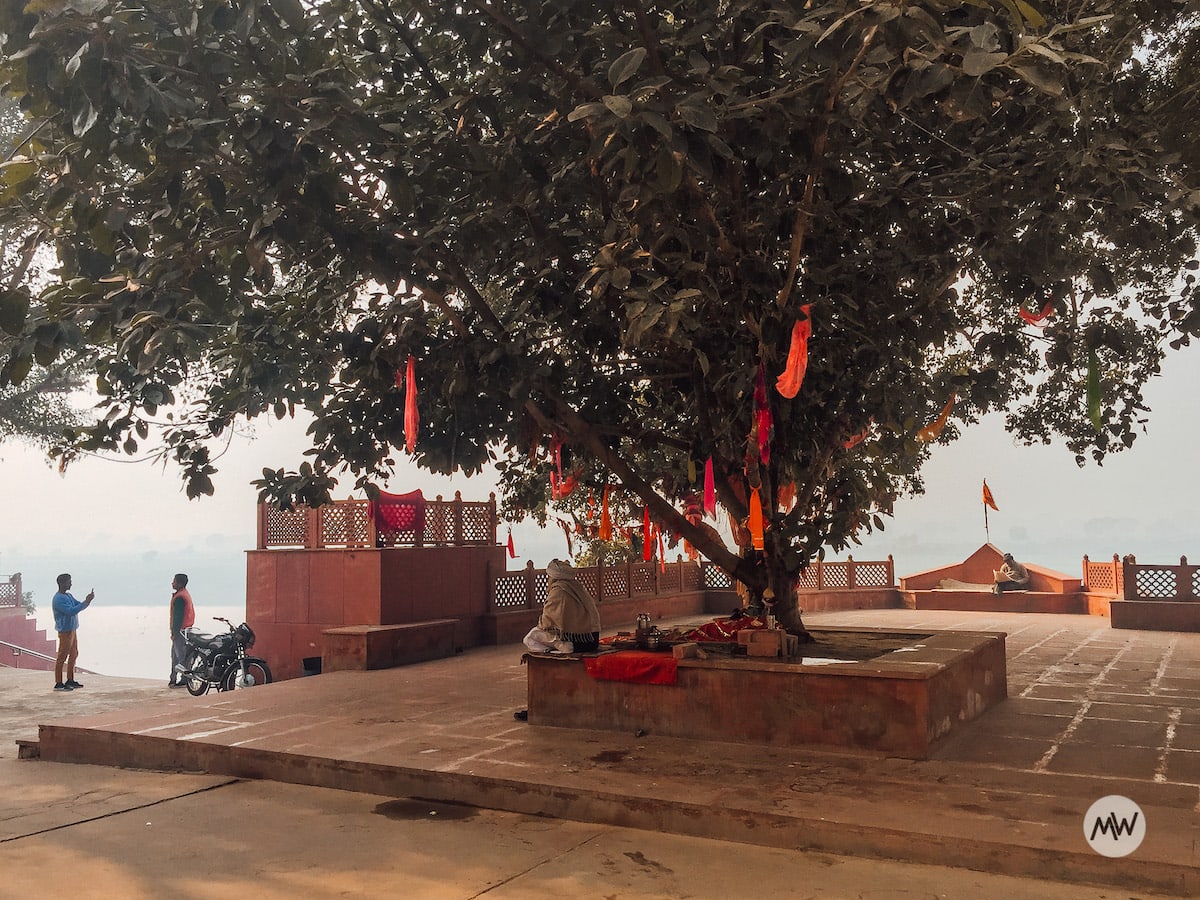 At present, local administration maintains this place and keeps it up from a tourism perspective. Nearby the Ghat, there's a Brahmanda Bihari temple dedicated to Lord Shri Krishna.
For a peaceful experience and to spend some time in solitude by the banks of Yamuna, come to Brahmand Ghat, one of the best places to visit in Gokul Govardhan.
Other places to visit in Gokul Govardhan
6. Shri Thakur Rani Ghat
According to mythology, Yamuna Mata herself appeared to Shri Vallabhacharya Ji after listening to Yamunashtakam (a song dedicated to the Yamuna Ji) at this place.
7. Gokulnathji Temple
Situated at a height behind this temple is a pond called Mansi Ganga. According to the stories, when Yashoda Mata expressed her desire to bathe in the Ganges, Prabhu said that he could bring the Ganges here himself. And this is how Mansi Ganga came here.
Important Points and Suggestions
You can quickly get a bus, tuk-tuk, or cab for Govardhan from Vrindavan and Mathura.
If you want to do Govardhan Parikrama, then go early in the morning. Since the circumambulation is 21 km, go with complete preparation.
It's easy to visit Gokul from Mathura with your private vehicle.
It isn't easy to get a tuk-tuk in Gokul for Ramna Reti and Brahmanda Ghat. Even if you get it, they'll charge a lot of money.
The best time to visit is all year round, but Holi is the preferred time if you are looking for a memorable trip. If you are planning to go in summer, keep a light cloth and water bottle with you.
Sit for some time in peace on Raman Reti and Brahmanda Ghat and reflect on those things in your mind. Lose yourself in devotion to God.
Commute between all the places to visit in Gokul Govardhan isn't easily available.
Frequently Asked Questions by Travelers
How far is Gokul from Mathura?

The distance from Mathura to Gokul is only 10 km. Both places are well-connected via road.

Why is Gokul famous?

Gokul is the place where Lord Krishna spent his childhood. The whole village of Gokul reflects the stories of Krishna's childhood in the form of wall arts, temples, toys, and culture.

How long is Govardhan Parikrama?

The total circumambulation of Govardhan Parvat is 21 km, and it typically takes 5-6 hours to complete it.

Is it safe to circumambulate Govardhan at night?

Yes, of course. Circumambulation can also be done at night, which will end in the early morning. But daytime is preferred.

Are Vrindavan and Gokul the same?

No. Although Krishna spent his childhood in both places, the two places are different. Vrindavan has many temples dedicated to Shri Krishna and Radha Ji, while Gokul is where Lord Krishna was bought up in Nanda Bhavan and spent his childhood.
Conclusion
Whenever we see Krishna Leela, we look and call upon the Lord with keen eyes. Then be it the tableau, whether it was stealing Makhan Mishri, playing with the Gopis, the flute's melodic tune while grazing the cows, or friendship between Him and Sudama Ji.
Shri Krishna's life can teach us a lot of qualities like love, sacrifice, compassion, charity, self-control, and friendship. A highly revered book of Hinduism, Bhagavad Gita, captures the dialogue between Lord Krishna and the archer Arjuna. Simply skimming this book gives me mental clarity when I feel lost in life.
Prabhu resides in Braj Bhoomi (Mathura, Vrindavan, Govardhan, Barsana, Gokul). Krishna lives in every person and animal here and in all inanimate things. Everything you will see in Mathura and around somehow relates to Lord Shri Krishna.
This trip was my first visit to Braj, where I had a better time than expected. I hope you have liked the information and this list of places to visit in Gokul Govardhan. Forgive us and show us the light in the comments box if you spot any mistake in telling any fact or a legend. If you have any suggestions or advice, also share them in the comment box below. We are constantly working to improve ourselves and this blog.
---
An appeal: Please do not throw litter around. Use a dustbin and if you can't find one, take the trash with you and throw it when you find one. Your small steps like this one can make the world clean and green.