Do you know that the Mehandipur Balaji temple in Rajasthan is a highly revered temple believed to have magical powers?
Many people believe Mehandipur Balaji Temple is only for the possessed ones. Indeed, people suffering from supernatural evil's doings or physical ailments visit this temple in Rajasthan.
However, whether you're suffering or not, this temple is for everybody. I know many confusions are lurking around. And I'd like to clarify them in this article, based on my experiences visiting Balaji temple.
Mehandipur Balaji Temple Story: Legend
There's an interesting legend about how the Mehandipur Balaji temple came into existence.
Long ago, Mehandipur was a dense forest in what is today Dausa, Rajasthan. Wild animals and villagers were living nearby the forest. And one saint in this village, Gosai Ji Maharaj, had an unusual dream.
One night, he starts walking toward the jungle in his sleep and sees some visuals. There were thousands of lamps, sounds of horses, elephants, and an army marching towards him. Then, they all bowed to the three deities: Shri Balaji Maharaj, Pretraj Maharaj, and Shri Bhairo Nathji.
Afterward, they returned to where they came from, and Maharaj went to his village. Further, when he tried to sleep again, he got Darshan from Shri Balaji Maharaj, telling him to build a temple for the three powers he just saw.
And that's how Mehandipur Balaji temple came into existence.
You can also read this legend in detail on the Mehandipur Balaji temple's official website (in Hindi).
Deities Inside The Mehandipur Balaji Temple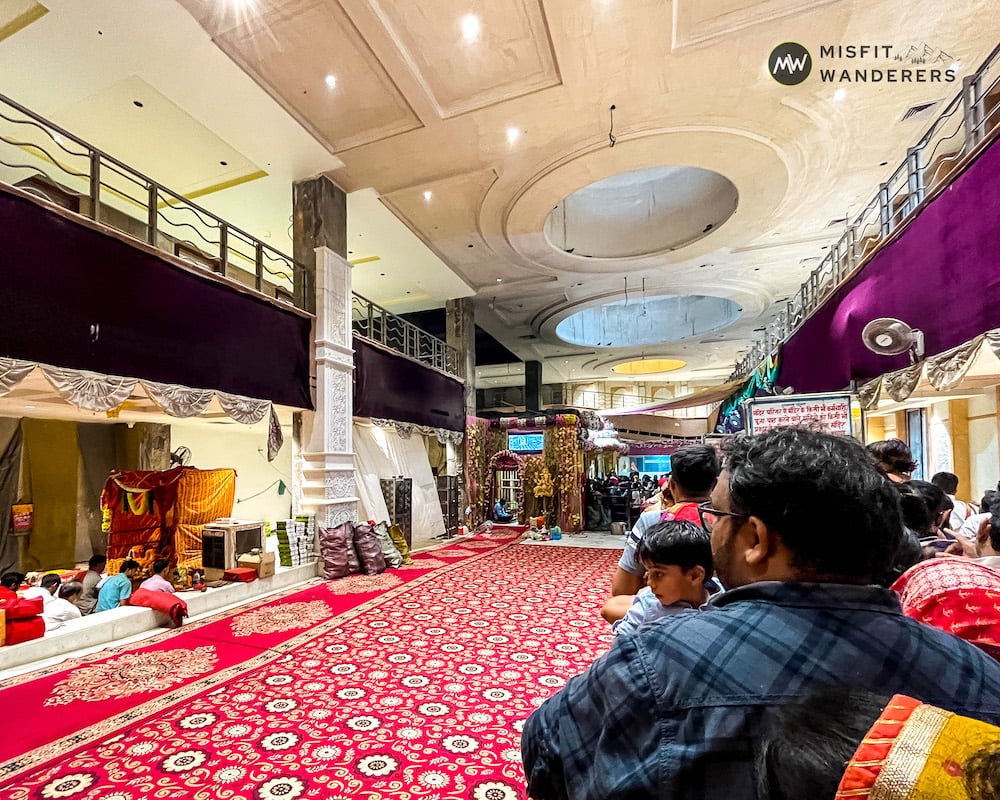 The Mehandipur Balaji temple celebrates the child form of Shri Hanumanji, a prominent Hindu god. He is the main deity in this temple, along with two other powers, namely Shri Pretraj Maharaj and Shri Bhairo Nathji.
Since Lord Hanuman did a lot of activities (Lilayein) in his childhood at different places, this temple is known as "Balaji." Further, this temple is also popularly known as the Ghata Mehandipur because it lies in the valley (Ghati), formed by two mountains.
Supernatural Evils & Exorcism in Mehandipur Balaji Temple
When I was researching and gathering info about this temple before visiting it, I was a bit scared and confused by the information. There were lots of videos and articles, enough to incite fear.
However, my perspective changed when I went to the temple.
Yes, there are many possessed people and exorcism practices around here. But it's also true that the sheer divinity of this temple does not harm the ones in good faith.
Further, National Library of Medicine has published a journal of a study done on the patients visiting Mehandipur Balaji temple in Rajasthan, India. You can read it for more interesting findings.
There were screams, people spinning their heads, hitting, or jumping on the floor. But in all honesty, all this was normal. Moreover, everything was getting dull when I heard the Shri Ram's chantings echoing in the hall.
The enthusiasm among the people who came to have Darshan was contagious. Additionally, this exorcism practice isn't visible in the main hall or nearby the seats of deities. Instead, you'll see them in a dedicated hall and around the temple's boundaries.
In conclusion? Forget those misleading YouTube videos and articles. You don't need to worry about a thing here as long as you follow temple rules.
Smart suggestion: Read about Neem Karoli Baba temple in Uttarakhand who was visited by tech geniuses like Steve Jobs and Mark Zuckerberg before they became successful.
Mehandipur Balaji Temple Rules (Unsaid)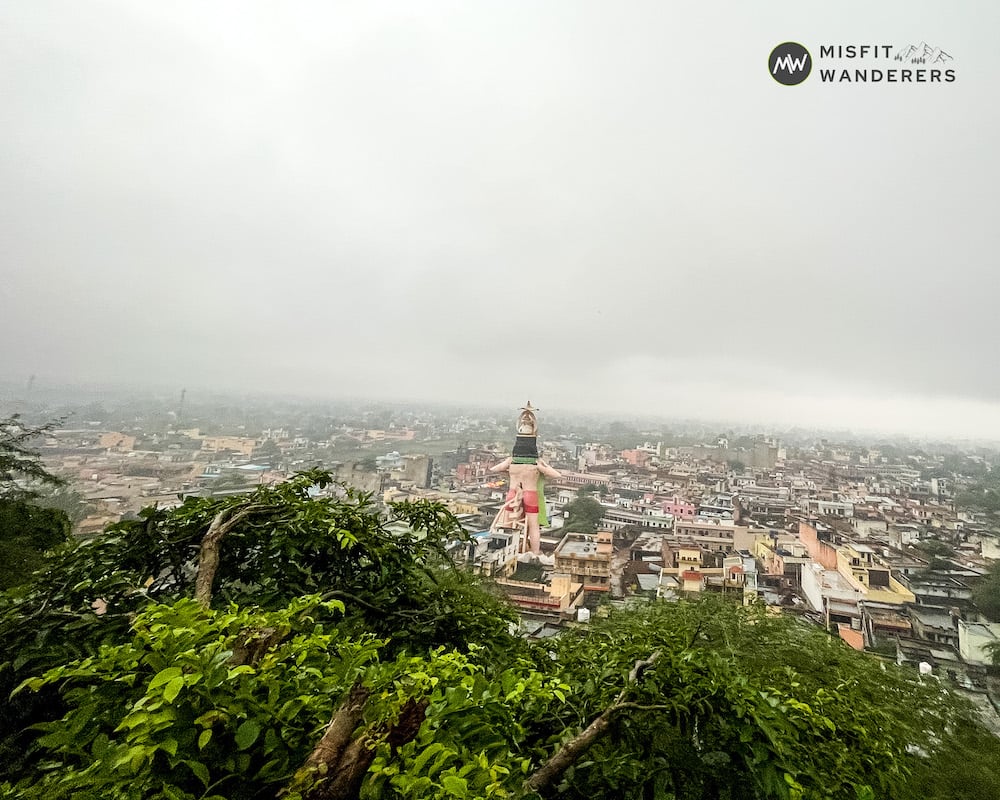 Mehandipur Balaji temple in Rajasthan is a well-known temple in India for exorcism and the sanctity of the place. So, there are some unsaid rules that one must preferably follow during their visit to this sacred place:
This temple doesn't accept Prasad. So, there's no use buying it. Although, the shopkeeper does sell it. Further, if you do buy Prasad, don't take it back to your home. You can distribute to beggars around or leave for monkeys at dedicated places.
Don't take food or filled water bottles back home from here.
Don't communicate with anyone when you're inside the temple premises.
Avoid eating non-veg, onion, and garlic before you visit this temple. Also, don't eat these food items even after reaching your home for
Don't look back when you leave the temple after getting Darshan.
Don't laugh or giggle seeing people suffering from evil spirits.
Mehandipur Balaji Aarti & Darshan Time
There are strict timings to visit this temple. And please note the temple gets a massive crowd, so it'd be a good idea to stay ahead on time. I almost got rumbled in the evening crowd for seeing the Aarti.
Here are the Mehandipur Balaji Darshan and Aarti timings:
| | |
| --- | --- |
| Opens at… | 6 am |
| You can witness Morning Aarti between… | 6:15 am to 6:45 am in Summers;6: 25 am to 6:55 am in Winters |
| Morning Darshan between… | 7:30 am to 11:30 am |
| Curtains down between (no darshan)… | 11:30 am to 12:00 pm |
| You can witness Evening Aarti between… | 7:15 pm to 7:45 pm in Summers;6:35 pm to 7:05 pm in Winters |
| Evening Darshan between | 12:00 pm to 8:30 pm |
| Closes at… | 9 pm |
I have seen people getting kilometers-long lines from 3-4 am to get Darshan and witness Aarti. Further, during Aarti hours, the road in front of the temple gets heavily crowded. We don't recommend going into the crowd for safety reasons.
How To Reach Mehandipur Balaji Temple From Delhi and Nearby Cities?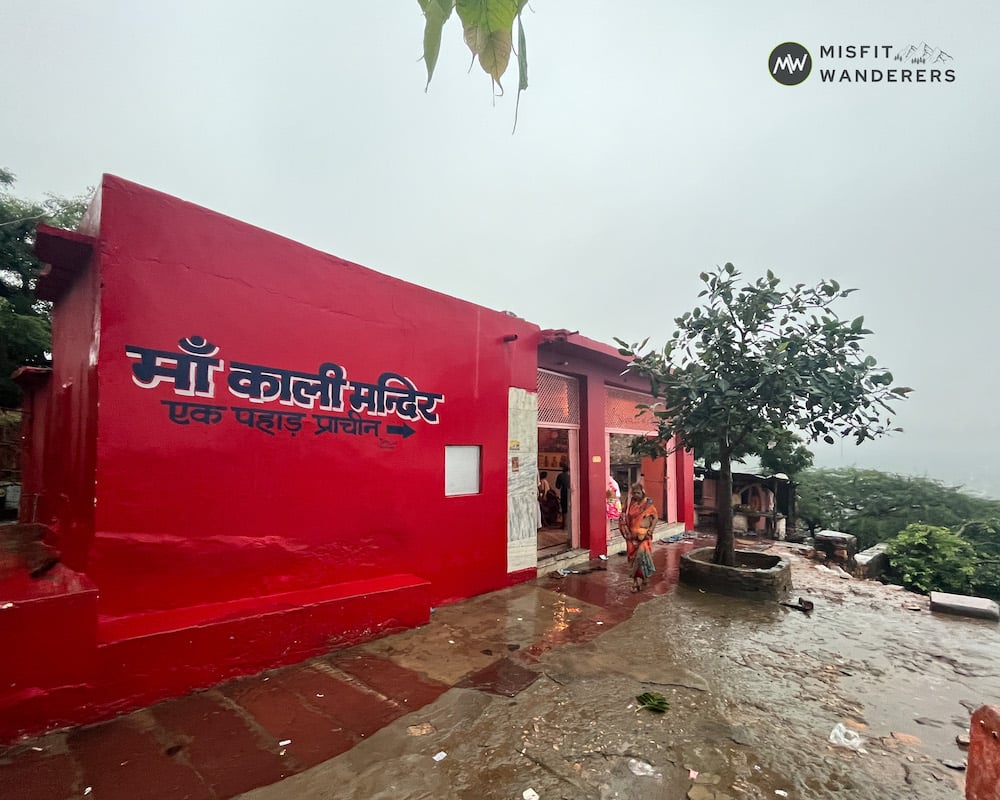 Mehandipur Balaji temple lies in the Dausa district of Rajasthan, India. This district is well-connected to Delhi and other major cities around.
The nearest railway station to Mehandipur Balaji Temple is Bandikui (Station code: BKI). From Bandikui, you'll get regular transport to reach the Balaji temple.
The nearest Airport to Mehandipur Balaji Temple: is Jaipur (Code: JAI)
Reaching via road: RSRTC operates regular buses from nearby states like Delhi and Uttar Pradesh. Call RSRTC at 1800-2000-103 or 7412069699 to inquire about buses from your location. Additionally, you can also visit the temple using your motor vehicle.
Places To Stay Near Mehandipur Balaji Temple
There are several types of accommodations available near Mehandipur Balaji temple. From inexpensive Dharamshalas to luxurious hotels, you will find everything.
If you're looking for an inexpensive place to stay, go for Dharamshalas. It'll usually cost you anywhere around 500 INR per night. Further, you can also find luxurious hotels and resorts like the Dera Village – The Clement Retreats in Dausa.
Other Places To Visit Near Mehandipur Balaji
Suppose you're going to stay for a longer duration. In that case, you can also visit some more exciting places near Mehandipur Balaji temple.
Ram-Sita Temple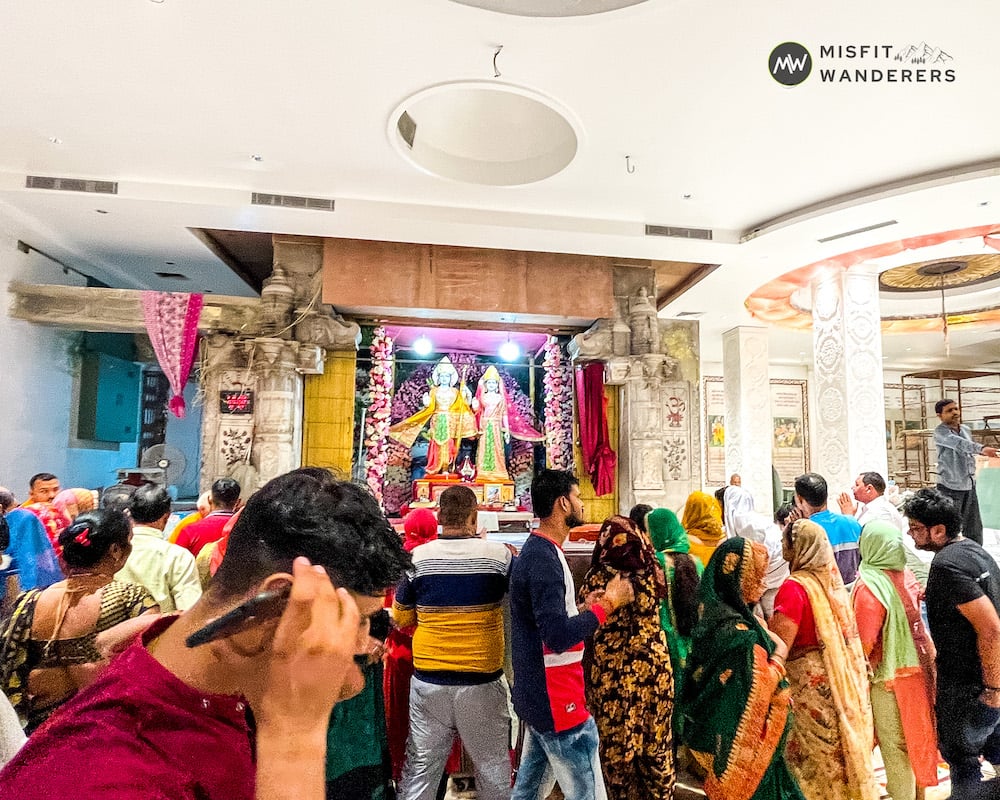 This temple is right in front of the Mehandipur Balaji temple. And it gets heavily crowded on Tuesday and Saturday, so plan accordingly. You can visit this temple after getting Darshan from Mehandipur Balaji.
People say this temple is right in front of Balaji so that Hanumanji can keep gazing at His Lord Shri Ram. There's a window in Balaji temple from where you can clearly see this temple's idols.
Samadhi Wale Baba Ji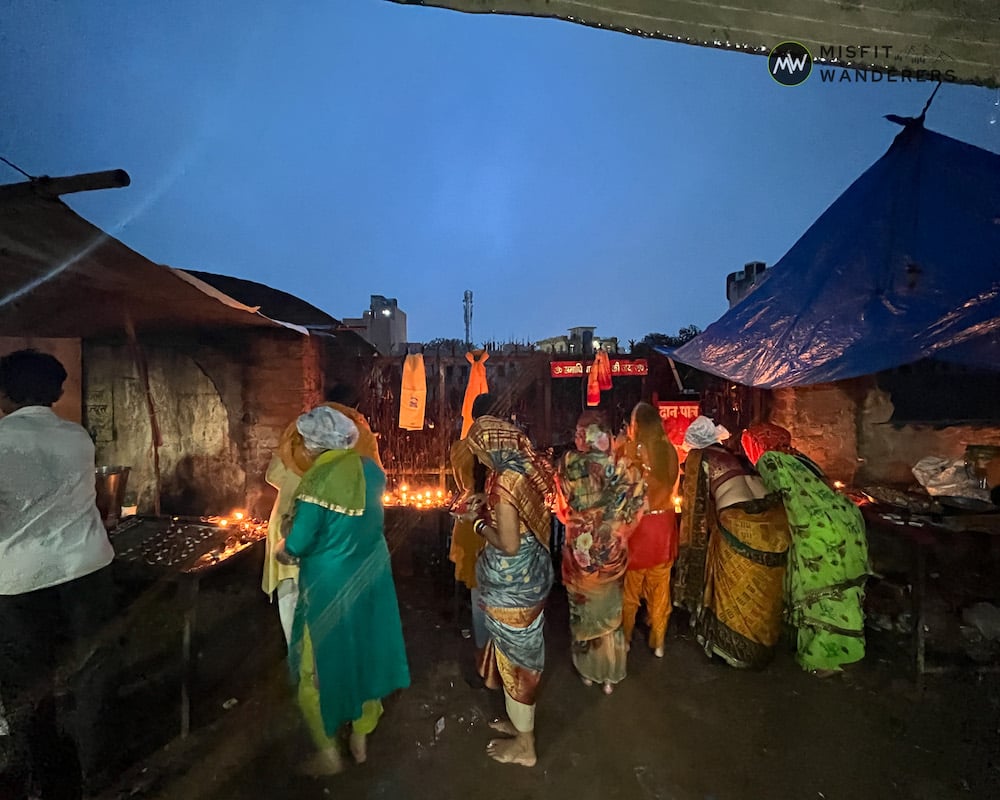 Samadhi Wale Baba was the first Mahant of the Mehandipur Balaji Mandir, and this temple is dedicated to him. Therefore, don't go back home without visiting this temple along with the Balaji Mandir.
Teen Pahad Mandir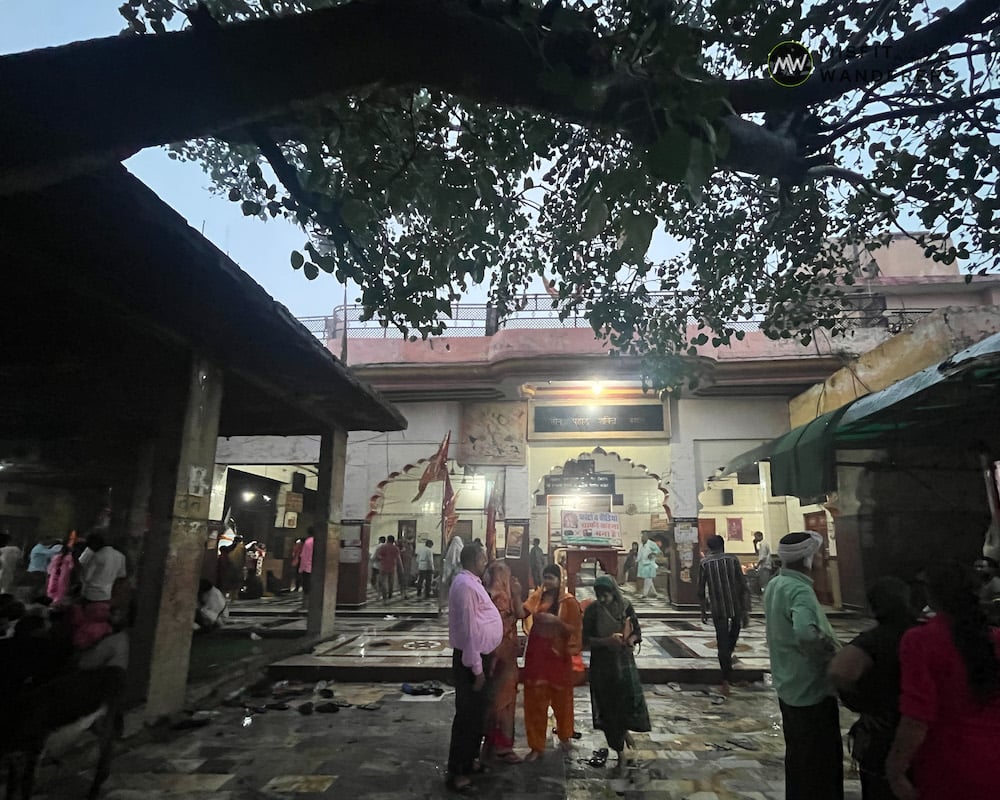 You can visit Teen Pahad Mandir after getting Darshan from Samadhi Wale Baba Ji, as it lies on the same route. Teen Pahadi Mandir is a group of highly revered Hindu temples situated on top of a mountain looking over three hills.
It's a ~2 km hike and worth visiting. As soon as you start hiking, you'll come across several temples and mesmerizing views of the valley.
Commonly Asked Questions About Mehandipur Balaji Temple
What are the opening hours of Mehandipur Balaji Temple?
Mehandipur Balaji Temple opening time is 6 am. Further, morning Darshan can be done from 7:30 am to 11:30 am.
What is the history of Mehandipur Balaji Temple?
The history of Mehandipur Balaji Temple is 1000 years old. It is said that Balaji Maharaj appeared in the dream of Gosaiji Maharaj, a saint of this Mehandipur village and asked him to build a temple.
What is the contact number of Mehandipur Balaji Temple?
Some of the contact numbers of the team of sevaks associated with Mehandipur Balaji Temple are:
Deepak Panchal Ram: 94683-94683
Harsh Varshney Kanha: 84496-84496
Shobit Ji: 98936-21000
Alok Sharma Ji: 98914-11399
Krishna Kumar Ram: 70172-05219
Conclusion
So, this was your travel guide for visiting Mehandipur Balaji Temple in the Dausa district of Rajasthan, India. Now, you're armed with the proper knowledge and will be able to experience this temple better.
Lastly, don't get scared or have ill feelings during your visit. Remember, God works in mysterious ways. So have faith and enjoy your trip.