I had been planning for quite a while for a short trip on hills but choosing the destination is always a tough one. After some research and recommendations, I finally planned to go to Mukteshwar. The name of the place is itself very intriguing and I was very excited to know about what sort of Mukti or liberation I would be bestowed upon.
I told two of my friends about the plan and as expected they were doing nothing much in their lives and agreed to come along.
I reached Kathgodam via an overnight train from Lucknow which dropped me there at an early morning hour of the very next day.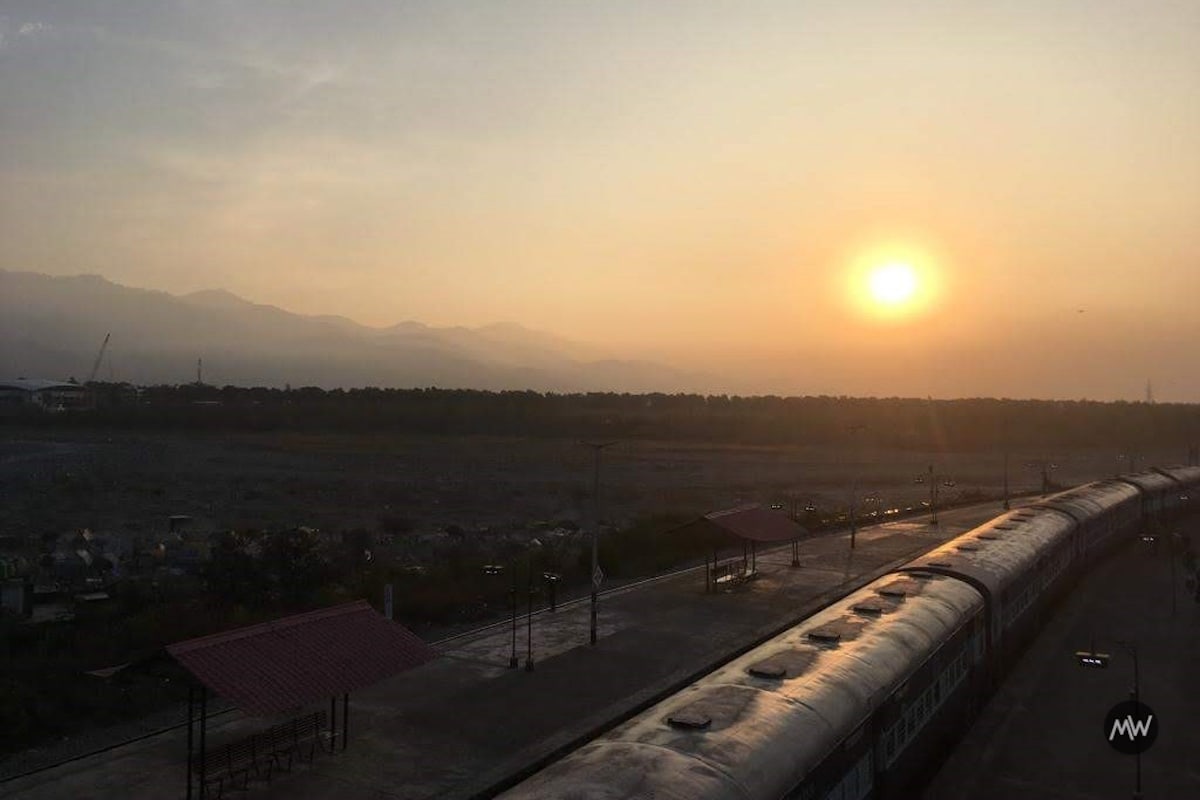 ---
---
Reaching Mukteshwar Dham
Kathgodam is the last railhead in this region and is a small town just at the foothills of Himalayas. For many travelers like me coming from the state of Uttar Pradesh, it acts as a doorway to many hill destinations.
My friends, who were coming from a different part of the country, joined me at the railway station itself. We sipped a cup of tea while enjoying the morning awakening of this small sleepy town with its baby hills who didn't want to get up that early and entertain their new guests. So, before this pleasant morning turns into a hectic afternoon, we rushed straight to our destination in a private cab.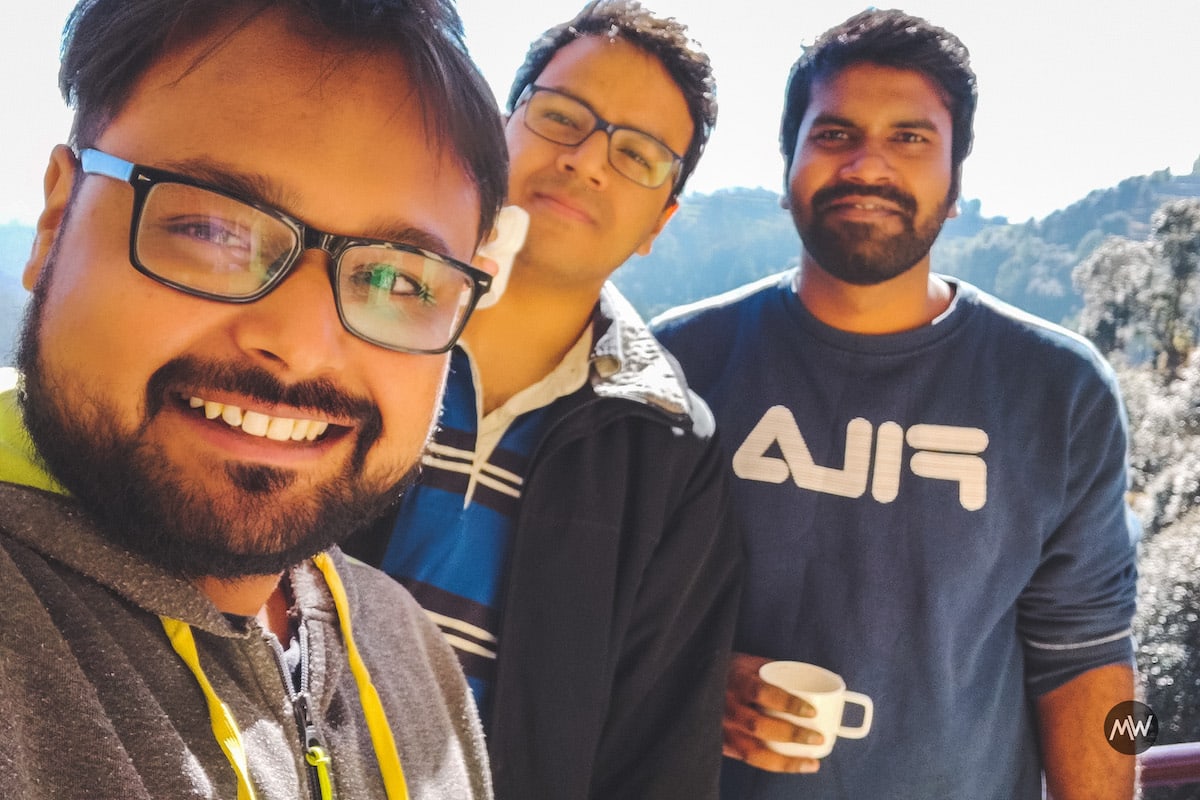 Mukteshwar is around 62 km from Kathgodam via Bhimtal and Bhowali. The landscapes are very picturesque throughout the journey and as I reached into the deeper Himalayas, I could not resist questioning my mere existence in these mighty mountains. Getting to Mukteshwar was an easy task. One can just book a cab near Kathgodam station or can get on any state-run bus service till Bhimtal or Bhowali and further.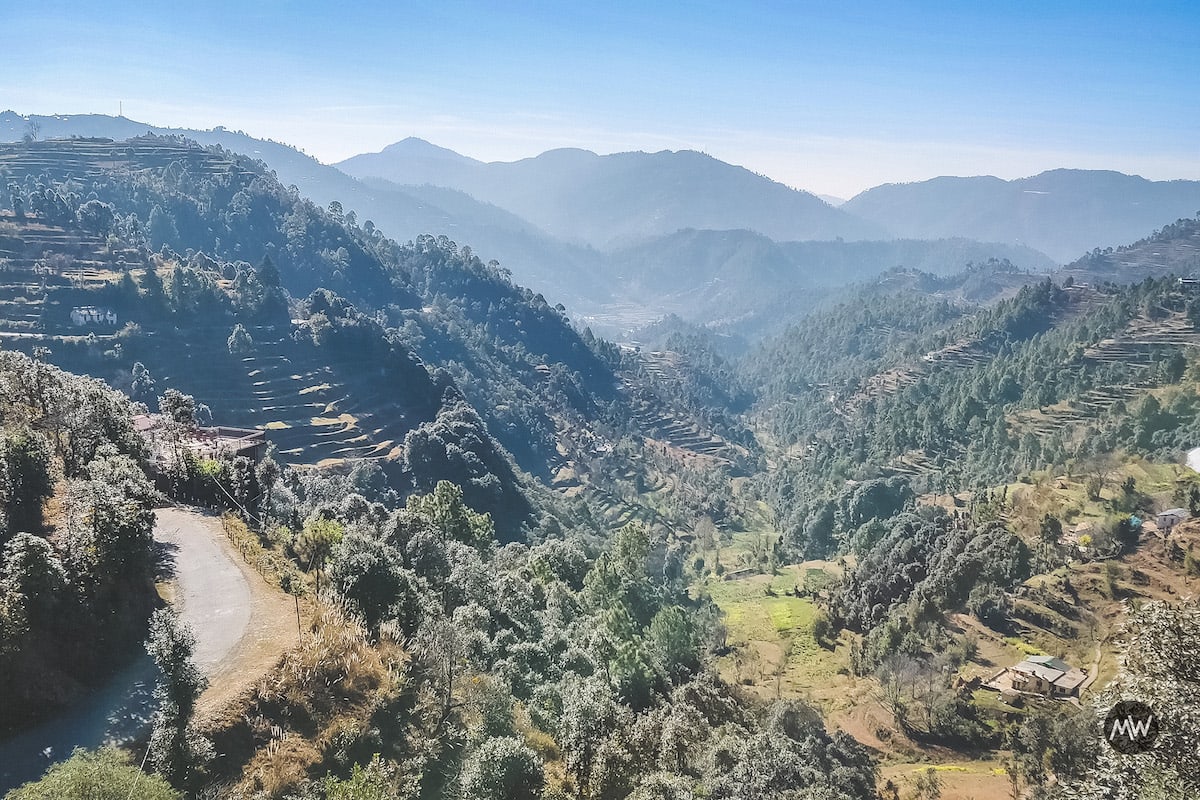 Something of Everything is at Mukteshwar
We have already booked Tourist Rest House, TRH Mukteshwar from the official KMVN website. I was recommended this particular stay option because it offers the best view of India's second-highest peak the great Nanda Devi, the Trishul, and the Panchachuli ranges. It is right behind the PWD guest house where Jim Corbett stayed and wrote his famous book 'The Man-Eaters of Kumaon' and 'The Temple Tiger'.
There is nothing much to do in Mukteshwar which makes this place more serene and sedative. I am always looking for this kind of premium luxury and after reaching Mukteshwar, I was convinced that I made the right choice. There are no crowded market places, the local streets are not brimmed up with tourists and no abundance of restaurant or hotel services to bother you with their varieties as it is on any other conventional hill station.
I would say Mukteshwar has just the right amount of everything. Neither one can get flooded with the choices and get baffled nor does one can feel the scarcity of anything. Thus, this place offers a transcendent ambiance for those who speak the peaceful language of silence and nature.
The Shiva Temple Near The Rocky Cliff
There is a famous Shiva temple which is said to be around 350 years old. It is accessible through a streak of stairs and a steep trek that can easily test any climber's endurance. On reaching to the main temple, the tranquillity of the place clears up the rising curiosity behind the name of the place Mukteshwar Dham, the abode of salvation.
Great saint Shri Mukteshwar Maharaj Ji also lived here and worshipped Lord Shiva. The temple is a small complex surrounded with lush green forest and nothing can be compared to the therapeutic effect of a cold hilly breeze mixed with the fragrance of the incense sticks that made me stay there for a longer time than I expected.
Behind the temple, there is a rocky cliff named Chauli ki Jali. It is termed as Jali because of the majestic stone hole in the middle of a rock which appears to be unyielding from any of its ends. To the locals, it holds a particular religious belief. Mythological stories link this stone hole to Lord Shiva and the women who have trouble conceiving, come here to the Lord's mercy to get blessed with babies.
I have often observed that the local stories and beliefs are very interesting in such places. It is very easy to believe them when you hear it from the native residents. These people, who do not long for any part of our city lives and materialistic things, will tell such stories effortlessly with such emotions and innocence which could easily make anyone nod their head in affirmation even when one does not hold any religious attitude.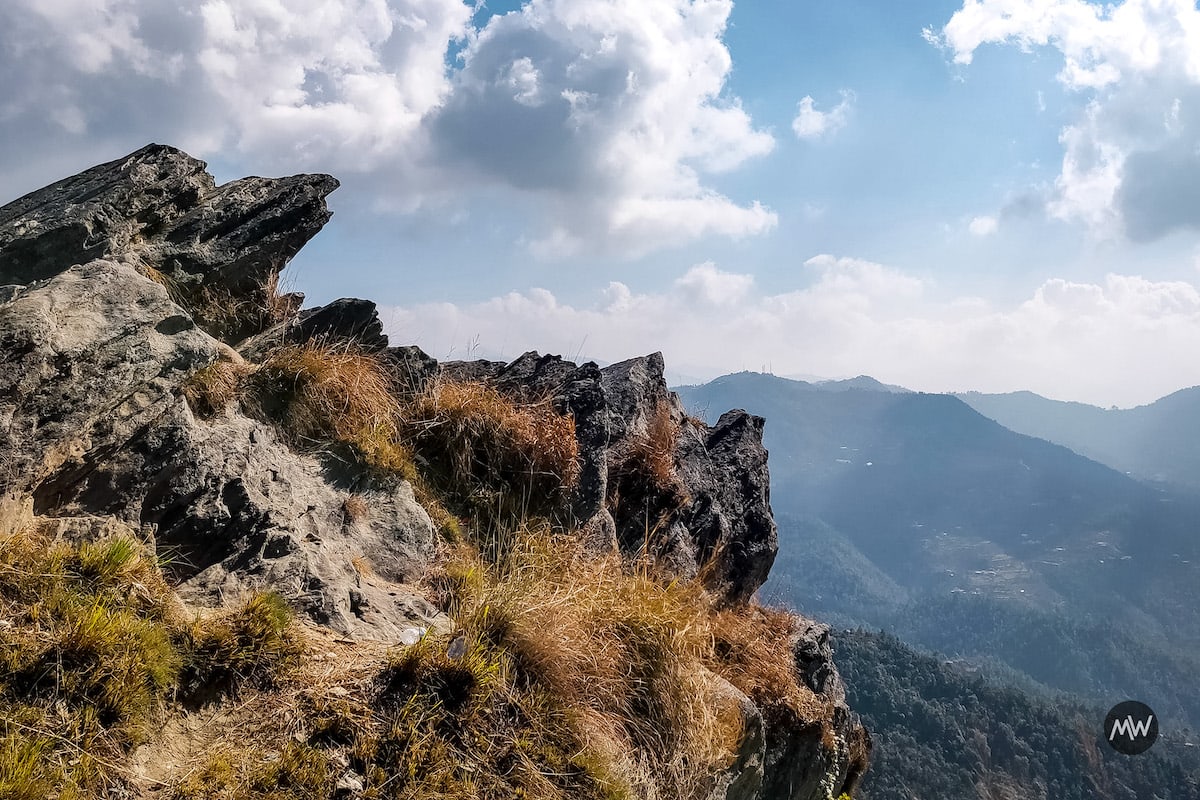 Painting the Picturesque Mukteshwar
The panoramic scenery was undoubtedly at its best and complemented the divinity of the place. I decided to stay there until the sunset. As the sun started to get back to its den, the valley changed its colors so wondrously like a painting whose painter is never satisfied with the scheme of colors he had chosen and paints it repeatedly with darker colors. He finally rests the brush after painting the whole canvas black but with assurance in his mind that he would start all over again but tomorrow.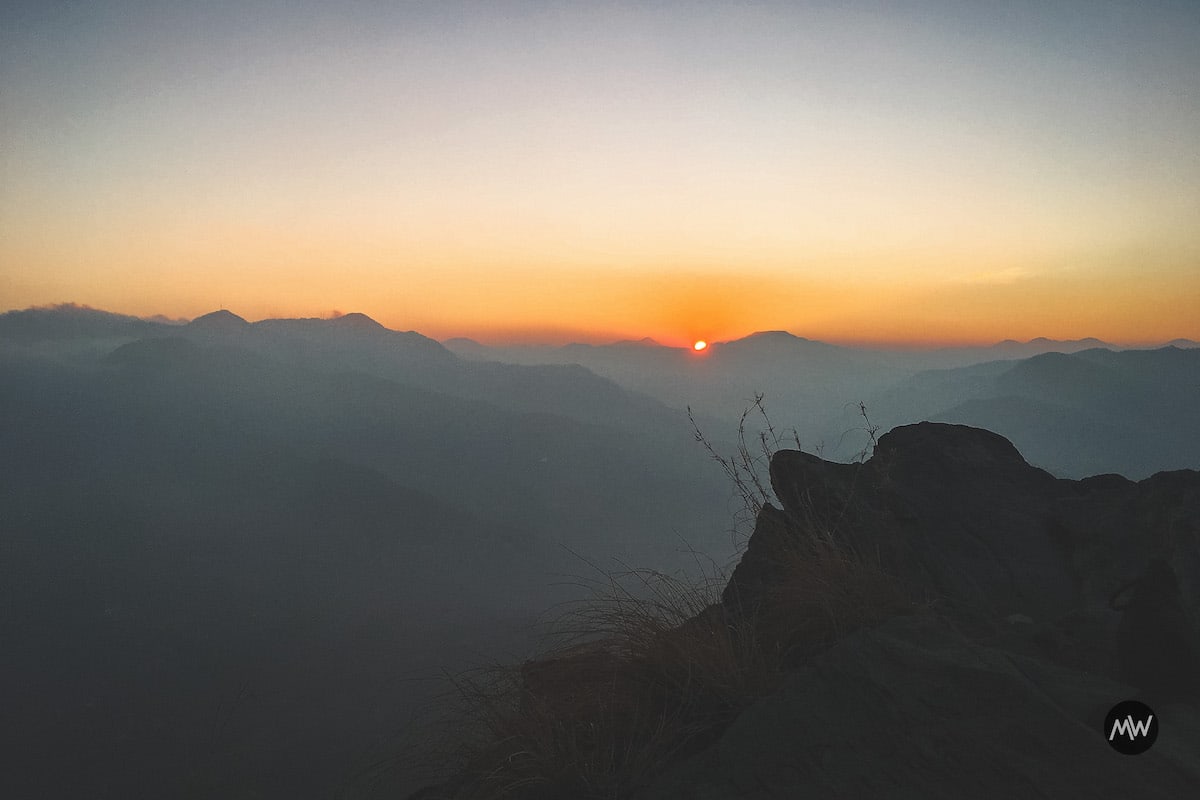 I felt a connection with that painter because we share a common trait which was procrastination. Only his trait was a natural phenomenon and mine was something which I decided to think about later. We came back to our hotel, had our complacent dinner, and merged ourselves with the slow dissolution of all the activities around us.
I woke up before sunrise because I knew that watching the sun moving up in the sky behind these great mountains would be one of the greatest sights I could see.
Furthermore Towards the Liberation
The painter of the backdrop was true to his words and picked up the same canvas for his artwork. The colors that emerged were so original and cursive that they reached every corner of the giant canvas in perfect sync. I just sat there watching every gradient of the mountains being emphasized in this natural artwork. It had such a hypnotic effect on the mind that I felt like I have read every self- improvement book ever written, watched every motivational video on the Internet, and realized that nothing could be more satisfying and inspirational than watching a rising sun with nature's best ingredients.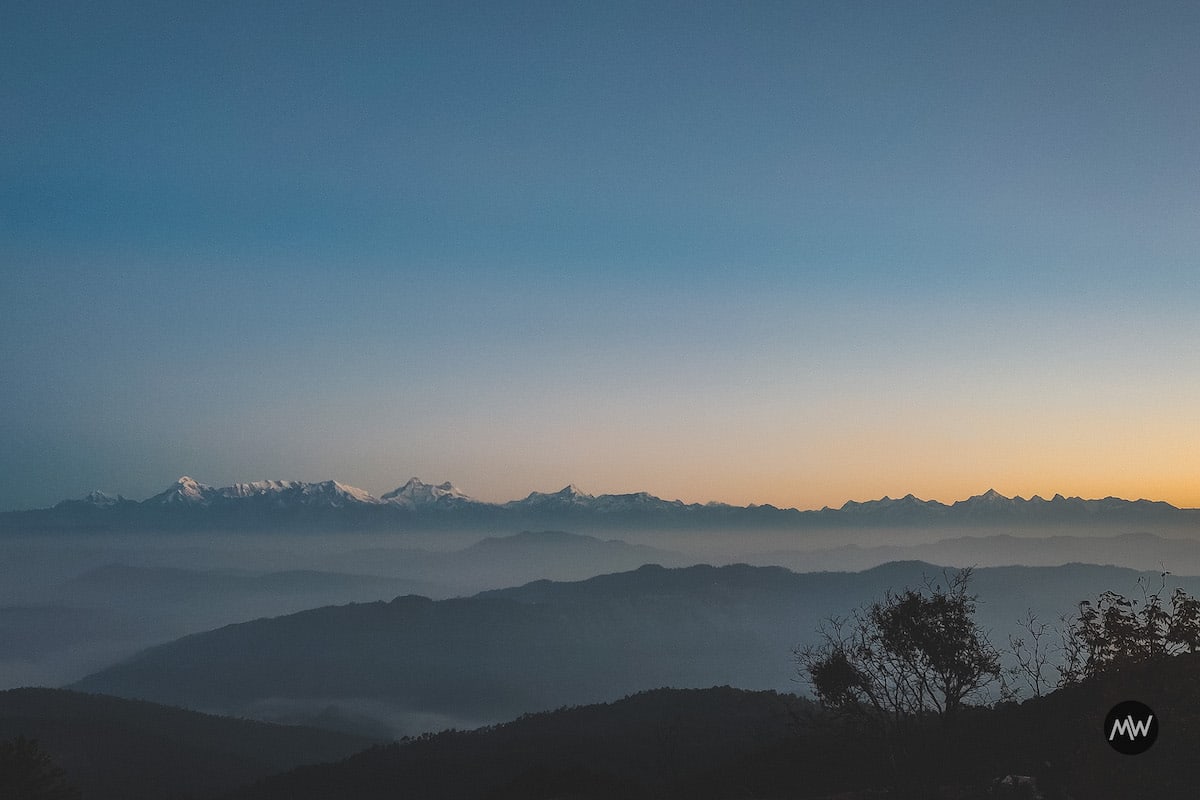 The next day was planned to do nothing. I just sat on a bench at the PWD guest house and stared at the Himalayan peaks on one side while listening to the chimes of the bell ringing at the Shiva temple on the hilltop. The thoughts of Mukti and liberation had just started to flare up in my mind.
If this place offers the same, then what is the relevance of going through the rigorous path suggested by our religious gurus and scriptures? All this had just started to cook up in my head as I was disrupted by my friend who had no interest in salvation and wanted to go for a trekking.
To the Home of Bears: Bhalugarh Waterfalls
I felt that even thinking of Mukti is not easy, forget about achieving it. We called our driver and he suggested taking us to Bhalugarh waterfalls which is just 8 km downhill near Dhari village. We put on our trekking shoes and agreed to go to the Bhalugarh waterfalls. Bhalugarh stands for the home of the bear as clarified by our driver while we descended the hill in our cab, anxious and doubting our decision-making abilities.
It is a natural walking trail of 4-5 km which can easily take more than an hour to cover if you are a bird watcher or an orthodox nature lover. For fast movers and more enthusiastic persons, it is hardly a thirty-minute walk.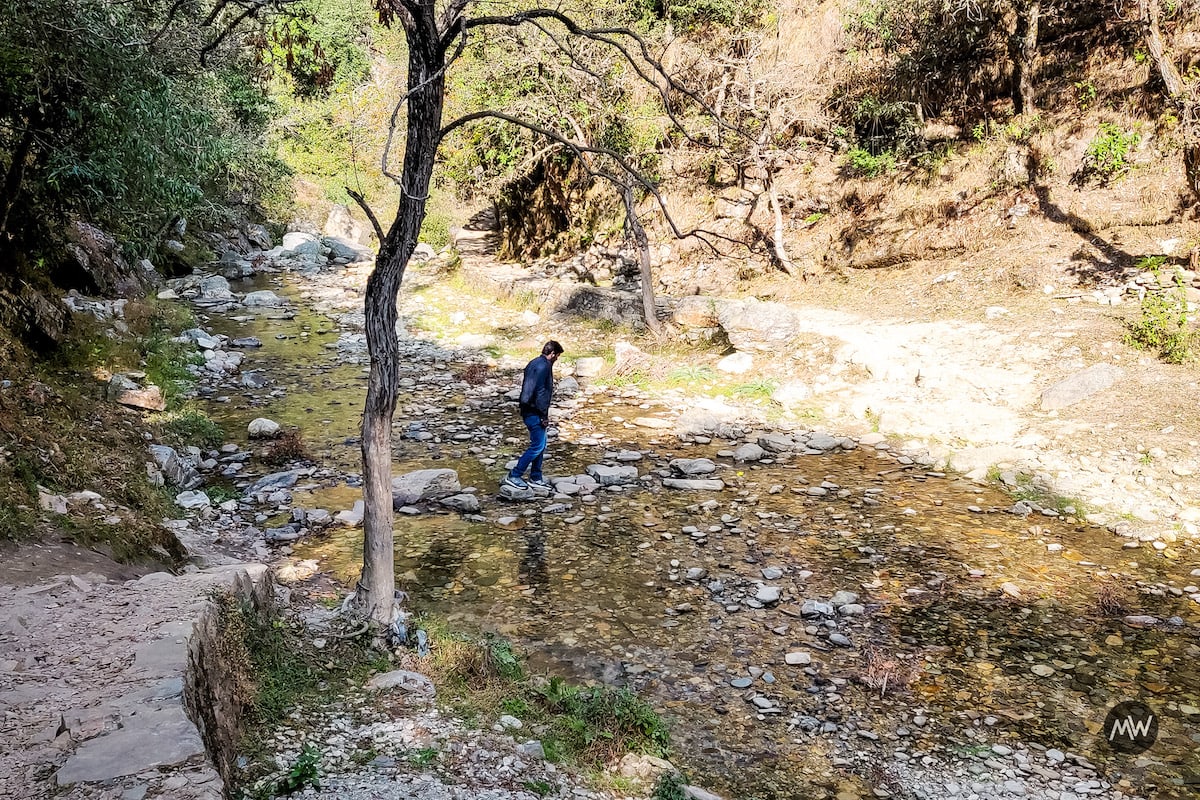 A nominal entry fee has been imposed by the authorities just to keep this place clean and make people aware of the importance of this hidden treasure. The trail is rocky which goes through a mountain stream at the foot of the hill. Since we were there at an offseason, there was no one there and we felt like we own this place for a while. We just followed the trail and reached a small waterfall with chilled crystal clear water. We were happy that we made it to this place in less time than we expected.
As we were just relaxing there with our numb feet inside that chilled water pond, a villager passed by and told us with a smile mixed with charade not enough to offend us that the main Bhalugarh waterfall is still 1 km ahead. We looked at each other and mocked at our momentary pleasure of achieving more in a shorter time. We thanked that village guy for his gesture and moved ahead.
Climbing through many rocks and through narrow trails we reached the original Bhalugarh waterfalls. It was undoubtedly a hidden treasure. With its clear blue water pond and a just perfect water stream falling from a height, I was awestruck and thanked that villager many times in my head for rescuing us and showing us the right path.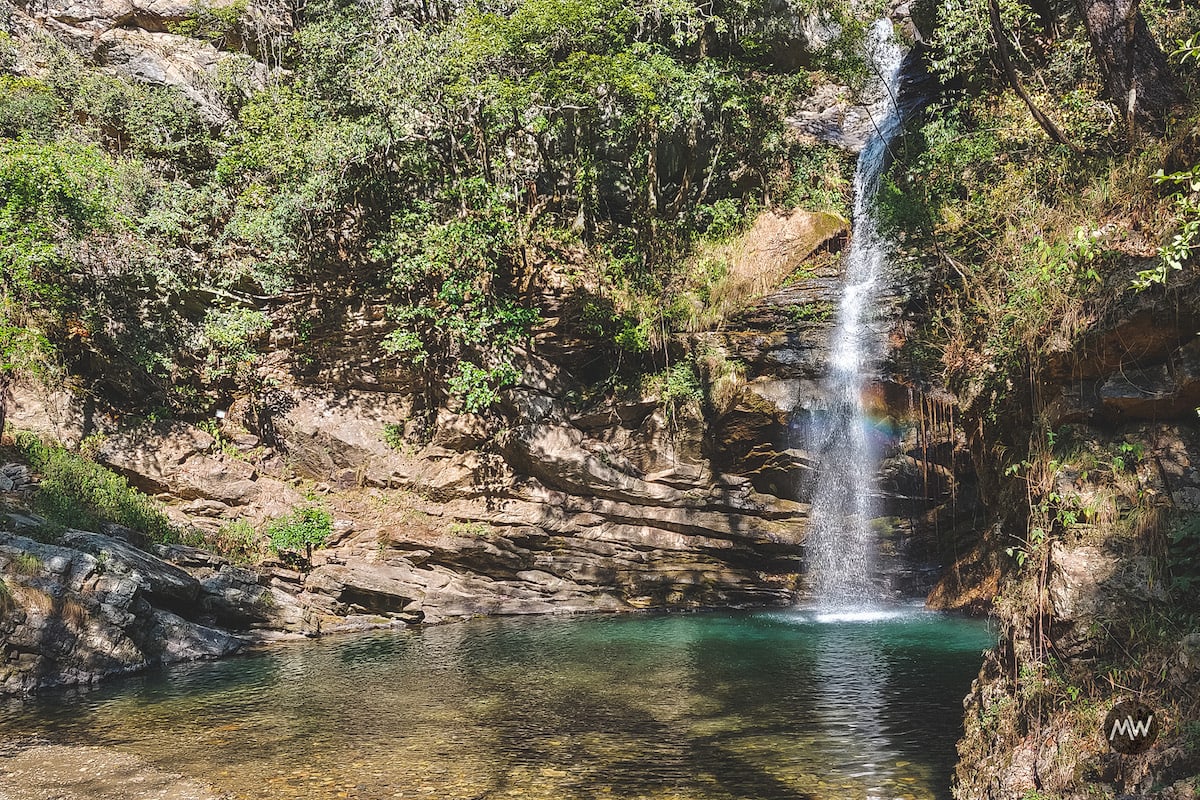 A family group also reached there after some time and their guide told us that the pond is more than thirty feet deep and lifejackets are provided to those who want to enjoy swimming but since it's an offseason, swimming is not allowed. We stayed there for few hours after soaking up the serenity of the place and then returned as it had started to get dark and we did not want to find out whether the name Bhalugarh holds any reality or not.
We came back to our hotel and had an awesome dinner in the TRH restaurant itself which was worth every penny spent. The next morning we had to get back to Kathgodam very early and go back to our respective usual lives. I was a little low on spirits as I wanted to see the sunrise show again but instead, I might be sleeping in the cab and reaching Kathgodam to catch up on my train. We took our last evening walk in Mukteshwar and packed our backpacks for our return.
As I was returning from this place, I asked myself what I received here. What Mukteshwar give us? Most of the people may have this idea that leaving all the worldly things behind and coming to this serene place between the Himalayas can be stated as Mukti or freedom.
---
Adios Amigos
Freedom from mere pleasures that is not permanent. Freedom from urban clutters and roboticism. I couldn't agree more. But suddenly one thing struck my mind. Was it the actual freedom or Mukti we are searching for? If I have received all these types of freedoms in these 3 days, why I don't want to go back? Why I was seeking reasons to stay behind? This all was cooking up in my head while I was in my cab to Kathgodam.
The sun had just started to show up and the very first light rays captured the snowy white mountains just like a child grabs his favorite toys as soon as he gets up. I saw the last glimpse of mighty snow-laden and calm Nanda Devi and suddenly it vanished as we took a turn on the hill. Something flashed in my mind and it made me smile.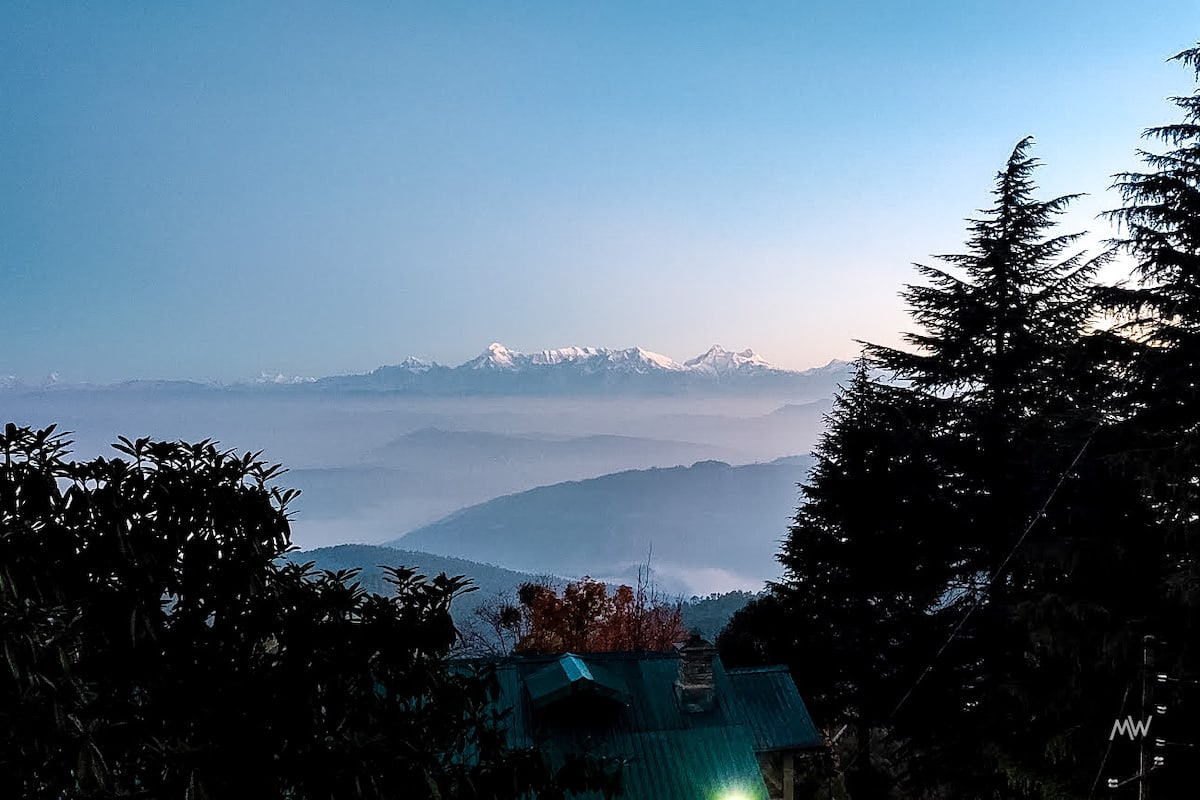 Mukteshwar taught me that leaving behind what you love and want to stick to is what actual freedom or Mukti is. I came here, loved this place and didn't want to go back. This is what we call getting wrapped up in worldly pleasures. Leaving it behind and moving on to our journey is real freedom. Mukteshwar is such a place. It teaches this in a very peculiar way. I felt relaxed and wanted to share this thought with my co-travelers who were sleeping. Maybe they were reaching their salvations after being exhausted by the trekking yesterday. I decided not to disturb them in their path of salvation and joined them.
---