Mysore city of Karnataka state is the pride of not only Karnataka but the entire country, it is a focal point from the ancient Vedic period to Mughal rule. Moreover, it is also called the cultural capital of Karnataka.
The most prevalent building in Mysore and the most visited as well as the alluring Mysore Palace. And today in this post let's go to the Mysore Palace virtual tour through Mysore Palace images captured by my lens.
I only used to pay attention to the mountains mainly and if the plan was to travel, then the mountains had been my first choice.
I had heard about the beauty of South India from word of mouth by many travel writers and gradually it increased my curiosity.
And consequently, I decided to take a solo trip to Karnataka in April 2019. When I witnessed this amazing palace from my own eyes, only then I understood its importance.
So, I have come with the Mysore Palace virtual tour to calm your itch and madness for travel. A visual treat, about a grandeur palace in the Mysore district of Karnataka.
---
---
Virtual Tour – Things To Keep In Mind
Before taking the Mysore Palace virtual tour, you have to pay special attention to these things, which are as follows:
The month of April is hot and sunny, and the time is around noon.
The sky is absolutely clear and it is a sunny day.
We are in Mysore – the cultural capital of Karnataka, a few hours away from Bangalore.
It is one of the most visited palaces in India.
You and I are good friends and since I have been around before, you can also call me your guide.
Everything shown here is in chronological order.
Since this is a virtual journey, focus more on photos.
The Mysore Palace Virtual Tour
I would like to clarify that this is not like a normal journey, and if you read this article keeping in mind the points above, then believe me you will feel a miracle and it will look like a life journey to you. Overall a meaningful experience.
Since this is the Mysore Palace virtual tour, apparently a virtual travel, try to feel the words and pics.
Reaching Mysore Palace
We have already wandered the Chamundeshwari temple and Ranganath Swamy temple and now it is almost 1 o'clock in the afternoon. We are enjoying the cold lassi and hot chaat at the local bus stand, then you asked what to do now?
I quickly said that the grand Mysore palace is also a part of this city and where people from abroad and abroad come to see the beauty and grandeur of this palace. We both nodded in agreement.
After a little research on Google Maps, we found that the palace is situated at a distance of 150-200 meters, it acted like an outbreak of petrol in our veins. On talking about taking a cab or rickshaw, you dismayed and said that let's go by foot.
We started walking, looking at the mundane activities around us. A man is repairing a sandal on the side of a thick road. Then you saw that a little girl is buying a balloon from the hawker, with curiosity and sparkle in her eyes. Seeing this made us smile as if some childhood memories had strikes our senses.
"Look at the entrance." You speak, as you see the entrance gate from a distance. In the mind, clouds of eagerness and hilarity started hitting, as if a rush of extra energy has come to us. We bought the ticket and started walking towards it.
See, the grandeur entrance of the palace that made us go 'wow.'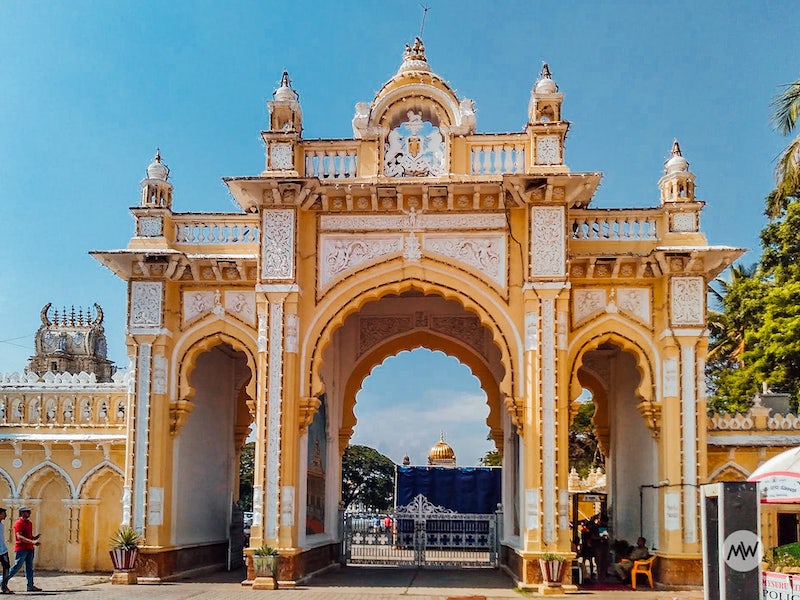 After walking a few steps, there is a temple built in the Dravidian style on the left, you also merge in its adorableness. This is the Kodi Bhairava Temple dedicated to Lord Shiva. See its beauty: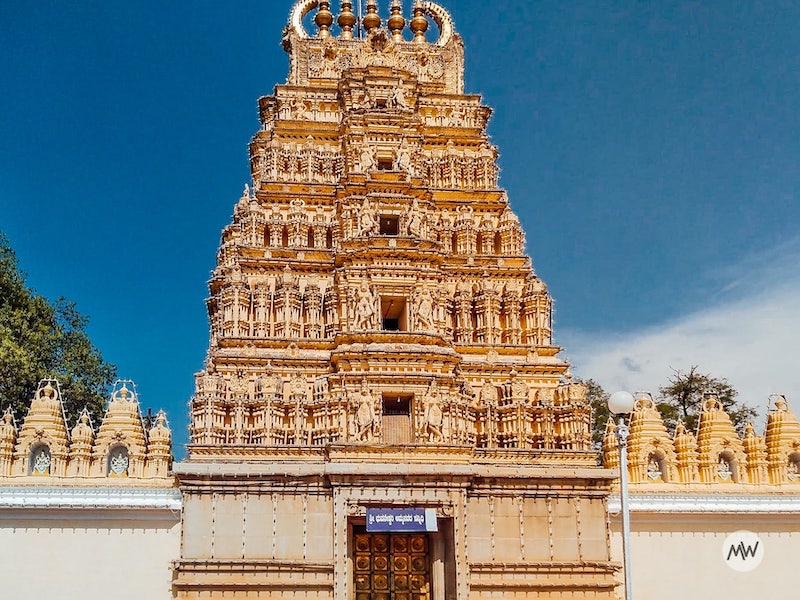 Then a hazy image of the Mysore Palace started appearing. Such a large complex! Imagine the majesty of the kings.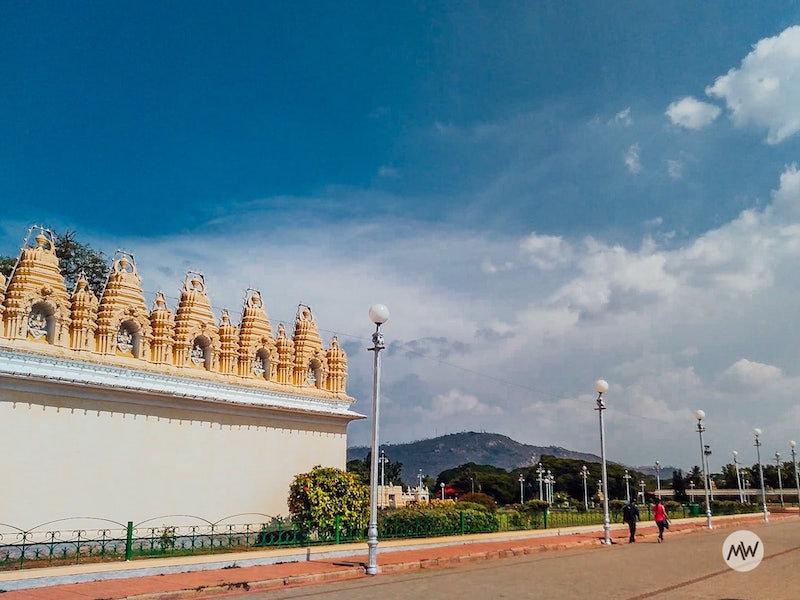 A few steps later, you and I have come right in front of the palace, from here the palace looks even more grand and attractive, see for yourself: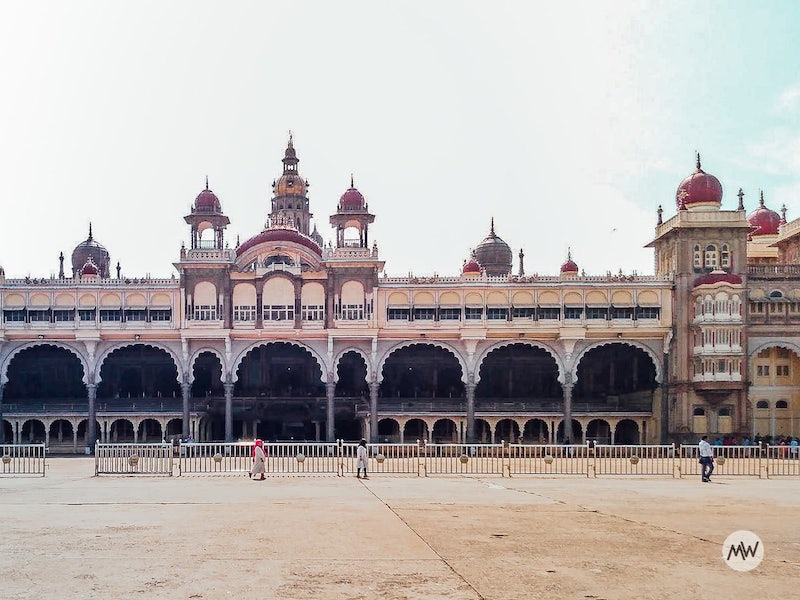 There was a desire in my heart to see that red dome closely. You too, could not stop yourself. We saw it like this: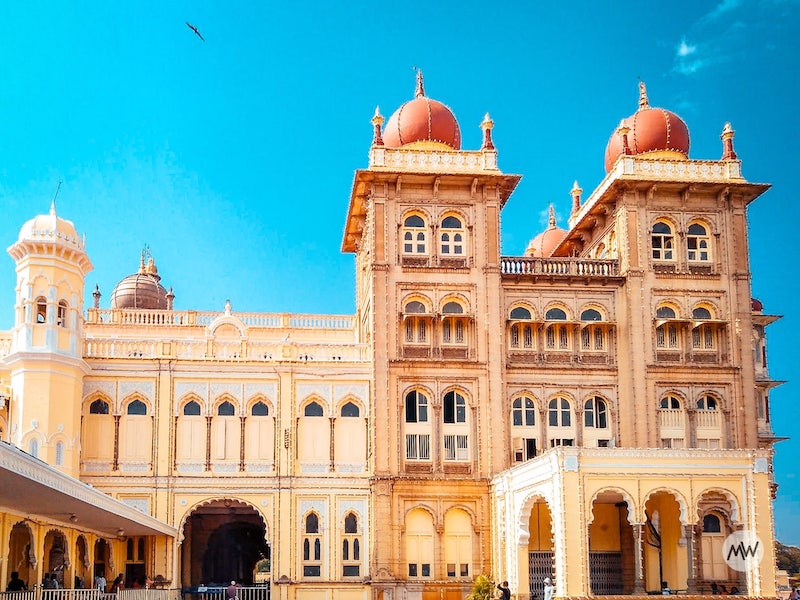 A palace guard tells us to go from a particular side and as we go on the path indicated by him, we find that there are people standing in a row nearby some 3 or 4 counters.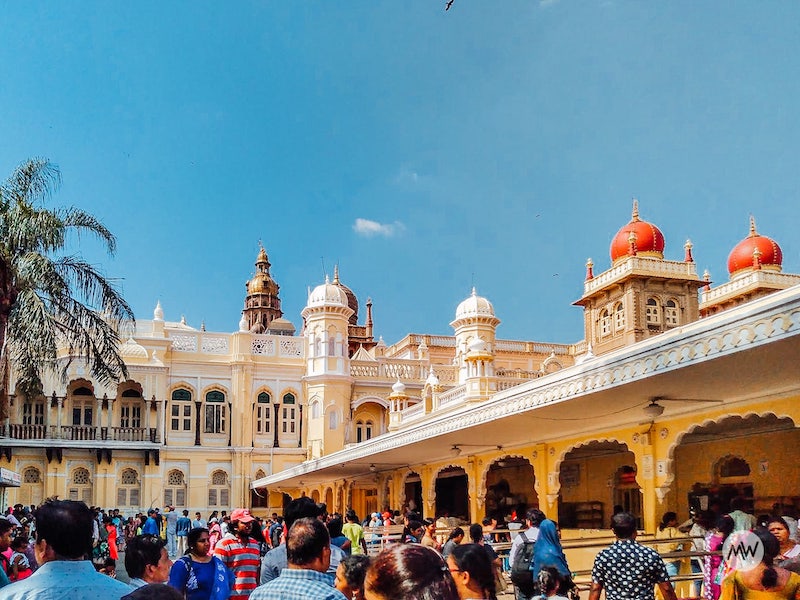 "Okay, we have to deposit sandal & shoes here!" You mumbled. We collected our slippers and took tickets. Then as soon as you enter, you get caught towards the walls and roofs of the palace.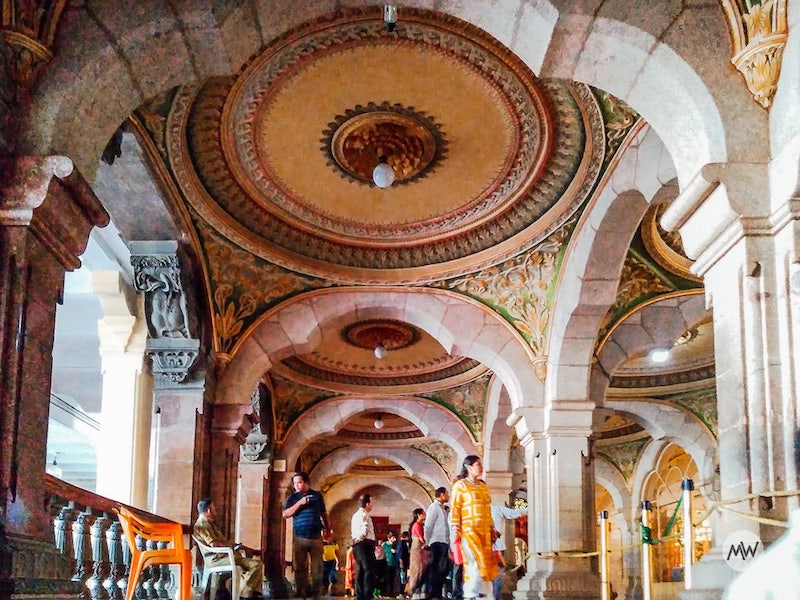 "What an adorable and fine carving, no? How much time and labor must have gone into its design," you pondered.
Let me tell you that now we are entering the Durbar Hall, see the walls here (in pics). It is so made that the open ground in front is visible. Maharaj used to have court for the general public and used to watch the presentation of cultural programs from here.
See its grandeur and feel what everything would have been like at that time.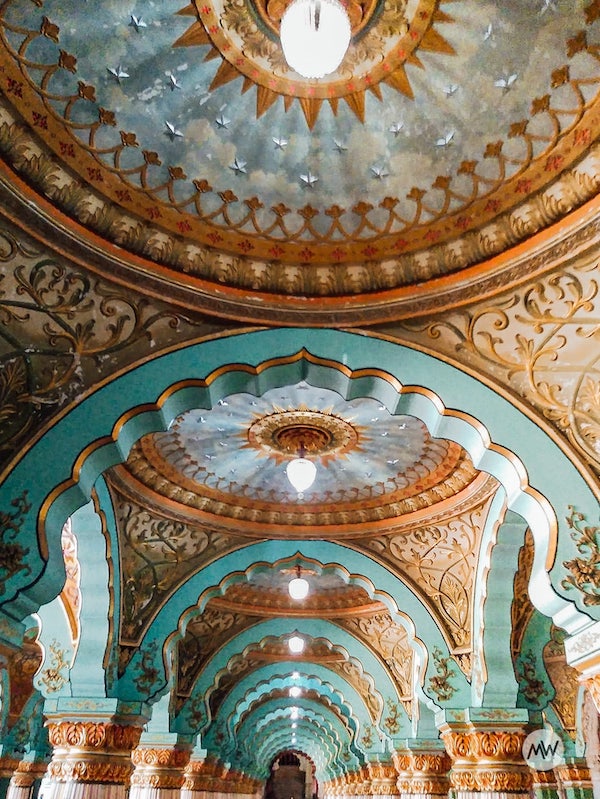 "Hey brother there is something too." You gesture, and we arrive at a gallery where there are paintings of the chiefs of the royal houses and some Englishmen. These paintings looks so vivacious, see: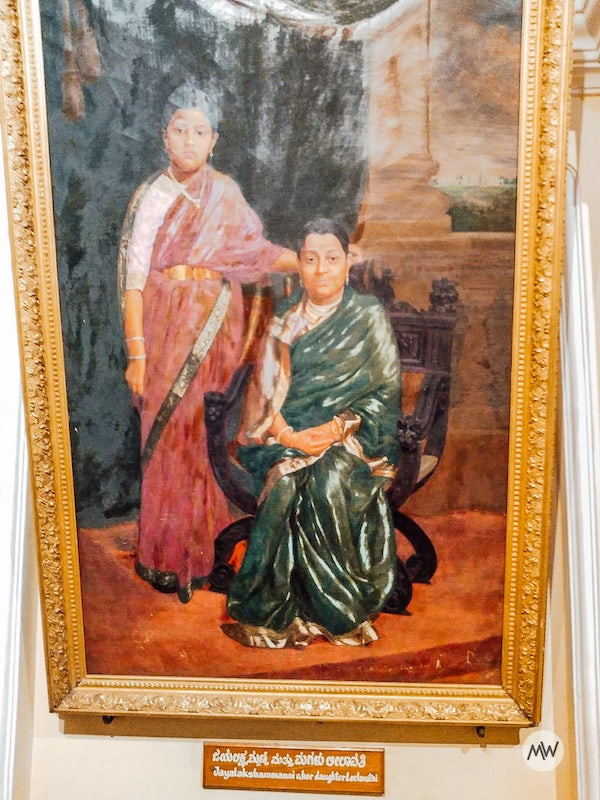 The next part is the Kalyan Mandap. You asked what is the importance of this? I go on explaining that Kalyan means marriage, this is the place where weddings, birthdays and other celebrations of royal homes were celebrated. Wooed, you ponder in admiration looking the beauty.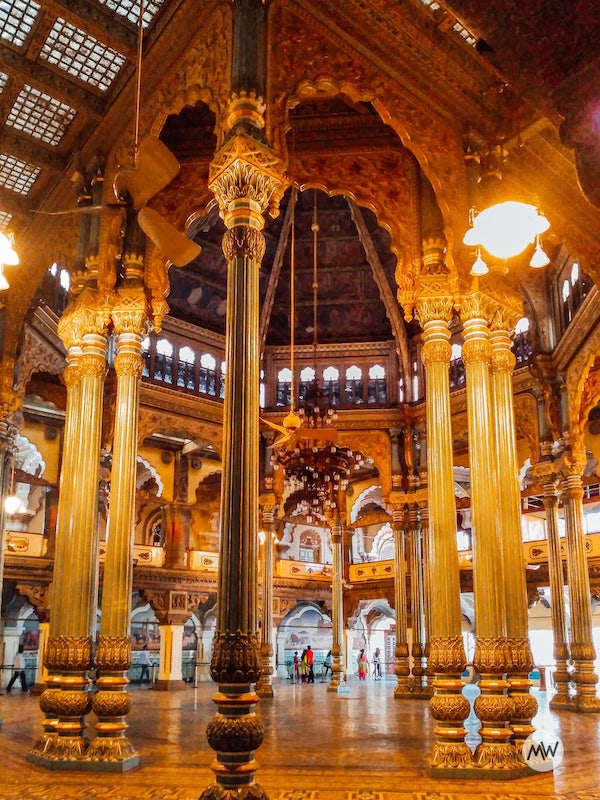 I saw that there was a rush of people going into a room. Let's see what that is? Throne and some chairs. Oh brother, these are not just chairs, they are the chairs and throne of the royal houses. There is also a statue of Krishna Raja Wadiyar nearby which looks surreal, see: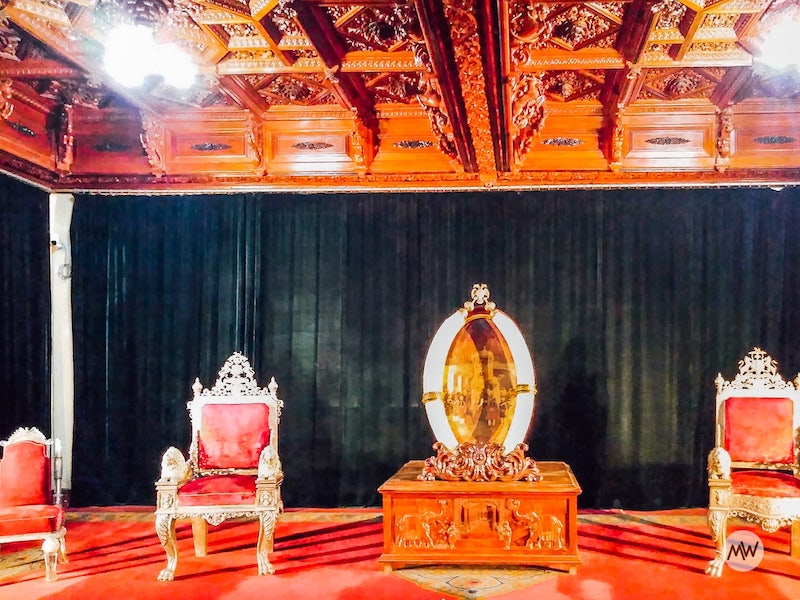 And now it has come, its main part where you are not allowed to go. However, you can see it from a distance. Here the king used to have discussions with his chief advisers.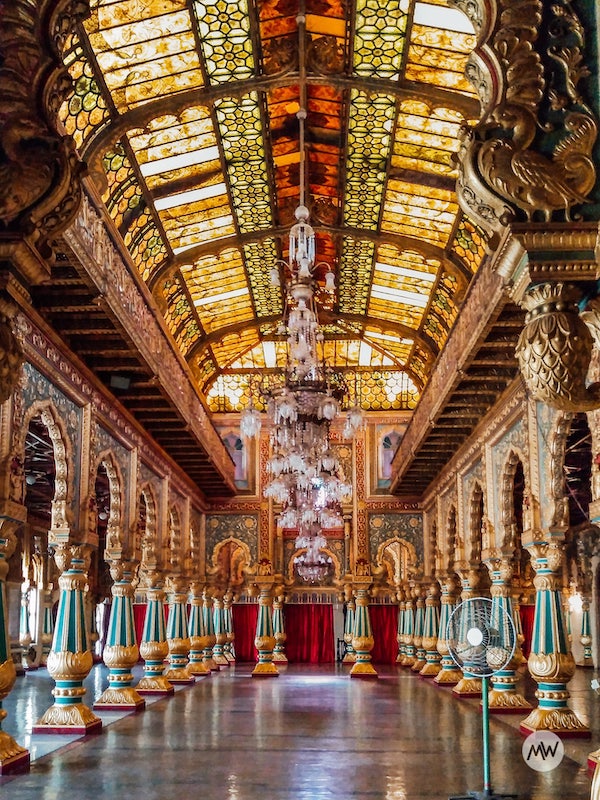 Some More Important Things
Every day, in the evening, the palace is illuminated with light, it looks very beautiful and worth watching.
Take a bottle of water with you because you have to walk a lot.
Must wear light clothes and spend at least 2-3 hours.
Observe and study everything in detail.
Know a Little Bit of History
The building used to be the residence of the Wadiyar dynasty, who ruled from 1399 to 1950. In a way, this palace was considered a stronghold.
Although the original palace was built in the 14th century, the building was finished in 1912. Earlier the palace was made of sandalwood which was very badly affected in an accident. This caused a lot of damage to the palace.
The wooden palace was destroyed by fire in 1897, when the marriage ceremony of Princess Jayalakshmi Amani, eldest sister of His Majesty Rajarshi Krishnaraja Wadiyar IV, was taking place. That year the young Emperor of Mysore, the Queen and her mother, Queen Vani Vilas Sanidhana, handed over the British architect Lord Henry Irwin to build a new palace.
Lord Irwin was a British architect who designed most of the buildings in South India. The construction of the palace was completed in 1912 at a cost of 42 lakh rupees. It was expanded in 1940 under the rule of Jayachamarajendra Wadiyar, the last Maharaja of the Kingdom of Mysore.
Tickets & Timings
The ticket price and timings (in 2019) for BOTH Indian nationals and foreigner are the same and as follows:
| Ticket Price (INR) | Palace Timings |
| --- | --- |
| 70 | 10 am to 5:30 pm |
Where to Stay in Mysore?
Being a historical and main attraction city, it is a major tourist destination. Here you have a choice of cheap hostels to five-star hotels. You can choose the accommodation at your convenience.
How to reach?
By Road
Bus to Mysore is easily available from Kampegowda Bus Stand in Mysore. You can also resort to private buses.
By Rail
Mysore railway station is well connected to all stations. It is easily accessible from all the railway stations of Bangalore.
By Air
The nearest airport is Bangalore International Airport, which is located at a distance of 170 km from Mysore. From here you can take cab, bus or train.
---
Conclusion
And thus our journey ended. How did you find the Mysore Palace virtual tour? Feeling something different, amazing? You nodded your head and gave a smile.
The Mysore Palace is also included in the UNESCO World Heritage List. It is also the most visited place after the Taj Mahal, one of the seven wonders. By the way, if you have not gone on a virtual trip to the Taj Mahal, you can do it here.
Leave your thoughts in the comment box.
---