Here's a shocking fact: Mysore Palace was once entirely made of wood!
Yes, the fine architecture of Mysore Palace that you see today isn't relatively old; built between 1897 and 1912. Nonetheless, the experience is mesmerizing enough to attract millions of people from around the globe.
In this travel guide, we will take you to Mysore Palace virtually and share vital information to help enhance your experience. Further, we cover everything about Mysore Palace—from brief history, architecture to practical travel tips and accommodation options.
So, when you plan to visit it, you will make the most of your visit.
Let's dive in now.
---
---
Notice: This post may contain a few links which might earn us financial support when you buy or make any reservations through them. They're in no way affect our opinion or the information presented here.
Mysore Palace History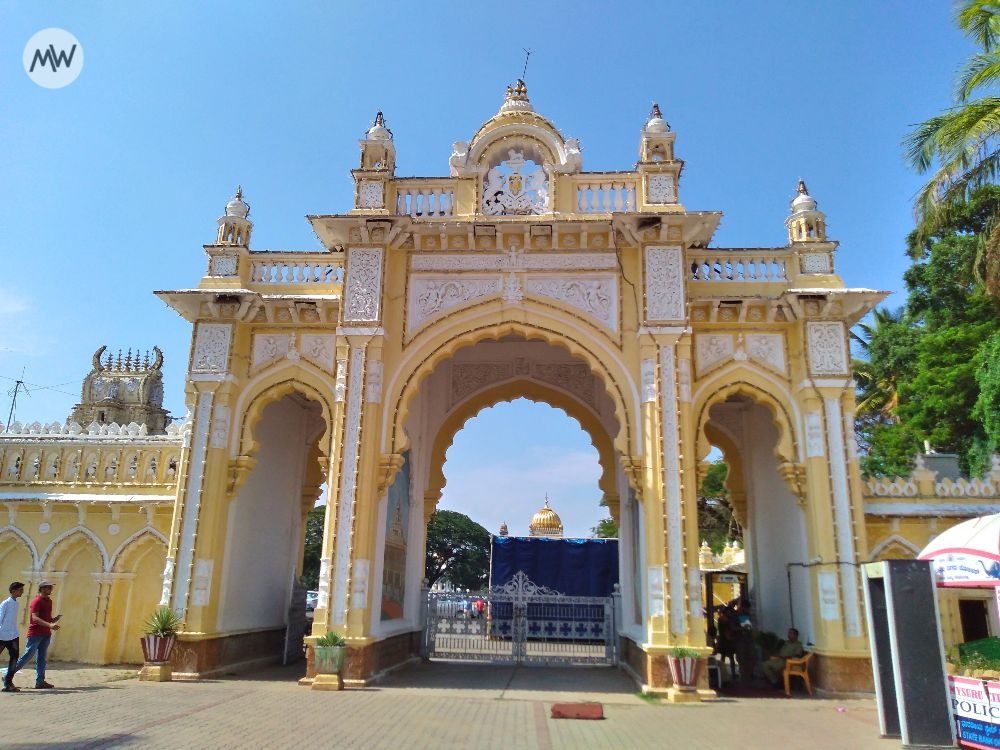 Mysore Palace used to be the residence of the Wadiyar or Wodeyar dynasty, which ruled from 1399 to 1950. It was considered a stronghold for the Wadiyar dynasty.
Although the original Mysore Palace was built in the 14th century. It was a palace made of sandalwood, destroyed in 1912 in an accident. Consequently, causing significant damage to the premises.
There are many legends behind that accident.
Some say it was a fire accident in 1897 when the marriage ceremony of the eldest sister of Rajarshi Krishnaraja Wadiyar IV, Princess Jayalakshmi Amani, was taking place. Some also claim it happened during the Dussehra festivities.
But who built the Mysore Palace which you see now?
That year the young Emperor of Mysore, the Maharani, and her mother, Maharani Vani Vilas Sannidhana, handed over the construction of a new palace to the British architect Lord Henry Irwin.
Lord Irwin has designed most of the buildings in South India. The palace's construction was completed in 1912 at the cost of ~ INR 42 lakh.
Further, it was expanded in 1940 during Jayachamarajendra Wadiyar's reign, the last Maharaja of the Kingdom of Mysore.
Mysore Palace Architecture
As you walk onto the premises of Mysore Palace, after getting the admission tickets, you will see a beautiful Dravidian-style temple on the left side.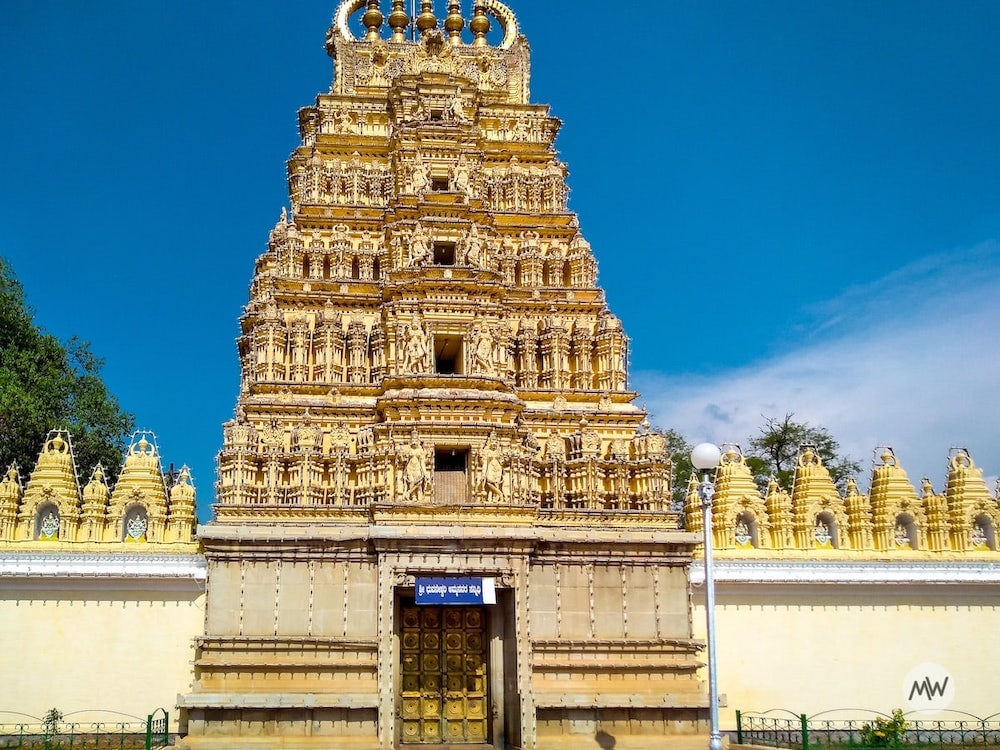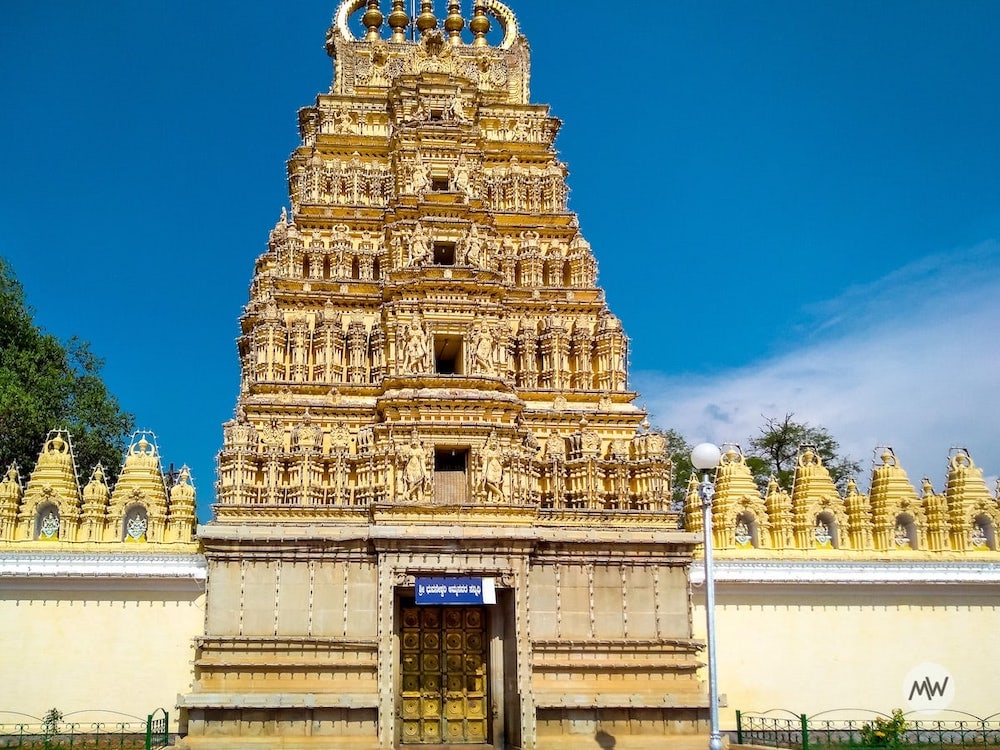 The Mysore Palace is a three-story palace made of fine gray granite. It is covered with dark pink marble stones. The size of the palace is 245 feet by 156 feet. The domes depict Indo-Saracenic architecture, implemented by British architects in the late 19th century.
The Mysore Palace incorporates elements of Indian, Indo-Islamic, Neo-Classical, and Gothic styles. Three gates of the complex lead to the palace – the front gate (especially the eastern gate) is open for VVIPs and otherwise during the Dussehra; The South Gate is designated for the general public, and the west gate opens during the Dussehra.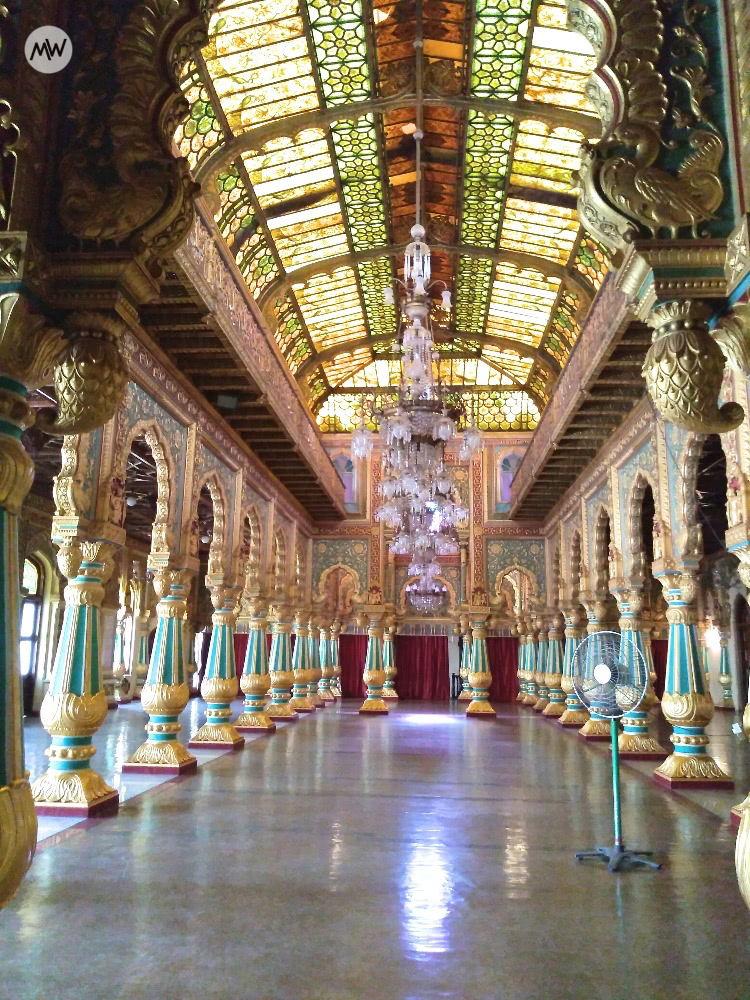 There are many secret tunnels in the palace's basement that lead to hidden areas and other places like the city of Srirangapatna. Several fancy arches adorn the front of the building.
An idol of Gajalakshmi, the goddess of good fortune, prosperity, and wealth, also features elephants perched atop the central arch.
Situated in front of Chamundi Hills, the palace reflects the devotion of the Maharajas of Mysore to Goddess Chamundi.
You can also see a large, beautiful, well-maintained garden around the palace which adds to its beauty.
Inside Mysore Palace: The Grandeur of Magnificence
The three foremost attractions of the Mysore Palace are Durbar Hall, Amba Vilas, and Kalyan Mandap.
Durbar Hall
Maharaj used to address the public from Durbar Hall. It is similar to Amba Vilas Hall but is more prominent in appearance. You can see the main gate from here. Maharaja used this balcony to talk to his people and for festivals and celebrations.
The hall is completely decorated with paintings in pink, yellow, and turquoise colors with painted pillars.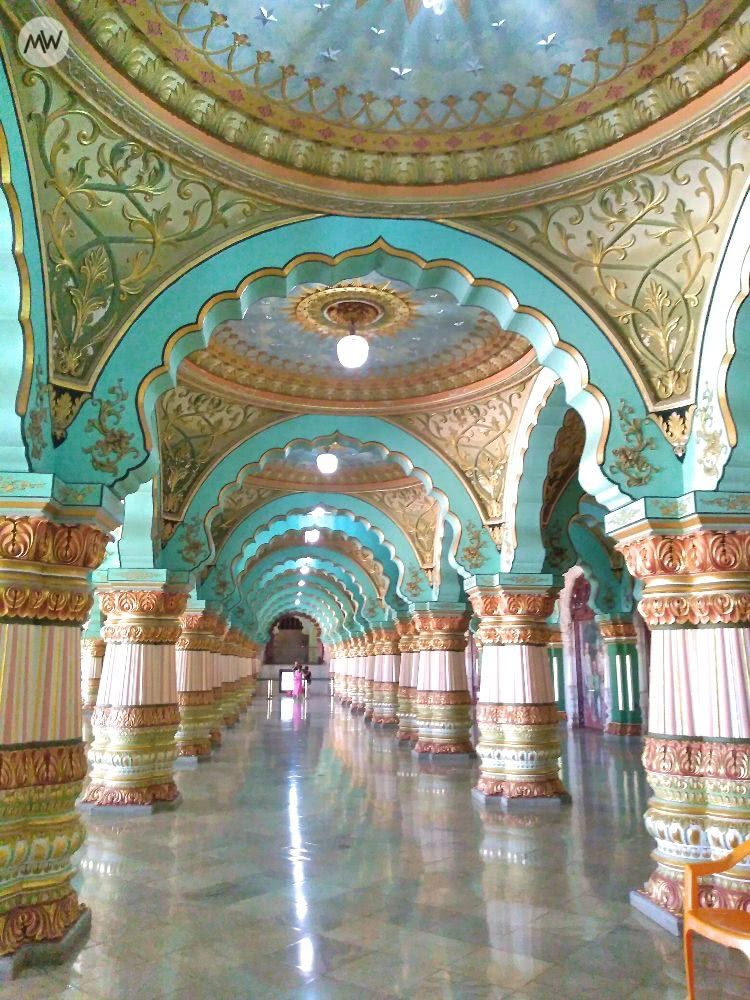 Amba Vilas Hall
This room is even more spectacular than the Durbar Hall because of the use of gold plating on the stones. The glass ceiling, a masterpiece, gives it an exquisite look. Since this is the main attraction, it is permanently crowded.
Beautifully carved rosewood gates are ornately decorated with ivory. The hall decorated with glass ceilings, golden pillars, captivating chandeliers with floral motifs, and mosaic floors makes this part one of the palace's most beautiful rooms.
Kalyan Mandapa
Kalyan Mandapa is also known as Marriage Hall. It will leave you speechless.
The hall is octagonal, notable with its vaulted ceiling and gilded pillars. It will be a delight to watch the glass ceiling with peacock motifs, which are reflected on the floor as well.
Apart from these three prominent attractions, there are some other parts mentioned below.
Dolls Pavilion or Gombe Thoti
It is a unique place that displays an exquisite collection of dolls from the 19th and 20th centuries. These are traditional dolls.
The mandapa houses a wide array of sculptures, both Indian and European, and ceremonial objects.
One such item is the wooden elephant which has been embellished with about 84 kilograms of gold.
Portrait Gallery
Another place in the Mysore Palace for art lovers is the Portrait Gallery, which houses various paintings of the royal Wadiyar family.
Situated on the southern side of the Kalyan Mandap, this gallery displays a range of paintings and photographs of the royal family, such as the Krishnaraja Wadiyar IV portrait and black and white images.
It also shows pictures from Jayacharamajra Wadiyar's marriage to the Princess of Jaipur and the famous royal artist Raja Ravi, works of Verma, and more.
Best Time to Visit Mysore Palace
The best time to visit Mysore Palace is the festival of Dussehra, as this festival is celebrated with great pomp here. If we talk about the months, the weather is suitable for visiting is from October to March. You can visit the palace from 10:00 am to 5:30 pm.
The Mysore Palace entry fee is as follows:
INR 70 per person for Indian and foreign adults.
INR 200 per person for foreign tourists (audio kit included).
INR 30 for children of 10 to 18 years.
The natural beauty of the palace comes when it is illuminated during the evening. Many tourists come to see this beautiful sight.
If you are interested in catching a glimpse of the illuminated palace, please note Mysore Palace timings:
Illuminated Mysore Palace Timings: 07.00- 7:45 pm (Only Sundays, National Holidays, and State Festivals).
Daily Sound and Light Show Timings: 7.00 pm (8 pm during weekends).
This light and sound show is called 45 Minutes Sound and Light Show.
There is no charge to see the lighting of Mysore Palace.
How to Reach Mysore Palace?
Railways
Mysore Railway Station is well connected to Bangalore, Chennai, and other major cities. You can reach Mysore from Bangalore in 3 hours (~140 km).
Roadways
Mysore to Bangalore distance is 140 km. KSRTC and private buses operate regularly from Karnataka and all significant parts of the country nearby the state.
Airways
Mysore Airport is located at a distance of 10 km, and Bangalore airport at a distance of 140 km. KSRTC operates Flybus airport service from Bangalore airport to Mysore.
Where to Stay in Mysore?
From affordable hostels to luxurious hotels, many options are available in Mysore.
You can choose the hotel according to your convenience and budget. For hotel booking information in Mysore, view our partner website.
Some Key Points
Shoes and slippers are deposited at the counter before entering the palace.
Another highlight of the palace is the light show, which usually occurs from 7:00 pm from Monday to Saturday.
You can take the camera inside the premises.
If you want to travel well, you must give at least 3-4 hours.
On the occasion of Dussehra, the palace is well decorated, and grand celebrations are organized.
FAQs About Mysore Palace
What is famous in Mysore Palace?
Mysore Palace is famous for its grand architecture and pavilions. It includes Durbar hall, Kalyan Mandapa, 85 kg elephant seat of the king, dolls pavilion, and portrait gallery.
Who built Mysore Palace?
After the loss of the initial wooden palace, the Emperor of Mysore then handed over the construction of a new palace to the British architect Lord Henry Irwin. It was built in Indo-Saracenic style between 1897-1912.
Did Tipu Sultan live in Mysore Palace?
No, Tipu Sultan never lived in the Mysore Palace. Although his sword placed here is a great attraction.
When was Mysore Palace burnt?
Mysore Palace was burnt in 1897 in a fire accident when the marriage ceremony of Princess Jayalakshmi Amani was taking place. Moreover, some people also say that it happened during the Dussehra festivities.
Is photography allowed inside the Mysore Palace?
Photography is allowed inside the Mysore Palace. 
Why is Mysore called the City of Palaces?
Mysore is called the 'City of Palaces' because it beholds seven palaces. They are Amba Vilas Palace, Jaganmohan Palace, Lalitha Mahal Palace, Rajendra Vilas Palace, Cheluvamba Mansion, Karanji Mansion, and Jayalakshmi Vilas Mansion.
What time does Mysore Palace light up?
The Mysore Palace lighting timings are 7 pm to 7:45 pm on all days except Sundays and public holidays.
---
Final Thoughts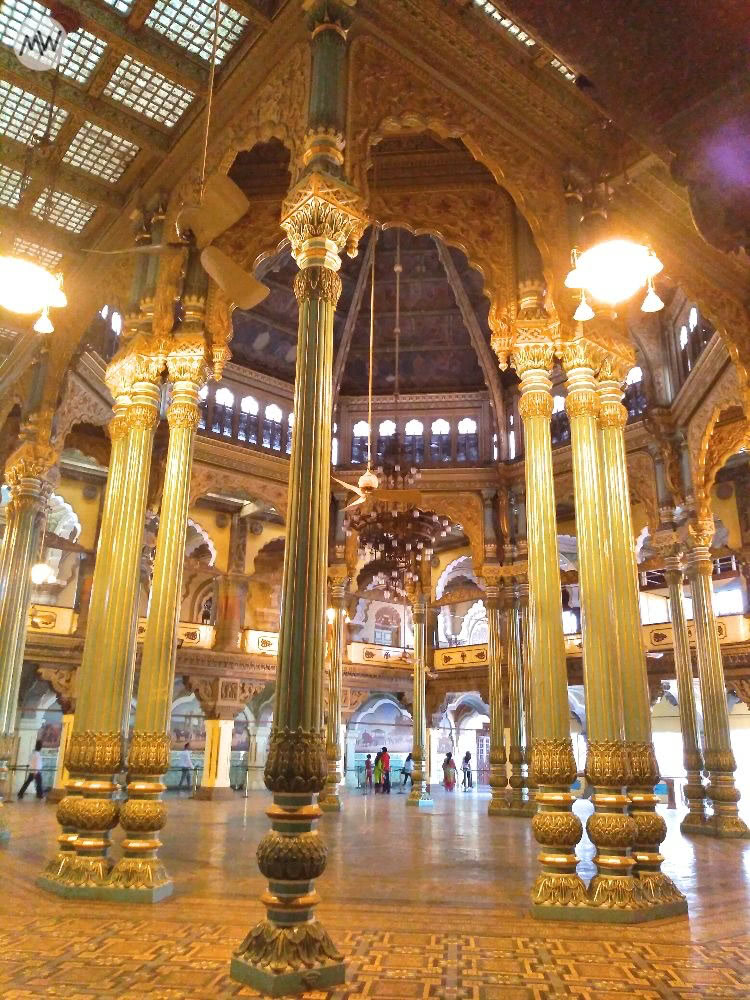 So this was a short travel guide to Mysore Palace. We have covered brief history, practical travel tips, tickets, timing, and many other aspects that will help you explore this place.
We hope you will like the article. Further, if you have any opinions, suggestions, or questions related to Mysore Palace, please let us know in the comment box below. We will try our best to assist you.
For a more immersive experience, check out our virtual tour of Mysore Palace.
---
An appeal: Please do not throw litter around. Use a dustbin and if you can't find one, take the trash with you and throw it when you find one. Your small steps like this one can make the world clean and green.