Short, beautiful, and rewarding — that's how we'll describe the Nag Tibba trek to you. If you're looking for a snow trek or want to trek in the Himalayas when you have got a day or two, Nag Tibba is for you.
Nag Tibba trek is an easy to moderate level trek (could be hard for the unfit) in Uttarakhand, India. The one-way distance to the Nag Tibba's summit is 10 km, and the trek starts from a village named Pantwari, 100 km away from the state capital Dehradun.
This travel guide will tell you all the necessary things about the Nag Tibba trek: how to plan your visit, where to stay, the distance, and more.
---
Jump to Any Section:
Notice: This post may contain a few links that might earn us financial support when you buy or make any reservations. They in no way affect our opinion or the information presented here.
---
7 Things to Keep in Mind Before Going To Nag Tibba Trek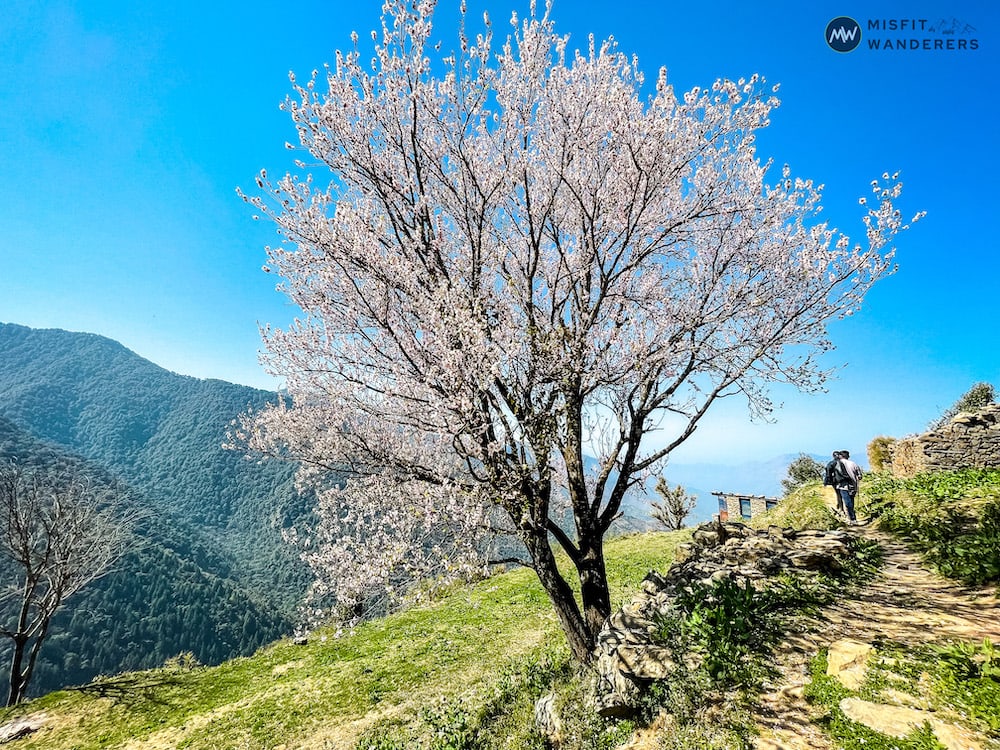 Here are a few essential things you should note down if you're planning to do the Nag Tibba trek:
Depending upon the time of the year, pack necessary clothes. Don't underestimate the cold because you're coming from a hotter region.
Buy some energy boosters for the way — chocolates, glucose powder, or energy drinks.
Keep more than one bottle of water. There's only one source of freshwater between the starting point and the base camp. However, you'll encounter one or two shops selling lemon water if it's the summer.
If you're not an experienced trekker or coming for the first time, it's good to go via a trek facilitator or travel agent. We have a trusted connection. If you want it, please contact Misfit Wanderers.
Ensure you have support for climbing. Either buy a trekking pole or take a temporary wooden stick from Pantwari village. Your trek guide will help you with the latter.
Also, if there's snow, please buy snow trekking shoes or snow boots to avoid serious accidents. Alternatively, you can get them on rent from Dehradun and Mussoorie.
You will need at least two days to easily cover and enjoy the Nag Tibba trek.
Nag Tibba Trek Route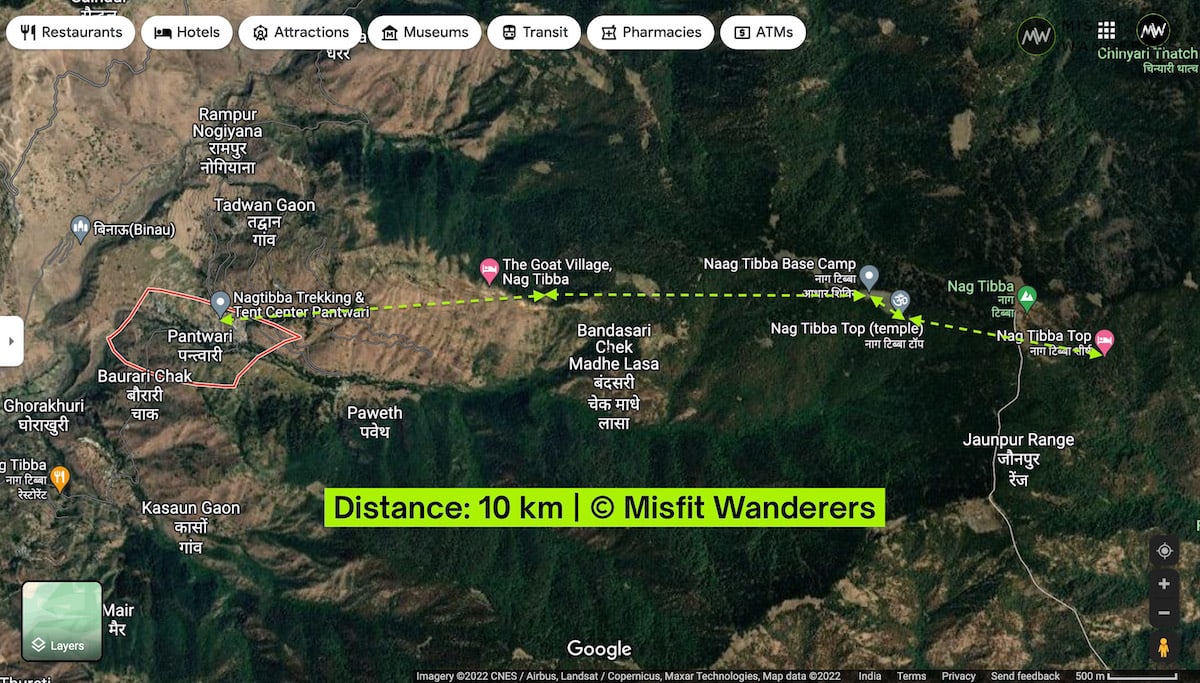 From the starting point, Pantwari Village, to the base camp of the Nag Tibba trek measures 5 km. This distance is comparatively more challenging than the rest of the trek. You pass through rough trails, not so steep but with small rocks, pebbles, and other wild objects.
However, the landscape you see along this trail is simply unexplainable. You might meet villagers selling lemon water or carrying heavy loads to the top. It is worth noting that most of the path of this 5 km doesn't have a shed, so be prepared to grapple with sweat if it's hotter when you're doing this trek.
After you reach the base camp, which is actually 5 km before the summit, you usually rest for the night. And then the next day, early in the morning, approximately around 3:30 am, you wake up and start the trek to the summit. If you don't want to see the sunrise, you can adjust the time accordingly.
Just before 1 km from the summit, you will see the Nag Devta Temple. He is the god of snakes and locals offer their prayers to Him for the protection of their cattle. Don't forget to visit this landmark!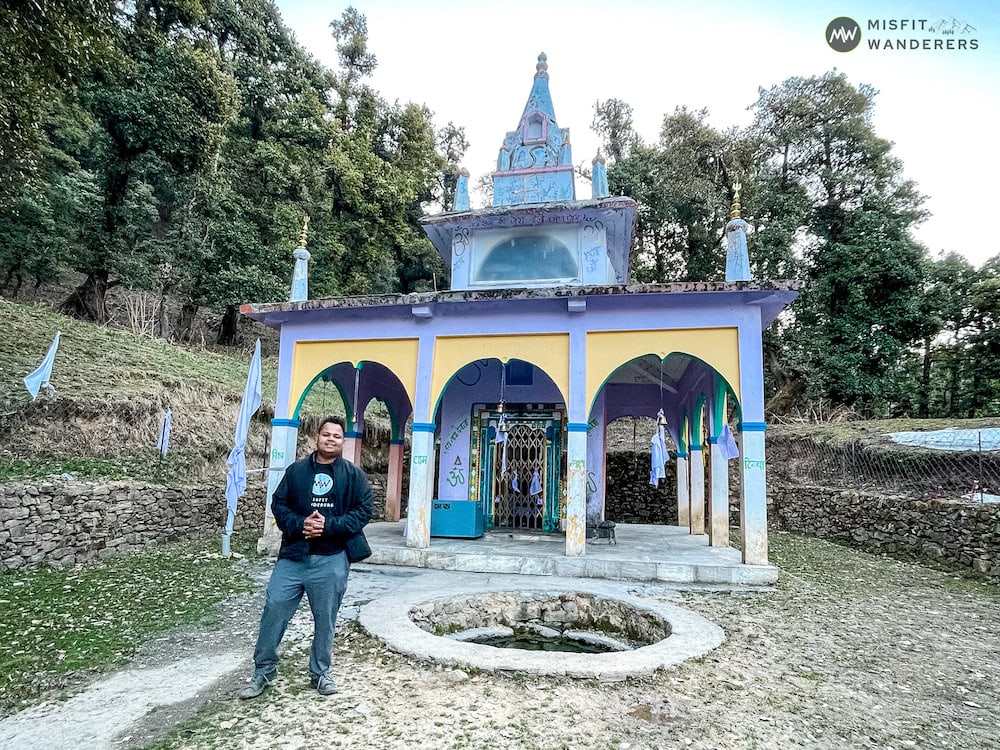 Furthermore, there's an on-demand taxi service; ask your travel guide. You can get a taxi, 2 km away from the base camp, to go to Pantwari and vice-versa.
Nag Tibba Trek Distance From Dehradun, Mussoorie, and Delhi
Nag Tibba trek starts at the Pantwari village. So, the distance of Nag Tibba from Dehradun is 100 km, from Mussoorie is 55 km and from Delhi is 380 km.
To do the Nag Tibba trek:
First, reach Dehradun,
Then take the government to operate bus or taxi to Pantwari village (your travel facilitator might arrange this as well),
Start the trek on or before 1 pm to reach base camp by the evening.
Best Time To Do Nag Tibba Trek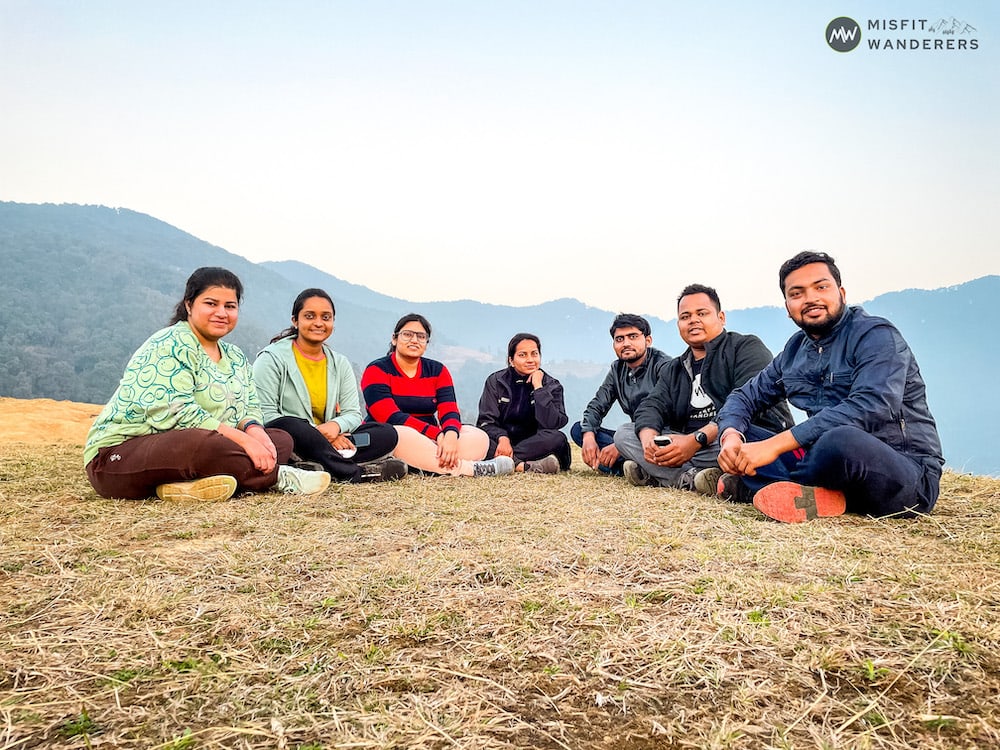 The best time to visit the Nag Tibba trek is October to March. However, if you want to see the snow and Nag Tibba hike in a whitish embrace, go in any month between January to March.
We went in March, and it was too hot during the day, but as we ascended from the base camp towards the summit, the temperature began to drop, and the chilly breeze was now hitting our cheeks.
Watching The Milky Way Galaxy at Nag Tibba
If the sky is clear and there's no moonlight, there's a strong possibility you can see the band of the Milky Way galaxy from the naked eye. We saw it during our trek to the summit, and man, it was awesome!
If you are a space lover or fancy celestial objects, plan your trip to Nag Tibba trek.
How To Reach Nag Tibba?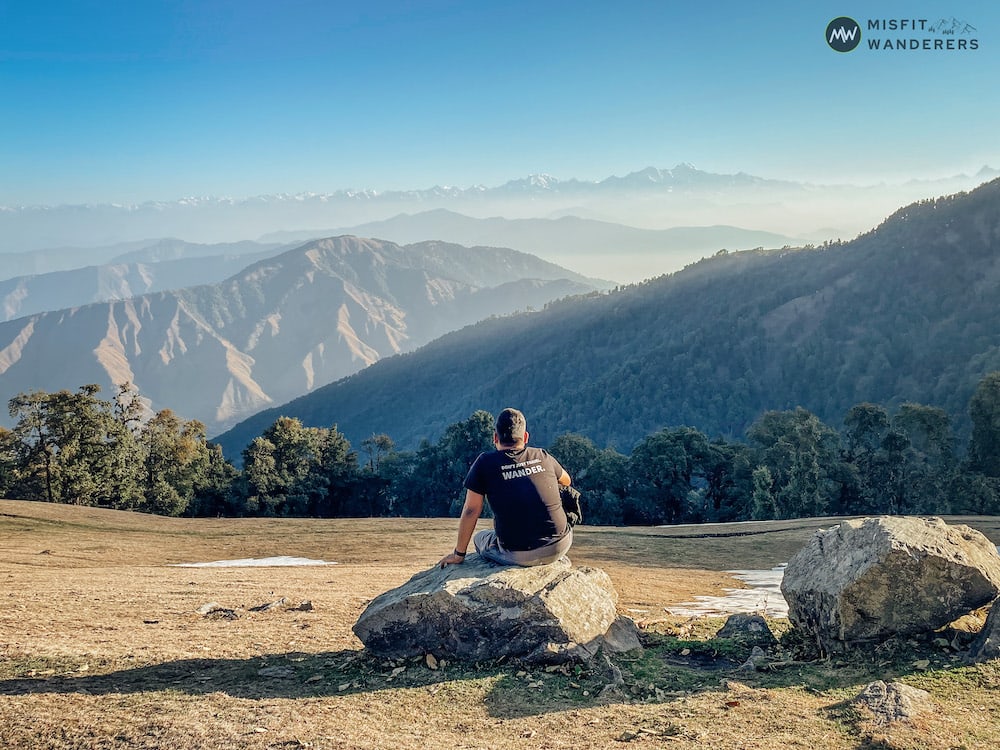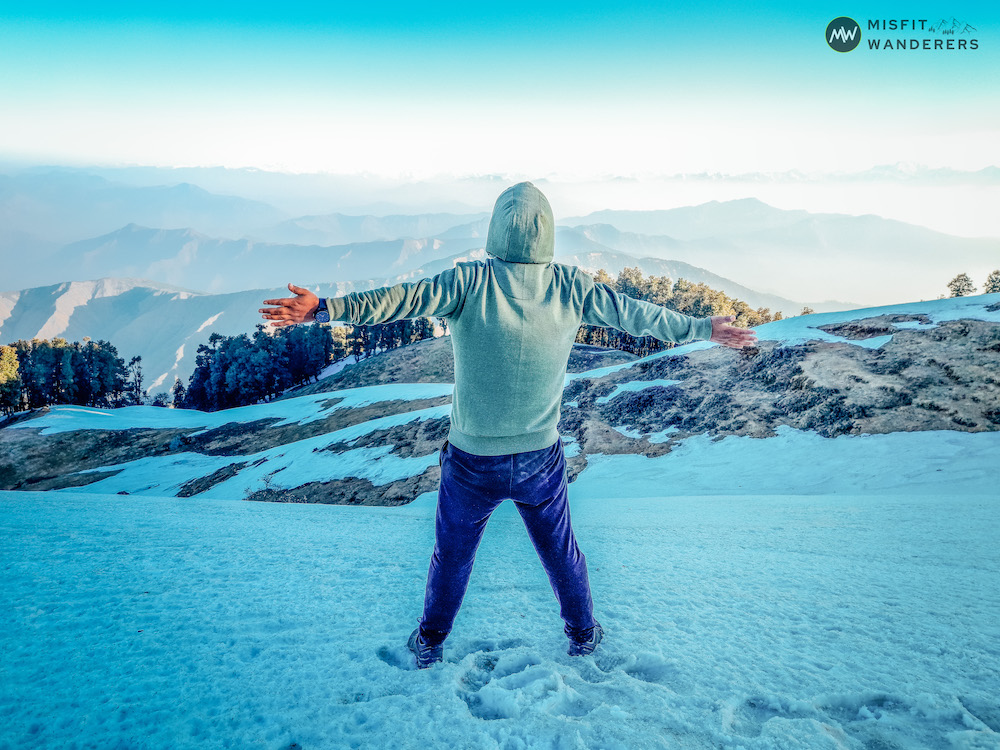 To reach Nag Tibba, you have to arrive at the Uttarakhandi village, Pantwari. And to get to this village, you have to take a private or public vehicle from Dehradun. Furthermore, you can reach Dehradun using the following methods:
Railways
Dehradun Railway Station (DDN) connects to significant stations in India, including Delhi and Lucknow.
Airways
The Jolly Grant Airport in Dehradun connects to many airports in India. You can easily find several cheap flights to Dehradun from different parts of the country and the world.
Roadways
Uttarakhand Transport Department runs regular buses from and to the surrounding states. For example, you can get frequent buses from Rajasthan, Haryana, Punjab, Uttar Pradesh, and Delhi. Don't forget to call the customer care of the relevant transport department to know specific timings.
Accommodation in Nag Tibba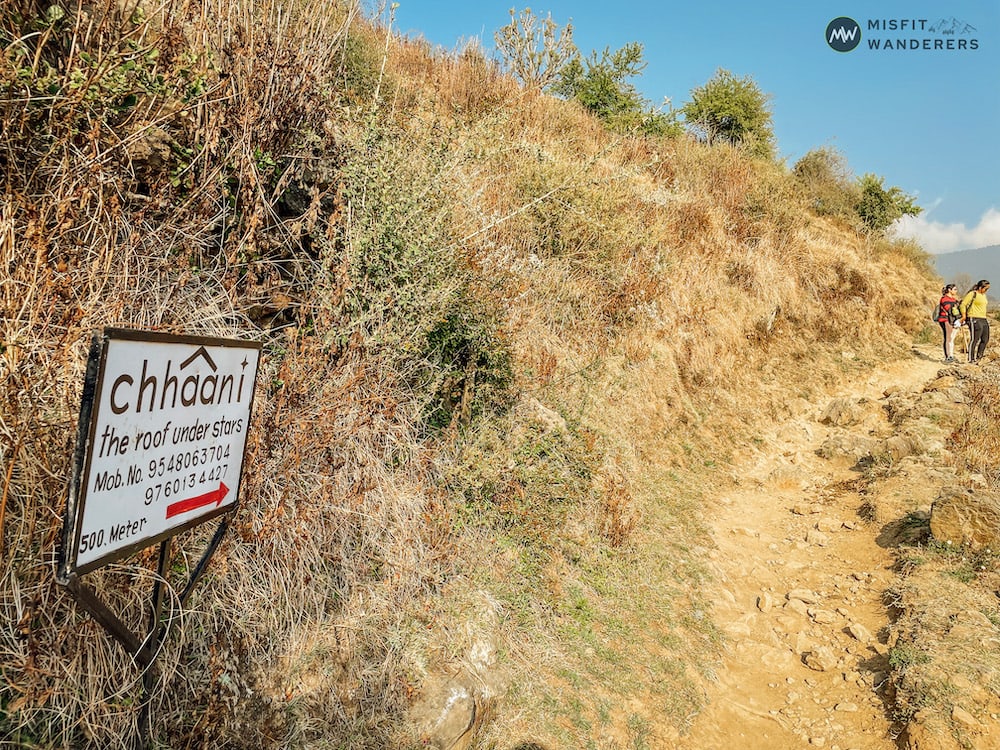 If you have booked your trek via a travel agency, they will already have accommodation sorted. If you are going without any travel agency, you will find accommodation in Pantwari village and at the base camp.
However, it is good to book ahead and visit in the off-season to avoid any tussle. Again, we have trusted contacts, so please reach out to the Misfit Wanderers if you want to do the Nag Tibba trek.
Conclusion
So, this travel guide will help you plan your Nag Tibba trek efficiently. You now know how you will reach Nag Tibba and the practical things you need to keep in mind. Moreover, you know which gadgets and accessories will help you.
Nag Tibba is the highest peak in the lower Himalayan region and one of the best snow treks in India. It not only offers natural vistas that will hook you forever, but it is one of the most easily accessible treks in India.
We wish you a fantastic Nag Tibba expedition.
Smart Suggestion: Dehradun Famous Places To Visit in One Day
---
An appeal: Please do not throw litter around. Use a dustbin and if you can't find one, take the trash with you and throw it when you find one. Your small steps like this one can make the world clean and green.
---