Can you answer? What is the same between famous shooter Abhinav Bindra, best-selling author Amitav Ghosh, and 14th chief minister of Odisha, Navin Patnaik?
All these notable personalities went to schools in Dehradun, Uttarakhand. Further, Dehradun is also known as the school capital of India.
Recently, I had the chance to spend one day in Dehradun. As a traveler would've done, I explored Dehradun's famous places.
Today, in this article, you'll learn about the places you can cover in Dehradun in one day. After you've thoroughly read the post, you'll be in a much better position to make an informed decision and create a better travel itinerary yourself.
---
---
Notice: This post may contain a few links which might earn us financial support when you buy or make any reservations through them. They're in no way affect our opinion or the information presented here.
Dehradun Famous Places to Visit in One Day
Whether Dehradun is on your radar or not, as a traveler, you'll pass by Dehradun if you ever see the mountains of Mussoorie and around. In that case, you wouldn't mind exploring the places to visit in Dehradun, now would you?
Here is the list of 4 famous places of Dehradun that you can cover in one day:
Robber's Cave (Guchchupani)
Sahastradhara
Mindrolling Tibetan Monastery
Tapkeshwar Mahadev Temple
1. Robber's Cave (Guchchupani)
As the name suggests, Robber's Cave is a river cave about 8 km from Dehradun city center. The river is knee-deep, and you reach a beautiful waterfall after about half a kilometer walk into the cave.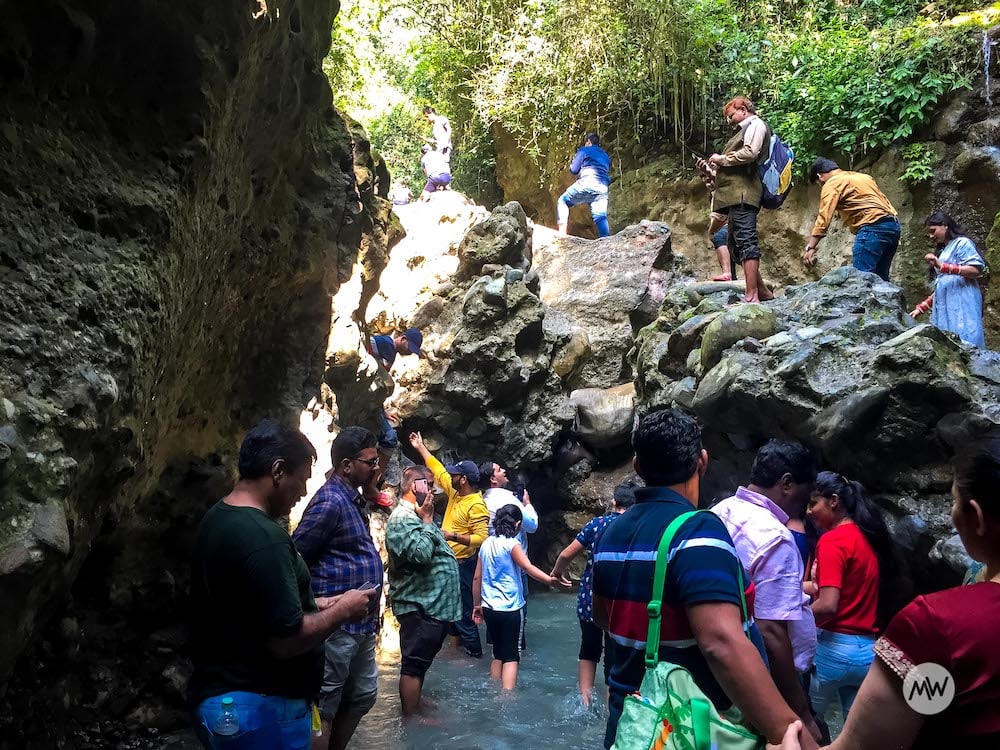 Since you go knee-deep into the water, you will need slippers which you can easily rent one pair for a few bucks from the entry-point (after getting inside). There are many refreshment shops and a restroom facility just outside the entrance to the river.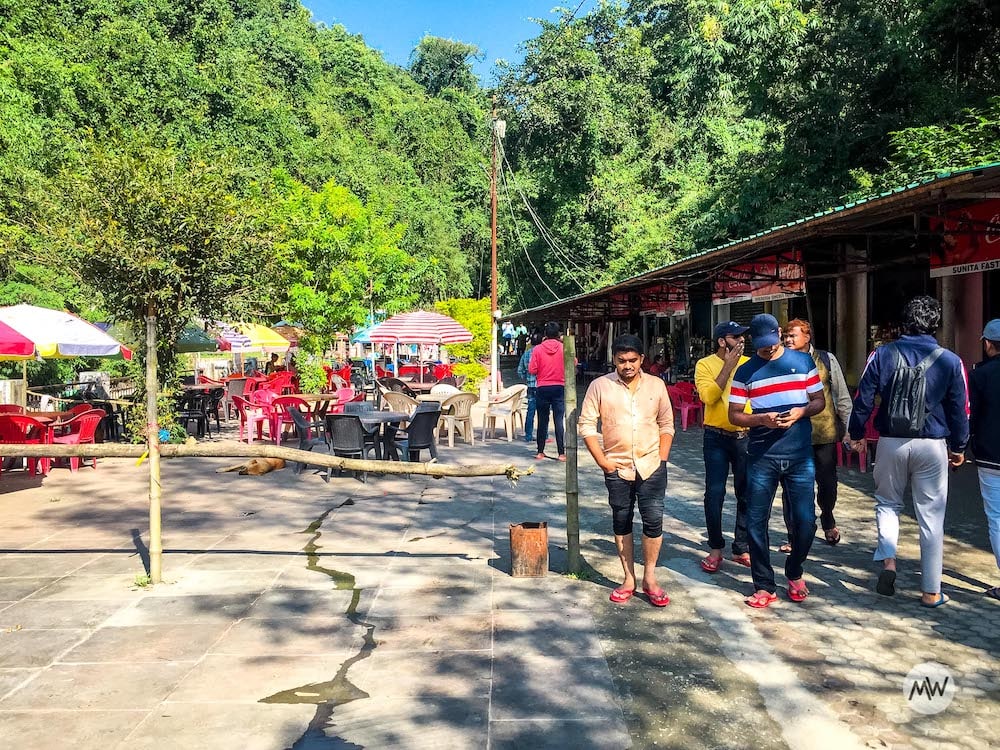 Locals call it Guchchupani, and it's on top among the Dehradun famous places for picnic and family outings.
Further, if you're curious about its name, there's a backstory. If we believe stories from locals, robbers used this river cave to hide the jewelry they looted during the colonial era. And this led locals to call it Robber's Cave.
2. Sahastradhara
Sahastradhara is a natural sulfur spring and one among the Dehradun famous places for picnic hanging out with nature. It's approximately 20 kilometers from the Dehradun city center.
If you're looking for some fun time with your friends or family, Sahastradhara could provide that. Furthermore, you will also find temples and caves with dripping water apart from the spring.
You'll see lots of people bathing, swimming, and playing in the water in the summers. However, the crowd simmers down as the temperature lowers (I ain't touching' cold water!).
Therefore, we suggest skipping this place in Winters.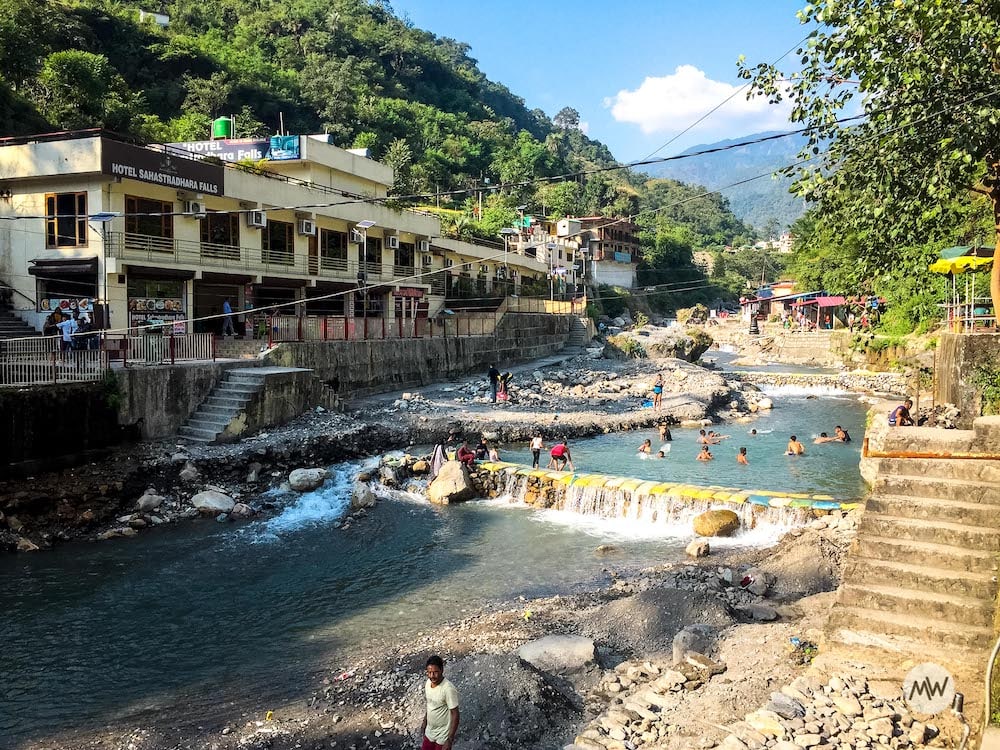 Furthermore, there's a ropeway and a water park nearby, and you can enjoy it if you're done with Sahastradhara.
Luckily, I had visited Sahastradhara once before this time, and I can draw the conclusion — it wasn't the best this time. Lots of building, hotels, and urbanization has somewhat affected the natural setting of this spring. It's sad, I know — but who is responsible?
3. Mindrolling Tibetan Monastery
Despite the hustle and bustle of Dehradun's crowd, visiting Mindrolling Monastery will be a peaceful experience. The monastery is approximately 4.5 kilometers from Dehradun's ISBT. Locally it is also referred to as Buddha Temple.
Mindrolling Monastery is dedicated to preaching the lessons of Buddhism, and it belongs to the Nyingma School of Buddhism.
The most fascinating thing you'll see here is the 35 meters tall Buddha statue. Further, the stupa is no less, and they quickly captivate your attention.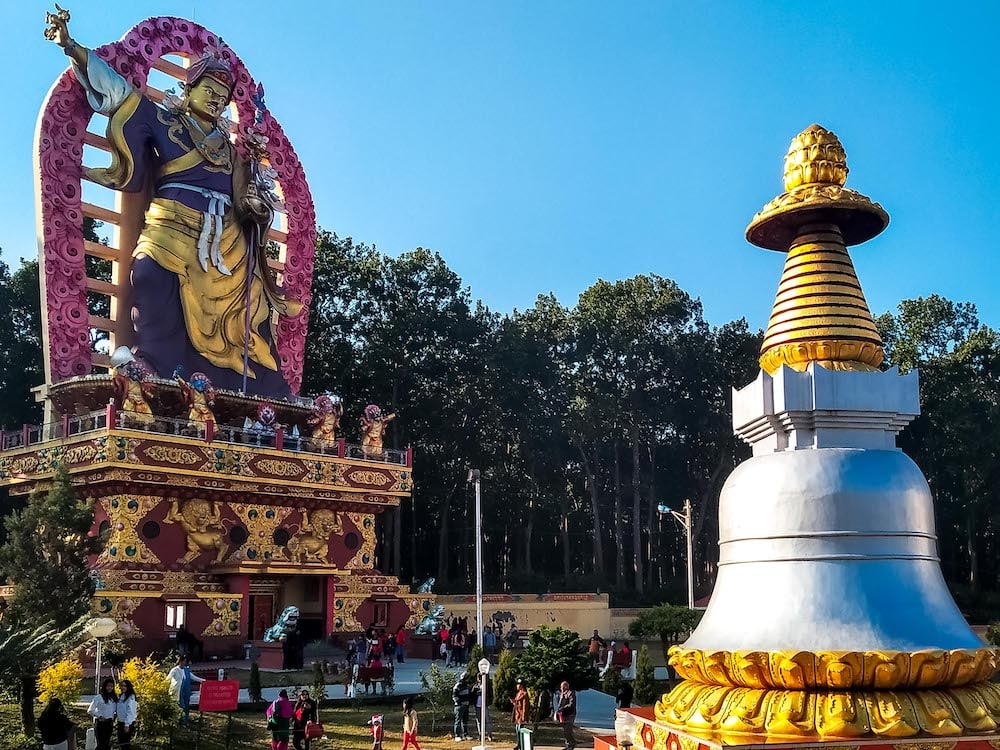 You'll also see deep quotes and thoughts at specific points inside the complex. Outside it, you'll find shops selling knick-knacks of Buddhism — you can certainly take them as souvenirs.
The place is tranquil, and you can spend some quality time here. However, when we last visited, it was closed due to the coronavirus pandemic. So, make sure you check their official website or contact them before visiting.
4. Tapkeshwar Mahadev Temple
While you're in Dehradun, you can spend some time at one of the most revered temples of Lord Shiva — Tapkeshwar Mahadev Temple.
The unique thing about this temple is that the Shiva Linga is situated inside a natural cave, and continuous water drips over it automatically. Maybe this is how the temple gets its name as dripping in Hindi means "tapakna."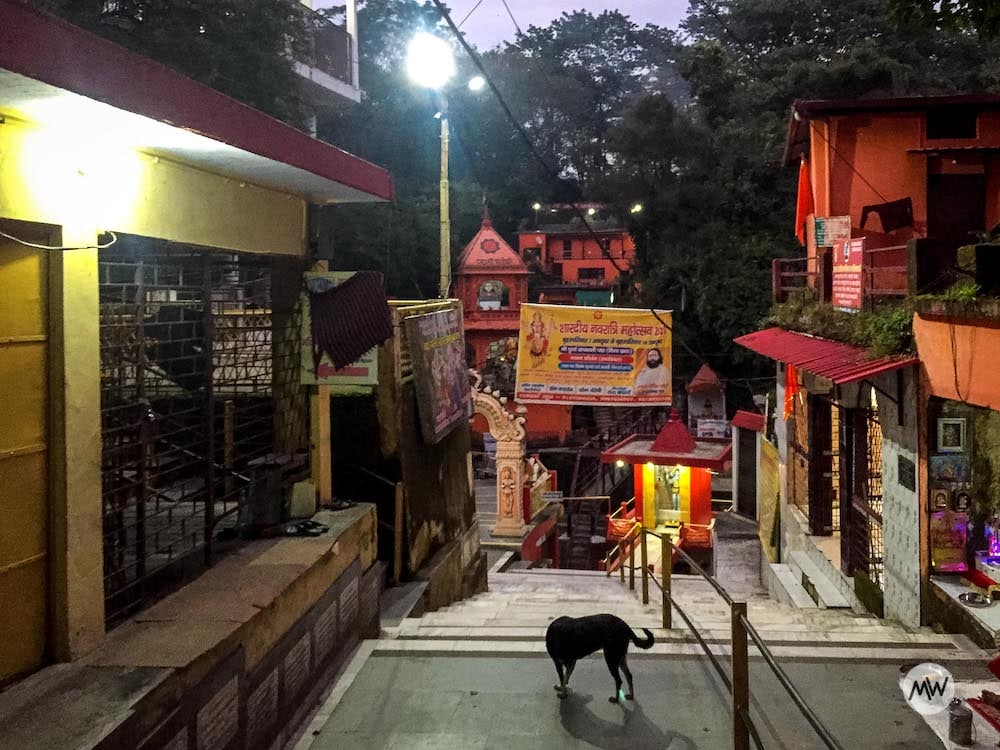 The temple sits around 6.5 kilometers from the city center. There's a river flowing by and temples of a few other deities. You can go down by the river and appreciate the temple complex's peace and beauty.
For a blissful experience, we suggest you visit in the morning or late in the evening.
A Brief History: How Dehradun Got its Name?
Dehradun got its name after the son of the seventh Sikh Guru, Baba Ram Rai, set up his "dera," camp or temporary residence in "dun," the valley. Dehradun is the twisted version made from two words, "Dera" + "Dun."
Dehradun is the capital of the Indian state Uttarakhand and is on the foothills of the incredible Himalayas. There are many hill stations around Dehradun; Mussoorie, Nainital, and Rishikesh are the most visited.
The city is one of the most urban cities in Uttarakhand, houses prestigious institutes such as FRI and IMA, and holds the pride of being called the "School Capital of India."
How To Reach Dehradun?
You can reach Dehradun via railways, roadways, or airways.
The Jolly Grant Airport in Dehradun connects to many airports in India. You can easily find several cheap flights to Dehradun.
Further, Dehradun Railway Station (DDN) connects to significant stations of India, including Delhi and Lucknow. And for the roadways, Uttarakhand Transport runs regular buses from and to the surrounding states.
Also, while you're staying in Dehradun, you might need comfortable yet affordable stays that don't dig a hole in your pocket. You can check Dehradun hotels price from our partner site.
Nearby Places to Dehradun
Tourist places near Dehradun include Mussoorie, Dhanaulti, Chopta, Nainital, Haridwar, Rishikesh, and more. You can easily reach these places via state transport buses or trains.
For more, we recommend exploring our posts on Uttarakhand.
My Experience
I have been to Dehradun a few times, and unfortunately, I didn't get time to explore it before. But I'm glad I did it.
From summer lychees to chilly winters, I like Dehradun. The city's clean, has fresh air, and most important of all — you can visit the mountains so easily. #LoveMountains
We explored Dehradun on a scooty borrowed from a friend. And we'd recommend you to contact a Dehradun bike rental.
Hiring a scooty will ensure you get the best of the city without much hassle. You can visit Sahastradhara and Mussoorie while covering the famous places to visit in Dehradun city itself.
---
Final Thoughts
Dehradun is famous for being the gateway to popular hill stations such as Mussoorie and Nainital. There may not be as many places to visit as any historic city. However, Dehradun holds an important place in our hearts.
The city's easy accessibility gives you an easy way to explore the Himalayas and get in touch with the eternal beauty of nature.
---
An appeal: Please do not throw litter around. Use a dustbin and if you can't find one, take the trash with you and throw it when you find one. Your small steps like this one can make the world clean and green.