Do you know that you can't consume non-vegetarian foods in Yog Nagari Rishikesh? It is banned to maintain the divinity and significance of Rishikesh.
In this Rishikesh travel guide, we'll cover everything you need to know and take care of before traveling to Rishikesh. That includes places and attractions, activities, local foods, souvenirs, public toilets and hygiene, accommodation, and more.
Whether you're traveling to Rishikesh because you're a Yoga-serious person or want to taste the adventure activities the city has to offer, it won't disappoint you. Rishikesh is an amalgamation of old age practices like Yoga, meditation, Ayurveda, and young age adventure activities like rafting, rock climbing, kayaking, and more.
Rishikesh also got in the world's spotlight when the famous English band The Beatles came to the Chaurasi Kutiya (the Beatles Ashram) here.
Let's roll.
---
---
Notice: This post may contain a few links which might earn us financial support when you buy or make any reservations through them. They're in no way affect our opinion or the information presented here.
Video Guide
If you're not into much reading, you can quickly watch this video instead. It's concise but gives you all the necessary information.
Best Places to Visit in Rishikesh
1. Laxman Jhula
Laxman Jhula is a suspension bridge for pedestrians over the Ganges connecting the Tapovan and Jonk villages of Rishikesh. Legend has it that Hindu deity Bhagwaan Laxman once crossed the river using a jute rope, and the present-day iron bridge Laxman Jhula is present at the same spot.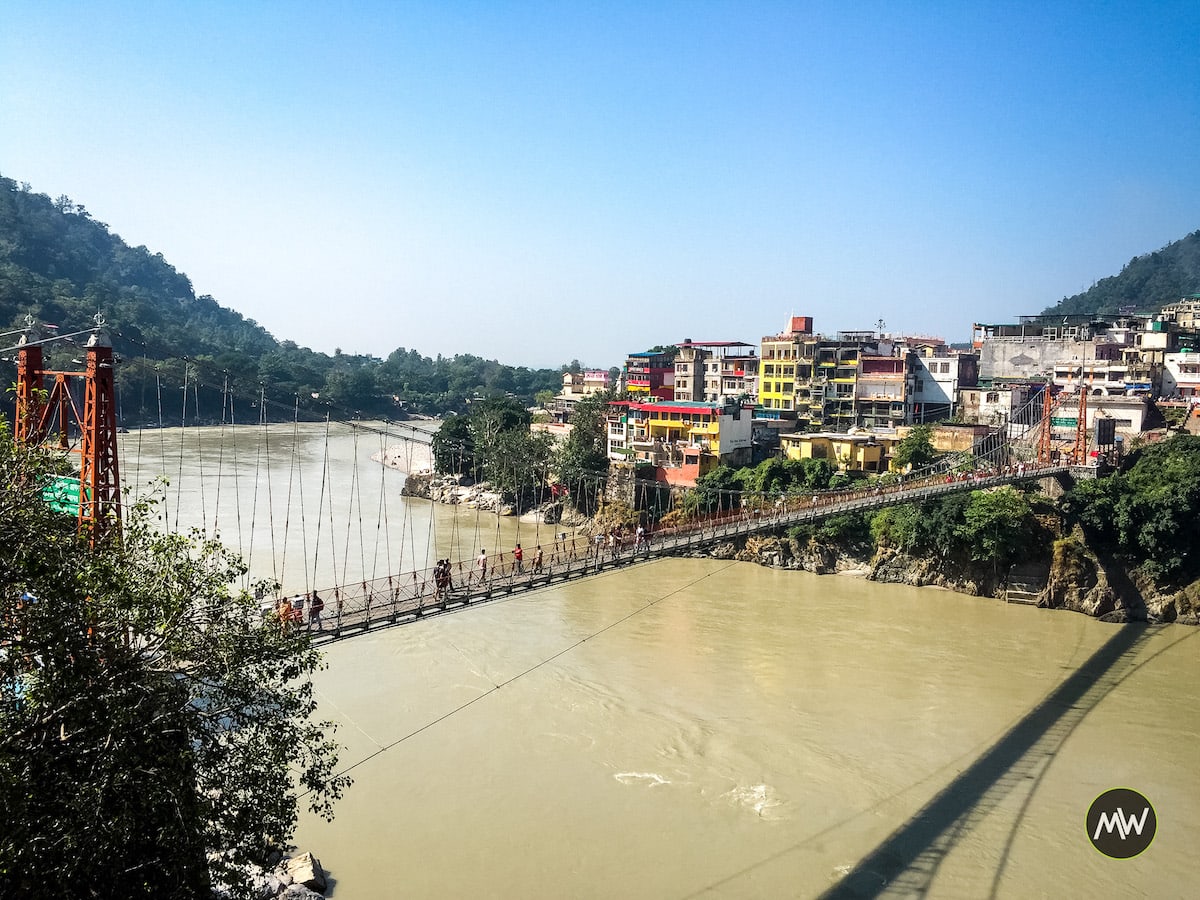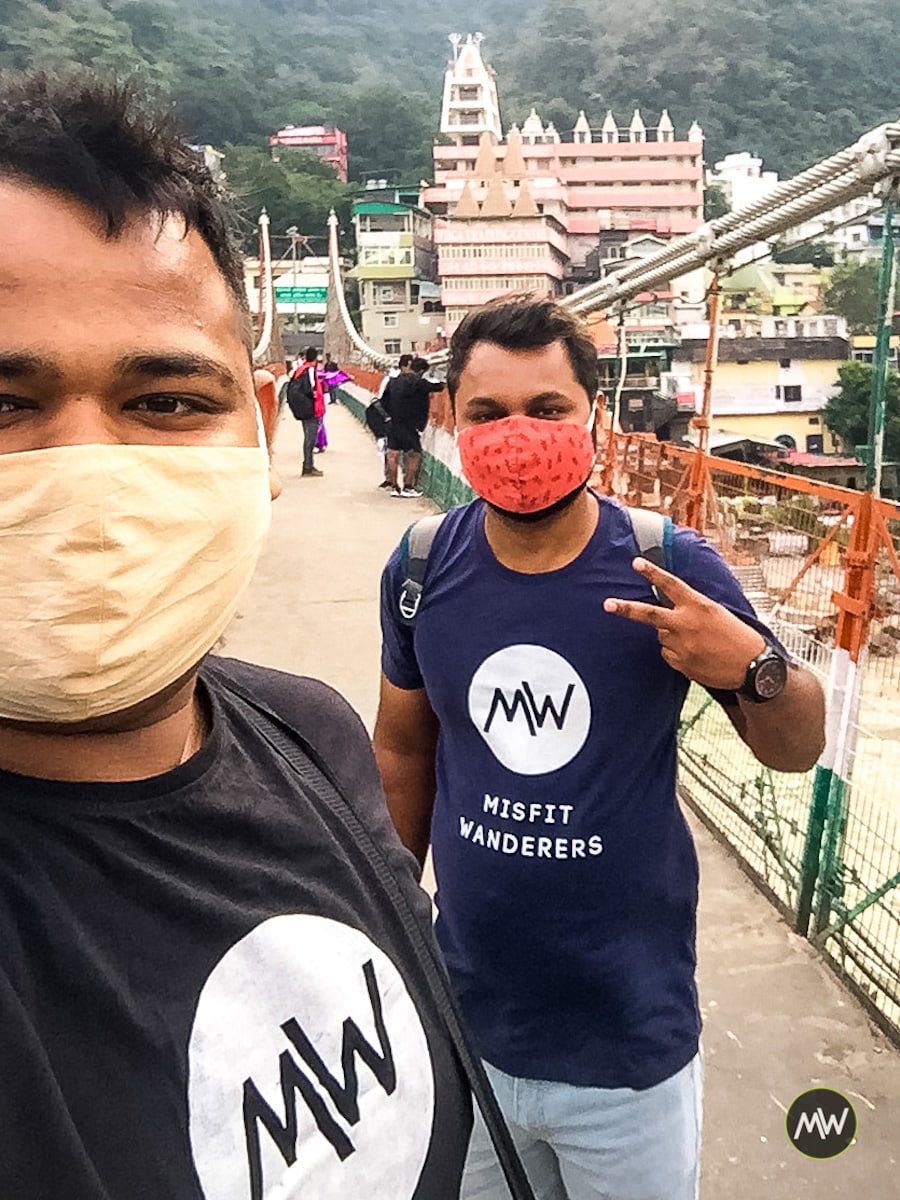 As you walk over this historic bridge, you get magnificent views of the gushing Ganges. If you fear heights, make sure you don't look down for too long.
2. Trimbakeshwar Temple
Trimbakeshwar Temple is a 13-story temple situated at the Jonk-end of the Laxman Jhula. The main deity is Lord Shiva sitting on the top floor. You go in spirals to climb up the 13th floor, and as you go, you'll find many temples and "Pooja" shops.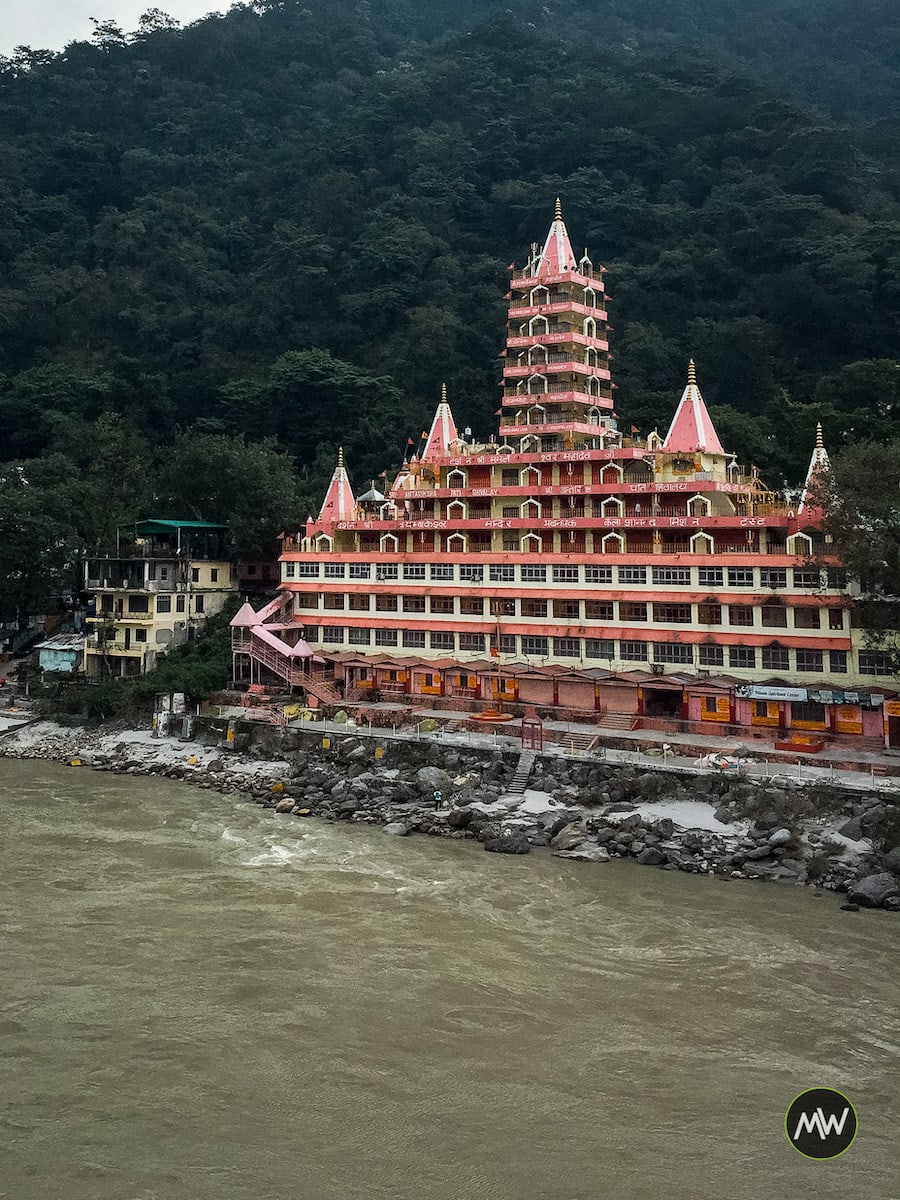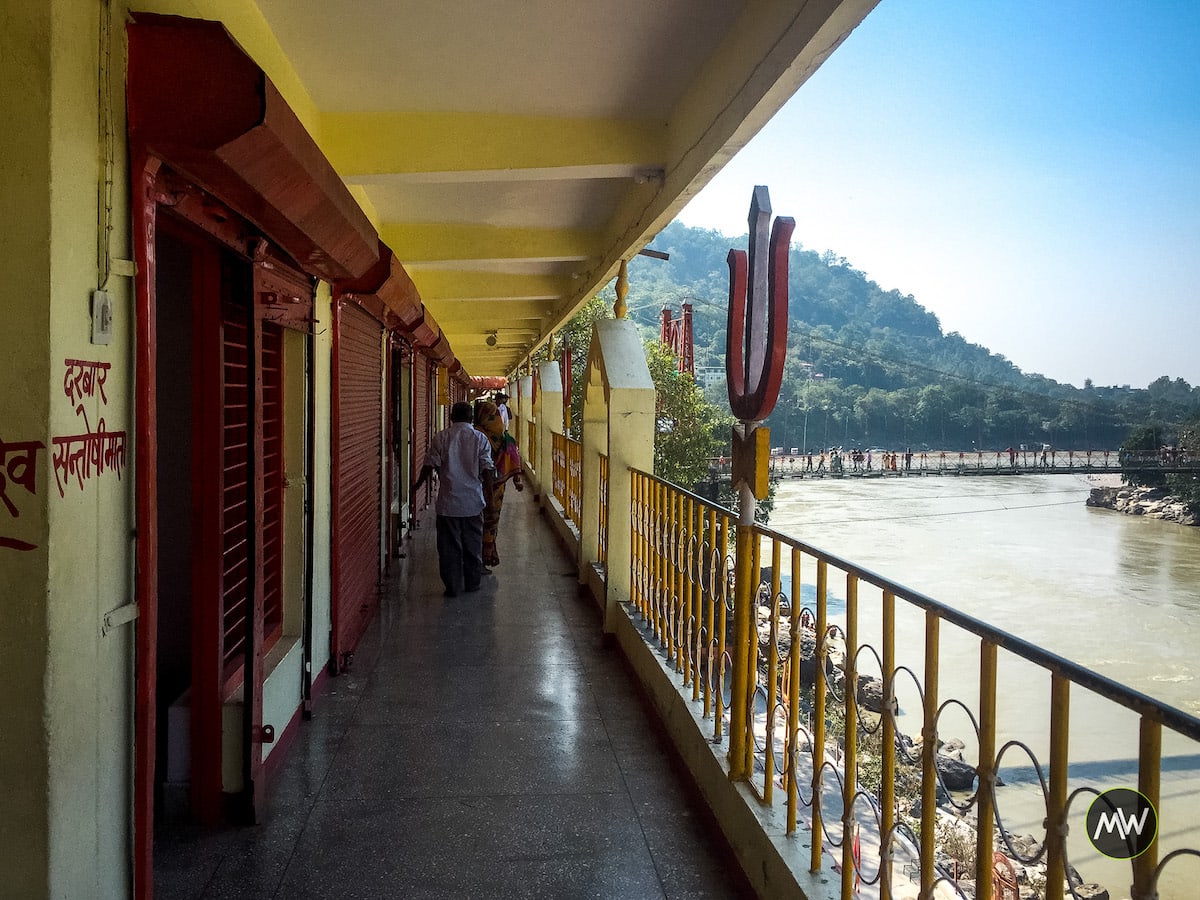 They might force you to buy some things, remember to stay calm and politely deny if you're not interested.
3. Ram Jhula
Named after Lord Ram, this bridge is similar to Laxman Jhula, whose only difference is its size. Pedestrians as well as motorbikes – both are allowed. It connects the Sivananda Nagar area to Swarg Ashram of Rishikesh.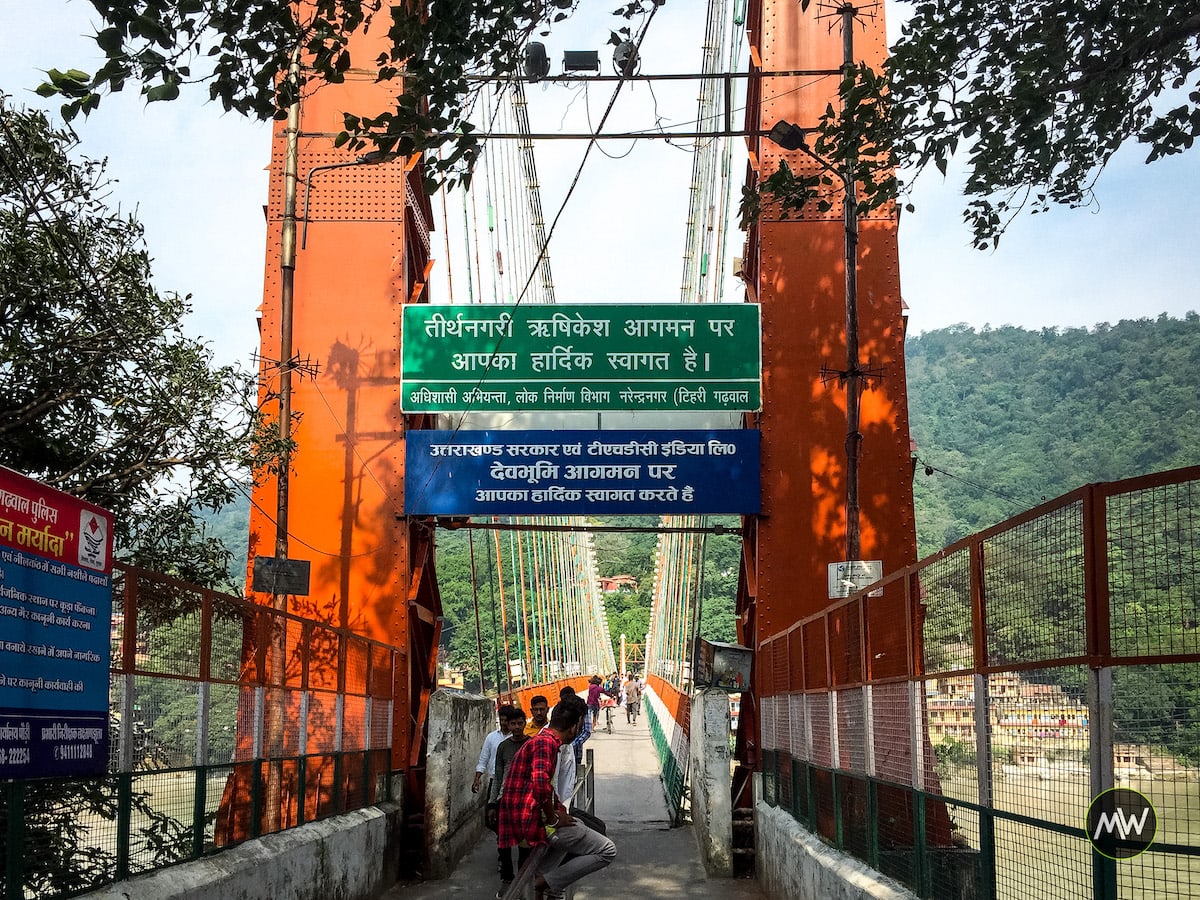 Like Laxman Jhula, Ram Jhula also offers splendid views of Ganges backdropped by mountains and city-life hues. Since it's an iconic landmark in Rishikesh, don't miss taking a stroll over this bridge.
4. Parmarth Niketan Ashram
Parmarth Niketan is the largest ashram in Rishikesh that offers clean rooms and religious activities and an atmosphere with lush green gardens to pilgrims worldwide. You'll see their gardens have various religious paintings and sculptures of many Hindu deities.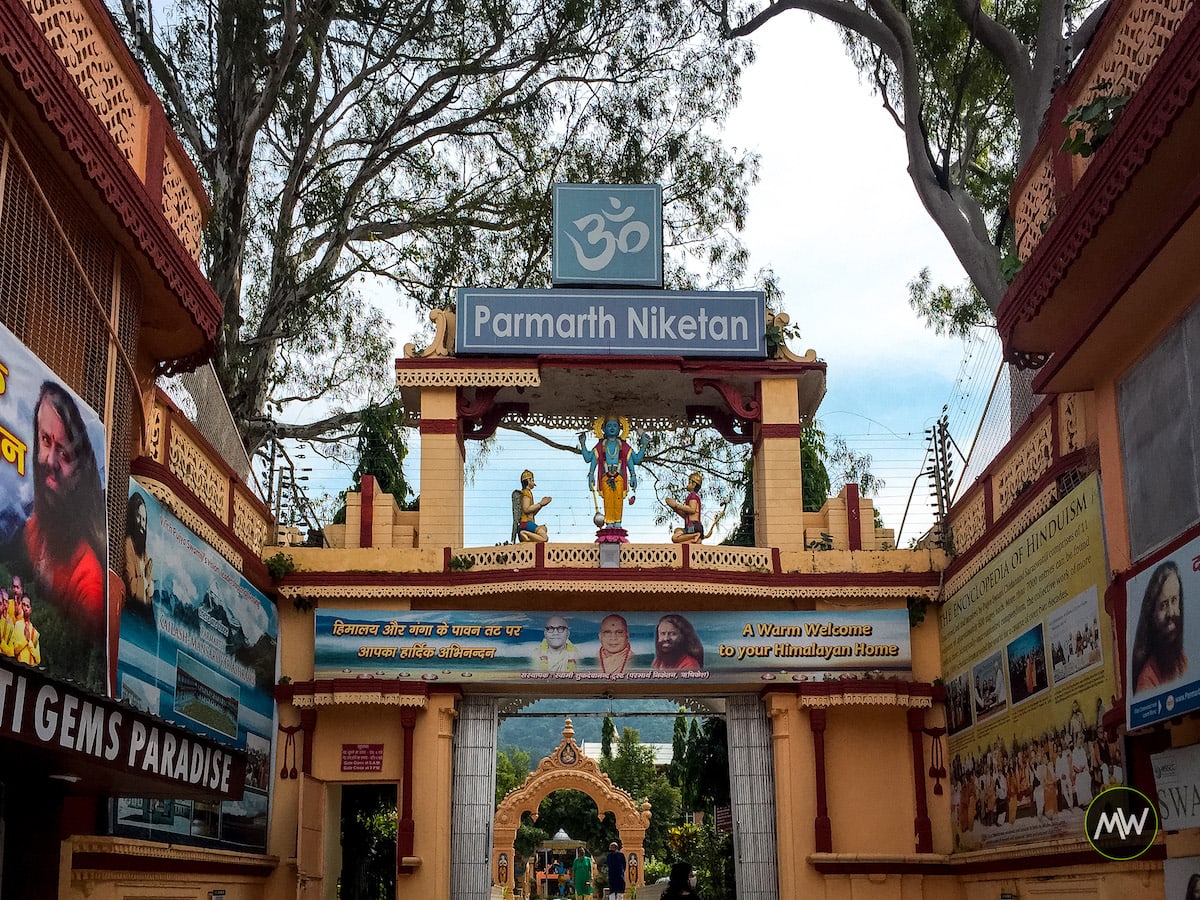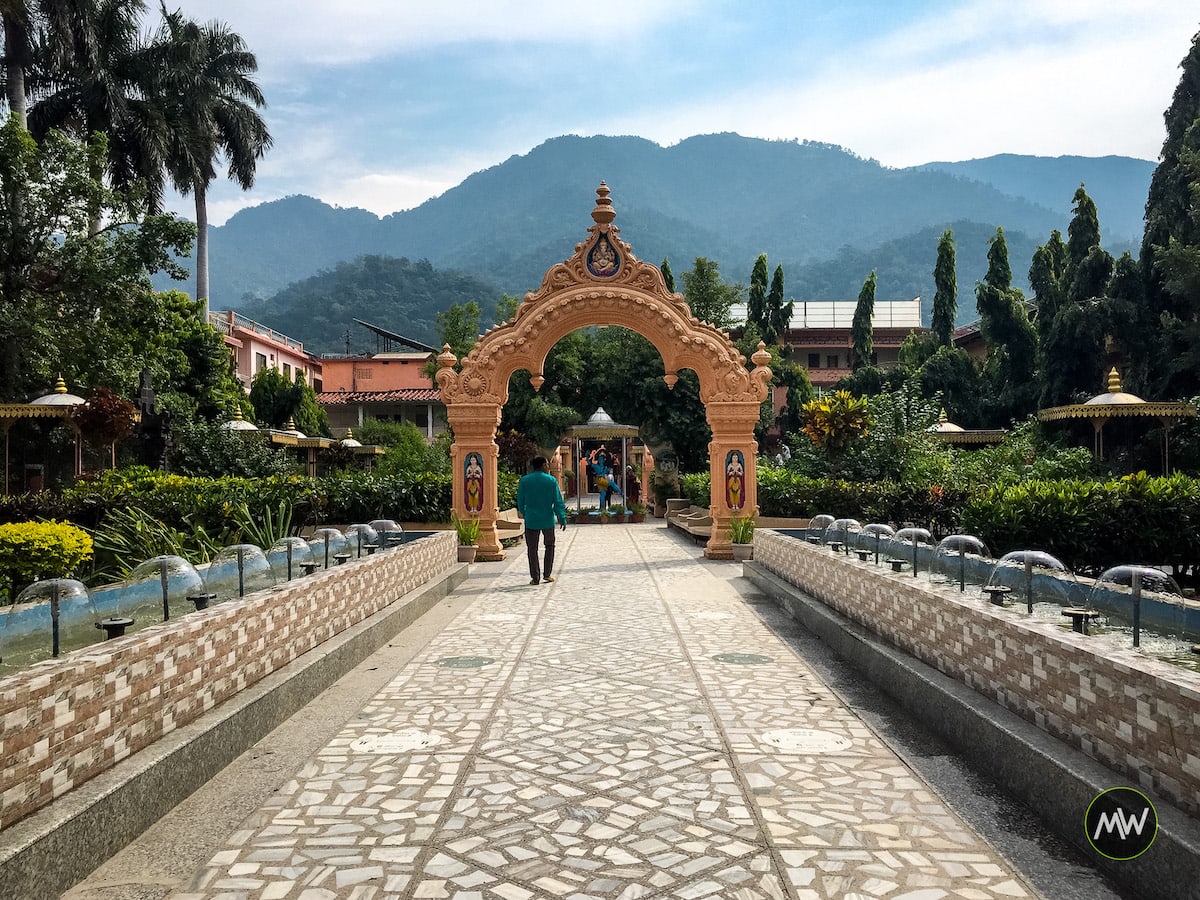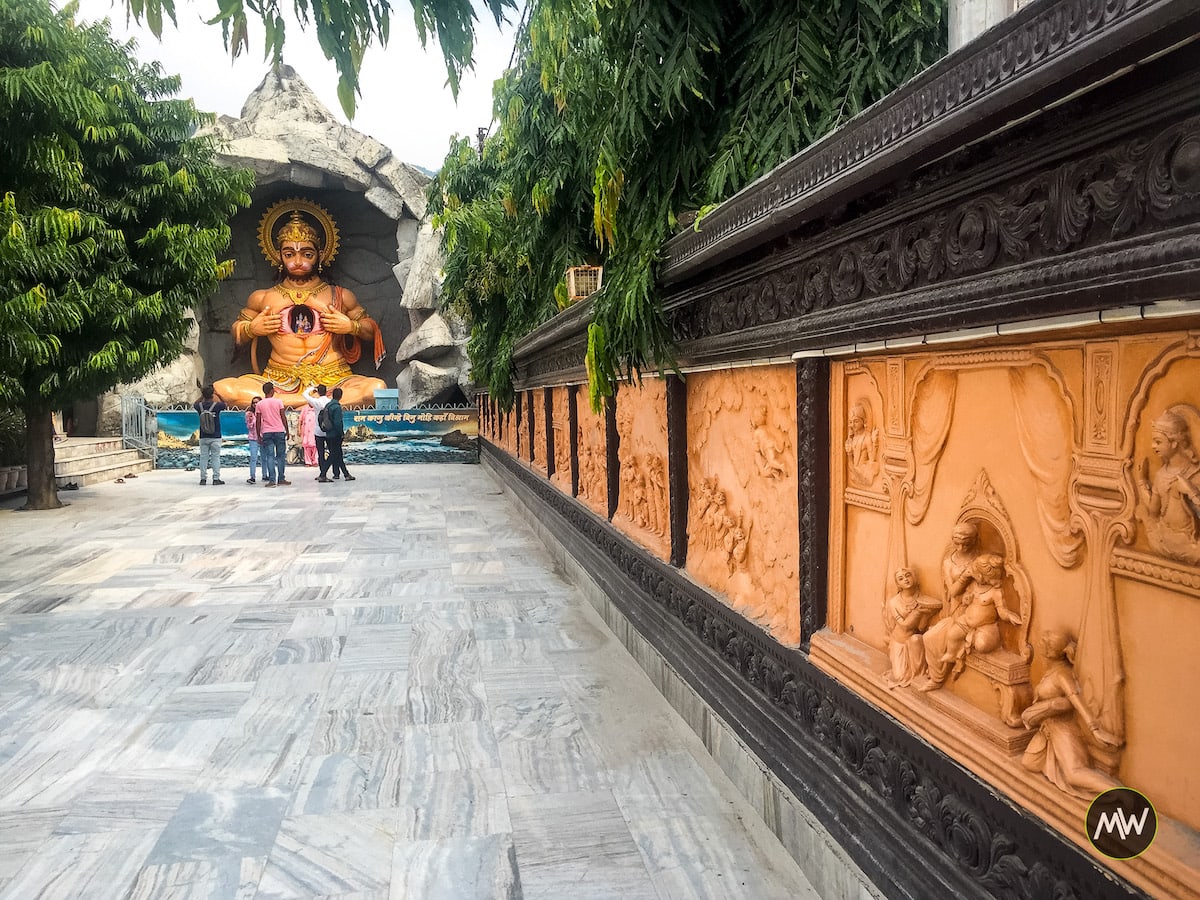 You can also attend Yoga sessions or sermons going on individually.
Don't forget to attend the Ganga Aarti, which happens around sunset – it offers majestic sights and an opportunity to devote yourself to the prayers of the almighty. You'll see, from young priests to the spiritual head Pujya Swami Chidanand Saraswatiji Maharaj, singing the hymns for God.
See:
Chaurasi Kutiya, or more prominently the Beatles Ashram, is an abandoned ashram and, at present, under local authorities. The complex offers what reminiscent of history remains, beautiful wall arts, stories about the Beatles Band stay, and of course, mesmerizing views of the Himalayas.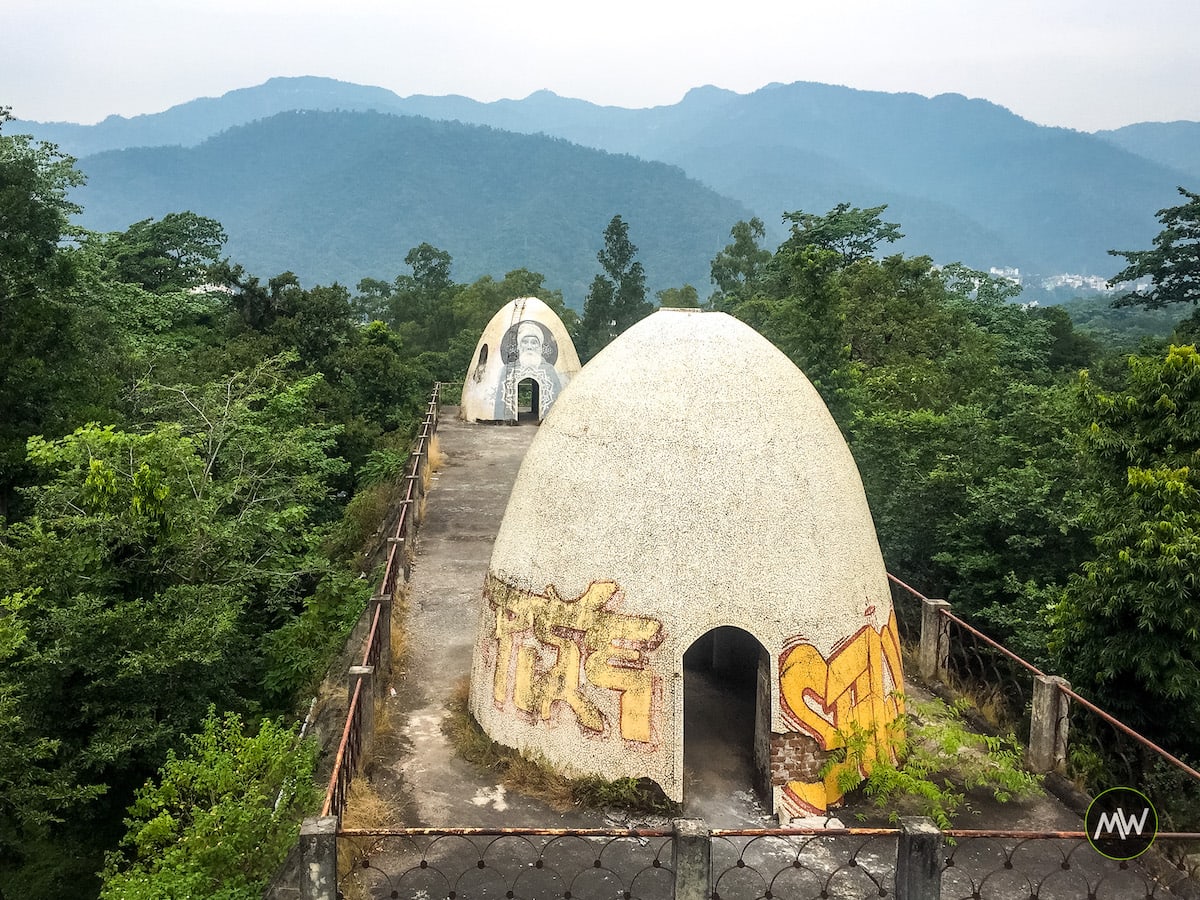 Today, you'll find it mainly visited by youths and followers of Mahesh Yogi Ji. It's a big complex with over 100 meditation caves. No one practices here, but you can try to imagine the stay of the Beatles and how yoga or meditation would've been like here.
6. Neelkanth Mahadev
Neelkanth Mahadev is a Dravidian style-influenced temple with the main deity as the Neelkanth facet of Lord Shiva.
Legend has it that it's the same place where Lord Shiva drank the poison that came out of the great churning of the ocean (Samudra Manthan).
The temple sits around 34 km outside of Rishikesh, and there are several ways to reach there.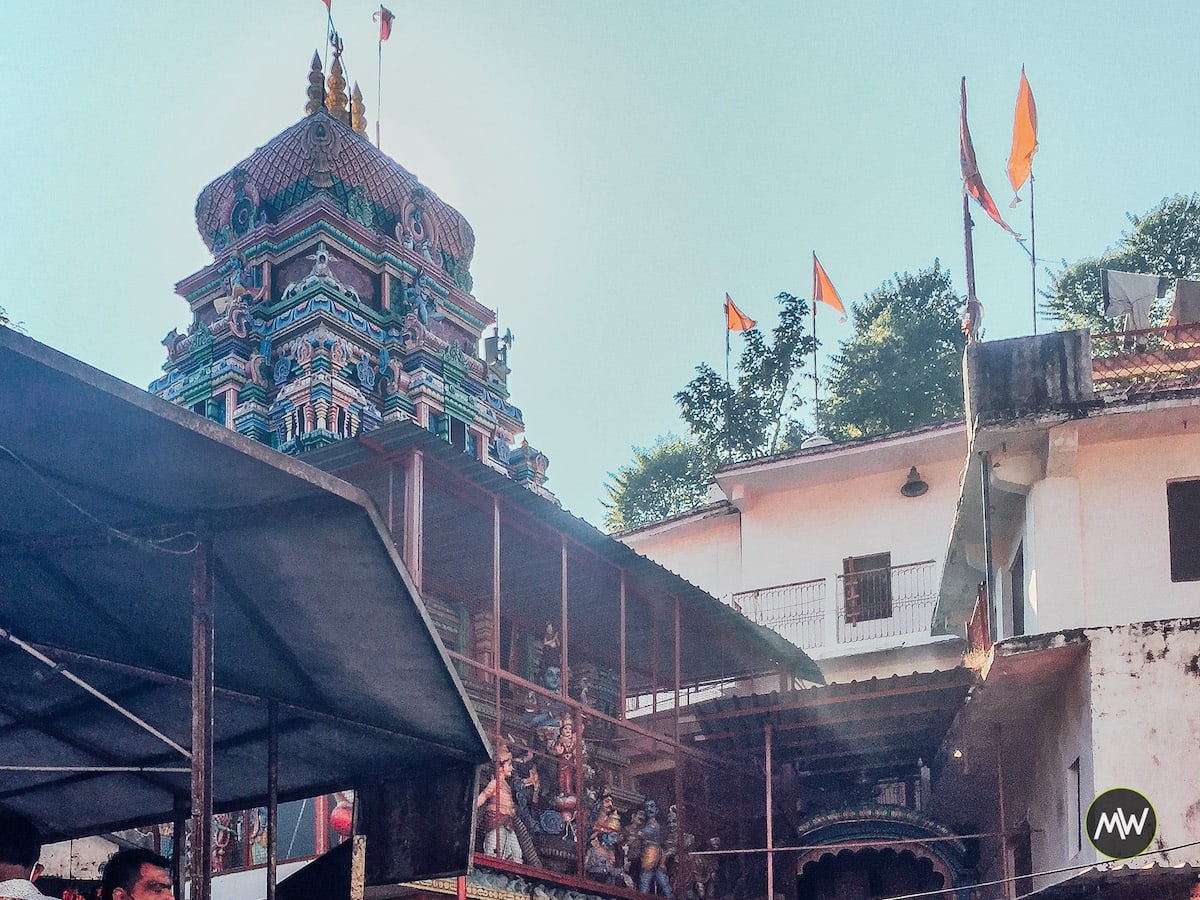 The easiest way to reach is to hire a scooter and drive yourself. You can also take a shared vehicle available in Jonk, a few steps from Laxman Jhula. As of October 2021, the price is 100 INR per person. You can also hire a private car or jeep.
When you reach the temple, shopkeepers might force you to leave your footwear and take "Prasada" for the temple. Don't bother them until you see the temple's building, as you can do the same just outside the temple.
7. Marine Drive & Ganga Beach
Marine Drive or the Aastha Path is a 2.5 km walkway along with the enchanting Ganges. It has one end at Ram Jhula and goes further until Triveni Ghat. There are benches at regular intervals along the path to sit and contemplate with Ganges and Himalayas at the backdrop.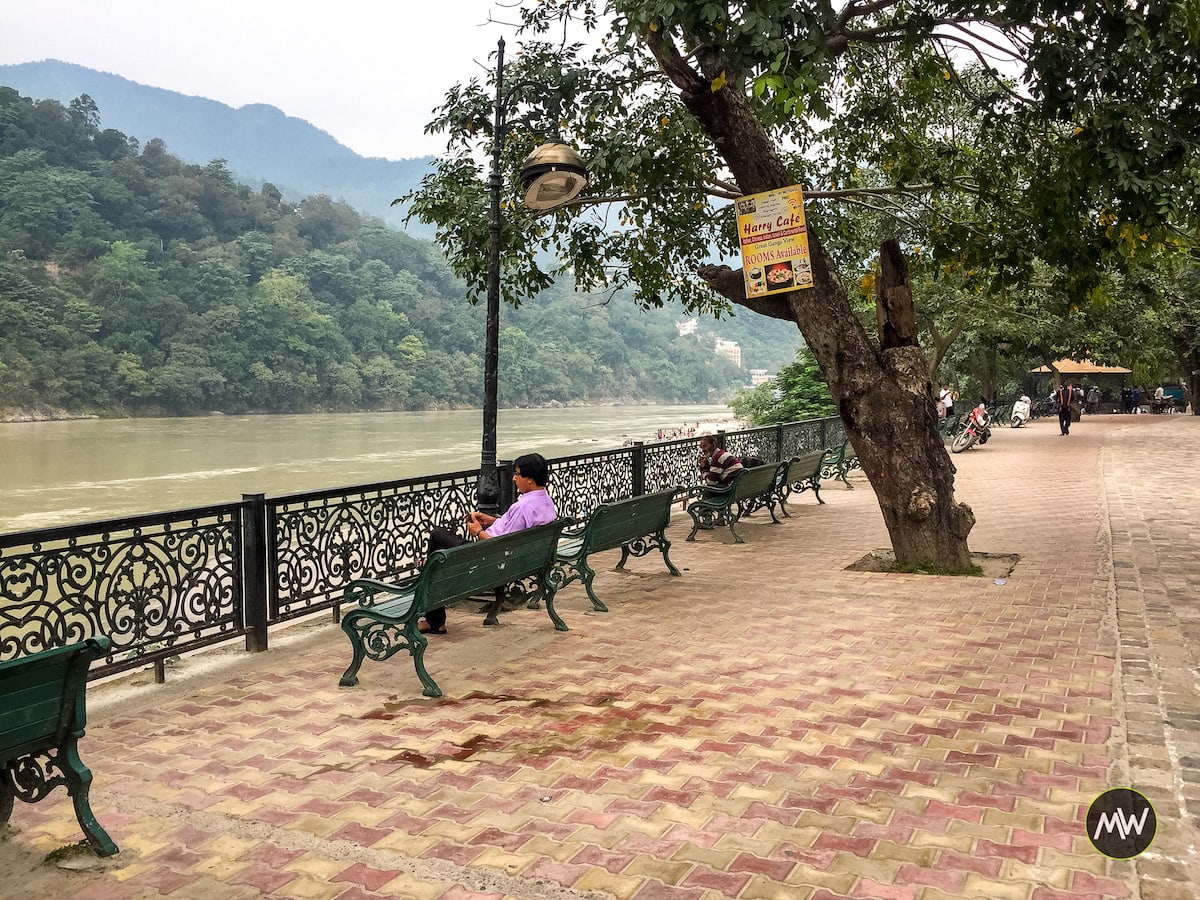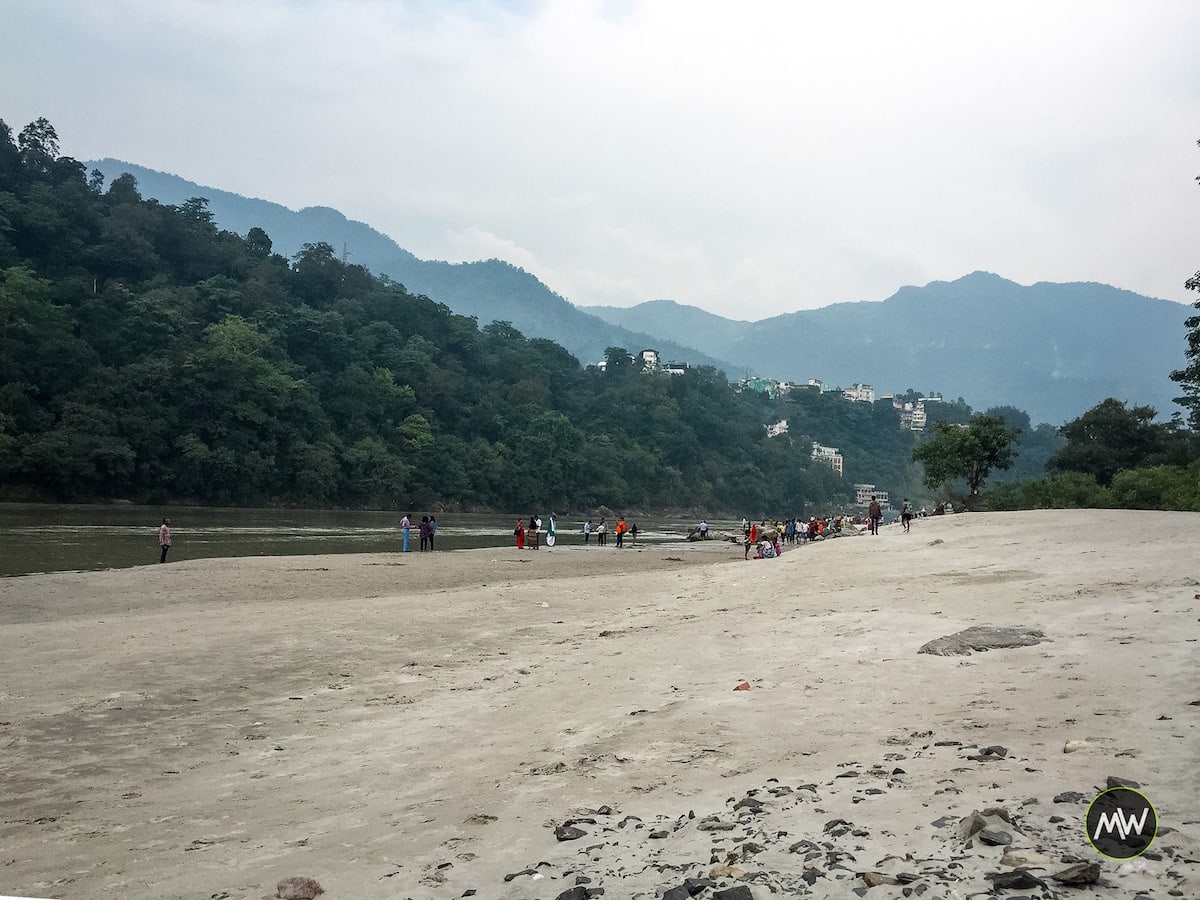 You can see the Ganges entering into plains here. Next to Ram Jhula, you'll see a sand beach. March down the few steps from Aastha Path, and you'll be able to reach Ganga Beach. You might see families enjoying their time, youths capturing their next best Instagram photo, and yoga practitioners along the beach.
8. Shri Bharat Mandir
The city of Rishikesh got its name after the presiding deity at this temple — Shri Hrishikesh Narayan. It is the most sacred and ancient temple situated at the heart of Rishikesh in Jhanda Chowk. You can quickly get a shared Tempo to get here.
As history tells us, Raibhya Rishi (sage) once did hard penance to please Lord Vishnu. When Lord Vishnu appeared, he showed illusions (Maya) on sage's insistence and told that this place would be known as Hrishikesh in Kalyug as Raibhya has done penance controlling all his senses. And Lord's incarnation will have the name Bharat.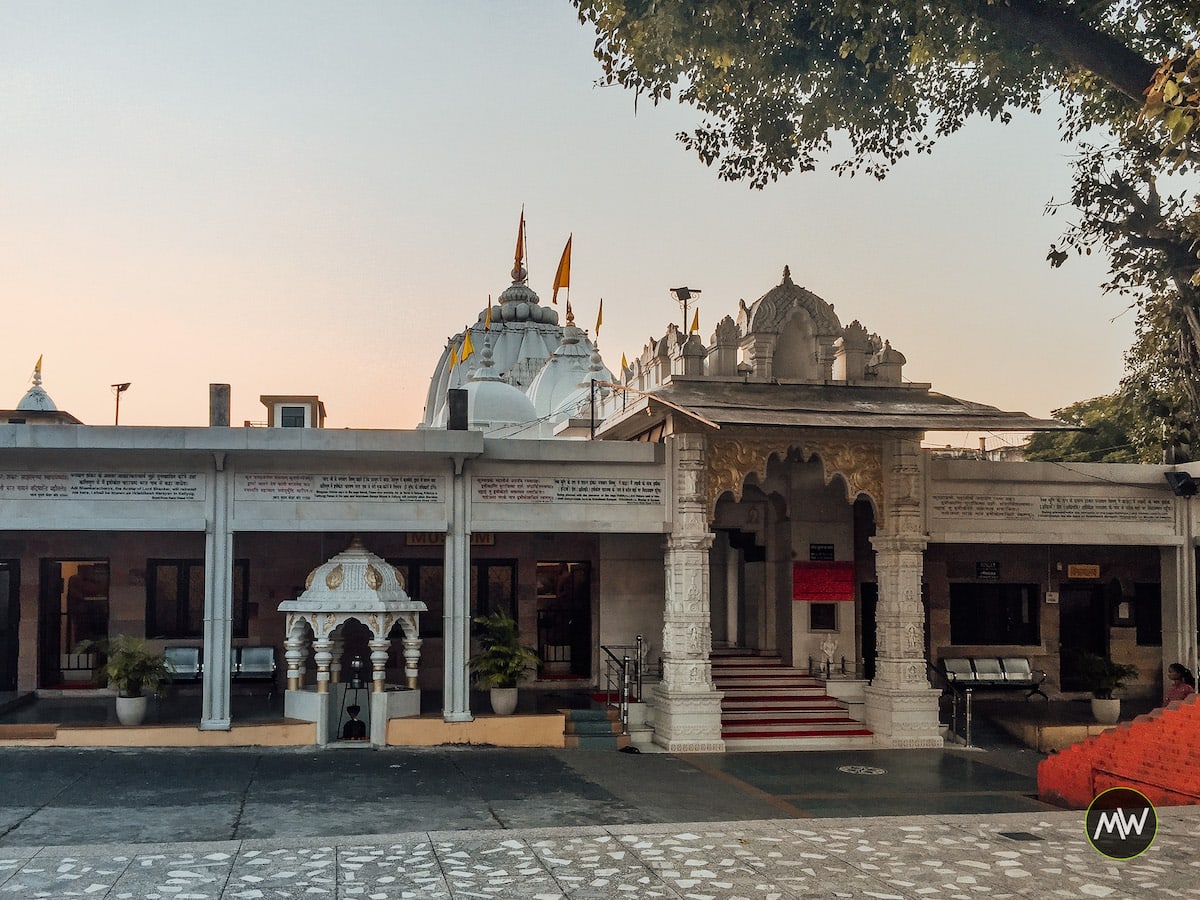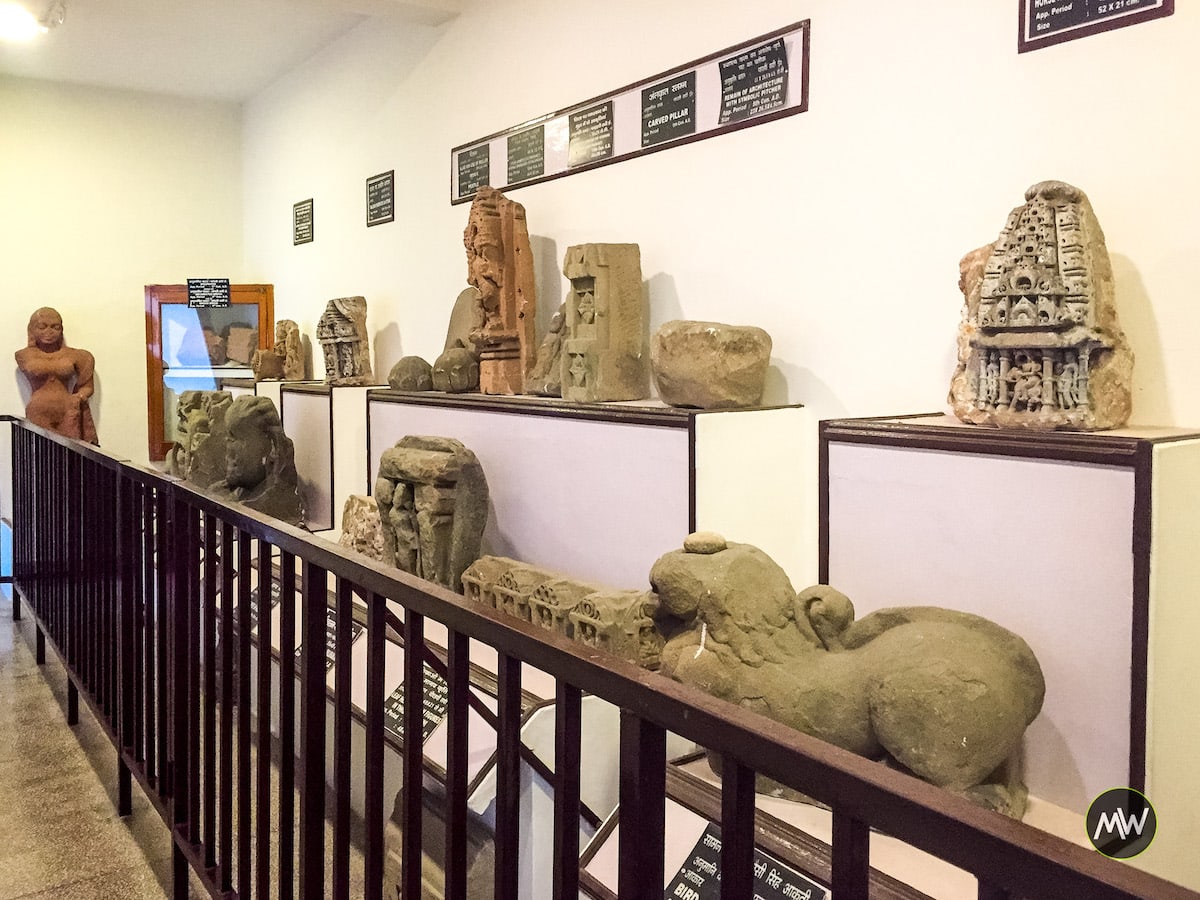 Lord Hrishikesh, also known as Shri Bharat Ji Maharaj, is a different form of Bharat, an incarnation of Lord Vishnu himself.
The temple offers a peaceful environment on most days. You'll find a sacred tree and a museum inside the temple complex.
9. Waterfalls
There are about five waterfalls well-hidden from the public's eyes that you should experience in your Rishikesh travel. Neer Garh, Patna, Himshail, Garud Chatti, and Phool Chatti waterfall.
Every waterfall requires a few kilometers of hiking. So if you're staying in the city center, it might be a good idea to hire a scooter and take a local guide with you for a smooth experience.
Local Foods & Cafes in Rishikesh
So, is there any exceptional food or place that you should try in Rishikesh? Yes, there are some worth your time.
For example, we found an exciting restaurant near Ram Jhula called Chotiwala Restaurant. Chotiwala means a male with a ponytail. And so, you'll see an uncle with a colossal ponytail, straight-up like a stick, sitting at the entrance of the restaurant. And yes, you can take selfies with him: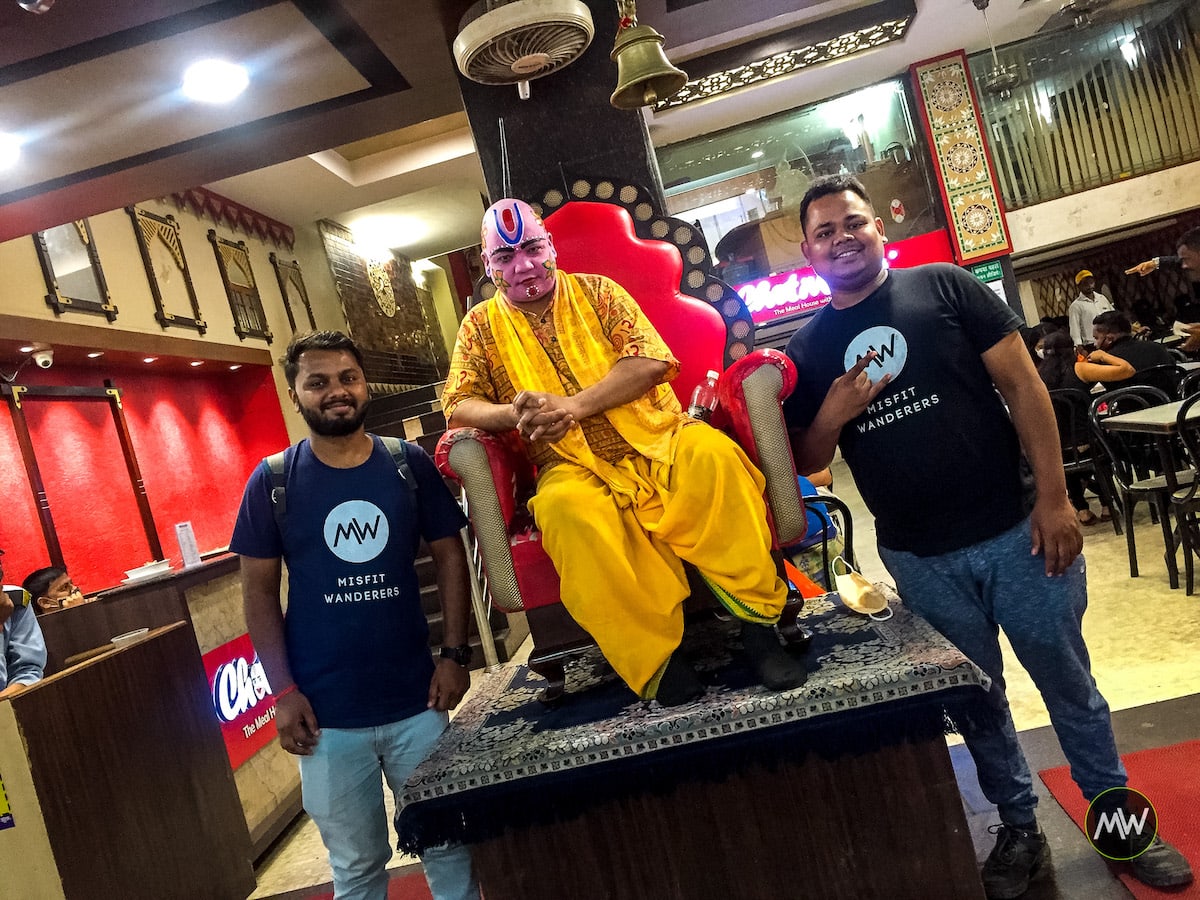 The confusing thing is that there were two Chotiwala restaurants (next to each other), and we can't say which one's authentic because their representation is identical.
Next, believing the words of Internet gurus, we went to Little Buddha Cafe — a few meters ahead of Laxman Jhula. The front entrance is tiny, and you might not even see it if you pass by in an instant.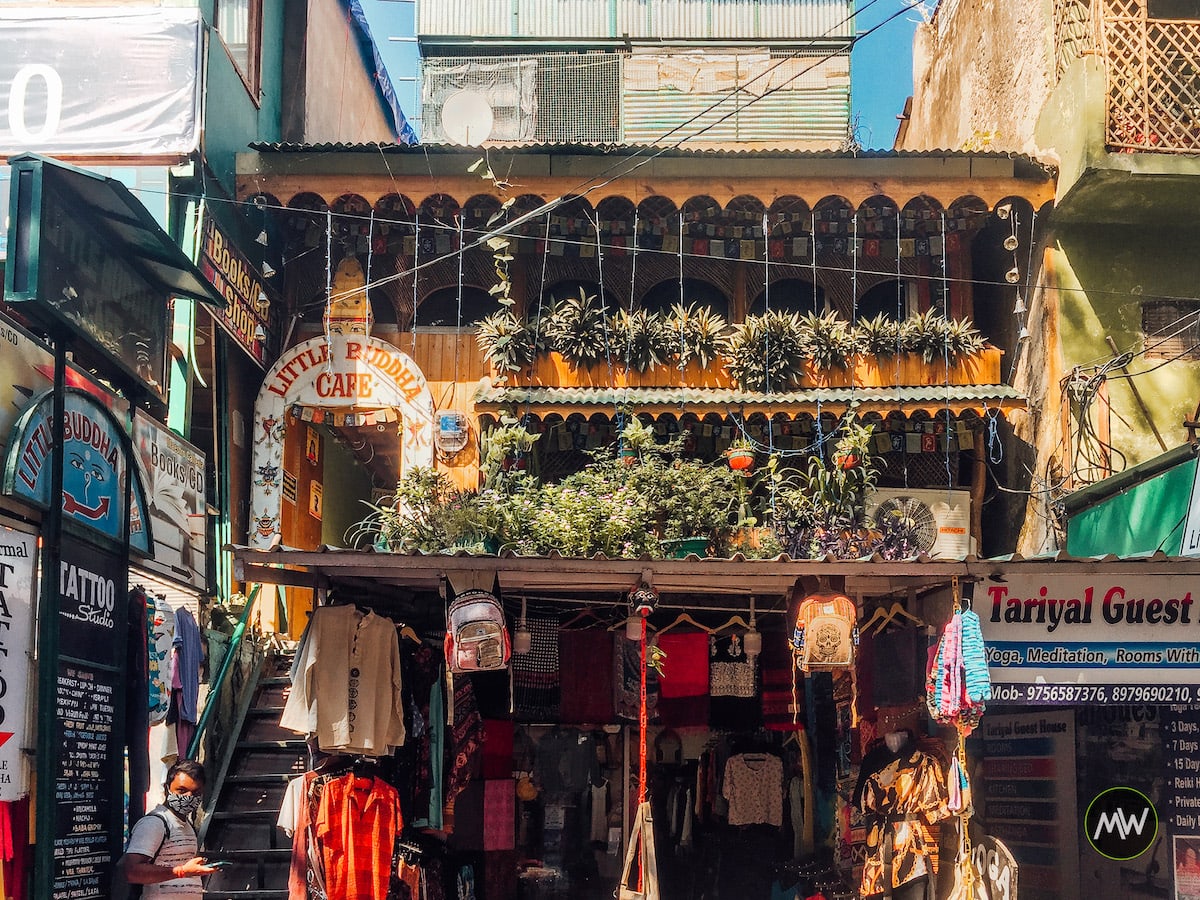 However, once you're inside, you'll love it for the presentation, arrangement, and mesmerizing views of the Ganges with a mountain backdrop. The food seemed pretty okay — we ate a Paratha and tea. I felt the place was expensive for a lower-middle-class guy like me.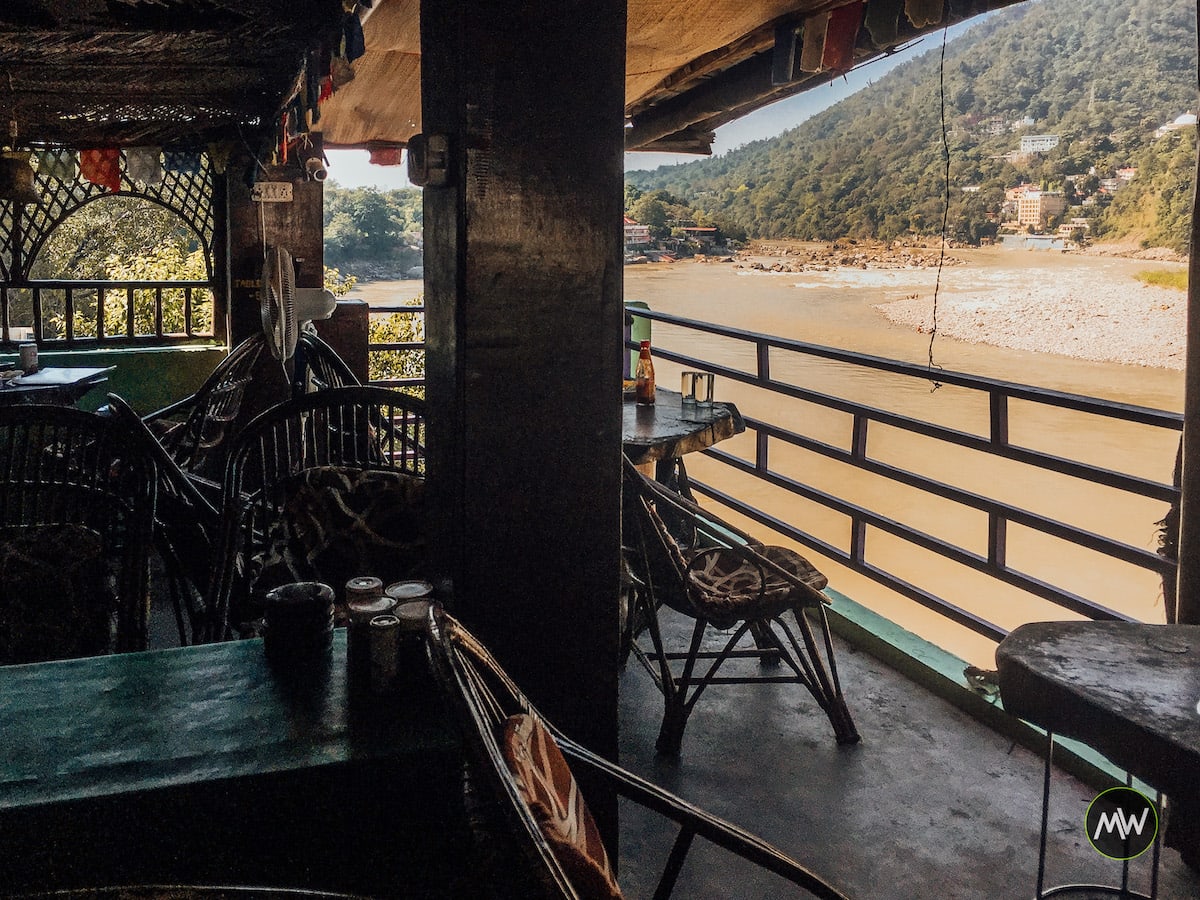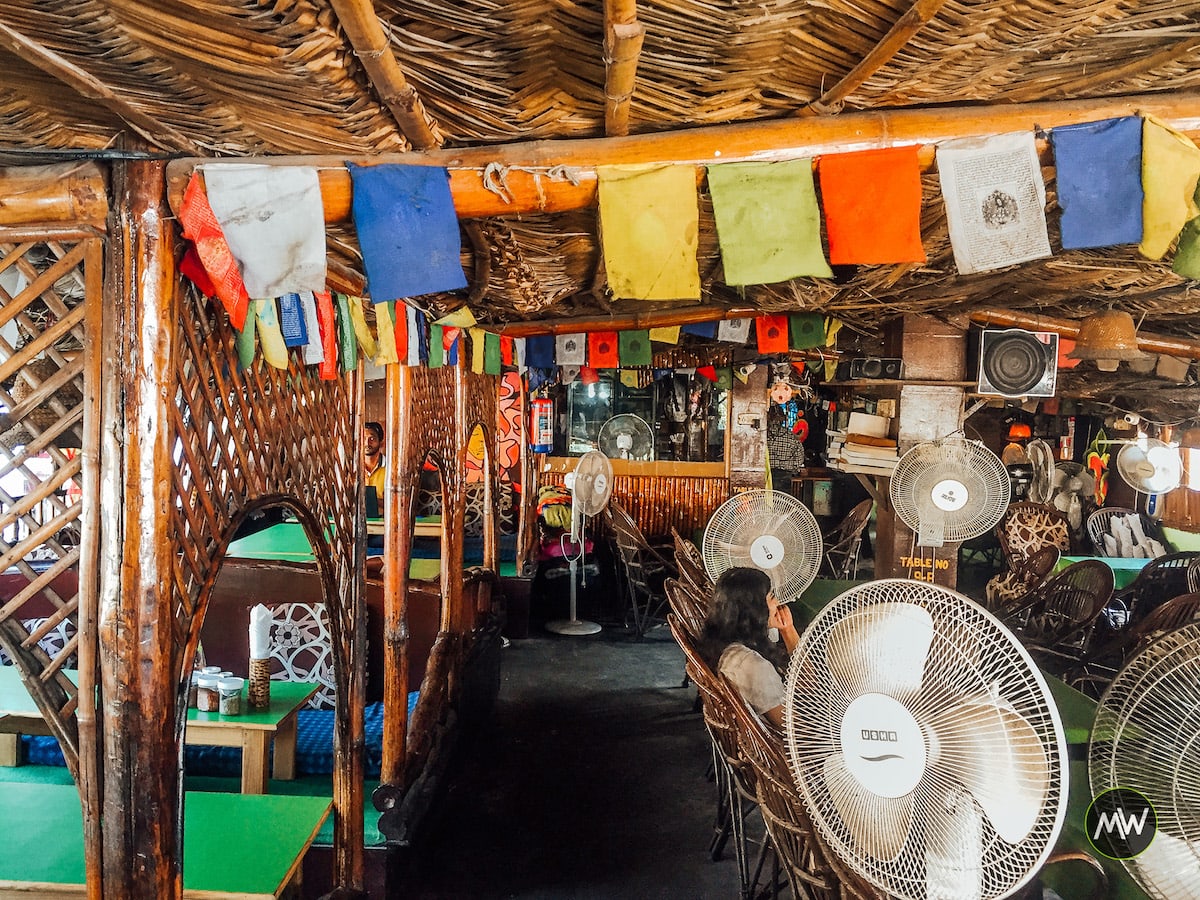 There are many cafes like this in Rishikesh, but I strongly feel you won't get the city's true essence in these cafes. For that, you've to become a local and travel like it.
Furthermore, if you come around October, you'll see a fruit named after Lord Rama in the streets of Rishikesh. It is called Ram Fal, and you can taste it from any of the numerous vendors near Ram Jhula and Parmarth Niketan.
There might be more foods in Rishikesh, and if you know any of them, you think we should include, please tell us in the comments.
Here's a list of foods and places to eat in Rishikesh:
| Name | Where is it? |
| --- | --- |
| Chotiwala Restaurant | Near Ram Jhula |
| Little Buddha Cafe | Near Laxman Jhula |
| Ram Fal | Near Ram Jhula & Parmarth Niketan Ashram |
Activities To Do in Rishikesh
Most of the adventure activities in Rishikesh are available on the outskirts of the city. For example, Shivpuri is where the white water river rafting starts, Mohan Chatti for bungee jumping (conducted by Jumpin Heights), and Air Safari runs most air expeditions.
Note that, though these activities happen in the outskirts, the agencies conducting them have offices at different locations inside Rishikesh. So, even a simple Google search will get you a number to contact them.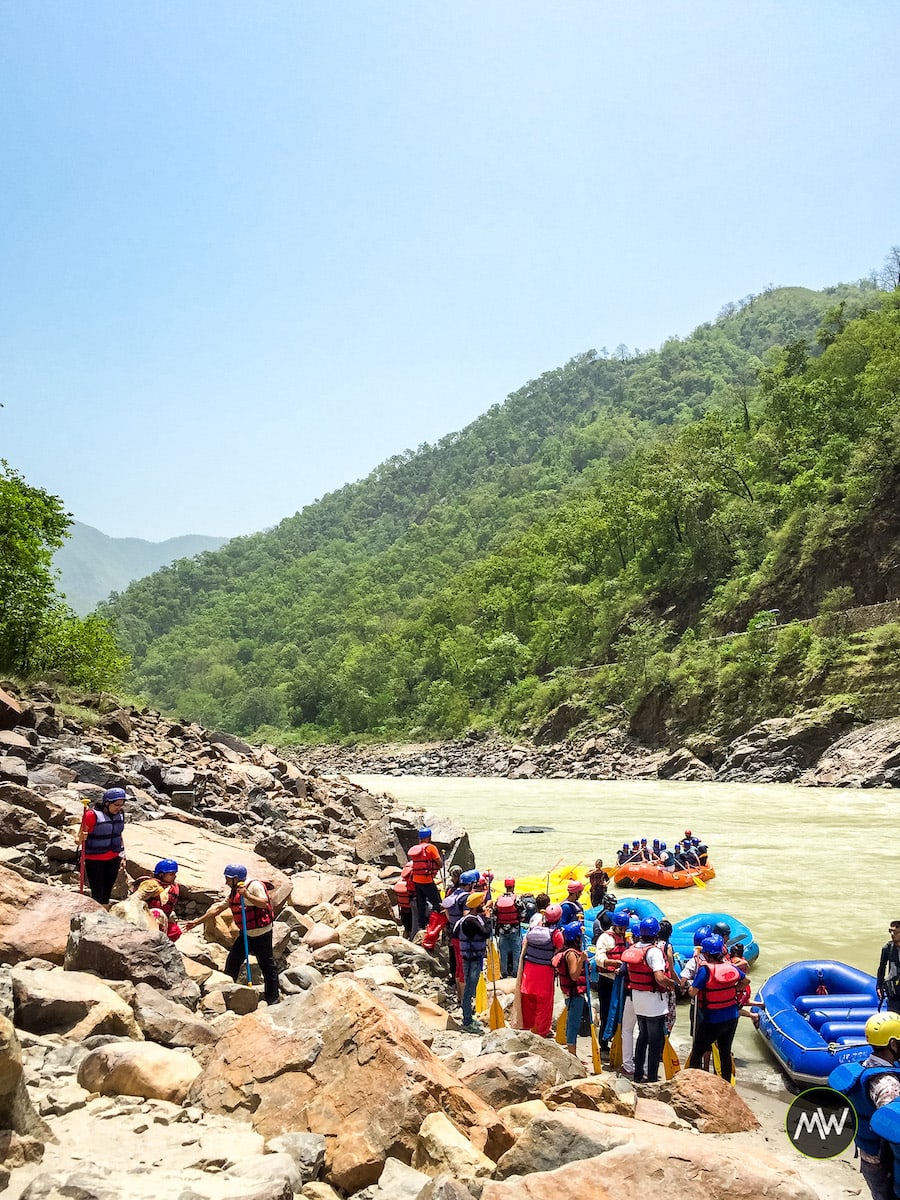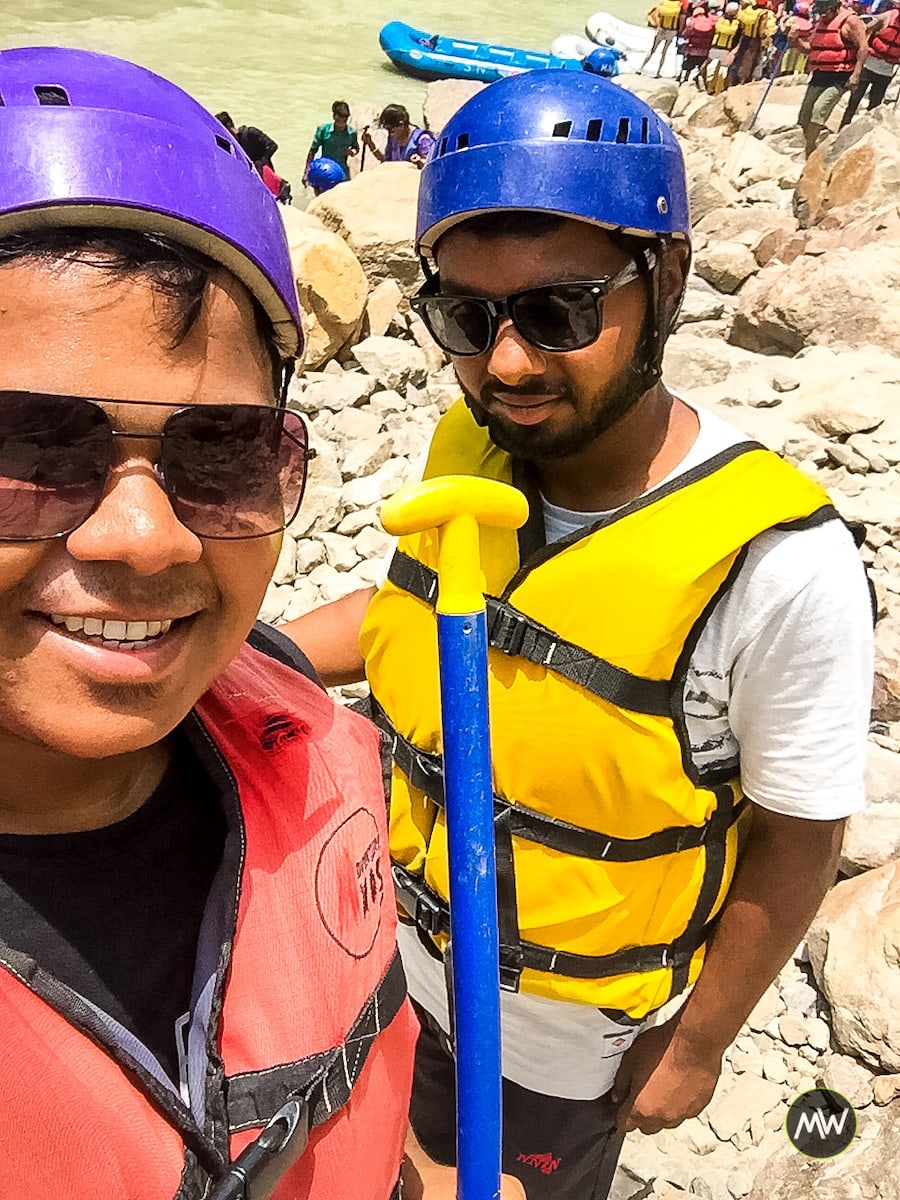 Here's a list of activities you can do and places where you can do them (with helpful links):
| Activity's Name | Where Can You Do It? |
| --- | --- |
| Yoga & Meditation | There are many yoga and meditation centers in the city. Parmarth Niketan and Sivananda Ashram being the top ones. |
| White Water River Rafting | In Shivpuri. You can find several agencies in Tapovan, Jonk, and the city. |
| Bungee Jumping | Conducted by Jumpin Heights. |
| Paragliding | Air Safari runs most of the air expeditions. |
| Camping | Camping is in most Rishikesh travel packages. You can alternatively contact travel agencies available in Tapovan or Jonk. |
| Trekking | You can go trekking yourself or with a guide to the waterfalls. Contact the property you're staying in or contact a travel agency in the city. |
| Ayurvedic Therapies & Massages | Like yoga, there are many Ayurveda centers for getting massages. You can try Braham Yoga And Natural Healing or Hemadri Ayurveda Centre; the two are famous. |
Souvenirs to Buy in Rishikesh
Souvenirs are the best way to capture a place's essence and take it to your home. They act as a lock to the box of memories you created at that place.
Rishikesh has some of the significant objects that you can buy as souvenirs. Here's the list of the top souvenirs you can buy in your Rishikesh travel:
"राम राम" and "ॐ" printed T-Shirts and Kurtas
Religious Books
Sandalwood
Shaligrams
Puja Items – bells, plates, and other objects.
For a more in-depth guide on souvenirs, you can read IndiTales' post.
Hygiene & Public Toilets
How is the cleanliness and availability of public toilets in Rishikesh?
Team Misfit spent around 3-4 days in Rishikesh, and most of the time, we were out in the street. We had to use public toilets frequently, and we are glad to inform you that they are available near most of the attractions. Some are by Ashram authorities, and some are by the city's administration – the Sulabh Complex.
Mode of Transport & Distance Between Attractions
Most of the attractions are near the city center and landmarks ⏤ Ram Jhula and Laxman Jhula. However, adventure activities mostly happen on the outskirts, typically 16-18 km away from Tapovan and Jonk. Also, most waterfalls lie on the outskirts too. Further, Neelkanth Mahadev temple is around 34 km from Rishikesh.
Please interact with the following map to get a clear understanding or open this map on your Google Maps application.
How to Reach Rishikesh?
Railways
Rishikesh has its railway station, Yog Nagari Rishikesh. Trains are available from the most major stations of India. It's the most beautiful station we've seen. The city is around 2-4 km from the station. See the pics: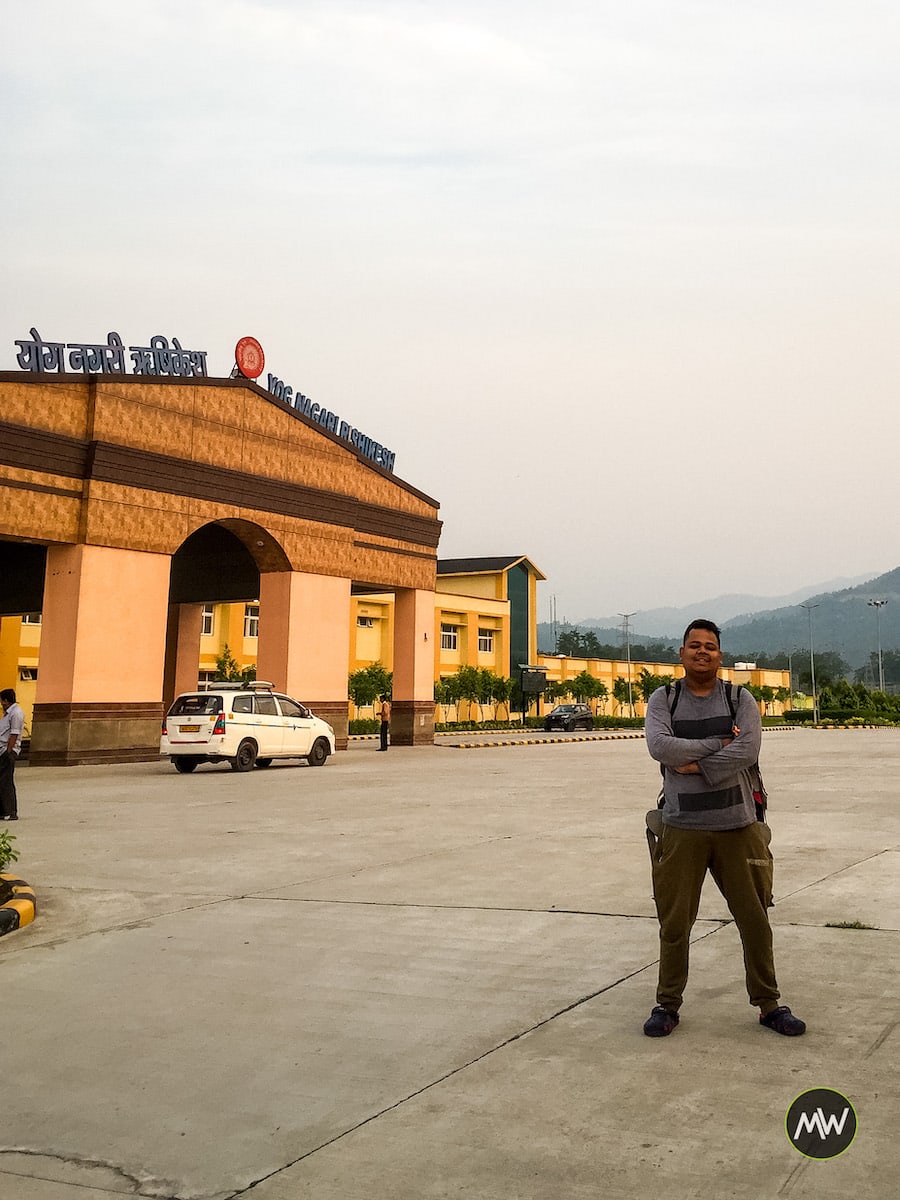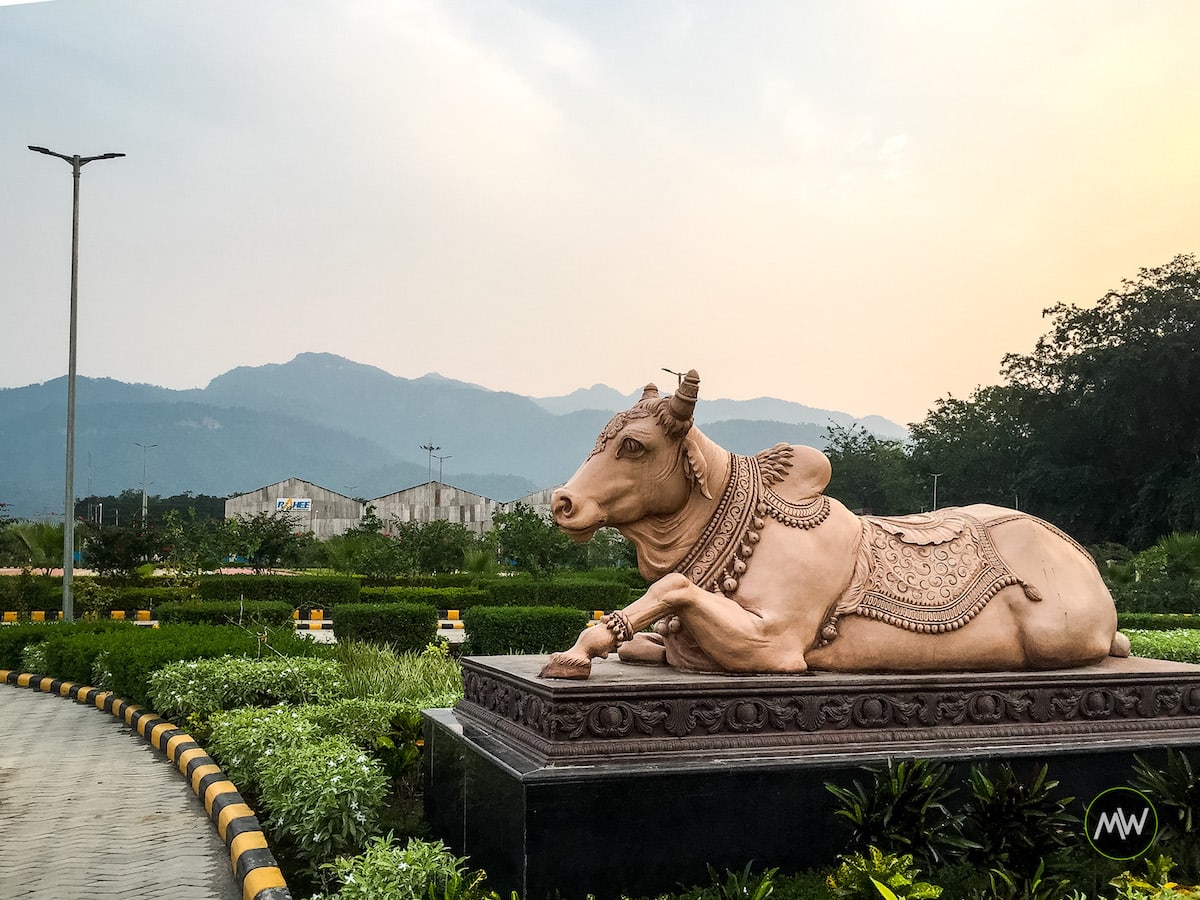 Roadways
You can get a direct bus of Uttarakhand Parivahan Nigam from Delhi's Kashmiri Gate ISBT to Rishikesh or Haridwar (which is ~35 km from Rishikesh). If you arrive at Haridwar, there are frequent buses and local transport to Rishikesh.
Airways
Jolly Grant airport in Dehradun is the nearest airport, about 21 km away from Rishikesh. Regular flights from the national capital Delhi land here. You will readily get taxis to reach Rishikesh.
Best Time to Visit
Although Rishikesh gets visitors every month of the year, the best time to visit in Rishikesh is highly subjective. It depends on various factors and your preferences, such as weather, activities, crowd, and more.
Please see this table to determine the best time for your Rishikesh travel:
| Your Preference | Best Time To Visit |
| --- | --- |
| You want to enjoy Rishikesh and do adventure activities. | March to June (peak season) |
| You want to enjoy chilly winters in the mountains. | October to February |
| You want leisure travel, away from crowds. | July, August, December, and January (off-season) |
| You want to do Char Dham Yatra. | May to October |
| You only care about adventure activities. | Every month except the ones which fall in the rainy season (July to September). |
Workation, Number of Days Required, and Budget
Workation
The last time we visited Rishikesh, there were some pretty good options for doing Workation — work + vacation. It's a new trend in the industry, and many youths have implemented it successfully in the harsh times of the pandemic 2020.
Workation stays typically start at INR 4,000 per month, including your stay and WiFi expenses.
Like the best time to do Rishikesh travel, the budget is highly subjective. It depends a lot on what type of person you're, your preferences and what time of the year it is.
Number of Days
How many days is good for Rishikesh travel?
If you're looking for a weekend getaway, you don't have more than three days. If you can afford a few more days, you can explore every facet of Rishikesh. With that said, it's safe to say three to five days are enough to explore Rishikesh, enjoy adventure activities, and enjoy some time in solitude near a bank of the Ganges.
Budget
Budget, again, is highly subjective and depends upon various economic factors. An introductory tour that includes sightseeing and local foods will cost much less than a tour with adventure activities.
Here's the table with an estimated cost of travel depending upon the type of tour you take:
| Type of Tour | Estimated Price Per Person (including food & local transport) |
| --- | --- |
| Basic Tour | INR 5,000 |
| Basic Tour + Camping | INR 7,000 |
| Basic Tour + rafting | INR 7,000 |
| Basic Tour + Rafting + Bungee Jumping + Camping | INR 12,000 |
Other Expenses:
INR 500 starting price for scooter rent (excluding fuel price).
INR 2000 starting price for camping and rafting.
INR 4000 starting price for bungee jumping.
Accommodation & Options for Stay
From luxurious resorts to free stays, Rishikesh has everything in between. Most lodges, restaurants, and hostels are available in and around Tapovan, Rishikesh.
You can even stay for free in Geeta Bhawan of Swargashram (near Ram Jhula), encompassing about 1000 rooms.
Travel Tips
Don't forget to visit Shri Bharat Mandir in Jhanda Chowk, dedicated to the deity from which the city gets its name, Lord Hrishikesh Narayan.
If you don't like the crowd, avoid visiting in peak season, from March to June.
Make sure you pack proper woolen clothes from November to February.
You should stay near Laxman Jhula or Ram Jhula, as most attractions are around these iconic landmarks.
If you're coming for rafting, make sure you check the official site for knowing the status. Rafting is closed in extreme winters and the rainy season.
Post your stories and Reels (or Shorts) tagging us @MisfitWanderers (@misfit.wanderers on IG), and we'll repost them on our handles.
Frequently Asked Questions about Rishikesh
How did Rishikesh get its name?

Rishikesh gets its name after Lord Hrishikesh Narayan, known as Shri Bharat Ji Maharaj, an incarnation of Lord Vishnu himself. Shri Bharat Mandir is a temple dedicated to the deity and lies in the city center.

Why is Rishikesh famous?

Rishikesh is famous worldwide as the Yoga Capital because it has many yoga and meditation centers. Apart from that, Rishikesh is also known as the adventure capital of India as it offers rafting, cliff jumping, bungee jumping, and many other adventure activities.

How many days are enough for Rishikesh?

Three to five days are enough to explore Rishikesh, enjoy adventure activities, and enjoy some time in solitude near a bank of the Ganges.

How to reach Rishikesh?

Yoga Nagari Rishikesh (YNRK) is the nearest railway station connected to major train stations in India. The nearest airport, Jolly Grant Airport, Dehradun, sits about 21 km away. And you can get regular government buses to Rishikesh from the national capital Delhi's Kashmiri Gate ISBT.

When to visit Rishikesh?

You can visit anytime from December to June. Please note that avoid visiting in December, January, and February if you can't bear the cold environment.
---
Conclusion
Rishikesh is the gateway to Char Dham. Therefore devotees visit in masses when the yatra remains open. Besides that, Rishikesh has nature's blessings, adventure activities for that adrenaline rush, and yoga and meditation to calm your senses.
We have tried to show every facet of Rishikesh via this trip and covered every topic we can think of; however, if you think we missed something, we'd insist on your help. Use the comment box.
And if you have done Rishikesh travel already, tell us about your experience and rate this travel guide? Your efforts are a privilege for us, and your feedback — truly matters a lot.
---
An appeal: Please do not throw litter around. Use a dustbin and if you can't find one, take the trash with you and throw it when you find one. Your small steps like this one can make the world clean and green.