Planning to visit North Goa? Love beaches but tired of the crowd? Searching for secluded places? Need nature's embrace but can't skip a night club?
If you're anything like me and/or nodded assertively in any one of the questions above – let me show you the most secluded and dreamy beaches in North Goa which I've personally explored. And I'm sure it will definitely help you plan better for your trip.
If you've read our travel story of Goa, you'd have known that it is much more than beaches and parties.
See, Goa is basically divided into two districts – North and South. Going by the popular belief, North Goa is for party buffs, 'fun-loving' peeps and considered to be the most happening part of the Goa. On the other hand, South Goa is famous for its beautiful, serene, gorgeous and less crowded beaches.
I know what you're thinking of – why the heck I'm showing you secluded or dreamy beaches of North Goa when South Goa has it? Right?
Calm your senses. I'm no crazy guy (except most of the time). What happens when you wanna party a little and explore the calmness of beaches too? Huh? Do you wanna keep running from the South Pole to the North Pole, I guess not?
North Goa maybe badged for things like party and ya-ya-yu-doo but this doesn't defy the fact that it has some of the most beautiful, secluded and worth visiting beaches. Right? And I'm right here, to show you just that. (By the way, Queen of Beaches, Calangute, is in North Goa only).
---
---
Before you proceed, some FAQs to help you.
Is North or South Goa better? And why?
It depends on your preferences. Want to sit alone on a beach – South Goa and extreme North Goa are for you. Want to party hard and enjoy the adrenaline rush – North Goa is for you. Want to do a little bit of both – North Goa recommended.
Why North Goa is famous?
North Goa is majorly famous for partying and enjoy the happenings of the Goa beaches. Some of the oldest cafes, beaches, fort, architecture, flea markets, and shacks are here too.
What to do in North Goa at night?
Besides sleep, you could visit beaches like Querim, Anjuna, Arambol at night. Enjoy at any beach club, feel the Las Vegas in casinos or just stroll with your human assets on the beach.
What are some cleanest beaches of North Goa?
Arambol, Querim, Vagator, Calangute, Mandrem, and Anjuna are some of the cleanest beaches in North Goa.
Where do I enjoy water sports in North Goa?
Vagator and Anjuna beach are your options. You can enjoy almost every sort of water sports like jet-skiing, parasailing, motorboat riding, surfing and so on.
The List of Top 5 North Goa Beaches
I've kept the list short, concise and to the point – without talking stuff that may confuse you. In a listicle form, here are they:
Querim or Keri
Arambol
Mandrem
Vagator
Anjuna
In much detailed sense, let's explore how these beaches really are and I'll share my experiences along with it. Dive in!
Querim or Keri Beach – Perhaps the Most Secluded
I was damn lucky to stay close to this beach in No Name hostel. You just walk or cycle 1 km and you're at the beach, just like that. Querim beach is perhaps the most secluded, non-commercialized, and clean beach of North Goa.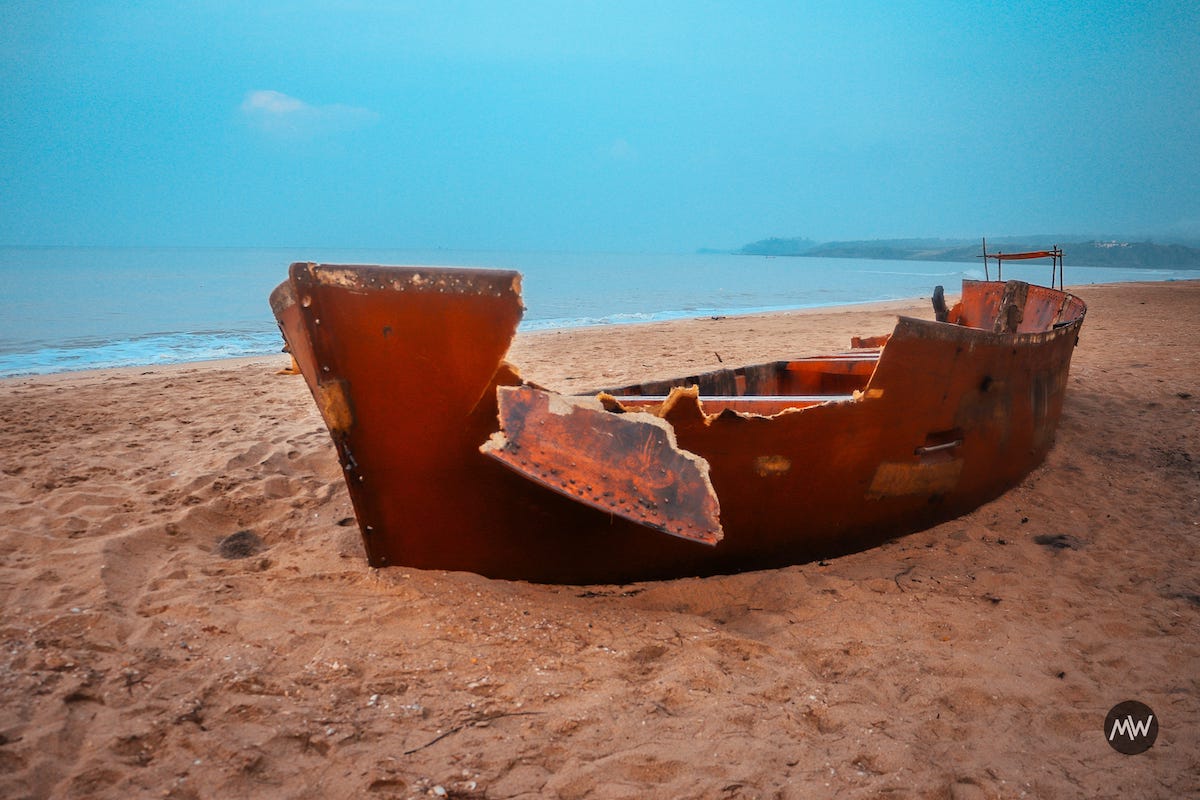 Coconut trees, cool breeze, sea sand, and sunset – this was all I got at this one beach only.
When you come here, you'll only find a few humans, fishermen, and some locals. There were no shacks when I visited here (October 2019), no Red Jeep blowing a whistle to rush me away from the shore. I only saw fishermen, a few tourists, and some locals selling coconut water.
An important thing to note is here that Querim beach is also known as Keri beach, and is more often used in the local dialect. So, in case you can't find directions or Google's biting you – ask locals with this name.
Querim beach is situated approximately 28 km from Mapusa Bus Stand in Goa.
Arambol Beach – Clean, Blue and Happy
If you were to ask me what was the bluest thing I saw on my last Goa trip, Arambol beach will ring the bell. For sure, without a doubt.
It is one of the best beaches in North Goa and I personally liked it for the happy vibes and dreamy look. It is not the most touristy beach but a considerable amount of people do visit it.
A limited number of water sports are available here. Shacks charge you approximately 150 INR per hour but I didn't go for it. Hawkers, street vendors, cafes can be found here. And of course, photographs come sexy with the tinge of blue at the back.
This is the beach where I lost my backpack. Gosh! That's a damn funny story to read.
Arambol is situated approximately 5-6 km ahead of Keri or Querim and is 22 km from Mapusa Bus Station
Mandrem Beach – Luxury and Peace
Mandrem Beach situated in Mandrem village of Goa is a luxurious retreat. The beach is mostly privatized by luxury hotels & restaurants and the only way to get to the beach is the way that passes through them.
We did get confused upon reaching here – where the heck is the way to the beach? Soon enough, at the far end to the coastline, we were able to find a wall separating us from the beach. We parked our vehicles by the wall just to get down and have a good look at Mandrem Beach.
And my God! What a super secluded and dreamy beach it is. Just like Keri beach, but a whole of services like shacks, bazaars, etc were there. Nature was in full mood as if when it created this beach.
Being a luxurious and secluded beach, one thing which could be enjoyed here is to relax within the lapse of nature along with premium services developed by humans. Wander in, get around any restaurant and explore their services and private beach area.
Mandrem Beach sits at a distance of 15 km from Mapusa Bus Station and lies ahead of Arambol beach.
Vagator Beach – Rock Solid with Water Sports
Also known as the rocky beach of North Goa, Vagator Beach is another very beautiful and a dream beach to visit. I mean, how could you not fall in love with – rocks at the seashore, marine life, tall trees, cloudy weather and infinite gallons of water in front of you giving goosebumps in your belly. You see, it's irresistible.
While Vagator is a touristy beach – a lot of tourists visit it, but verily it's a must-visit if you're coming to Goa. After all, you can't miss all the fun with water sports and activities.
Water sports like parasailing, jet-skiing, surfing, scuba diving, etc are available. You can prebook them or go on directly. Remember, bargaining works here!
Moreover, you'll hardly find shacks here since it's a rocky beach and situated at a depth.
Since Vagator is one of the evergreen beaches of Goa, heavily influenced by tourists – a number of options to sit, relax, refresh has been put up to. From local bazaar selling refreshments, souvenirs to luxurious cafes, restaurants, and lounges can be found here.
What I found most beautiful are those 'messy' rocks. Undoubtedly those served a perfect spot to sit idle for hours and blend in the environment. Ah, I still feel that chilly breeze on my cheeks.
Anyway, Vagator is just 9 km from Mapusa Bus Station.
Anjuna Beach and Flea Market
Well, it's not really an unknown beach because of the massive flea market that sets in every Wednesday. Anjuna beach is right next to Vagator, more or less similar to Vagator except there ain't so many rocks.
You can enjoy this beach with abundant greenery and the famous Anjuna Flea market near the beach.
Anjuna Flea market is a tradition of more than three decades, started by hippies selling stuff to fund their stays. But now it's no more only-filled with hippie's stuff type market rather it is merchandised from products all over India – Kashmiri, Rajasthani, Kerala and much more.
This market adds beauty to Anjuna Beach. Bargaining works here, so don't just throw your money without any thought. Try buying good Indian souvenirs here.
Apart from the market, Anjuna beach offers a wide range of water sport activities (parasailing, jet-skiing, surfing, scuba diving).
Shacks, cafes, bazaar, and activities make such a dense and beautiful environment here that this beach should not be avoided. It's approximately 10 km from Mapusa Bus Stand and ahead of Vagator.
---
Final Words
There, you have it. The top 5 North Goa dreamy beaches that no one seems to be talking about. Hope it would have helped you or will help you. In any case, should you need help – you know I'm here your majesty!
But, before going away, I have a curiosity.
Actually, when are you coming to Goa?