4 o'clock in the morning, kulhar coffee, cool breeze, and a flock of white birds sitting on the tree in front. Chikmagalur, a coffee town in Karnataka, welcomed me like this. This was my solo trip. And I was wondering what are the places to visit in Chikmagalur?
A lot of emotions were emerging in the mind, there was a sigh in the breath, sitting on the window seat of the bus, wondering how the next 3-4 days would be spent. I took a night bus from Bangalore to reach Chikmagalur. It was dawn when I reached in Chikmagalur.
---
---
Reaching Chikmagalur
Just think – a new city, new people, a new language, new culture, yet a feeling of belonging, this is the beauty and unity of our country, and me traveling solo will make this trip more adventurous. If you want to get yourself lost in the right way, then you should definitely go for a solo trip in your life.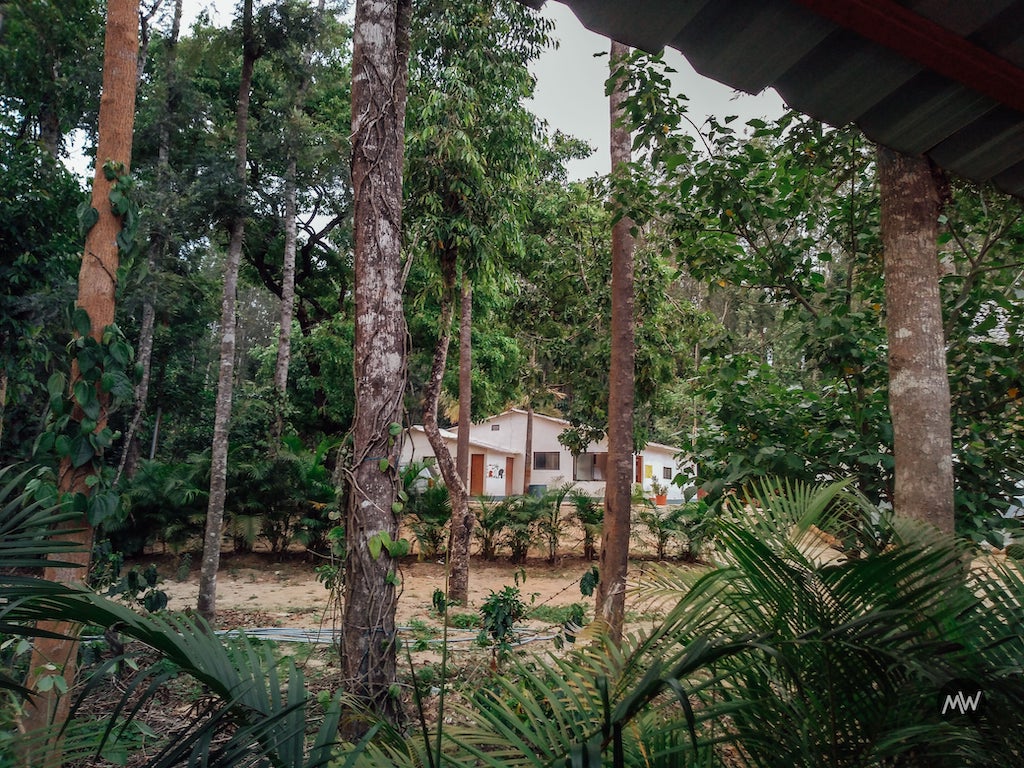 The descent of cool breeze touched my face. After waiting for 2 hours at the bus stop I got a bus to my hotel. Since my hotel was 8 km from the city, the only means to reach was just the bus.
Let me tell you about the location of the hotel, it was near a village where there was nothing but the lush greenery on each side.
Being a bit tired, I thought of taking some rest that day and walking around in the evening. I stayed at Zostel Chikmagalur.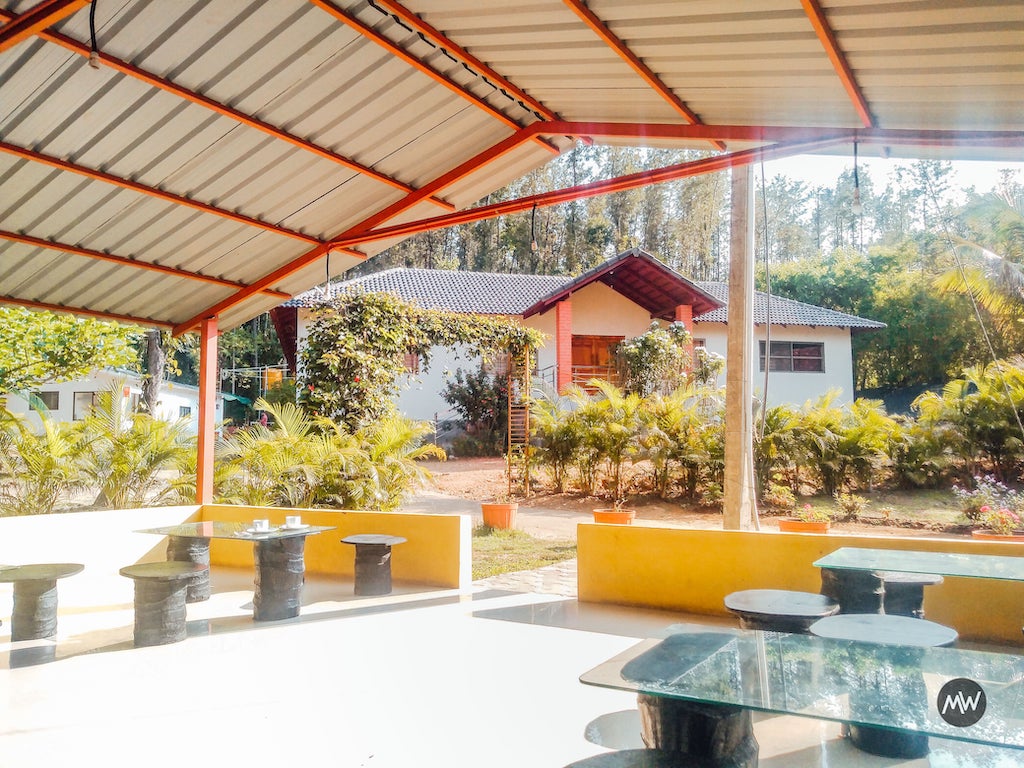 Places to Visit in Chikmagalur
Hirekolale Lake
The next day, I was ready after breakfast and waited for the bus on the roadside. I didn't even know number or name of the bus. Thought to be ask for a lift, and I did. A young man gave me a lift. He called his name Rahul.
We gossiped a bit and he left me in the main city. While wandering, I reached the Hirekolale lake. I might not be able to describe you in words the beauty of what I saw. I quickly went to the shore, put my feet in the water, and sat down.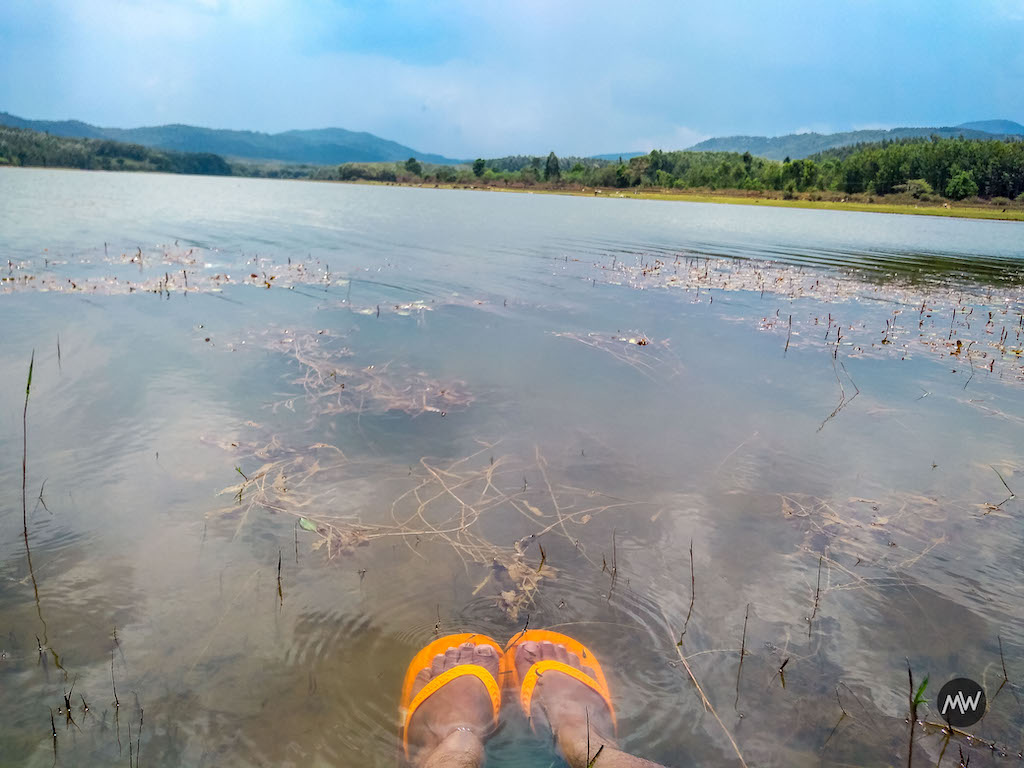 I was sitting on the shore reading the novel of Shivya Nath – 'The Shooting Star: A Girl, Her Backpack and the World,' when I heard a call from someone coming from behind.
Looking at it, an elderly man stood with a stick in his hand. He said something in the Kannada language that I did not understand. I indicated to him that I did not understand.
But still, he kept trying to tell something for a long time. I was also listening to him carefully. Perhaps he was pointing out that the cows grazing are his, they belong to him, or the nearby fields belong to him.
After some time he asked for water. Giving a smile after drinking water, he left. I lay down again putting my feet in the water. I took a power nap too. After spending a few hours, I confined myself to return.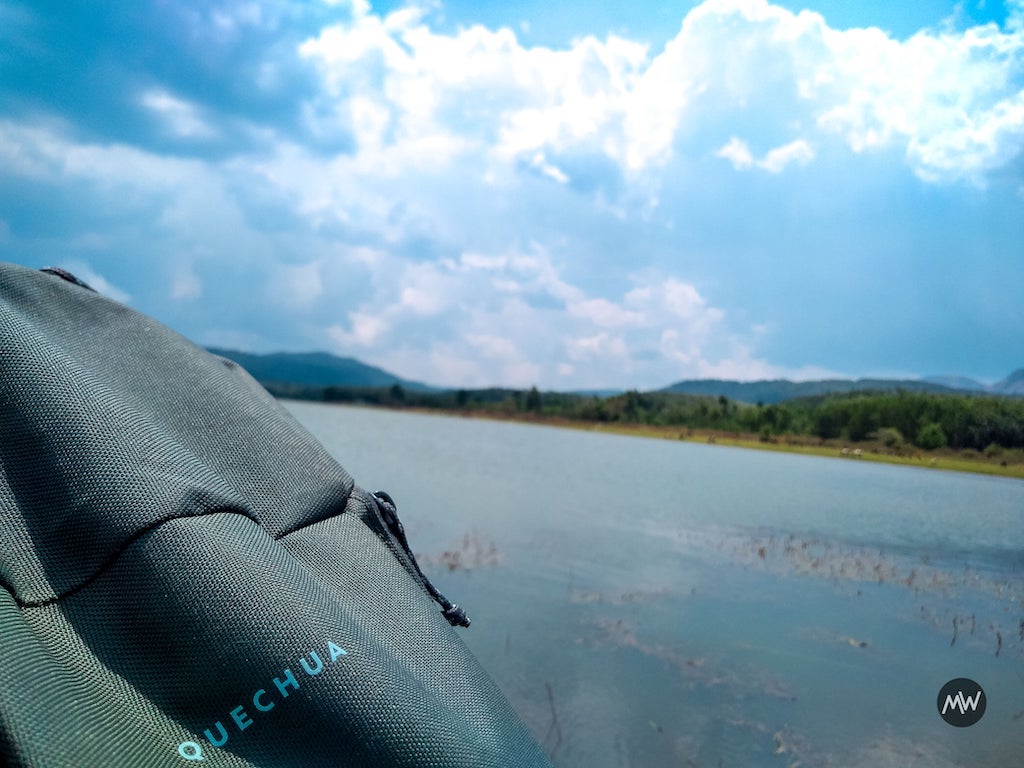 I was not getting an auto to return when a bunch of boys came to me. Asking for a lift for a short distance, it came to me that a boy among the group was going towards the city. I quickly shifted on his bike.
After talking for a while, I asked him what he does? He said, 'I am a thief.' Hearing this, my hand went to my pocket. Everything was in its place efficiently. He told me his short story about how things happened in his life.
I was thirsty. Knowing this, he stopped the bike near a sugarcane juice stall. As soon as I gave money after drinking, he held my hand and said, you are in my city, I will give it.
In a few moments, there was such an association that…there was a bakery shop in front of him, where his mother used to work. He introduced me to him. He also invited me to come home. I said that if I get time, I will definitely come. Then he left me at the bus stop, having lunch, and headed back to the hotel.
Chennakeshava Temple, Belur
The next day, as soon as I reached the hotel exit gate to begin my expedition, I was taken aback. Rahul was already waiting for me. He smiled and welcomed me and asked me – where today? I said I have to go to Belur today. He helped me to get a bus from the bus stop to Belur which is at a distance of 35 km from the stop.
The Chennakeshava temple is located in a place called Belur in the Hassan district. It was built by King Vishnuvardhana in 1117 AD. The temple was built over three generations and took 103 years to finish. It was repeatedly damaged and looted in wars. It was also repaired repeatedly. It is 35 km from the city of Chikmagalur and about 200 km from Bengaluru.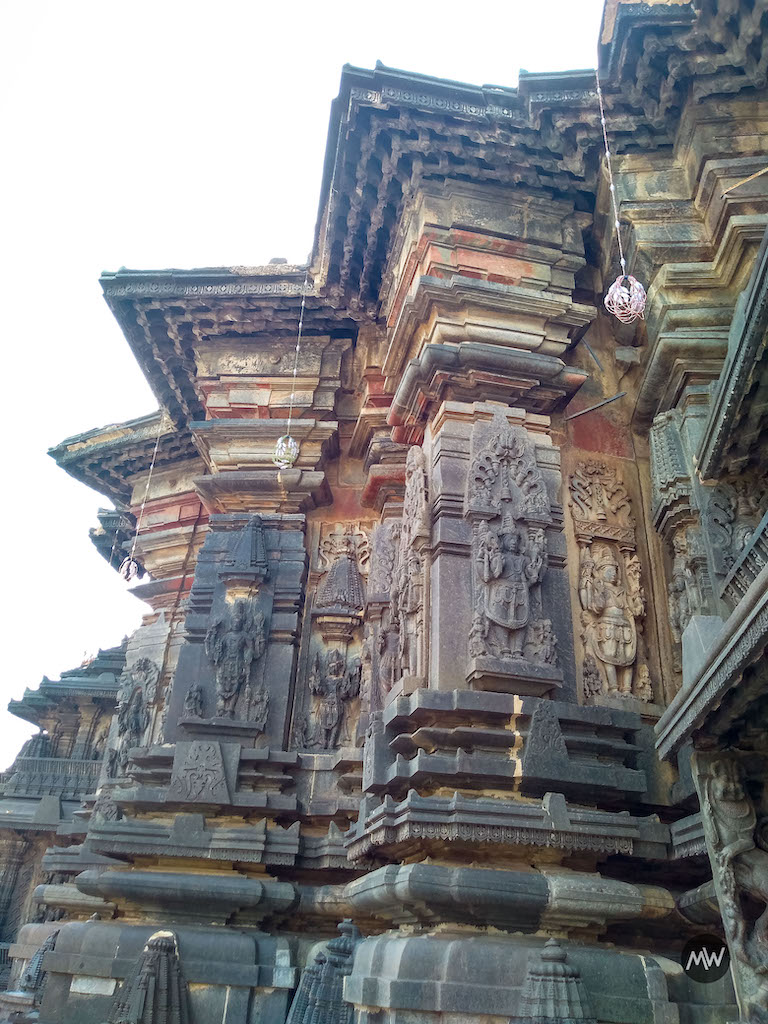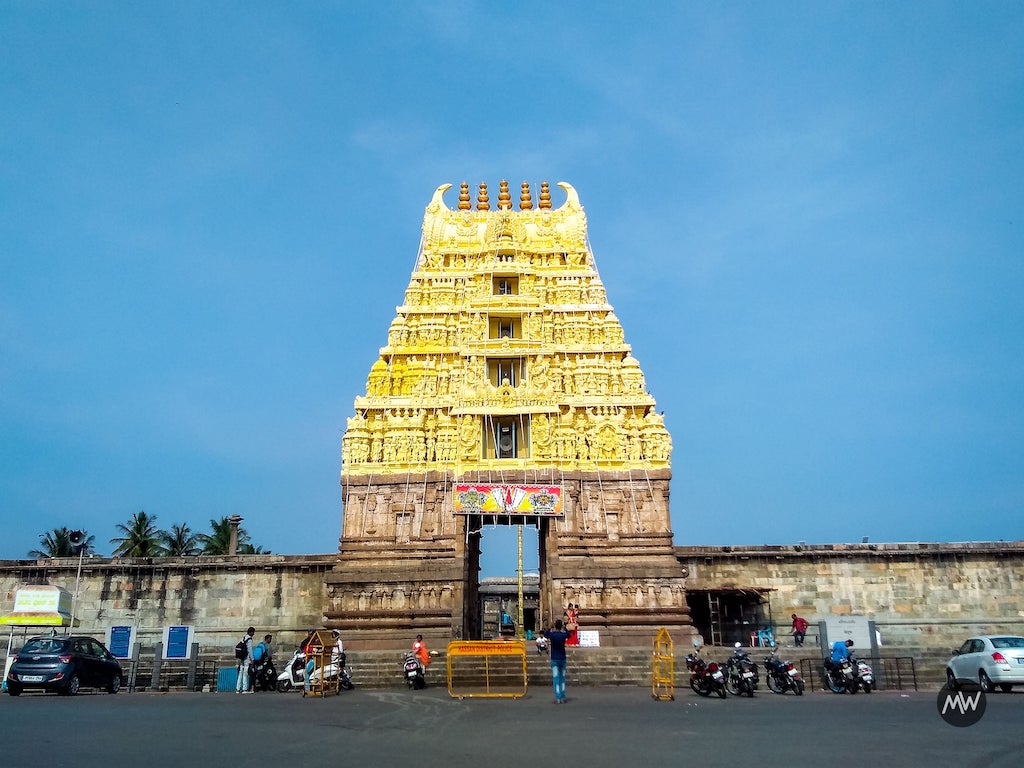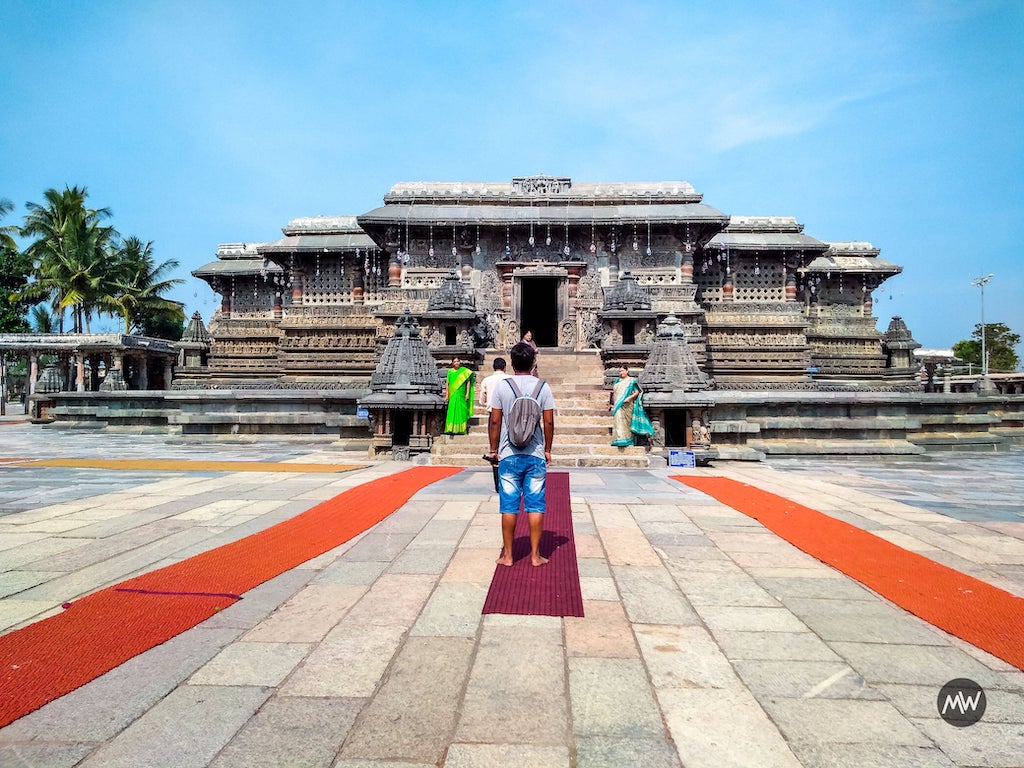 This temple is dedicated to Lord Vishnu. There are a total of 13 temples in the temple complex. On seeing this, one can get a glimpse of the Dravidian and Vijayanagara architecture.
Mullayanagiri
Located in the Baba Budangiri mountain range, Mulliyangiri is located at an altitude of 1930 meters above sea level. It is the highest peak in Karnataka. It is 10 km from the main city.
The place is famous for its serene atmosphere, greenery, and trekking. There is also a Shiva temple, which adds to its beauty. On reaching the height, you will experience peace and peace. The hill curves and jungle paths are quite famous for exciting trails.
In addition to trekking, you can enjoy camping, mountain biking, and hiking
Baba Budangiri Peak
The place is 12 km from the city. Dedicated to Saint Hazrat Dada Hayat Khandalar alias Baba Budan, this place is known for its temple. This place is revered by both Hindus and Muslims alike. Chikmagalur is the city where coffee was first grown in India. Sufi Baba Budan is believed to have grown the coffee crop at this place in 1670 AD.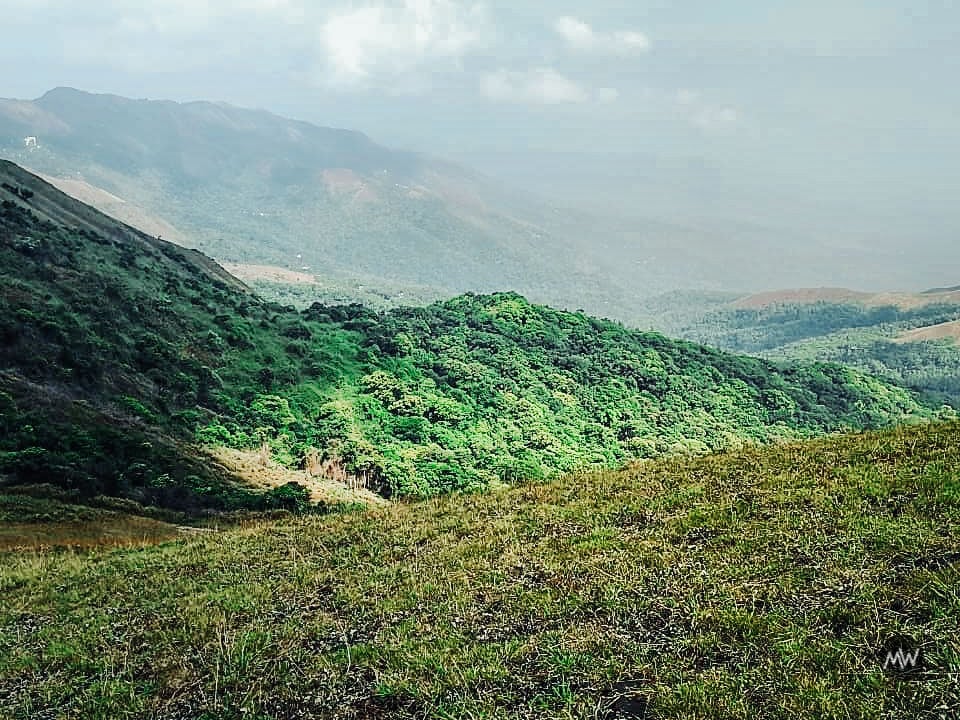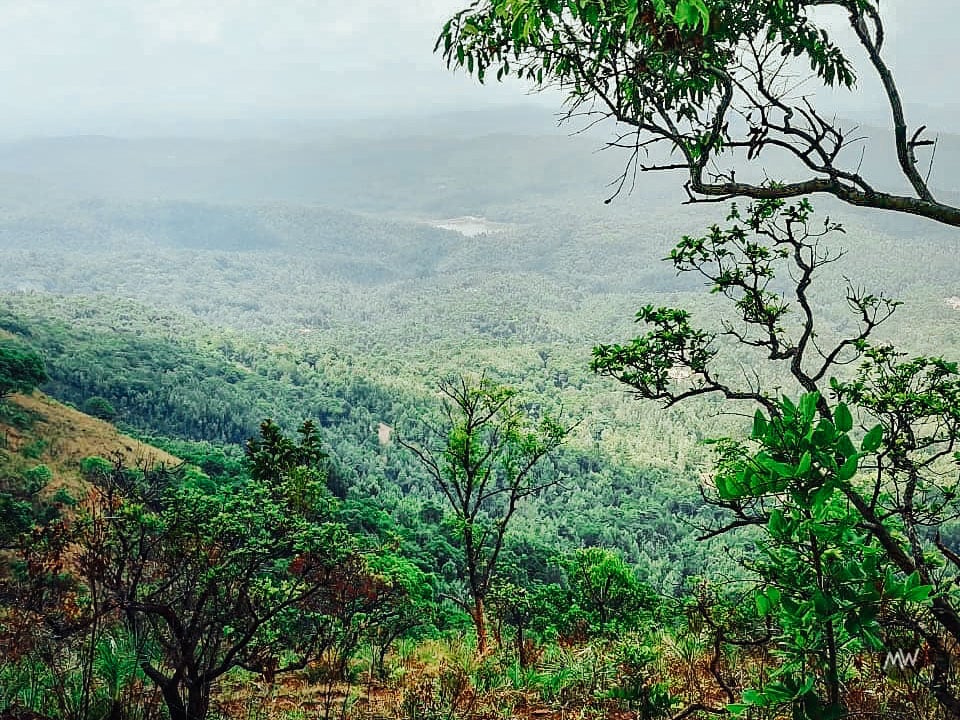 The unique flower species of Nilkurinji also blooms once every twelve years on these hills, which is a major attraction of this place. Baba Budangiri Hills is also famous for dense forests. Hiking and trekking can be done in these hills.
Bhadra Wildlife Sanctuary
The Bhadra Wildlife Sanctuary, spread over a vast area of ​​490 square kilometers, is located only 38 km west of Chikmagalur city and is one of the must places to visit in Chikmagalur.
Surrounded by the hills of the Western Ghats everywhere, the view of Bhadra Wildlife Sanctuary looks like a movie scene! Far-flung mountains, like snow-clad peaks, penetrate the sky. The high peaks of the mountains look as if the wildlife sanctuary has worn a crown.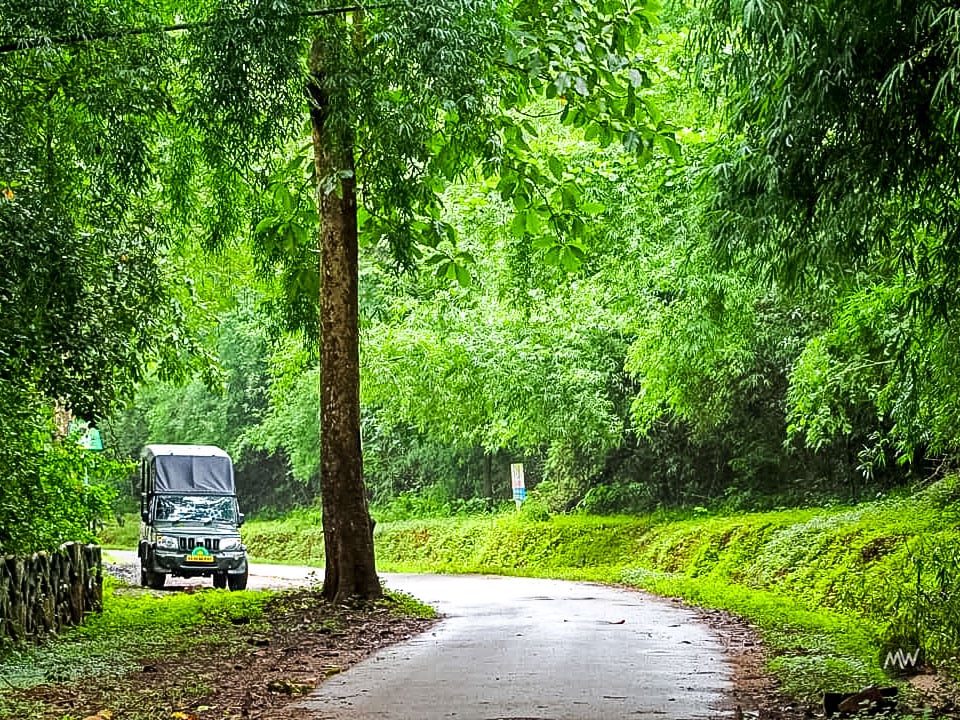 Do experience jungle safari here.
The ideal time for safari is 6-8 am and 4-6 in the evening.
According to official figures, there are 33 tigers here.
The Bhadra River passes through the sanctuary, so you can get a natural view.
Kudremukh National Park
Do not forget to visit this park located 60 km from Chikmagalur. It is famous for its natural treasures, mountains, ancient waterfalls, and lush green landscape. If you are a nature lover then this place is most special for you. Here you will get plenty of opportunities to get close to nature where you can spend a memorable moment.
It's lush greenery and nature is what makes it one of the places to visit in Chikmagalur.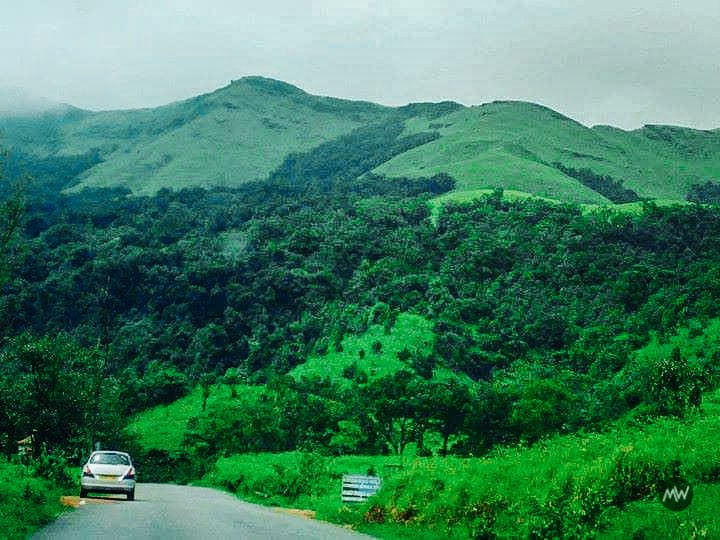 Kudremukh National Park is 600 km long. Various species of flora and fauna are found in abundance on many peaks of this region. Following are some important facts related to the garden –
Kudremukh got its name from the highest peak in the park.
This peak looks like a horse's face from a particular angle.
The height of this short is 6,214 feet and is the second-highest peak in Karnataka.
The park is inhabited by endangered animals such as tigers, wild dogs.
You can also experience trekking here.
Opening hours: 6:00 am to 6:00 pm.
Kodanda Ramaswamy Temple
The Kodanda Ram Temple at Hiremagalur, 5 km from Chikmagalur district, is an example of an ancient temple built during the period of Hoysala. The central structure of the temple is built in Dravidian style, the remaining part was built by the rulers of Vijayanagar.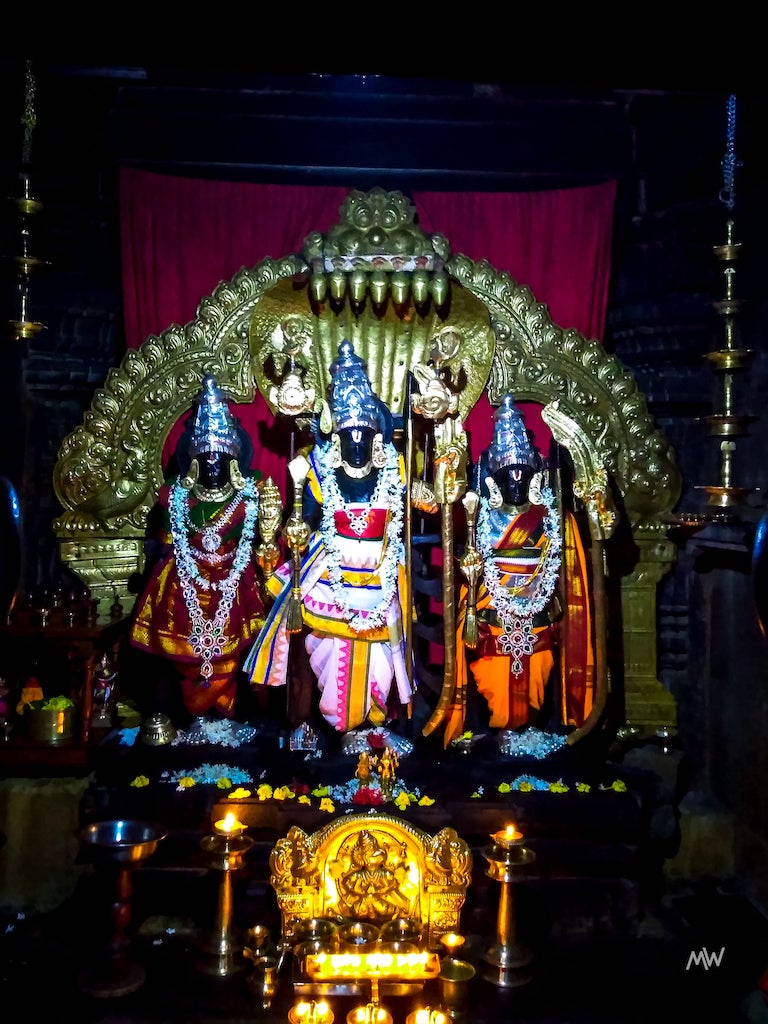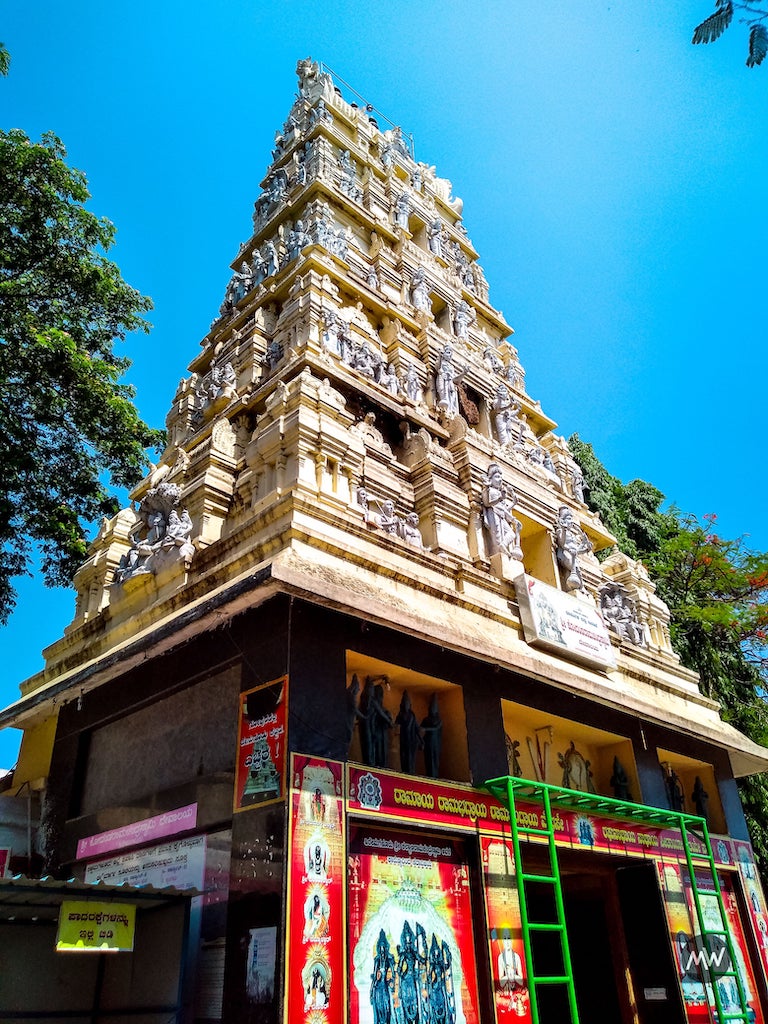 The Navagrahas were built in the 14th century and the main pavilion in the 16th century. The images of Kodand Ram, Sita, and Lakshmana are worshiped in this temple. According to Sthalapuran, Rama along with Sita and Lakshmana appeared to Parashurama at this holy place.
I met a unique person here, whose name was Hiremagaluru Kannan. I ate food with him and he told me many good things.
He is one of the well-known personalities of Karnataka. Despite being so famous, he leads a normal life. I was very impressed to see this. We shared a lot of religious and cultural things. Many things were learned from him.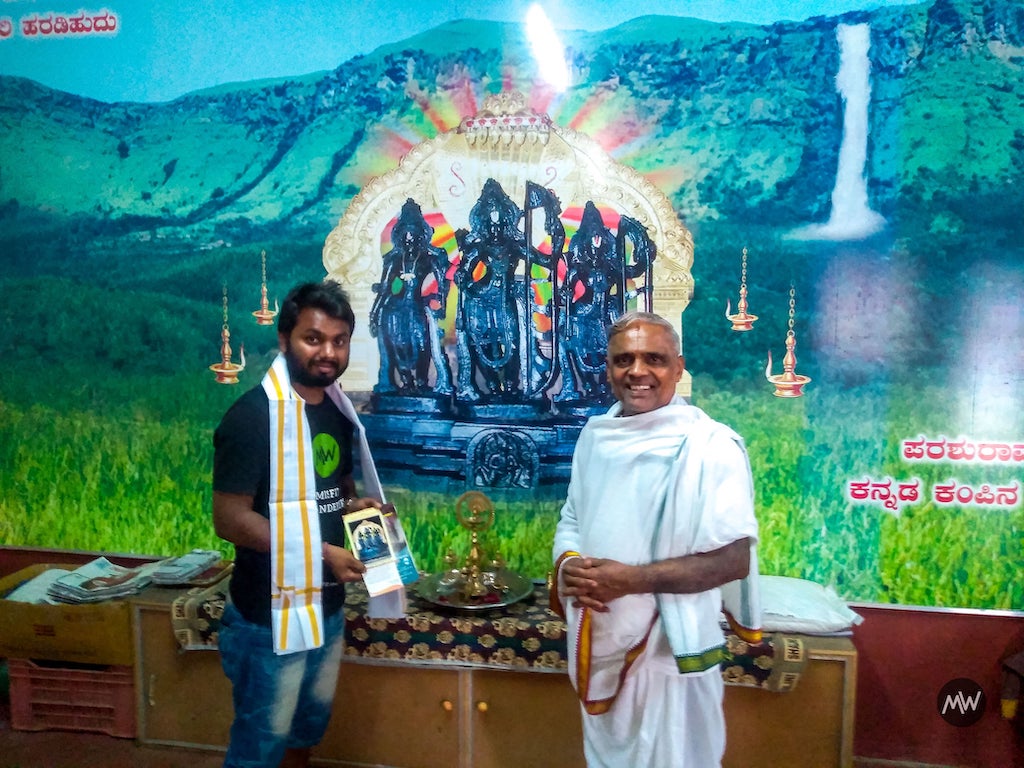 Hiremagaluru Kannan Ji is a litterateur, priest, writer, television personality, and radio jockey. He is associated with the program 'Coffee with Kannan' in the FM radio station 'Namam' Radio, which has 400,000 listeners worldwide.
He has written the book "Noodi Pooje" which is in the Kannada language. He has visited many countries so far in his life.
Some More Places To Visit in Chikmagalur
Sringeri Sharada Peetham
This holy temple established by Sri Adi Shankaracharya was named after the famous sage Shringi. He is the same sage who cursed King Parikshit for some reason in Satyuga. The place is at a distance of 57 km from the city.
The Coffee Museum
This museum tells the complete story of the historical journey of coffee. Also you can see the entire process of making coffee here. The distance of the place is 5 km from the city. This museum is operated by 'Coffee Board of India'.
Kemmangundi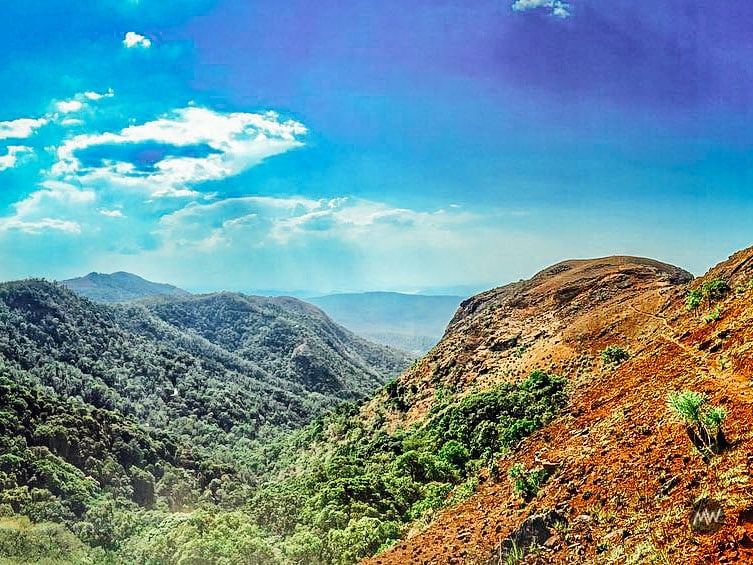 Kemmangundi is a hill station located a short distance away from Chikmagalur. It is situated at an altitude of 1434 meters above sea level. Here King Krishnaraja Wodeyar IV used to visit to get relief in summers and as a respect to the king, it is also known as Sri Krishnarajendra Hill Station. This place is also full of natural beauty in every way.
Hebbe Falls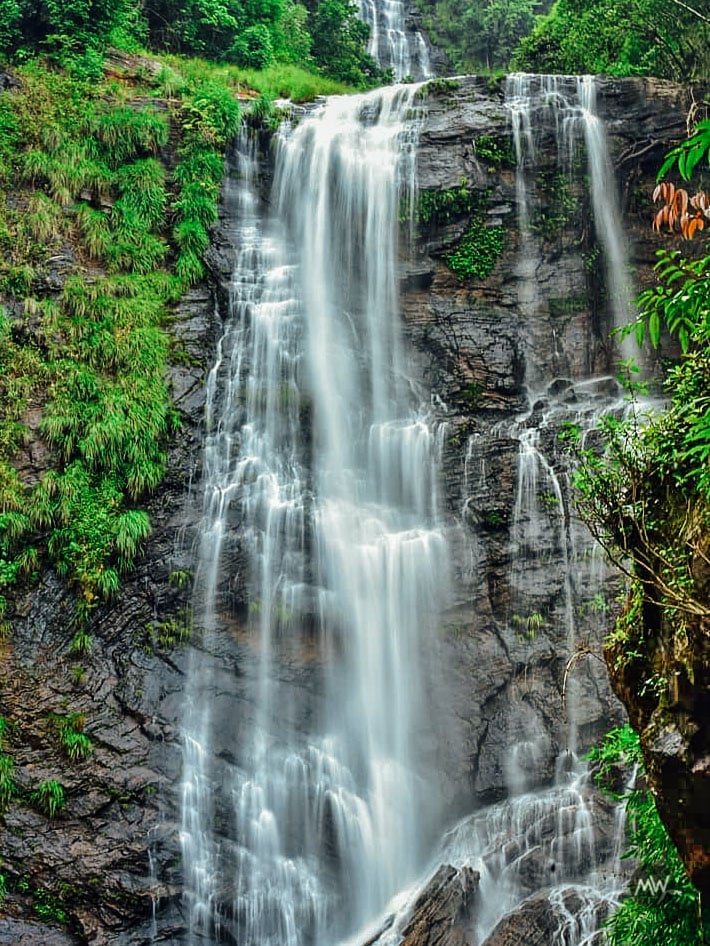 Nestled in the hills of Kemmangundi, this waterfall adds to the natural beauty. The stream of water falling from about 180 meters will mesmerize you. The cold climate, the cool air, the peace spread far enough is enough to injure anyone.
Things To Do Must in Chikmagalur?
Be sure to visit the coffee plantations, if possible, take the homestay in the middle of the gardens.
Trekking and camping will be best in this natural beauty.
Visit Veera Narayan Temple in Belawadi.
Have fun in Kalahatti Falls, 40 km from Chikmagalur.
Enjoy Kadambi Falls in Kudremukh National Park.
Don't forget to take coffee from here.
The MG Road in front of the bus stop is the main market of the city. You can shop here.
When to visit Chikmagalur?
Although Chikmagalur can be visited throughout the year, if you are a true nature lover, then the winter and rainy season will be most favorable. This time there is a wonderful beauty in its beauty.
How to Reach Chikmagalur?
By Rail:
The nearest railway station is Bangalore (244 km), Mysore (172 km), Hassan (61 km). Bangalore and Mysore are connected to different cities of the country.
By Road:
The easiest travel can be done by road. State transport buses are easily available from Bangalore and Mysore.
By Air:
You can reach here from Bangalore or Mangalore Airport. Chikmagalur can be reached from the airport via bus or cab.
Some Commonly Asked Questions Related to Chikmagalur
What is the right time to visit Chikmagalur?
Though Chikmagalur can be visited throughout the year, but it glows even more during the winter and rainy seasons.
What are the options to reach Mulliangiri peak?
You can book a taxi along with your own vehicle. Trekking is also a good option.
Was coffee first grown here?
Yes. Chikmagalur is the city where coffee was first grown in India. Sufi Baba Budan is believed to have grown the coffee crop at this place in 1670 AD.
Where to stay in Chikmagalur?
Although many hotels and hostels are available here, but if you want to enjoy the valleys, then take accommodation in the coffee estate. It will be a different experience.
What is the way to reach Chikmagalur from Bangalore?
Bangalore is the nearest airport, buses are operated at frequent intervals.
---
My Experience
I could not visit all the places during this short trip. But I don't regret this, because the more I travel, the more it is safe in my mind for the whole life.
I have not experienced so much on any trip as I did in Chikmagalur, perhaps that is why it is recommended to do a solo trip.
You should also take some time out of your busy life and spend some moments in the beauty of nature. They say nature heals and I know now.
Hopefully, this article will prove to be a little helpful in your trip to Chikmagalur. However, if you have any questions or suggestions, please share your thoughts with us in the comment box below.
---