Hazy clouds kissing up the enormous green mountains and the frequent rains pouring from above — that's how I remember my recent visit to Gangtok.
To ease your travel experience and make Gangtok a memorable trip for you, we have created this guide based on our actual experience. This guide will cover the top places to visit in Gangtok, food experiences, public transport, reaching Gangtok, and some practical travel tips.
Gangtok, the capital of Sikkim, is one of the most-visited destinations in East India. And now that you've prepared to visit this beautiful city, you're in for a treat. However, Gangtok is quite expensive, so if you're on a shoestring budget, you better be mindful of it.
Let's visit Gangtok.
Notice:This post may contain a few links that might earn us financial support when you buy or make any reservations. They in no way affect our opinion or the information presented here.
---
---
In Case You Want it in a Video
Top 8 Places to Visit in Gangtok and Nearby
Here is the list of the top 8 places to visit in Gangtok:
Nathula Pass
Baba Harbhajan Singh Temple
Bakthang Falls
Gonjang Monastery
Tashi View Point
Lhasa Falls
Flower Exhibition Center
Ganesh Tok
1. Nathula Pass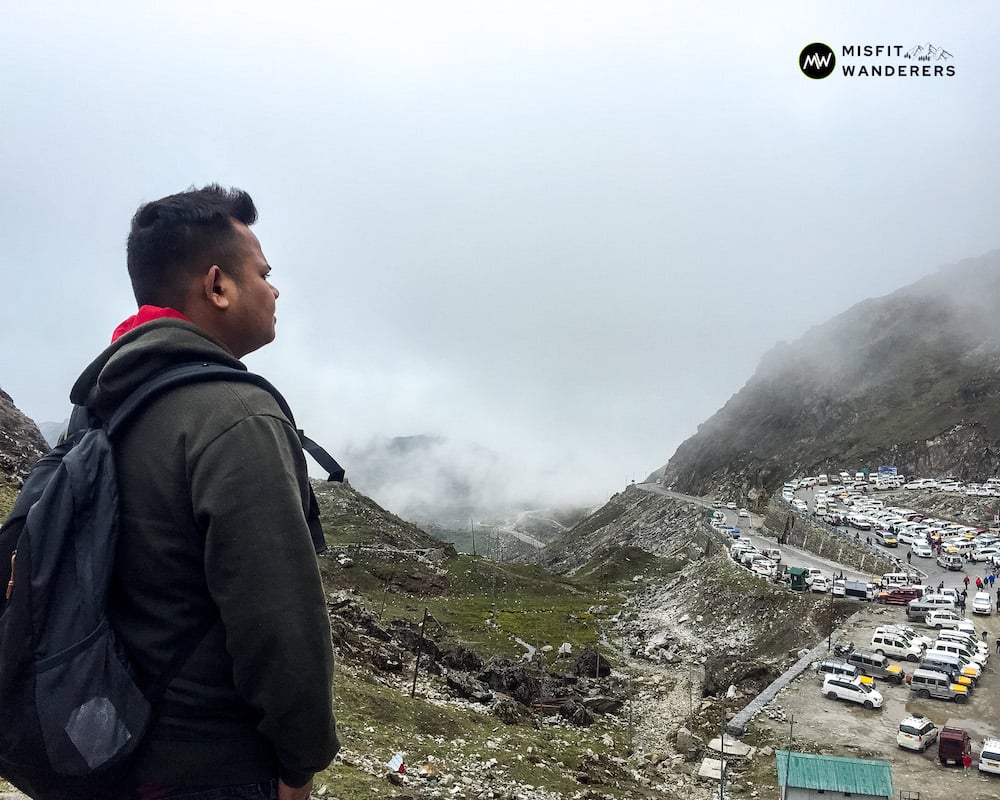 Nathula Pass is a mountain pass in Sikkim encompassing the Indo-China border. And one of the best places to visit in Gangtok and nearby.
It is at an elevation of over 14,000 feet and is approximately 55 km from Gangtok city's bustle.
Team Misfit visited this pass in June 2022, when it was the peak season to visit Sikkim. One important thing to note is that you'll need special passes to see Nathula. And it often takes work to secure a spot, especially during peak seasons.
Here's the pro tip: Come with a few xerox copies of any government photo ID such as a Driving License or Passport. An important thing to note: Aadhaar Card doesn't get accepted. At least it didn't get us in. You better have a backup and bring another ID card.
Immediately ask your hotel or cab driver to get a pass for Nathula for the next available morning.
Another tip: Nathula is at the height of over 14,100+ feet. That's enough to pose risks for people with medical conditions. Therefore, consult your doctor if you have any severe illness.
However, we've seen people in their 50s go to Nathula Pass. Further, we saw people buying camphor to curb breathing problems during our visit to Nathula. It's probably because of a rumor that says camphor helps in improving oxygen levels. However, there's no scientific evidence have been found yet.
2. Baba Harbhajan Singh Temple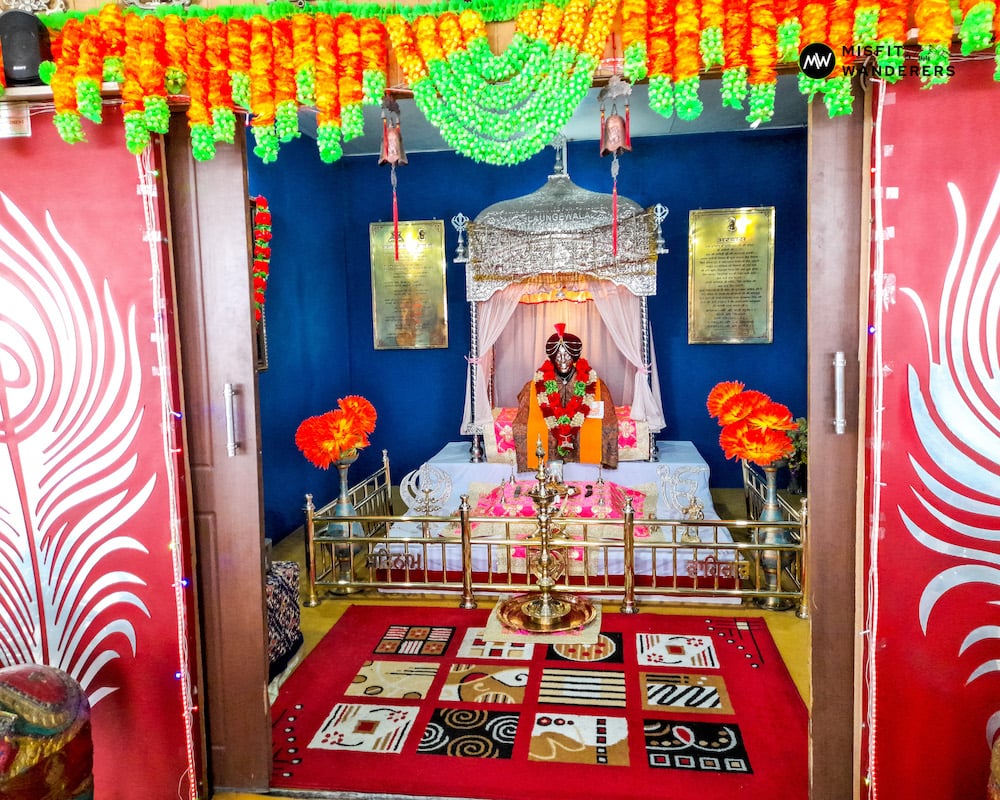 The soldier who never died. This unique temple is dedicated to Harbhajan Singh, a soldier of the 23 Punjab Regiment of the Indian army.
There's a fascinating legend attached to this site. Harbhajan Singh died by slipping into the valley near Nathula pass in 1968. The flowing water drove him far, and he was only found after 3 days of a search by the army.
Legend has it he came into the dreams of a fellow soldier after he went missing. And he expressed the desire to have a "samadhi" (cenotaph). Later a temple was constructed with great reverence. Further, the Indian army never declared him dead and retired like other soldiers.
He came to be known as a "Baba" or saint. Moreover, Bhuvan Bam's Plus-Minus is an award-winning short story loosely based on Harbhajan Singh's legacy.
You can visit this temple after returning from Nathula pass as it's on the way.
3. Bakthang Falls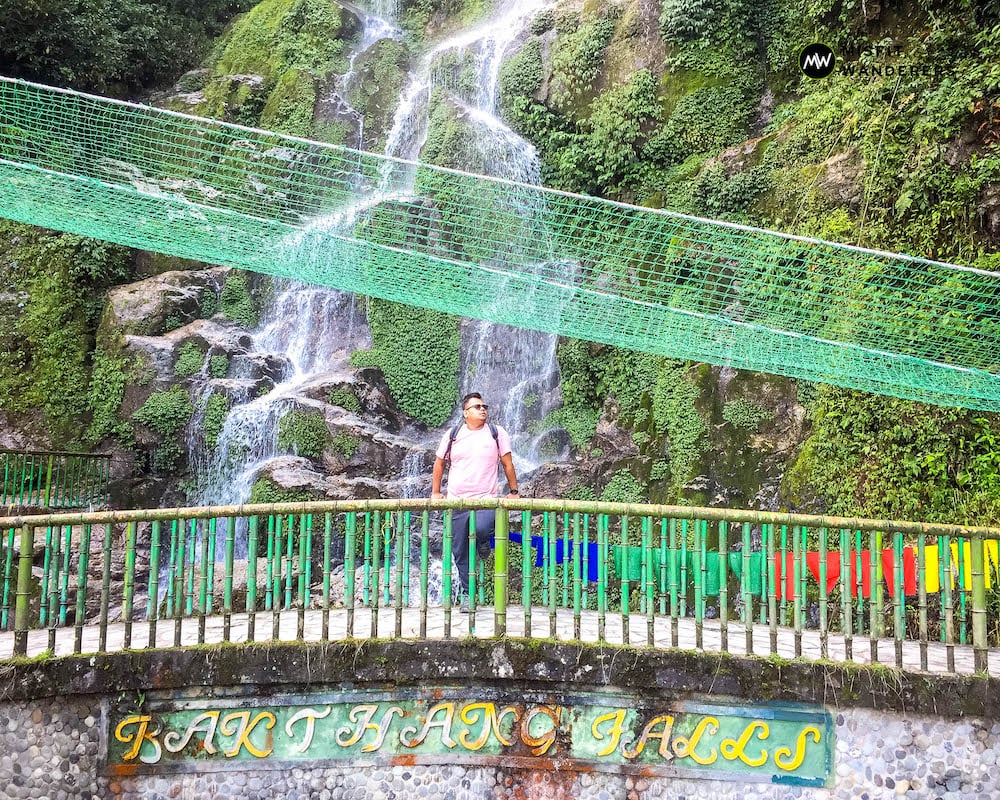 Bakthang falls should be on your local sightseeing list and can easily be covered if you stay in Gangtok. Further, it's a roadside fall and if you want to see the water in full force, avoid visiting in winter.
You can also go ziplining near the waterfall for about INR 100 (2022). Also, you can try the local dress and get photographed in front of the waterfall.
4. Gonjang Monastery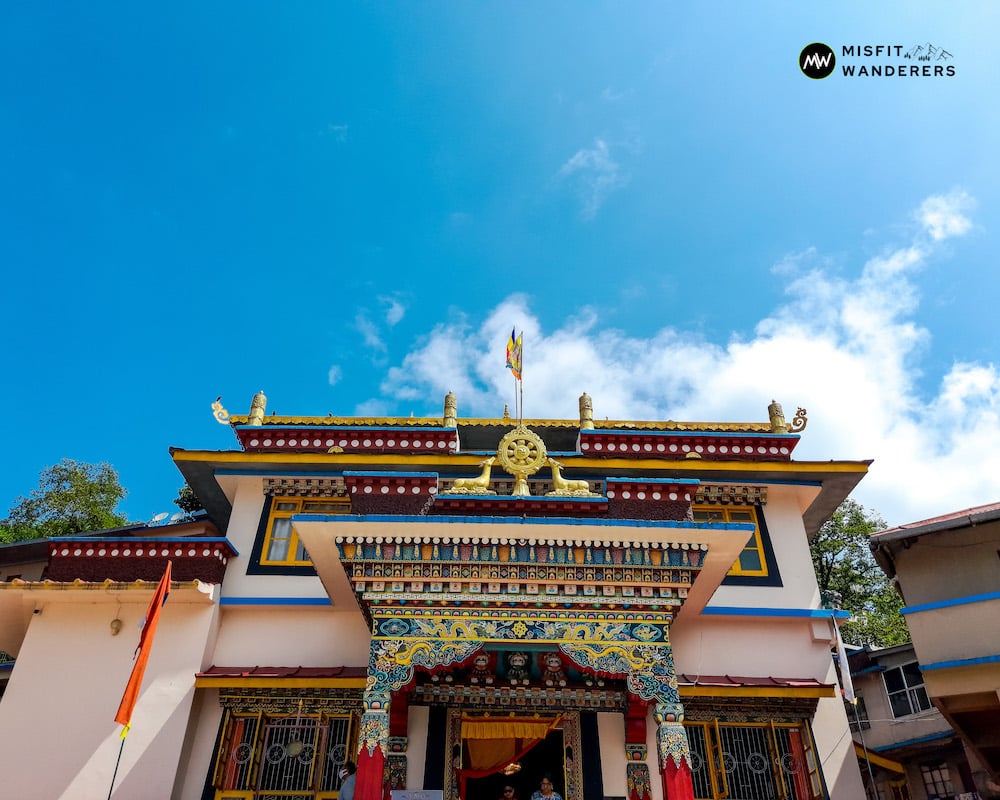 If you want to see some fascinating artifacts, roll prayer wheels, and enjoy Gangtok's alluring view simultaneously, remember to visit the Gonjang monastery. It is one of the best places to visit in Gangtok, especially if you are interested in Sikkim's history.
Remember that photography is prohibited inside the monastery building where sculptures are kept. Further, this monastery closes early in the evening, so we suggest you make it in daylight.
Gonjang Monastery should be on your list for a nice and peaceful place.
5. Tashi View Point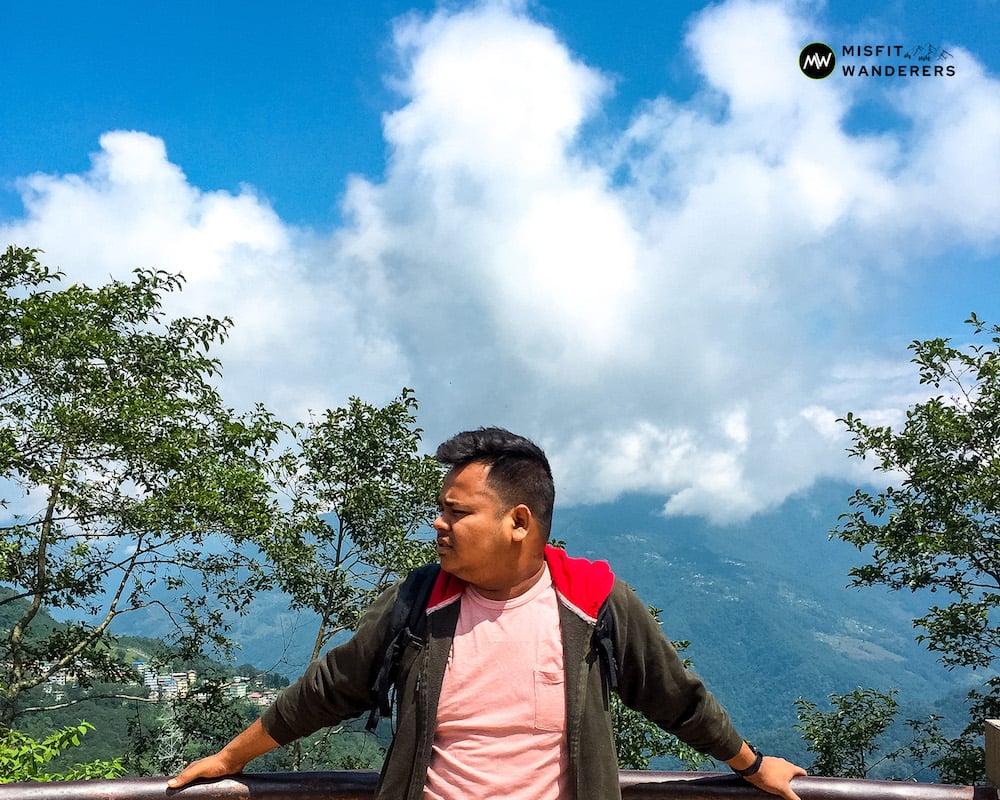 Nothing fancy, eh! Just a viewpoint to see the peak of mighty Kanchenjunga. If the weather is clear, you'd be blessed with a mesmerizing view of the valley and, of course, the mountain peak of Kanchenjunga.
You don't need to purchase any ticket for Tashi view point. However, climbing up a few stairs to reach the viewpoint will feel like entering an observatory. Also, you can get a closer view of the mountain with the telescope — it costs around INR 100. Moreover, you can also rent traditional dresses and get a photo for approximately the same amount.
6. Lhasa Falls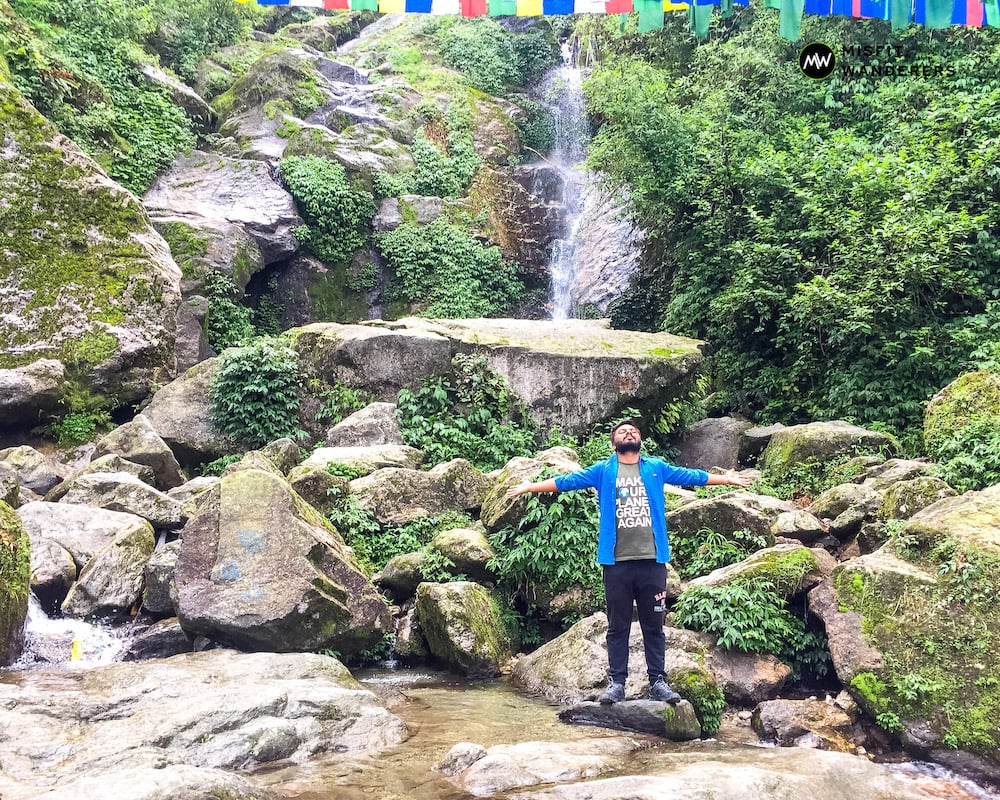 Approximately a kilometer away from the Tashi viewpoint is another roadside fall, Lhasa Falls! Though this place doesn't receive many tourists, it is the choice of people seeking a few moments of solitude.
Please stop here for approximately 10 to 15 minutes.
Lhasa Falls is one of the best places to visit in Gangtok. Especially if you think you'd enjoy sitting in peace with a horde of Tibetan flags above your head and a waterfall sprinkling droplets on your cheeks.
7. Flower Exhibition Center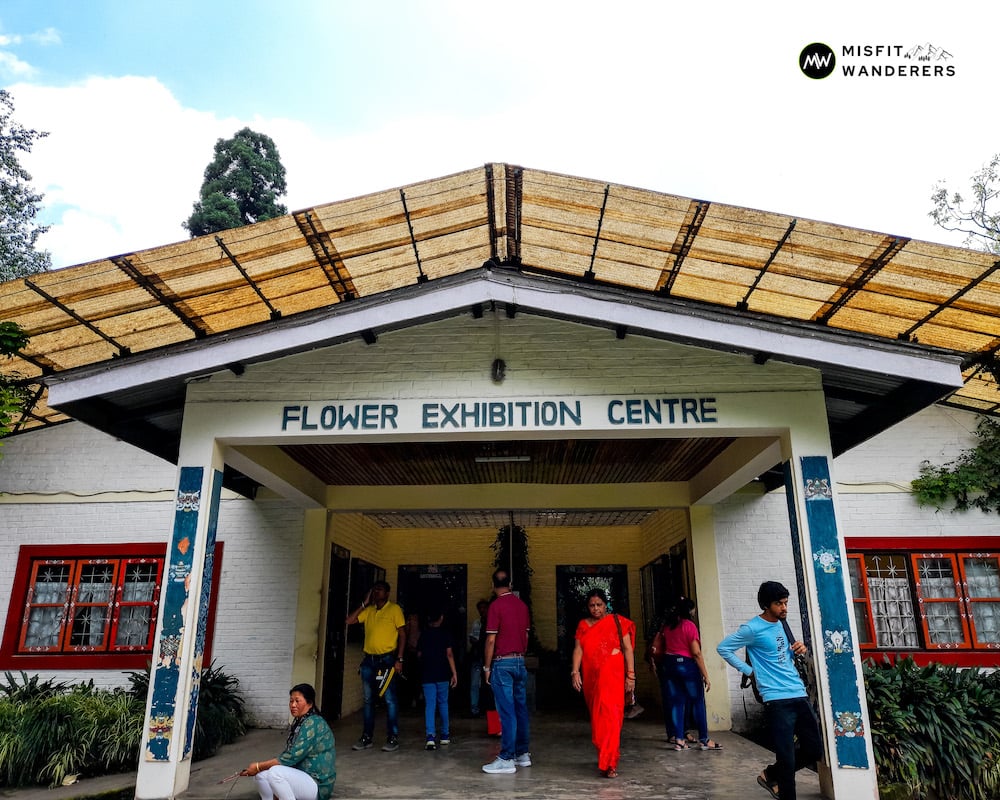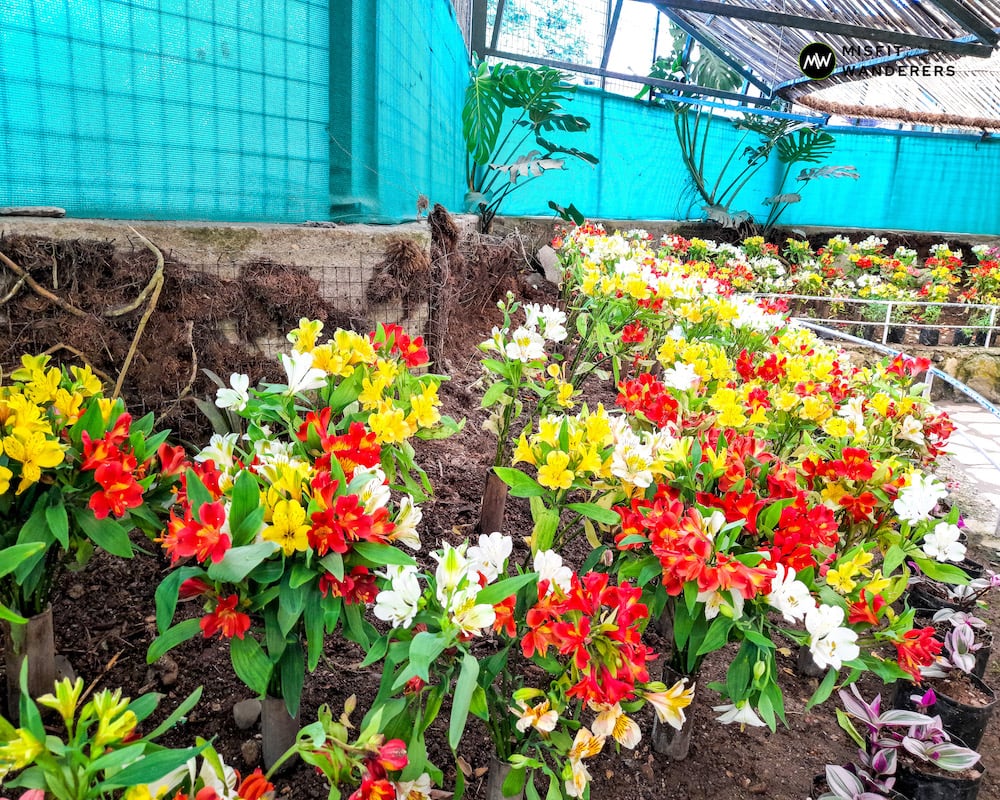 If you fancy a rare collection of flowers like orchids and rhododendrons, you can visit this small flower exhibition center in Gangtok. There are varieties of flowers you can find here. Moreover, you can even purchase flower bulbs from this place.
The place is smaller than you might anticipate it to be. You can visit the Plant Conservatory (link in Google Maps) to see these beautiful flowers in a natural setting.
Bonus: you'll find a beautiful waterfall inside the plant conservatory. Lastly, the admission ticket costs around INR 20 per person.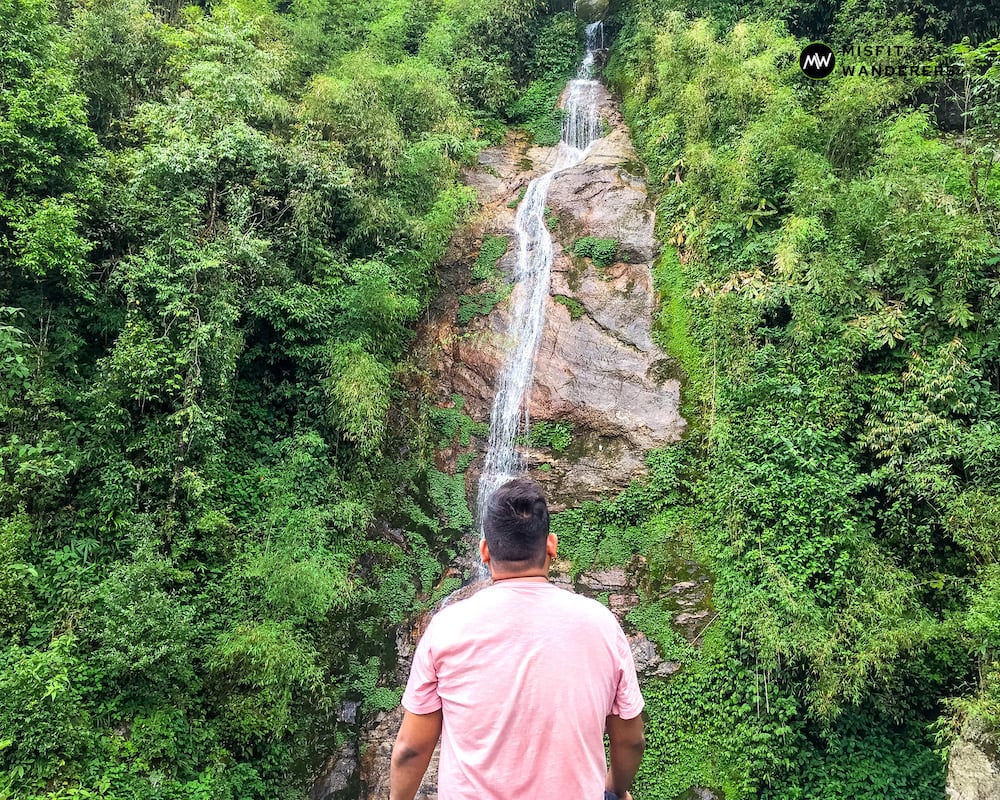 8. Ganesh Tok
Ganesh Tok is a small Ganesh temple located approximately 6-7 km from the city center. Street vendors surround the temple entry, and it gets a significant crowd. Therefore, please come as early as possible.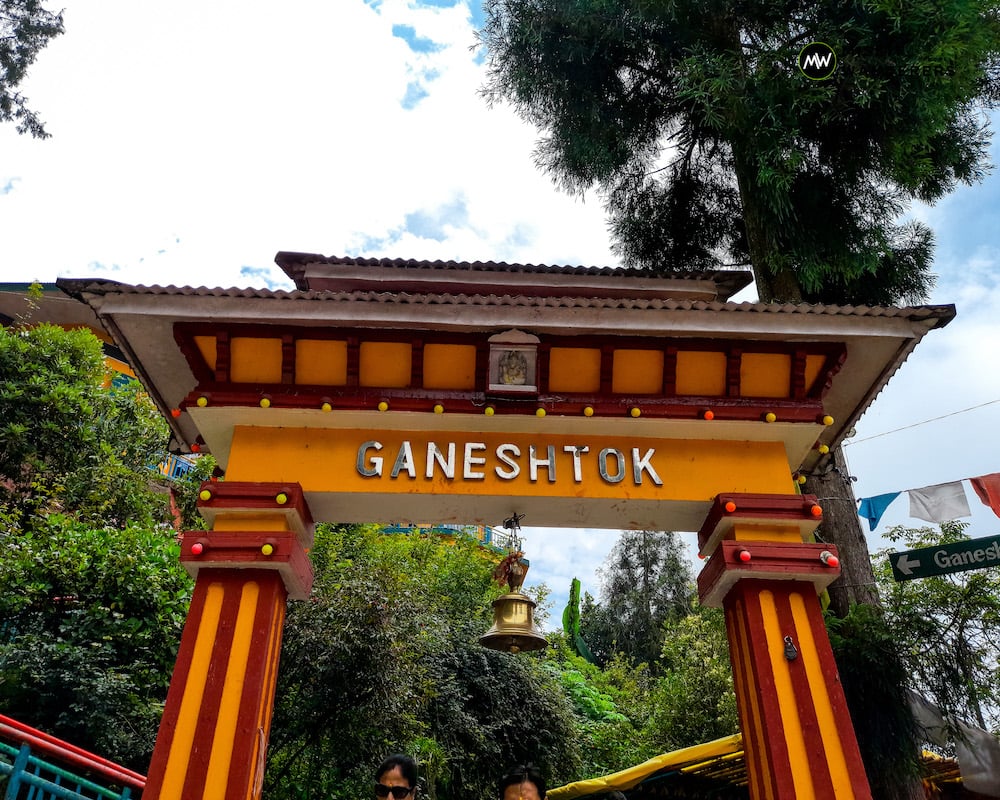 Further, this temple is also famous as a viewpoint. Why? It's because you can see the Kanchenjunga range clearly from here, provided the weather is clear. Besides, the panoramic view of the city and the valleys are enough good reasons that make it one of the best places to visit in Gangtok.
How To Reach Gangtok?
You can reach Gangtok via railways, airways, and roadways. Your preference will matter depending on where you are in the world and your preferences.
Railways
The nearest railway station for reaching Gangtok is New Jalpaiguri Station, which is in the West Bengal state of India. The station code for New Jalpaiguri Station is NJP.
You get frequent trains for NJP from all major stations of India, though it may sometimes be indirect. We recommend considering airways if you're uncomfortable on long-train journeys.
Furthermore, after reaching NJP, you can take a tuk-tuk or shared taxi to the nearest bus stand, where you'll get a direct bus to Gangtok.
Airways
You've two options for reaching Gangtok via airways: Bagdogra (IXB) and Pakyong (PYG) airports. The Bagdogra (IXB) airport is located in West Bengal and is about 125 km from Gangtok. On the contrary, Pakyong (PYG) airport is about 35 km away from Gangtok.
Here's the twist: you get multiple direct flight options (and cheaper) for Bagdogra. On the contrary, Pakyong has a lesser number of direct flights.
You'll easily get a private taxi to Gangtok from both airports.
Roadways
Siliguri (113 km), Darjeeling (98 km), and Kalimpong (75 km) cities of West Bengal are well connected to Gangtok via road.
However, the easiest way to visit Gangtok via road is to reach Siliguri by any means. Then take West Bengal or Sikkim state transport buses from bus stations there.
Further, if you're in your own vehicle, you can take NH 10 (formerly NH 31A) to reach Gangtok from Siliguri.
9 Local Foods and Eateries in Gangtok
The local foods and eateries in Gangtok are one of the best things you'll come across — or the worst. It all depends on your taste buds, I guess.
As for us — we're North Indians (from Lucknow), more exposed to spicy food. And we didn't find the foods we tried in Gangtok much enticing. However, the experience of tasting new cuisines far outweighs the priority of making our taste buds happy.
In conclusion, the unique cuisines of Sikkim are worth a try. Here are 9 local foods you must try in Gangtok.
1. Momos — you'll get it in almost every corner of Gangtok. The momos here are something else, so delicious. Even better than Delhi's, if I may say.
2. Thukpa — this popular food in Gangtok hails from Tibet. And since Thukpa is a noodle soup consisting of seasonal veggies and flour dough noodles, it makes an excellent option for health-conscious travelers.
3. Thenthuk — this food item is a type of Thukpa with veggies, mutton or yak meat, and flattened four dough served with noodle soup.
4. Sel Roti — Originally hailing from Nepal, Sel Roti is a sweetened rice bread having a ring shape. However, you may not find this food item easily. People prepare it during festivals such as Tihar, a Hindu festival similar to Diwali, which gets celebrated in Sikkim and West Bengal.
5. Churpi — cheese lovers visiting Sikkim, this is for you. Churpi is a traditional food item hailing from Tibet and is now mainly available in India's Sikkim and West Bengal. You may spot this food item (cuboidal shaped) at local vendors' shops. Further, remember that Churpis can be sweet or tangy and soft or hard.
6. Gundruk — originally hailing from Nepal, Gundruk is a dish made of fermented leafy green vegetables that are sun-dried and later cooked for consumption.
7. Sha Phaley — are look-wise similar to the North Indian sweet, "Gujhiya." The only difference? It has veggies and seasoned meat stuffing.
8. Kinema — another fermented dish hailing from Nepal. Kinema is made of soybeans and soup, which people consume with rice and bread. Look for a local restaurant if you want to savor its delicious flavor in Gangtok.
9. Phagshapa — traditionally, this food item is prepared with pork meat, radish, and some chilies. This might be your best choice if you want a less spicy food item.
Activities To Do in Gangtok
Shop & Eat at MG Road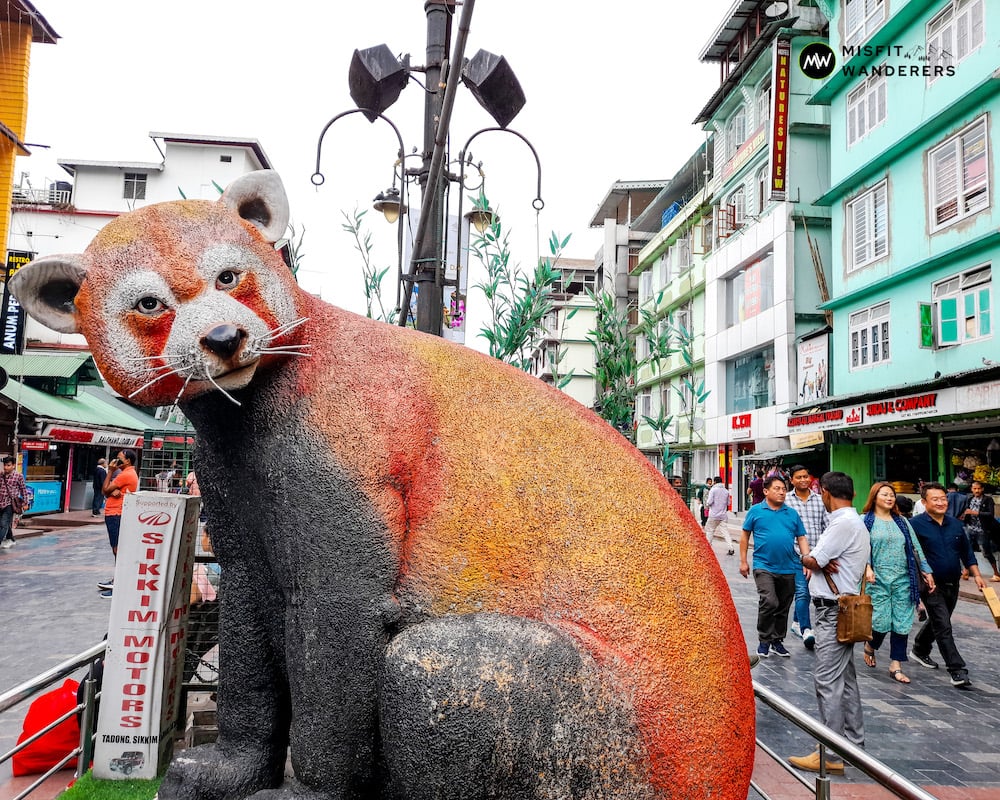 There are many places to visit in Gangtok. But what about shopping? There can be no better place than MG Road for shopping in Gangtok.
It's an L-shaped street, with various shops that are so well-organized. Further, the lighting, vibe, and arrangement would light up your mood at first glance.
There's one shop on the corner – Khan Uncle Biryani. If you're a non-veg lover, you must try their biryani and roll.
Get Mesmerizing City Views from Gangtok Ropeway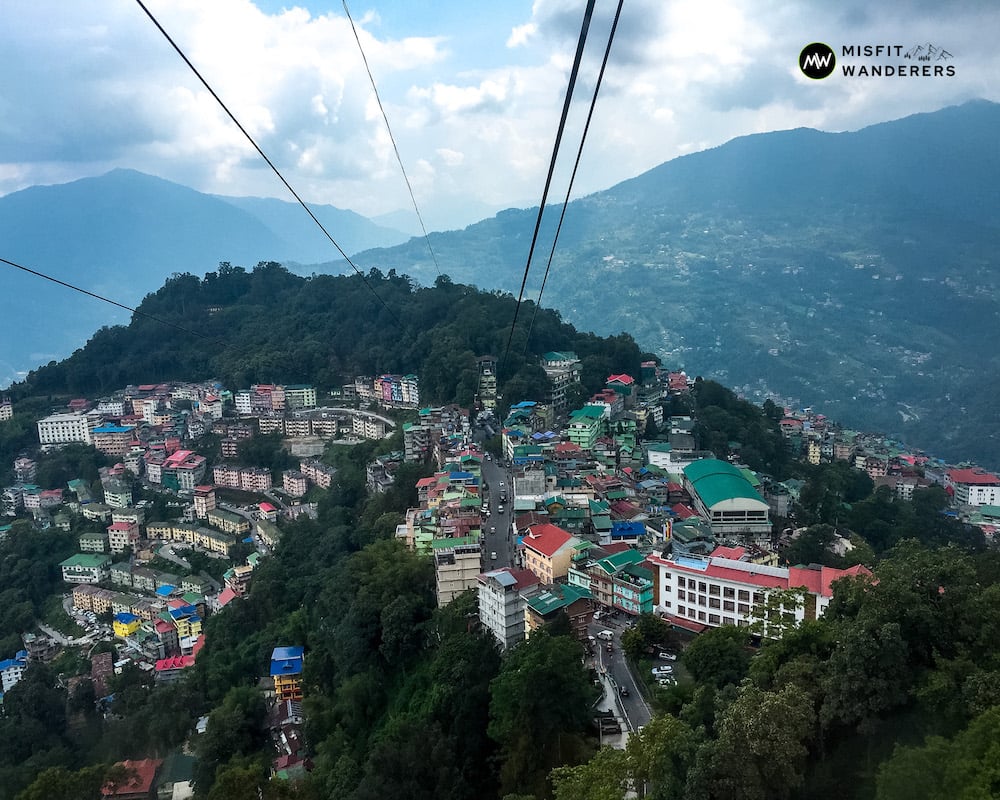 Experiencing the ropeway over the city is another activity you can do in Gangtok. The best part? The ropeway is about a 10-15 minute walk from MG Road.
The ropeway is no special. However, the views of the city are worth your time — colorful houses looking like a box and the grand, green scattered mountains.
Souvenir You Can Find in Local Gangtok Market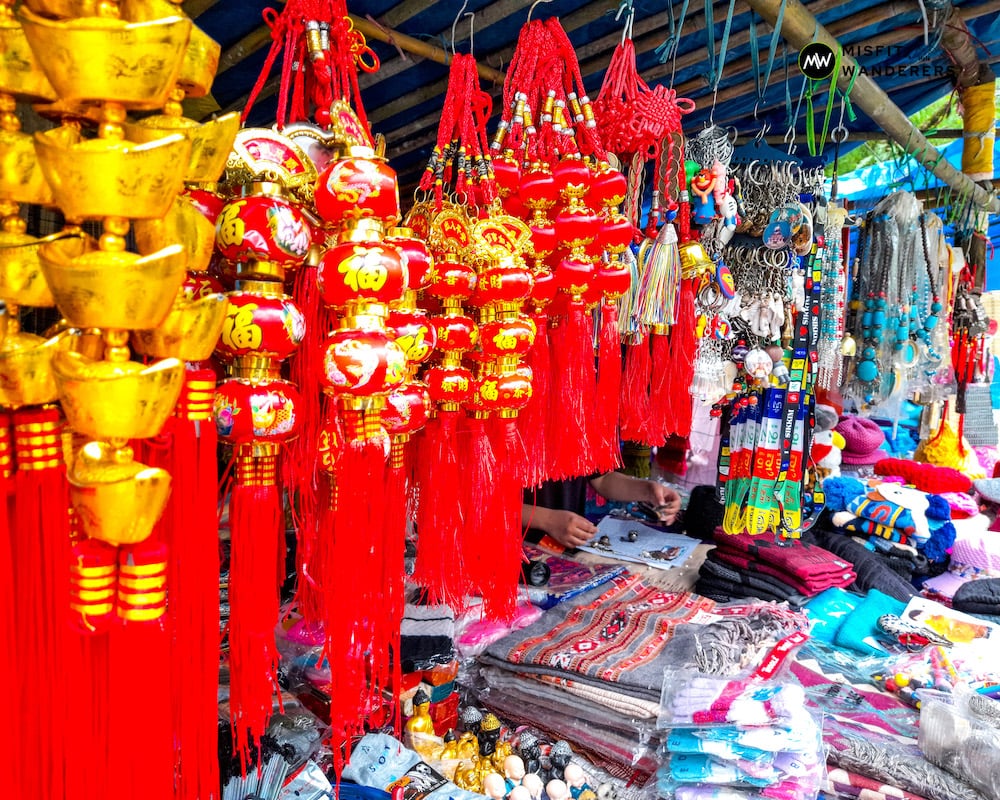 There are several shops dispersed throughout the city. And if you book a local tour package, your guide will take you to the places for the same.
But we recommend you avoid the hustle of buying souvenirs separately. Instead, you can find small shops near most of the places to visit in Gangtok.
Here are some of the items you'll find and can take as souvenirs:
Colorful Tibetan flags,
Keyrings,
Shawls,
Woolen clothes,
Buddha statues in all sizes,
Fridge magnets, and more.
Smart Suggestion: How To Travel To Shravasti? (The Place Where Buddha Died)
How is the Public Transport in Gangtok?
Gangtok is a hilly area, and you won't find anything except taxis or cabs. And the charges depend upon your negotiation skills — so get on to practice.
Even for a kilometer or so, you may pay around INR 150. So, if you're happy with walking, great. Else consider this while you decide on a budget for visiting Gangtok.
In addition, you can also ask your hostel to provide the number of any local taxi or cab driver.
Moreover, if you want to book safe and reliable accommodation for yourself in Gangtok, you can do so via Booking.com.
Best Time to Visit Gangtok
Spring and autumn are the best seasons to visit Gangtok. The place gets a horde of tourists from September to June. Additionally, it's best if you avoid some peak months when the rush is at an all-time high.
The best time to visit Gangtok is from March to May or September to November. Unless you're going to see snow, you should avoid staying in extreme cold months as it attracts a lot of tourists. Similarly, last May to June should be avoided too.
Public Toilets and Hygiene
One of the best things you'll find in Gangtok is its cleanliness. The public toilets are well-maintained and provide good hygiene. Moreover, the entire city is cleaner than most of the cities I have visited (at least yet) in India.
People here seem to have a sense of keeping cleanliness and order. And that's one of the things I liked the most.
Practical Travel Tips (Based on Experience)
Don't visit Gangtok in the monsoon and the peak months.
Immediately apply for the Nathula pass as you arrive in Gangtok if you wish to see this Indo-China border.
Aadhar Card is not a valid ID for visiting Nathula pass.
Please consult your doctor before visiting Nathula if you've any respiratory issues.
Negotiate with taxi and cab drivers for the best price.
You can buy a local tour package directly from your cab driver.
Conclusion
So, this was all about Gangtok. This guide is made possible after thorough research combined with personal experience exploring Gangtok.
Now with this Gangtok travel guide at your disposal, you're unlikely to go wrong. In addition, the information here will help you explore places to visit in Gangtok and experience other activities like a local person.
Lastly, if you have any suggestions or comments regarding this post, please drop them in the comment box. We reply to every comment!
---
An appeal: Please do not throw litter around. Use a dustbin. If you can't find one, take the trash with you and throw it when you find one. Your small steps like this one can make the world clean and green.