Do you know that Gautam Buddha spent most of his life in Shravasti before attaining Parinirvana? Not only this, the third Jain Tirthankara, Shambhvanath, was also born in Shravasti.
The city of Shravasti, situated on the banks of river Rapti, is a religious place of Buddhism. Along with India, people from many countries visit here every year.
This article will tell you about the places to visit in Shravasti, how to reach here, where to stay, and the best time to visit.
---
Jump To Any Section:
Notice:This post may contain a few links that might earn us financial support when you buy or make any reservations. They in no way affect our opinion or the information presented here.
---
Top 7 Places to Visit in Shravasti
Here are those seven places that you must include in your itinerary:
1. Jetavana Monastery
Anathpindak founded Jetavana Monastery. Jetavan Vihar became the second monastery after Beluvan of Rajgir donated it to Lord Buddha.
The monastery spans a large area, and you can estimate how its grandeur would have been. There is another place inside, called Gandhakuti, which was the abode of Buddha.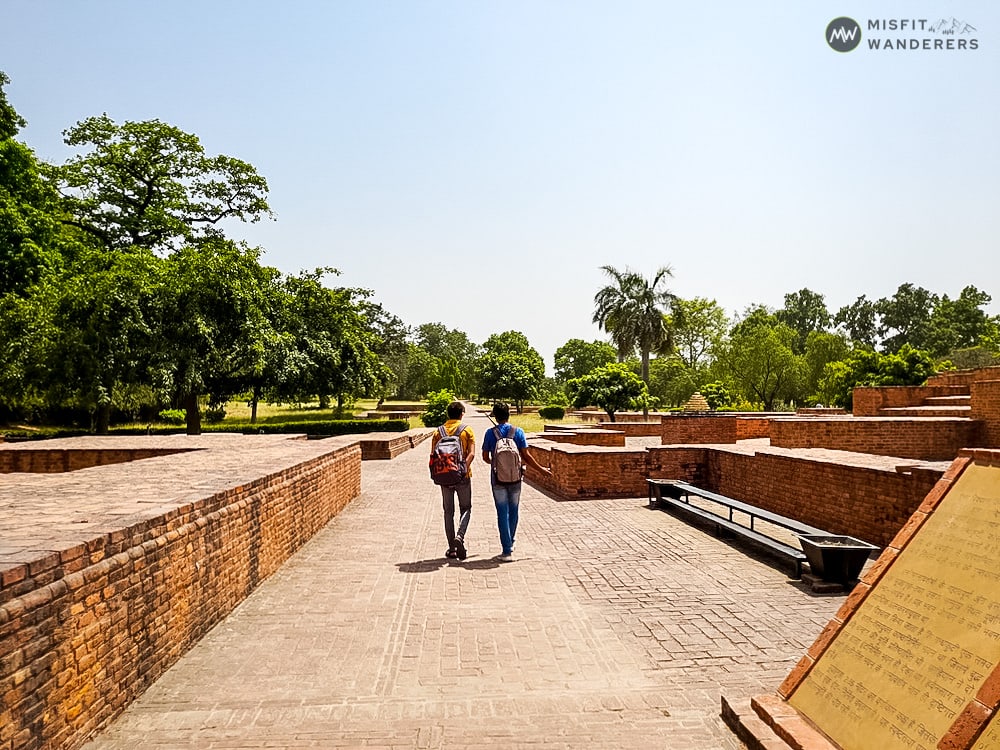 Anathapindaka planted a Peepal tree in this complex called the Ananda Bodhi tree. When Lord Buddha goes out of Shravasti, the worshipers used to worship this tree.
Timings: 9 am – 5 pm.
Entry: INR 25 for Indians, INR 300 for foreign tourists.
2. Kachi Kuti or Anathapindika Stupa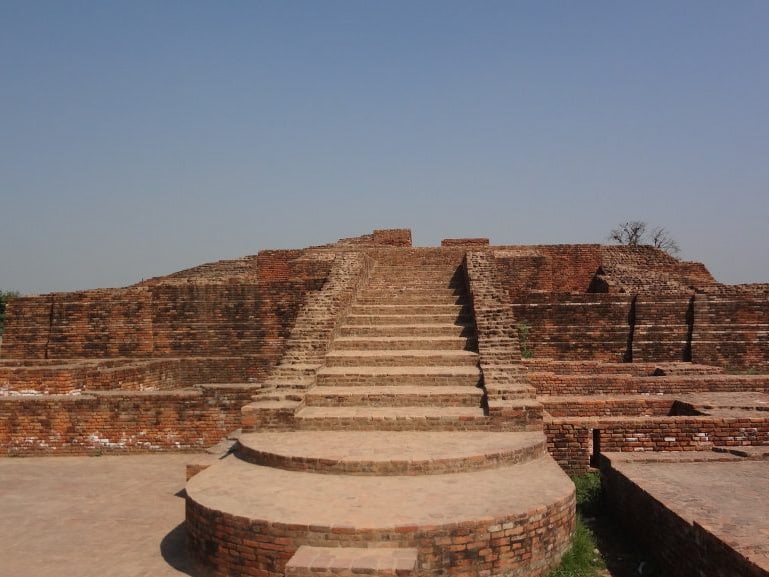 The Anathapindak Stupa, located near Jetavan, was found during excavations in the Mahet area. It is in the traditional style of Buddhist Stupa. Structural remains suggest that it existed from the 2nd century AD to the 12th century AD.
The stupa remains consist of only a platform and a staircase leading to the stupa. Although in ruins, the monument attracts historians and tourists due to its splendid carvings and architecture.
3. Pukki Kuti or Angulimal Stupa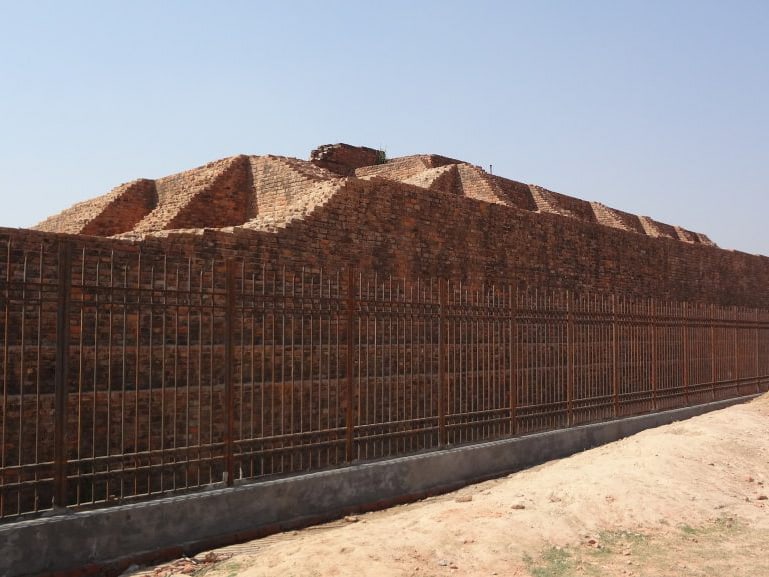 You must have heard the story of a robber named Angulimal in childhood. He lived here in a forest near Shravasti and used to cut off the fingers of the people going to the woods and put them in his garland. He used to wear that garland around his neck.
It was here that Lord Buddha appeared and preached to Angulimal. He was very impressed by his sermon and started walking on the path of non-violence by giving up violence. This stupa is near the hut.
The Chinese traveler Fa-Hien, scholar Hiuen Tsang and Alexander Cunningham (British engineer) attributed the ruins to Angulimal Stupa. At the same time, many scholars believe that Prasenjit built it in honor of Buddha.
It looks like a stepped stupa built on a rectangular platform. Only a few walls, platforms, and stairs remain in the remains.
4. Vipassana Meditation Center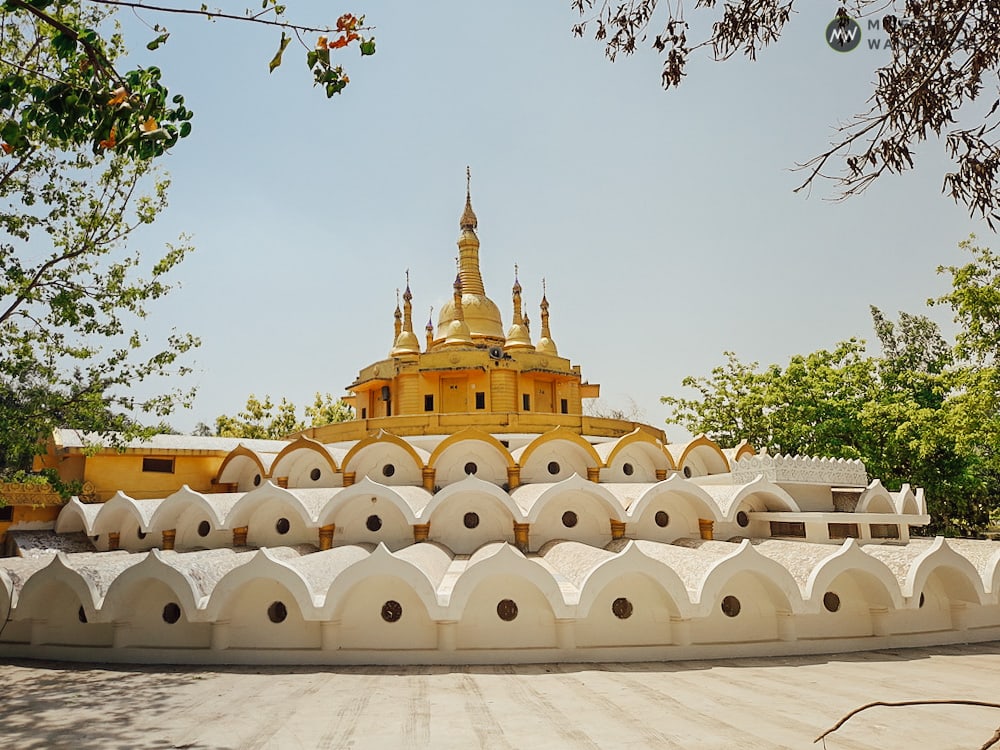 Vipassana Meditation Center is a meditation center spread all over the world.
You can learn the free Vipassana meditation method here. Further, you can also stay here for a few days and learn meditation.
5. World Peace Bell Park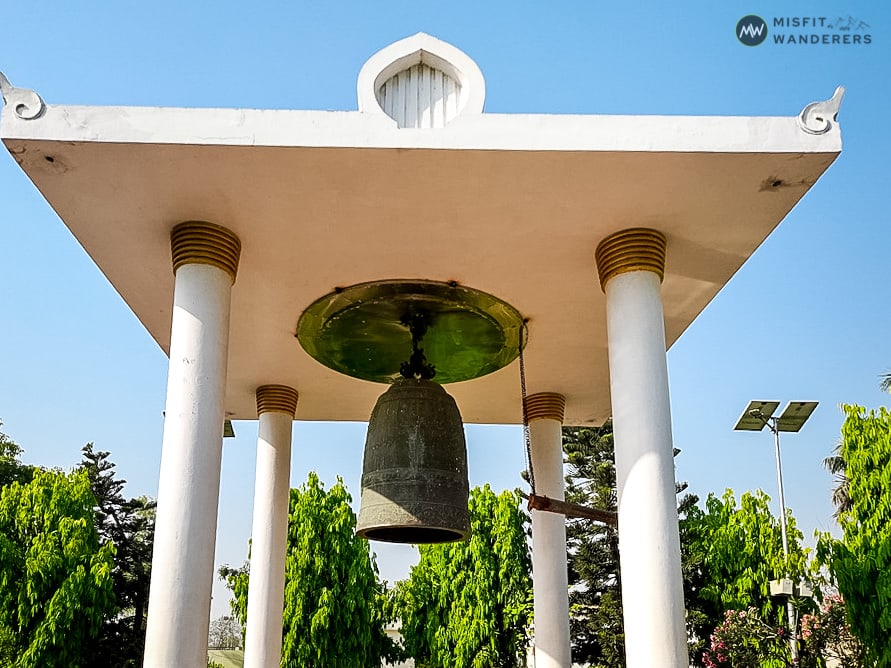 World Peace Bell Park is another tourist place located in Shravasti. Knowing the importance of this place, the government established this garden and the bell in 1981. The objective is to establish peace in the world.
Timings: 9 am – 5 pm.
Admission: Free
6. Sambhavnath Digambar Jain Temple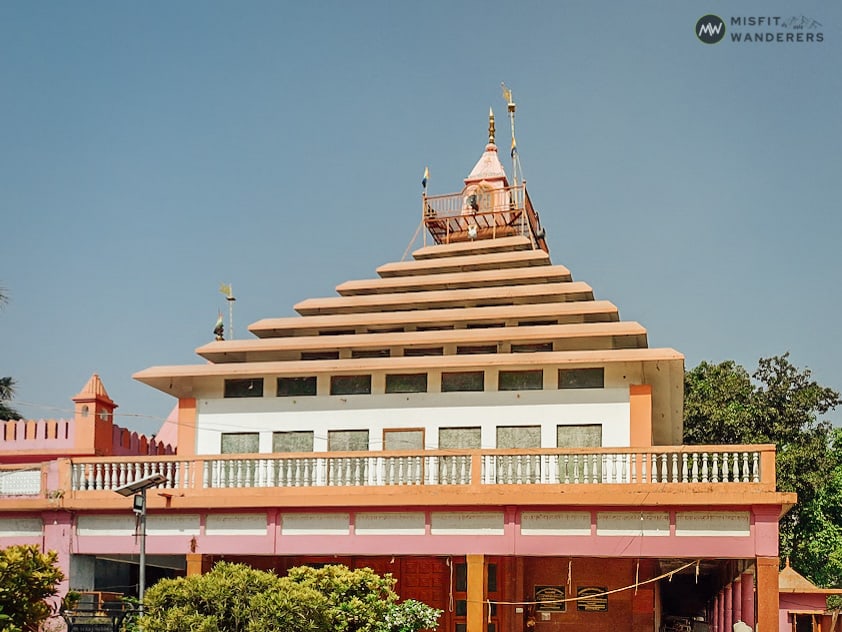 Sravasti is as sacred to Buddhism as it is to Jainism. As mentioned above, Sambhavnath Ji, the third Tirthankara of Jainism, was born here. Not only this, but he also gave his first discourse (Divya Dhami) at this place.
Here you will find many people of your Jain religion inside. As soon as you go inside, you'll see a temple on the right dedicated to Sambhavnath Ji. Apart from this, constructing another temple inside here is in progress.
Timings: 9 am – 5 pm.
7. Myanmar Monastery and Korean Temple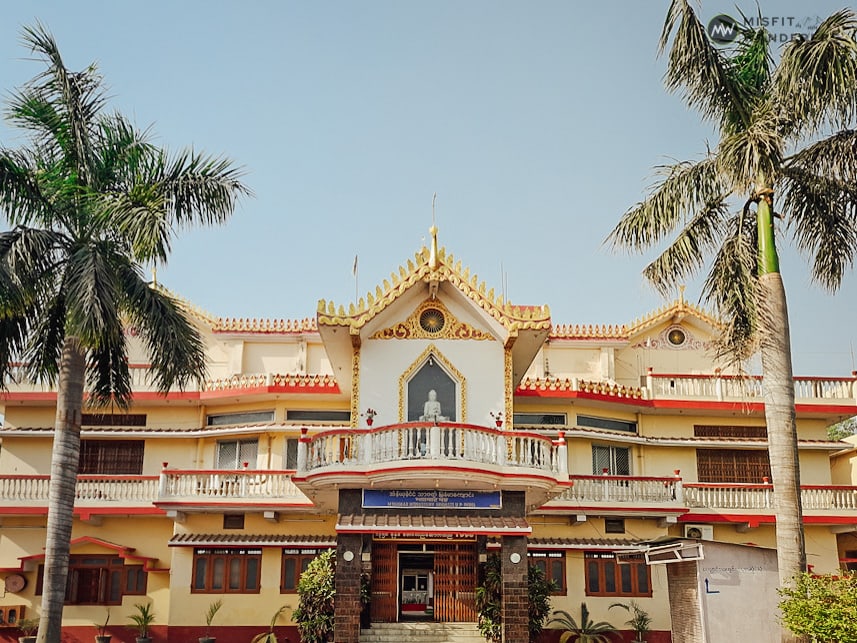 Myanmar Monastery and Korean Temple are close to each other. Bells are there on both campuses as a symbol of peace. Myanmar Monastery has a large garden in the front.
At the same time, many verses and deep quotes are there on the walls of the Korean temple, acting as inspiration.
More Places Around Shravasti
Here are some more places to visit in and around Shravasti:
Thai Buddha Temple or Mahamongkol International Meditation Center
Suheldev Wildlife Sanctuary
Vibhutinath Temple
Shobhnath Jain Temple
Orajhar Buddhist Site
Brief History of Shravasti
According to Buddhism, Shravasti was once Savatthi. Nestled on the banks of river Rapti, this city gets mentioned in many ancient texts and books.
Shravasti was once the capital of the famous Kaushal region and one of the six major cities of India during the time of Lord Buddha. According to Buddhist legends, it got its name after the sage Savath did penance here.
Further, according to the Puranas, it was named Shravasti after Shravast, the son of a Suryavanshi king. Also, according to Ramayana, Lord Rama made his son, Luv, the king of Uttara Kaushal, whose capital was Shravasti.
In 1863 excavations, many stupas, temples, sculptures, coins, and Buddhist viharas were found here. Based on these excavations, historians consider the region of Sahet as Jetavan and the region of Mahet as Shravasti.
In simple words, today's "Sahet-Mahet" village is "Shravasti ." Also, the entire excavated area is known as Sahet Mahet Archaeological Site.
Gautam Buddha Spent Many Years in Shravasti
Lord Buddha spent most of his life in Shravasti before attaining enlightenment.
Anathapindak, a merchant of Shravasti at that time, was so impressed with the teachings of Lord Buddha that he invited him to come to Shravasti. Lord Buddha accepted this and spent most of his life in Shravasti before attaining Parnirvana in Kushinagar.
The merchant bought a large land from Prince Jet and established a monastery there. And Lord Buddha resided at this place 25 times during the rainy season.
The two main monasteries of Shravasti are Jetavan and Pubbaram.
Of the four bodies of Buddhism, 871 suttas (instructions/teachings) were given in Shravasti. Lord Buddha narrated these instructions in Jetavana and Pubbarama.
Moreover, Shravasti is also an important place for Jainism followers. The Shobhnath temple located here is the birthplace of Sambhavnath Ji, the third Tirthankara of Jainism.
Distance Between Attractions and Public Transport
The best part is that all the significant places in Shravasti are within 3-4 km. You can travel all at once by booking a taxi.
Apart from this, you can take an auto rickshaw, or cycle rickshaw, which will be cheaper. Moreover, if you are someone who can cover a few kilometers on foot, then the best option is to walk.
Number of Days and Budget Required
If you want to explore all the tourist places of the city in depth, you will need at least two days. Else, one day will be enough. If you reach Lucknow early in the morning, you can explore significant places comfortably by evening.
The budget can be different for everyone. It often depends on which hotel you take to, what you eat and drink, and what shop.
However, a typical budget is as follows:
For one day: INR 2000
For two days: INR 3000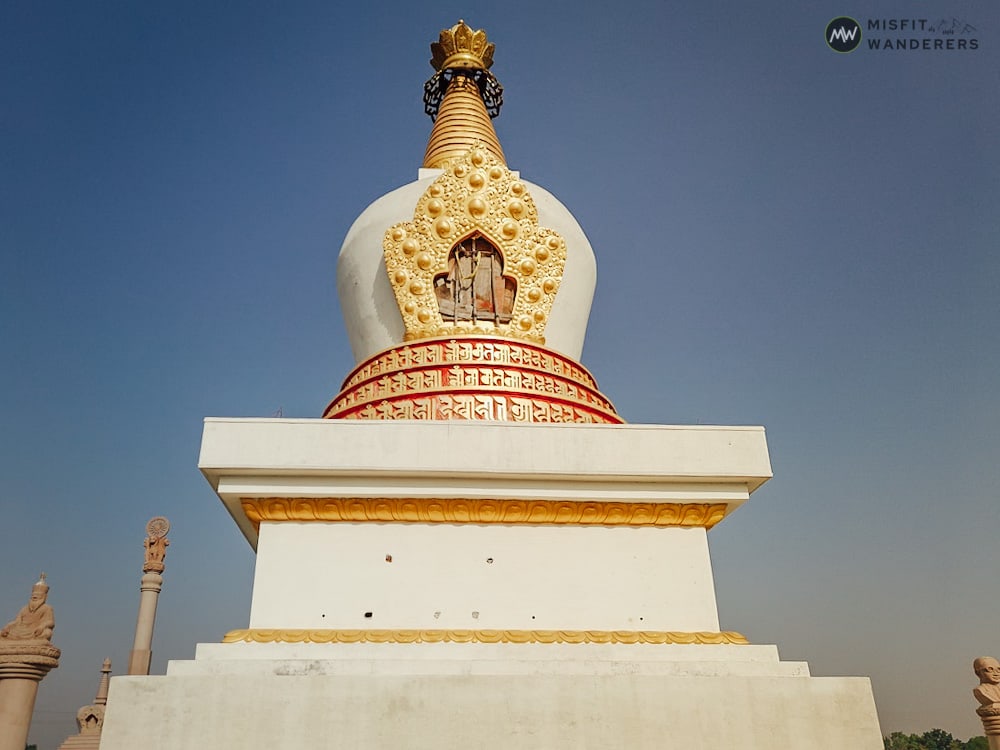 Best Time To Visit Shravasti
The best time to visit Shravasti is from October to March. These are the winter months, and the temperature remains low and pleasant.
Summer (April to June) is scorching, so avoid visiting during this time. However, you can also come during the rainy season (July to September).
How to Reach Shravasti?
Airways
The nearest airport to Shravasti is Chaudhary Charan Singh International Airport in Lucknow. It is at a distance of 180 km from Shravasti.
You can book a bus or taxi from the airport and reach Shravasti directly. It takes around 4 hours to get here from Lucknow.
Roadways
You can easily reach Shravasti by your private vehicle. The road conditions are excellent. Buses are run regularly by Uttar Pradesh Transport Department from Lucknow, Gorakhpur, Ayodhya, and other nearby cities.
Note: If you are not getting a direct bus to Shravasti, you can take a bus to Gonda or Bahraich. Then reach Shravasti by taking an auto or taxi from both places. See the routes below:
Lucknow – Bahraich – Shravasti
Lucknow – Gonda – Shravasti
Railways
The nearest railway station to Shravasti is Balrampur Railway Station, which is 17 km from Shravasti. However, not many trains stop here.
Located 50 km from Shravasti, Gonda Junction Railway Station is a central railway station with frequent trains to major cities. From Gonda, you can reach Shravasti by taxi or auto.
Accommodation in Shravasti
There are options from cheap hotels to expensive 3-star hotels. You can choose the hotel according to your convenience and budget. Apart from this, Rahi Tourist Bungalow of Uttar Pradesh Tourism is nearby the city center.
Essential Travel Tips
If you plan to go in summer, keep light clothes and a bottle of water with you.
There are limited choices of places to eat. Mostly you will find Dhabas or a few restaurants.
There are some shops around Jetavana and other tourist places where you can buy worship-related souvenirs (Buddha statues, prayer wheels, Buddhist flags, and books).
Shravasti Mahotsav is organized every year in January. Apart from this, Buddha Purnima and Lord Sambhavnath Jayanti are some other festivals you can attend.
You can follow the discourses and sermons held regularly here.
You can do photography and videography at all tourist places in Shravasti. There is no extra charge to be paid for this.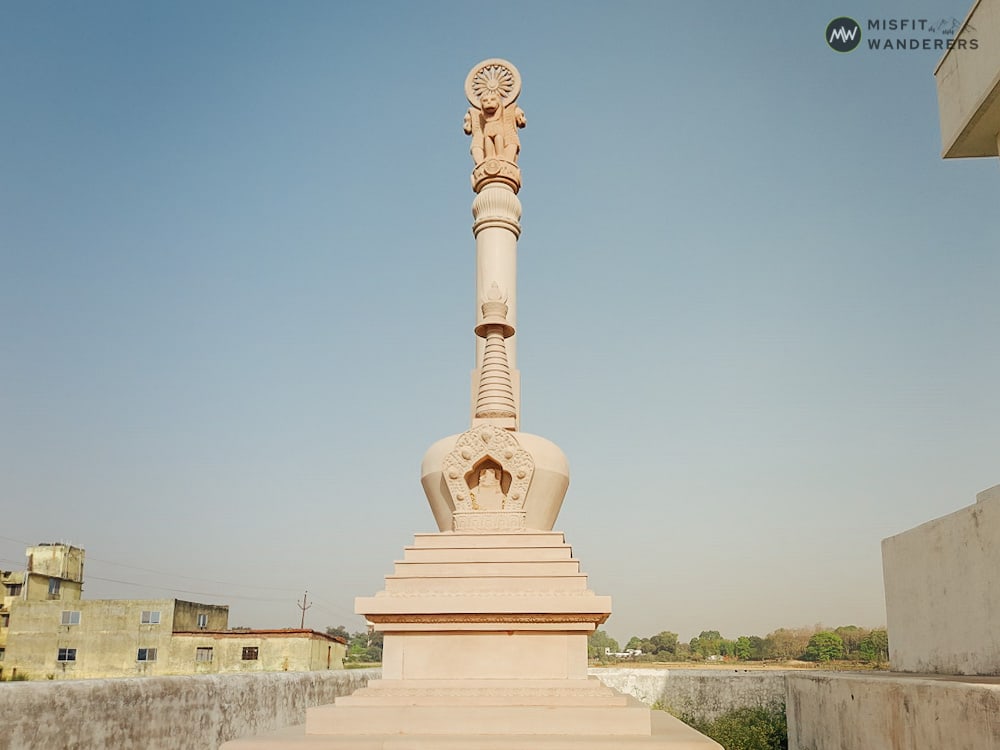 Frequently Asked Questions
Why is Shravasti famous?
Shravasti is an ancient city where Lord Buddha resided for 25 rainy seasons of his life. Many ancient ruins have been found here in the excavation of the Archaeological Department.
What are the tourist places in Shravasti?
There are many places to visit in Shravasti, such as Jetavana Monastery, Kachi Kuti, Pakki Kuti, Vishwa Shanti Ghanta Park, and Vipassana Meditation Center, Sambhavnath Jain Temple, and many monasteries.
What is the history of Shravasti?
Shravasti, situated on the banks of river Rapti, used to be the capital of the Kaushal region. Lord Buddha spent many years here during his lifetime. Therefore it's an important Buddhism site.
---
Conclusion
This is the guide for traveling to Shravasti. We hope the information presented here will help you explore Shravasti like a true wanderer.
Shravasti is a small town in Uttar Pradesh, north India. And the state becomes burning hot in summer, so make your travel plans considering the weather accordingly.
Furthermore, if you have any suggestions or questions, please express your views in the comment box below.
---
An appeal: Please do not throw litter around. Use a dustbin and if you can't find one, take the trash with you and throw it when you find one. Your small steps like this one can make the world clean and green.