Do you know that the city of Mussoorie in India was the first home of the Dalai Lama?
The Dalai Lama first came to Mussoorie from Tibet in 1959. Then from here, he went to Dharamsala. Even today, more than 5000 Tibetan people live in Mussoorie.
Mussoorie, popularly known as the Queen of Hills, attracts tourists and travelers of every age. It is one of the most visited places near Dehradun in Uttarakhand.
This article will virtually take you to the 11 gorgeous places you can visit in Mussoorie. Further, you will learn about activities, accommodation options, local foods, ways to reach Mussoorie, and more travel tips.
Let's begin.
Table of Contents
---
Notice: This post may contain a few links which might earn us financial support when you buy or make any reservations through them. They're in no way affect our opinion or the information presented here.
Quick Video Guide
11 Places You Can't-Miss Visiting in Mussoorie
Here's the list of 11 gorgeous places you can't afford to miss in Mussoorie:
1. Kempty Falls
Do you know how Kempty Falls got its name?
British officer John McKinnon coined the name Kempty for this waterfall.
The name takes inspiration from two English words: "camp" and "tea," making it camp-tee (Kempty). Often British officials used to have tea parties at this waterfall.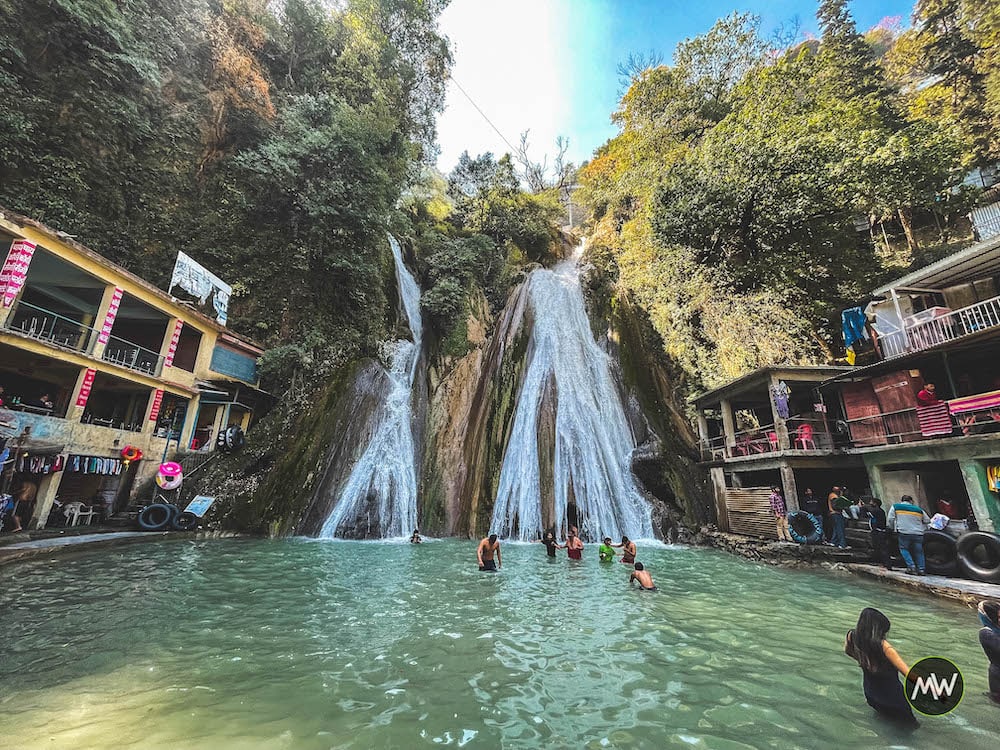 Kempty Falls is #1 on the list of places you can visit in Mussoorie. It lies approximately 15 km away from the city center. And you can easily reach here via shared taxis or rented bikes.
You will have to pass through many shops and places to eat and drink on your way down to reach the waterfall. Take the ropeway to get down if you don't want to walk.
This place bustles with tourists, and there's a lot of commercialization. Don't expect a serene and green kind of waterfall. Nonetheless, it is a great place to have fun with family and friends.
If you want to bathe, you can rent clothes for a small fee. After the bath, don't forget to savor a hot tea with Maggi.
Ticket Rate: No Fee.
Photography and videography are also free.
Opening hours: Sunrise to sunset.
2. Company Garden
Company Garden, also known as Municipal Garden, is just 3 km away from Mall Road.
This garden is vast and spans a large area. Lush green trees, vibrant flowers, fountains, artificial waterfalls, and a lake are some things you'll love.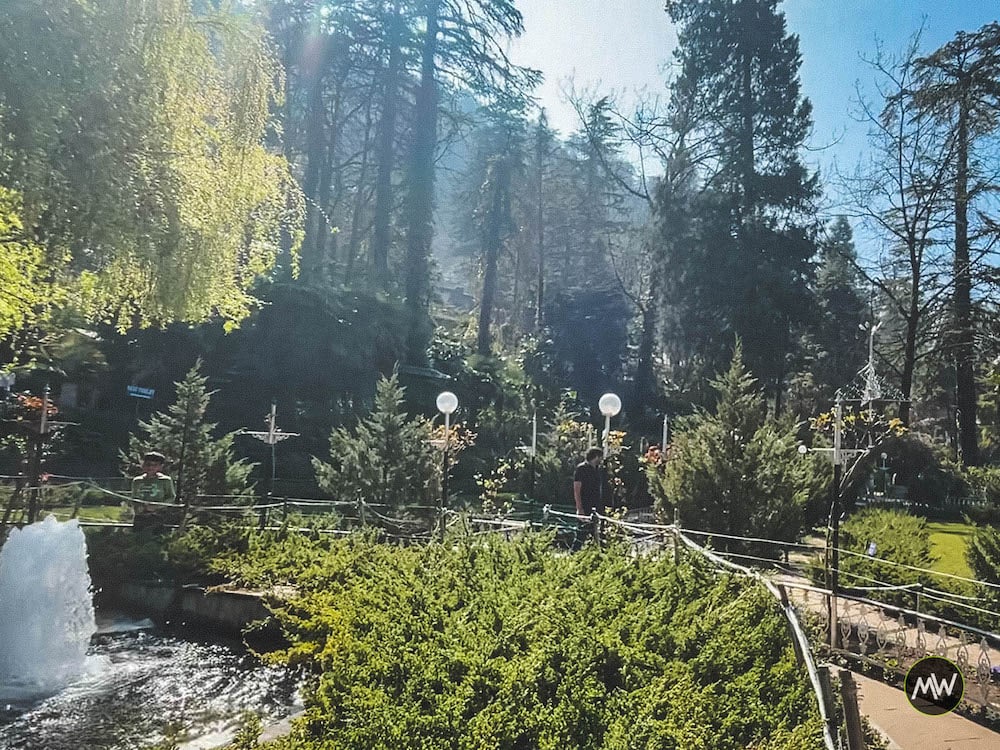 There is also an amusement park inside, where there are swings, boating, a horror house, a wax museum, and various other options for children. Therefore, the place is ideal for people visiting with kids, family, or friends.
Ticket Rate: INR 25 per person.
There is no additional charge for photography and videography.
Opening hours: 9 am to 6 pm.
3. Sir George Everest House
Sir George Everest was the person who measured the height of Mount Everest, the highest peak in the world.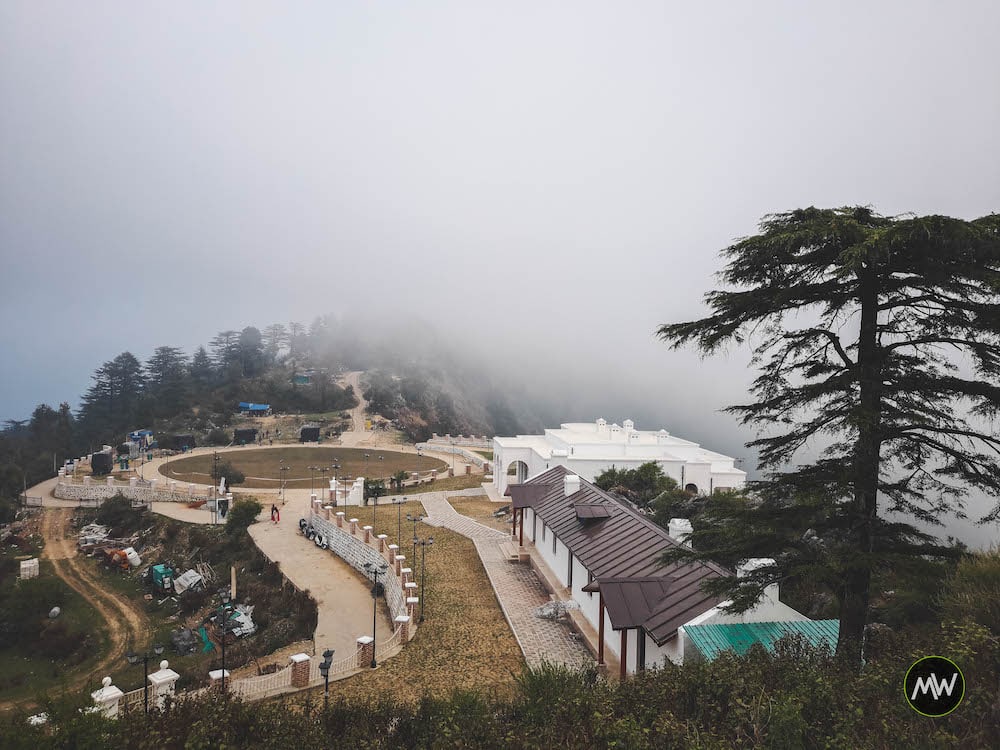 He was a surveyor and geographer who liked the beauty of Mussoorie and eventually built this house here. Further, he lived in this house for almost 30 years.
The house is now a museum with all the information about his work.
You have to climb ~2 km to get here. You can enjoy the views of the Aglar River valley and its lush greenery from here. If it's cloudy, you will feel like floating with clouds.
Ticket Rate: No Fee.
Opening hours: 10 am to 6 pm.
4. Dalai Hills
Nestled in the lap of nature, Dalai Hills is a lesser-known place of Mussoorie. It is a few meters ahead of the famous Lal Bahadur Shastri Academy.
You can reach here by trekking 400 meters from Shedup Chorfeling Temple (Buddha Temple), located in Happy Valley. Alternatively, you can drive through your rented scooters.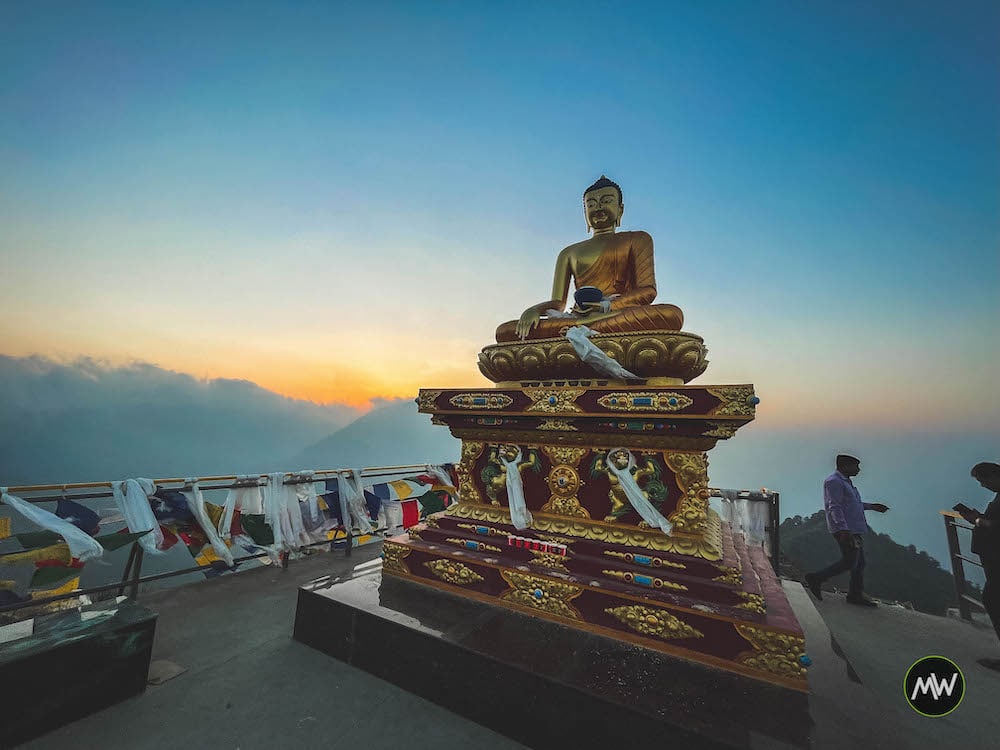 You go through a short hike to reach the top. And you'll see a beautiful statue of Lord Buddha there with lots of colorful flags adding to the beauty of this place.
If you are fond of trekking, let us tell you that many treks start from here, which go to Dhobighat, Cloud End, George Everest, and Benog Hills.
Opening hours: Sunrise to sunset.
5. Lal Tibba
Lal Tibba Top, situated at an altitude of 7464 feet above sea level, is the highest peak in Mussoorie. You can have a breathtaking view of the snow-capped Himalayan mountain range.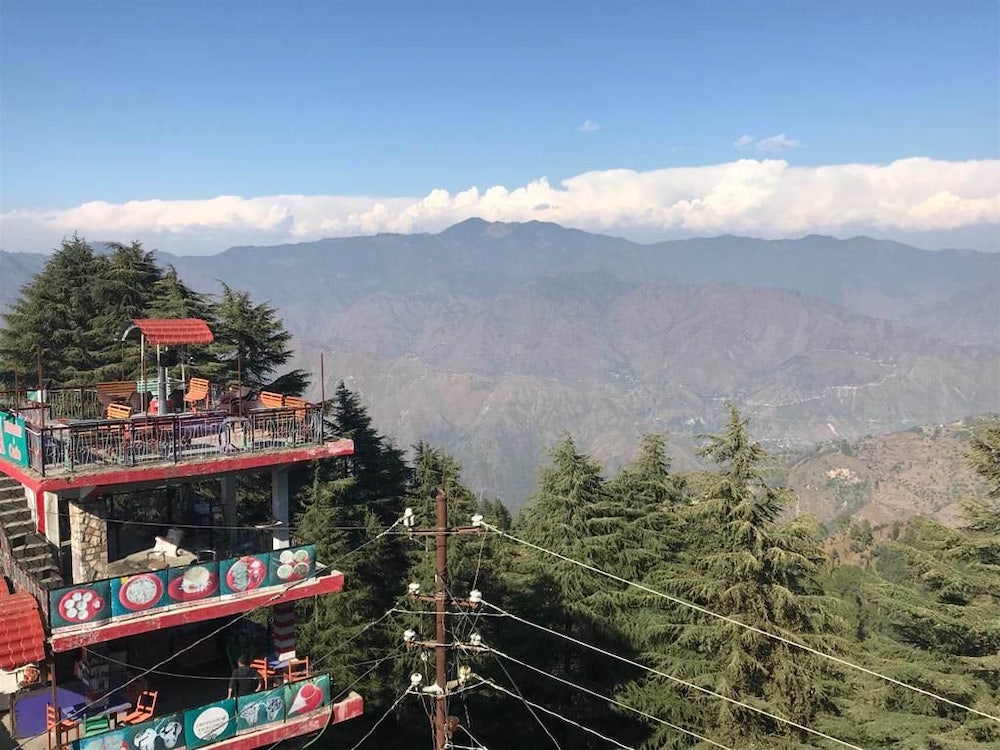 Lal Tibba means red hill, as it's got the name because of the color of the mountains here. This place is a treat for nature lovers and is a fantastic sunrise and sunset viewpoint.
You will find a Japanese telescope here, with the help of which you can see Kedarnath, Badrinath, and many other famous peaks.
Opening hours: Sunrise to sunset.
6. Gun Hill Point
Gun Hill Point is the second highest peak of Mussoorie, from where you can see the Doon Valley and Srikanth, Gangotri, and other mountain ranges. It gives you a 360° view of the entire city.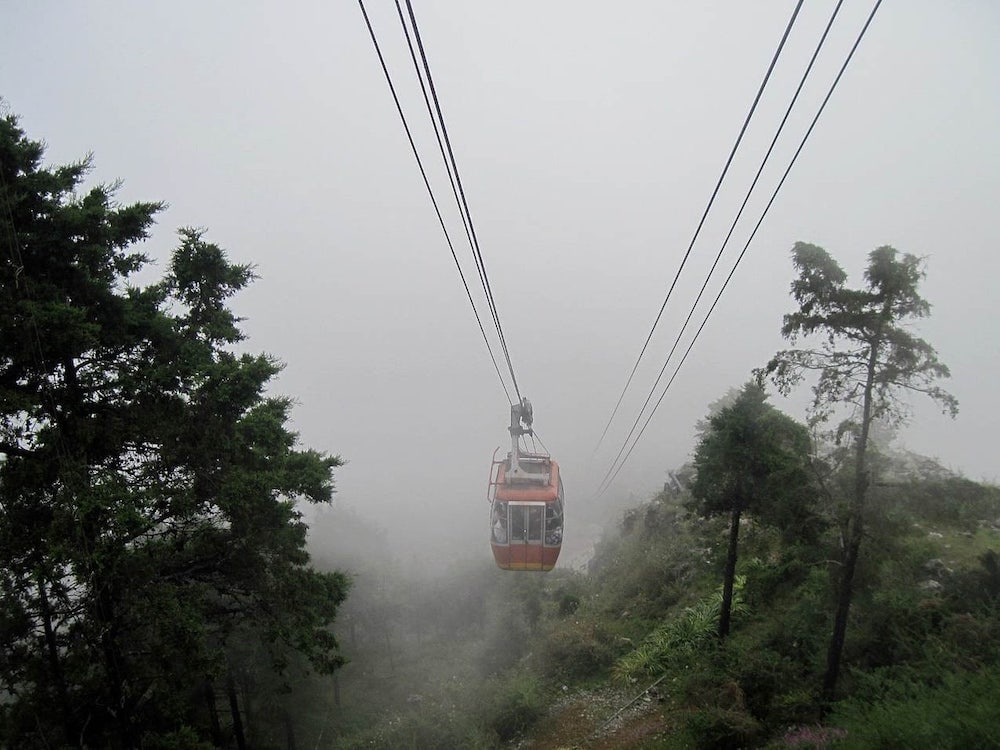 It is 400 feet away from Mall Road, which you can reach after 20 minutes of trekking. Moreover, you can also choose the ropeway from Jhulaghar to get Gun Hill.
When you go there, ensure to witness the beautiful sunset in Mussoorie from here.
Ropeway ticket rate: INR 75 per person
Opening hours: 10 am to 6 pm.
7. Clouds End
If you want to spend some moments in solitude, Clouds End is the right place for you. It is a viewpoint situated at the city's boundary with oak and deodar trees far and wide (over 2000 acres).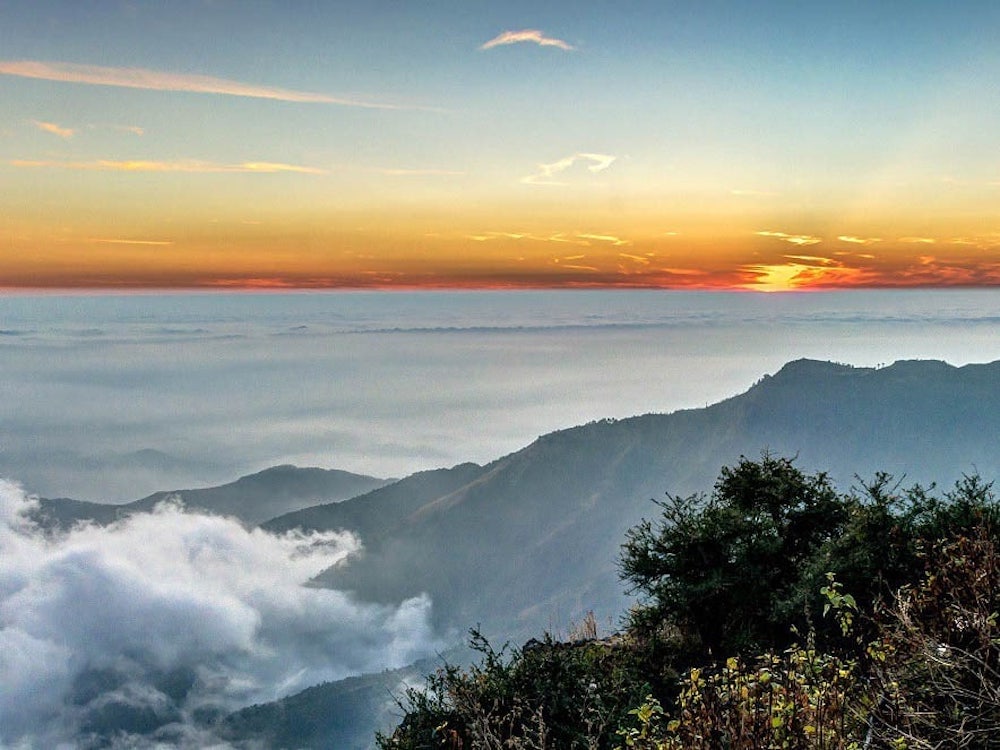 The view is truly breathtaking, and you'd indeed feel as if you've come to the end of the clouds. You might see eagles flying and feel like being on cloud nine, literally speaking.
The Clouds and Heritage Hotel, a heritage site, is another attraction of the place. Mountain climbing, nature walks, or jungle walks are other activities you can do here.
8. Jharipani Falls
Jharipani Falls is a secluded and less crowded waterfall. You can take a bath in the waterfall while enjoying the beautiful views of the mountains.
It is near Jharipani village situated at about 7 km on Mussoorie-Dehradun road. You can either trek or go by car to reach the waterfall.
Opening hours: Sunrise to sunset.
9. Mussoorie Lake
Although Mussoorie Lake is an artificial lake, it has a lot to offer tourists. Locals see it as a picnic spot and often visit it on weekends and holidays.
It would be best if you went boating at this place. You can also try water zorbing, ziplining, and various adventure activities here.
Ticket Rate: INR 15 per person.
Opening hours: 8 am to 7 pm.
10. Bhatta Waterfall
Bhatta Falls is a recently developed tourist spot that is gaining popularity fast. From Bhatta village in Mussoorie, you can trek or take the ropeway to reach this waterfall.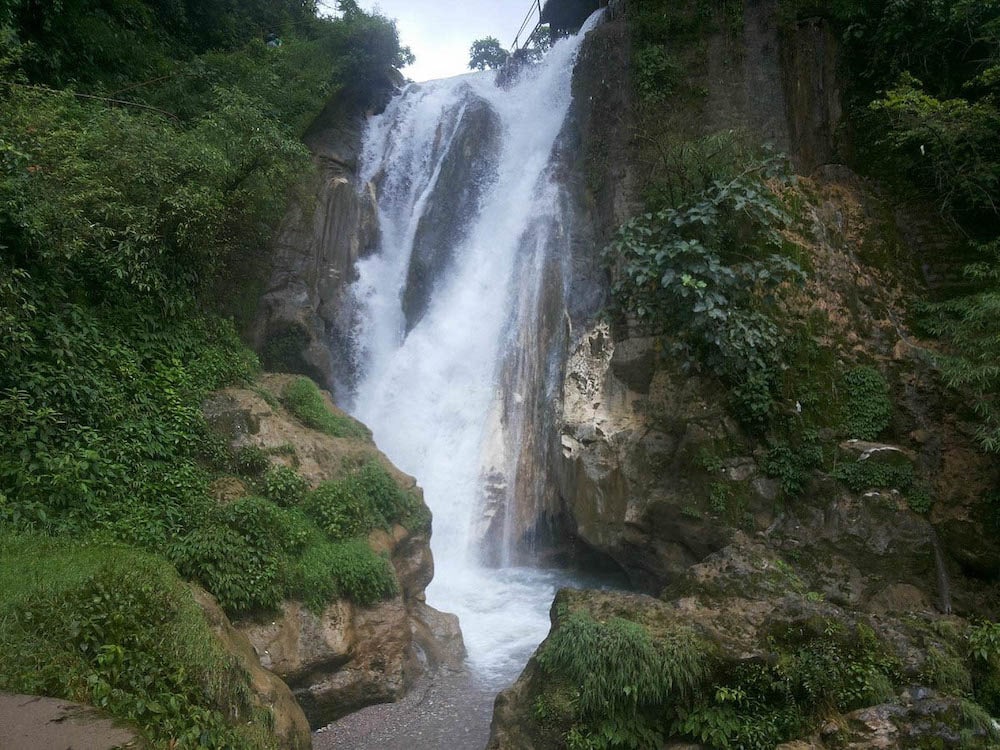 You can come here to have some fun with family and friends and spend some time in the lap of nature. Enjoying fast food will be a different pleasure after taking a bath in the waterfall and having fun rides with the kids.
Ropeway ticket rate: INR 150 per person
Opening hours: 6 am to 6 pm.
11. Mussoorie Adventure Park
The last spot on our list is for adventure lovers: Mussoorie Adventure Park. You can do adventure activities like zipline, skywalk, zip swing, valley crossing, rock climbing, and mountain biking.
Mussoorie Adventure Park is a member of the National Adventure Foundation, Adventure Tour Operator of India, and Uttarakhand Tourism.
Opening hours: Sunrise to sunset.
Local Cuisine and Cafes in Mussoorie
Along with traditional Garhwali dishes, you can enjoy Chinese and Tibetan flavors in Mussoorie. There are many cafes as well, which are worth visiting.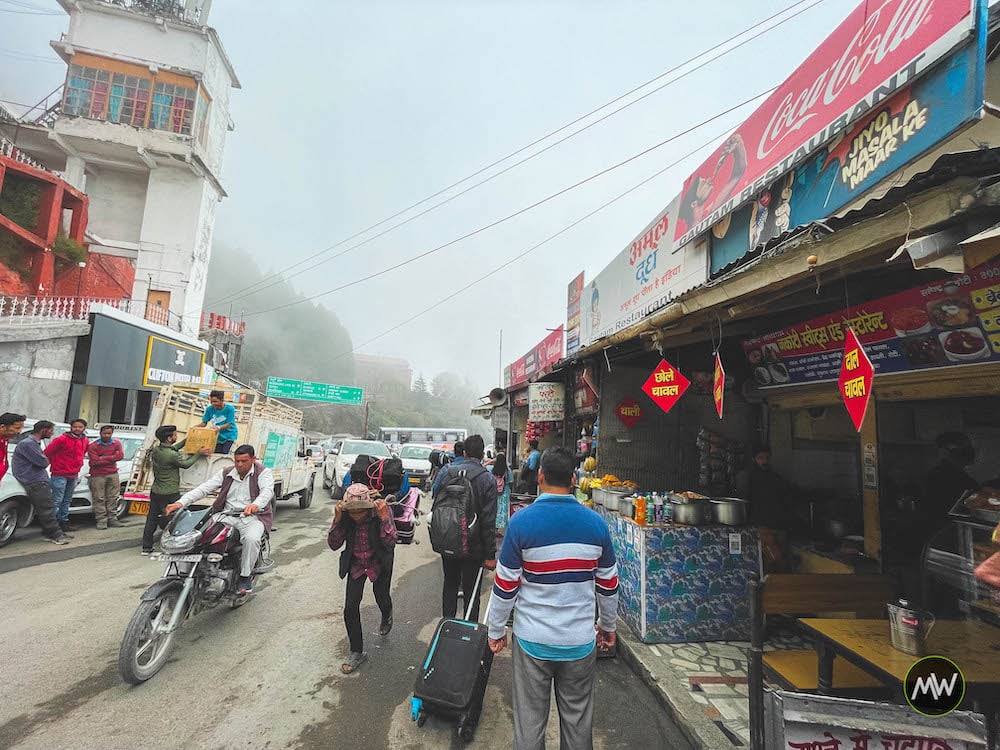 Famous Food Items of Mussoorie
Chicken and Pork Momos
Garhwal Ka Fannah
Chainsoo
Phanu
Momo Soup (Mokthuk)
Aloo Ke Gutke
Jhangora Ki Kheer, Bal Mithai (the city of Almora is fervently known as the city of Bal Mithai)
Singodi, Gul Gula
Urad Dumplings
Gahat/Kulthi Dal
Popular Eateries in Mussoorie
Kalsang Friends Corner
Little Llama Cafe
Cafe By The Way
Doma's Inn
Casa Mia Bakery
Char Dukan, Lal Tibba
Cafe De Tavern
Souvenirs You Can Buy In Mussoorie
There are many shopping options and souvenirs available in Mussoorie. Some of the things you can take home from here are wooden bowls, walking sticks, trays, kitchen items, cane baskets, jewelry boxes, and prayer wheels.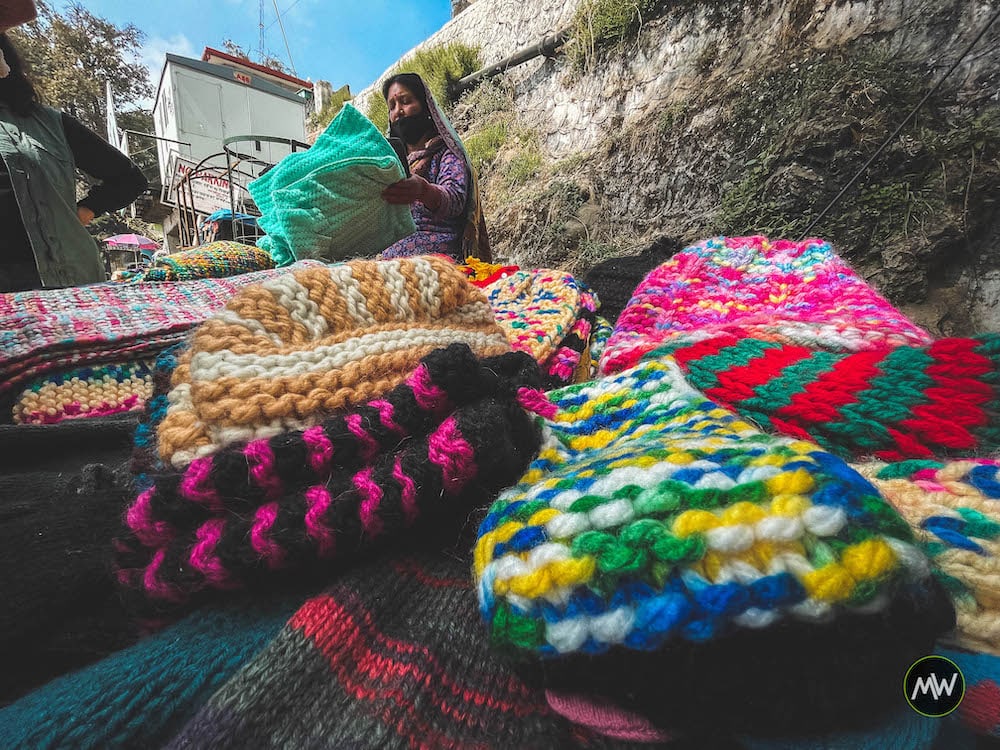 Buy These Souvenirs From:
Mall Road
Gandhi Chowk
Kulri Bazar
Tibetan market
Classic Emporium
Himalayan Weavers (pashmina shawls)
Activities You Can Do in Mussoorie
Become a Cafe Hopper
There are many cafes in Mussoorie which offer the best flavors. You can eat different cuisines from Indian to Chinese. Most of the cafes are in Kulri Bazaar.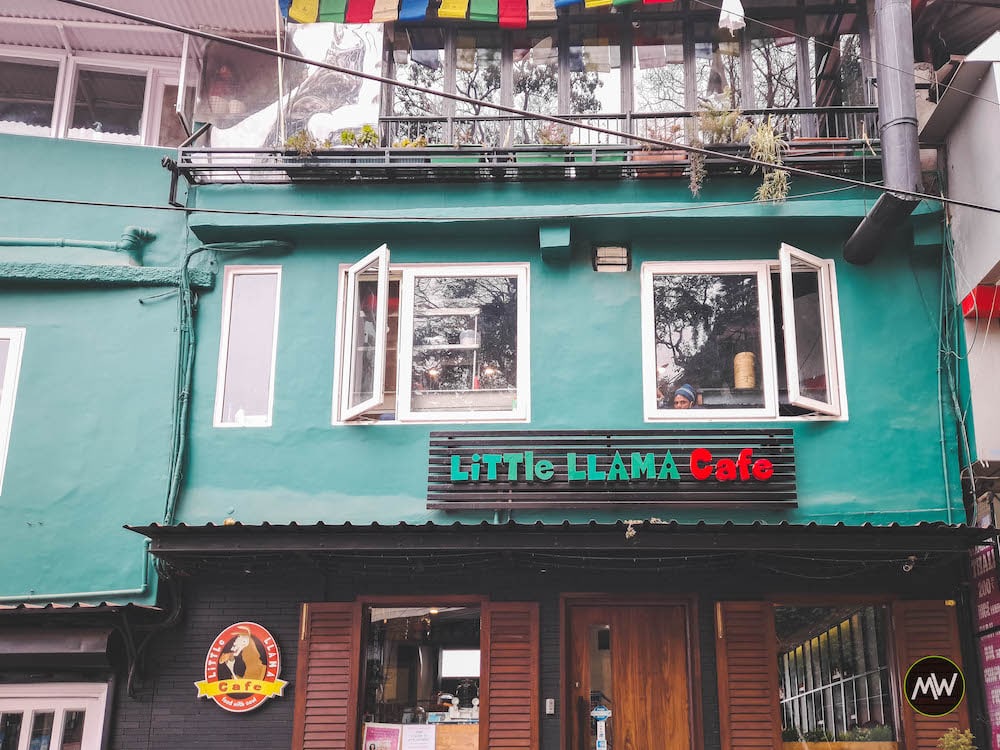 Go Window Shopping on Mall Road
Mall road bustles with shops of all kinds — from famous brands to local vendors. You can find food, snacks, clothes, gifts, and many more shops.
Imagine walking in the evening with your friends or family, and maybe doing window shopping.
Have a Picnic at the Company Garden
If you are coming in a group and are confused about what to do in Mussoorie, then visit Company Garden. You can spend some unique and fun moments here with your family and friends.
Ride The Ropeway
Mussoorie has ropeways at various attractions. You can enjoy a ropeway ride for as low as INR 150.
Try Some Adventure Activities at Mussoorie Adventure Park
Rock climbing, ziplining, skywalk, and many more adventure activities are available here.
Distance Between Attractions and Transport Options
If we assume the center of Mussoorie to be Mall Road or Gandhi Chowk, almost all the main tourist places are within a radius of 10 km except Kempty Fall, which is 15 km away.
One thing is worth noting that you can't explore all the places by public transport. You have only three options, bring your vehicle, rent a bike, or book a taxi.
Reaching Mussoorie
Being close to the state capital of Uttarakhand, Mussoorie is well-connected to major cities around the state. You can reach Mussoorie using railways, roadways, or airways.
Railways
The nearest railway station to Mussoorie is Dehradun Railway Station, about 30 km from Mussoorie. Trains to Dehradun are available from all major railway stations in the country. You can take a taxi or a bus from the railway station to reach Mussoorie.
Roadways
Luxury, deluxe, government, and semi-deluxe buses operate between Delhi, Dehradun, Rishikesh, and Haridwar for travel to Mussoorie. Buses are readily available from Delhi's ISBT Kashmere Gate.
Alternatively, you can opt for Delhi car rental services for a personalized and convenient mode of transportation. With a rental car, you can explore Mussoorie and its surroundings at your own pace, enjoying the comfort and freedom of a private vehicle.
Airways
Jolly Grant Airport of Dehradun (60 km away) is the nearest airport to Mussoorie. It is well-connected to the main cities of the country. You can hire a taxi/bus to reach Mussoorie from the airport.
Best Time to Visit Mussoorie
Mussoorie is ideal for every season. It depends on you which season is at the top of your preferences.
Winters
The weather is quite cold in winter, and the temperature drops considerably. You also get to see snowfall in Mussoorie. The entire valley gets covered with a white blanket of snow.
Summers
The summer season is considered the most favorable. Because at this time you can roam all the main tourist places and indulge in all the adventure activities. If you are coming with family, kids, and friends, come in the summer.
Rainy Season
The rainy season is better for those who want to admire the greenery of Mussoorie. At this time, the beauty of the hill station is at its peak. Greenery all around, cool, dry air and mild fog make the atmosphere mesmerizing.
Budget and Number of Days Required
The budget and the number of days depending on how you want to travel around the city. A typical budget might look like this:
Budget
For one day: ₹2000
For two days (including boating and ropeway): ₹3000
For three days (including adventure games): ₹4500
Number of Days
If you want to visit the main attractions, one to two days will be enough. But if you're going to explore the city well, you will need at least three days.
Accommodation in Mussoorie
Being one of the best hill stations in India, you have many options to stay here. If your budget is tight, you should stay in a hostel or homestay. And if budget is not a problem, there are hotels available from 3 star to 5 stars.
You can choose to stay at your convenience. Most of the hotels are in and around Mall Road and Library Chowk.
Solo Travel, Sanitation, and Public Restrooms
Since the tourism sector is the primary source of income for Mussoorie city, people treat tourists well here. You can meet many solo travelers here.
The cleanliness and sanitation of Mussoorie are appreciable too. You will find public toilet facilities in most places and attractions, including Kempty Falls, George Everest House, and Company Garden.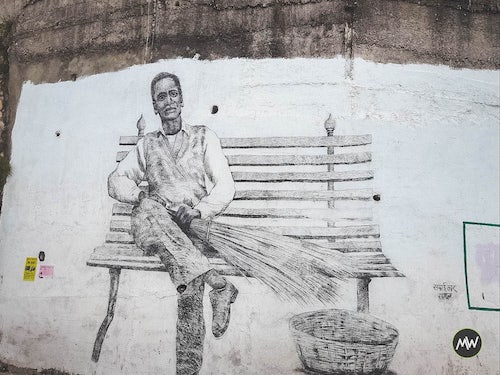 Some Important Travel Tips
Check the weather before your visit and carry clothes accordingly.
Don't forget to visit Mall Road and Kulri Bazaar in the evening. The city lit up during the night looks beautiful.
Taxis are available from Library Chowk, Gandhi Chowk, or Mall Road for different attraction points.
You can rent a scooter or a bike and experience the city on your terms. Scooter rates can range from INR 400-to 800.
Don't forget to ride in man-powered rickshaws on Mall Road.
The weather in Mussoorie changes quickly. So please wear clothes accordingly while going out.
Keep in mind that vehicles are not allowed to enter the mall road from evening onwards. So you can't take your scooter/bike.
Most hostels and hotels will let you park your rented scooter/bike.
Frequently Asked Questions
Which place is famous as the queen of mountains?
Mussoorie, situated near Dehradun, the capital of the state of Uttarakhand, is known as the Queen of Hills. This hill station offers awe-inspiring beauties of nature.
What is the best time to visit Mussoorie?
Mussoorie is ideal for visiting any time of the year. Most tourists come from March to June, which is the peak season. Apart from this, if you want to see snowfall, you can come in December or January.
Which are the places to visit in Mussoorie?
Places to visit in Mussoorie are Kempty Falls, Company Garden, Sir George Everest House, Dalai Hills, Lal Tibba, Clouds End, Mussoorie Lake, Gun Hill Point, and Mussoorie Adventure Park.
Conclusion
Because of its easy accessibility and scenic beauty, you won't find Mussoorie to be devoid of tourists and travelers. After learning about the eleven gorgeous places to visit in Mussoorie, we hope you'll make the best of your trip.
Do let us know your thoughts about Mussoorie in the comment box below.
---
An appeal: Please do not throw litter around. Use a dustbin and if you can't find one, take the trash with you and throw it when you find one. Your small steps like this one can make the world clean and green.