It is a cold and chilly winter in Jaisalmer in Rajasthan, India. And we are here to experience the desert for the first time. Sipping the hot tea at Jaisalmer station, we are preparing for our expedition's most thrilling part: Sam Sand Dunes.
Sam Sand Dunes is a hillock in the Thar desert, offering breathtaking views and desert adventure activities. And with this article, we want to tell an experiential travel story to help you explore this place — better and safely.
You'll learn how to plan an overnight stay under the twinkling stars of the Thar Desert. Further, you'll also know how to reach the Thar Desert, activities you can do, and some practical suggestions for your safety and adrenaline-pumping experience.
Let's roll.
Notice: This post might include several links that could provide us with financial support when you make any purchases or reservations. Please note that these links do not influence our opinion or the information provided here.
---
In This Article
---
Video Guide (in Hindi)
Booking for Sam Sand Dunes
If you want a smooth experience, we suggest you book your stay before you reach Jaisalmer. If you are going in a peak season, chances are you'll not be able to get an accommodation. So it's better to stay on the safe side.
We booked our Sam Sand Dunes expedition from Abu Safari, Jaisalmer. It is a tour operator who runs a hostel with the same name and operates such activities.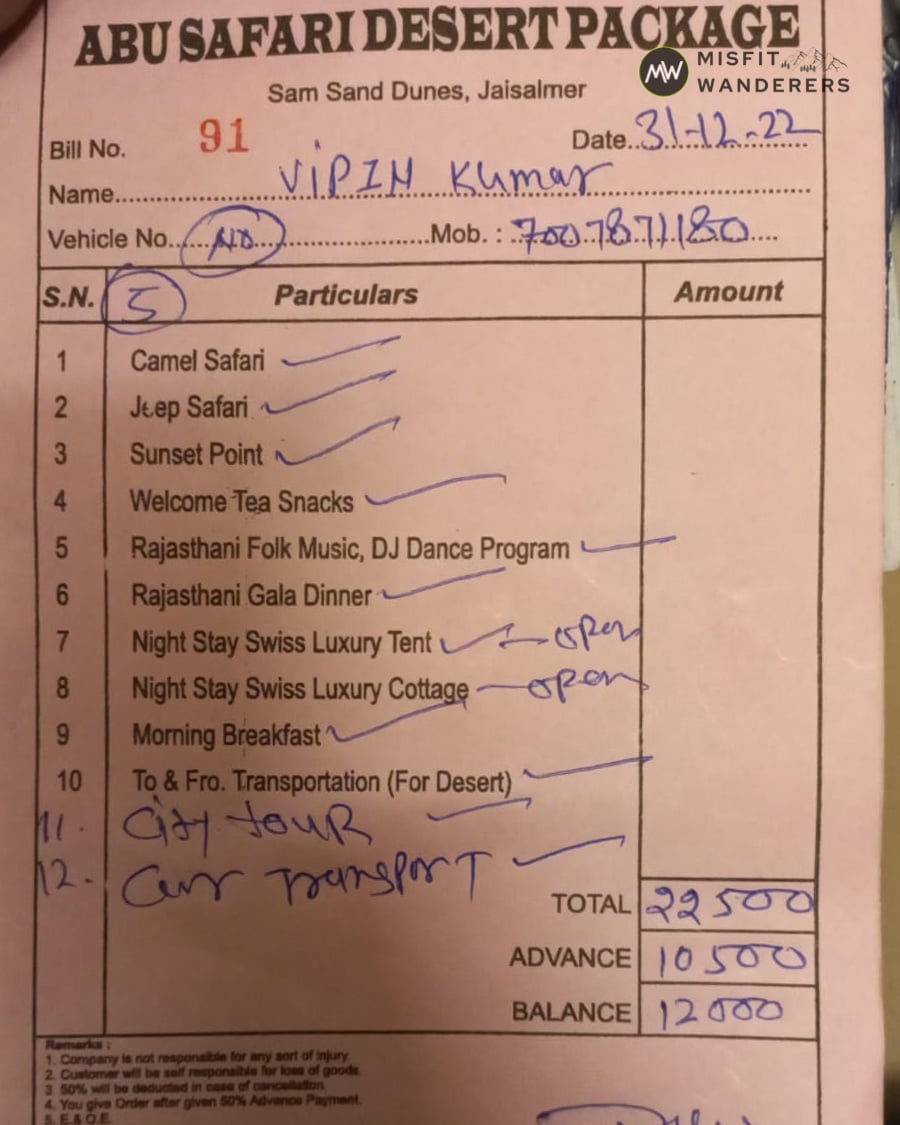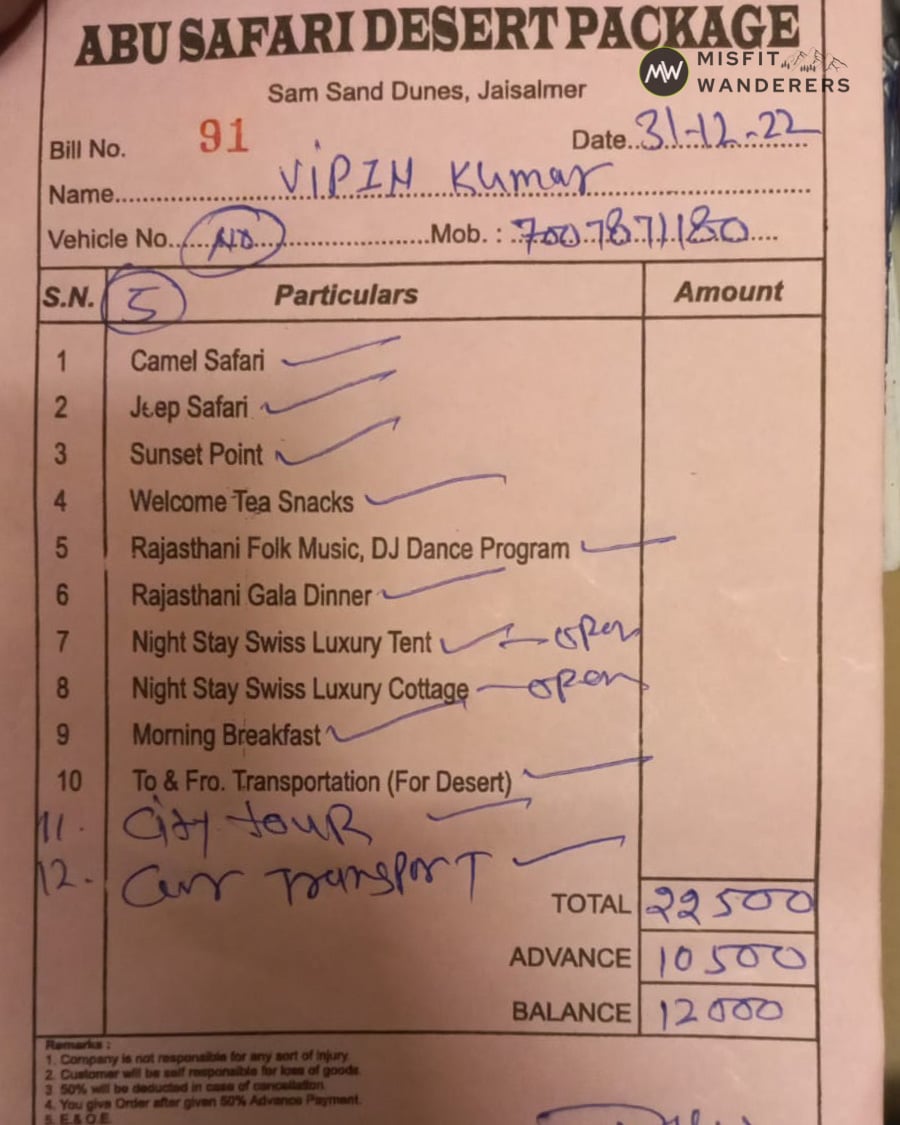 We booked a tuk-tuk from the station to our place, Abu Safari. It was approximately 2-3 km (1.24-1.86 miles), so we were there in no time.
How To Reach Jaisalmer? (And Visit Sam Sand Dunes)
I recall the winter morning when our feet touched the ground of Jaisalmer. The misty clouds, spiking winds, and sun rays trying to dance between the scattered clouds.
The Thar Desert and Sam Sand Dunes experience will be our new-year celebration. It is one of the must-visit places in Jaisalmer, so we had to go there first.
Jaisalmer is easily accessible via train and road. However, there are no flights that operate to Jaisalmer. The nearest airport is in Jodhpur. See what we found when we searched for flights to Jodhpur from Delhi on Skyscanner.
| | |
| --- | --- |
| Via Train | There are 3 trains available from New Delhi to Jaisalmer. Ranikhet Exp (15014), Corbet Prk Link (25014), And Shalimar Exp (14646, runs only on Tuesday, Wednesday and Friday) |
| Via Road | There are no direct RSRTC buses available. You can find connecting buses. However, one private bus is available, see on RedBus. |
| Via Airways | No direct flights to Jaisalmer. See flights to Jodhpur instead, which is the nearest airport. |
Note: The above information is of July 5, 2023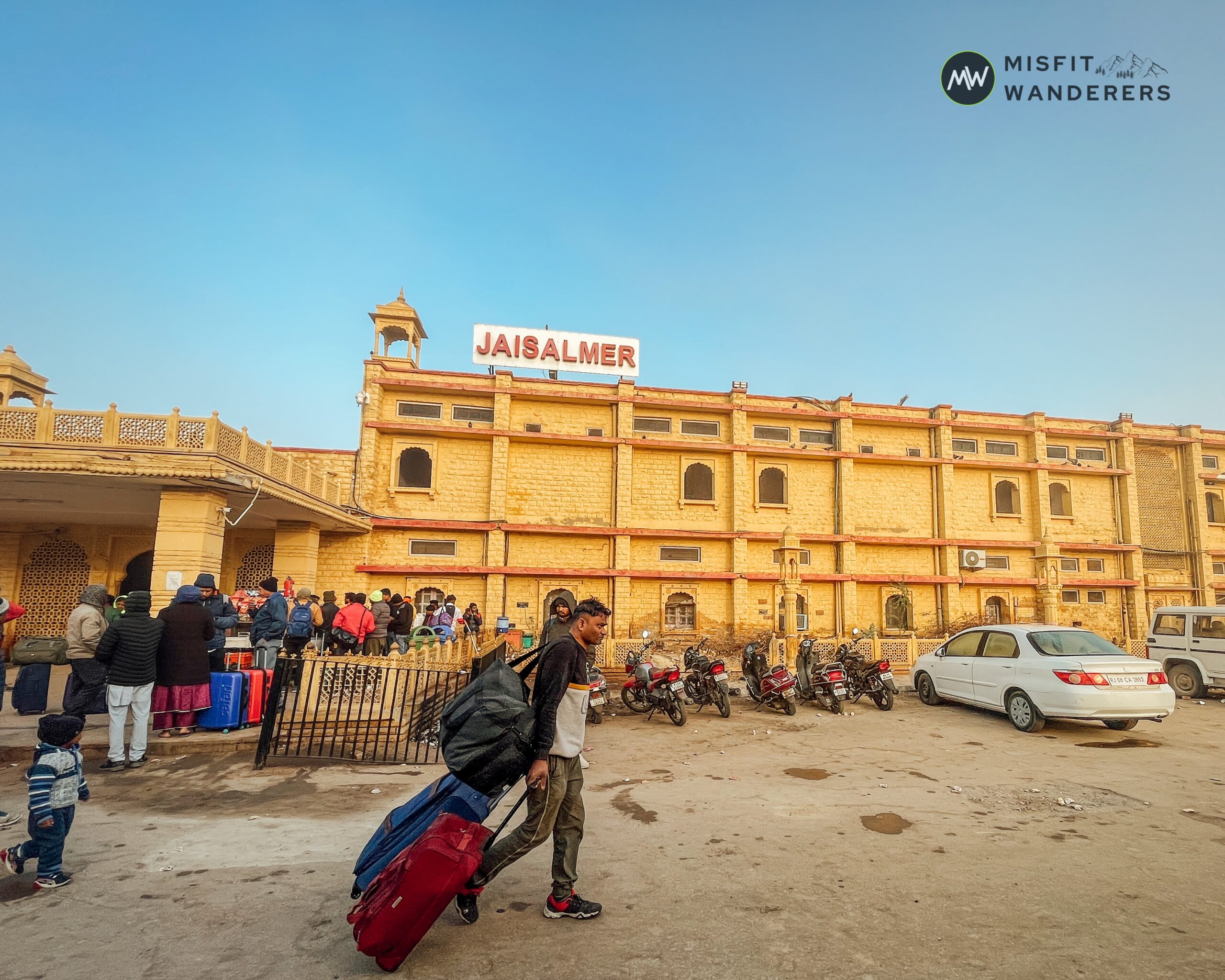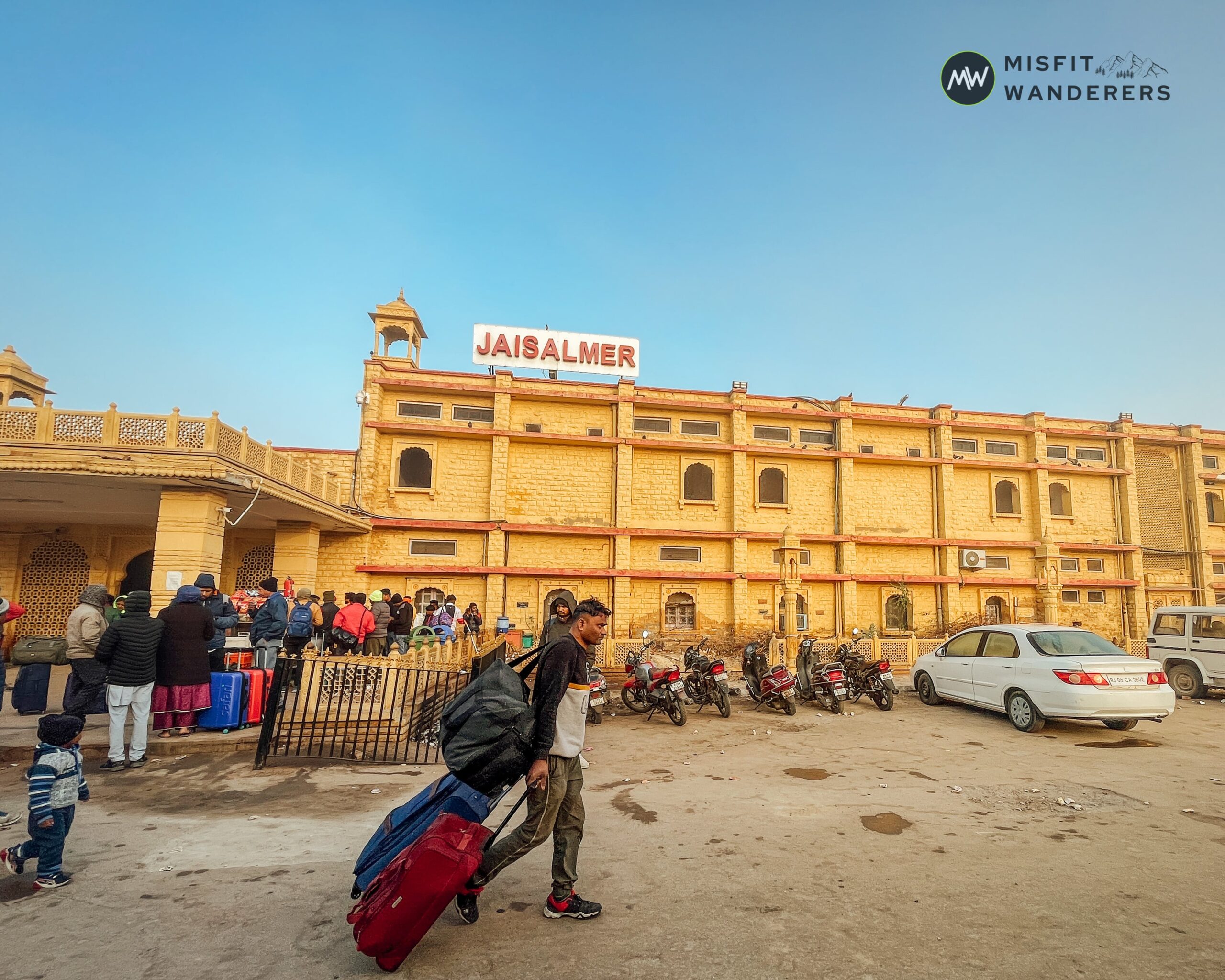 Reaching Sam Sand Dunes from Jaisalmer City
Sam Sand Dunes is approximately 45 km (27.96 miles) from the city center.
It only takes about an hour to reach. You can easily find private taxis from the station or near the fort to go to Sam Sand Dunes. However, if you've already booked, your tour operator shall pick you up from your agreed-upon place.
Since our tour was planned by the hostel-associated tour operator, we were getting picked up from the hostel itself.
Best Time to Visit Sam Sand Dunes
As Sam Sand Dunes lie in the Thar Desert, you can guess it'd not be a good idea to visit here in summer and in the monsoon.
The best time to visit Sam Sand Dunes are winter months, that is, October through March. During this time, the weather is usually pleasant during the day and chilly during the night.
Adventure Activities You Can Do in Sam Sand Dunes
From camping in the desert to riding on a Jeep in the rugged dunes, there are several adventure activities that you can do. We went camping, stargazing, Jeep, and camel safari, as it was included in our package.
Remember to ask your tour operator if any activities are included in your package. You can also do activities yourself if your package doesn't have the same.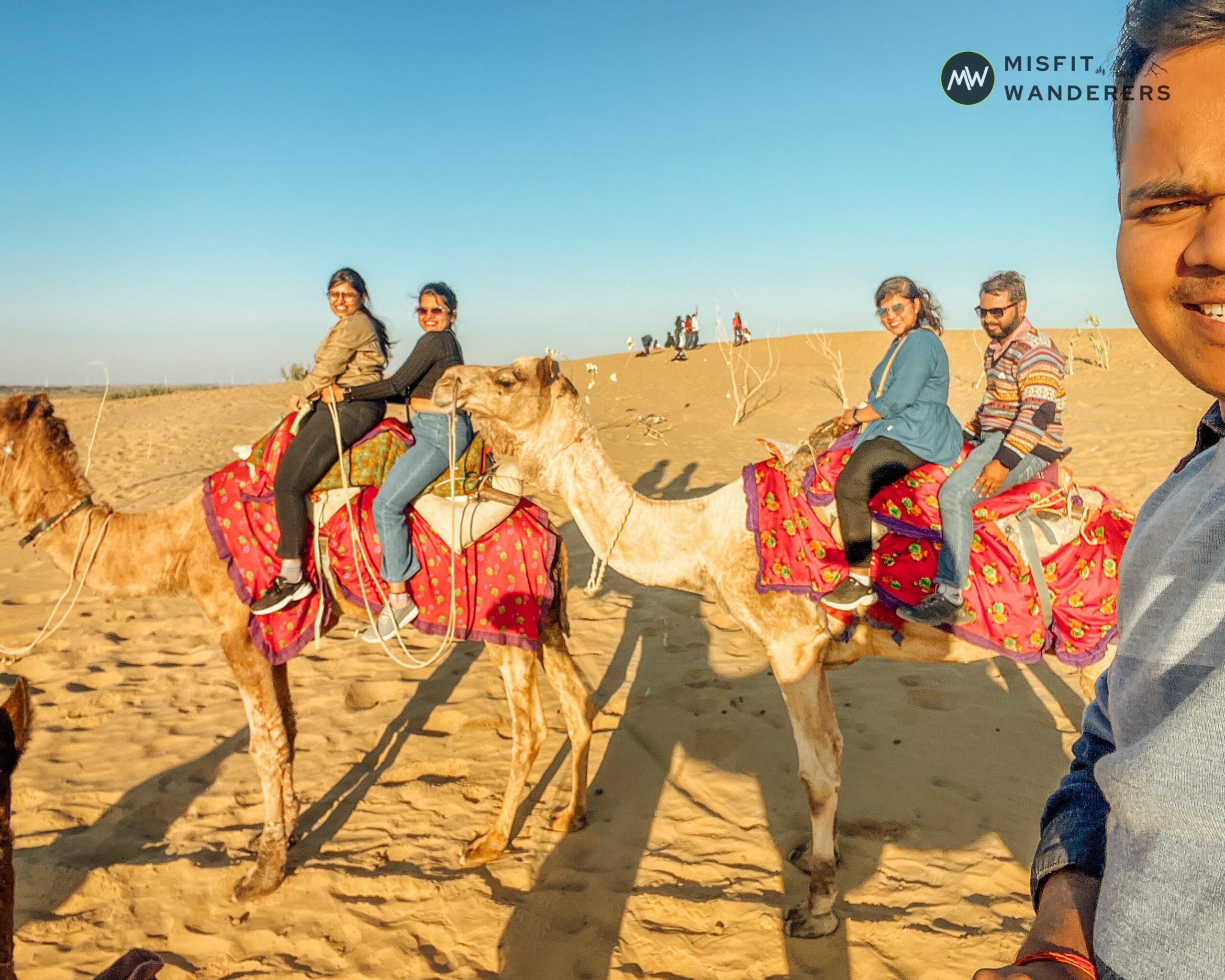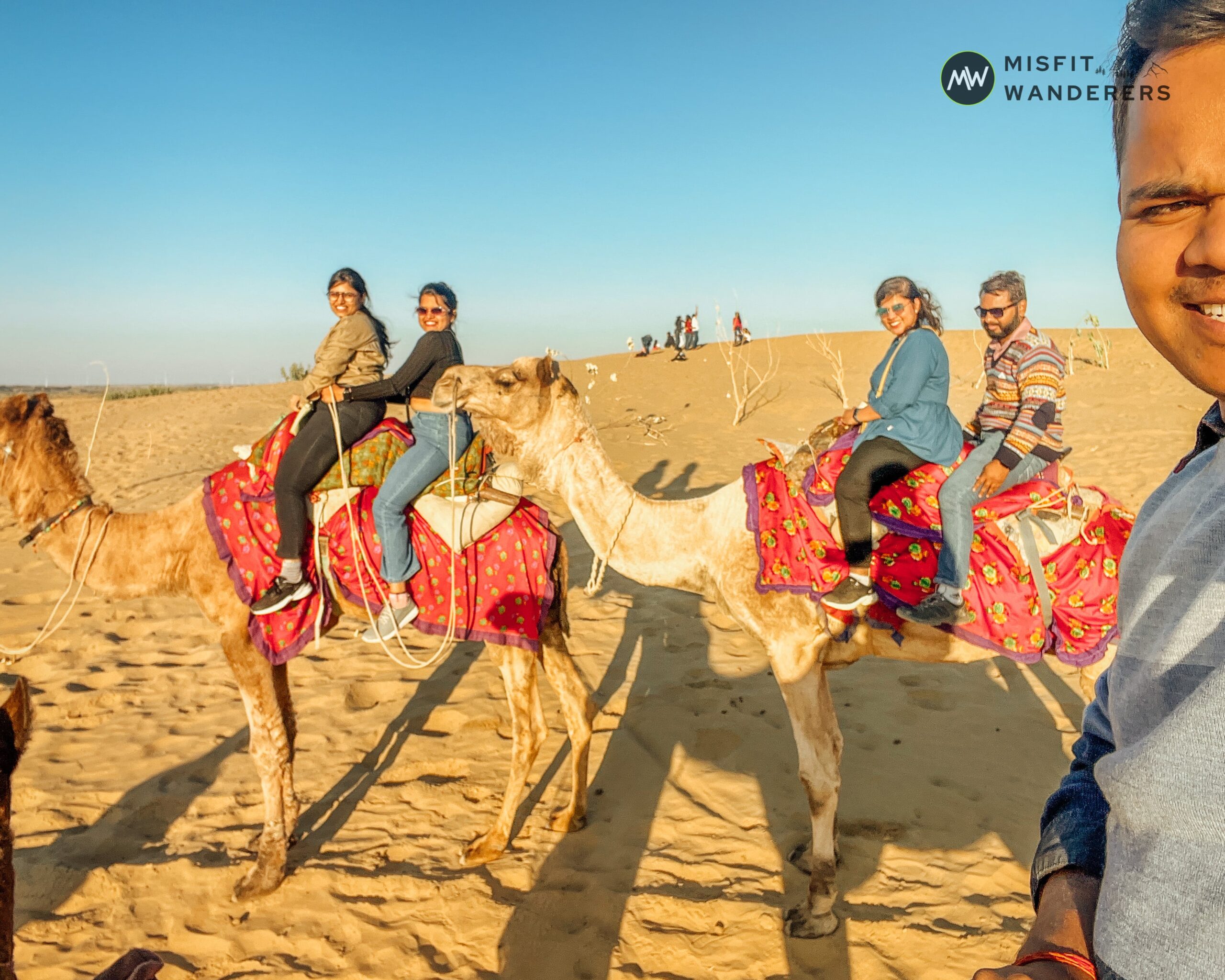 Here's the complete list of adventure activities and their estimated cost to do in the Sam Sand Dunes of the Thar Desert:
| Activity Name | Approximate Cost Per Person in INR |
| --- | --- |
| Paramotoring | 2,200 – 2,500 |
| Parasailing | 1,500 – 2,500 |
| Quad Biking | 1000 – 1,500 |
| Camel Safari | ~500 |
| Jeep Safari | ~500 |
Please note that more sober activities like stargazing and camping are primarily included in the package you'd buy.
Staying Overnight In The Lap of The Thar Desert
Depending on the type of package you choose with your tour operator, there can be roughly two options:
Staying in the middle of the wild, in a small tent, or in the open desert near a bonfire under the starry night.
Staying in the camp set in a private property or in the rooms.
If you are looking for adventure, go for an open desert stay. Remember, it'd be rugged, and you might be sleeping on nothing but a mattress on the sand.
Choose rooms and luxury tents on the private property if you need a more comfortable stay.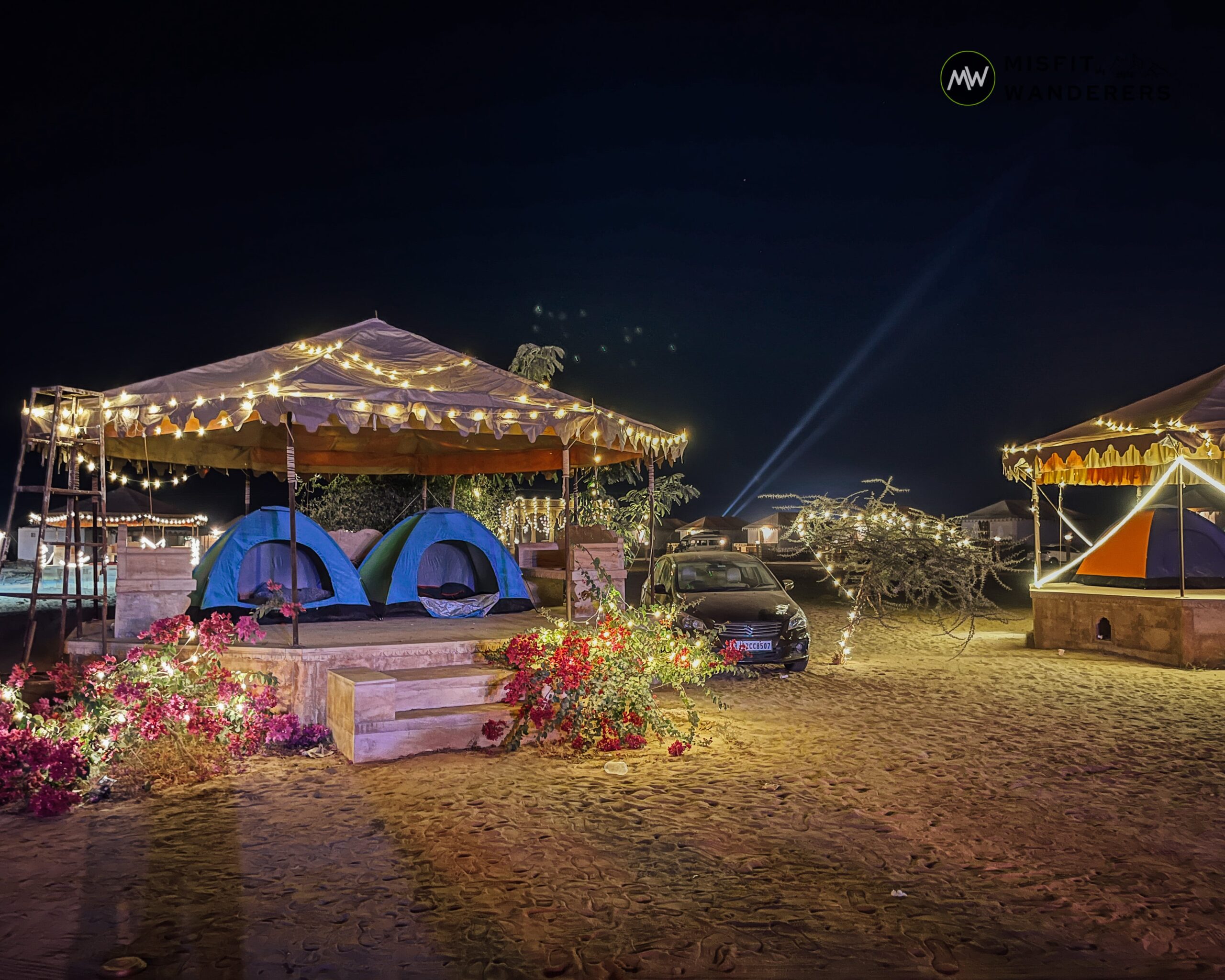 We didn't know which type of stay was ours when we booked our activity. And it led to a bit of inconvenience for our female travel buddies. Thanks that it was a new year's night, and we don't regret it.
Nonetheless, we recommend that you clarify with your agent before booking for Sam Sand Dunes Adventure.
New Year's Eve, Twinkling Stars, Bunch of Strangers & Bonfire
That evening came when the year would be a new one soon. It was time to create new resolutions, work harder towards your goals, and travel more deeply.
And here we were, sitting on a naked mattress on the sand with our friends and some travelers from abroad. Scattered clouds with moonlit sky and sand — a mesmerizing view in the middle of the night. Those with phones and bigger camera capabilities weren't stopping to click the pics.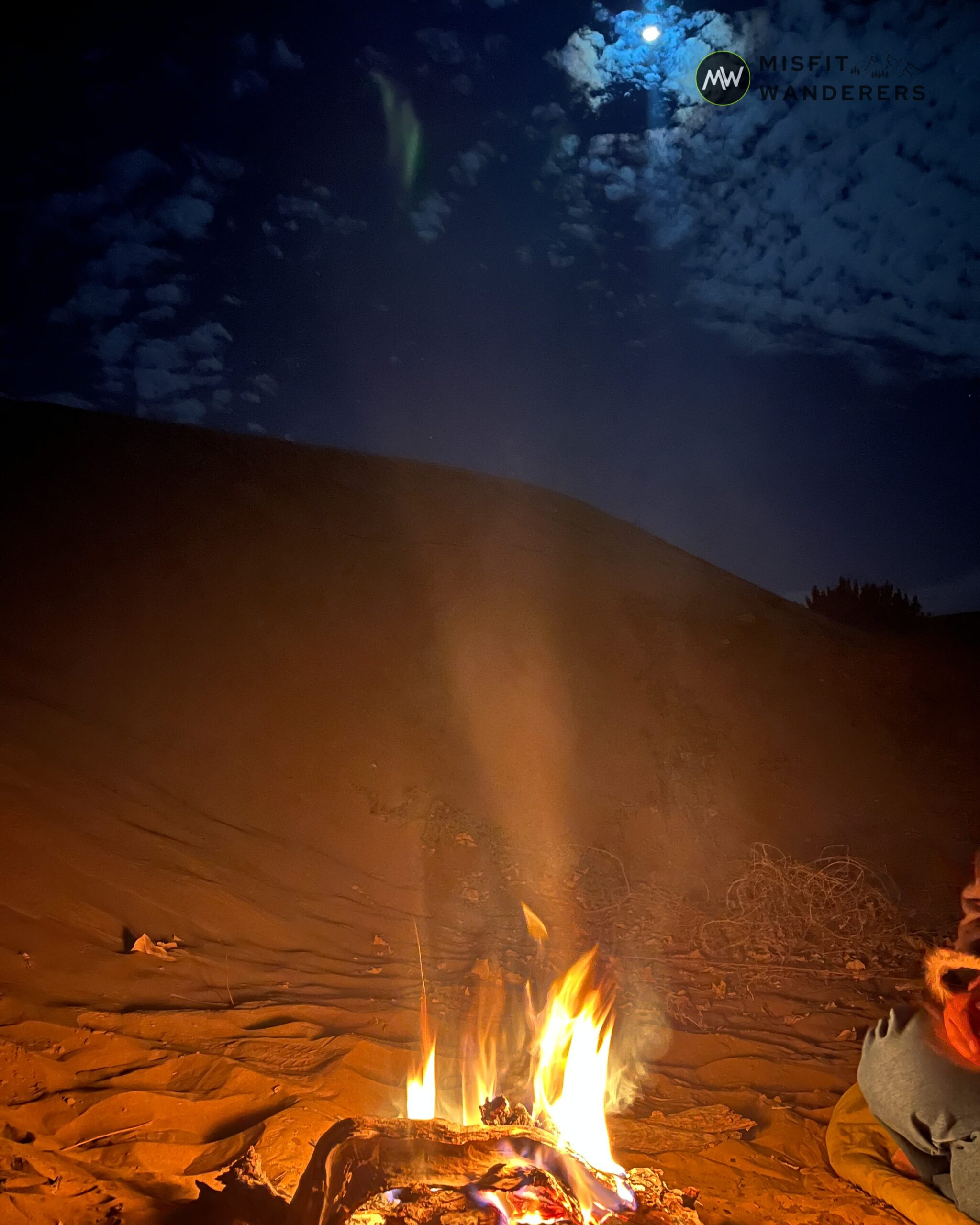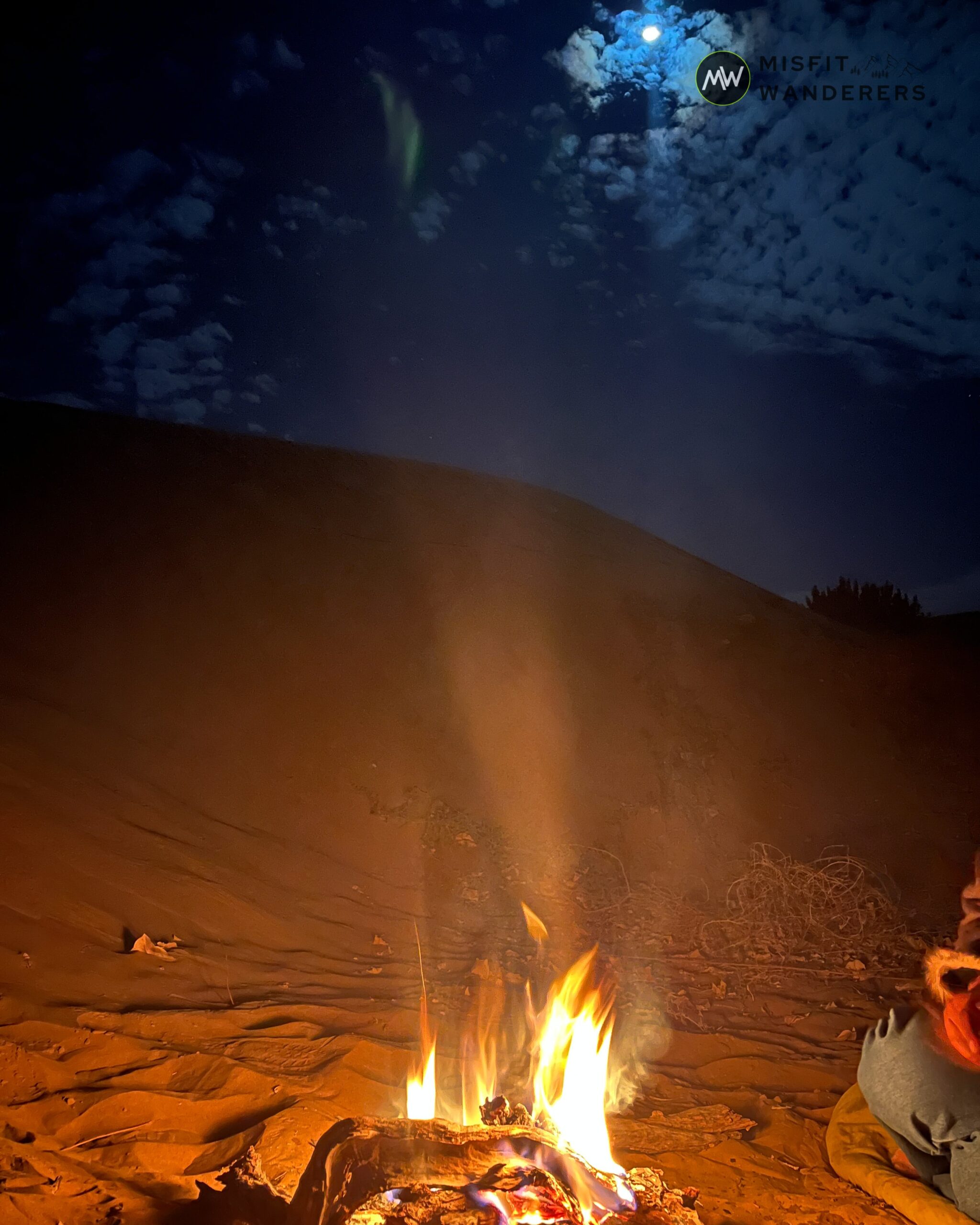 Each one of us was sitting around this big bonfire. And each of us was reflecting on our past and our mistakes. Some people were happy, and some were looking sad. A few were like me — stressed about work and life alike.
Time went, and we were a few minutes away from 2023. As the counting started, hooting and cheering began. From music to dance — it was a fulfilling experience.
I am thankful for this awesome trip to Sam Sand Dunes. And called a few people to tell them how much I care for them. And yes, the network wasn't reliable at all.
As night became darker, we were given a mattress per person to lay on the sand nearby and sleep. And so all of us did that. I didn't take off my shoes or any clothing as it was chilly enough at night.
In the morning, we found some camels near our camp. As you can guess, our crazy friends couldn't resist clicking some pics with the animal.
Our vehicle came and took us to our hostel a few minutes later. And our one-day expedition of Sam Sand Dunes came to an end.
Sam Sand Dunes: A Few Pointers For Your Safety
If you plan to stay in the vast landscape of sand, know that you shouldn't forget the safety of yourself and the people with you. Desert can be dangerous too — it's a part of mother nature, which you should respect and appreciate for its beauty and existence.
Here are some of the safety pointers you should keep in mind:
Sam Sand Dunes is a secluded place, and there can be problems with mobile networks. You should have multiple sims if possible. Airtel works best, and after that, Jio and Vi.
Take water, I repeat, take water. And in enough amounts. You can't enjoy it fully if you get dehydrated.
If you follow the trail when the sun's out — wear a good sunscreen.
Wear a hat or sunglasses if your eyes are sensitive to the sun.
Don't leave your group or go off trail in the desert. I get it – you want the thrill and adventure. But please don't try to be Bear Grylls unless you're a trained expert.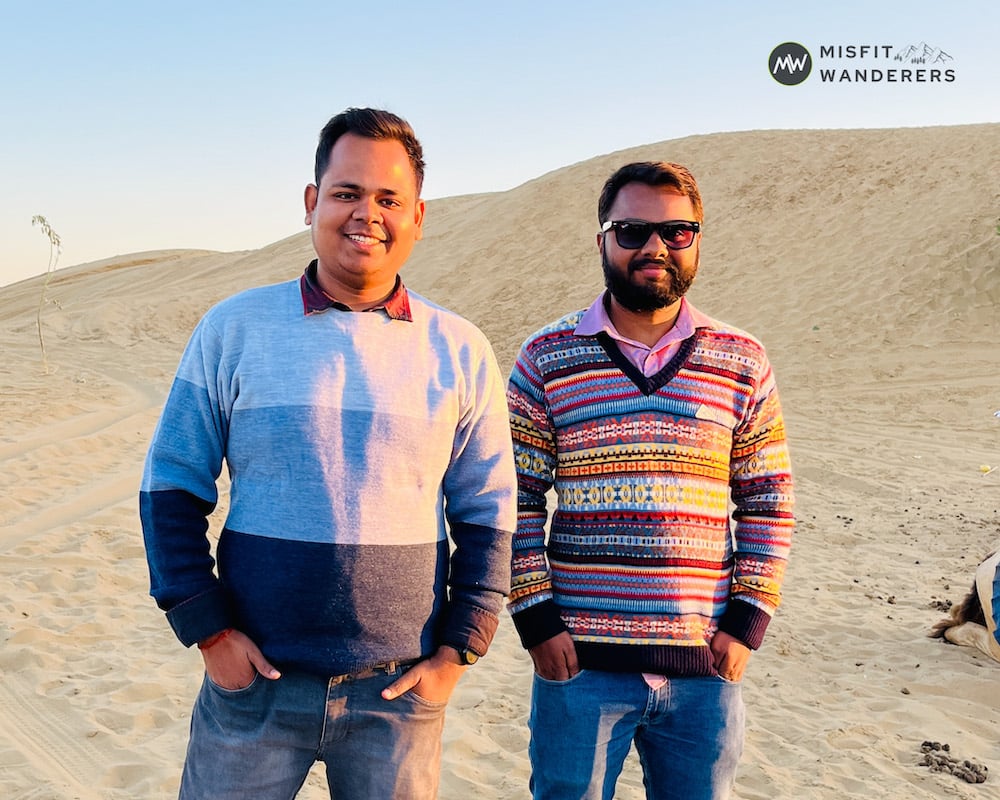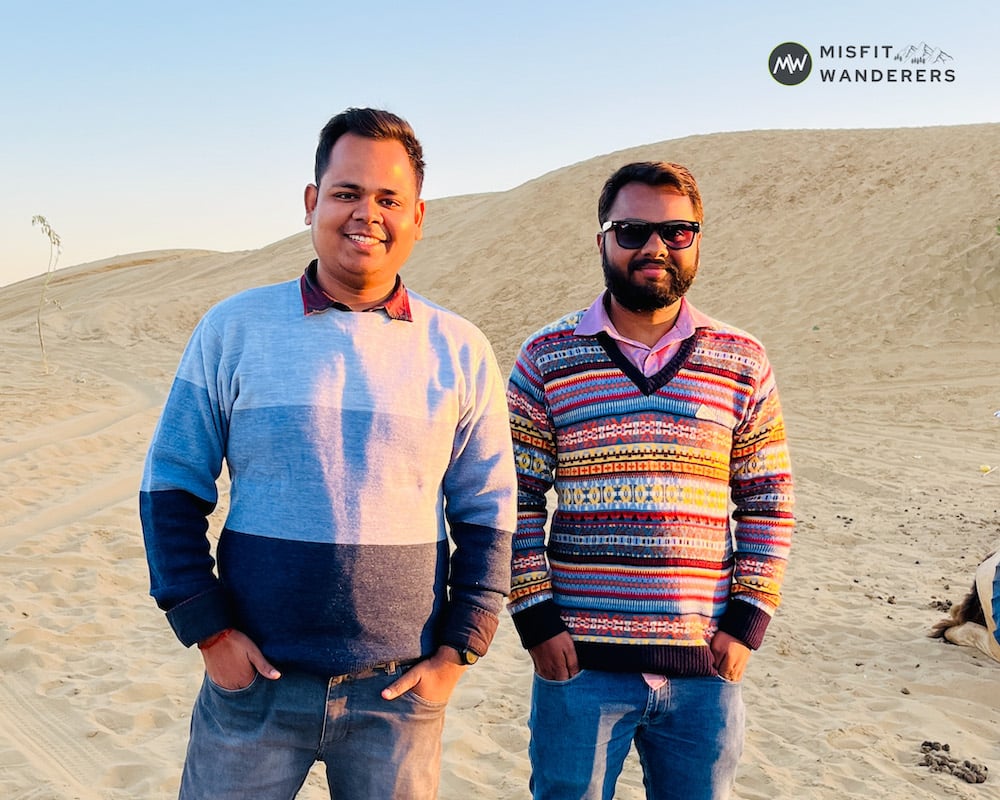 Let's Call It A Day
So, that was it. We have entered a new day, a new year, with a heart full of hope. This year, we'd work even harder to get success.
Sam Sand Dunes was one of a kind experience. From singing with strangers to sleeping on sand on a cold desert night, it was a raw experience that mother nature gave to us.
This experiential guide will set the right expectation for you. And it'll help you plan your trip to these dunes in a better, well-informed manner. If you have any questions, know that we're here to answer that for you.
After our Sam Sand Dunes expedition ended, our next adventure was in the line: exploring the best places to visit in Jaisalmer.
---
Liked this post? Subscribe to our spam-free travel emails to get notification about such posts in your mailbox.
---
An appeal: Please do not throw litter around. Use a dustbin. If you can't find one, take the trash with you and throw it when you find one. Your small steps like this one can make the world clean and green.