Have you ever forgotten to pack 'that' thing only to realize later? That sudden sense of deep regret as you unpack your backpacks?
We understand. Traveling smart requires a lot of mindfulness and planning. While it may seem like an extra task for ordinary travelers, savvy travelers know that the rewards are astonishing.
Travel disasters are pretty natural. However, you can avoid them after learning a few travel hacks.
So, this article covers 51 practical travel hacks to make you travel smart. They are time-tested and are super helpful while traveling — both locally and internationally.
---
Notice: This post may contain a few links which might earn us financial support when you buy or make any reservations through them. They in no way affect our opinion or the information presented here.
---
1. Email Your Documents
Whether it is local travel or an international tour, it is necessary to carry your identification papers and passports.
Just scan and email a copy of these papers to yourself for safety. Having a backup in your email account would never hurt, and you can always feel secure during your travels.
Alternatively, you can upload your document on your Google Drive, OneDrive or iCloud for easier access.
2. Use Google Maps Without the Internet
Google Maps have been one of our few favorite travel hacks. If you have enough space on your phone, download Google maps and browse the location you need to visit. Tab "…" on the top of the screen to download the offline map of that particular area.
See Google's instructions for doing the same.
This hack can be pretty efficient if you plan to visit a place with a poor internet connection.
3. Download an Offline Translation App
If you are traveling to a region where language might be a barrier, you should download a translation application on your mobile device.
Most translation apps work with the Internet, but you should download those supporting offline translation.
We suggest you go with Google Translate — free, supports offline translation, and is relatively reliable.
You can also translate the sign and menus by capturing the image through the camera in your Google Translate.
4. Carry a Baby Powder
This hack is essential when compared to the other makeup items. While traveling, you walk a lot on foot. Despite wearing socks, your feet might smell.
So, applying baby powder to your socks and a little bit on your feet can reduce the effect and make them pleasant. You can find varieties of baby powder on Amazon and other e-commerce stores.
5. Empty Your Bottles
Carrying a filled water bottle is a strict no before passing airport security. So instead, bring it out as an empty water bottle and fill it up after security checks in the airport.
This simple hack saves a lot of money!
6. Go in Private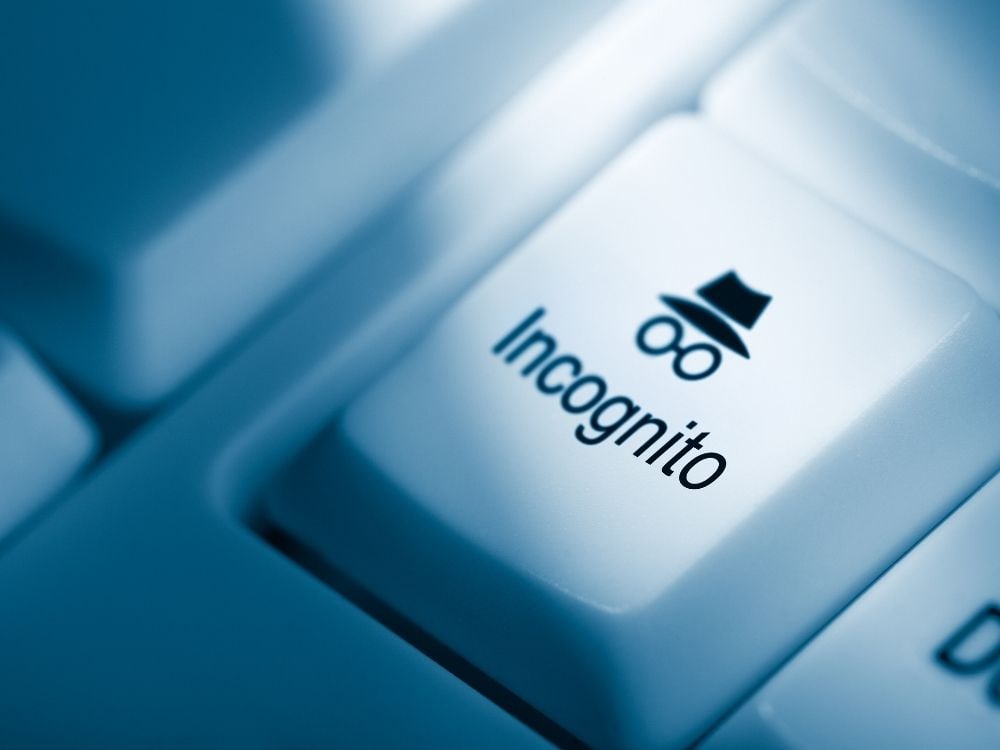 While searching for flights, choose the incognito or private mode in the browser.
Experts say that most travel sites use your search history and cookies to understand your requirements and raise the price simply since you have searched for their flights before.
This travel hack will protect you from spending unnecessary money on flight booking.
7. Roll Up Your Clothes
This idea is a general hack but can be pretty essential. Rather than folding your clothes, roll them into a circular tube to preserve space and prevent creases or wrinkles.
8. Use Vacuum Bags For Wrinkle-Free Clothes
The vacuum bags are also a general hack used to protect your clothes from wrinkles and pack more within a small space.
These vacuum bags are commonly available in most online stores, and you can purchase them for a low price. Here is a list of many vacuum bags on Amazon.
Place your clothes within the bags and vacuum the air out of them to protect the fabric and maintain it wrinkle-free. Since it sucks the air out, you will also have more space for packing.
9. Use Smart TVs to Get Charged
If you have forgotten your charger or adapter, do not worry. Like the laptop's USB port, today's television sets have a USB port. You can charge your mobile phone and cameras through this port during emergencies.
10. Mark Your Bags as Fragile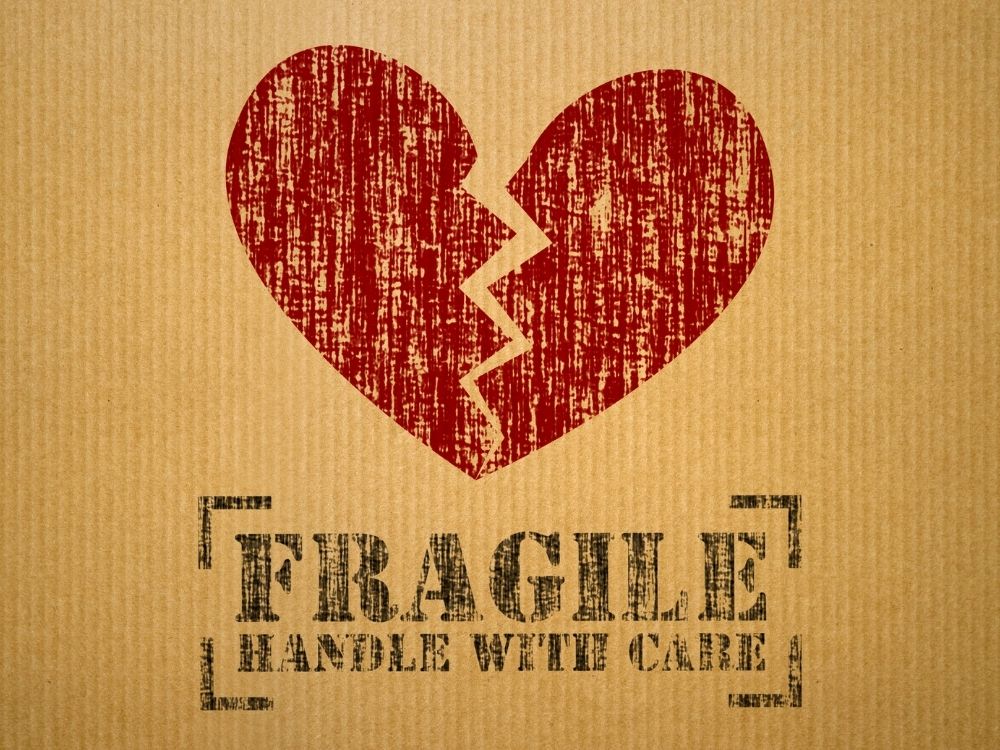 If you are a frequent traveler, you might understand the damages caused to your suitcase, especially with the handles and the wheels.
Marking your suitcases and bags as fragile goods would ensure that your bags are handled correctly and placed on the top of the compartment.
11. Runoff Your Jet Lag
Jet lag can be an issue when going on an International Tour. It can make you feel under the cloud for at least two days.
You can reduce your jet lag effects by going on a run or by engaging in light exercises. Try not to fall asleep during flight hours to lower your impact of jet lag.
12. Use Rechargeable Batteries
Having rechargeable batteries as a backup can be pretty efficient. But when your rechargeable batteries keep running out of charge, the best solution is to place them in the freezer for an hour to maintain the battery level above 90%.
Most new batteries work just fine. But when your rechargeable battery is old, you can use this technique.
Although this travel hack might not seem practical in a few years, it's useful if you're using a gadget that runs on replaceable charging batteries such as trimmers.
13. Plastic Bags For All The Wets
Sealed pouches and plastic bags can be pretty efficient on a trip. These bags do not occupy huge space, and they are efficient while packing wet clothes or dirty clothes.
It practically separates your fresh clothes and prevents them from the disgusting scent. You can also pack used swimsuits within these bags since they carry the chlorine scent despite being dry.
Check out plastic bags for clothes on Amazon.
14. Purchase Tickets in Advance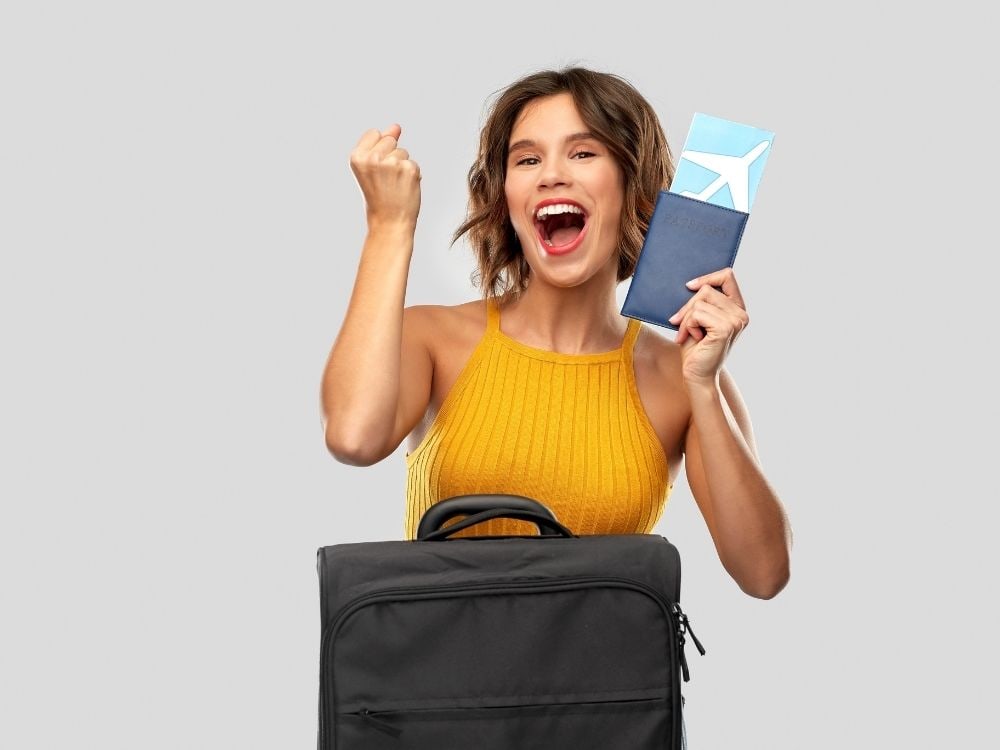 If you plan a trip, then book all your tickets in advance. It's not just the flight and train tickets, but also book other activity tickets like museum visits and others to avoid the queues and make a visit.
This idea saves time, and you can prevent vast crowds.
15. Avoid Add-ons
Plan to reduce the price and save unnecessary rush rather than booking your add-ons like the extra baggage and food items separately.
You can complete all your baggage booking, food, insurance, and seat reservations during booking with planning. Including add-ons during the later stage will only increase your budget.
16. Smart with Small Bottles
The excess baggage might be pretty heavy to carry around when you travel. The essentials and makeup products are hard to distinguish among your clothes and accessories.
Instead of taking the whole shampoo bottle and face wash, you can transfer them to small bottles for packing. This technique might reduce a lot of weight from your baggage.
If you have small bottles at home, you can use them, or next time you go on a trip, take the bottles they offer you in the hotels. Moreover, there are various travel bottles available on Amazon which you can purchase if you don't have it at home.
17. Buy Shoe Covers
While traveling around, you need to carry at least two to three sets of footwear to keep your fashion sense alive. But instead of taking them simply in a bag, cover them within a zip lock pouch or a dedicated shoe cover.
This hack will protect your shoes from getting dirty.
Since shoe covers cover the base portion of your shoe, you can use them while traveling in a muddy area.
18. Rental Vehicles to Save $$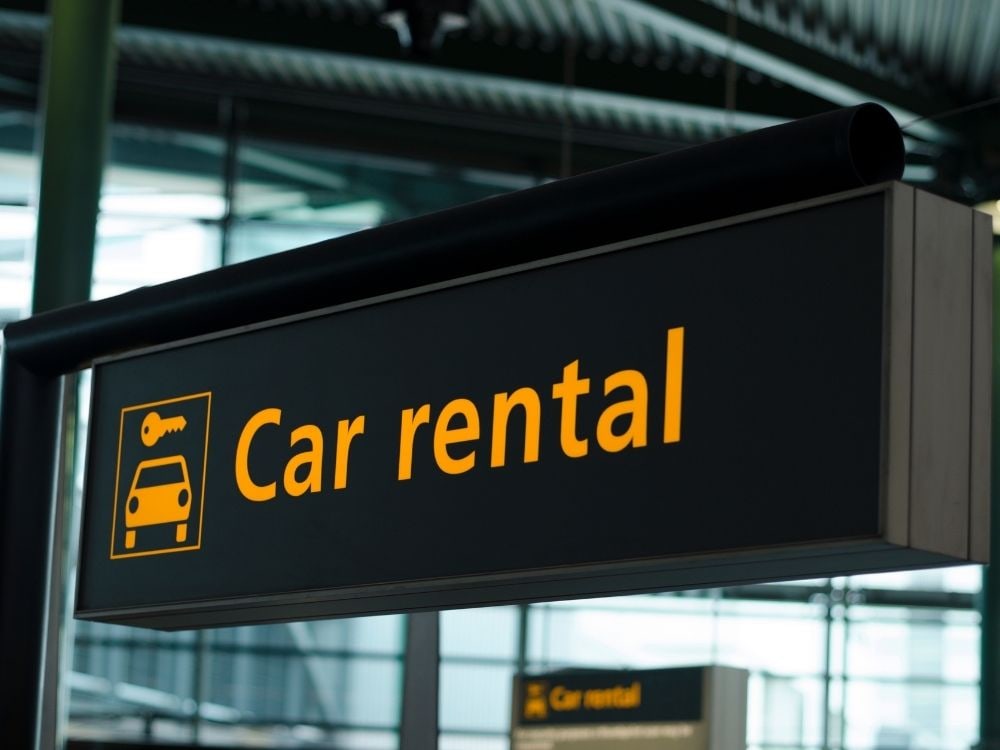 Even though this concept was not quite common a decade ago, you can now find it in multiple cities.
Renting a car or two-wheeler will save you a lot of money and allow you to enjoy the freedom of going anywhere.
Try to purchase a universal license if you are a frequent international traveler. The rental vehicle is a cost-effective technique when compared to taxis.
19. Rent a Home When With Family
Did you know that renting a home is much cheaper than staying in a hotel? If you travel with your family, rent a house or room through Airbnb.
If you are traveling alone, then rent a single room. The old bed-and-breakfast concept is much more exciting and comfortable than a hotel.
20. Carry a Pen
This hack might seem like a simple trick, but it can be handy when you try to exchange foreign money or fill out a customs form.
Instead of asking other people for the pain, you can fill out the form and save time with the pen.
Even most rentals in international countries subject you to multiple form-related procedures.
21. Use Local ATMs
If you have an international credit or debit card, then use them in the local ATMs instead of opting for the money exchanger in airports with a particular cost.
These ATMs charge less and allow you to get money from anywhere.
22. Unpack Necessities, Leave The Rest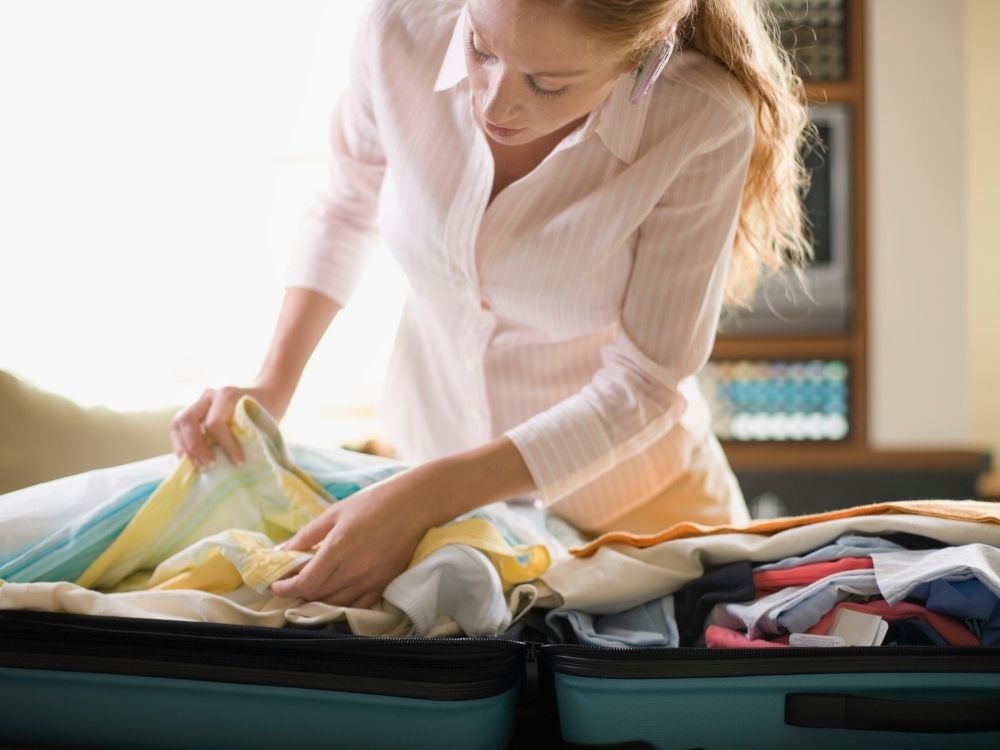 Even if it is a long trip, avoid complete unpacking. Instead, opt to remove only necessities from your luggage when you come back from a trip.
To avoid hectic last-minute packing, you can wash or pack your used clothes in a separate bag. It also increases your chance of missing out on something in the hotel room.
23. Smell Nice with Pocket Deodorants
If you are packing for a long holiday, do not miss out on the pocket deodorants available for your clothes.
Whether a hotel or a home, it is always safe to keep your suitcases closed. But your clothes might smell when you try to place used clothes within them.
The pocket deodorant provides a pleasant smell and keeps your cloth fresh for your upcoming use.
24. Get Souvenirs To Buy on a List, Seriously
Everyone expects you to purchase something for them during their foreign trips. So, create a list of souvenirs and items you must buy before departure for easy access.
It might feel like you are striking things off your bucket list, but it saves time and money. It also allows you to remember things and avoid feeling guilty.
25. Savor Yourself on The Local Cuisine
Try to consume local foods and avoid common fast-food joints like McDonald's, Dominos Pizza, or Starbucks. This hack will allow you to taste the local cuisine while saving you a lot of money.
Local cuisines are cheap, fresh, and the best. Besides, you can have fast food anywhere.
26. Compression Socks For Swollen Feet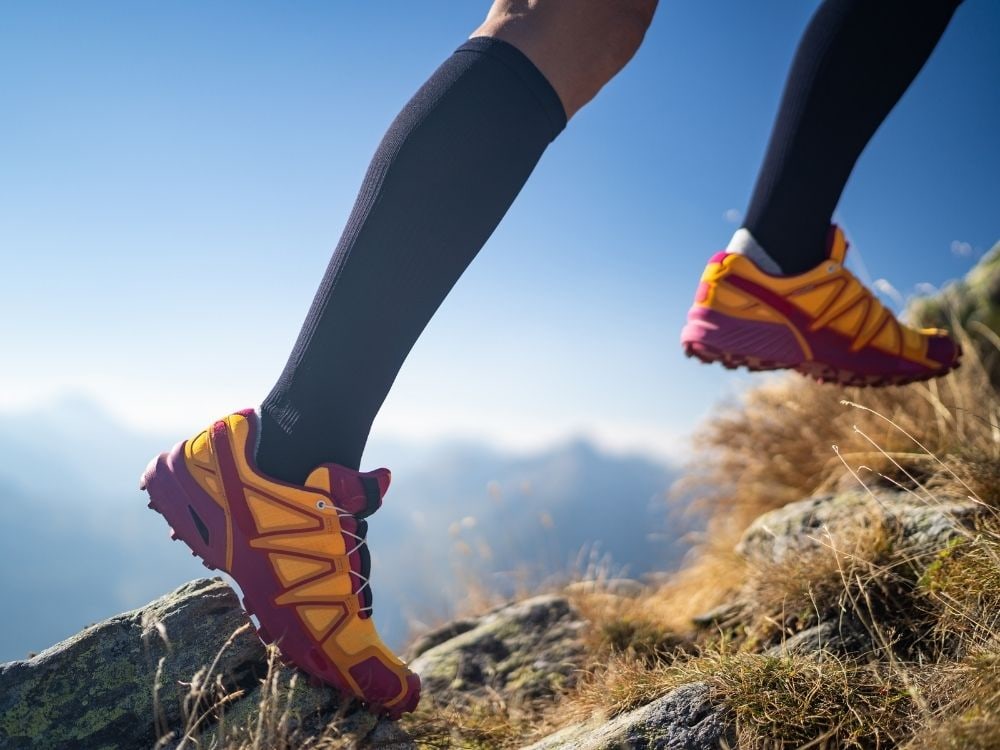 Compression socks are a boon to millennial travelers and allow you to avoid swollen feet after a long flight.
They act like spanks for your feet and calves. These socks are especially suitable for women and old age people. Further, compression socks are easily available on Amazon and other e-commerce stores.
27. Find Alternate Destination
If the city you are flying to is not the primary flight hub, consider flying into the central city hub and find an alternative flight to small towns.
You can also choose other modes of transportation like metro and taxi to save money and develop your mileage points.
28. Packing Your Cubes
The packing cubes have proved efficient for space-saving packing.
Compress your items and store them within the packing cubes before placing them within the primary suitcase and save everything separately.
For example, you can use the small-sized packing cube for the socks while using the medium-size cube for your tops.
Similarly, you can use large-sized packing cubes for your shoes and sneakers.
If you are a makeup lover, you can also store your accessories and cosmetic products in separate cubes for easy access. It saves space and time.
Find suitable packing cubes on Amazon for your travel needs.
29. The Credit Card Hack
The best way to save your money is by using your credit card points. Whether it is a domestic flight or an international flight, they offer multiple price reductions when you use a credit card.
A credit card with the sign-up bonus and points can reduce your flight price, especially international flights. It offers you an efficient way to reduce your flight charges using points and miles for free travel.
30. Get a Refund From a Non-refundable Flight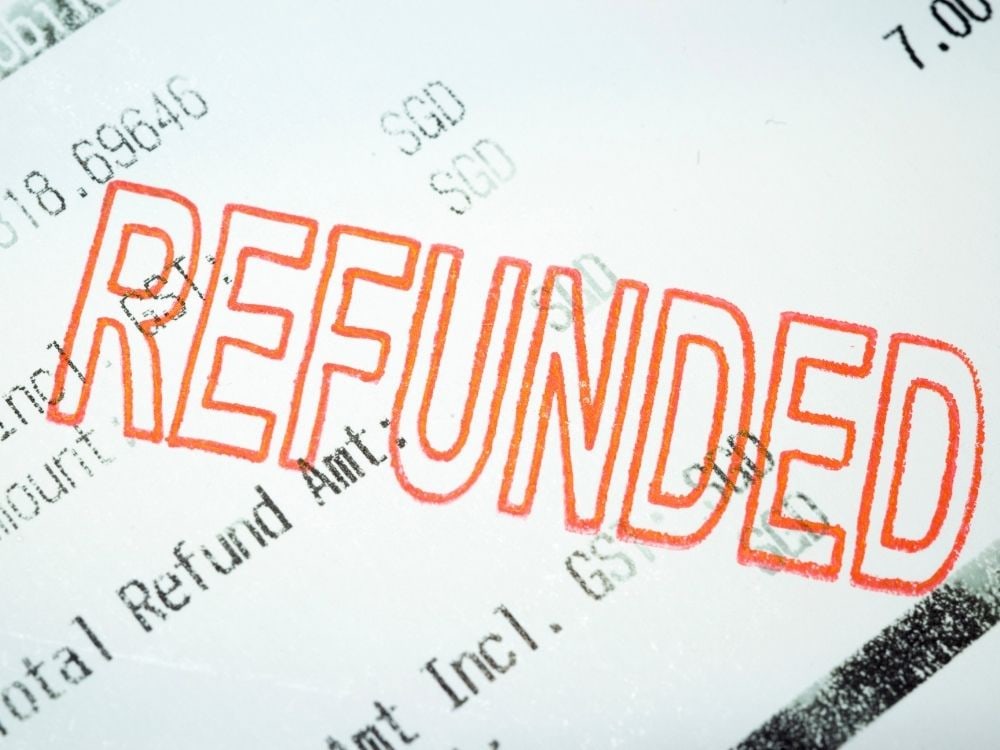 When you book a non-refundable flight ticket, and suddenly your plans change, do not cancel the flight until the last minute.
As most domestic flights alter their flight timings in the last five days, you can cancel the flights and receive immediate refunds during such situations.
This hack is beneficial since you can always receive a refund for a non-refundable flight booking.
31. Hydration Multiplier
One thing that commonly irritates you the most is finding a restroom while traveling.
The requirement to go to the bathroom repeatedly, especially in areas with poor maintenance, can be pretty irritating for a regular traveler.
During such situations, you can use the hydration multiplier. All you need to do is mix this powder into your water and consume it. It can keep your hydration for a longer time and reduces your frequent visits to the bathroom since you'll have less water.
32. Google Docs Your Itinerary
Writing your itinerary on a sheet of paper might not be handy since you need to save them for a long time.
Instead, you can save your itinerary in a google docs file and share it with your fellow travelers or friends to make it more collaborative.
It also allows you to receive multiple recommendations from the people for the destination you are visiting.
33. Avoid Baggage Checking
Avoid lost baggage nightmares by packing a carry-on bag for your over-a-week trip. Most flights allow you to carry at least seven kilograms, sufficient for brief trips.
There are multiple small and comfortable carry-on bags available for online e-commerce websites for your comfort.
34. Save Local Currencies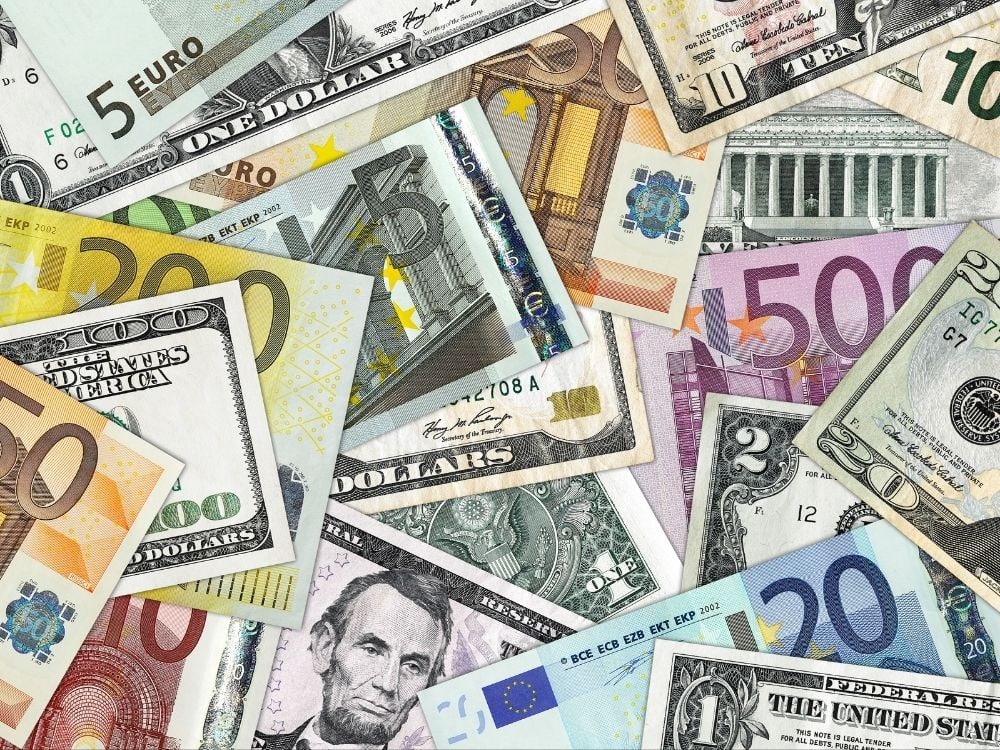 Instead of buying a keychain or a T-shirt, you can save the local currencies as a souvenir.
This travel hack allows you to hold a piece of memory to yourself, and if you are a frequent traveler, you can display your currencies in a large photo frame.
You can't show a key chain or a T-shirt, but this allows you to frame it in a potential corner of your home for constant remembrance.
35. Use Your Layovers
When booking a flight with a layover for over 12 hours, use it wisely to look at another city. When it is an international trip, most flights have a layover for a minimum of 12 hours.
Ensure that your layover time falls during the morning phase so that you can explore the city you land in.
36. Burst Mode If You Don't Wanna Miss
Never miss an opportunity to take a photo. Always keep your camera in burst mode to never miss a shot. This hack is efficient in group travels, especially when you snap a photo amid a heavy crowd.
37. Don't Mess With Your Wallet
A wallet can be efficient in your day-to-day life. Still, while traveling, it can get messy by stuffing everything like foreign currency, recipients, and passport copies into your regular everyday wallet.
So, to stay organized, buy an inexpensive but perfect travel wallet with multiple compartments to collect your travel-related items.
38. Travel Agents Aren't So Bad
Most people avoid travel agents to prevent a dent in their budget. But for traveling multiple cities, a travel agent can be helpful to receive special rates and preferential treatment in hotels.
Try it with a travel agent for comfort and a homogenized itinerary if this is your first time traveling.
39. Share Photos via Google Drive
You can purchase a shared album while going on group trips to exchange photos during your trip. It also allows you to share the album with your family.
If you are not interested in making a payment, you can always use Google Drive to upload your photos and share them with your family members. It also preserves your data for a long time.
40. Shoulder Season Travel
The shoulder season is the space between the high and low seasons when the weather is better with less crowd. The hotel will have a decent rate, and the tourist spots will be less busy, allowing you to enjoy your free time.
The general shoulder season is from April to June and September to October. It might vary for some countries, and you can always Google it out.
41. Go With a Local Guide
While visiting a foreign city, hire a local guide on the first day of the trip. This idea will allow you to get a lay of the land and understand non-touristy spaces where you can visit during your free time.
When you travel in groups, always hire a tourist guide since it takes the pressure off your shoulder with a hectic itinerary. It also allows you to look at multiple things within a short period.
42. Expediting Service
Whether it is a simple passport renewal or buying a visa within a short period, you must hire expediting service when you are super tight on time.
43. Book a Hostel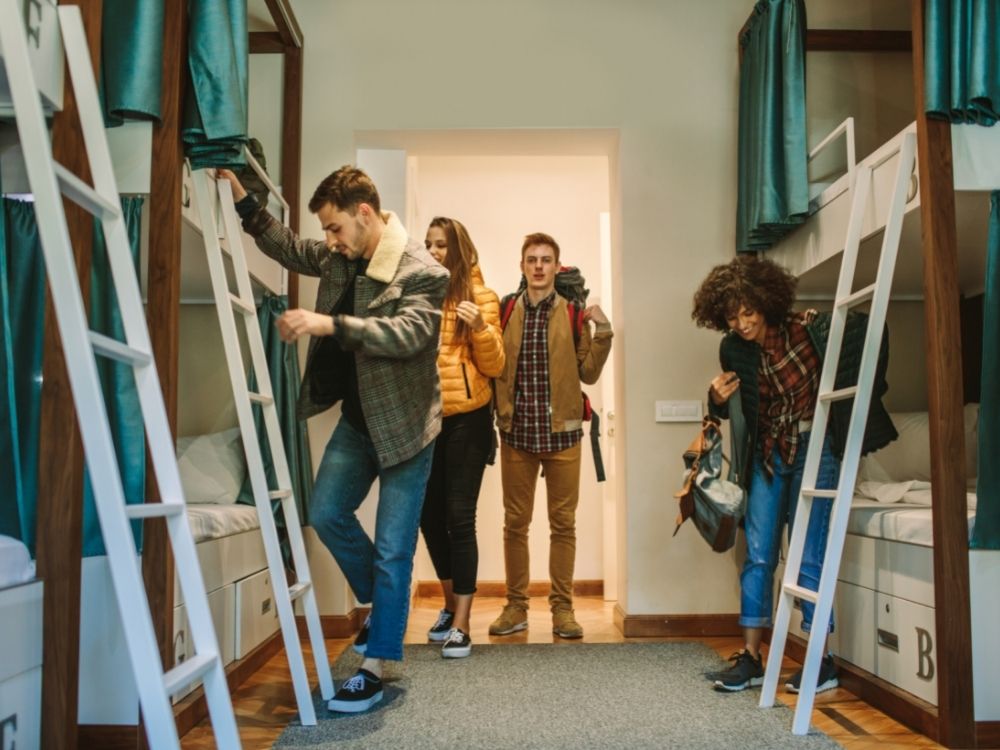 If hostels are an option for you, you can always book a private room or a bunk bed for a minimal price instead of a hotel.
This travel hack allows you to save money and meet people from other countries during your trips. You will bond with other people and enjoy new relationships for a short time.
Furthermore, you can also try Couchsurfing to stay with a local. We tried it and had super fun meeting new peoples via Couchsurfing.
44. Country Toggling
If you are looking forward to flying with a specific airline, set your country with a decent exchange rate. This idea will allow you to purchase the flight tickets for a low price but your international credit card and save big.
This travel hack takes time, and you have to be patient with the trial-and-error method but it is worth it.
45. Oversized Scarf
Always carry an oversized scarf on the flight and use it as an alternative blanket when required. You can also take a coat or jacket in your carry-on baggage to protect yourself from the flight chillness.
46. DIY Pack
While traveling in business class, you always get a DIY pack filled with the accessories like cream, eye mask, tissues, and earbuds.
But most domestic flights and the general class will not have such facilities. During such situations, you can pack your DIY pack with essentials.
47. Pack Smart and Save
Rather than packing the things you love, always take the essential things. Each country has its own set of requirements. Packing according to them and save your time, space, and money.
For example, you can avoid packing your basic amenities like toothbrushes and bottles if the flight you are traveling offers you one.
Also, discard the unnecessary items within your suitcase through rational planning.
48. Check the Adapter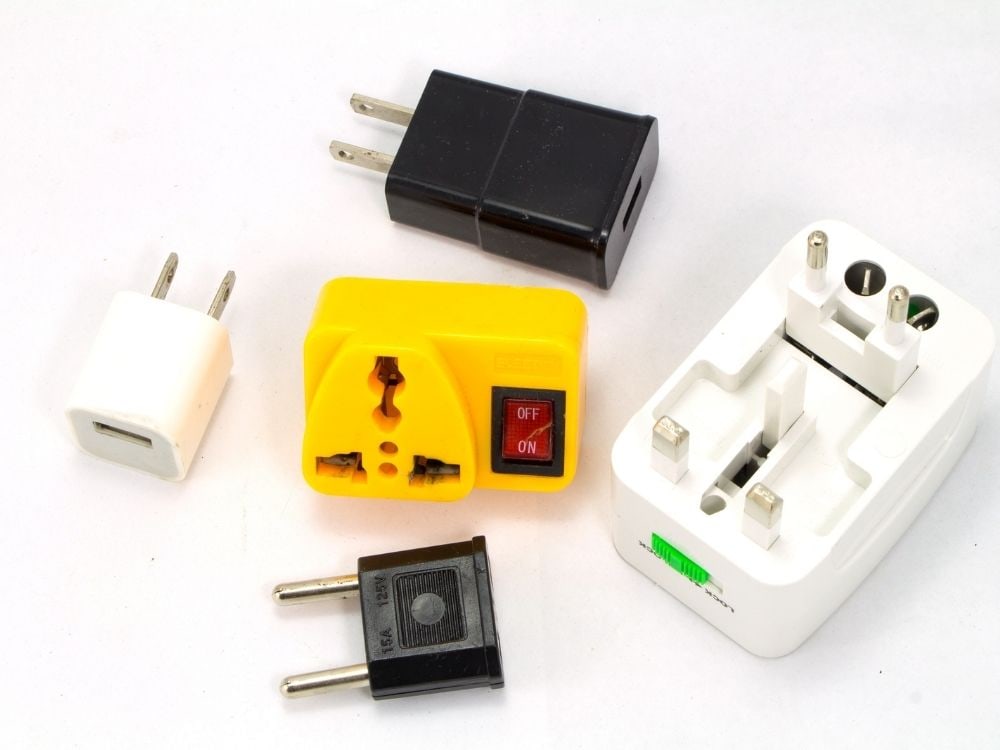 Each country has its own set of adapters and block points that might differ from yours.
So invest in a good plug converter with USB ports for universal traveling. You can buy these universal travel adapters from Amazon.
Trust us, this hack saves a lot of time and money.
49. Be Chic and Comfortable
The present trend forces you to wear a chic airport costume. But always select your outfit based on current fashion with comfort for the long run.
With international flights, especially those that exceed long hours, you need to be chic and comfortable.
50. Research and Plan Well
Before going on a trip, research all the outlets and shopping areas to purchase cheap and best products.
Instead of buying in any shop, you plan to open yourself with the possibility to visit the top boutiques that offer you the latest products.
51. Replace Your Camera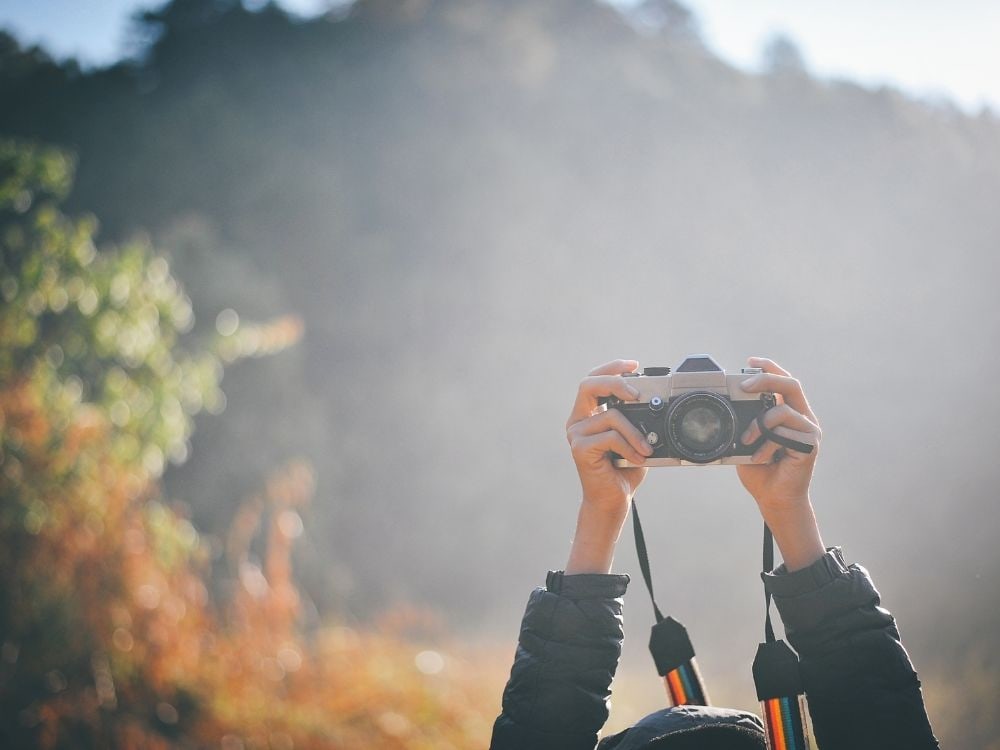 While visiting a foreign country, you may pay a selective charge for your cameras at each tourist location. The price for foreigners will be higher.
Instead, you can choose to carry your phone with a higher megapixel to avoid such charges and capture your memories.
Final Thoughts
So this was a list of 51 travel hacks to make you travel smart. Use these hacks to make your travels safer, enjoyable, and regret-free.
In no way, this is an exhaustive list and there are plenty of other travel hacks out there. Do you know some? Please share and help your fellow travelers of the world.
#Vasudhaiva_Kutumbakam
---
An appeal: Please do not throw litter around. Use a dustbin and if you can't find one, take the trash with you and throw it when you find one. Your small steps like this one can make the world clean and green.
---