Note: This is the second part (of total four) of the blog series 'Trip to Dalhousie.' If you haven't read the first part, click here.
So yesterday was the day we met some cool guys and ended up staying together for the whole trip. It's funny how sometimes we meet people, they come into our lives for a short while, yet leave imprints for a lifetime. Life and its surprises surpass my intellect.
Everything was perfect, restful environment, cozy beds and the unpredictable weather of Dalhousie. The only thing that remained yet to arrive was our sleep. Let's see what happens next in this story.
DAY 2: August 13, 2018
It was 2:00 am, and there were no signs of sleep whatsoever. Lying like a sloth, here and there busy trying to connect the WiFi and charging our smartphones, we sat together just to uncover more layers of each other. We just sat there, gossiping, enjoying the chilled atmosphere and talking more about the beauty. The beauty of nature which was jaw-dropping as seen from the balcony of our hostel. Heavy rain, cold breeze, and the smoky lush green mountains, everything was just as if it's a dream.
Hours flew by and we didn't feel sleepy being there in such a serene abode. There were a group of travelers in the corner of the common area, cheering and playing 'antakshari' (a spoken parlor game played in India). There was a Kashmiri guy who came all the way from Kashmir to Himachal just to celebrate his birthday with himself, alone captivated in nature and some strangers. Strangers which were no more a strange thing. We greeted and shook hands with him. And then there were Mohit and Amit in another corner, fighting like kids, playing chess. Some had headphones on, with a K.K. song playing while others, strolling outside the common area just to gaze the rain. In the end, by 4 am or so, every one of us was wrapped in a blanket and accepted by sleep.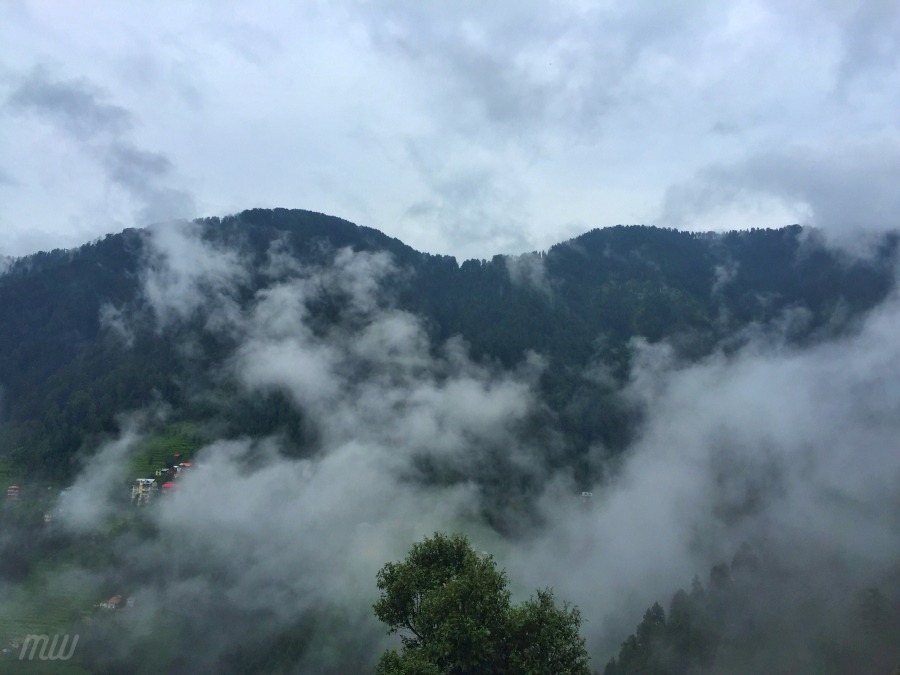 The next morning, as we woke up, we were shocked by the views that lay before our eyes. There were small huts on large mountains surrounded by moving clouds, the gushing sound of river streams and the beeps of vehicles that were moving on the road were clearly audible even from kilometers. The road was looking as if someone has striped those lush green mountains. And above all, we were there literally between the clouds.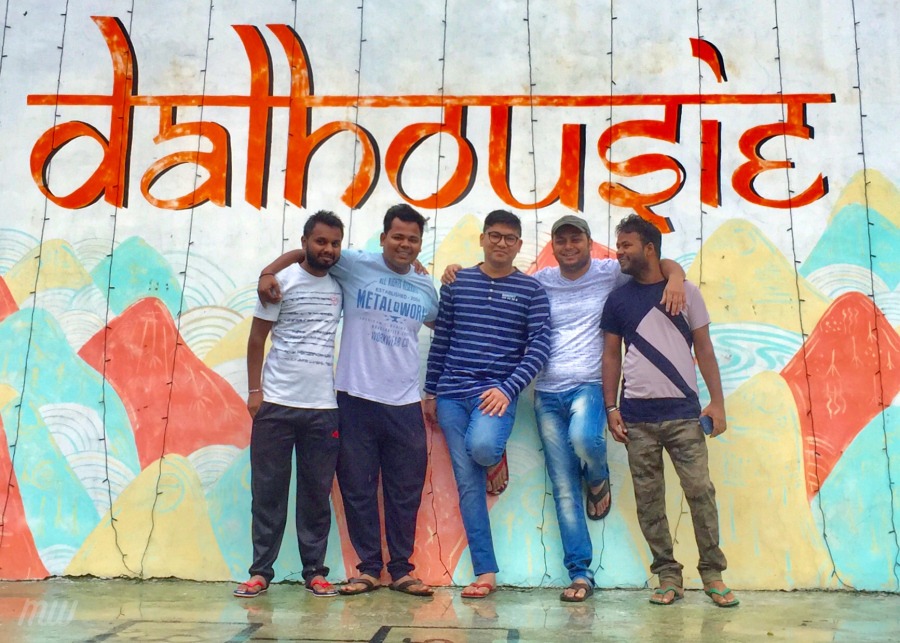 We went up, in the cafeteria and had our breakfast. Clicked some photos with the graffitis of Zostel and the milky clouds. The time was running and the clock showed 11:00 am. After much consultation with the local people and Zostel staff, we decided to visit Chamera Lake, Bhalei Temple, Rock Garden, and Panchpula Falls. This time we'd another compact SUV, Vitara Brezza, which cost us 2200 INR instead of 3500 INR, all thanks to the awesome man – Mohit.
• BHALEI TEMPLE AND CHAMERA LAKE
We geared up ourselves, took a shower, poured some cologne and packed our backpacks. It was noon already but it felt like a morning. We adjusted our five butts in four seats and left for Bhalei Mata temple. The clouds were still showering the land. Most of our journey to the temple was accompanied by ecstatic views of mountains wrapped in clouds and lake Chamera. At times, we stopped just to click the pictures in Emraan Hashmi pose, and the poses which involved risking our lives *sigh*.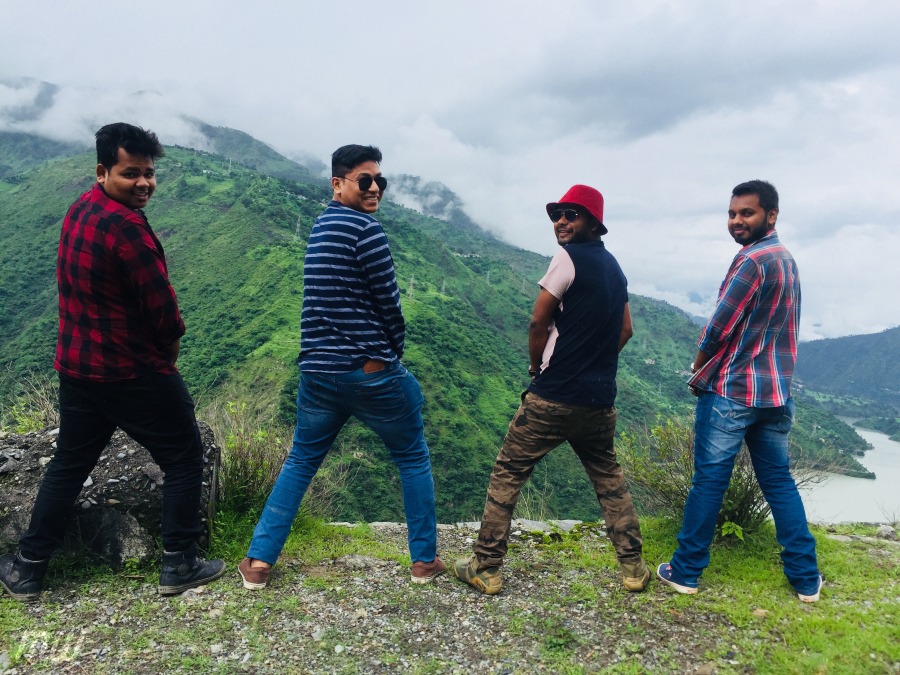 Quick Info: From Gandhi Chowk, Dalhousie, Bhalei Temple is around 40 km while Chamera lake is around 36 km and is on the way to Bhalei. Chamera Lake is a huge water reservoir and is upheld by Chamera Dam.
Bhalei temple is devoted to Hindu goddess Bhadra. Encountered by a mini-landslide we finally reached the temple. After fully soaking in the beauty of the temple, we drove to the much-awaited lake, Chamera. As we marched near the lake, it started to rain heavily and we ran to take shed under the tin roof. Brushing water from our hairs, we read the board which said 350 INR for 8 minutes boating. "Are you kidding me?", said each pore of our skins. Well, ignoring the boating plan, we just sat there gazing the droplets from heaven falling into the lake, and the splashes it created. With mountains in the background and lake in foreground, the whole scene seemed as if a marvelous painting. Eyes couldn't believe in the beauty nature had reflected. But it was all real to the core.
• ROCK GARDEN AND PANCHPULA WATERFALL
After the photography and gazing session in Chamera, we arrived at a new destination called Rock Garden. It was on the way back to Gandhi Chowk from Chamera. To put it in simple terms Rock Garden was like a garden but made up of rocks (mostly), water streams and greeneries. It contained adventure activities which, if you're a hardcore adventurer, you would have done almost everywhere. And I want to tell you it's not worth a visit. Still, if you're a photography freak, overhear my advice.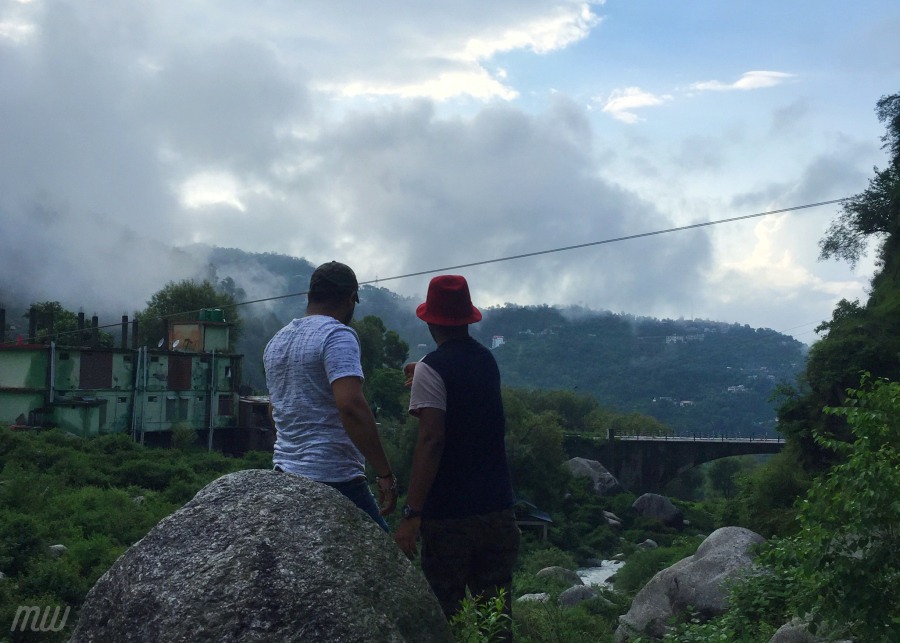 The good thing that happened at Rock Garden was food. We spent almost five hours and now the hunger had begun to strike. We ordered some desi style food in a restaurant. Kadhai Paneer and Chapatis. Everybody has almost gulped four chapatis. After spending almost an hour, talking and laughing, it was the time to go Panchpula. To go to Panchpula we'd to go all the way back to Gandhi Chowk and then change the route.
Quick Info: Panchpula is at 6 km distance from Gandhi Chowk, Dalhousie and hosts different adventure activities such as zip lining, flying fox, etc apart from a regular waterfall.
We reached Panchpula around 5:30 pm which meant the sun had started to set. We quickly marched out of our vehicle and to the waterfall. It was just a medium-steep hike of 100 meters or so, that it took to reach the waterfall. The water was freaking cold. And there wasn't anybody around at that time. We took our shoes and socks off, Mahender and Mohit even took their shirts off, and jumped right in to feel the water gush. Obviously, we couldn't bathe but there was a proper 'jugaad' (hack) if it had been a real thing. Splashing water towards each other, we took corners of the area and started a mini-war. Fun was all around. In the end, we reached down to Panchpula and found out our vehicle and driver missing. "He must have gone a little bit around", our hearts persuaded us. By the time our driver came, we shopped a little bit (well okay, we tried to do it) and had some hot tea and cold ice creams. Yes, we're of different flavors.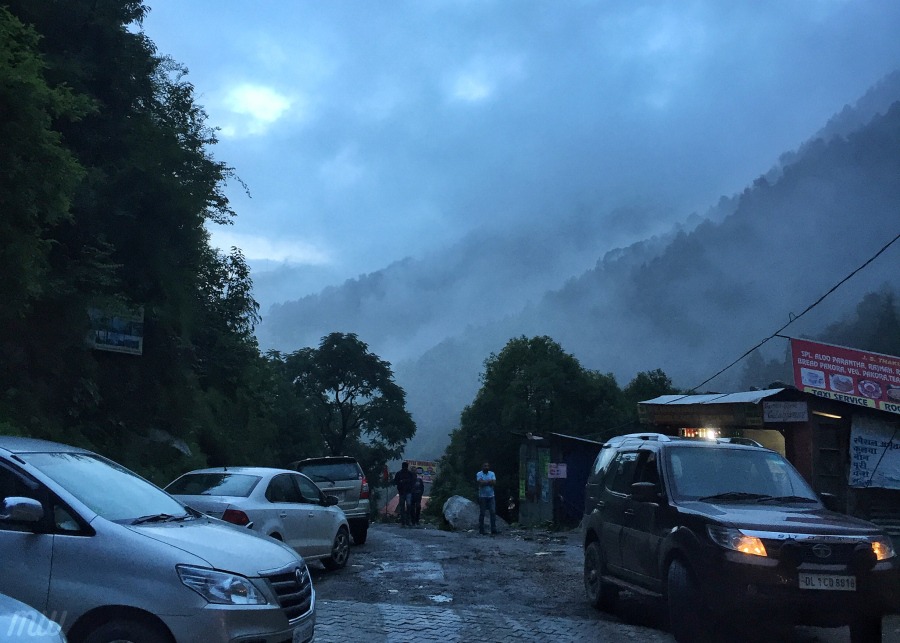 On our way back to our hostel, funny things happened. We heard the stories of bears that live in the jungles of Khajjiyar-Kalatop and how one time a tiger came to our hostel at 2 am. And how we should not be outside alone, in the night as a bear may trespass our way. As our driver said all of this, Mohit got curious about bears. He asked about bears and driver told him that they are very clever animals and will thrash you if they want, even if you act dead. And if you don't move after that, they will tickle you in the ears with a wooden stick. "Hain? Yaha bhaluon ki bhi coaching hai", replied Mohit ("Seriously, even bears have their coaching here"). Everyone burst into a laughter.
We reached our hostel at 7 pm, strolled a little bit and plugged in our soon to be dead smartphones into charging. We took out the chapatis and shahi paneer (an Indian dish) which we had packed as our dinner from Panchpula. Even after eating all that dinner, our stomachs were still not satisfied. We went up to the cafeteria and ordered Maggi (noodles) to satisfy our hunger. Moral? Maggi saves lives.
Ending our day, with Maggi and mountains, sitting in the cafeteria, cracking insensible, lame jokes and bursting into laughter that made us grin, it was wholly a different feeling of completeness. Even Zostel staff laughed with us. (Shhh! And also got sick of our persuading skills.) We slid into our beds and soon started snoring as the night started getting dark.
Pro tip: The taxi/cab fare there in Dalhousie was considerably high, sometimes 300 INR for 4 km). So, keep in mind it is very necessary to negotiate a bit as they may be overcharging you. Also, try to share the cab to save money if you're solo or lesser numbers.
That's how Day 2 was. Stay tuned for the next update, and also follow us on Facebook and Instagram for awesome and cool travel and lifestyle related stuff. The next part, i.e., Day 3 will be out very soon but with a twist of happiness. Any guesses?
©️ 2018 An original creation of Misfit Wanderers