Ever since I was back from Kasol, I'd always questioned my eyes and perception – how could I miss this in Manali?
A sturdy yet very beautiful town of Himachal Pradesh, Manali is for everyone – honeymooners, adventure enthusiasts, hippies, misfit wanderers, etc.
About 311 km from Chandigarh (nearest major railway station) and 537 km from Indian capital Delhi, Manali is nestled in cozy laps of Himalayas.
If you're wondering what I said about missing in the start, give me a minute to elaborate. I went to Manali second time and October 2017 was my first time there.
And no, snow wasn't the cause of me missing 'that' thing in my October visit! But I believe…
It's how I actually understood the place.
Let's face it. There are rumors all around here and there that Manali is crowded, has lost its vibes and blah blah blah…
I do not deny others' viewpoints. It's just we shifted our angles a little bit up.
What exactly I'm saying about Manali?
Let's observe a few things. Watch this map:
If you got a clear and healthy vision, you can observe that Manali is together formed by two areas – Old Manali and the other one, obviously, New Manali.
New Manali is sort of main Manali (if I've to say) but is most crowded (like Karolbagh or Ameenabad) and PEOPLE HATE CROWD.
Markets, shops, commercial buildings, bus station, etc all come in the area of New Manali. But what most people forget is…
The OLD MANALI has a serene and peaceful environment, yes more than that of other parts of Manali. It's 3 km from Manali bus station and is easily accessible via tuk-tuk or cabs.
Youths who prefer listening to a guy singing a romantic duet in a secluded café over dancing on Bluetooth speakers choose Old Manali as their stay point. Meaning?
Old Manali is FAR MORE peaceful that New Manali. I repeat, FAR MORE.
We absolutely enjoyed that utter sense of peace at Old Manali. Got booking of a hostel in just 150 INR per night (you might get it as well) with NO COMPROMISE in comfort and facilities.
And this all was precisely the main reason why Manali is still worth a visit. But let's do some crawling through my journey to know how…
Arriving at the hostel, the weather and things around.
We arrived at our hostel in Old Manali on the eve of 21 January 2019. The weather was extremely chilly. Perhaps around zero degree Celsius. I could see snow at the corners of roads and upon asking the hostel warden it came to light that snowfall had occurred a week before.
Look up some pics here.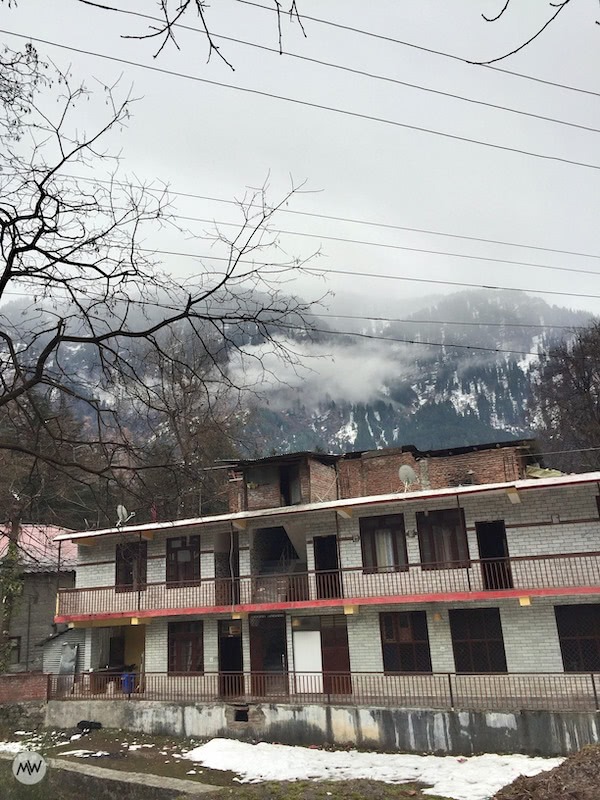 You can sense how much we were excited about the snow and were literally waiting for snowfall to happen. Dumb right? Nope.
Snowfall generally occurs from December-January in Manali and near about destinations. So if you fancy yourself playing with snow and making an ugly snowman – come here in January as there's a high possibility of experiencing fresh snowfall in this particular month.
Now let's see some places not to miss in Manali.
Manu Temple in Old Manali
According to Hindu mythology, sage Manu is the creator of the present humankind. And the Manu temple in old Manali is the only temple dedicated to him.
Approximately 2 km from Old Manali, Manu temple is situated in a rustic yet beautiful environment. You can reach here by foot but the journey of steep and narrow roads may leave you exhausted.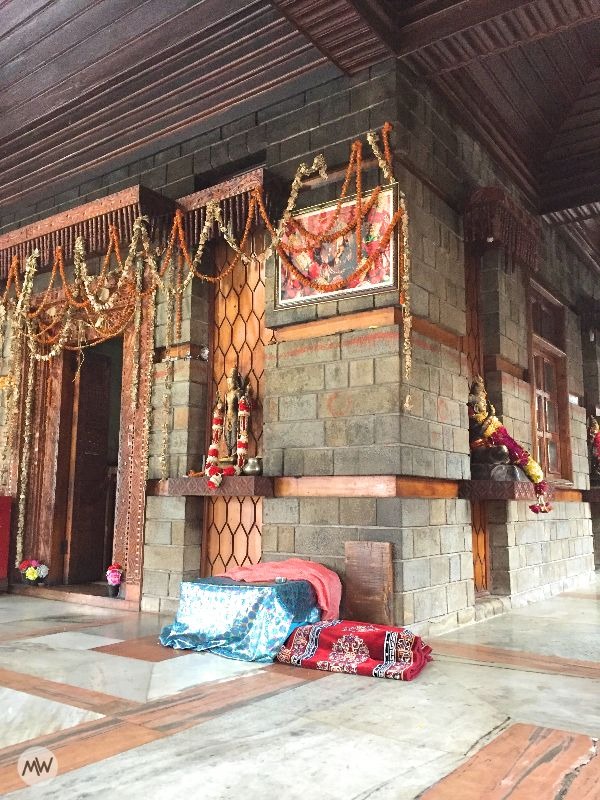 To be more clear, Manu is not a name but a title given to one who's responsible to lead humanity.
There's a very interesting story of how King Manu (later sage Manu) became the creator of the present humankind.
Story of Manu
One day, King Manu was cleansing his face from river water and suddenly a minnow (a little fish) appeared. The minnow asked him to rescue as the minnow was being pursued by bigger fishes.
Seeing talking and requesting to save, Manu was amused and took the minnow into a bowl and later to his home. But as Manu saw the minnow has turned into a larger fish and took the space of bowl, he shifted the fish into a tank.
The fish outsized the tank too and at the end of the day, Manu had to take fish into the ocean as fish became too large to fit into a river also. Then the fish changed to Lord Vishnu and told a prophecy – after 7 days from now a deluge (pralay) will come and it will swipe life from the earth.
And Manu must make a boat large enough to encompass his family, seven sages, types of seeds and animals in order to repopulate the earth after the apocalypse is over. He did so and was saved by the Matsya (fish) avatar of Lord Vishnu and his serpent who acted as a rope which tied Manu's boat with the fish's thorn.
After the deluge was over and the water receded, Manu and his family became the source of next humans. And in this way, Manu became the creator of the present humankind.
Hidimba Devi Temple
Dedicated to demoness Hidimbi, Hidimba Devi temple in Dhungari forest of Old Manali is a must visit.
Approximately 2 km from Old Manali and 3 km from New Manali, Hidimba Devi temple is near the cultural museum of Himachal.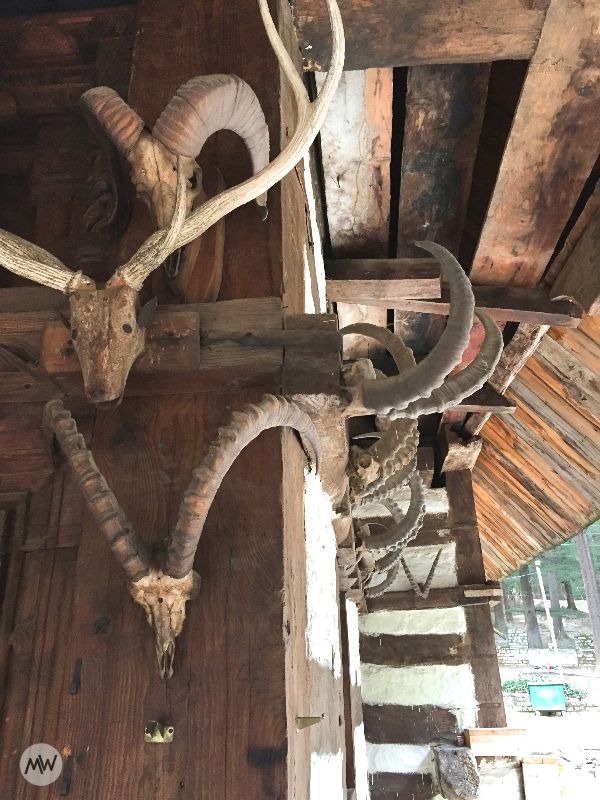 The structure of the temple is very different from other temples in India and inside the temple, most area is covered by a giant rock where it is believed that Hidimbi meditated after Bhima left. Only about a 3-inch carving of metal is engraved on the rock depicting Devi Hidimbi.
Animal skeletons are hinged all around the square-shaped wooden architecture of the temple.
Ghatotkacha Open Temple
The greatest warrior and an important figure in the epic Mahabharata, Ghatotkacha was the son of Devi Hidimba. And this open temple is dedicated to him.
See the glimpses here.
The temple lies just 5-minute walk from the Hidimba Devi temple and beside the cultural museum of Himachal in Old Manali.
Club House at Old Manali
The clubhouse at Old Manali is your go-to place for all kinds of shopping and entertainment. Local as well as famous brands of Himachal have their shops set up. You can buy clothes, souvenirs and so much more.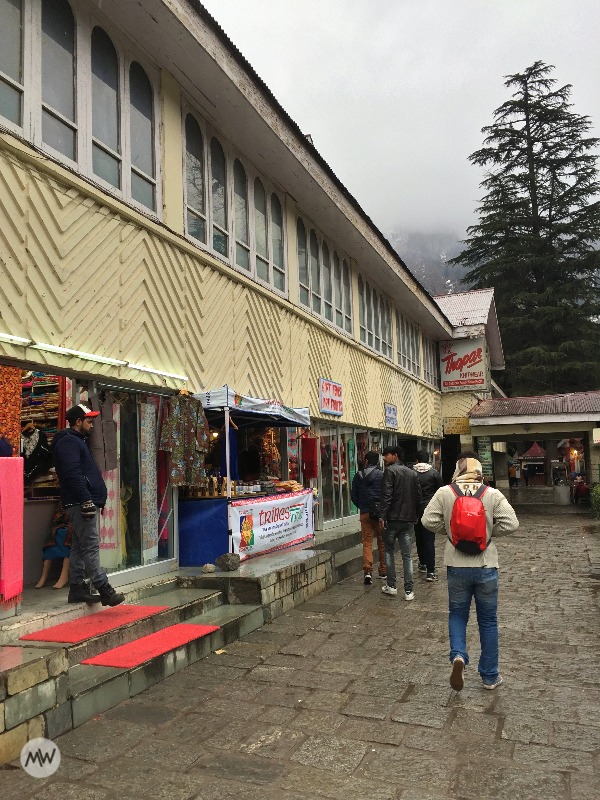 Entry to the clubhouse was just for INR 10 at our time (parking charges extra if you come via a vehicle) and at the end of it, there's an entertainment zone for adventure activities and eateries.
Don't forget to try the local food Siddu. It's just so yummy.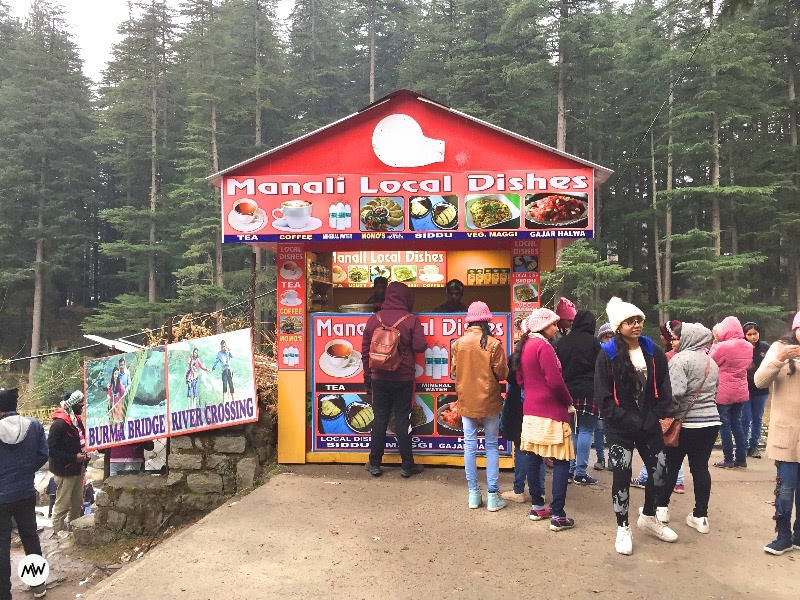 At the far end of the clubhouse, river Beas touches it and the forest is visible at the other bank.
Van Vihar
As the name clearly says, it's a forest with sky touching deodar trees. Needless to say, it's a thrilling place for nature lovers and peace seekers.
See some of our shots from here. (Ignore the ugly face.)
Where are Rohtang Pass and Solang Valley?
Rohtang Pass is at 51 km from Manali and easily accessible via bus. But at this time of the year, it gets closed for the public (heavy snowfall).
Solang, the adventure valley, is at a distance of 14 km from Manali and at this time it becomes adventurers' fav spot.
Skiing, Paragliding, and various other snowy-activities can be enjoyed here. So if you wanna make that snowman, this place has fresh and abundant snow and is perfectly fit for your pursuit.
Lowering The Curtains
After reading this post myself, I realized that there's not only one but MANY REASONS are still alive to visit this alluring hill station of India.
Old Manali is peaceful as well as extremely beautiful
Notable cafes and attractive accommodations are available
Youth-oriented place
Hundreds of years old temple with interesting believes
And so much more…
I mean a hot cup of coffee + hostel balcony + gazing snow peaked mountains + tall deodar trees is all that we need. Wouldn't it be the ultimate soothing & satisfying experience?
For us it was.
Now, tell us your reasons to be or to not be here?