"Someday become a tourist in your own city, believe me, you'll feel the newness of your city."
The point is absolutely right when you become a traveler from and in your city, you will feel like your own city is unknown and new. Lucknow is well known throughout the country for Nawabi 'Shanoshoukat' and Kebab. But often tourists get so engrossed in seeing the major tourist places here that other hidden gems of history couldn't be perceived by their eyes.
Being a resident and traveler of Lucknow, I have visited all the buildings in this city very closely and today I will tell you about one such building which once used to be the pride of the Nawabs. One such historical heritage is the Chattar Manzil and Farhat Baksh Kothi. So let's hang out in an unknown place.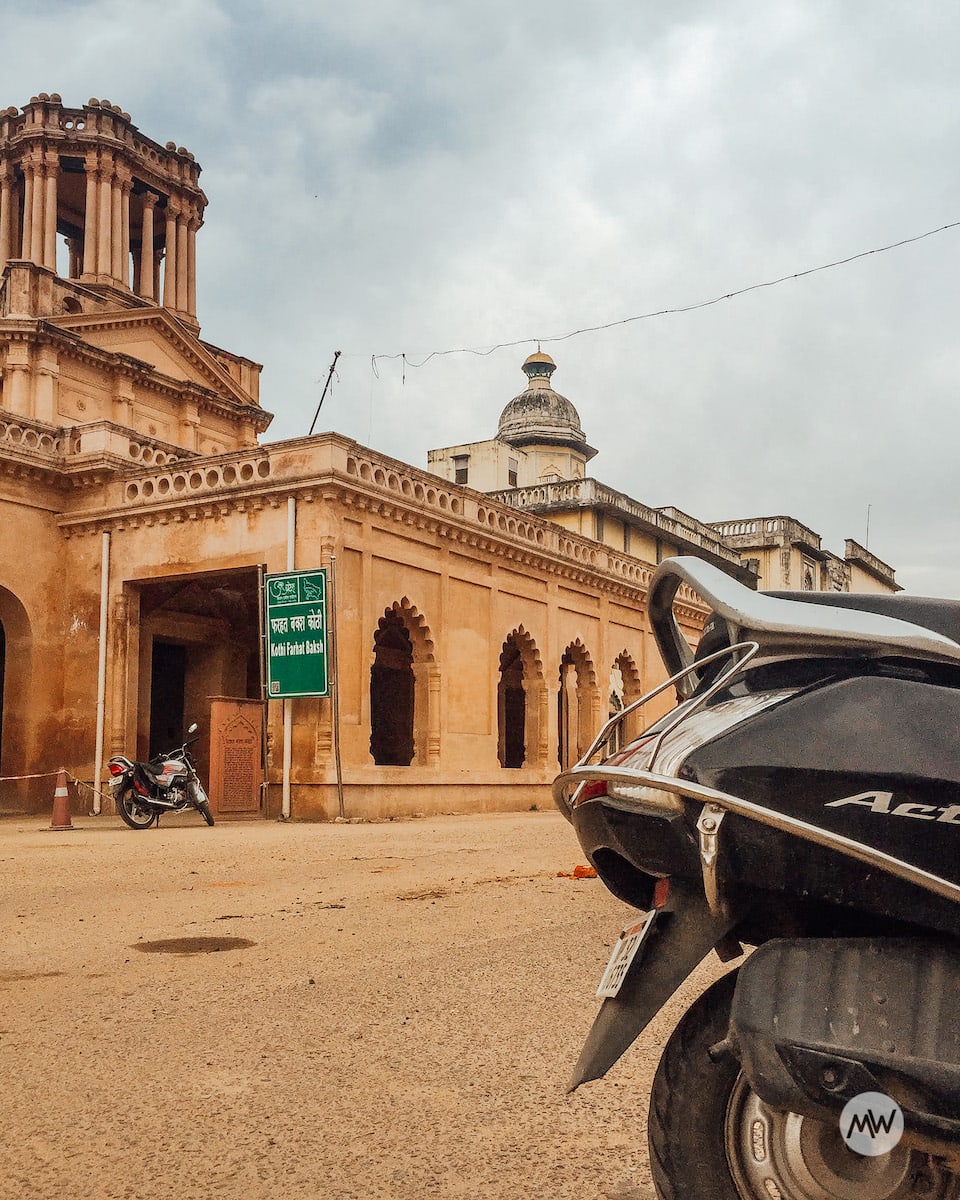 The Back Story of Farhat Baksh Kothi
Farhat Baksh Kothi's original name was "Martin Villa". It was built in 1781 by Major General Claude Martin. It offers an amazing piece of Indo-French architecture. It is said that this used to be his residence. It was a two-story building, the lower part of which touched the river Gomti, due to which the lower part was submerged in water during the rainy season.
The Gomti shore was built to keep the air inside and cool the atmosphere inside. The upper floor had a large hall, where 4000 books were kept in English and French. Also, 500 handwritten copies were also compiled. Claude Martin was very fond of reading. His last wish was that he be buried at La Martiniere after his death. And the same thing happened.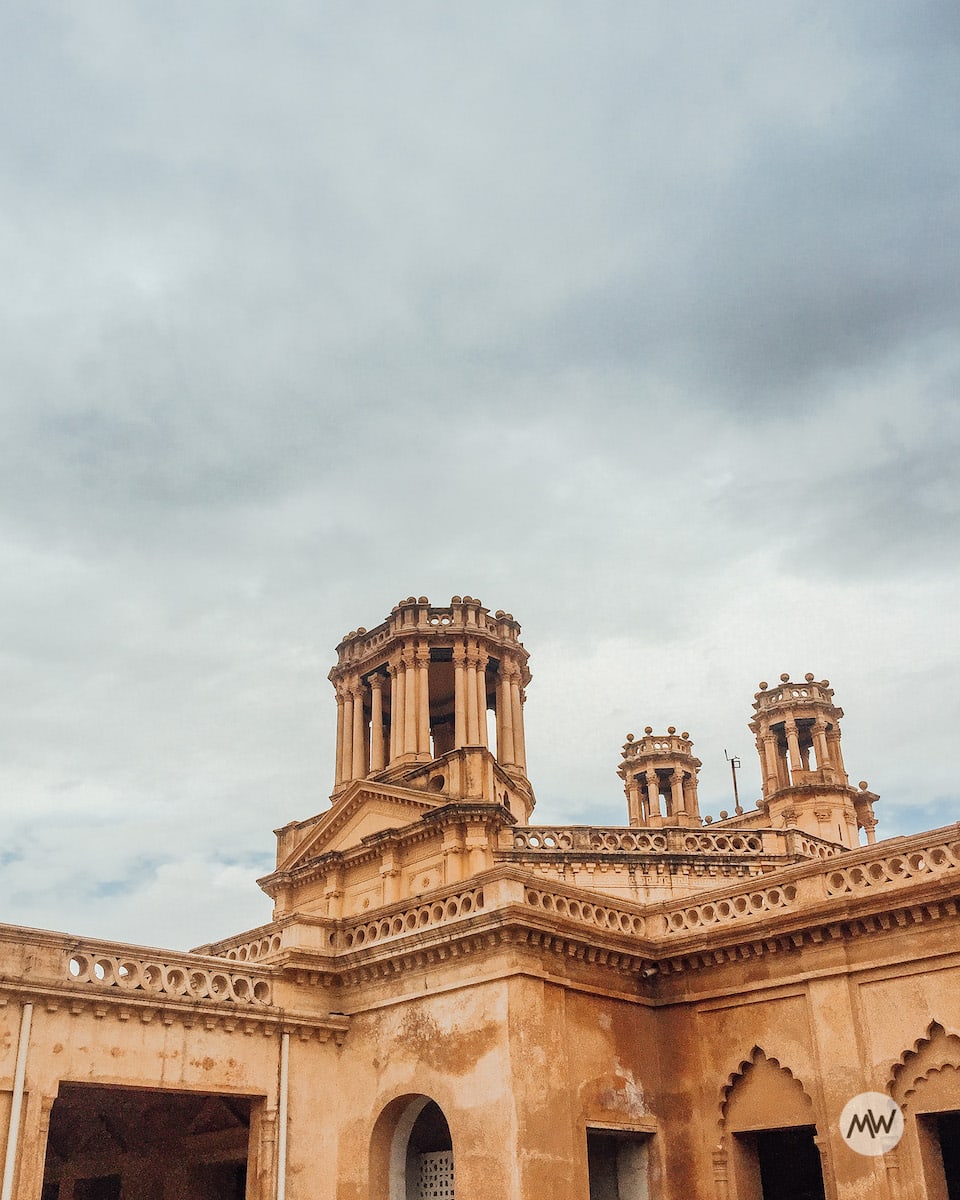 It is believed that only in May 1781, when this building was about to be completed, it was attacked by Raja Chet Singh of Banaras and somehow it could be protected. After the war, Claude Martin built a large moat on all three sides and built a bridge over the fourth part which was connected to Gomti. This made the entrance inside. Claude Martin lived in this building until his last breath.
Being Bought By The Nawab
Claude Martin remained unmarried all his life, so after his death, there was no heir to this villa. So, bidding was conducted to sell the building, where a Spanish man, Joseph Queros, defeated the Nawab Saadat Ali Khan in the bid and won the auction. He bought it for 40 thousand rupees, back then.
After some time, the health of Nawab Saadat Ali Khan deteriorated and he came here to stay to change the air and environment. The warm and pleasant atmosphere here quickly cured Nawab Saheb. After this, he put some pressure on Joseph Queros and bought this building from him and named it. It was Saadat Ali Khan who renamed the building as "Farhat Bakhsh Kothi" (Bestower of Happiness). It used to be the residence of all the Nawabs and kings of Awadh, from Nawab Saadat Ali Khan till before Wajid Ali Shah. Wajid Ali Shah chose the Kaiserbagh palace as his residence.
Chattar Manzil: An Expansion
Changes were made at Farhat Baksh Kothi and the building was expanded. Its expansion form became Chattar Manzil. It was Saadat Ali Khan (1798–1814) that the construction of its extension was started in the name of his mother "Chhatar Kunwar", but after his death, it was commissioned to be built by his son and the first king of Awadh, Ghazi-ud-Din Haider (1814-1827) took over and finalized the construction of the building. Later Naseer-ud-Din Haider (1827–1837) ornamented it even further. The sculptures and flower beds along its banks add beauty to its beauty which was known as Gulistan-e-Iram (Garden of Paradise).
Attractive Architecture
Built-in Indo French architectural style, this palace is so grand that at first glance you will be fascinated. The main dome built in its upper part is in the shape of 'Chhatri' (an umbrella), due to which it was named "Chhatri Manzil". This palace is famous for its magnificent Diwankhana, cellars, tunnels, and beautiful arches. Its cellars were built in the waters of the Gomti River.
It is said that the water of Gomti used to hit the walls of the ground floor, due to which the ground floor remained equally cool. Because of which these horrors cooled even during summer. It is also said that when the Nawab wore a parasol at the time of the divine event of taking a seat, he had put a parasol (or an umbrella) over this building.
This palace was previously the residence of the Nawab of Awadh and his Begums and later became a center of the freedom fighters' meeting in the Revolution of 1857, the First War of India's Independence, and was used by the revolutionaries of the freedom struggle. For this reason, it had to witness the revolution of 1857 and suffered heavy losses. It was taken over by the British in 1859 and was converted into a club.
Present Situation
After independence, Farhat Baksh Kothi and Chhatri Manzil were handed over to the "Central Drug Research Center" (CDRI) in 1950 in which the institute's office operates. Soon the office of this institute has been shifted to the newly constructed building. In the year 2017, a team led by Vandana Sehgal, Dean of Architecture College, got it done and exposed to an entire floor buried below in Chattar Manzil, after which the administration came into action.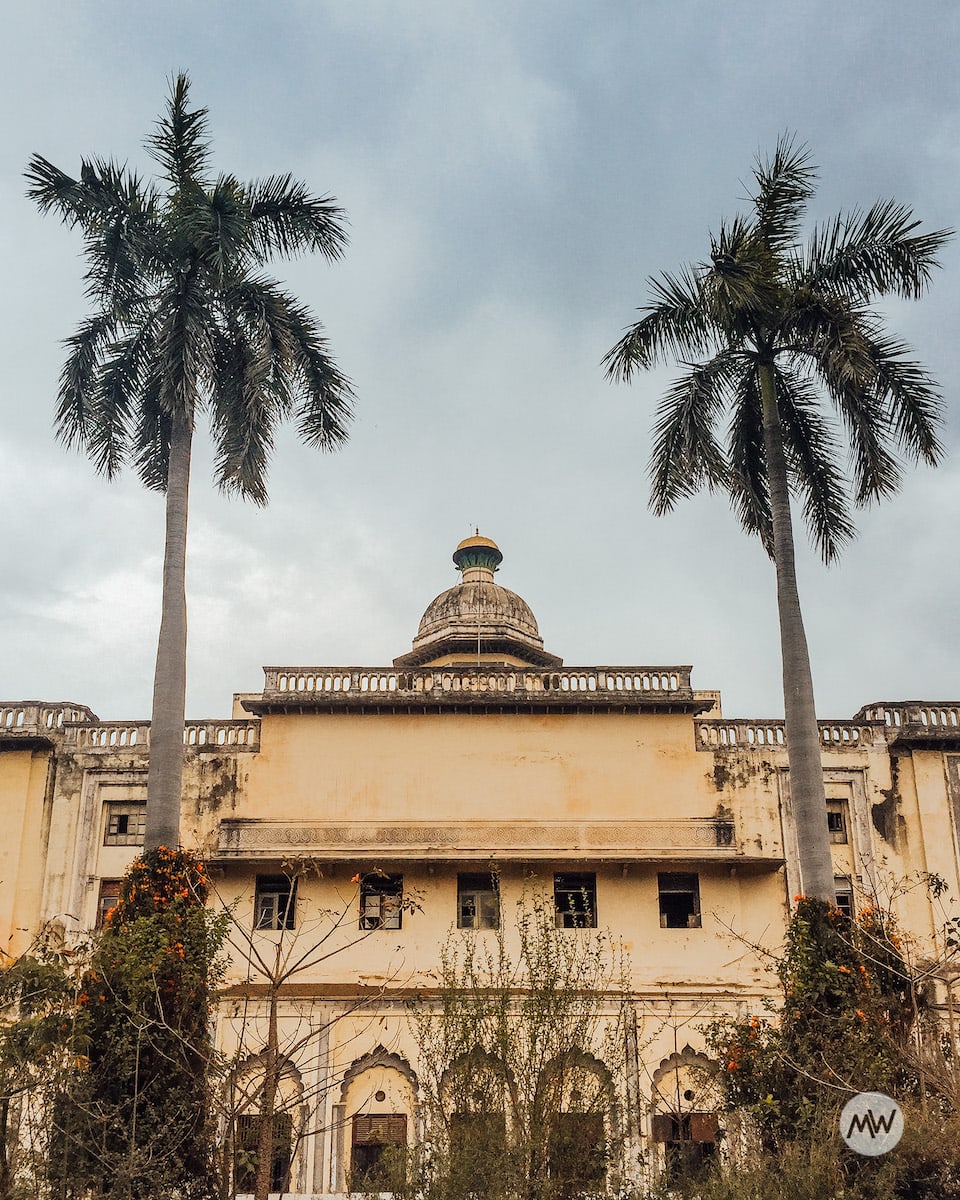 Recently, the Archaeological Department of India has taken it under its control and has started its renovation work. The entire exterior of Farhat Bakht Kothi has been renovated by the State Construction Corporation from a budget of about eight crores. Now the inside is also being decorated. The work of grooming both the buildings is in progress. It will soon be reopened to tourists as well.
Things to Note
It is located in the Kaiserbagh area of ​​Lucknow, which is easily accessible. At the moment it does not cost any tickets to visit here. Photography and videography are allowed. The ideal time to go is from 10 am to 5 pm. As the renovation is going on, follow all the instructions there. The building is now proposed to be developed as a museum centered on Awadh heritage and traditions.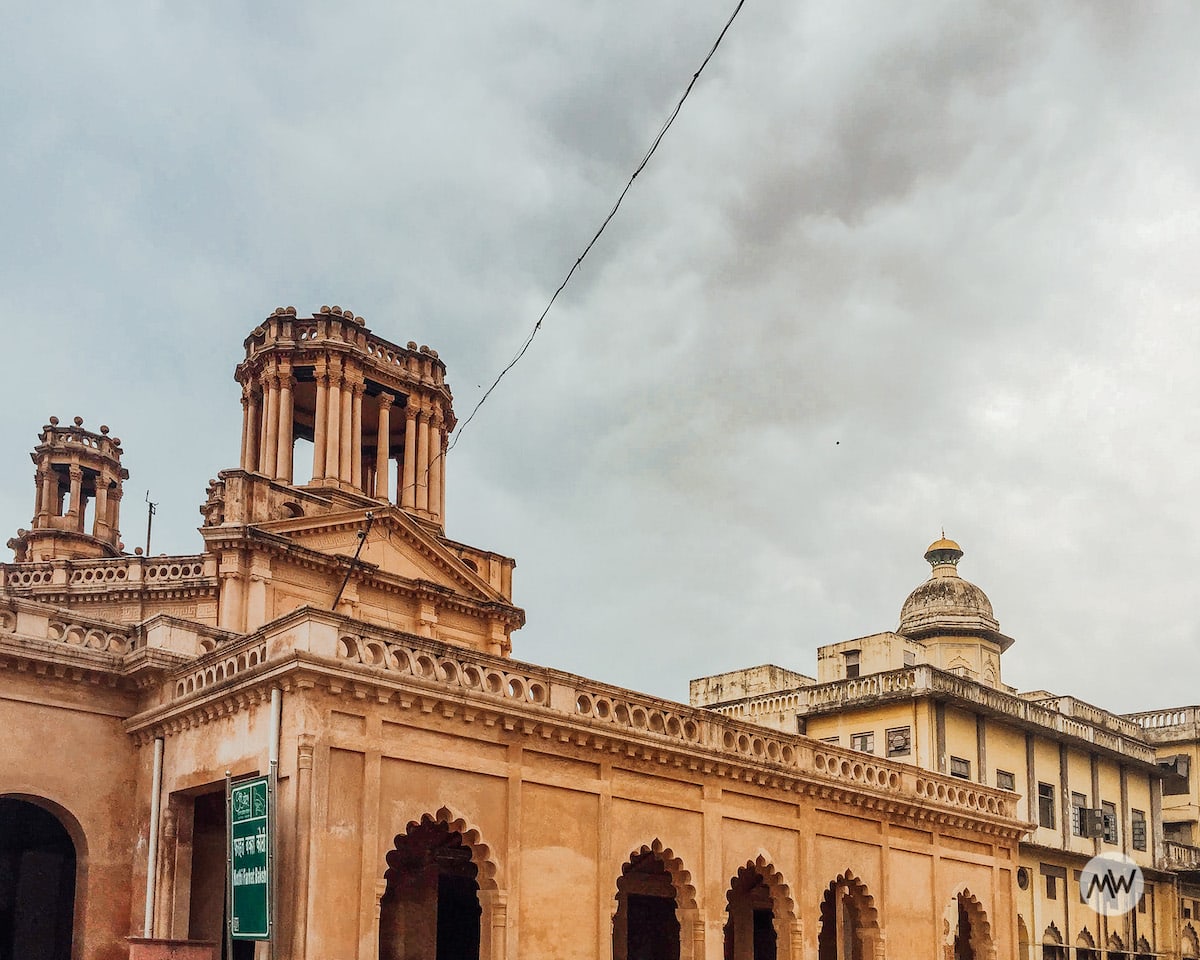 How to Reach?
By rail
The main stations of Lucknow are Lucknow Junction, Badshahnagar, Gomtinagar. All the stations are connected to all parts of the country. You can reach here easily from any corner of the country. From the station, you can take taxis (Ola, Uber, Rapido) as well as auto, local bus. Metro trains are also available on some routes.
By air
Chaudhary Charan Singh International Airport (Amausi Airport) is the only airport in Lucknow, which is connected to all parts of the country. From the airport, you can reach here easily with the help of a metro train, bus, auto, taxi, etc.
By road
The distance of Lucknow is 500 km from the country's capital Delhi. The city is well connected to other cities by a national highway. It can be reached from any corner of the city with the help of auto, cab, bus, and metro.
My Experience
At first, I was confused by its name. Some say that Farhat Baksh Kothi and Chhatar Manzil are different, then some believe that both are the same. This turmoil made my brain spin. Then I studied it very closely and then everything started showing clearly.
I would like to tell you one more thing: it is believed that another building was built by the same Nawab near Chhatri Manzil, which was known as Chhoti Chhatri Manzil, which was slightly affected in the revolution of 1857. After independence, there used to be a state government office in it. That too suddenly collapsed in the 1960s.
When I reached here by scooter, it was being decorated, you can see in the pictures. I had a great curiosity to see the dug tunnel. So I went straight towards its backside and was stunned. I could see a big tunnel clearly. A person was introduced there who was inspecting all the work, according to him, it will soon be opened to ordinary tourists.
An appeal: Please do not throw garbage around. Use dustbin and if you can't find a dustbin, take the trash with you and throw it where the trash appears. Your small initiative can make India clean and green.