Sun City. Gateway to Thar. Blue City. These are just a few names of Jodhpur, an ancient city with beautiful Rajasthani architectural beauty and food.
If you've considered visiting Jodhpur, this guide is your way. It is an experiential travel guide that tells you about Jodhpur places to visit, local foods, souvenirs, the best time to visit, and some helpful travel tips.
Jodhpur is a beautiful city with scenic views and architecture. This is why some popular Bollywood and Hollywood films have few shots of Jodhpur: Thugs of Hindustan, Jodha Akbar, The Dark Knight Rises, and The Jungle Book.
It's time for you to experience this city.
Notice: This post might include several links that could provide us with financial support when you make any purchases or reservations. Please note that these links do not influence our opinion or the information provided here.
---
In This Guide:
---
How to Reach Jodhpur?
Almost all major cities of India connect with Jodhpur. So, it's easy for you to find transportation in all the modes:
By Air
Jodhpur has its own airport, known as Jodhpur Civil Airport (JDH), about 10 km from the city center. You can find flights to JDH from all major cities of India, like Delhi, Mumbai, and Jaipur.
Smart Tip: Check out flights to Jodhpur
By Train
Jodhpur is well-connected by the railway network. The station code for Jodhpur Railway Station is JU. The station isn't far from the city and other major attractions.
Further, if you travel by train during the day, you can witness scenic views of the desert landscape.
By Road
If road travel is your thing, reaching Jodhpur is easy, too. You can drive from nearby cities like Jaipur, Udaipur, Ahmedabad, and Delhi.
Parivahan Nigam operates regular buses from various cities in Rajasthan and neighboring states to Jodhpur. You can book bus tickets via state transport's official website or any third-party app like RedBus or Paytm.
Jodhpur Places to Visit (Must-See)
1. Mehrangarh Fort
The first place on the list of Jodhpur places to visit is Mehrangarh Fort. It rests on a 400-foot-high rocky hill. This majestic fort has a long and exciting history.
Even though the construction of Mehrangarh Fort was started in 1459 by Raja Rao Jodha, it was completed years later. It took several rulers of Rajasthan and 500 years for this fort to come into its final shape — the one you see right now.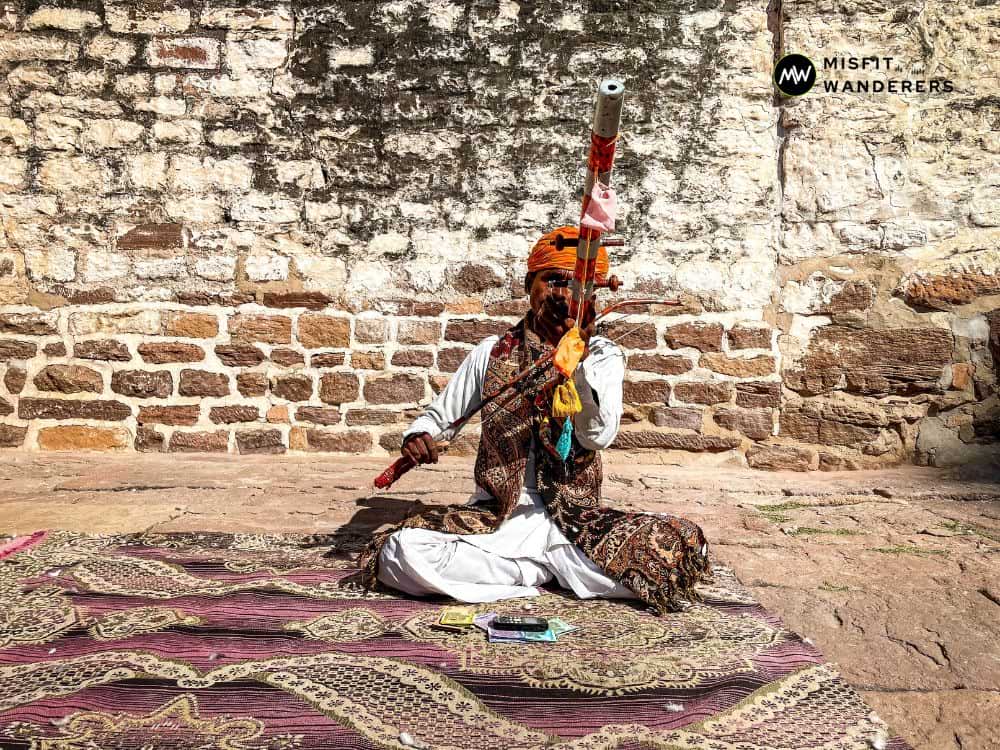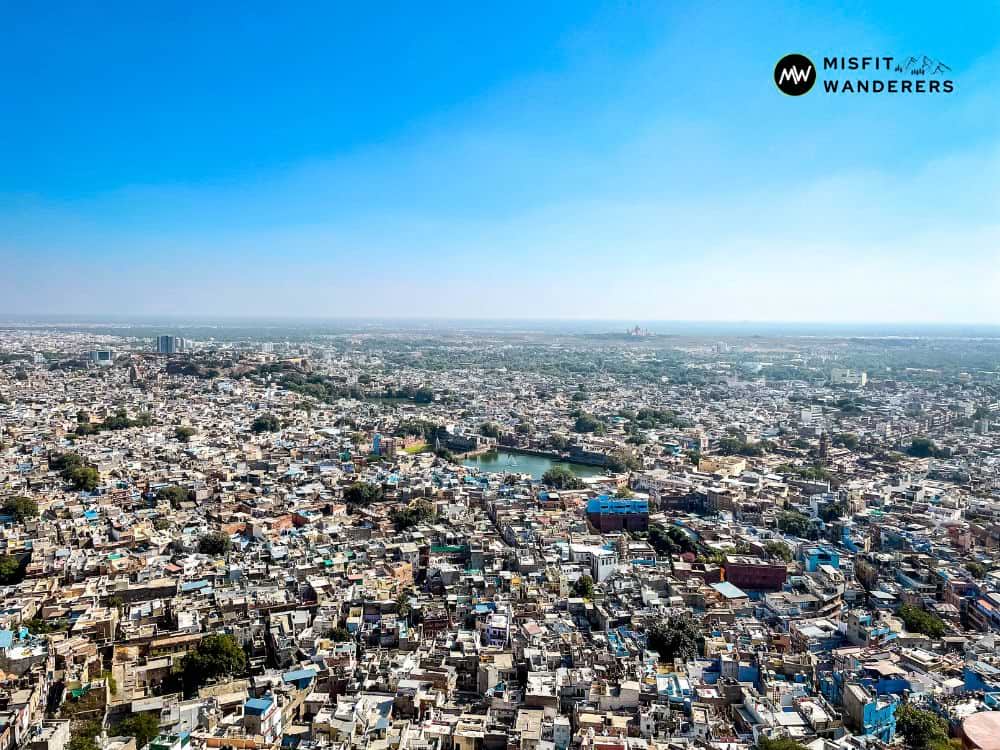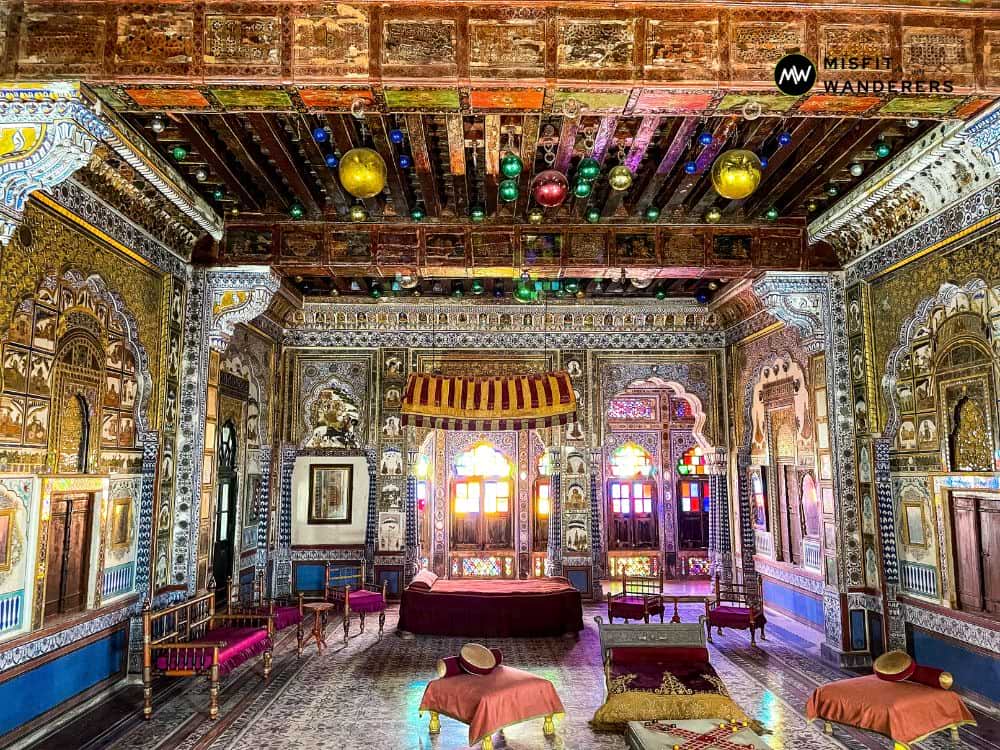 Here are some more fascinating tidbits about the Mehrangarh Fort:
To pay homage to the Rathore clan's revered deity 'Sun,' the fort is named 'Mehrangarh,' where 'Mehrang' means Sun and 'Garh' means fort.
The fort offers panoramic views of the city and the hundreds of blue houses nestled near the fort. If you're a sunset lover, you'll love witnessing one here.
The fort is at a height. You can do the short trek, passing through the beautiful blue houses of Jodhpur to reach the fort. Notably, going via a car or taxi takes another route.
The Mehrangarh Fort has a deep connection with music. It hosts the annual Rajasthan International Folk Festival (RIFF), attracting musicians and music enthusiasts from around the globe.
The fort's walls spread up to 10 kilometers, towering from 20 to 120 feet in height and 12 to 70 feet in width.
Remember to see the Sheesh Mahal and Phool Mahal inside the fort. Further, the fort's museum houses a grand collection, including royal palanquins, arms, artworks, ancient coins, and textiles.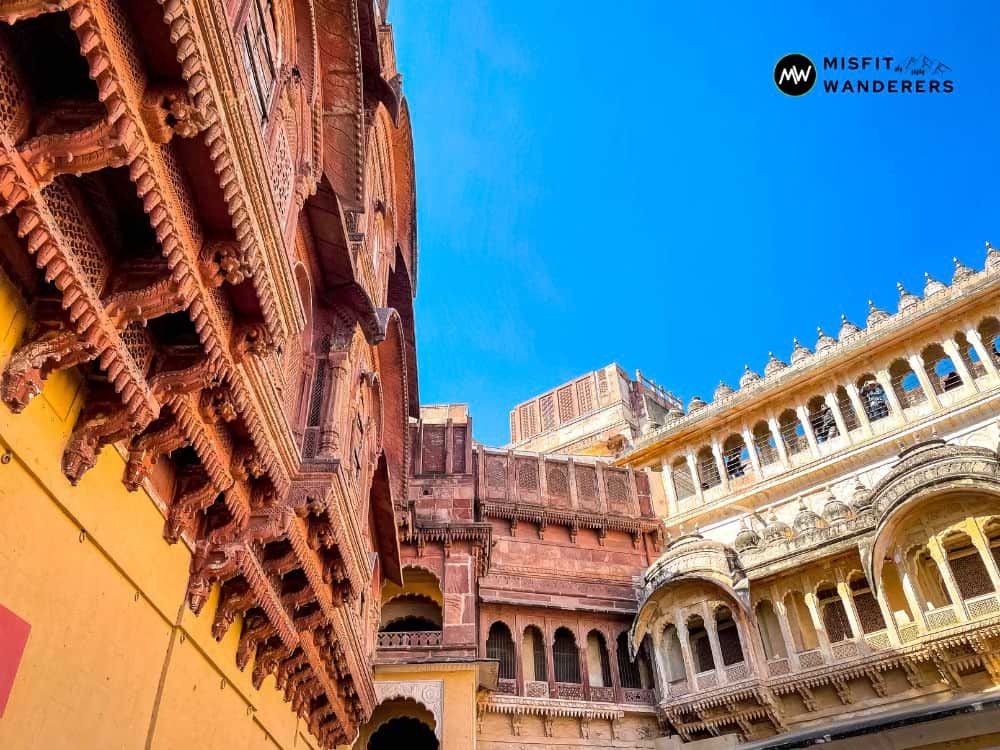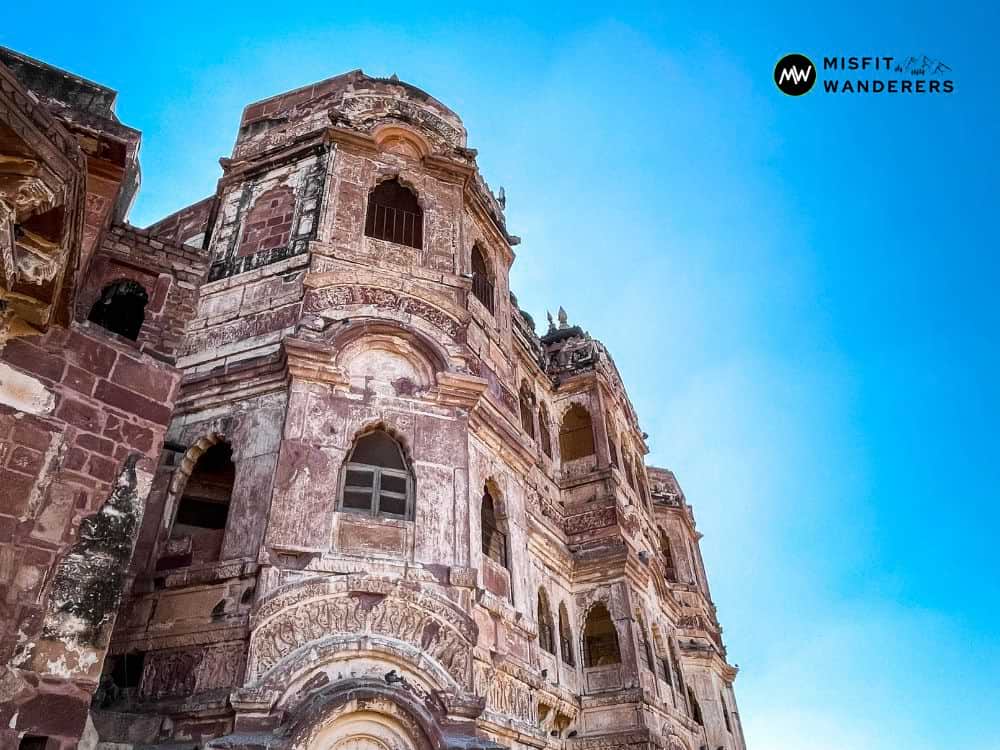 Ticket Price: INR 200 (Indian), INR 600 (Foreign Tourists)
Opening Hours: 9 AM to 5 PM
2. Jaswant Thada
Even if you're not a history buff, visit the Jaswant Thada for the beauty that surrounds this place.
Intricate carvings, fine architecture, peaceful ambiance, and beautiful views: it is one of the best places to visit in Jodhpur.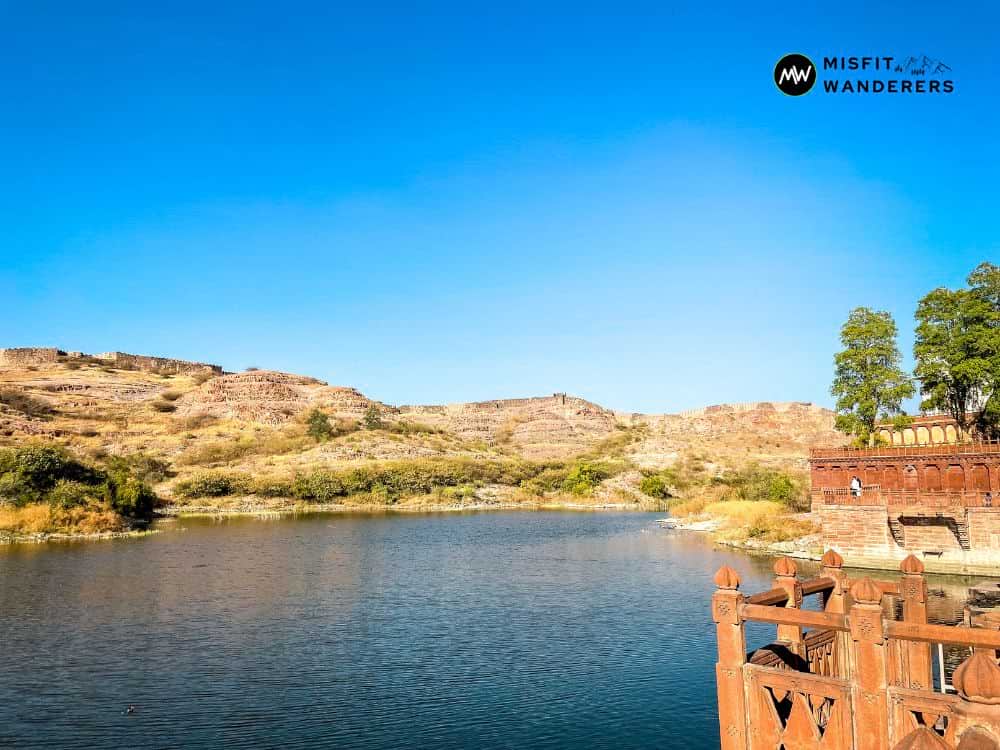 This white architecture is an eye-capturer within walking distance from the Mehrangarh Fort.
Jaswant Thada is a mausoleum made of white marble, offering an escape from the hustle and bustle of the city chaos. Further, this mausoleum is reserved for the cremation of the members of the Jodhpur royal family.
There's a beautiful lake that surrounds its picturesque setting. A hillock near this architecture offers terrific views of the Jodhpur city. It's an excellent place for content creators to get some panoramic shots.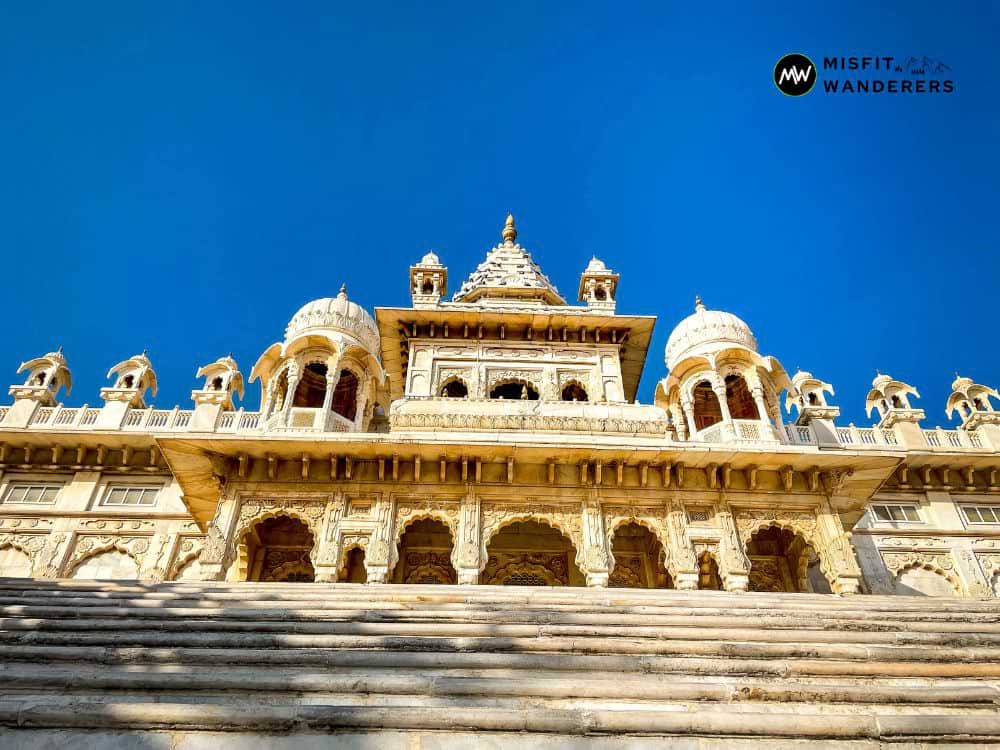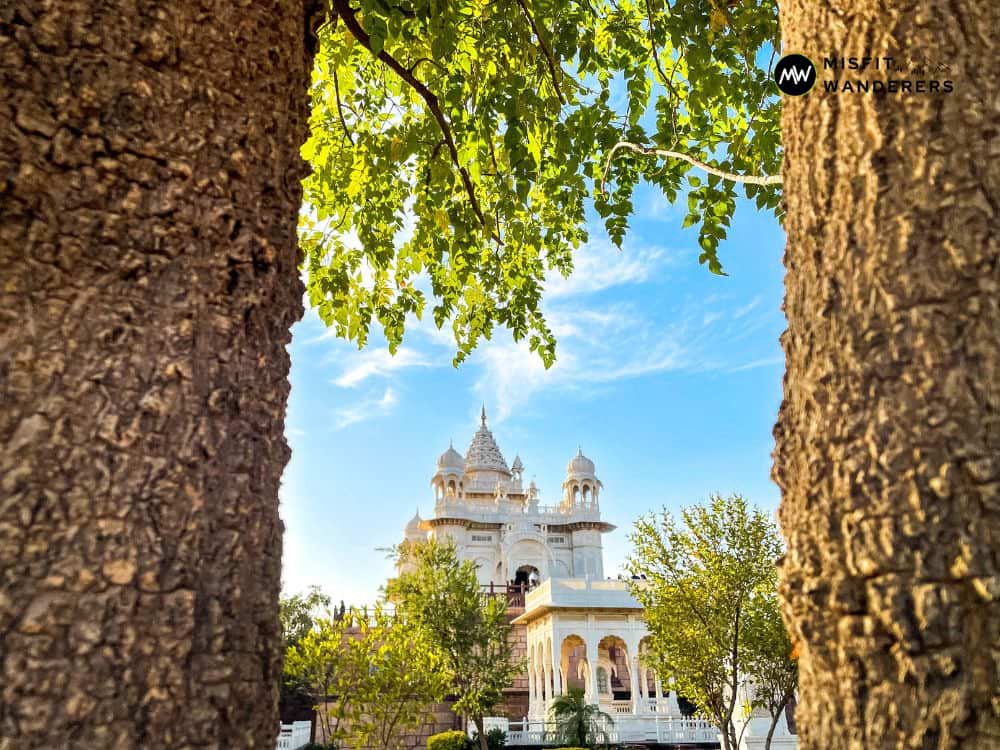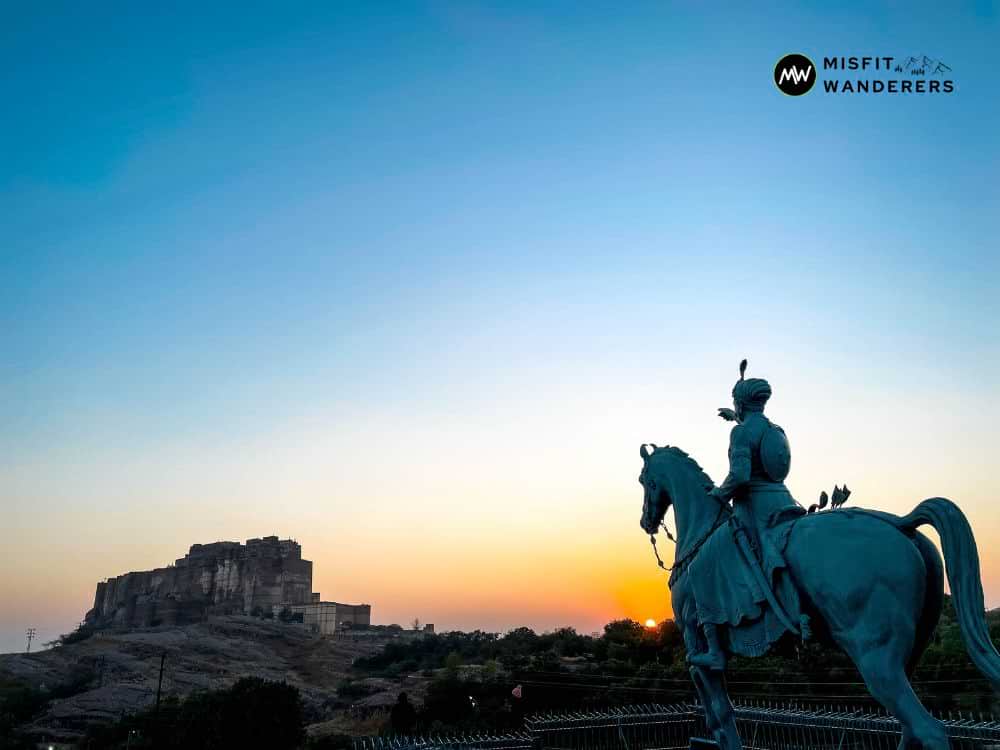 The monument is in the memory of Maharaja Jaswant Singh II and showcases the glory of the region's artistry.
You may also hear people calling it the 'Taj Mahal of Marwar.'
Ticket Price: INR 30 (Indian), INR 50 (Foreign Tourists)
Opening Hours: 9 AM to 5 PM
3. Toorji Ka Jhalra Stepwell
Stepwells are an integral part of Rajasthan's rich heritage. We have been visiting several stepwells, including the world's deepest stepwell, Chand Baori.
Toorji Ka Jhalra Stepwell is surely among the best Jodhpur places to visit. It lies well within the hustle and bustle of the Jodhpur city. You might have seen its viral pics on Instagram or on the Internet.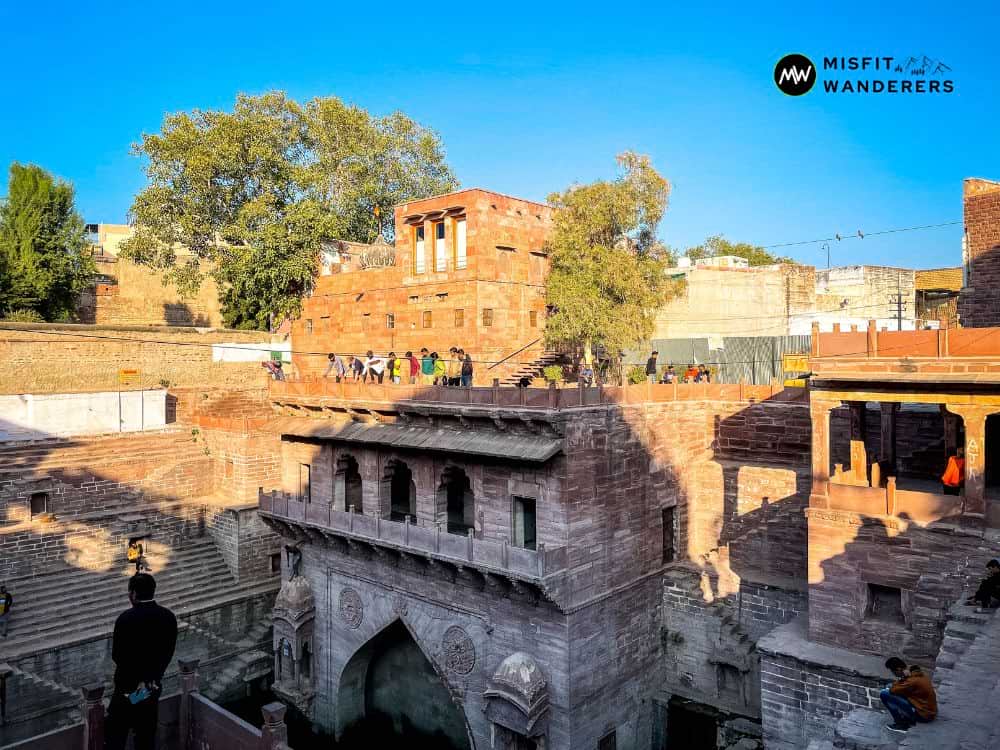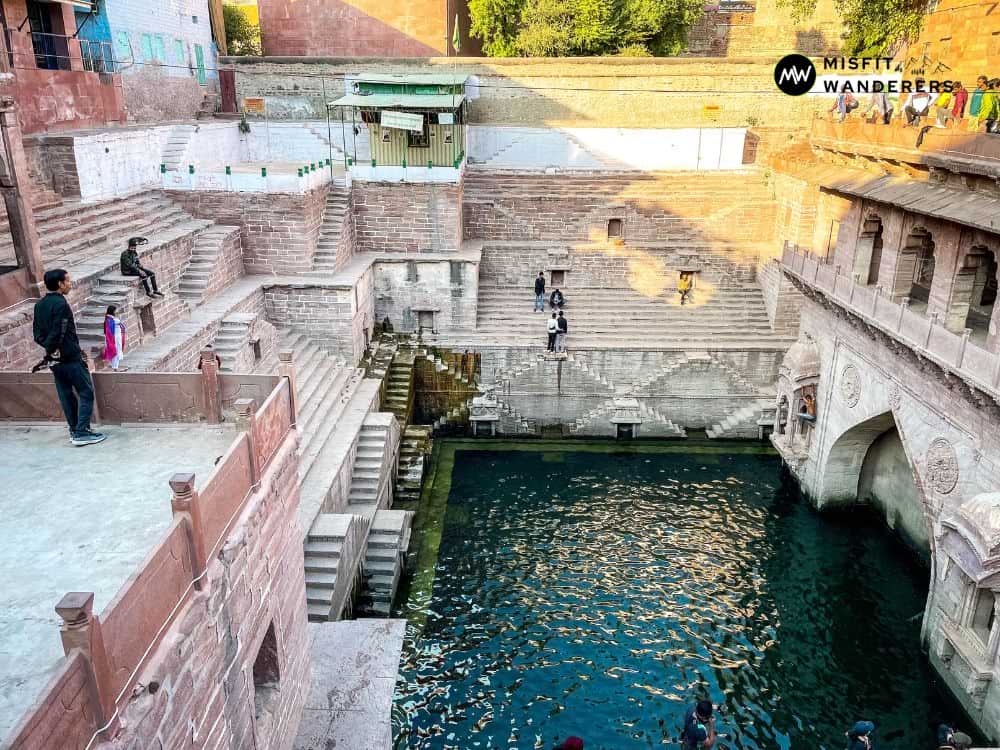 This stepwell has been a water source in the past, helping locals from the beat of the scorching sun during summers. However, nowadays, it's a fun place to hang out for locals. You may also see some adventure junkies jumping, swimming, and taking baths in this stepwell.
Maharani Toorji, the queen of Maharaja Abhay Singh, constructed this stepwell in the 18th century.
The stepwell's intricate carvings, architecture, and symmetrical design show how skillful the artisans of Rajasthan have been.
Ticket Price: No charge
Opening Hours: Open 24/7
4. Umaid Bhawan Palace
The next on the list, Jodhpur places to visit, is a palace known as one of the world's largest private residences — Umaid Bhawan Palace.
Maharaja Umaid Singh started the construction of Umaid Bhawan Palace in the 20th century. The goal was to provide employment to the local people during drought and famine (similar story behind Bara Imambara Lucknow).
British architect Henry Lanchester has designed its exterior, which is of golden-yellow sandstone.
The palace has three parts:
Part One: the residence of the Jodhpur royal family
Part Two: a luxurious heritage hotel managed by the Taj Group
Part Three: open to tourists and travelers to explore the grand hall, museum, and beautiful gardens.
Here's a fantastic thing: a museum within the palace has vintage cars, antique clocks, and exquisite artifacts. You can visit to get a glimpse into the history and lifestyle of the royal family.
Ticket Price: INR 30 (Indian), INR 100 (Foreign Tourists)
Opening Hours: 9 AM to 5 PM
5. Clock Tower and Sardar Market
Jodhpur's Clock Tower is locally known as Ghanta Ghar. It was constructed in the late 19th century to honor Maharaja Sardar Singh.
Like most clock towers in Indian cities, it stands as the chaos of the city. You can gaze at it, admire it, or take selfies with it — there's no cost. However, you must get a ticket if you wish to climb up.
The lights added to it add a mystic appearance to the night. And if you're someone who loves architecture — it is sure to hook you.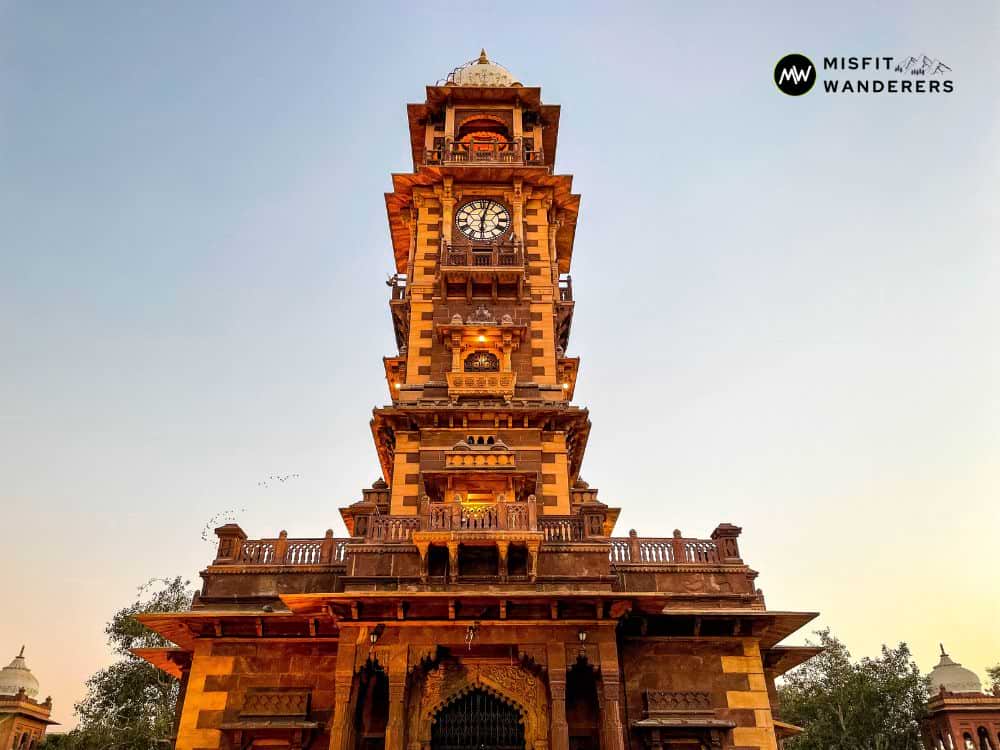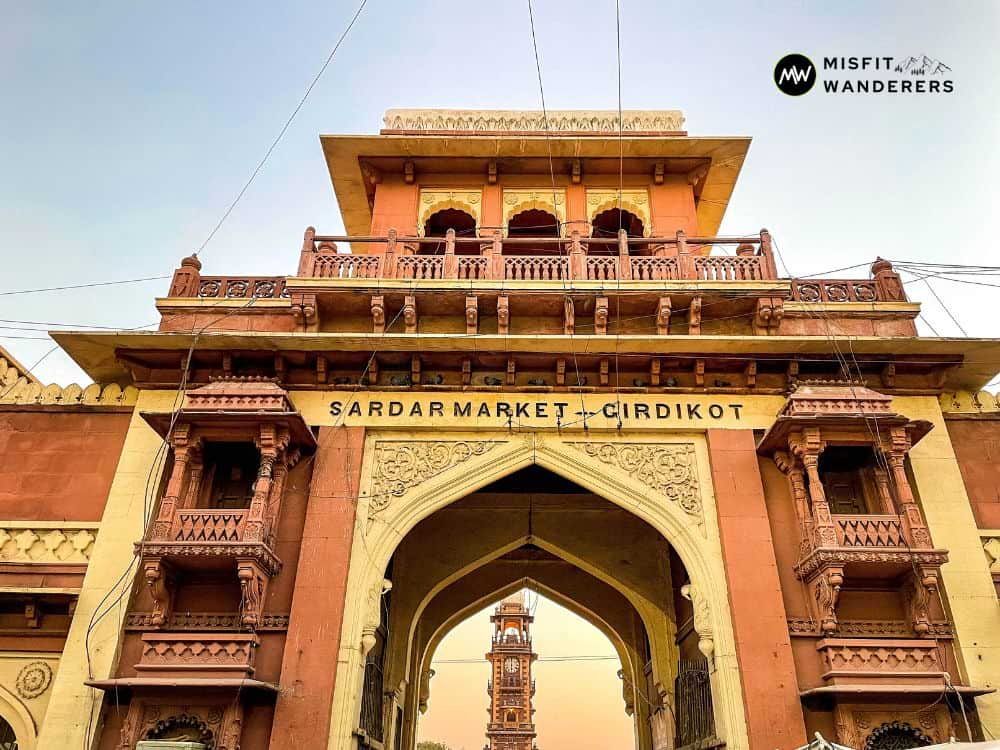 Even if architecture isn't your thing, you'd love shopping in the Sardar Market, only a few meters from the clock tower. You can find souvenirs in these markets at an affordable rate.
Ticket Price: No charge
Opening Hours: 10 AM to 6 PM
6. Mandore Garden
Another place you should include in your list of Jodhpur places to visit is Mandore Gardens.
Mandore Garden is a beautiful complex comprising cenotaphs of the Rathore dynasty royal families. The environment is lush green and picturesque, with delicate architectural marvels.
Mandore Garden has monuments dedicated to the Maharajas of the Marwar region. These red sandstone structures are intricately designed, which attracts history buffs, photoholics, and architecture lovers alike.
You'll find the Hall of Heroes in the garden, showcasing statues of Rajput heroes and deities.
As we said, Mandore Gardens is not just about historical structures. You can stroll through lush green lawns, relax on the grass fields, and appreciate the peace there.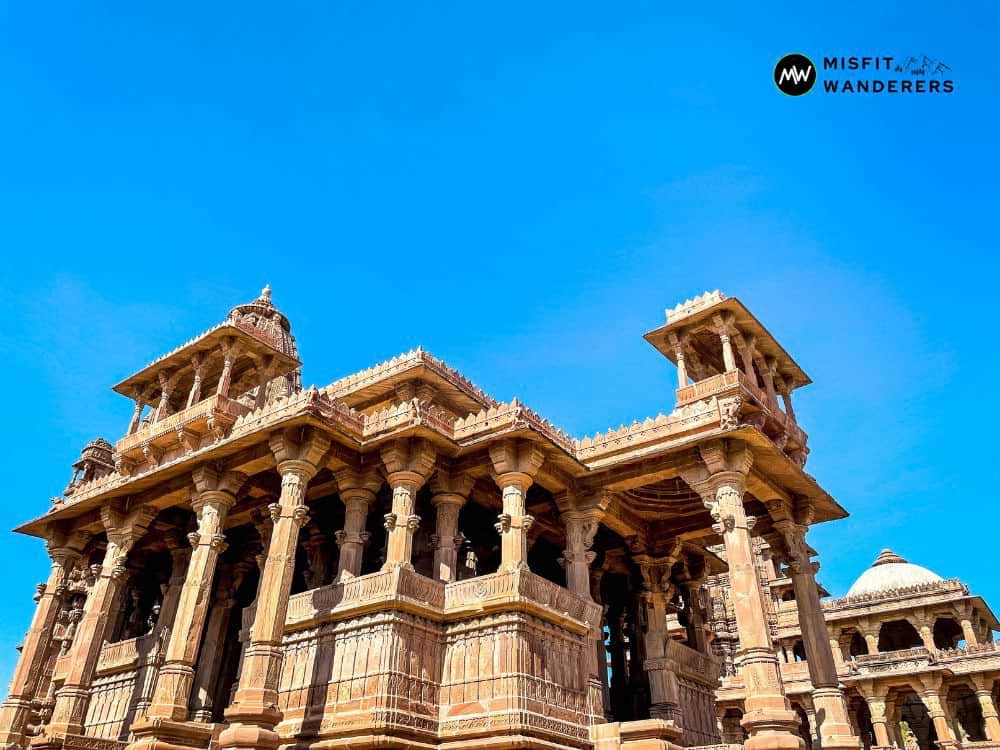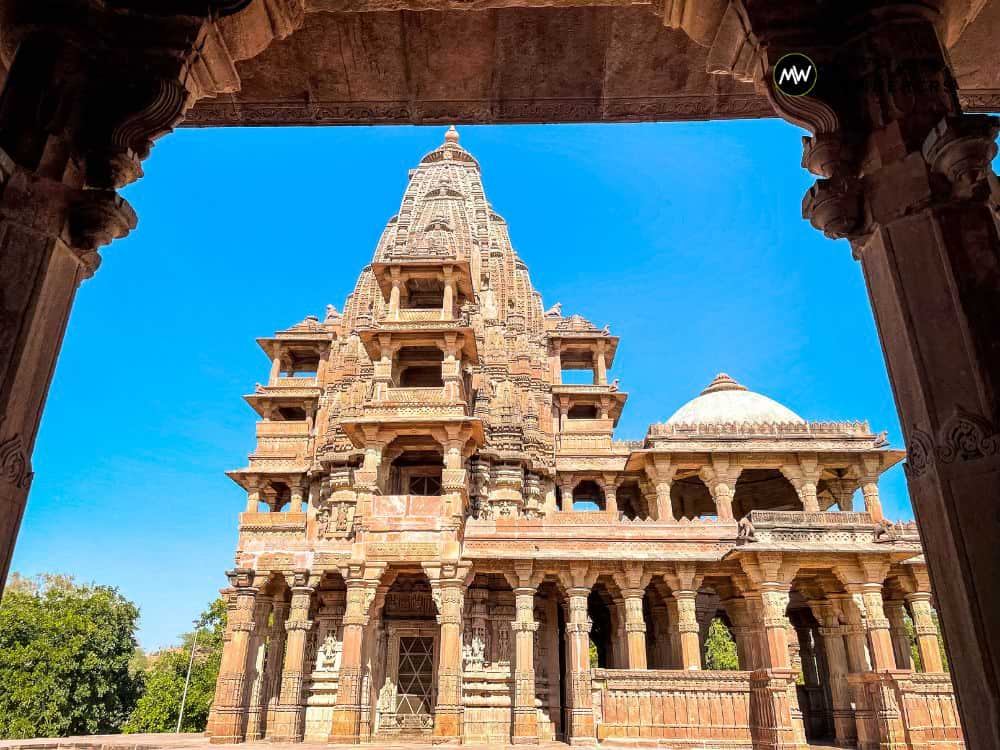 For the ones who love capturing, you'll have a great time here. Additionally, whether you're a local or not, Mandore Gardens is a great spot to have a fun picnic with your friends and family.
Ticket Price: No fee for the garden (INR 50 for the museum).
Opening Hours: 8 AM to 8 PM.
7. Bishnoi Village Safari
We'd covered almost all the Jodhpur places to visit that we'd shortlisted, but there was still a day left. We weren't considering the Bishnoi village safari earlier, but since we'd had some time, everyone thought — why not.
So, who are the Bishnois, and what is this village safari?
The Bishnois community profoundly connects with nature and is conscious of environmental conservation. They live in a village near Jodhpur, which still hosts wild animals.
Further, the Bishnoi village safari will introduce you to the traditions and sustainable lifestyle of the Bishnoi community. You can see blackbucks, deer, and various bird species in their natural habitats. You'll also witness artisans crafting clay pots and traditional handicrafts.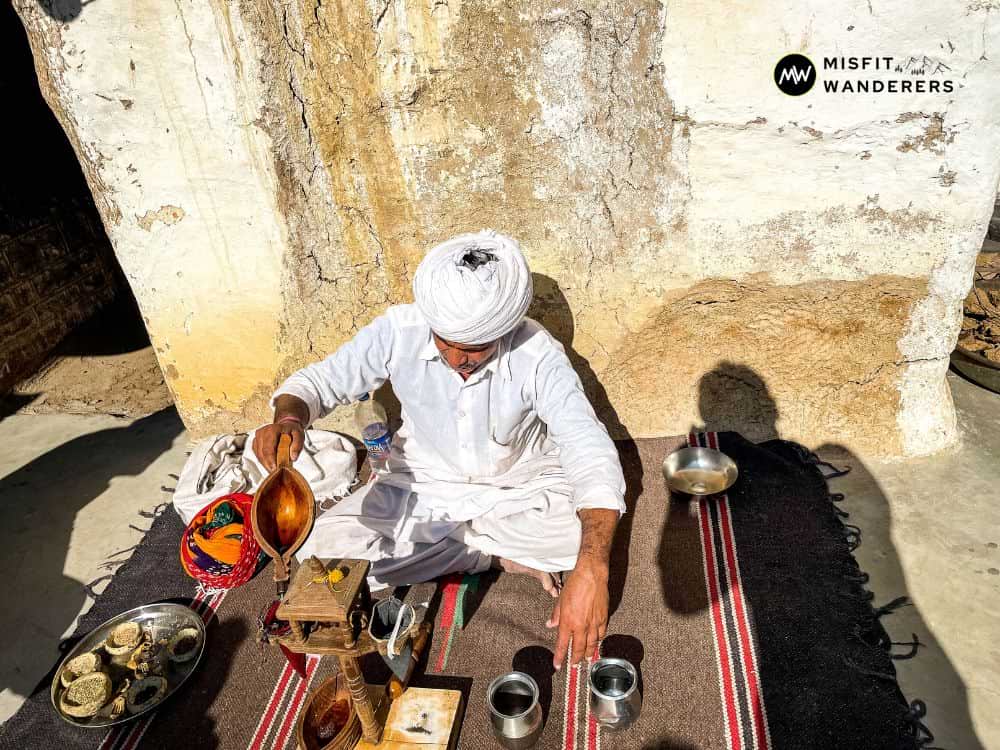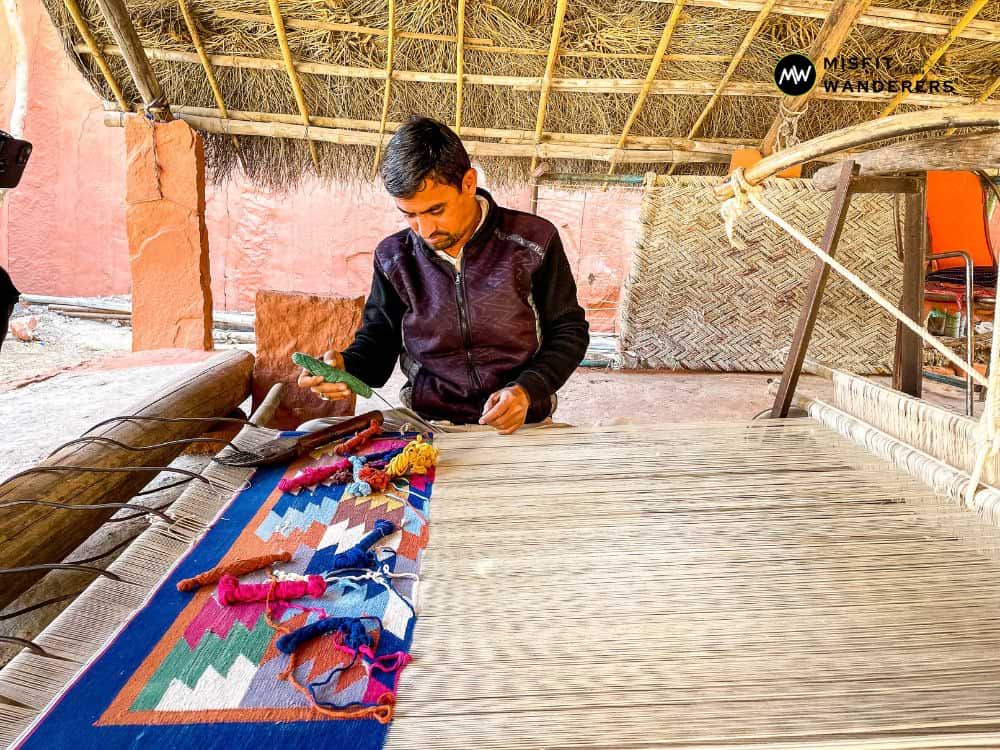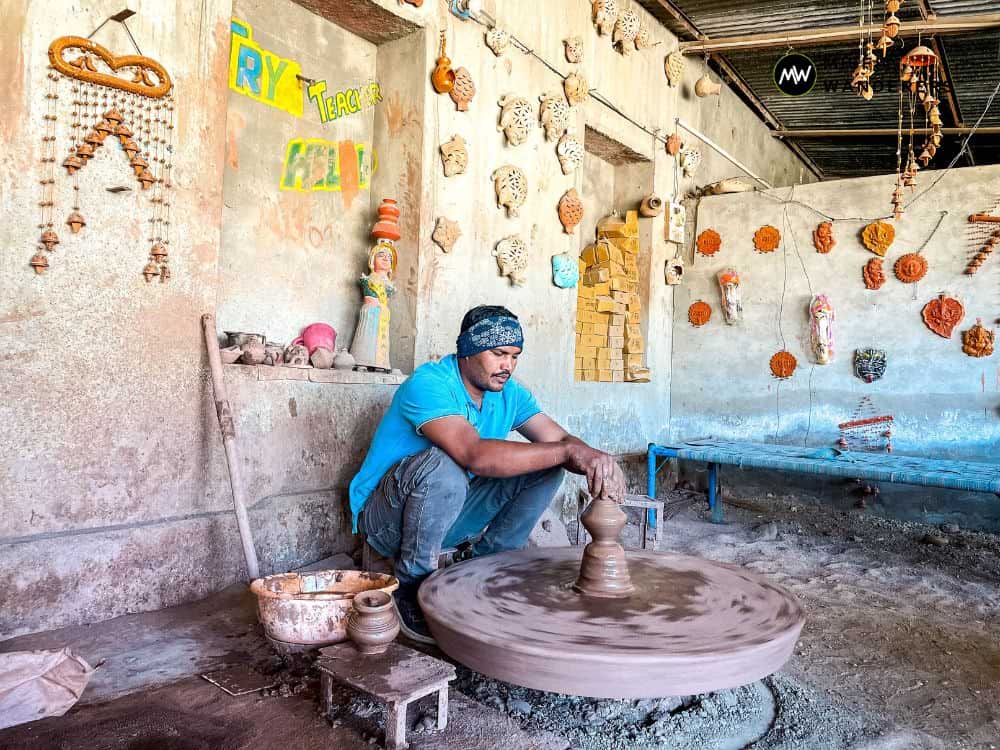 Moreover, you can also see cultural performances like folk dances and music in this village setting if you book a more extensive package.
Ticket Price: Rates for the safari can vary. We booked the safari for INR 2000 (for 5 people).
Local Delicacies You Should Try In Jodhpur
Beside several Jodhpur places to visit, the city is a paradise for food lovers. Some dishes and places you should definitely try:
Dal Baati Churma consists of round balls (Baati) made from wheat, delicious lentils, and sweetened crushed wheat (Churma). If you want to experience this authentic dish, visiting a local eatery is best.
Mirchi Vada is a spicy snack that locals love. It's made by stuffing potatoes, dipping them in gram flour batter, and deep-frying until golden.
Makhaniya Lassi is a yogurt, cream, and sugar drink.
Pyaaz Ki Kachori is deep-fried and spicy onions. It's a popular street food item found in many local markets of India.
Gatte Ki Sabzi involves cooking gram flour dumplings in a yogurt-based gravy. It's a vegetarian dish that presents the rich flavors of the region.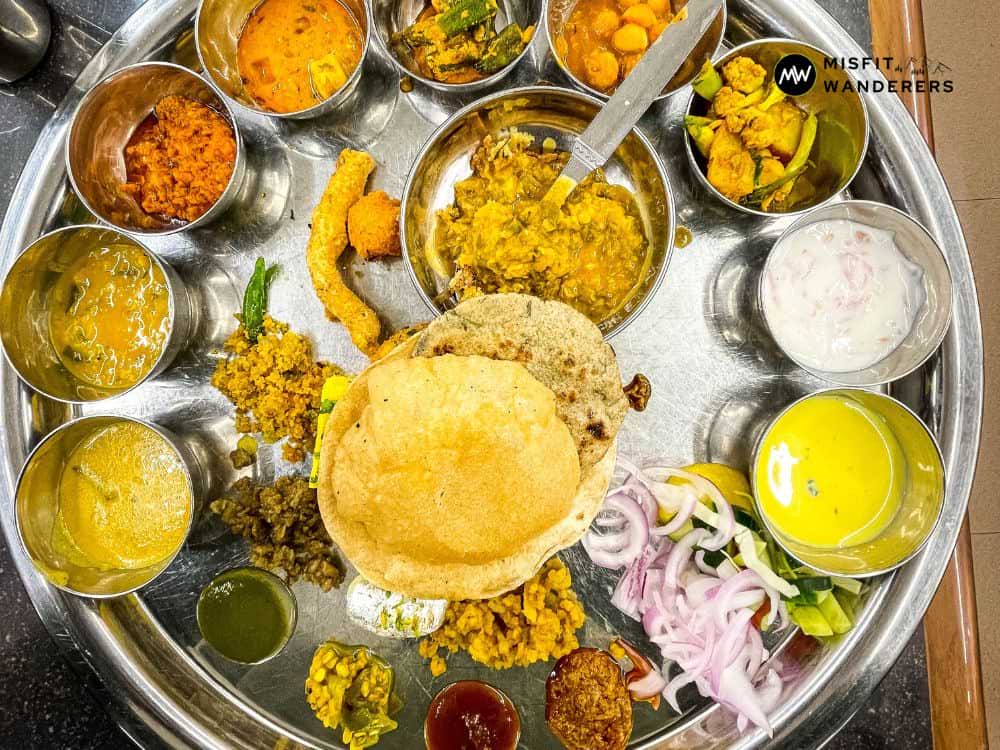 Souvenirs You Should Buy in Jodhpur
After exploring all the places to visit in Jodhpur, you'd want to take something memorable home. Take some souvenirs from the local markets of Jodhpur.
Explore markets like Nai Sadak, Clock Tower Market, and Tripolia Market to buy colorful Bandhani textiles, including sarees, clothes, and turbans.
Visit Sardar Market and Mochi Bazaar for handcrafted leather goods like bags, shoes, and belts. Jodhpur is also renowned for intricate silver jewelry, gemstones, and Jodhpuri Juti, available in the shops near Clock Tower.
You can also buy aromatic spices and Rajasthani snacks. Additionally, you can purchase unique antique items, wooden handicrafts, and block-printed fabrics.
Where to Stay in Jodhpur? (Accommodation Options)
Jodhpur offers a variety of accommodation options to cater to all budgets and preferences.
Heritage Hotels: You can experience royal hospitality in heritage hotels like Umaid Bhawan Palace and Ranbanka Palace.
Budget Hotels: For budget travelers, options like Mango Hotels, Shri Ram Empire, and Kesar Heritage Guest House are available.
Hostels: If you're a backpacker, consider staying in budget-friendly hostels like The Hosteller Jodhpur, among others, for a more affordable experience.
Practical Travel Tips (Based on Experience)
To make the most of your trip, consider the following tips while ticking your list of Jodhpur places to visit:
The best time to visit Jodhpur is during the winter months (October to March) when the weather is pleasant for exploring the city.
Respect local customs and traditions, especially when visiting religious sites. Dress modestly and cover your head if required.
Carry a water bottle with you and stay hydrated, as Jodhpur's climate can be hot and dry.
Bargain in the local markets to get the best deals on souvenirs and items.
Some places, like Mehrangarh Fort, may have specific rules regarding photography, so always ask for permission when in doubt.
Stay safe against the sun, such as using sunscreen, wearing a hat, and protecting yourself during outdoor activities.
Distance and Transport Options Between Attractions in Jodhpur
The list of places to visit in Jodhpur isn't very long. And luckily, the distance between the attractions in this list is bearable.
You can either walk or book a taxi/cab. Major places in Jodhpur include Mehrangarh Fort, Jaswant Thada, Toorji Ka Jhalra, Clock Tower, and Umaid Bhawan Palace.
We have pinned some significant places to visit in Jodhpur on Google Maps. You can also access this map.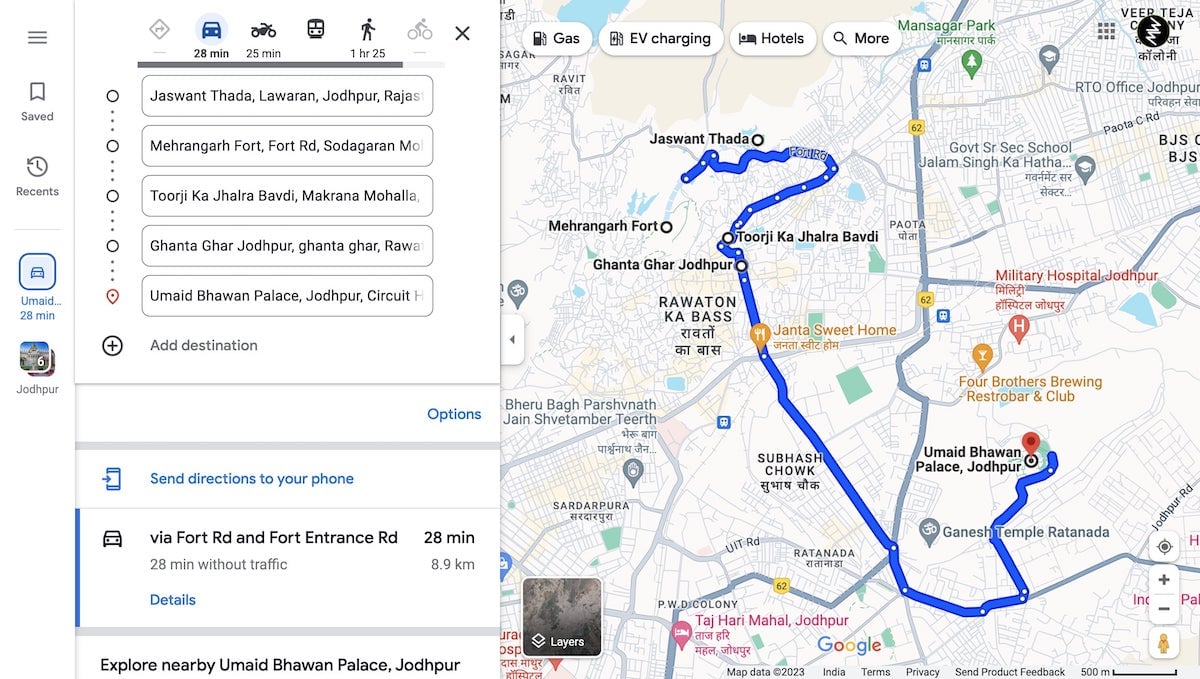 Mandore Garden and Bishnoi Village Safari are a bit outside the city. We suggest booking a cab or taking your private vehicle.
Best Time to Visit Jodhpur
The ideal time to explore all of Jodhpur places to visit is from October to March during the winter months.
The weather is pleasant with cool temperatures, making it suitable for sightseeing and outdoor activities.
Days are sunny, and nights are relatively more relaxed. This is when you can explore the city comfortably without the scorching summer sun.
However, if you prefer fewer crowds and can endure the heat, consider visiting during the summer months from April to June or during the monsoon season from July to September.
Just be prepared for the scorching heat during these times and take the necessary precautions to stay hydrated and cool.
Estimated Cost and Duration of Jodhpur Trip
The cost and duration of your trip to Jodhpur depends on your preferences. For instance, there are several Jodhpur places to visit, but you might want to cover only some.
If you plan to visit only the major attractions, 2 days should be sufficient.
If you want a more profound experience like visiting Mandore Gardens and doing Bishnoi Village Safari, we recommend you plan to stay for 3-4 days.
The budget varies based on your accommodation, food, and shopping choices. However, a general budget estimated per day is INR 2000 – 3000, including accommodation, food, and local travel.
Commonly Asked Questions By Travelers
What are some places to visit in Jodhpur?
In Jodhpur, the main attractions include Mehrangarh Fort, Jaswant Thada, Umaid Bhawan Palace, Clock Tower, Sardar Market, and Mandore Garden.
What are some Jodhpur market places?
Jodhpur has several markets for shopping. Sardar Market is famous for textiles, handicrafts, and spices. You can also buy traditional Rajasthani clothes and jewelry in the city.
Why is Jodhpur called the Blue City?
The homes around Mehrangarh Fort in Jodhpur are painted in blue. Hence, it's called the 'Blue City.' The blue color is believed to be associated with the Brahmin caste, who began this tradition to distinguish their homes and showcase their relationship with God.
Is Jodhpur safe for tourists?
Jodhpur is safe for tourists and travelers. However, it's advisable to exercise general safety precautions, such as being aware of your surroundings and belongings. Refrain from visiting shady places during the night time.
Conclusion
So, this was our travel guide on Jodhpur places to visit. Now that you've read it, your explorations will be less hectic, and you'll also make mindful decisions.
Jodhpur is a picturesque destination blending history, culture, and natural beauty. From Umaid Bhawan Palace and Clock Tower to the serene Mandore Garden and expansive Bishnoi Village Safari, Jodhpur offers diverse experiences for travelers.
We hope this extensive guide will be your friend. However, if you need help or advice, feel free to ask in the comments — we're quick to respond.
Also, please share your feedback with us. We'll strive to enhance ourselves with your valuable tips.
---
Liked this post? Subscribe to our spam-free travel emails to get notification about such posts in your mailbox.
---
An appeal: Please do not throw litter around. Use a dustbin. If you can't find one, take the trash with you and throw it when you find one. Your small steps like this one can make the world clean and green.